Do you know what my new passion is? Jackfruit ! I find the fruit so great, especially because it is so versatile. Especially in the Summer I often long for quick Sandwiches that make you full, but still bring a nice freshness. When you currently move through the city and pass a Greek every now and then, this wonderful smell rises to your nose. Of course, now I'm talking solely about the wonderful spices and freshly baked pita. Admittedly I have not made this myself this time, but there is soon also a Recipe to it, I promise!
VEGAN GYROS, WHERE?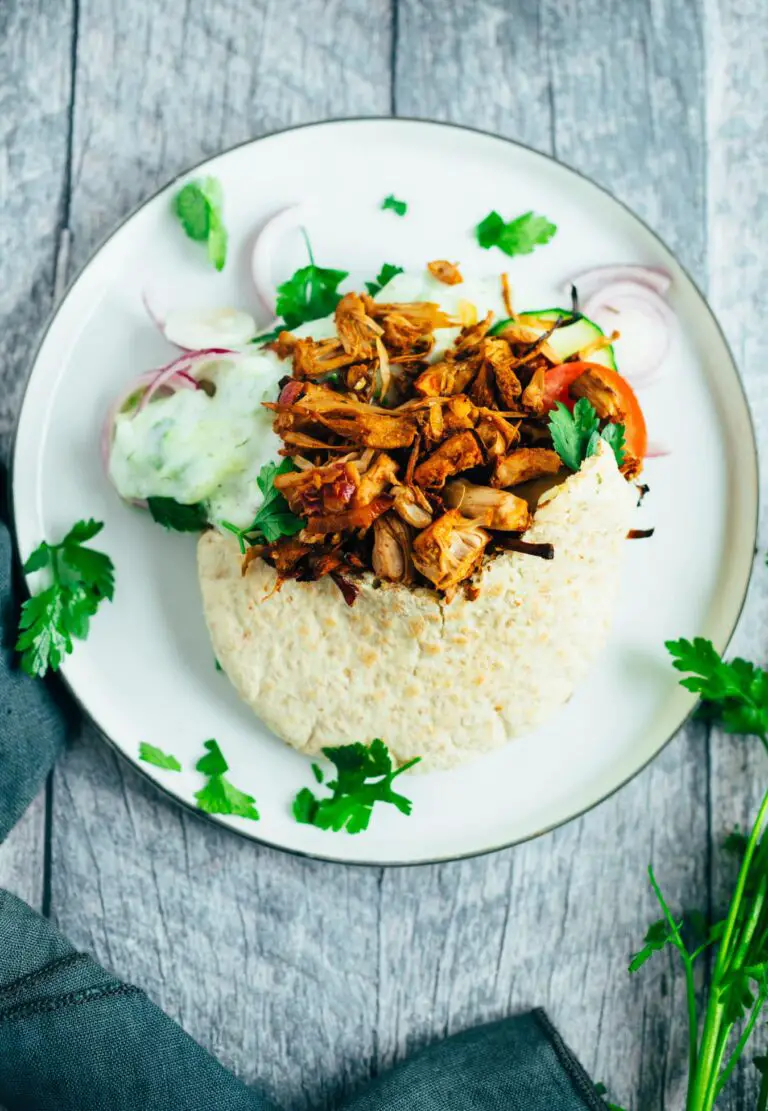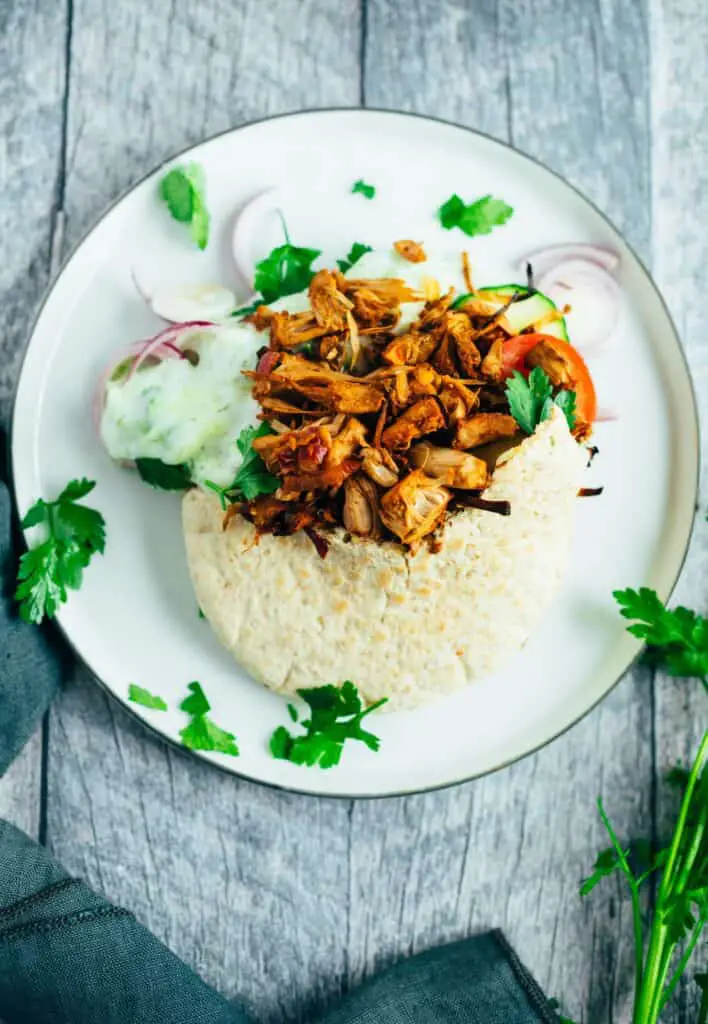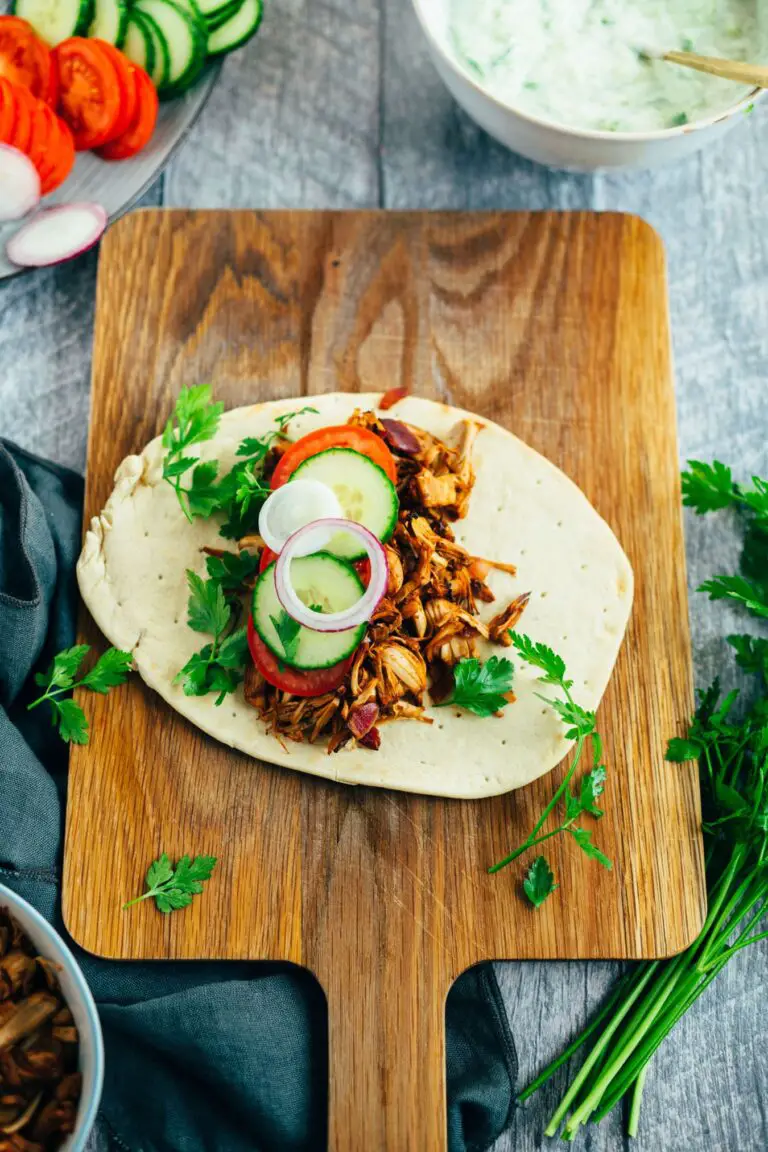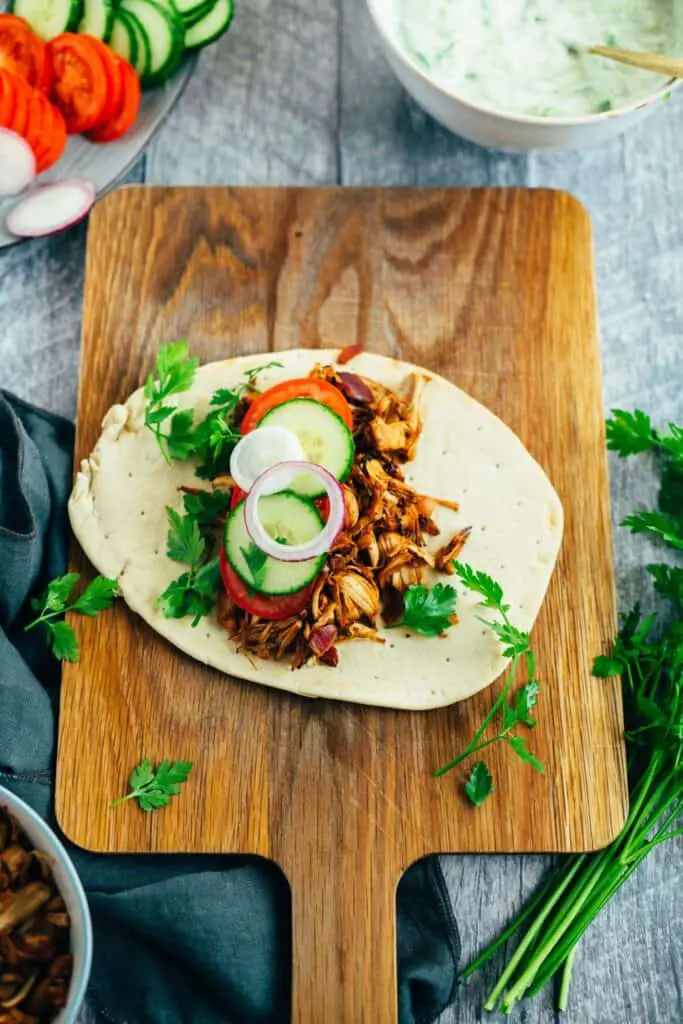 Gyros is certainly one of the most famous Dishes of the Greek cuisine. You can get it on every corner, but vegan ? Unfortunately, I have not yet found a restaurant. Therefore, go into the kitchen and do it yourself.
For our kebab today Sandwich we need Jackfruit . I have already tested several variants here, including dried jackfruit pieces and the classic from the can. My favorite is and remains Jacky F. which I have already linked several times here on the blog. The startup company imports Jackfruit from Sri Lanka and also takes care of a fair remuneration of the local farmers. The products are 100% organic (EU organic seal) and fair trade. One more reason why I was thrilled to receive a small test package. As you know, I don't actually accept products to promote. But since there is no rule without exception, I turned a blind eye to Jacky F.. why? Because I think it's important to promote companies that operate sustainably. There is a good and especially fair thought behind the project, which I appreciate very much! If you want to know more about Jacky F., you will find here directly info .
GIMME MORE SPICES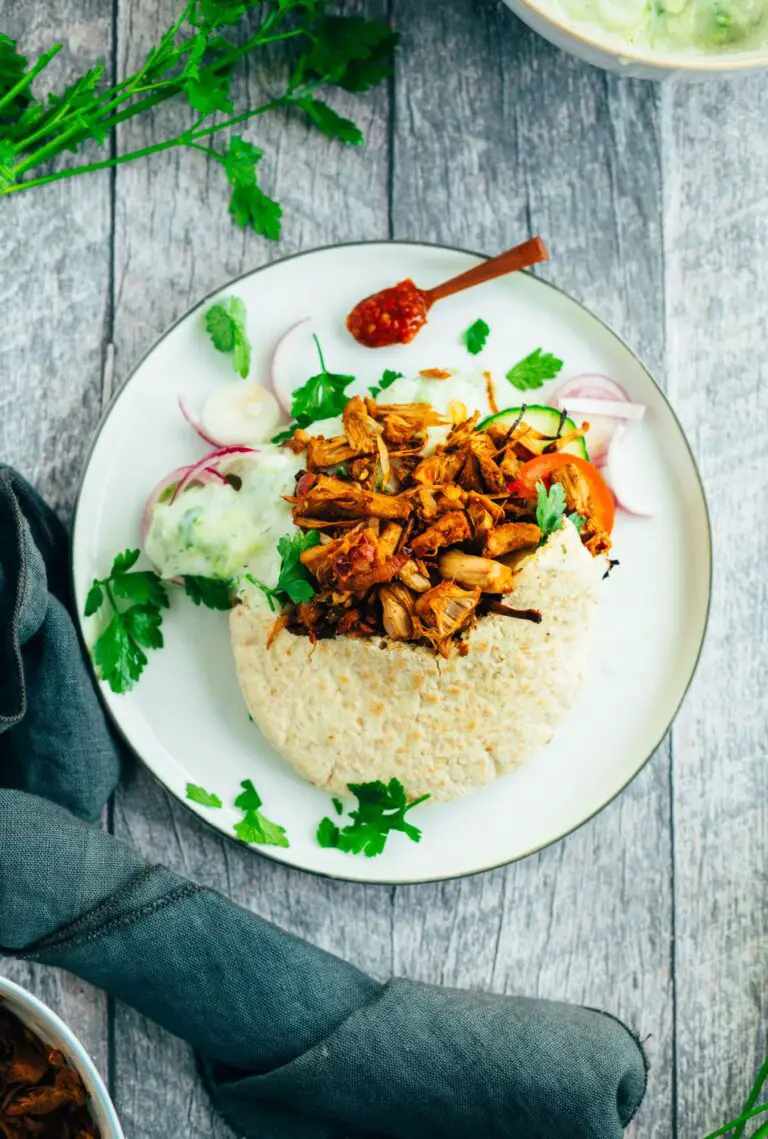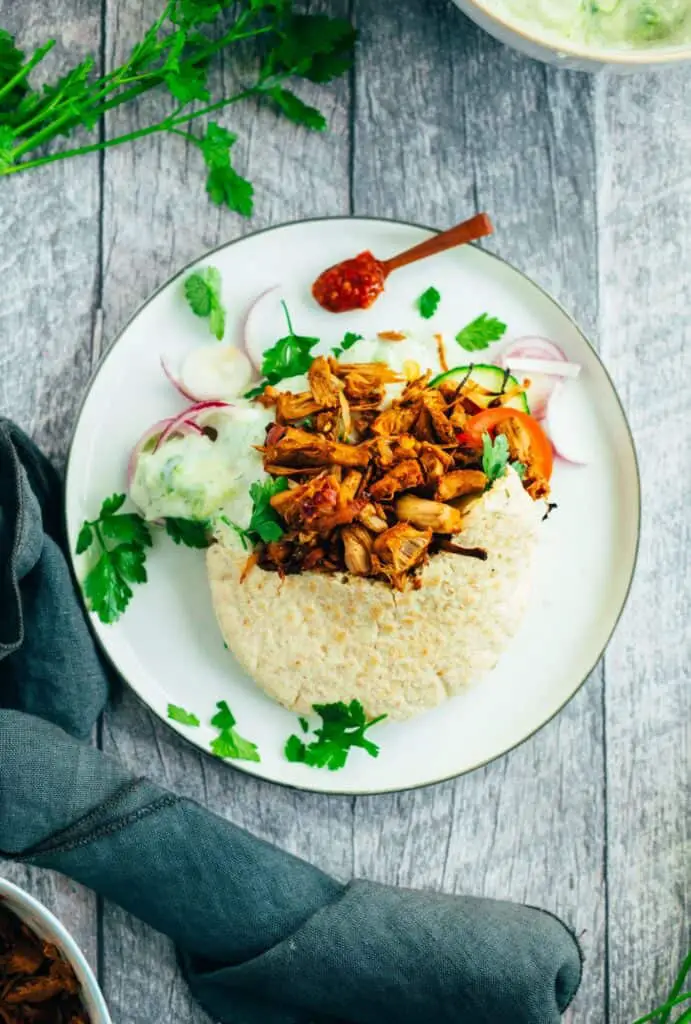 A delicious gyros lives from the spices and they are not neglected in today's dish. Garlic granules (or fresh garlic), oregano, cumin, cloves, a pinch of cinnamon and Bird Eye chili. They are fried hot together with a little olive oil and onion. Jackfruit To this, tomato paste, tamari, maple syrup, pepper and a sip of apple cider vinegar. wow!
HOW HEALTHY IS JACKFRUIT ACTUALLY?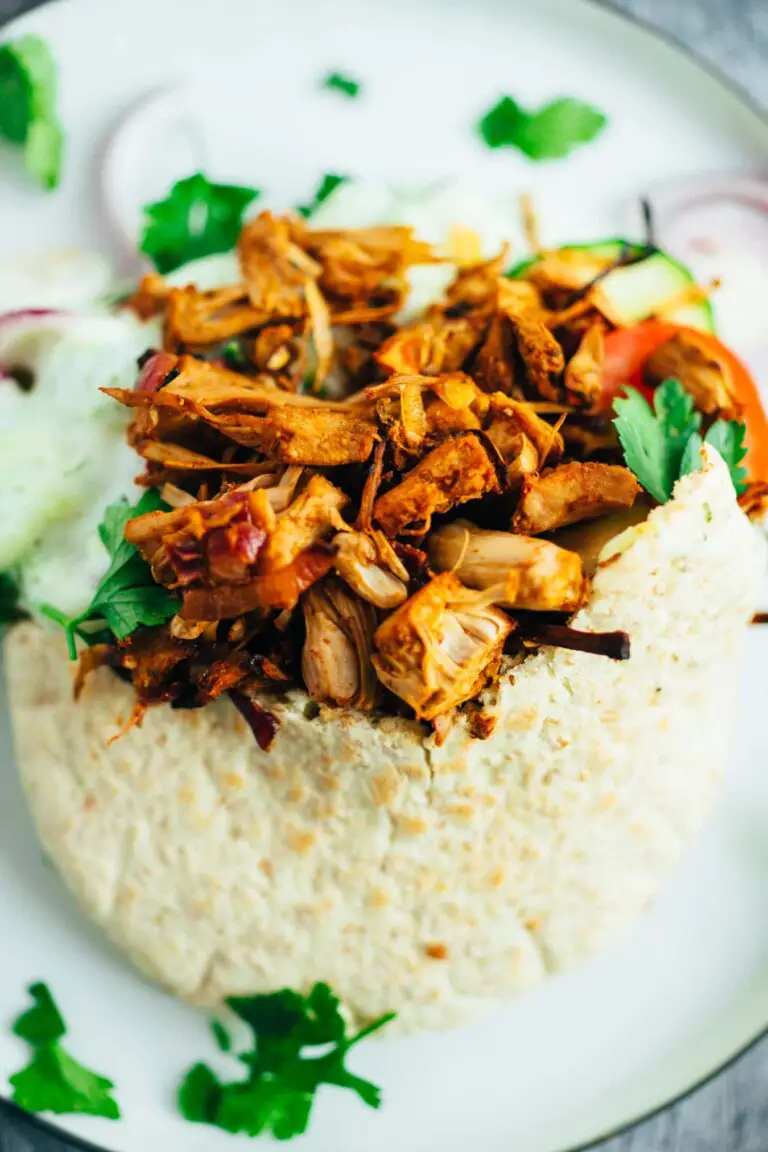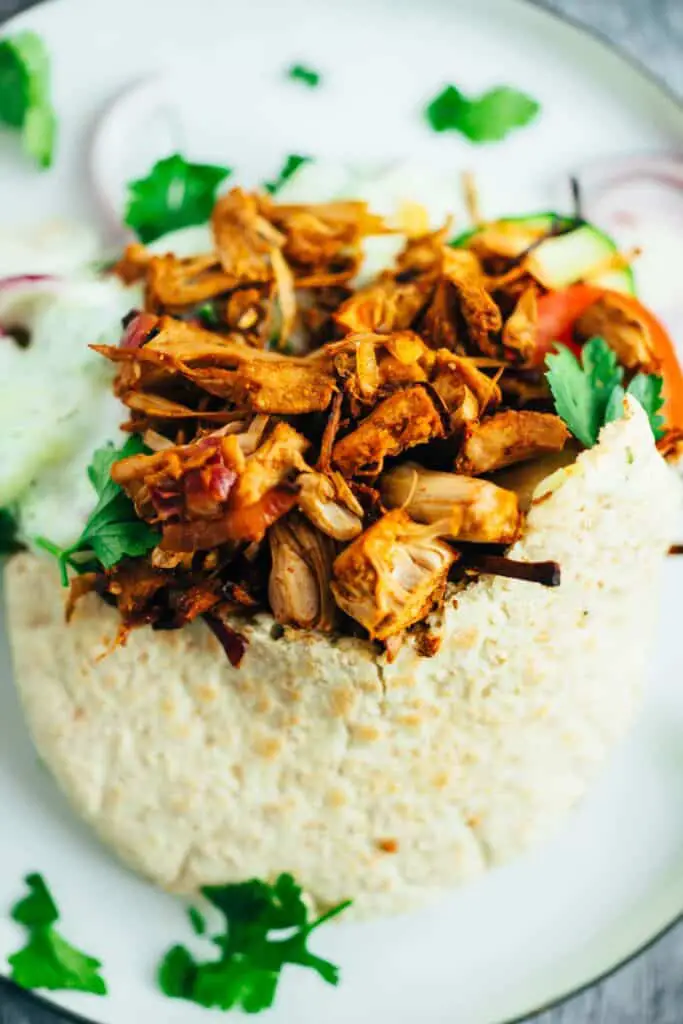 Here there is only one clear answer: very healthy! Here are the most important facts about jackfruit:
Low calorie (22 calories /100g)
Does not contain fructose
Rich in calcium, potassium, vitamin C and fiber
Gluten free
Eco-balance better than for meat despite long transport route
To go with our gyros today is a vegan, homemade tzatiki, crispy fries and perhaps a simple Chocolate mousse as dessert?
The vegan gyros sandwich with jackfruit is:
spicy
Greek
Slightly spicy
filling
Quickly made
With this delicious Sandwich you can get
save the expensive summer vacation in Mykonos. I wish you a lot of fun in recooking and of course a review at the bottom of this page. If you post a picture, use the hashtag #veganevibes.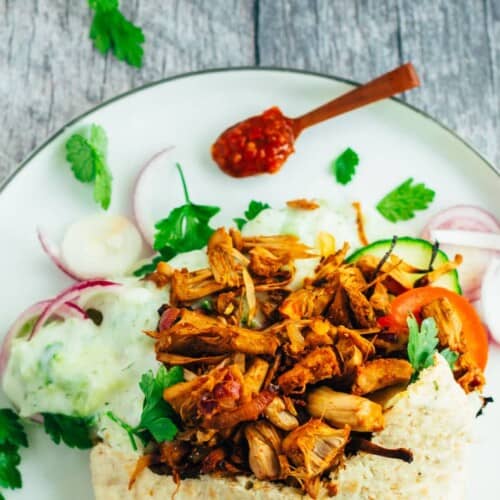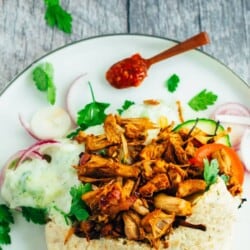 Vegan gyros sandwich with jackfruit
Deliciously flavorful Greek gyros sandwich made with healthy jackfruit. This vegan dish is rounded off with delicious tsatziki and crispy warm pita. Perfect together with crispy fries for the small hunger in between or as a vegan main course.
AUTOR: VEGANEVIBES
FOR THE SANDWICH:
½

Cucumber

sliced

1

medium red onion

cut into fine slices

2

Tomatoes

Stalk removed, cut into slices

Salad leaves to taste

Vegan tsatziki

1 serving

4

vegan pita breads

Fresh parsley to taste
Anleitung 
Preheat oven to 200degrees and line baking sheet with parchment paper.

Strain jackfruit and place in a bowl. Cut into smaller strips with a knife or tear into small pieces with your hands.

Heat pan with oil, add onion and sauté until translucent.

15 ml Frying oil,

1 medium red onion,

1 tbspn Garlic granules or 2 cloves of garlic

Add oregano, cumin, cinnamon, and cloves and continue to saute.

1 tbspn Oregano,

1/2 tbspn Cumin,

1/4 tbspn Cinnamon,

1/8 tbspn Cloves

Add chili, tomato paste, jackfruit, tamari, maple syrup and apple cider vinegar. Stir vigorously once.

1 Bird Eye Chili,

15 g Tomato paste,

400 g Can young jackfruit,

30 ml Tamari,

15 ml maple syrup,

15 ml Apple cider vinegar,

Salt and pepper after. At will

Simmer for another

10 minutes on

low heat to allow everything to combine and the jackfruit to absorb the flavors well.

Pour onto baking sheet, spread well and bake for

20 minutes

until jackfruit is nicely browned.

Remove from oven and set aside.

Cut open pita breads, fill with onion, cucumber, tomato, lettuce and jackfruit as desired. Garnish with parsley and enjoy!

½ Cucumber,

1 medium red onion,

2 Tomatoes,

Salad leaves to taste,

Vegan tsatziki

Jackfruit alone (not in a sandwich Keeps covered in the refrigerator for up to 2 days, but fresh is best!

4 vegan pita breads,

Fresh parsley to taste
Notizen
Calorie calculation without pita bread
Nährwertangaben
Serving:
1
Portion
Calories:
167
kcal
Carbohydrates:
31
g
Protein:
3
g
Fat:
5
g
Saturated Fat:
1
g
Sodium:
454
mg
Potassium:
625
mg
Fiber:
3
g
Sugar:
24
g
Vitamin A:
305
IU
Vitamin C:
21.5
mg
Calcium:
44
mg
Iron:
0.8
mg