Salad with roasted Fennel from the oven. When I look at the weather forecast so, then it is again high time for fresh and colorful Salad creations . The temperatures are beyond 20 degrees in one fell swoop and you almost want to get your bikini out of the closet and walk barefoot through the grass. Bye bye Soup time and hello Salad time . I'm still dreaming of a really great permaculture garden where I can always get fresh salads and Vegetables harvest. However, as long as that is not yet the case, I buy my Salads super happy at the Ökokiste or in the organic supermarket. What I especially love is baby spinach with its tender, fresh leaves. Yummy! Well, are you ready for a great salad with delicious roasted fennel ? I certainly do, then let's get started.
Salad with roasted fennel and white beans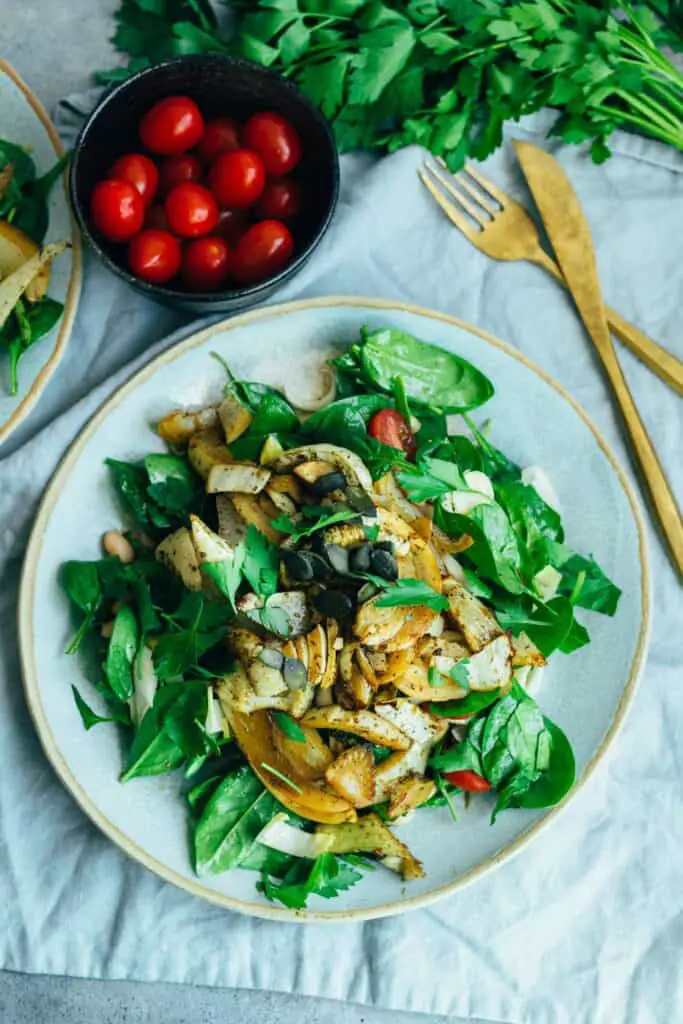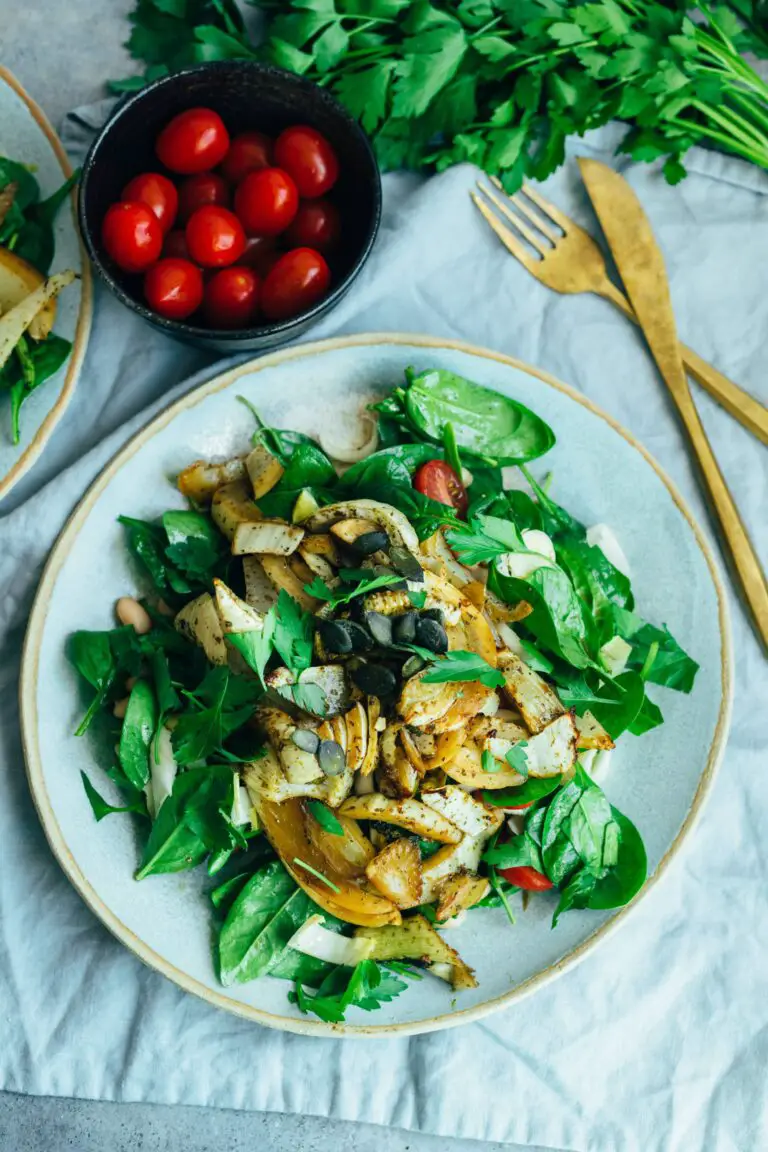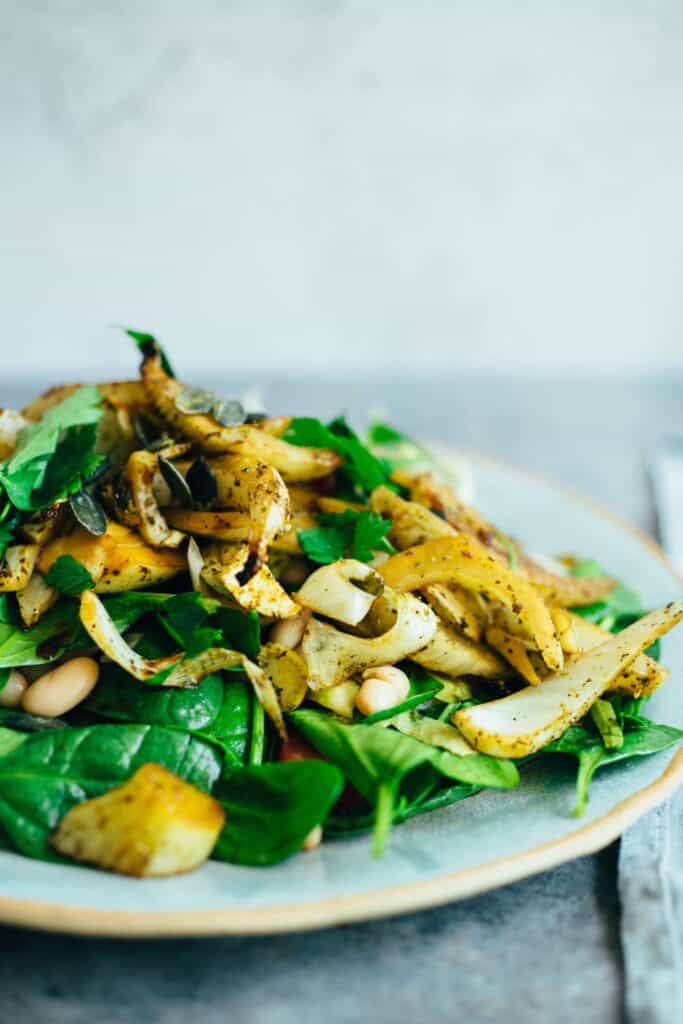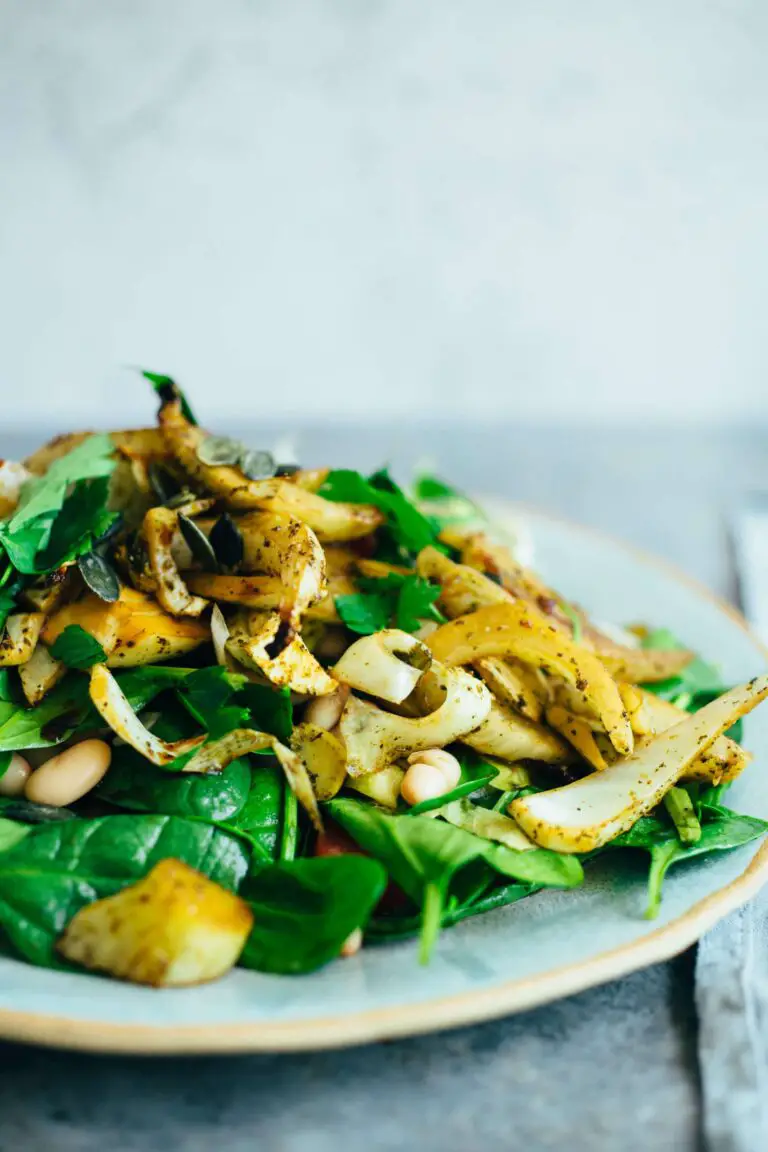 Far too often I reach for the same foods over and over again in the supermarket. Especially with fruits and vegetables, it's always the same things, but for some time now I've been outsmarting myself. I force myself to add at least two new varieties of fruits or vegetables to my cart and try something. Admittedly, fennel is not necessarily something completely new or unusual now. However, one often prefers to leave the tubers on the vegetable shelf because one does not know exactly what to do with them. Then how about this delicious variation from the oven, with great roasted flavors, deglazed with aromatic Tamari .
For the fennel, besides the bulbs, we need a little oil, Italian herbs (or other herbs of choice) and tamari. The rest of the salad consists of baby spinach, cherry tomatoes, white beans and a delicious balsamic dressing.
I make my salad (world) the way I like it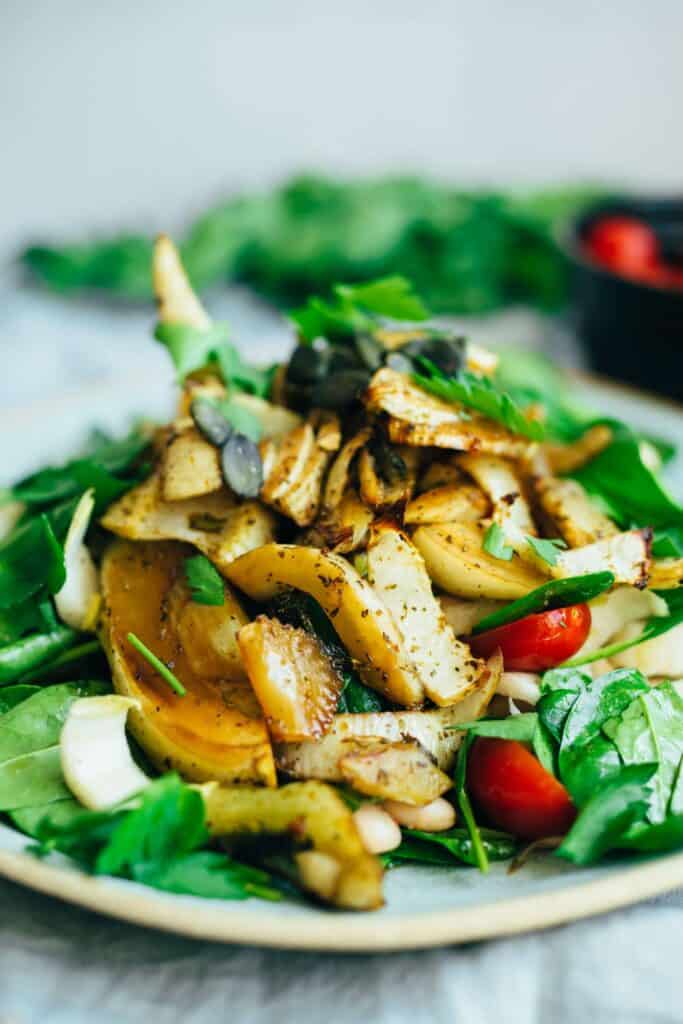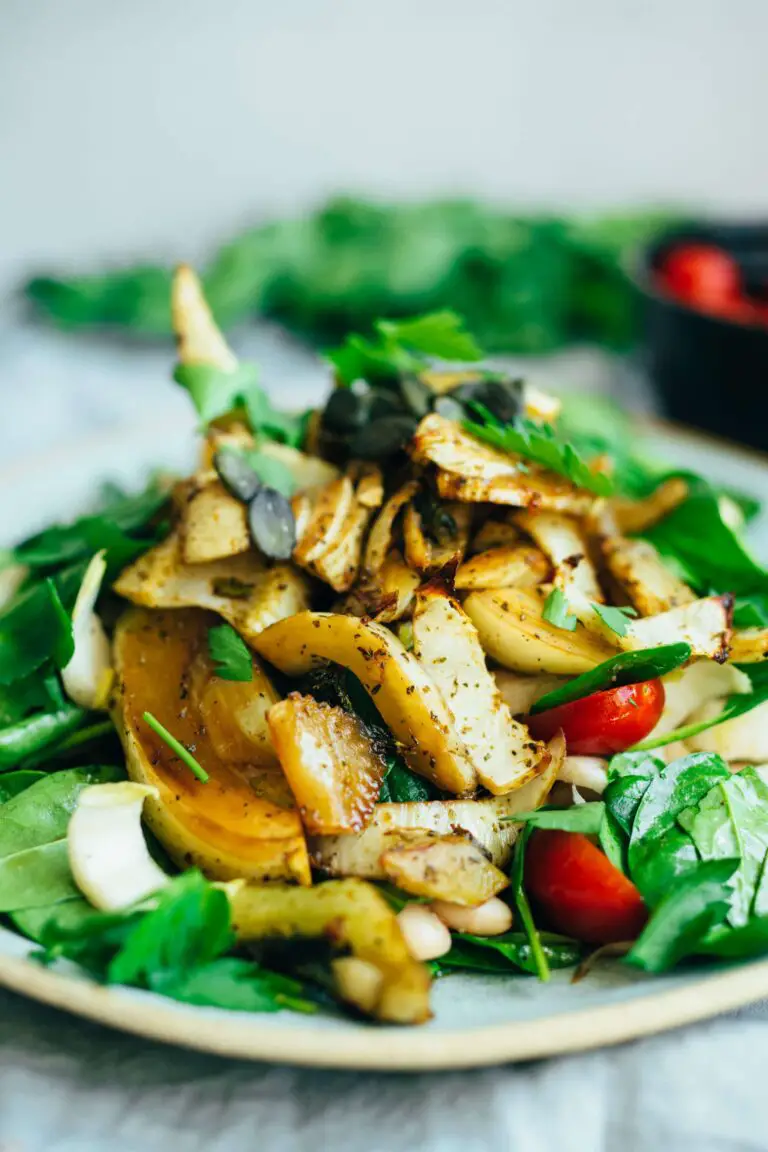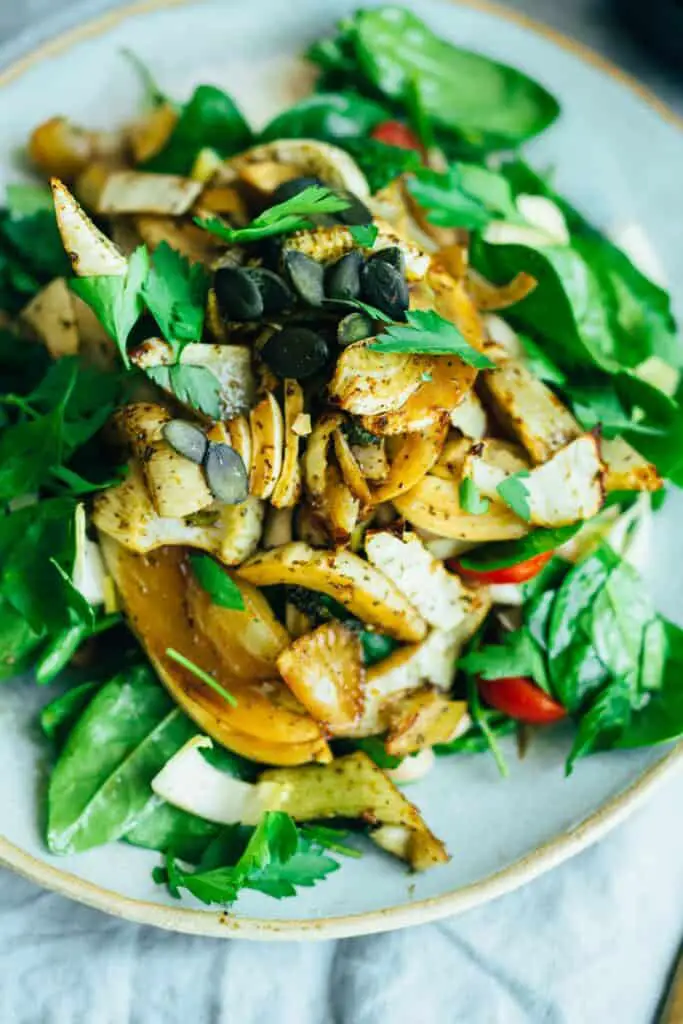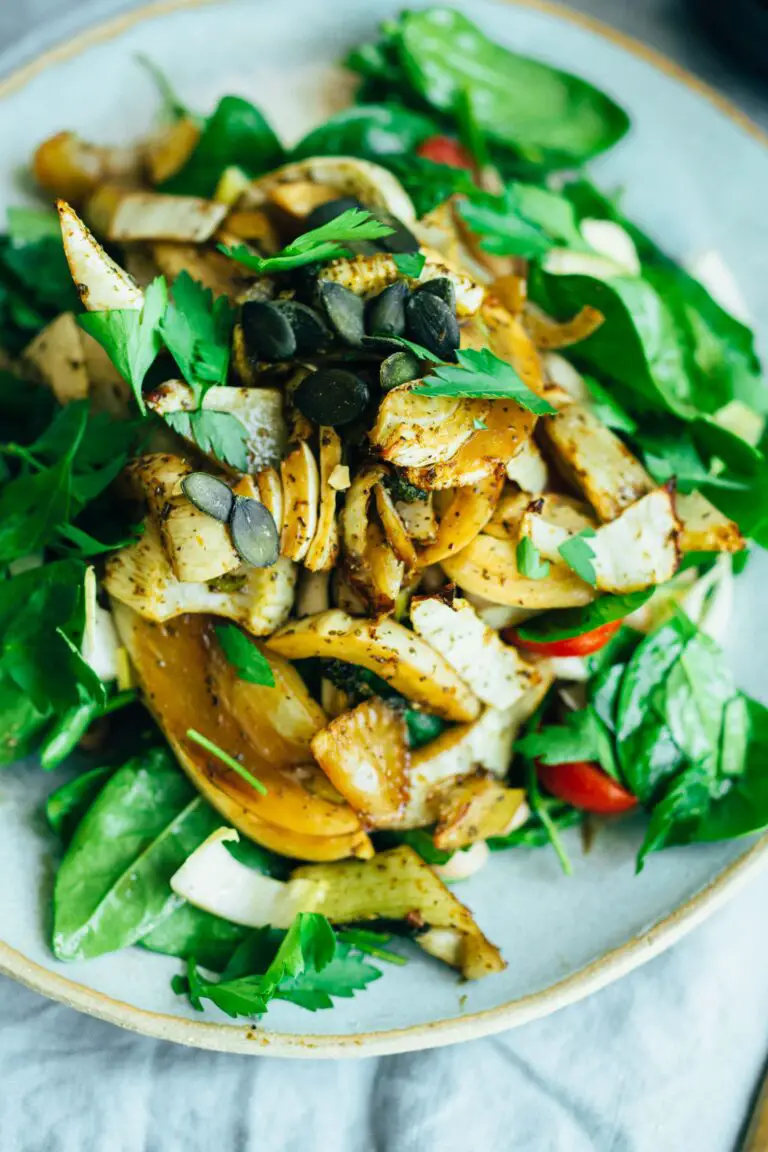 Today I use an Italian spice blend for the fennel, but many other variations are possible. Indian, Italian, Asian, Ethiopian, whatever strikes your fancy today. Here are a few variations that I think are quite good:
Italian spice blend
Olive oil, a little lemon juice & chili
Hot curry powder
Caribbean (here is a great spice blend from Sonnentor)
Herbs of Provence
Ras el Hanout
I find it so exciting how many great spice blends there are to buy in organic quality. That's why I really feel like filling up my online shopping cart right now.
How healthy is actually fennel?
Good question? Have you ever taken a closer look at fennel? Until today, I only knew that it is supposed to be quite good for indigestion and stomach problems. But what else is in the tuber? Let's take a look together:
Fennel contains essential oils, such as anethole, menthol and fenchol, which are responsible for the intense anise flavor of the bulb.
May have a positive effect on flatulence (antispasmodic, soothing).
Rich in vitamin C (93mg per 10g) and Iron
Contains provitamin A and potassium
Very low in calories with 19kcal per 100g
I think these are enough arguments to definitely pay attention to fennel more often? I will definitely do this and look forward to my next purchase. Do you like fennel? Feel free to comment on this at the bottom of the page.
If you don't want to eat fennel today, I recommend you to try my Salad with tamari mushrooms the oriental salad with chickpeas or seasonally the Salad with strawberries and green asparagus .
The salad with roasted fennel and white beans is:
aromatic
Crisp
Full of roasted aromas
filling
Very high in fiber
Let's go with this delicious vegan Salad . I wish you a lot of fun in the recooking and look forward to a review at the bottom of this page. If you post a picture, use the hashtag #veganevibes.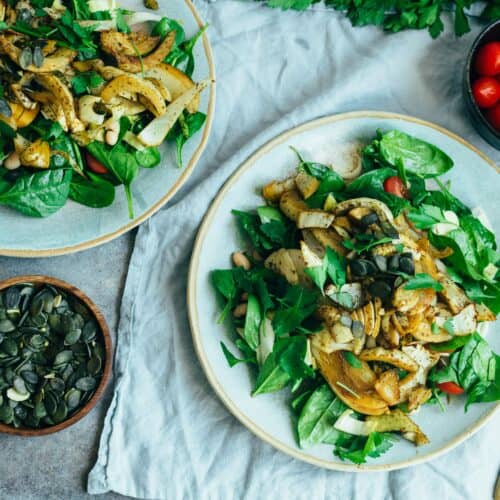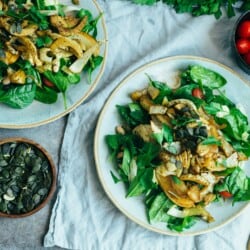 Salad with roasted fennel and white beans
Lovely salad with oven roasted fennel, cannellini beans, green leaf lettuce, tomatoes and a fine balsamic dressing. The perfect starter, or main course for all seasons.
AUTOR: VEGANEVIBES
Anleitung 
Drain cannellini beans from can, rinse with cold water and set aside.

240 g Cannellini beans beans

Preheat the oven to 200 degrees and prepare a baking dish.

Wash the fennel, remove the stalk, woody parts and cut into coarse pieces. Put in a bowl, add oil, tamari and spice mixture and mix well once. Place in a baking dish and place in the oven.

2 Fennel bulbs,

15 ml Frying and baking oil,

2 tbspn Italian spice blend,

30 ml Tamari

Put in the oven and roast at 200degrees for 25 minutes. Depending on how crispy you want the fennel, braise for 5-10 minutes longer.

In the meantime, mix the Dressing mix. Set aside.

1 Portion Balsamic dressing

Remove fennel from oven, pour in tamari and stir.

Provide a large salad bowl, add lettuce, cannellini beans, halved cherry tomatoes, add dressing and mix well.

200-220 g mixed,

240 g Cannellini beans beans,

150 g Cherry tomatoes,

1 Portion Balsamic dressing

Divide among plates and garnish with the roasted fennel.

Top with fresh herbs and (optionally) enjoy with spelt bread or rolls!

Parsley or other fresh herbs of choice,

Spelt bread,

Spelt roll

Best fresh! Fennel (without leaf lettuce) can also be stored covered in the refrigerator for up to 2 days and eaten cold, as antipasti.
Nährwertangaben
Serving:
1
Portion
Calories:
97
kcal
Carbohydrates:
13
g
Protein:
5
g
Fat:
4
g
Saturated Fat:
1
g
Sodium:
568
mg
Potassium:
184
mg
Fiber:
3
g
Sugar:
1
g
Vitamin A:
751
IU
Vitamin C:
20
mg
Calcium:
47
mg
Iron:
2
mg