Is it even allowed to use the word meat, or meat salad? If you look at the posts on Instagram, you're not so sure anymore. Is then a Jackfruit Lettuce not also meat in the broadest sense? After all, it is fruit pulp. This is exactly the reason why I decided to call this Recipe also meat salad to call and not somehow "after kind like" or "no idea, but somehow I have to make it vegan ". Personally, I find it very exciting in any case to observe the heated tempers. One could almost think that some people feel threatened in the basic pillars of their personality because "being vegan" is trendy. I am definitely vegan because it tastes good to me, I feel good and for my part I am doing something for the health of our planet. Well then, are you ready for JACK THE FRUIT ?
Jackfruit – the vegan star in the pulp sky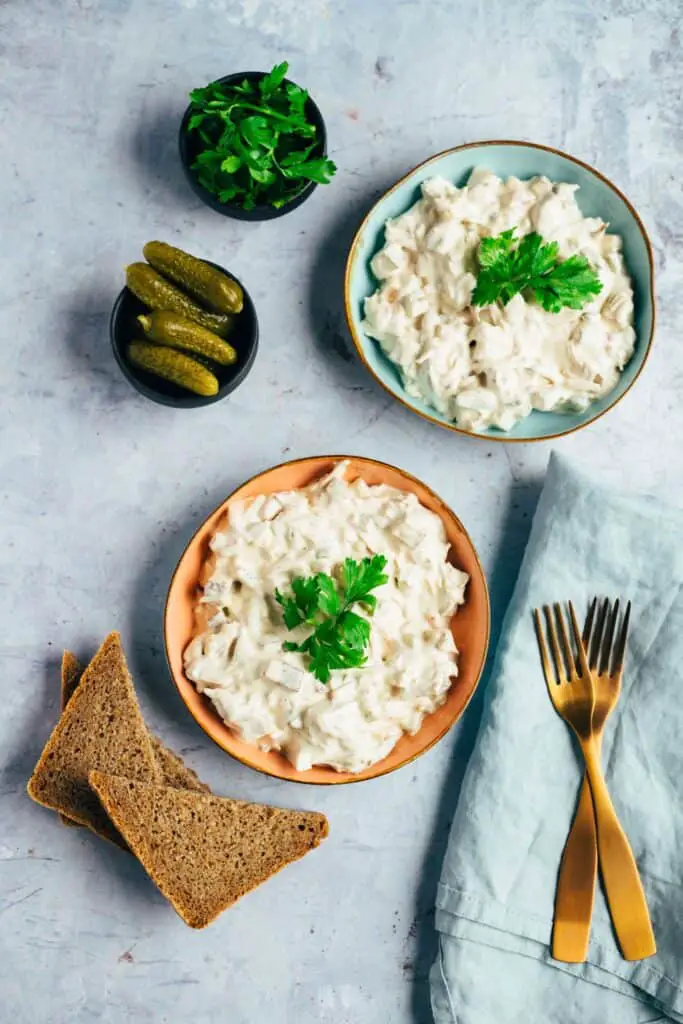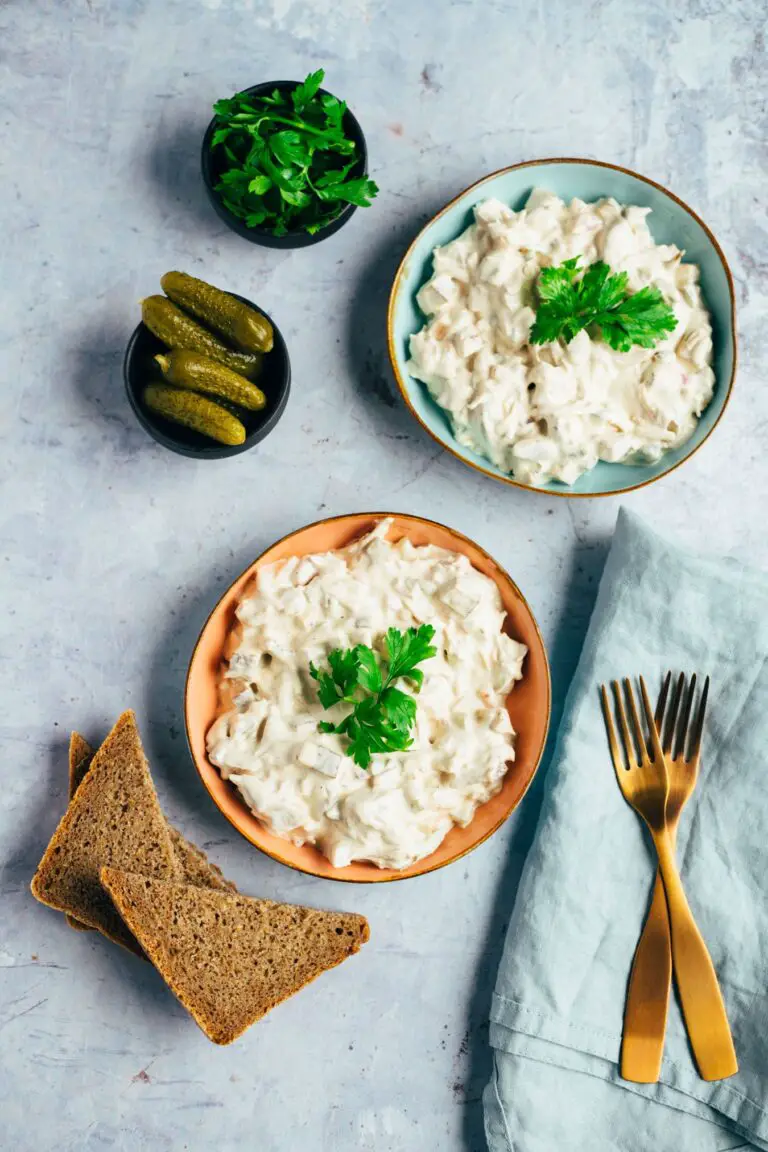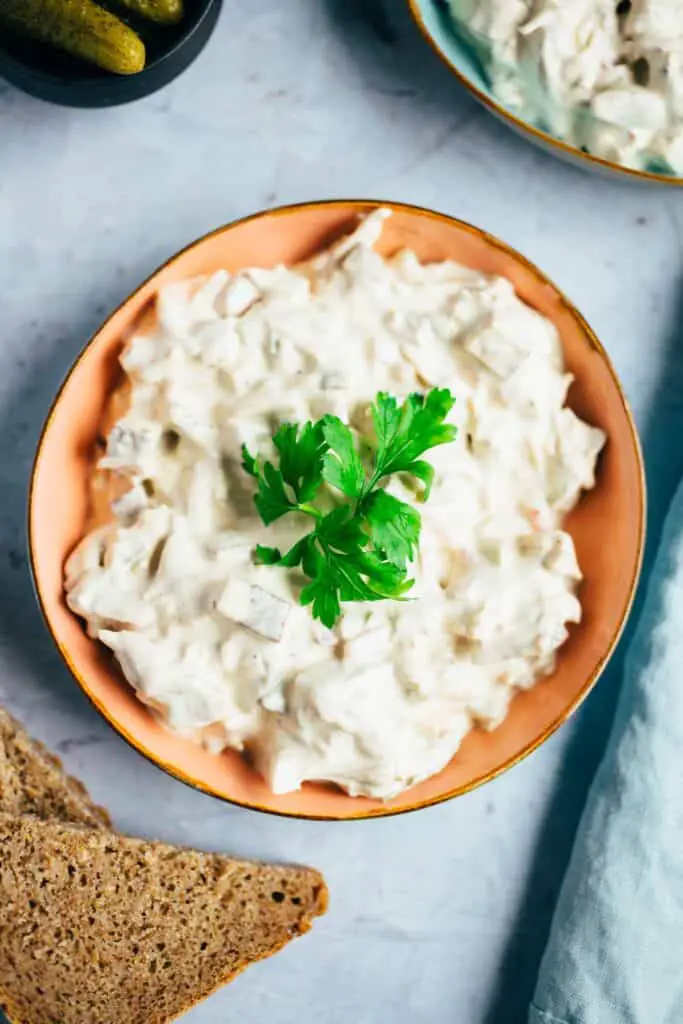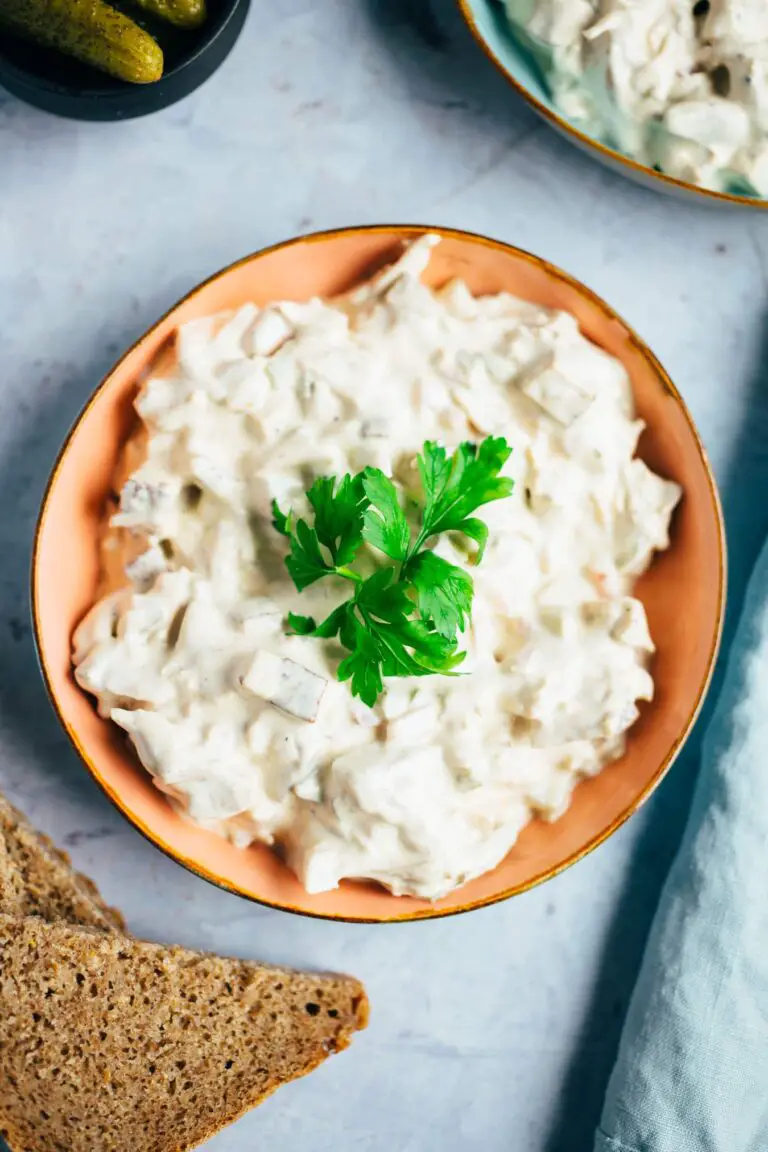 The other day I was once again in my favorite organic supermarket, when such a great Lettuce from Jackfruit has smiled at. This small, fine thing landed of course immediately in my shopping cart and I was really excited. Super creamy, spicy and savory at the same time. A dream. I must be able to copy that at home, I thought to myself. No sooner said than done, I tried a little and the result was this delicious Jackfruit meat salad with a wonderfully creamy Cashew mayo . Yummy is all I can say!
I cook very often and with pleasure with jackfruit:
The flesh is fibrous, remains nice and firm to the bite even when cooked and is therefore super for hearty dishes with a firm to the bite character
Jackfruit is rich in fiber, antioxidants, iron, zinc and potassium
Particularly rich in vitamins A and C
I hope the above reasons can convince you incorporate more jackfruit into your diet.
Gives Jackfruit a chance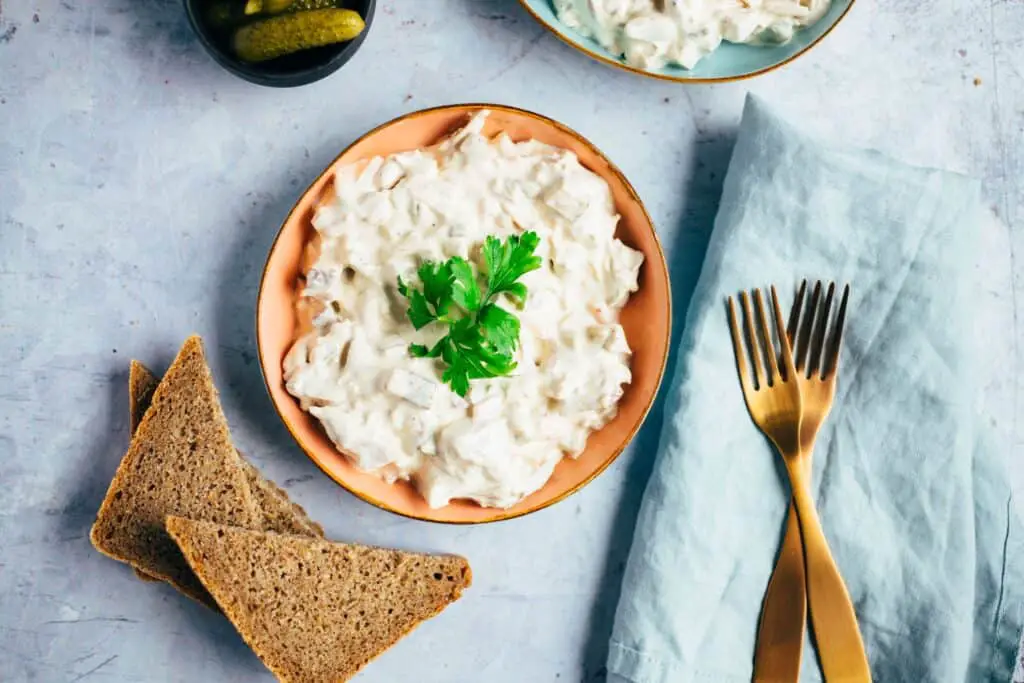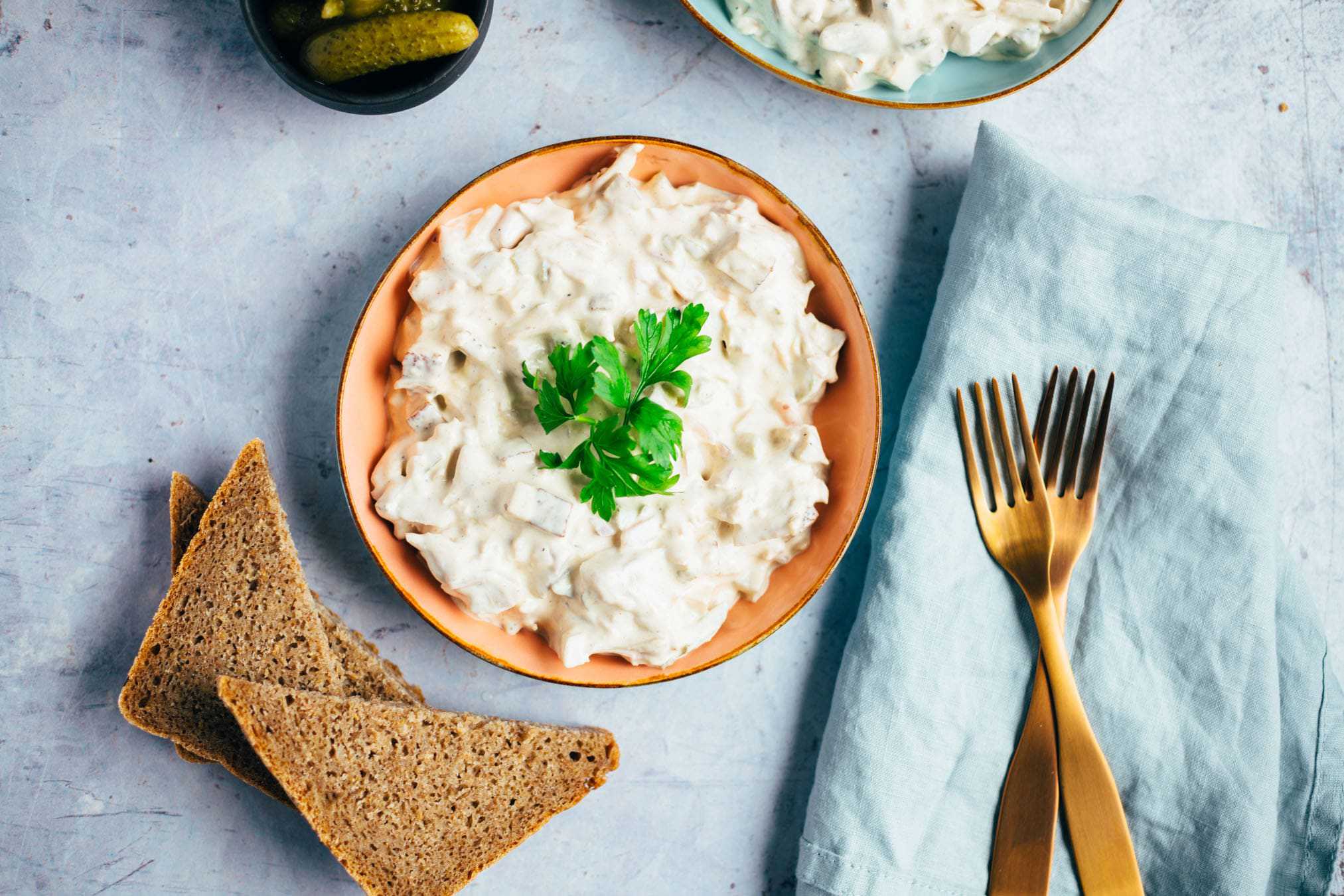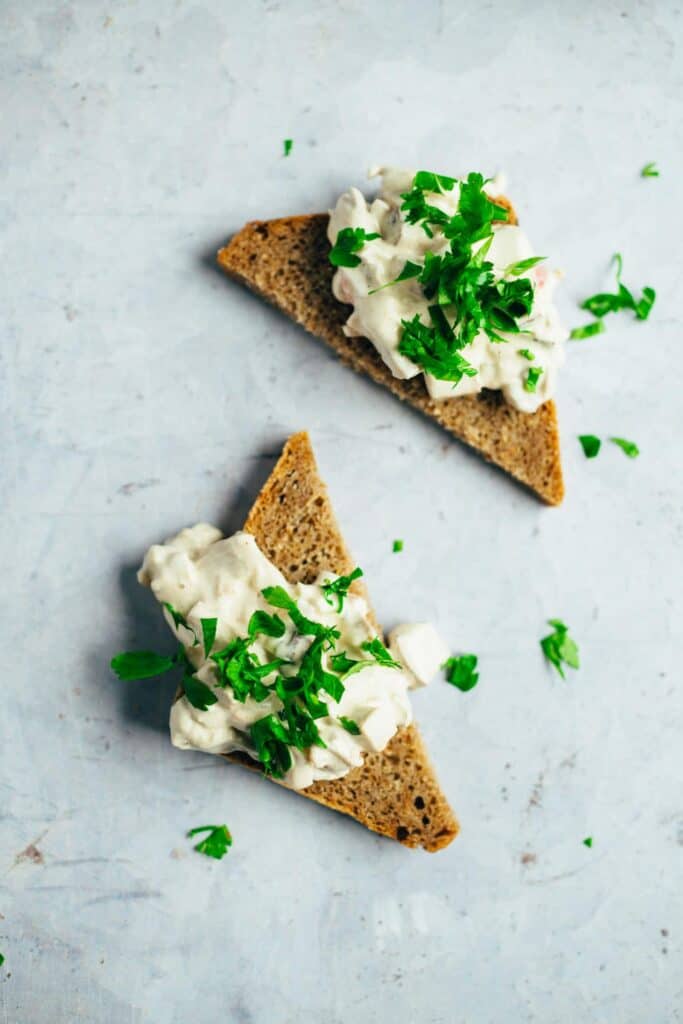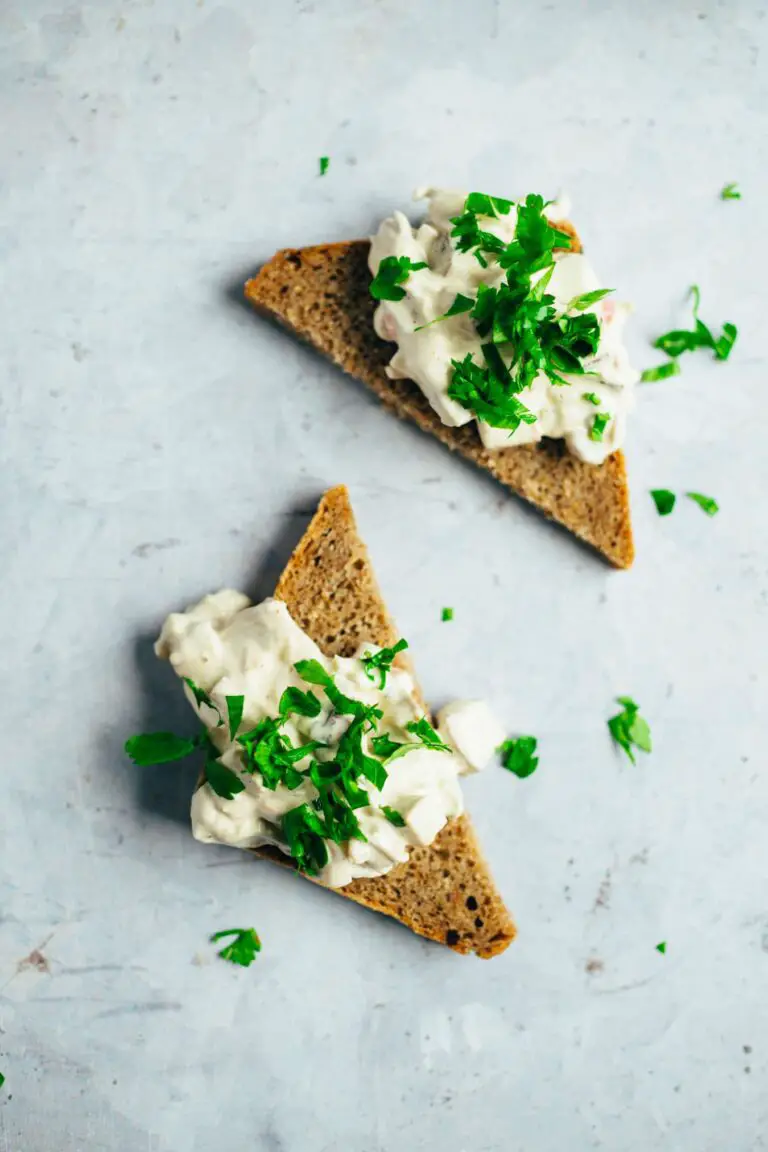 Our meat salad today is really quick to make, provided you use softest the Cashews early. Click here to go directly to my blog post on how to The best way to soak cashews . Add jackfruit, smoked tofu, onion, pickles, mustard, vinegar, lemon juice, yeast flakes, sugar, salt, paprika and pepper.
This delicious salad goes perfectly with hearty dishes like. Burgers , as a barbecue side dish, or with some bread as a Main course .
The creamy meat salad with jackfruit is:
hearty
filling
aromatic
versatile
Perfect with grilled food or burgers
Well, did you get a craving for this delicious, creamy Salad ? I wish you a lot of fun in recooking and of course a review at the bottom of this page. If you post a picture, use the hashtag #veganevibes.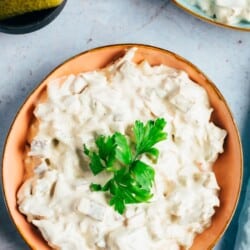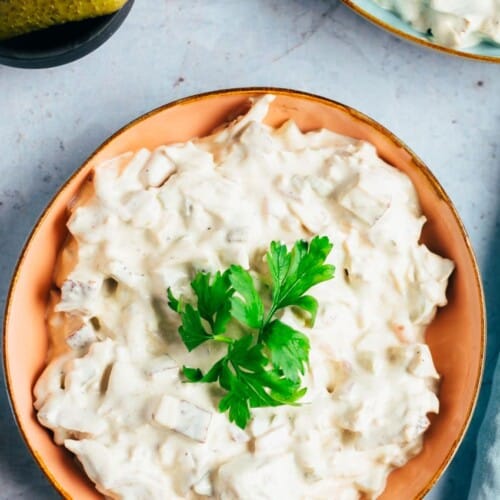 Creamy meat salad with jackfruit
Incredibly flavorful and hearty jackfruit salad with cashew mayo and smoked tofu. The perfect side dish for burgers or as a TO-GO meat salad for the lunch box.
AUTOR: VEGANEVIBES
1

Portion

Portion cashew mayo

alternatively a bought vegan mayo

400

g

Can young jackfruit

Draining weight 225g, I take the ones from Jacky F from the Alnatura

100

g

Smoked tofu

cut into fine cubes, I take the brand Taifun (not paid, but by conviction).

110

g

red onion – finely chopped

Equivalent to one medium sized onion

3

medium gherkins

cut into small cubes

1

tbspn

spicy mustard

15

ml

Vinegar

15

ml

Lemon juice

1

tbspn

Nutritional yeast flakes

if not at hand simply omit

1

tbspn

Sugar

½

tbspn

Salt

½

tbspn

Paprika powder

Pepper to taste

Some oil for frying

(optional) Fresh parsley greens to taste
Anleitung 
Make one serving of cashew may o. If using store-bought mayo, place 6 heaping tablespoons in a large bowl.

1 Portion Portion cashew mayo

Drain jackfruit from can, place in colander and rinse briefly with cold water. Cut or tear jackfruit pieces into smaller pieces with your hands or a small knife. I also use the slightly harder stalk of the fruit, but can also be cut away.

400 g Can young jackfruit

Heat a frying pan, add 1 tsp of frying oil. Sauté the jackfruit, smoked tofu and onion in it for

10 minutes

, or until the onion is nice and translucent.

400 g Can young jackfruit,

100 g Smoked tofu,

110 g red onion – finely chopped,

Some oil for frying

Add to bowl with cashew mayo, add pickles, mustard, vinegar, lemon juice, nutritional yeast flakes, sugar, salt, bell pepper and paprika. Stir well until everything is evenly combined.

1 Portion Portion cashew mayo,

3 medium gherkins,

1 tbspn spicy mustard,

15 ml Vinegar,

15 ml Lemon juice,

1 tbspn Nutritional yeast flakes,

1 tbspn Sugar,

½ tbspn Salt,

½ tbspn Paprika powder,

Pepper to taste

Taste and season if necessary.

Leave to infuse for at least an

hour

, preferably overnight, covered in the refrigerator.

Portion onto plates, garnish with fresh parsley greens and enjoy!

(optional) Fresh parsley greens to taste

Keeps up to 4 days in the refrigerator, best in the first 2-3 days.
Nährwertangaben
Serving:
1
Portion
Calories:
109
kcal
Carbohydrates:
27
g
Protein:
1
g
Fat:
1
g
Saturated Fat:
1
g
Sodium:
65
mg
Potassium:
136
mg
Fiber:
1
g
Sugar:
2
g
Vitamin A:
62
IU
Vitamin C:
4
mg
Calcium:
50
mg
Iron:
1
mg