Sweet potato Brownies , oh how they smell! I love Sweet potato , is it the same for you? The tuber is just so versatile and even does extremely well in our today's Brownie extremely well. The sun finally shows up again here in Bavaria and I got my hammock ready to go. I love cozy corners where I can really relax. In our garden I like to be especially, with a good book or just with a good Brownie . Simply letting your mind wander sounds simple, but for many it is very difficult. I also count myself as one of those restless people who are always on the go and getting things done. The invention of the "coffee to go" adds to the hustle and bustle. For years we have been drinking coffee not simply from a cup while sitting, but while walking from a paper cup with a plastic lid? I think we can put an end to that now. Just sit in the garden, make a coffee, enjoy sweet potato brownie and watch the birds.
Sweet potato brownies, coffee and my hammock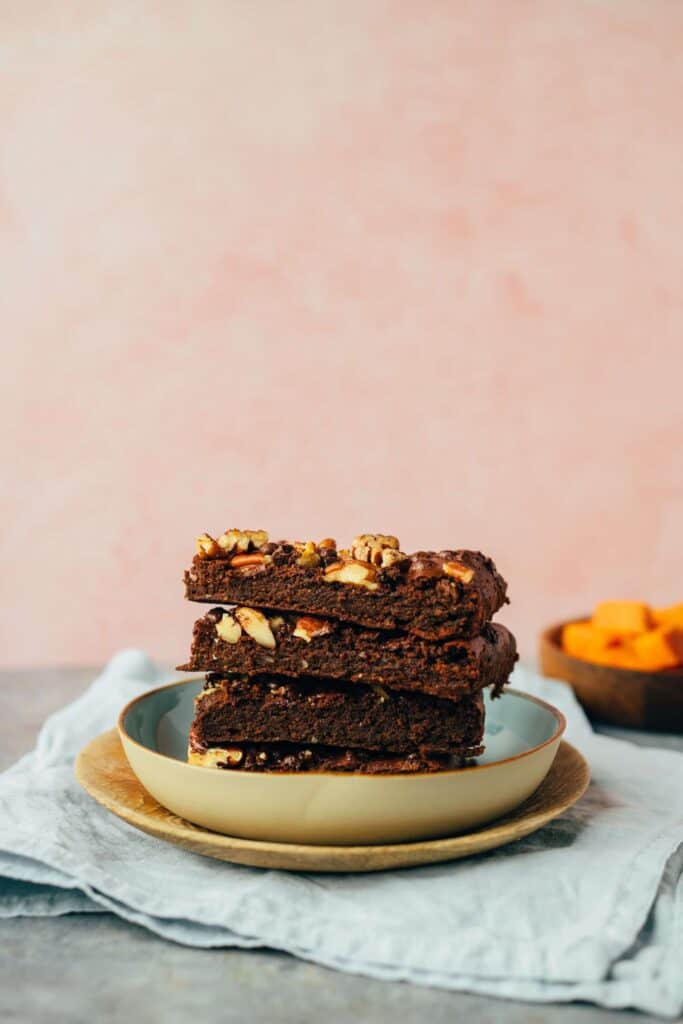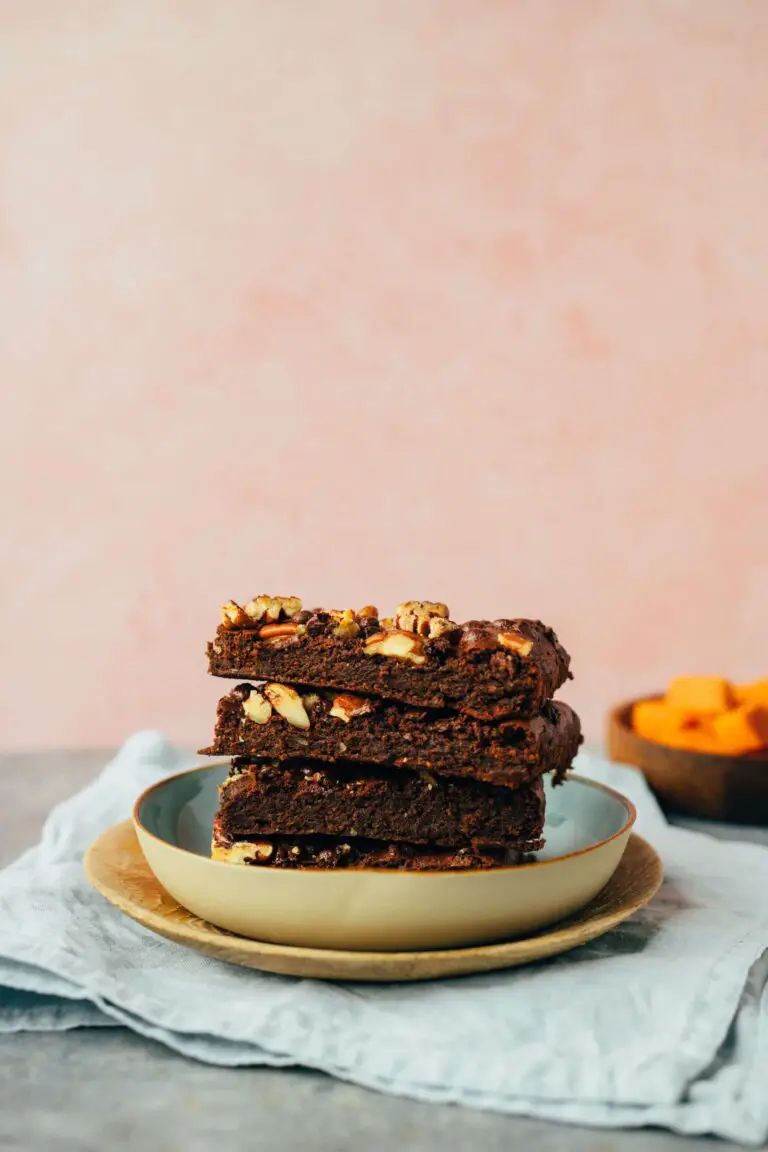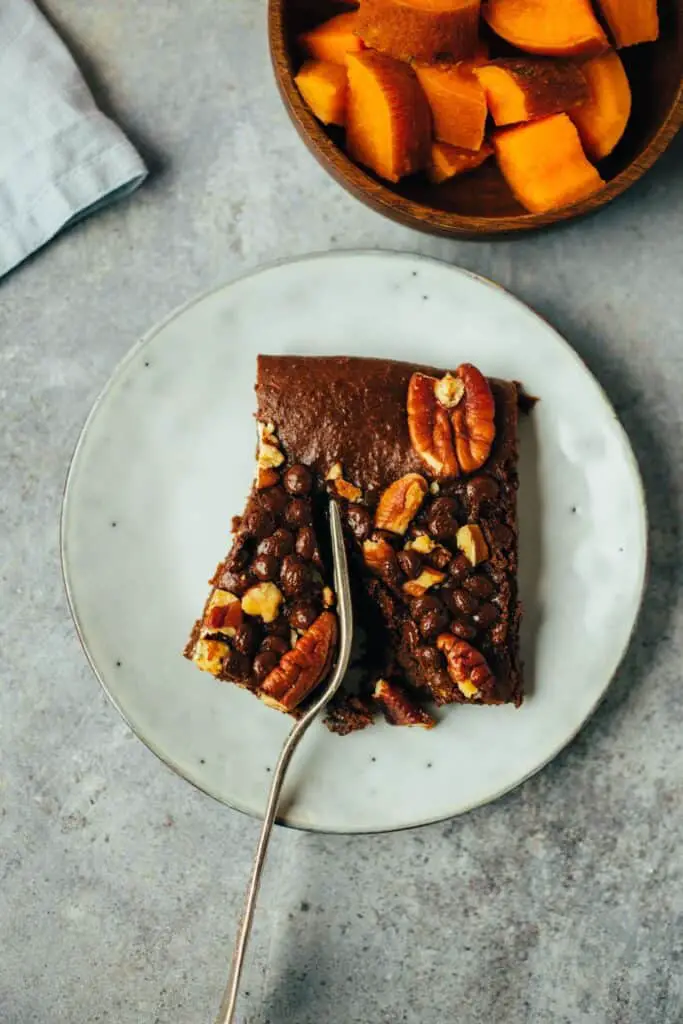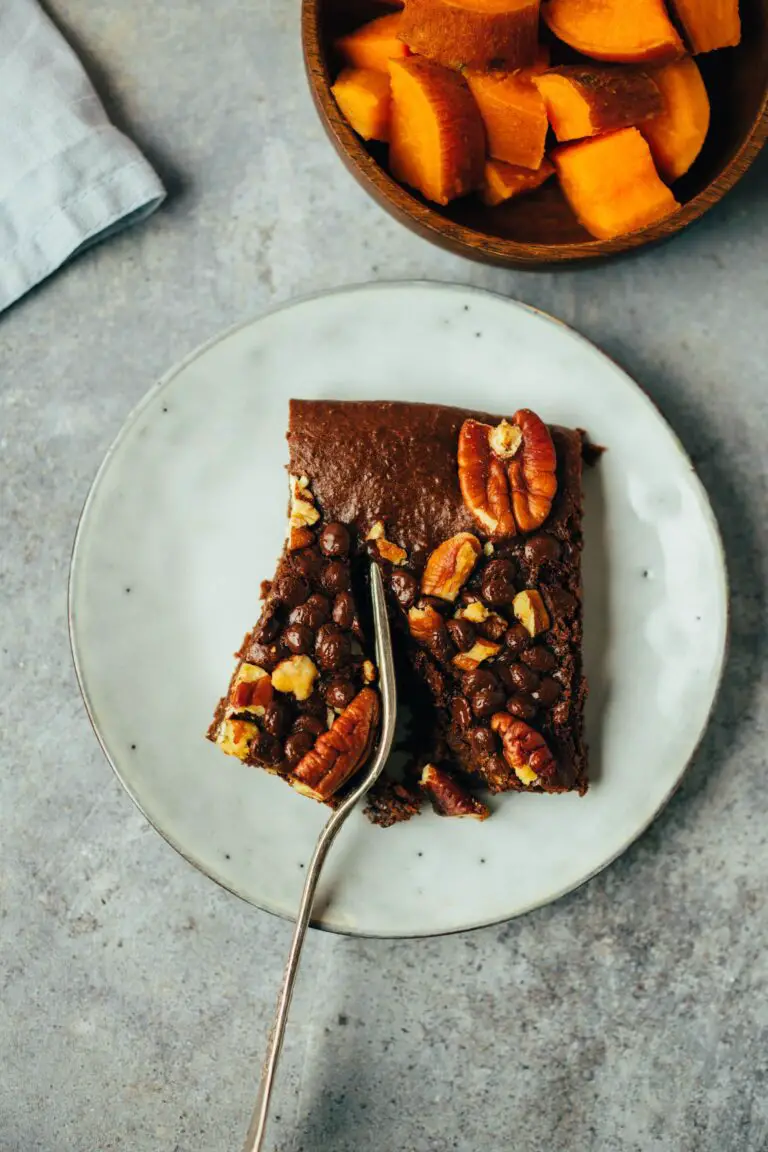 It's just so great because just thinking about my hammock makes me totally relaxed. Ok, sorry I don't want to bug you about this forever now, so we are slowly but surely moving on to making our Brownie over. I have studied some Recipes studied and in most of them we Sweet potato first stewed in the oven for half an hour to an hour. That is too long and too time-consuming for me. Therefore, I just cut them into pieces and cooked them with peel in boiling salted water for 4 minutes. After that, it is not cooked through, but almost cooked and can be processed wonderfully. In the Brownie it is baked again and therefore works super well.
Sweet potato pieces, Almond paste , maple syrup, raw cane sugar, oat flour, cocoa powder, baking powder and a pinch of salt. If you like, you can add a little vanilla. All this is made into a fine dough, decorated with dark vegan chocolate drops and pecans, and it's off to the oven.
TIP: I simply grind my own oatmeal by placing the flakes in a high-powered blender and processing on high speed to a fine flour. Alternatively, you can buy it ready-made. Oatmeal is not gluten-free per se, please look for a gluten free version in case you need to avoid gluten.
Sweet sweet potato recipes my loves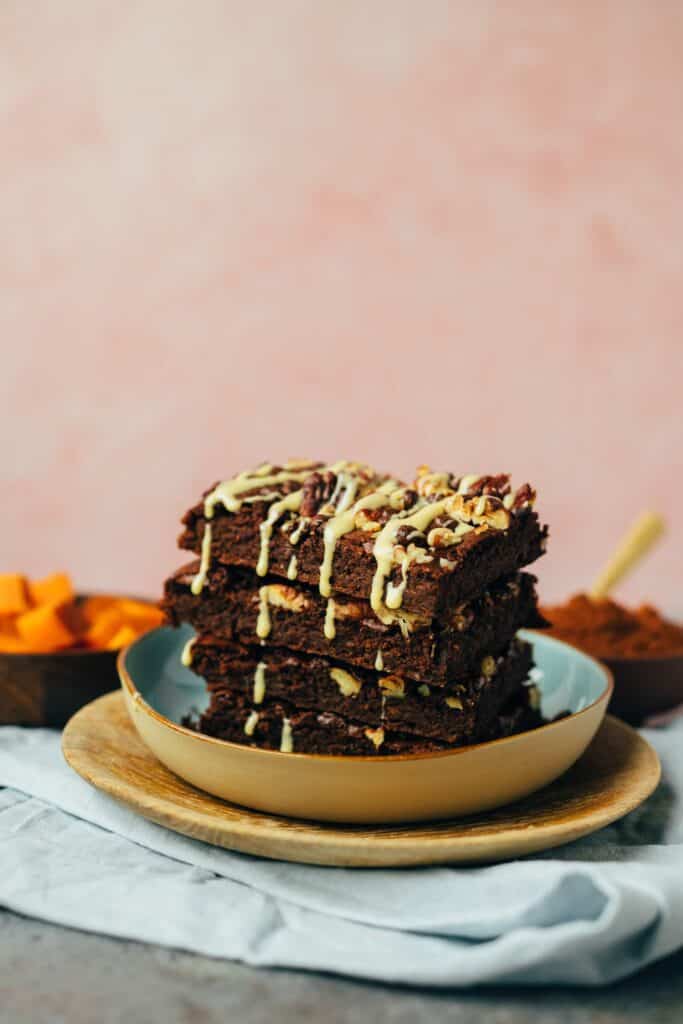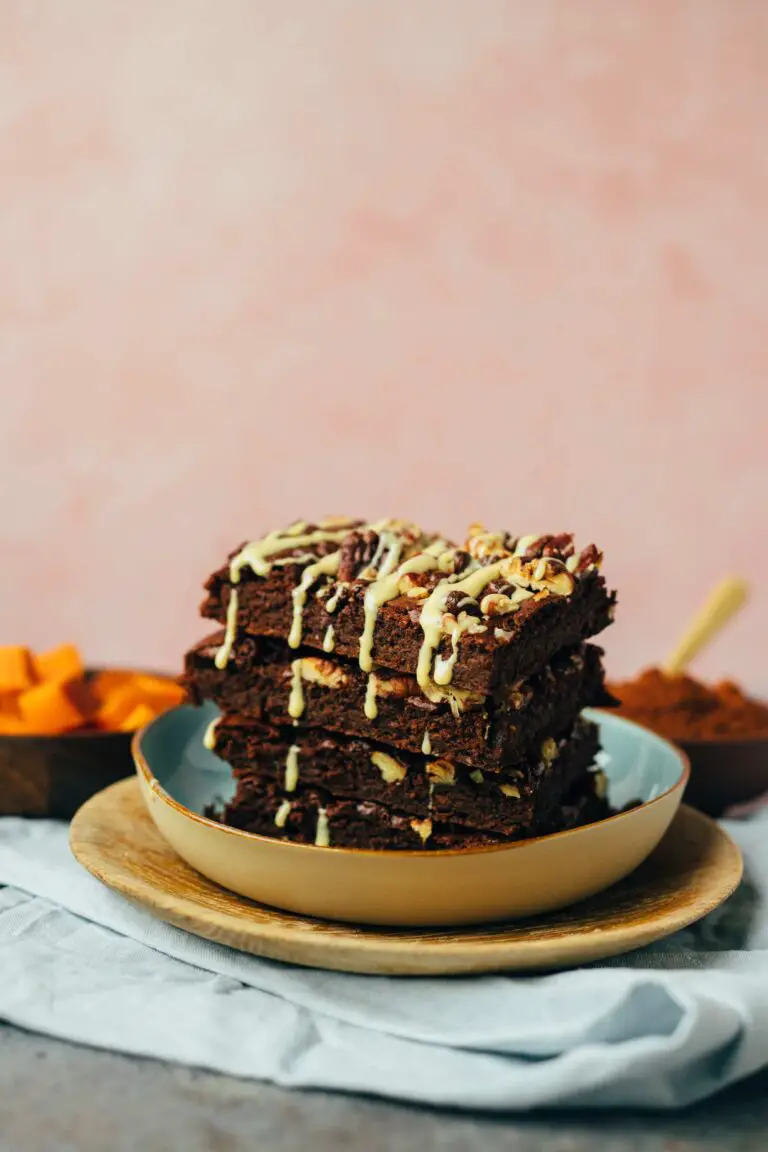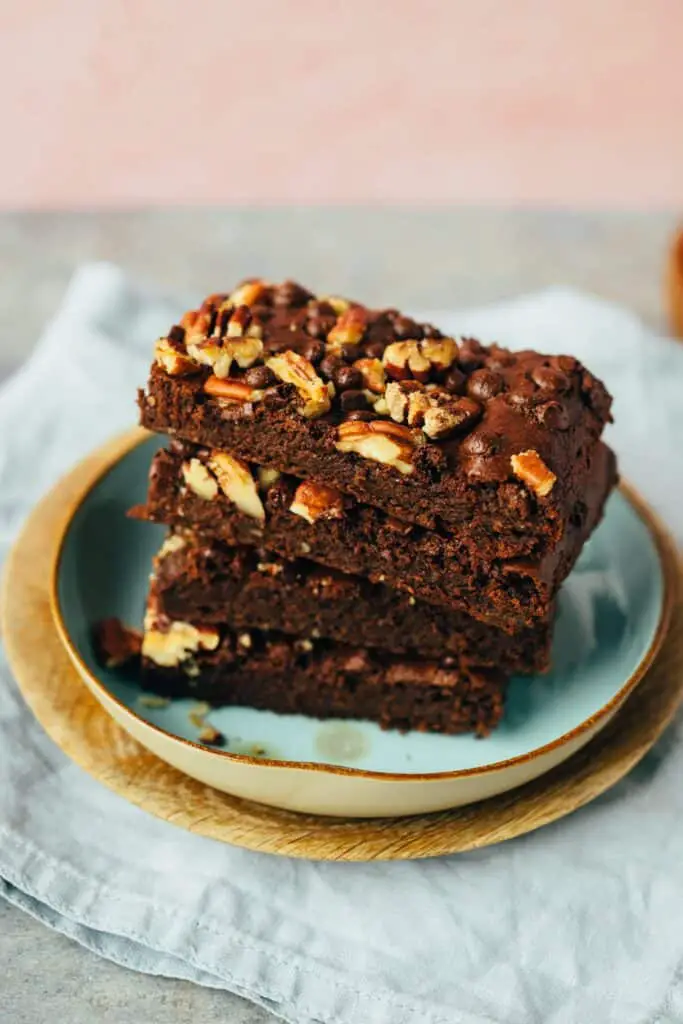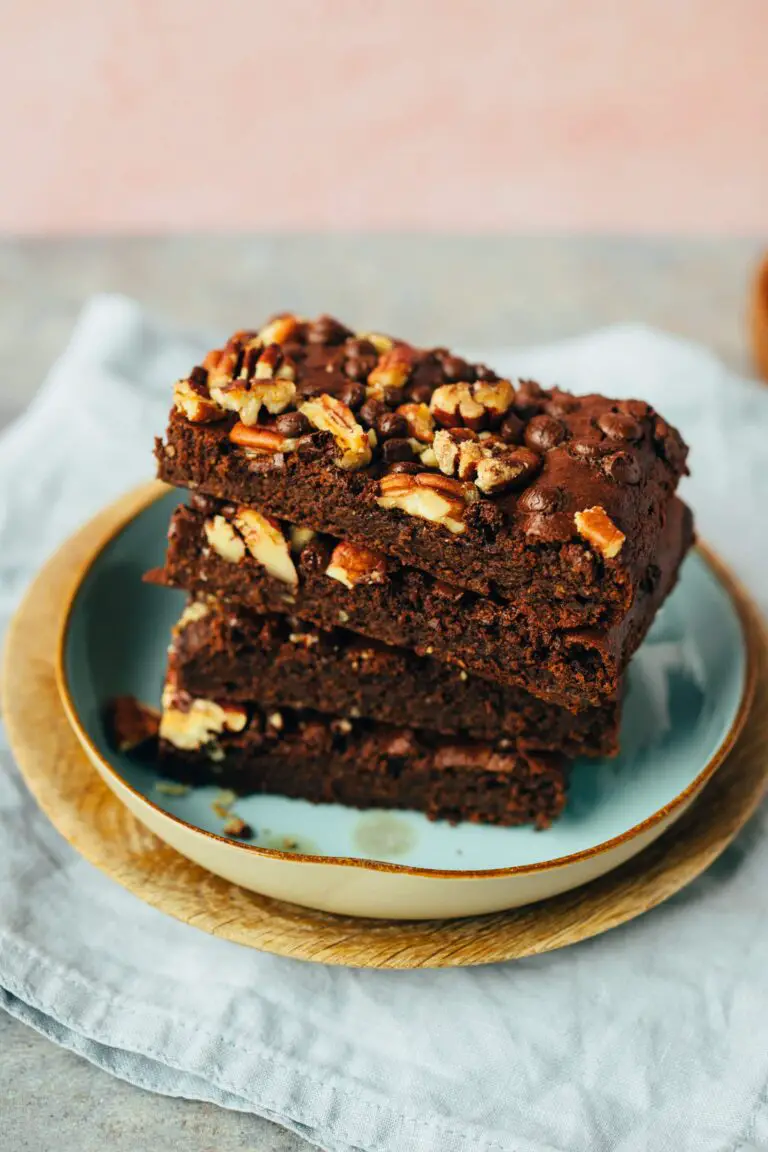 I have Sweet potatoes mostly always in savory dishes like Curries or Oven Dishes used As a mush, however, it also fits wonderfully into many baked goods, such asbrownies, Cake or also Desserts . Perhaps the question is whether you can eat the sweet potato skin or not? The normal potato is always peeled?
Sweet potatoes do not form solanine in the skin (solanine is a mildly toxic chemical compound that is mainly found in solanaceous plants such as potatoes and tomatoes).
Extremely high levels of carotenoids (precursor of vitamin A)
Contain Caiapo (Studies at the University of Vienna have shown positive effects against anemia, hypertension and diabetes).
Contain Vitamin C, E, B2, B6 and biotin
Complex carbohydrates
Rich in Potassium and magnesium
If you'd rather cook something else with sweet potato today, I recommend my Sweet potato curry or Sweet Potato Fries .
I'd say go for it with this healthy candy. I hope you enjoy baking and of course about a review at the bottom of this page. If you post a picture, feel free to use the hashtag #veganevibes.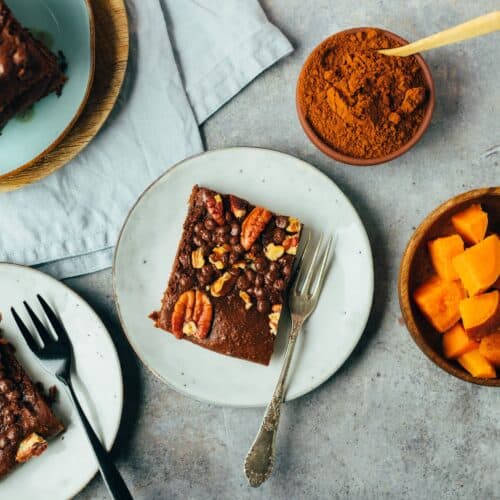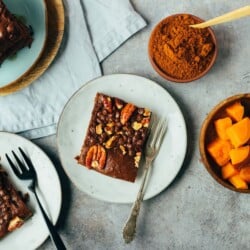 Sweet potato brownie (oil-free, gluten-free)
Juicy, healthy brownies with sweet potatoes. Particularly interesting for those who want to eat healthy, oil-free, low-sugar and high-fiber.
AUTOR: VEGANEVIBES
Anleitung 
Bring a pot of water to a boil. Add salt.

2 Liter Water,

½ tbspn Salt

Clean sweet potato (coarse removal of dirt or soil with a vegetable brush is sufficient here).

Sweet potato halve, halve again lengthwise and I cut into cubes. See video.

Add to the boiling hot water and simmer for 4 minutes.

In the meantime, preheat oven to 175 degrees and grease a brownie pan (23x23cm) a little and dust with cocoa (optional).

Strain sweet potato pieces after cooking time and set aside.

Place directly into a food processor (I use my MagiMix) or blend to a puree with a hand blender.

Add almond paste and maple syrup and blend to a fine paste.

60 ml maple syrup,

150 g Almond paste

Add raw cane sugar, baking powder, cocoa powder, salt, oat flour, (optional) bourbon vanilla and mix to a fine dough. This should be neither too solid nor too liquid. See consistency in the video. Otherwise if too dry, add a sip of vegetable milk, or if too firm, add more oatmeal.

80 g Raw cane sugar,

2 tbspn Baking powder,

¼ tbspn Salt,

60 Oatmeal,

optional ¼ tsp bourbon vanilla,

50 g Cocoa powder

Pour batter into muffin tin.

Spread pecans and chocolate drops on top.

50 g Pecans,

45 g dark vegan chocolate drops

Put in the oven and bake for

25-30 minutes

.

Remove from oven and allow to cool and enjoy!

Store covered at room temperature for up to 3 days, in the refrigerator (sealed airtight) for up to 5 days, or frozen for up to one month.
Nährwertangaben
Serving:
1
Portion
Calories:
198
kcal
Carbohydrates:
23
g
Protein:
4
g
Fat:
12
g
Saturated Fat:
2
g
Sodium:
81
mg
Potassium:
212
mg
Fiber:
3
g
Sugar:
16
g
Vitamin A:
2956
IU
Vitamin C:
1
mg
Calcium:
79
mg
Iron:
1
mg