High protein Oven dish , a poem. Haha, that rhymes beautifully. Just silly that we are not in a poetic debating club here, but on a food blog. I'm quite sporty at the moment and am even taking part in a fitness challenge. My muscles are currently speaking for themselves in that I have a sore muscle in a different spot every day. This is exactly why I take great care to cover the recommended protein amounts. You may not believe it, but also vegan living people get enough Protein . Amino acids are primarily found in plants, or why do you think horses have muscles too? All joking aside, if you want to take a closer look at the topic, feel free to watch the documentary "THE GAME CHANGERS".
High protein dish prepared in the oven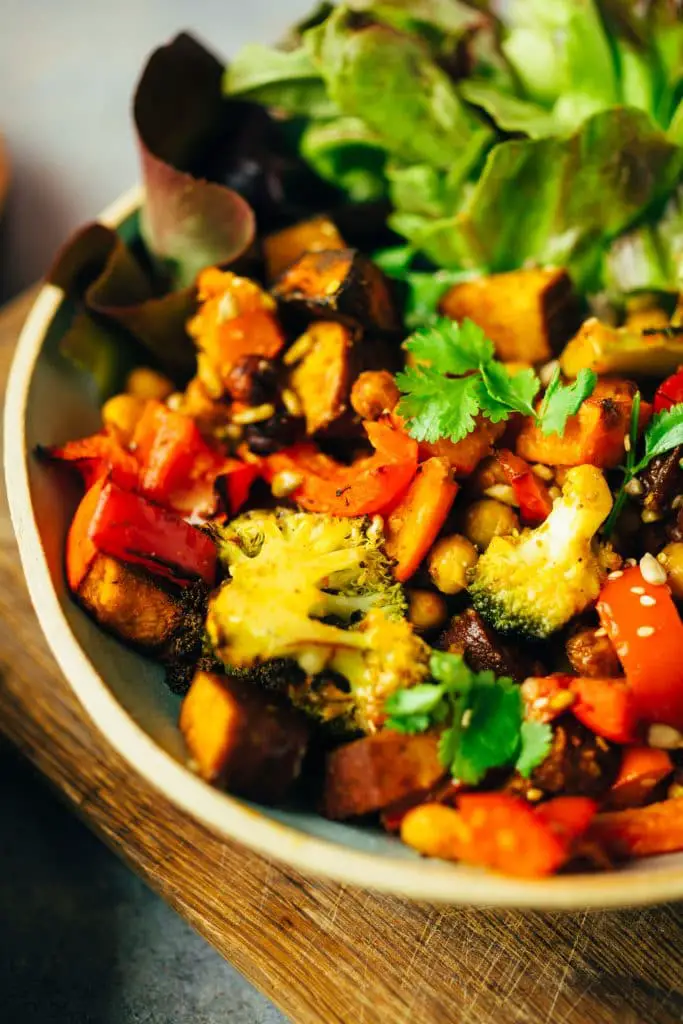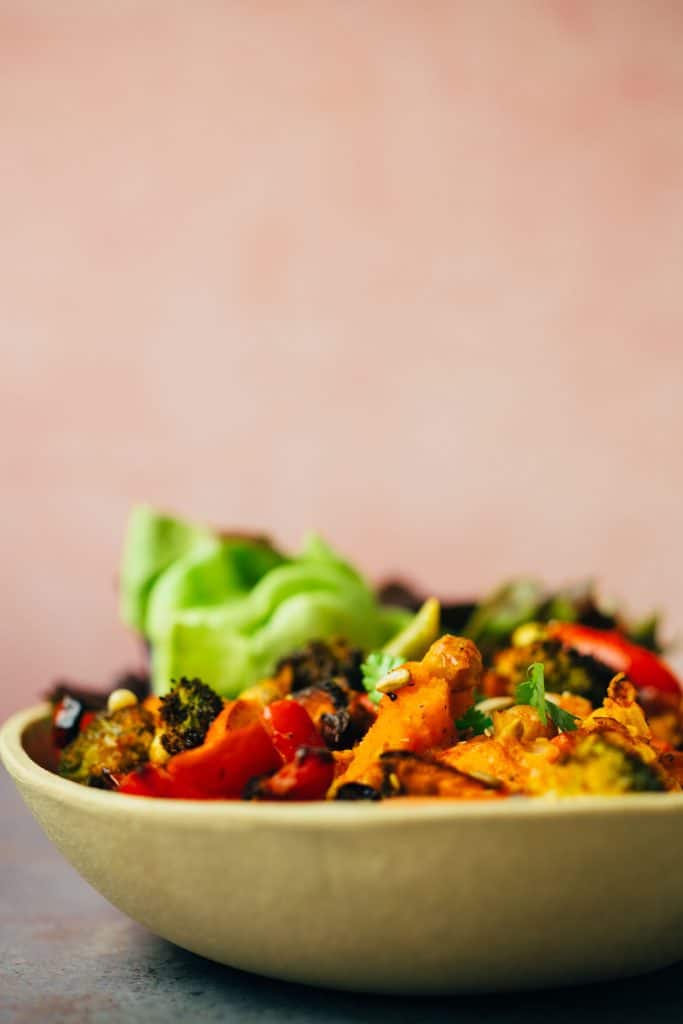 This dish is just killer because it's so easy to make. It's great after a strenuous workout or just for fun as a high protein Lunch or dinner . Chop the vegetables, add the chickpeas, Tofu dice and put in the oven. Shortly before the end of the baking time Sunflower seeds are added and braised for 10 minutes. The Dressing is mixed next to the baking time and the lettuce is washed. Then mix everything together and you're done.
TIP: If you want to really push the protein content once again, then I recommend mixing in an additional 100g of soy granules. The rule of thumb is 100g granules + 1 tsp organic soup powder + 300ml boiling hot water mix together in a bowl and steep for 5 minutes. Then simply mix into the dish.
Pumpkin , Chickpeas , Broccoli , Tofu , paprika, frying oil, smoked paprika, sweet paprika, turmeric, bird eye chili, garlic, cayenne pepper and salt. This is the basis for this delicious oven dish.
It is rounded off with a fine Dressing of lemon juice, maple syrup, olive oil, miso, salt and pepper. This is all mixed together at the end and served lukewarm. So delicious I can tell you.
How healthy are actually sunflower seeds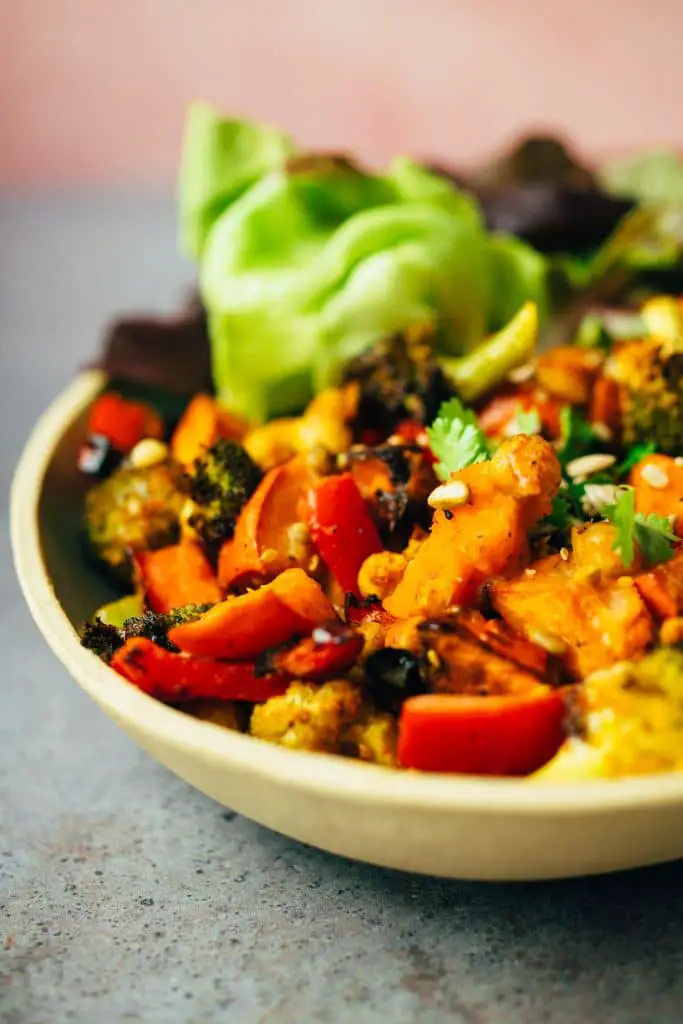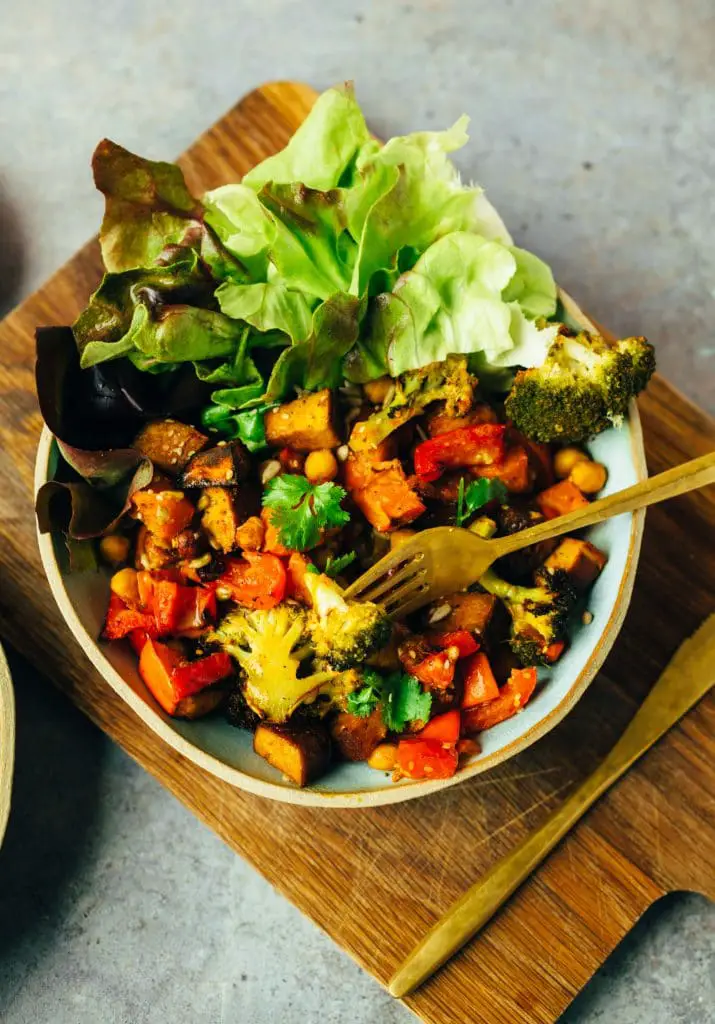 It's amazing how people so often focus on exotic superfoods when the good stuff is so close. By good I mean sunflower seeds, or have you ever heard a friend say "hey, have you heard about the latest superfood sunflower seeds everyone is talking about?" Wrong, because most people think of the small cores and think "boring".
Reason enough to take a closer look at the little power houses, because they are full of healthy ingredients. Did you know that 100g of sunflower seeds provide more protein than a steak? Here the word combination "good and cheap" gets a whole new meaning, because the seeds are affordable unlike other nuts, seeds or even superfoods.
Let's like to talk about the facts again, because sunflower seeds are:
Rich in magnesium with 420g per 100g
High protein content with 19g per 100g
Vitamin A, B vitamins, vitamin E
90% valuable unsaturated fatty acids
557kcal per 100g
Reason enough to use the little power bombs much more often as a topping. If you're not really in the mood for the oven dish today, I recommend my High Protein Pasta.
Ideal match fresh salad leaves, herbs and an extra handful of nuts and seeds.
The High Protein Oven Dish is:
High protein
aromatic
filling
High fiber
Easy to manufacture
Let's go with this delicious vegan oven dish. I wish you a lot of fun with the re-cooking and am happy about a review at the bottom of this page. If you post a picture, use the hashtag #veganevibes.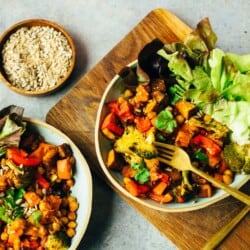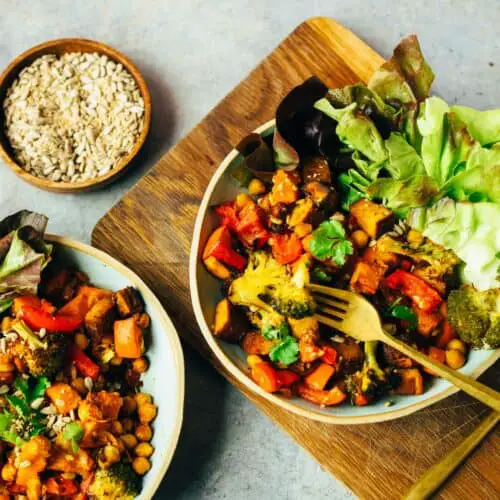 High protein oven dish
Protein and fiber rich oven dish with a fine dressing. Especially suitable for active people or vegans who want to cover their protein needs with high-quality plant ingredients.
AUTOR: VEGANEVIBES
FOR THE OVEN VEGETABLES:
1

Head

Broccoli

approx. 350g – stalk removed, cut into florets

300

g

Hokkaido pumpkin

cut into coarse pieces, alternatively use sweet potatoes

220

g

Tofu

roughly diced, I use smoked tofu, but any other tofu will also work

1

red bell bell pepper

Housing removed and cut into strips

1

tbspn

Paprika

smoked

1

tbspn

Paprika

noble sweet

1

tbspn

Turmeric

1

tbspn

Garlic granules

or 2-3 fresh garlic cloves, pressed

½

tbspn

Cayenne pepper

30

ml

Oil

I use a high heat frying and baking oil

3

tbspn

Sunflower seeds
FOR THE DRESSING:
30

ml

Lemon juice

or lime juice

30

g

Miso

Alternatively use 2 tablespoons soy sauce or tamari

30

ml

maple syrup

or other sweetener of choice

15

ml

Olive oil

if oil-free simply omit

Salt and pepper to taste
TO SERVE:
Fresh salad leaves

Fresh herbs

Sprouts at will
Anleitung 
Preheat oven to 205degrees and line a baking sheet with parchment paper.

FOR THE OVEN VEGETABLES Place squash, chickpeas, broccoli, tofu and bell bell pepper in a large bowl. Add the oil and stir once.

1 Head Broccoli,

300 g Hokkaido pumpkin,

265 g Chickpeas drained – save chickpea water for other recipes. 1 can or jar with 400g,

220 g Tofu,

1 red bell bell pepper

Add bird eye chili, paprika smoked and sweet, turmeric, cayenne pepper, garlic and salt. Stir with a wooden spoon or by hand until everything is evenly combined.

1 Bird Eye Chili,

1 tbspn Paprika,

1 tbspn Paprika,

1 tbspn Turmeric,

1 tbspn Garlic granules,

½ tbspn Cayenne pepper,

Salt to taste,

Pepper to taste,

30 ml Oil

Spread on a baking sheet and place in the oven.

Bake for

25

minutes and about 10 minutes before the end of the baking time add the sunflower seeds and mix well once. Close the oven and bake for another 10 minutes. If you want more roasted flavor, feel free to extend baking time up to 10 minutes more to 35 minutes.

In the meantime, mix the DRESSING. Add lemon juice, miso, maple syrup, olive oil, salt and pepper to a small bowl and mix well.

3 tbspn Sunflower seeds,

30 ml Lemon juice,

30 g Miso,

30 ml maple syrup,

15 ml Olive oil

At the end of baking time, divide oven vegetables among plates and drizzle dressing over them.

Garnish with fresh lettuce leaves, herbs and sprouts as desired, serve and enjoy!

Salt and pepper to taste,

Fresh salad leaves,

Fresh herbs,

Sprouts at will

Best fresh!
Nährwertangaben
Serving:
1
Portion
Calories:
403
kcal
Carbohydrates:
43
g
Protein:
17
g
Fat:
20
g
Saturated Fat:
2
g
Sodium:
322
mg
Potassium:
876
mg
Fiber:
11
g
Sugar:
13
g
Vitamin A:
2818
IU
Vitamin C:
131
mg
Calcium:
182
mg
Iron:
5
mg