High Protein Pasta and finally we have arrived at the sore point of vegans, right? I definitely had to wonder greatly when one of North America's most well-known, formerly "plant-based" bloggers announced that she was adding dairy and meat products to her Recipe recipe. What? I was honestly thrown for a loop, but mostly because of the reasoning. She would have been to an Ayurvedic doctor and somehow had a protein deficiency. Please forgive me if I don't get it one hundred percent right. In any case, I can remember it exactly in this wording. At the moment I am doing my training to become a vegan nutritionist and it is indeed true that Protein is seen as a critical nutrient. However, it can also be avoided quite easily if you do a few things right. More info on this can be found further down in the text. Just one more thing, I really appreciate Minimalist Baker and take my hat off to her work and what she has created. I think it's a shame that she's taking animal products back into her diet for reasons that are hard for me to understand. At a time when more and more people understand the impact that the consumption of animal products has on our health, the environment and farm animals.
High Protein Pasta, or where do vegans get their protein?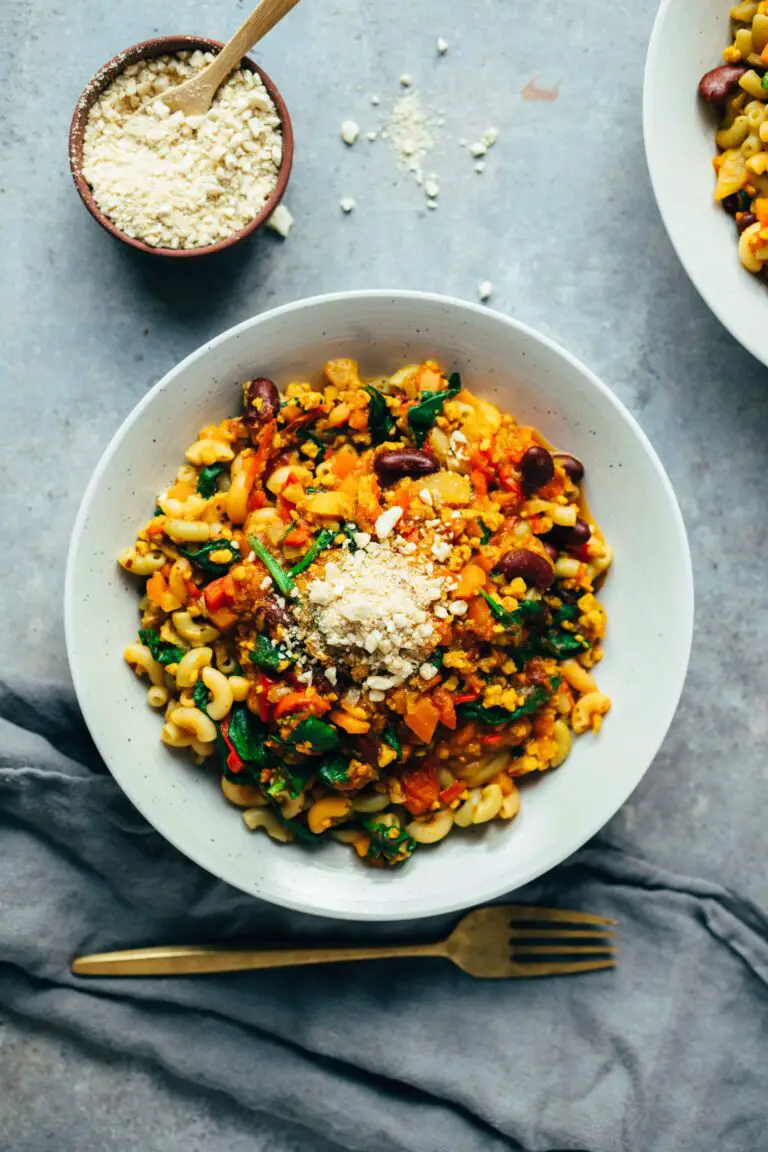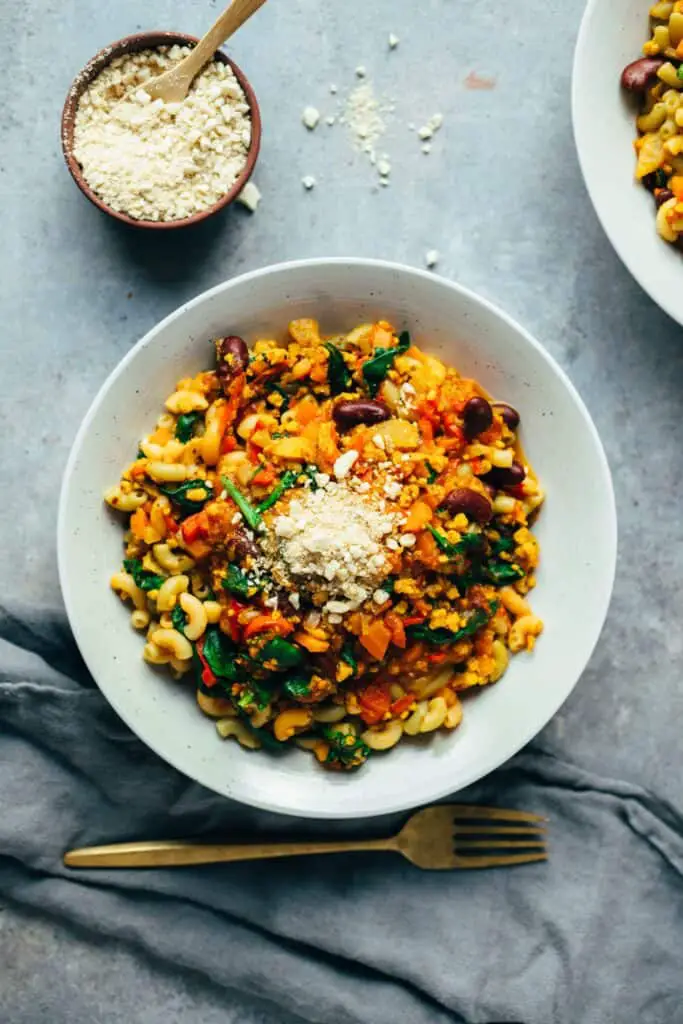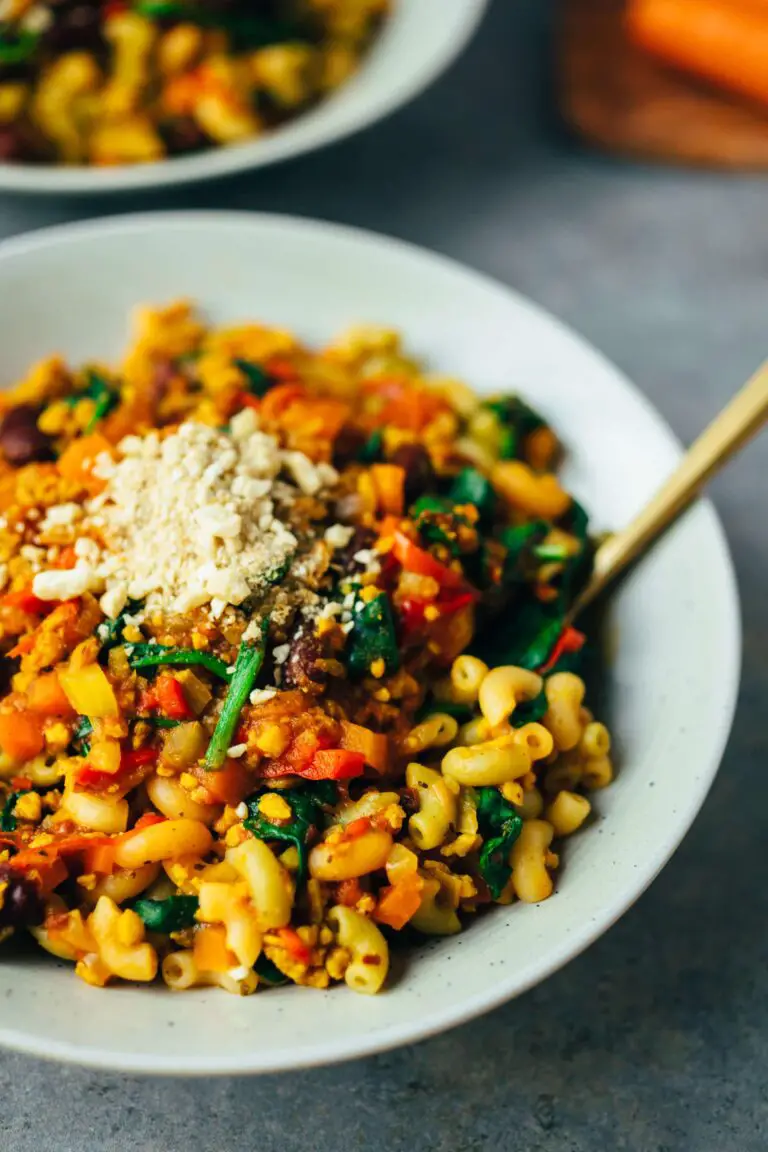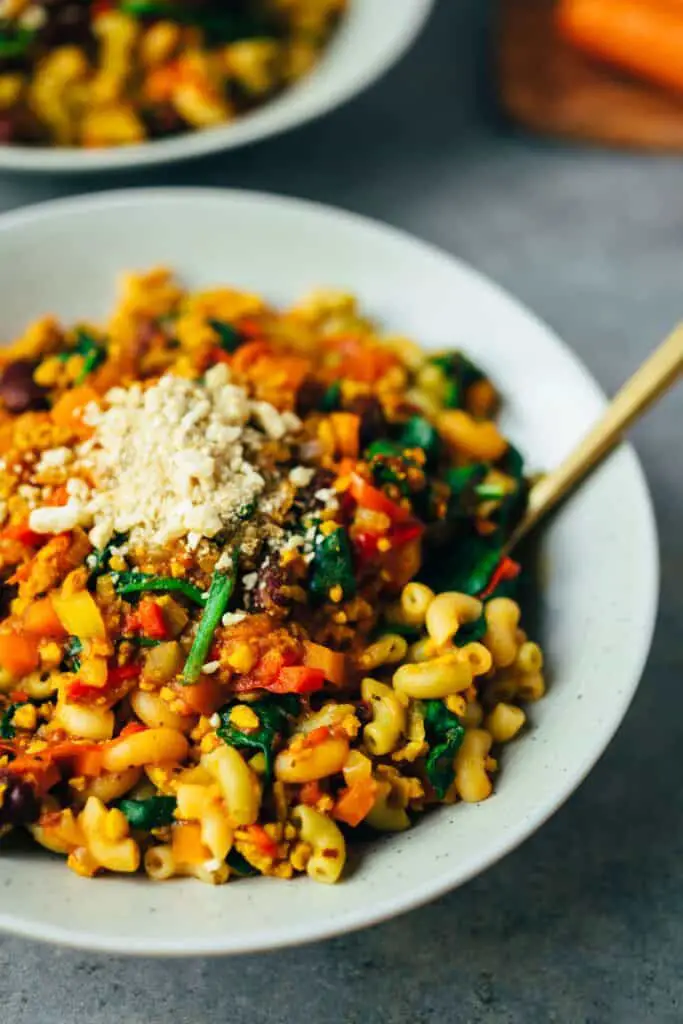 Our today's Recipe is really super tasty, I like to praise myself. All kidding aside, it's quick to make and also great to pre-cook in batches and freeze. I definitely always make double the amount in a very large pot. Oil, onion, garlic, fennel, carrots, peppers, Kidney beans , soy mince fine, tomato pieces, dried tomatoes (or tomato paste), Italian herbs, chili, paprika powder, bell pepper and salt.
To this is added a soy whiz or so-called Texturized Vegatable Protein (TVP). The bottom line is that it is a very high protein byproduct in the production of soybean oil. The leftover soy flour is then shaped and appears on the shelves in the form of shreds in various sizes. I haven't used it in a long time and only recently came across it again. Two reasons to eat soy cutlets:
It is Extremely high in protein with 49g protein per 100g. (based on the soy cutlets from Alnatura that I use) *advertising because brand name, but bought myself
It is super easy to make , bring water to a boil, add vegetable broth powder, let steep and ready
Fine with this is a delicious Pasta such as croissant noodles, rigatoni or fussili. If you want to pack even more plant-based protein power on top, you could use Lentils – or use rice pasta. Optionally I add fresh Spinach and Turmeric for extra chlorophyll.
Protein, critical nutrient for vegans?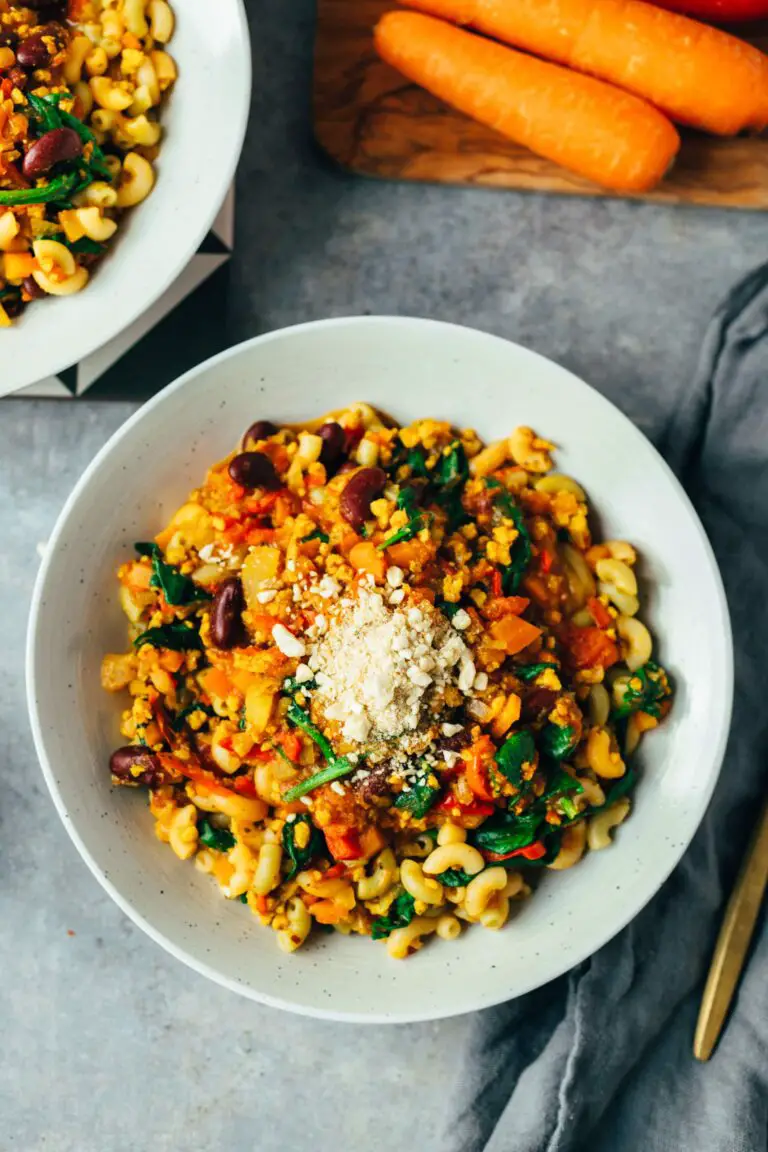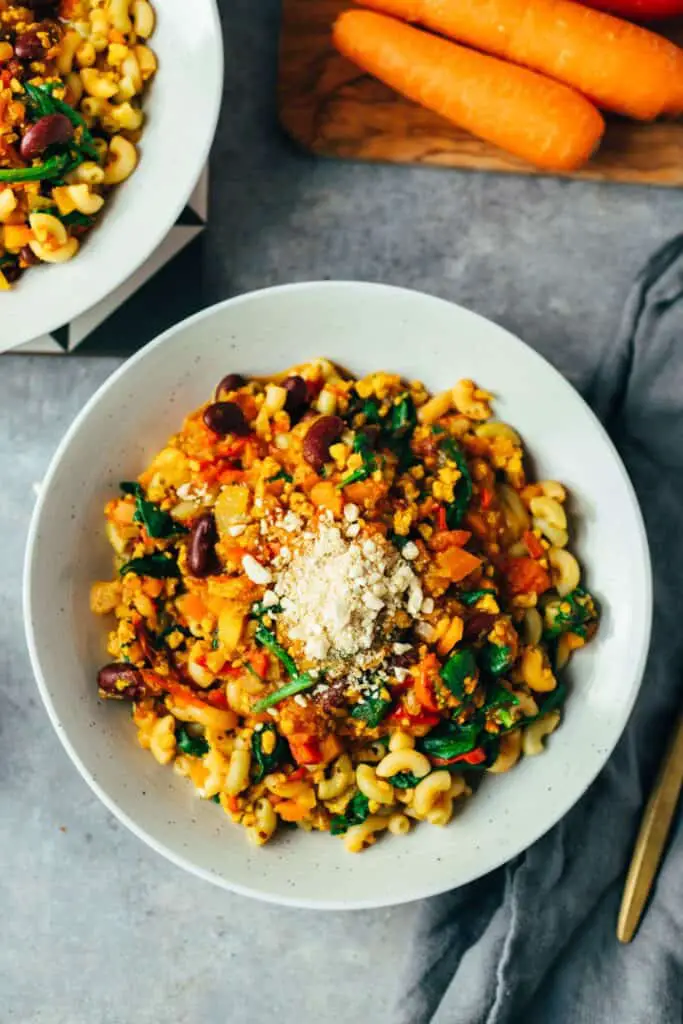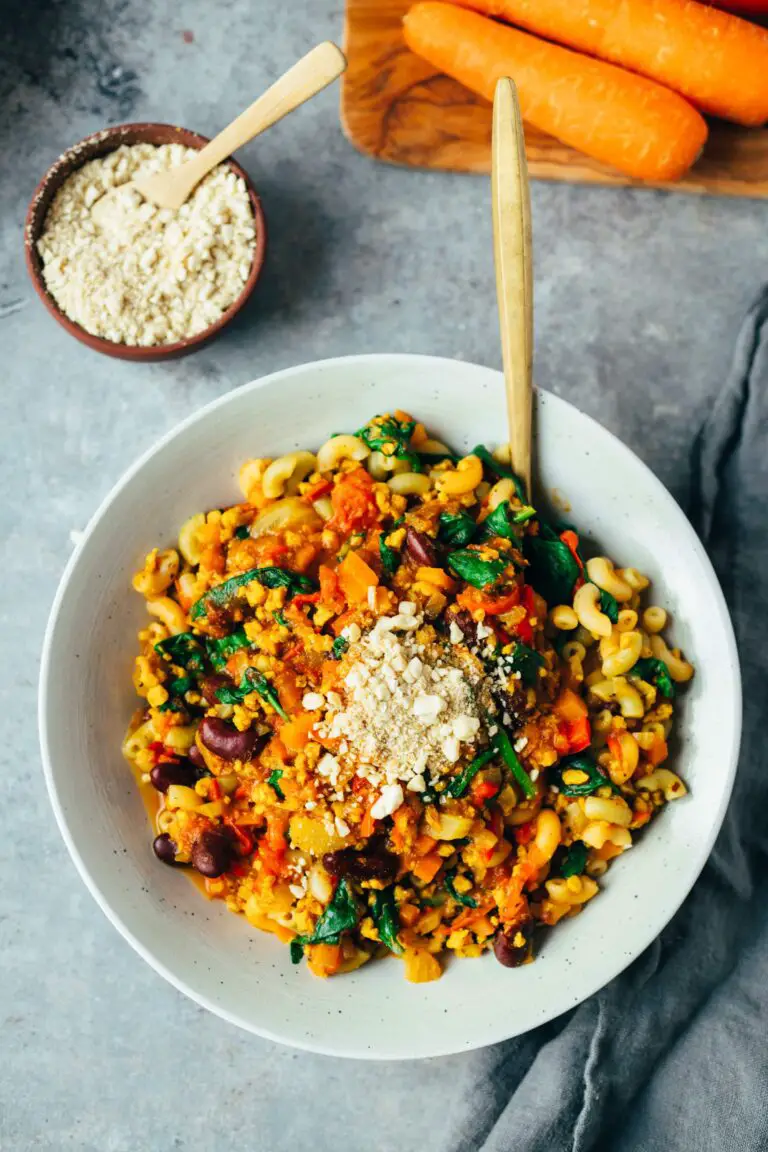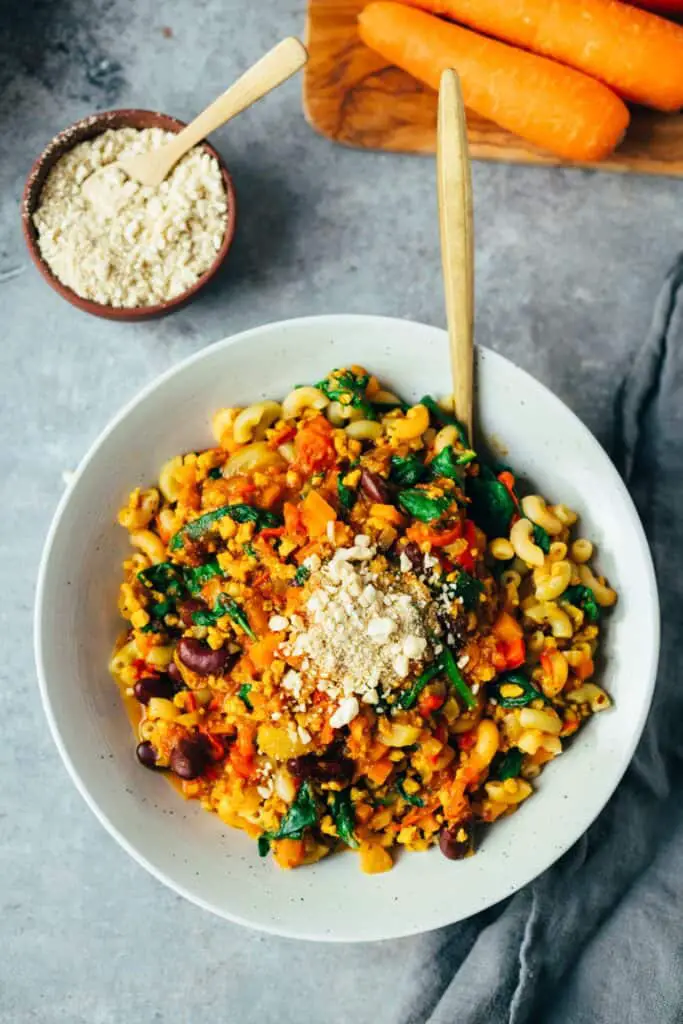 Again and again one reads in the media that a protein supply with vegetable products is not sufficient, or at least to be regarded critically. It is indeed true that Vegetable sources of protein have a lower digestibility than animal protein. But if you look into the subject a bit, you will quickly realize that this is not so bad. The protein requirements can be met with a vegan diet and this applies to "normals" as well as athletes. Fact is:
At least 10 percent of dietary energy should come from proteins(protein-energy ratio)
For Vegan the minimum limit is often raised somewhat, to 15 percent because the digestibility is somewhat lower than for animal products.
For strength athletes apply up to 20 percent
Important are the Sources of vegetable protein supply , ideal: legumes, whole grains and other high-quality plant protein sources.
CONCLUSION : Sufficient number of calories + varied, high-quality vegetable protein sources = ensuring all potentially critical amino acids.
I would not be the Caro of veganevibes if I didn't have a few tricks up my sleeve. Indeed, the question is how to make vegetable protein sources more digestible and ensure the absorption of all essential amino acids:
Soak
Ferment
Go to Foods containing lysine pay attention (soybeans and products derived from them, nuts, watercress)
Combine protein sources , for example hummus and wholemeal bread or beans with rice
Protein Party – are you ready ?
Especially delicious with this dish is vegan parmesan and fresh basil.
High Protein Pasta (30 minutes):
aromatic
Especially High protein
Especially High fiber
filling
Easy to make
Are you ready for this protein bomb? I wish you a lot of fun with Recipe and of course about a rating at the bottom of this page. If you post a picture, use the hashtag #veganevibes.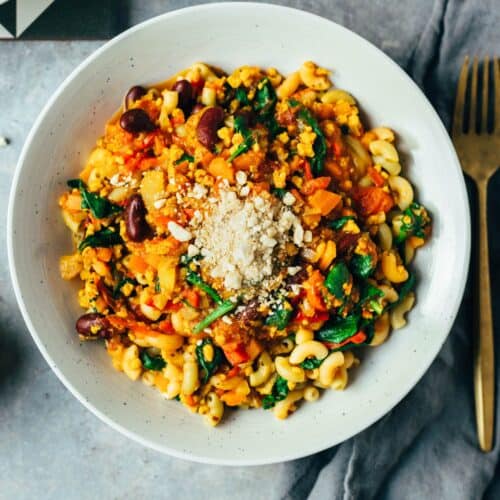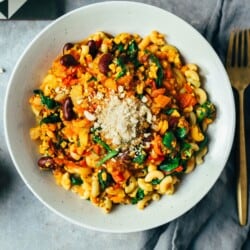 High Protein Pasta (30 minutes)
Delicious, aromatic and particularly protein-rich pasta with soybean and kidey beans. Ideal for active people, for a supply of high-quality, vegetable protein.
AUTOR: VEGANEVIBES
Anleitung 
Cook pasta according to package instructions.

FOR THE SOY CHICKEN Boil water, mix soy granules and vegetable broth powder in a small bowl and add water. Leave to infuse for 10 minutes.

100 g Soy cutlets,

1 tbspn Vegetable broth,

300 ml boiling hot water

Heat large frying pan with the frying oil. Sauté garlic and onion until translucent. Add dried tomatoes (or tomato paste) and stir briefly.

30 ml Frying oil or other high heat oil,

2 Piece Garlic cloves,

1 Piece red onion and 2 shallots

Add carrots, fennel, bell bell pepper, tomato pieces, kidney beans, soy cutlets, Italian herbs, chili, bell pepper and salt and stir vigorously once.

100 g Soy cutlets,

3 Piece medium carrot,

1 Piece Fennel bulb,

1 Piece red bell bell pepper,

240 g Kidney beans – drained and washed – or a jar before draining.,

2 tbspn Italian herbs,

1 tbspn Paprika powder,

Salt and pepper to taste,

30 g Dried tomatoes

Fill the tomato can with water (250ml) and put it in the pot. Stir once more.

250 ml Water,

250 g Tomato pieces or passata

Optionally add coconut blossom sugar and turmeric. Stir, cover and simmer for 20 minutes.

1 tbspn Turmeric,

1 tbspn Coconut blossom sugar

Towards the end of the cooking time, optionally fold in spinach.

Divide protein pasta into plates, decorate with (optional) parsley and serve. enjoy! Lasts up to 2 days covered in the refrigerator, frozen up to 4 weeks or longer. Is very suitable for reheating.
Nährwertangaben
Serving:
1
Portion
Calories:
726
kcal
Carbohydrates:
129
g
Protein:
30
g
Fat:
11
g
Saturated Fat:
7
g
Sodium:
647
mg
Potassium:
1483
mg
Fiber:
14
g
Sugar:
16
g
Vitamin A:
1409
IU
Vitamin C:
18
mg
Calcium:
83
mg
Iron:
8
mg