Chickpea pancakes with Zucchini and Carrot , as I love them. Perfect simply with a Salad garnish or in a Bowl with potato and a damn tasty Tahini Sauce . I am currently in the middle of my training as a vegan nutritionist and we are currently dealing with the topic of digestion. Honestly, the material is pretty dry, but still important. What blows my mind the most is the human microbiome and what impact it has on our health. Just this morning I was talking with my husband about the topic of fiber. He learned back in school that fiber was unnecessary. What? No way! Fiber and complex carbohydrates are the most valuable things we have. Therefore, we dedicate and today to a Court that offers exactly that. Here we go my dears.
Chickpea pancakes with Zucchini and carrots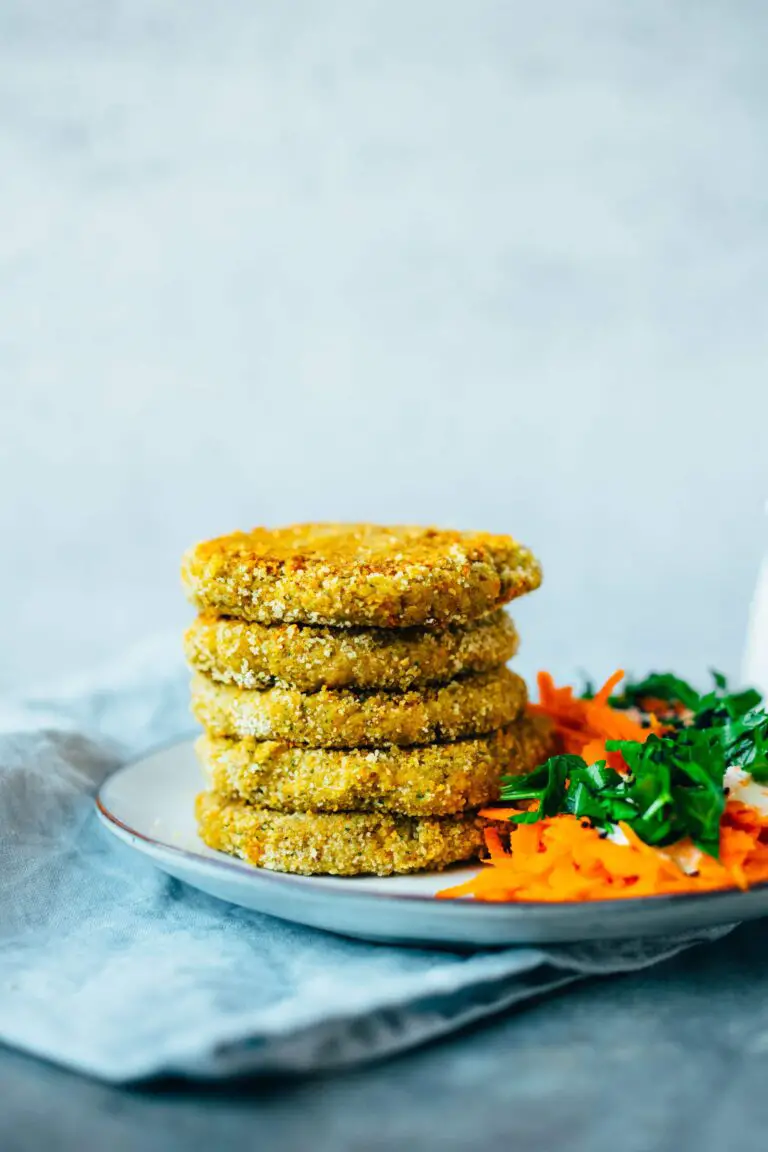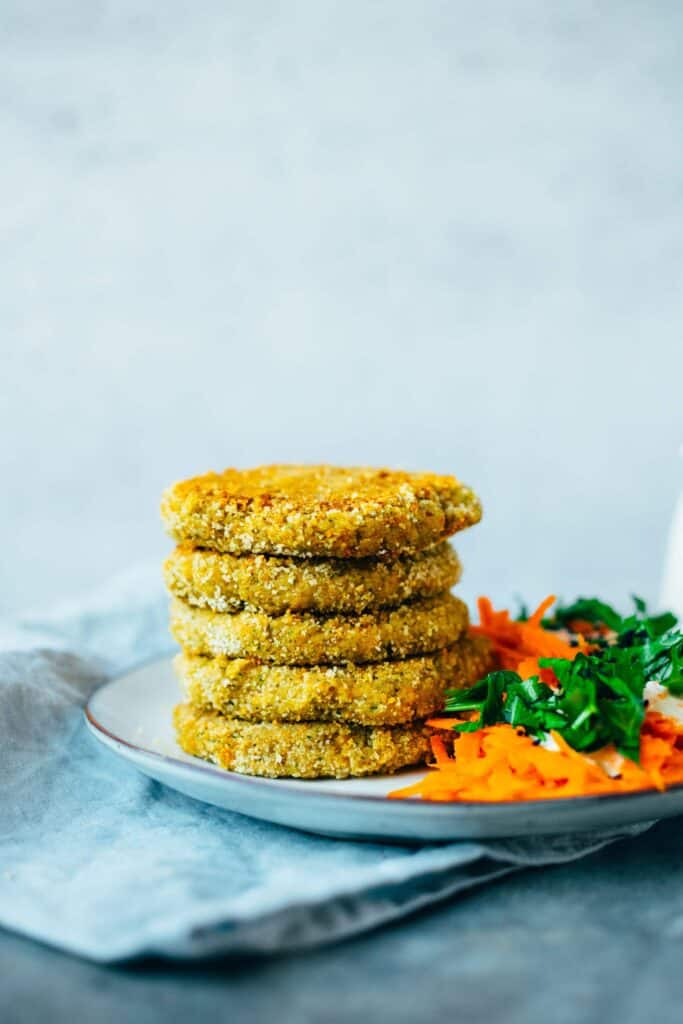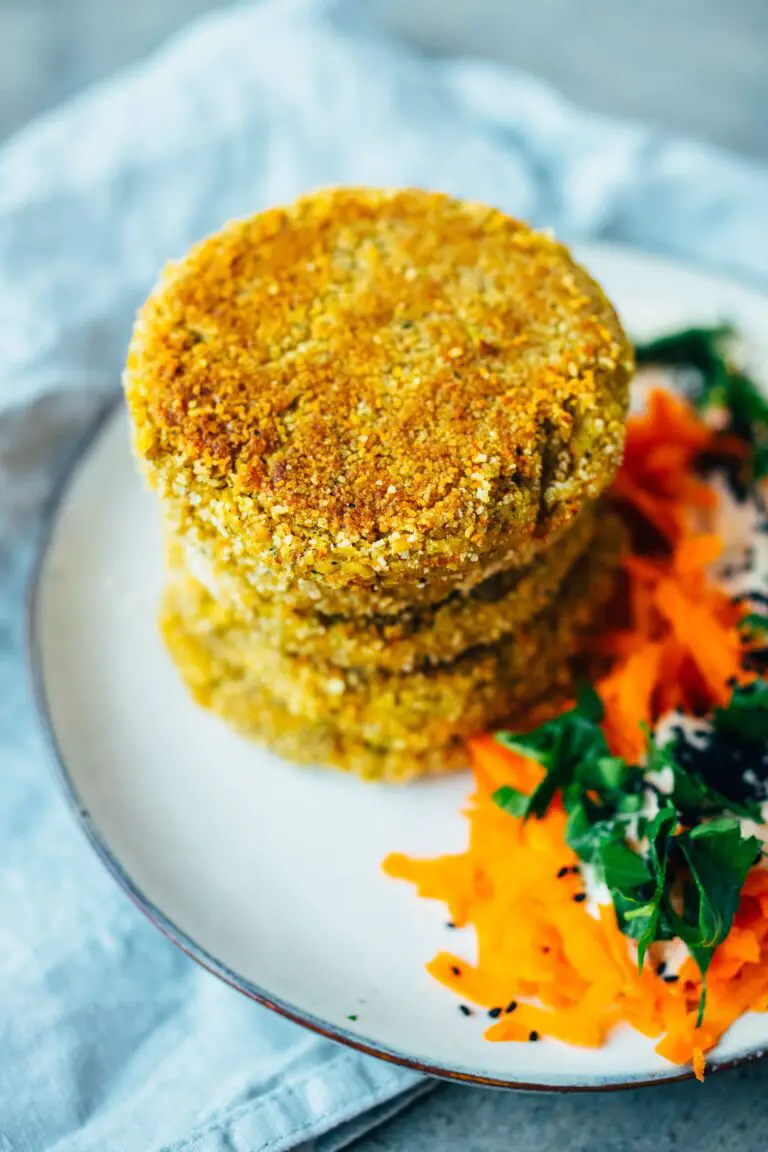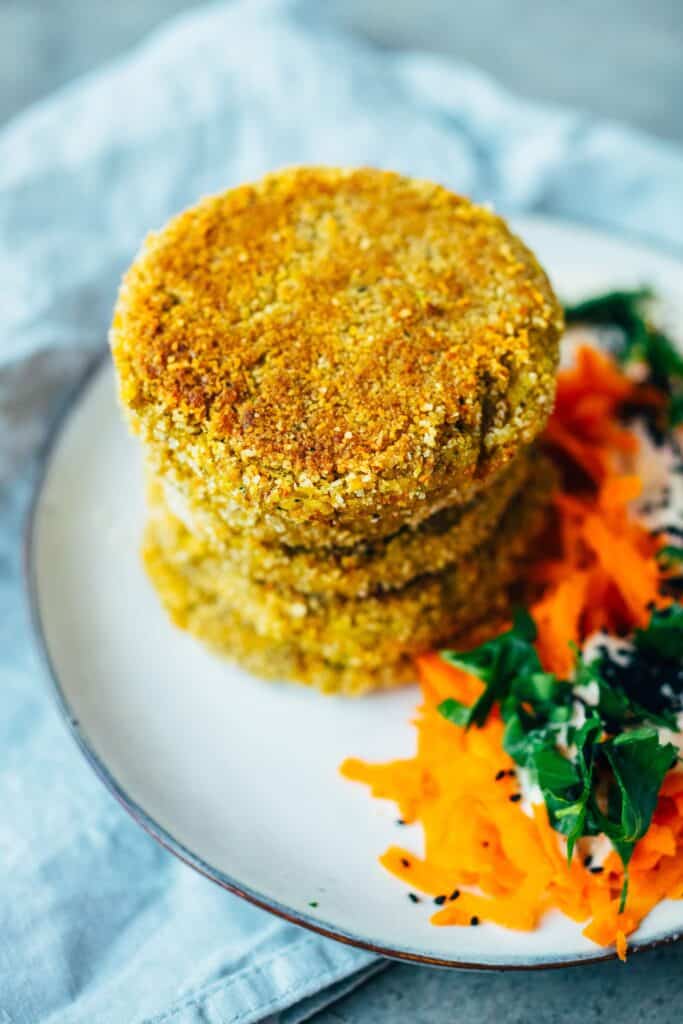 These buffers will make you convince all along the line and especially you can also wonderfully prepare Put in the refrigerator, about. Leave to infuse overnight and next day super quickly finish frying in the pan.
Zucchini , carrots, garlic, ginger, Chickpeas , cumin, coriander, black pepper, cinnamon, cardamom, chili, salt, flaxseed meal and oat flour. Then add a good handful of breadcrumbs and oil for baking out. Perhaps you are thinking now that in my last posts I have pleaded to do without Oil to do without. I do not do without oil completely, but as far as possible. With these buffers, I decided to use a little more oil. The background is that otherwise they do not turn as nice golden brown. I just didn't want to settle for the posh pallor for the pictures.
As always I have given you a compiled a few tips and tricks to ensure that the buffers are really succeed:
EXPRESS: Zucchini have a fairly high moisture content, therefore. Should you press them before processing. Otherwise they hold not well together. I use a nut milk bag, but it also works with Kitchen roll or clean cotton cloths.
OIL: is advantageous, otherwise the buffers will not be crispy and nicely browned. I recommend a highly heatable (high oleic) Frying oil (I have linked to you in the ingredients), or another heat resistant oil.
ROASTING WITHOUT OIL: you can also use the buffers only fry briefly with very little oil in a pan and then place in the oven at 190deg. Bake in convection oven for 20 minutes.
PREPARE: I like to prepare the dough the night before, so that it then goes very quickly.
TIP: The flatter, the crispier, the thicker the softer the patties become.
TIP #2: Instead of the spices mentioned below, you can use any Use spice mixture, which is dear to you. This way you give the patties a very individual touch.
Vegan buffers – creative cooking makes mood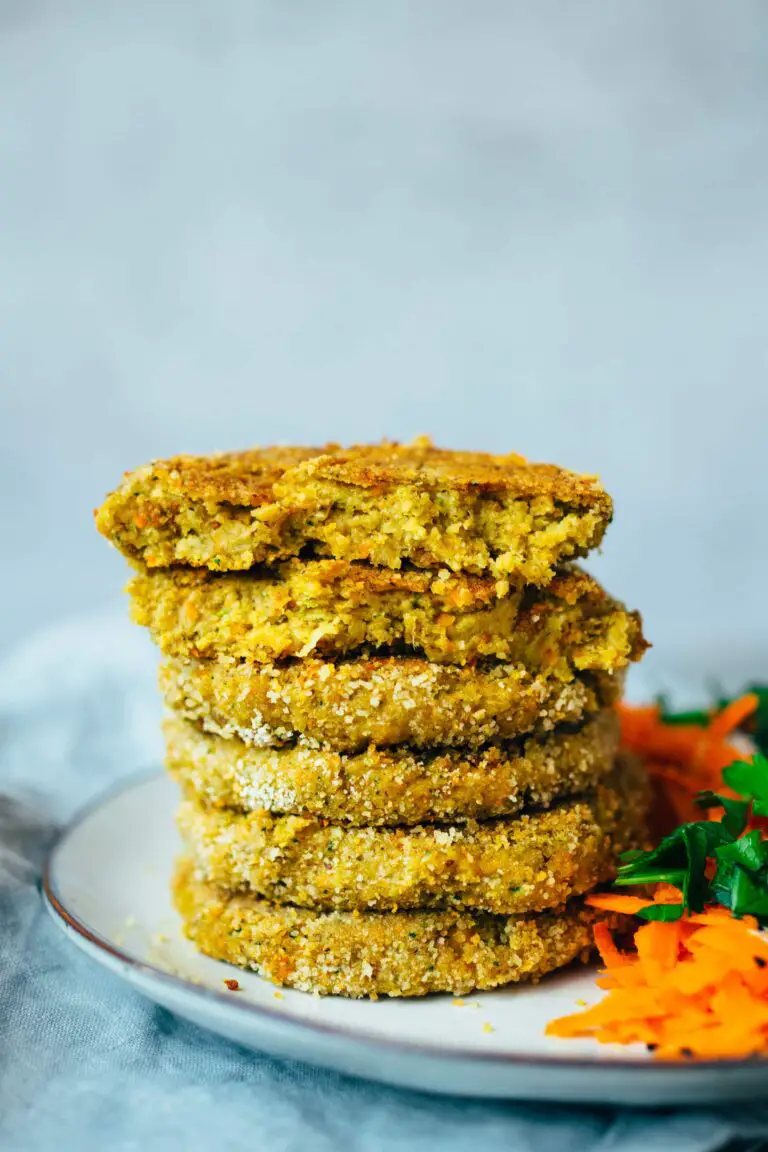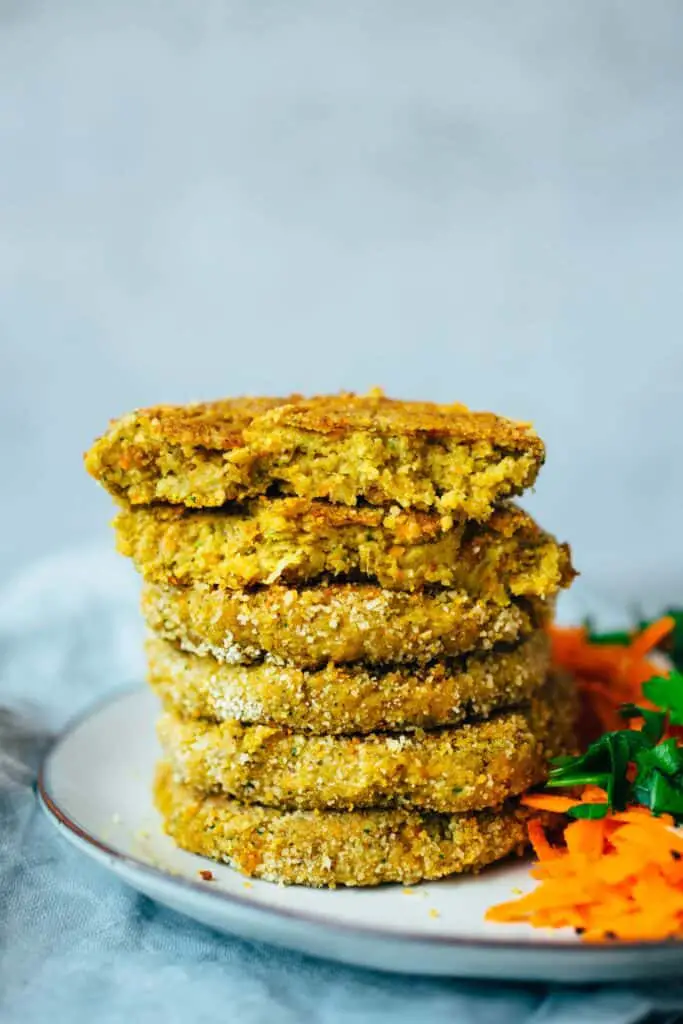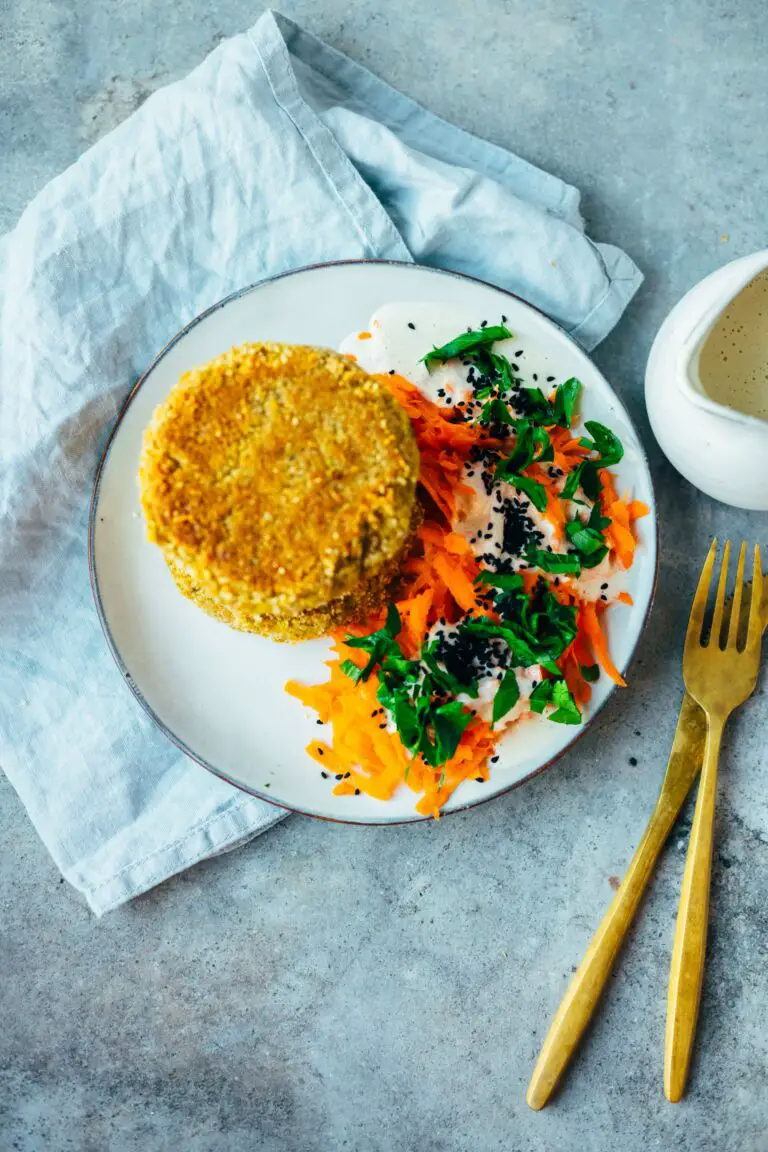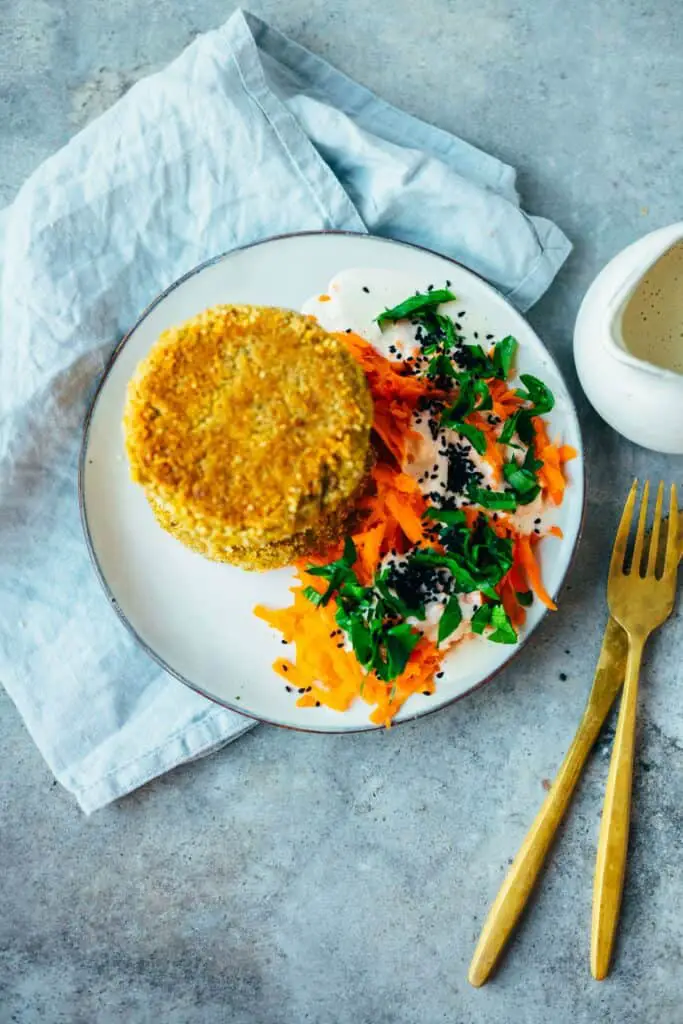 What must not be missing from today's Recipe must not be missing? For me, a good sauce is definitely part of it. Personally I love a Tahini sauce with this dish. Together with jacket potatoes, some lettuce, milk sour fermented vegetables , a handful of nuts and seeds makes it a delicious and filling bowl.
The chickpea pancakes with zucchini are:
aromatic
Crispy outside
Spicy
filling
simple to be produced
Let's start with this delicious vegan puffer. I wish you a lot of fun with the re-cooking and am happy about a review at the bottom of this page. If you post a picture, use the hashtag #veganevibes.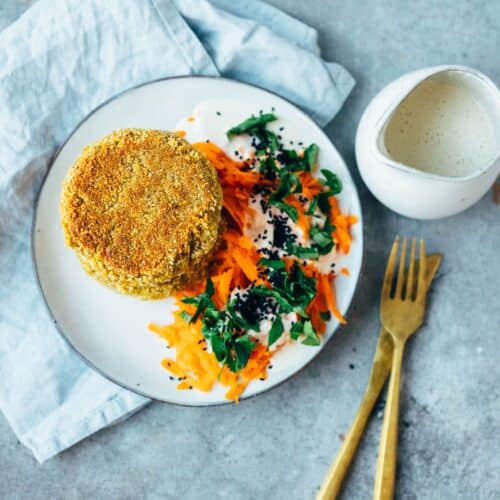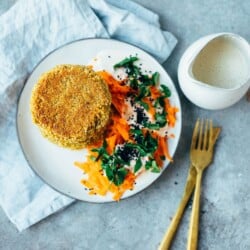 Chickpea pancakes with zucchini
Crispy baked pancakes of chickpeas, zucchini and carrots. Powerfully flavored with garlic, ginger and many other aromatic spices. Perfect as a vegan, filling main dish or as a side dish with grilled meats.
AUTOR: VEGANEVIBES
FOR THE DOUGH:
250

g

Zucchini

finely grated, corresponds to a medium zucchini, I use here my MagiMix

65

g

Carrot

finely grated, equivalent to a medium carrot

3

Garlic cloves

pressed or finely chopped, alternatively 1 tsp garlic granules

15

g

Flaxseed

ground

60

g

Oatmeal

ground

1

tbspn

Cumin

ground

½

tbspn

Coriander

ground or 2-3 tablespoons fresh coriander leaf

½

tbspn

black pepper

ground

¼

tbspn

Cinnamon

ground

¼

tbspn

Cardamom

ground

½

tbspn

Salt

more at will

Breadcrumbs to taste

15-30

ml

Frying oil or other high heat oil

for frying out
TO SERVE:
Tahini sauce

Coriander or other fresh herbs to taste

Fresh lettuce leaf or carrots to taste
Anleitung 
TIP: Soak canned or jarred chickpeas in cold water for at least 30 minutes before using. This makes the inherent taste somewhat milder.

Grate zucchini and squeeze out moisture using a nut milk bag or kitchen roll. See video.

Provide MagiMix or other blender, add zucchini, carrots, chickpeas, ground flaxseed, ground oats, garlic, ginger, cumin, coriander, cardamom, chili, cinnamon, black pepper and salt and blend once until a fine paste is formed. If the dough is too mushy, add more oat flour or flaxseed meal. These two components ensure that the dough becomes really nice and firm.

250 g Zucchini,

65 g Carrot,

3 Garlic cloves,

265 g Chickpeas – drained – save chickpea water for other recipes. 1 can or jar with 400g,

15 g Flaxseed,

60 g Oatmeal,

1 tbspn Cumin,

½ tbspn Coriander,

½ tbspn black pepper,

¼ tbspn Cinnamon,

¼ tbspn Cardamom,

½ tbspn Salt

Try dough in the raw and season more if necessary.

Optional: put dough in a bowl, cover and let rest in the refrigerator. Otherwise, you are also welcome to process immediately.

Heat a frying pan and add about 1 tablespoon of frying oil. TIP: I like to work with 2 pans in parallel so the buffers are done faster.

15-30 ml Frying oil or other high heat oil

Portion with a tablespoon and form a ball. Optionally, roll in breadcrumbs and place directly in pan and flatten with a spatula. Sauté for about 5 minutes per side.

TIP: Make the pancakes thinner, so they are cooked faster and become very crispy.

Test a buffer whether through.

Repeat step until the dough is used up.

Enjoy immediately, or keep warm in the oven (or warming drawer) at 100degrees.

Best fresh. Dough keeps (unbaked) 1-2 days covered in the refrigerator

Tahini sauce,

Coriander or other fresh herbs to taste,

Fresh lettuce leaf or carrots to taste
Nährwertangaben
Serving:
1
Portion
Calories:
192
kcal
Carbohydrates:
25
g
Protein:
8
g
Fat:
8
g
Saturated Fat:
3
g
Sodium:
321
mg
Potassium:
447
mg
Fiber:
7
g
Sugar:
7
g
Vitamin A:
2889
IU
Vitamin C:
13
mg
Calcium:
84
mg
Iron:
3
mg