Holiday in Bavaria and what do I do? Delicious zucchini potato pancakes with Tzatziki . Quite yummy I must say and my husband and I were so hungry again that we ate the portion for 4 people completely. Includes a salad of lentils and cucumber. I must say that the calculation is actually more for 6 people. My husband got really scared right away when I told him that. "Are we maybe eating way too much?" he asked – I immediately had to laugh out loud when I heard this sentence come out of my 2 meter tall husband's mouth. All good, I would say. Let's get started!
Pouf, pouf, vegan Zucchini potato pancakes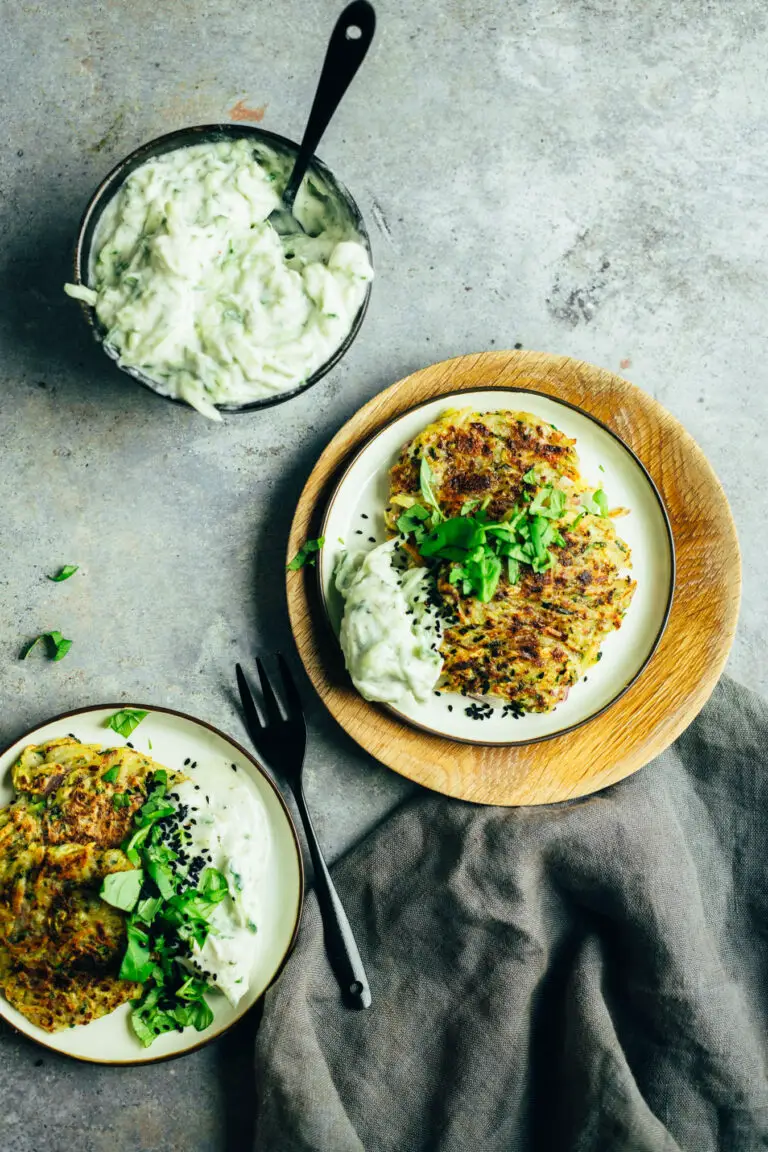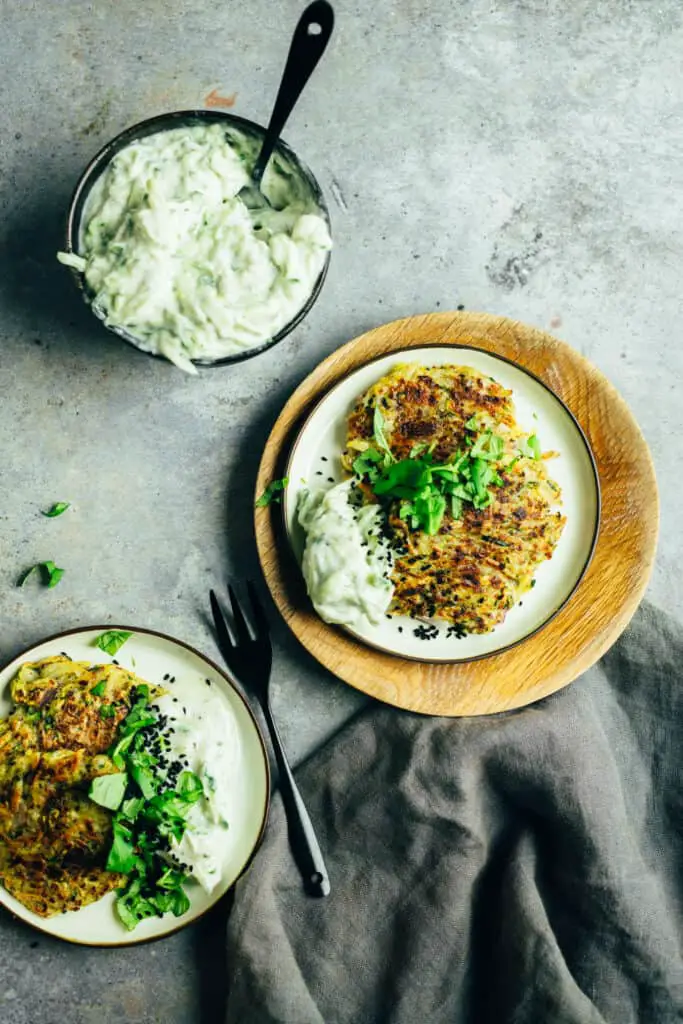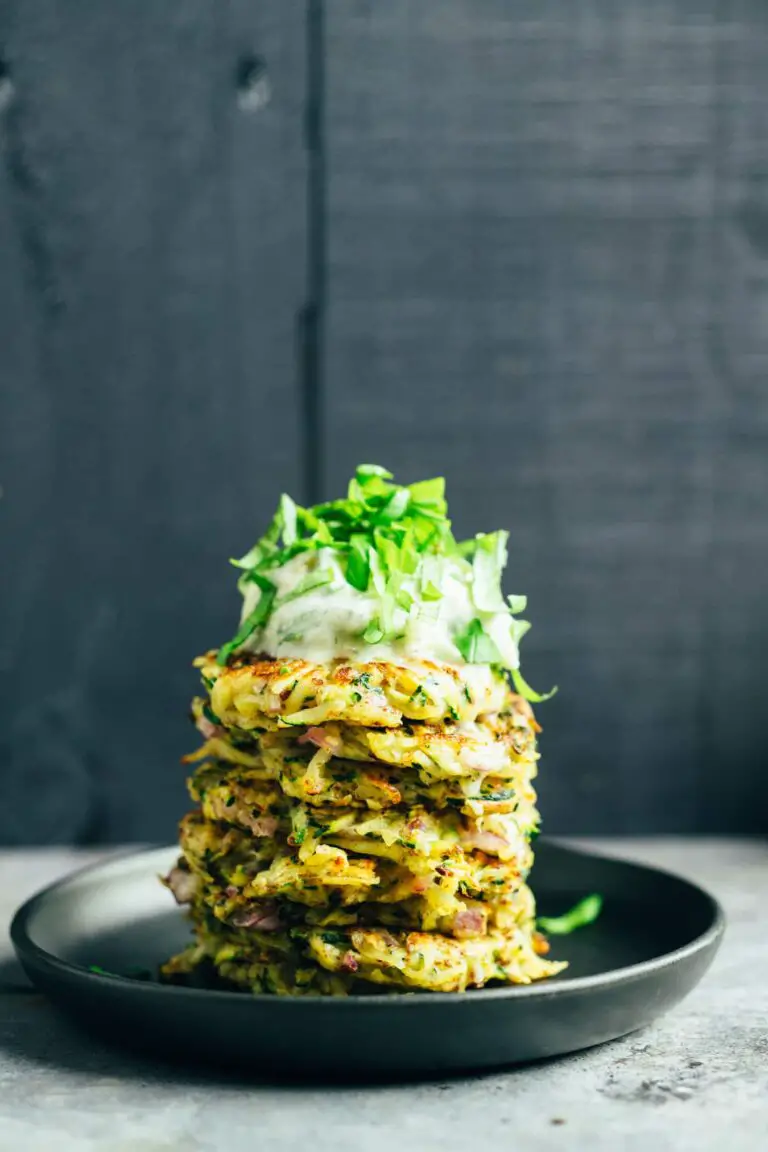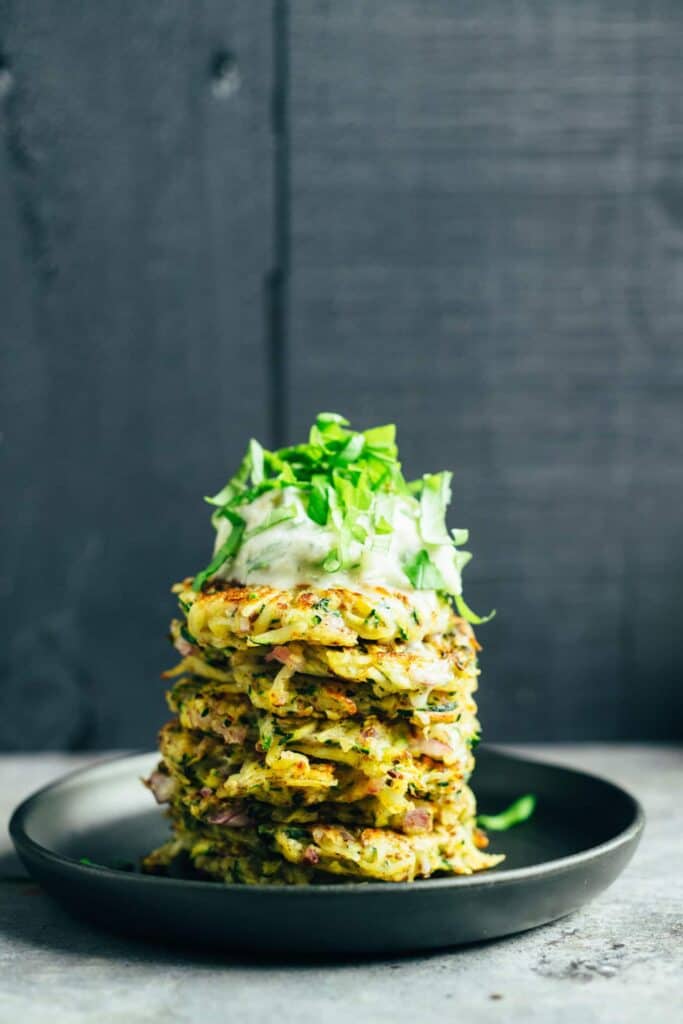 Once again a dish with Potato ? Yes absolutely, since it is nevertheless often vegan cuisine neglected. Especially because the Sweet potato so often outstrips it. Both types of potatoes have their justification and I love them both. The Sweet potato is supposed to be healthier, especially because it contains more beta-carotene (precursor of vitamin A). Personally, though, I think it's the mix that makes it. Sometimes a sweet and sometimes a normal Potato . Quasi the agony of choice or simply a luxury problem?
Our pancakes today are actually quite simple to make. Zucchini i, Potatoes , Flaxseed eggs , flour, salt, pepper and a little nutmeg. That's it actually! If you like you can always add more fresh herbs, Italian or French? Everything that tastes good is also allowed.
Here are a few tips and tricks to make sure the buffers succeed:
Zucchini have relatively high moisture, so be sure to squeeze beforehand (see preparation steps below).
There must be a little fat in the pan, otherwise the pancakes will not be crispy and nicely browned. Here I recommend a high heat (high oleic) frying and baking oil, some coconut oil, or another heat resistant oil. I have linked you my favorite oil below in the ingredients list.
If you want to save oil, you can also fry the pancakes only briefly with very little oil in the pan and then let them bake in the oven at 190Grad circulating air for 20 minutes.
Be sure to press the pancakes very flat and cook them well done. After all, the potato is raw and needs a few minutes to be completely cooked. The thinner, the faster they are through.
Best eaten fresh as the zucchini softens the pancakes and they don't taste as good reheated
Vegan potato pancakes make a real mood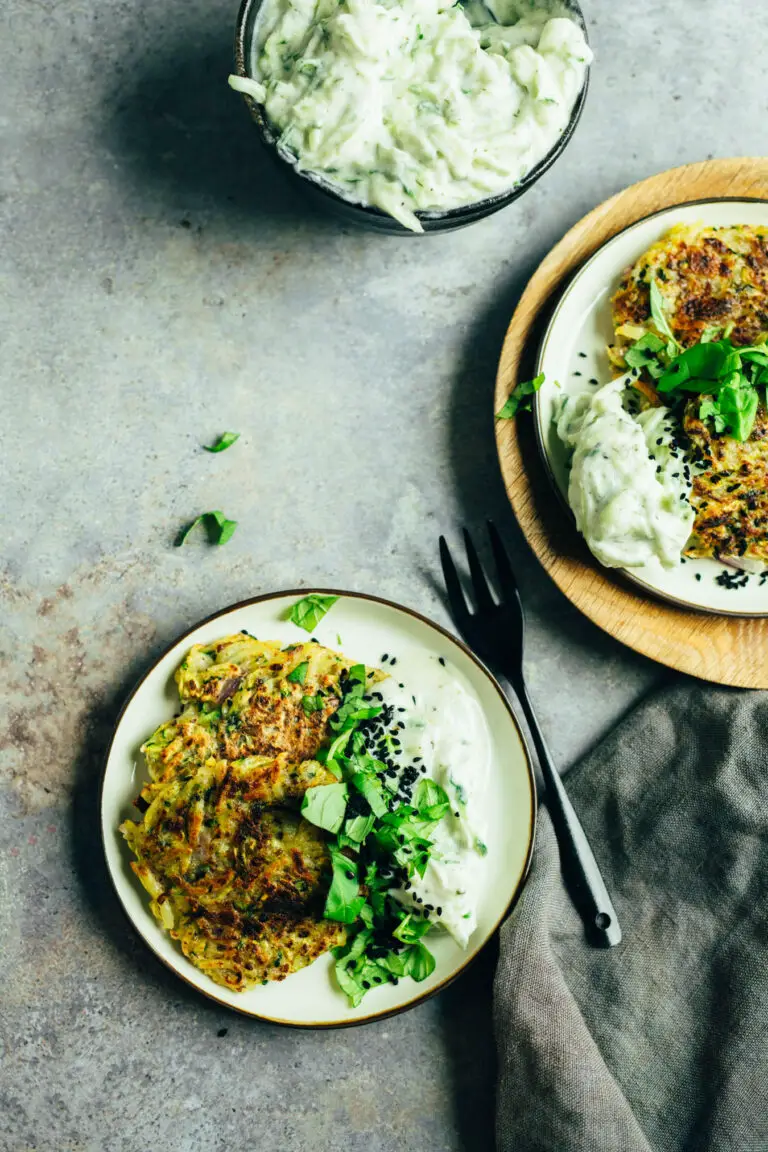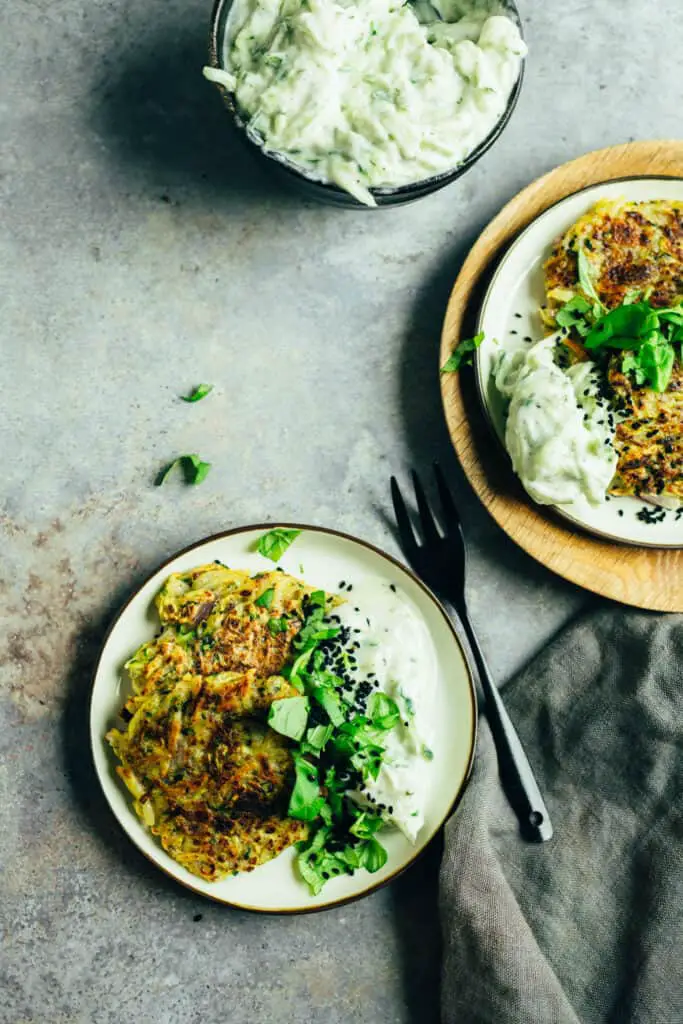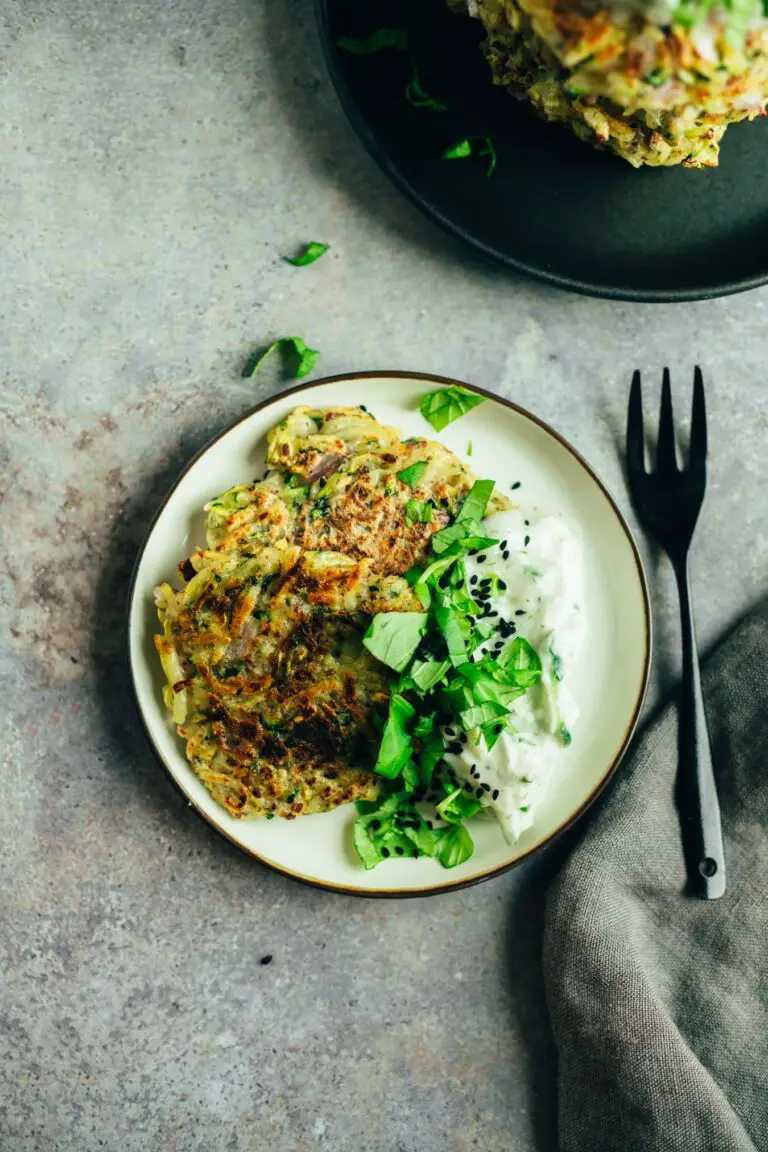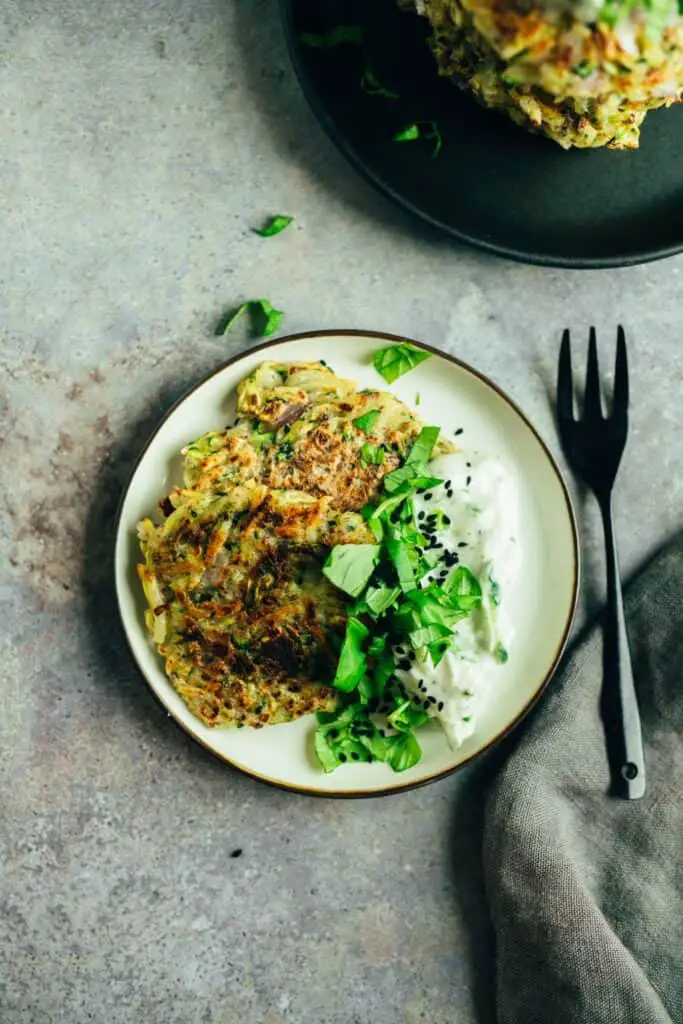 What must not be missing from the buffers in any case? A delicious dip, in this case a homemade tzatziki . Ideally I serve a delicious salad and the main course is ready. For dessert I recommend a piece of Zwetschgendatschi (plum cake) or Brownie , of course always with a scoop Vanilla ice cream .
The zucchini potato pancakes with tzatziki are:
aromatic
Hearty
Spicy
filling
simple to be produced
Let's get started with this delicious vegan pancake. I wish you a lot of fun with the re-cooking and am happy about a review at the bottom of this page. If you post a picture, use the hashtag #veganevibes.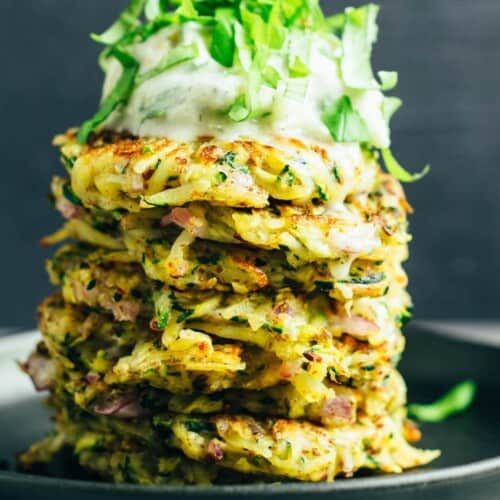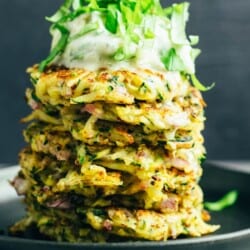 Zucchini potato pancakes with tzatziki
Crispy baked pancakes made from zucchini and potatoes, served with tzatziki based on coconut yogurt. Perfect as a vegan, filling main dish or as a side dish with grilled meats.
AUTOR: VEGANEVIBES
FOR THE ZUCCHINI POTATO PANCAKES:
3

tbspn

Flaxseed eggs

3 tbsp ground flax seeds + 9 tbsp hot water

500

g

Potatoes

mainly firm cooking, finely grated, 4-5 pieces, I use my MagiMix here

500

g

Zucchini

finely grated, 3 ½ cups, I use here my MagiMix

4

tbspn

Spelt flour

gladly replace 50% with cornstarch, for gluten-free eaters, use gluten-free flour blend

¼

tbspn

Nutmeg

grated

1

tbspn

Salt + a little more for dehydration

see preparation steps below

Optional: Italian herbs to taste

15-30

ml

Frying oil or other high heat oil

1-2 tsp for frying out
TO SERVE:
Basil or other fresh herbs to taste

* make your own Italian herb mix: 2 tablespoons basil

2 tbsp. oregano, 1 tbsp. rosemary, 1 tbsp. thyme, 1 tsp. sage
Anleitung 
Prepare flaxseed eggs in a small bowl. Set aside.

If not already done, peel potatoes and grate finely. Cut off both ends of the zucchini and grate finely. I use my MagiMix for this. However, an ordinary kitchen grater will also work.

Place grated zucchini and potato in a large bowl, add 1 tsp salt and mix well with your hands. Let stand 3-5 minutes, the salt now pulls water from the vegetables.

500 g Potatoes,

500 g Zucchini

Then place potato and zucchini graters in a clean kitchen towel or nut milk bag and squeeze well. I squeezed out about 200ml of liquid.

Add spelt flour, flaxseed eggs, salt, pepper and nutmeg and knead well once with your hands.

3 tbspn Flaxseed eggs,

4 tbspn Spelt flour,

1 tbspn Salt + a little more for dehydration,

¼ tbspn Nutmeg

Heat a frying pan and add about 1 tablespoon of frying oil. TIP: I like to work with 2 pans in parallel so that the pancakes are ready faster.

Optional: Italian herbs to taste,

15-30 ml Frying oil or other high heat oil

Portion with a tablespoon and form a ball. Place in pan and flatten with a spatula. Sauté for about 5 minutes per side.

TIP: It is best to make the pancakes very thin, so they are cooked faster and become very crispy.

Test a buffer to see if it is cooked through.

Repeat step 7 until the dough is used up.

Serve on plates with homemade tzatziki. Enjoy immediately, or keep warm in the oven at 100degrees (or warming drawer).

A portion of tzatziki,

Basil or other fresh herbs to taste,

* make your own Italian herb mix: 2 tablespoons basil

Best fresh. Dough keeps (unbaked) 1-2 days covered in the refrigerator.
Nährwertangaben
Serving:
1
Portion
Calories:
134
kcal
Carbohydrates:
20
g
Protein:
5
g
Fat:
5
g
Saturated Fat:
3
g
Sodium:
120
mg
Potassium:
843
mg
Fiber:
5
g
Sugar:
3
g
Vitamin A:
250
IU
Vitamin C:
37
mg
Calcium:
58
mg
Iron:
5
mg