How much longer is this going to take? That's what I think to myself every day when I look at the construction site. At the moment the painter is there and he and his team are making really good progress, but for me it still feels like an eternity. I just want to finally furnish my new kitchen. Well, then in the meantime I just concentrate on simple recipes which I can prepare between door and Angel. Included are these delicious oven roasted Sweet potatoes . Filled with delicious corn and black beans, simply a poem.
VEGAN SWEET POTATO VIBES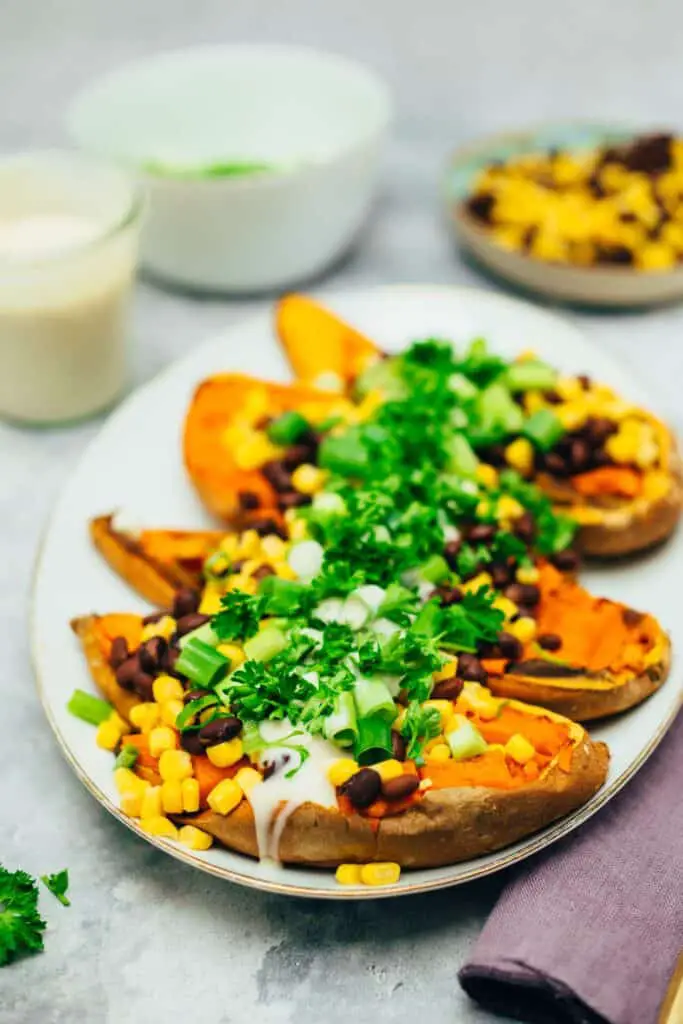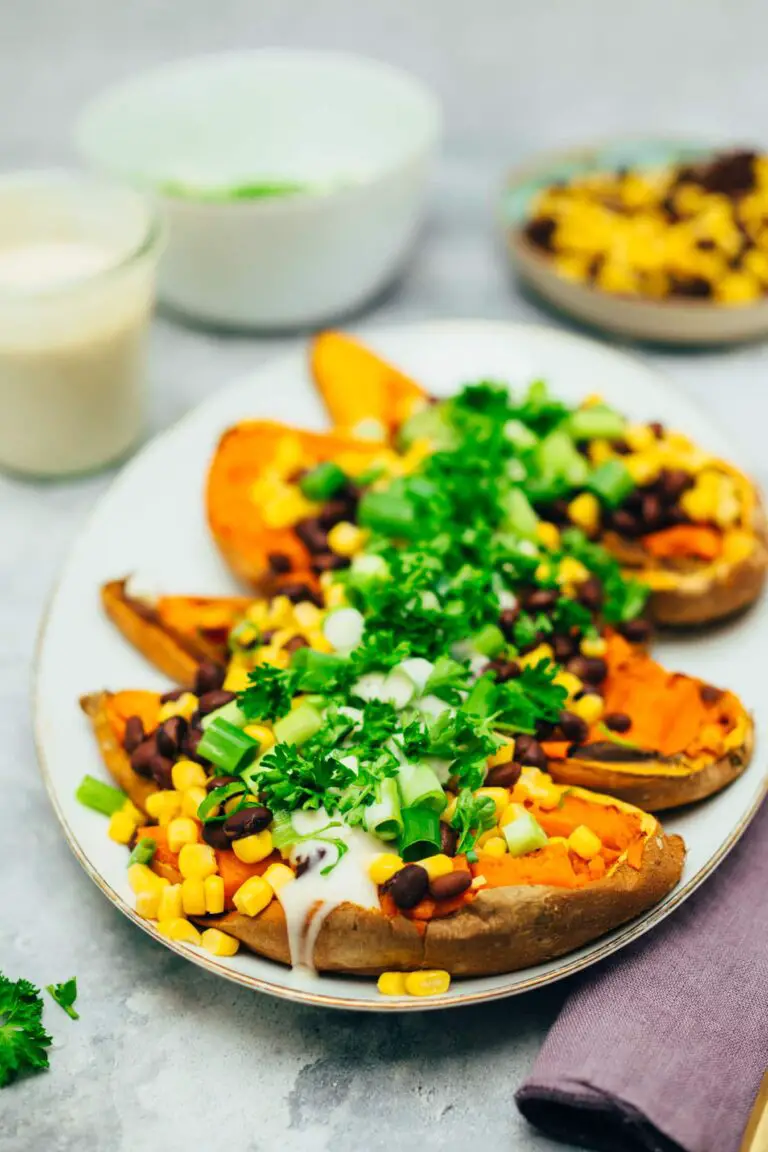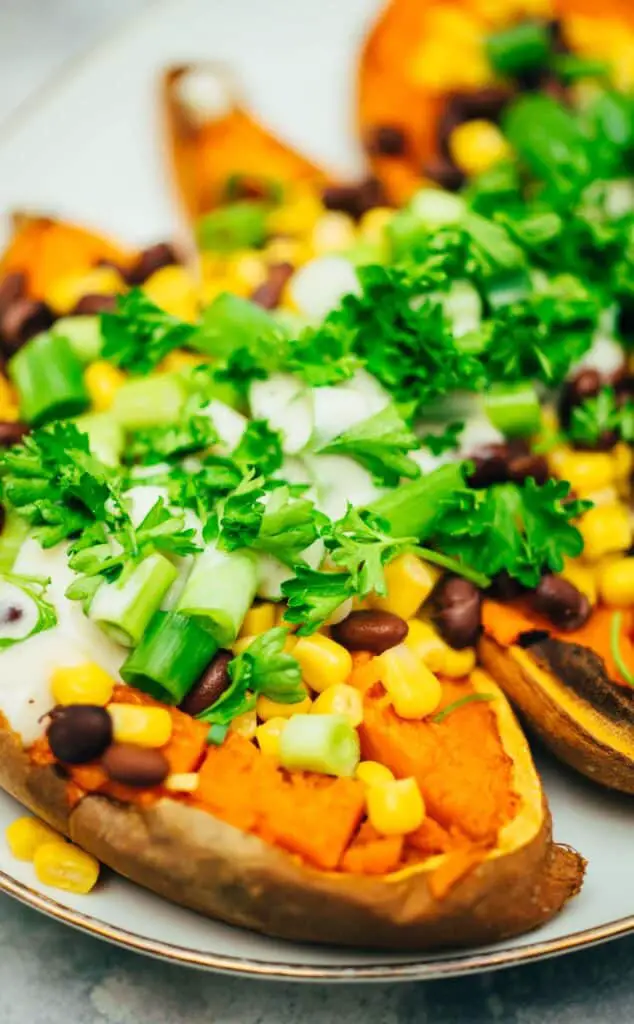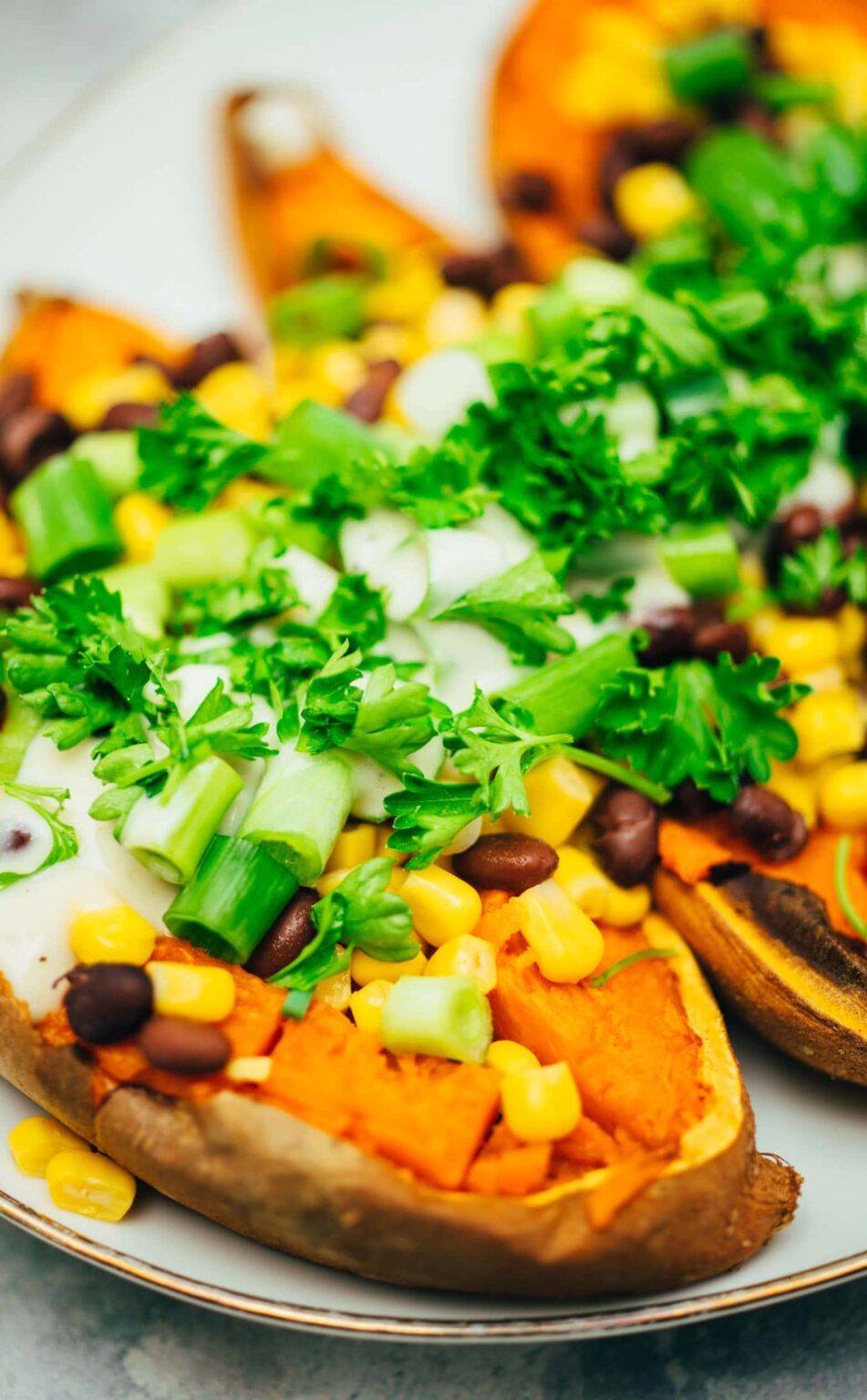 This Recipe has only one drawback and that is the time, because the sweet potato wants to be roasted after all. This takes with pleasure once between 30-40 minutes depending on size and oven. As long as you have enough time no problem, however, you can also prepare the tuber the day before without any problems. For the filling you need black beans, corn, onion, garlic, a little oil, chili, cumin, paprika, salt, and lime juice. Simply sauté briefly in the pan until everything is combined and fill the Sweet potato fill with it.
CAN THAT REALLY FILL YOU UP?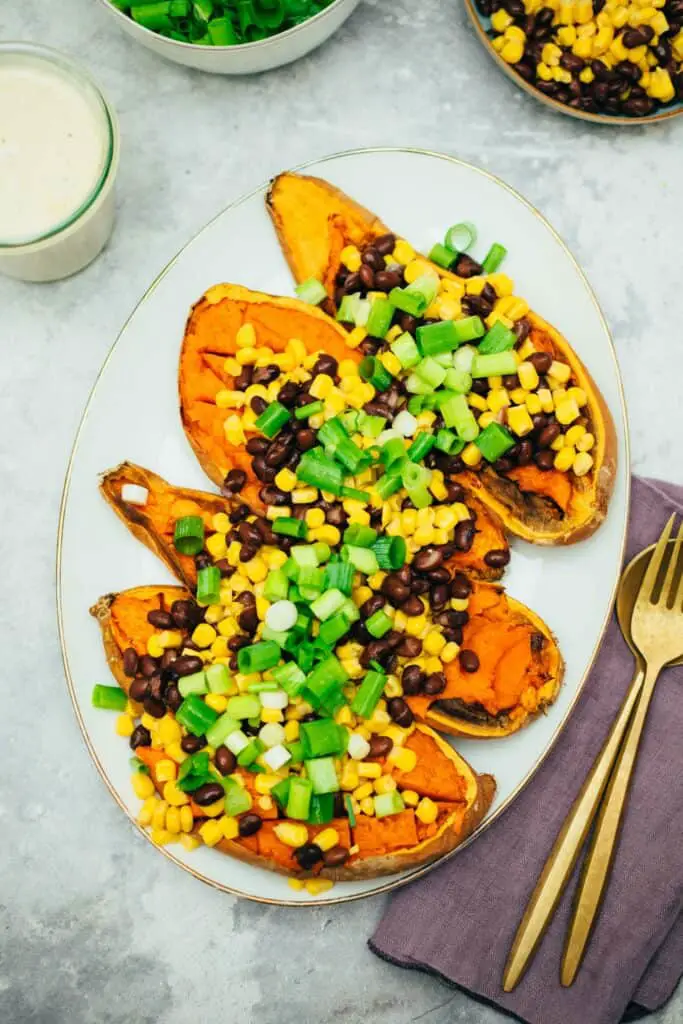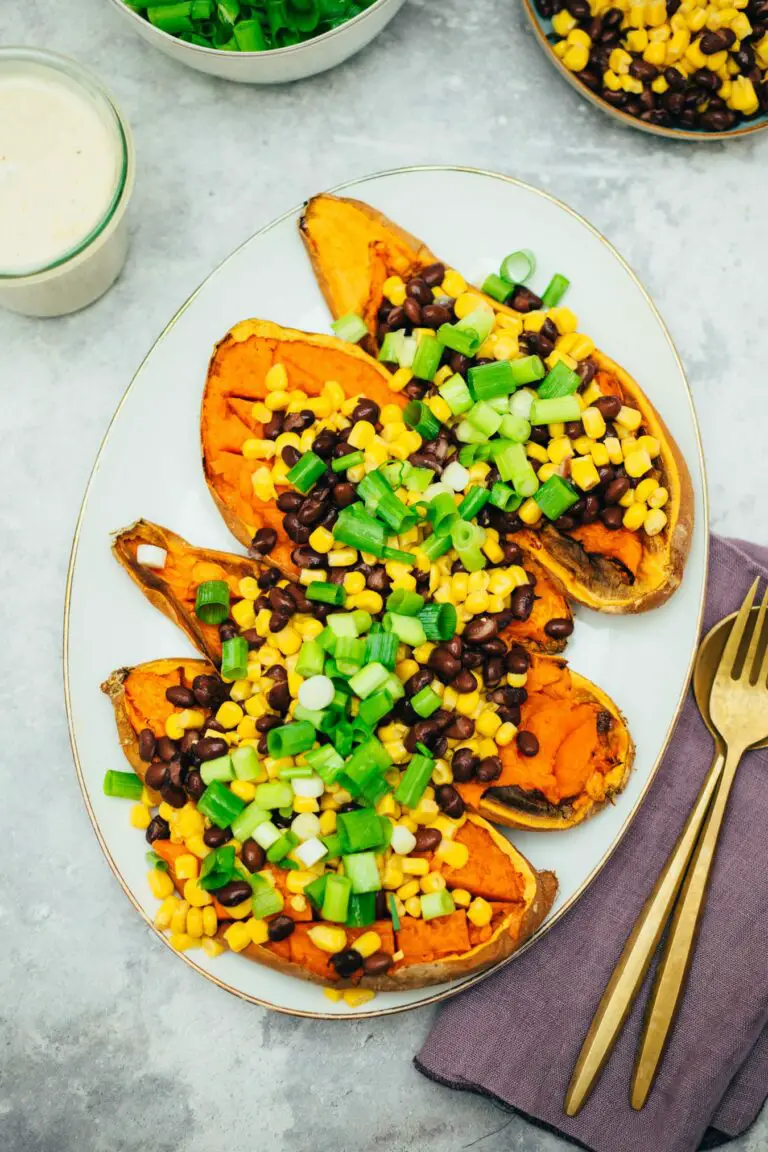 Oh yes, it can! There is also a quick sour cream on top. I can only speak of myself and I was so full and happy that I had to lie down on the couch for a short while afterwards. You know that feeling when something is so delicious that you just can't stop? I felt the same way about this recipe. Fortunately, with plant-based dishes, you don't fall into a heavy food coma, but are quickly fit again.
I have one more tip for all those who are currently just switching to a plant-based diet. Often, increased flatulence can occur after eating legumes. This is quite normal and not at all bad, your intestine is simply not used to it yet. There is only one thing that can help: Wash well and soak briefly in cold water! For canned or jarred legumes, here's how I do it:
Place pulses in a sieve and drain let
Wash off with sufficient cold water
Place in a bowl of cold, clear water and soak briefly (5-15 minutes)
A quick rinse and you're done!
Let the vegan Mexican Party begin!
Here we go! Are you in? Sweet potatoes Put them in the oven, let the pan get hot and go! This dish is particularly suitable as a satisfying Lunch, Dinner or snack between meals. Want dessert? How about a vegan ice cream ? Sweets always go with me in any case.
Stuffed Sweet Potato Mexican Style:
Mexican spiced
High protein
hearty
filling
Easy to make
Are you ready for this delicious Mexican recipe ? I wish you a lot of fun in recooking and of course a review at the bottom of this page. If you post a picture, use the hashtag #veganevibes.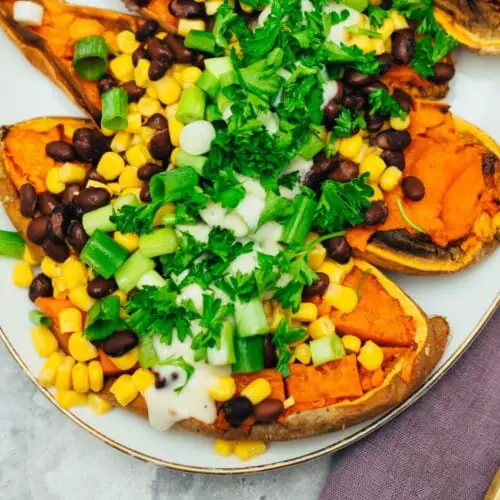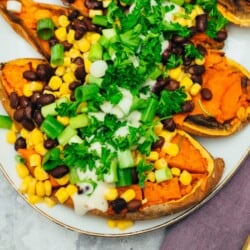 Stuffed Sweet Potato Mexican Style
Filling, delicious and Mexican dish for every day. Filled with hearty black beans, corn and topped with a quick vegan sour cream. Ideal to eat your fill for the whole family.
AUTOR: VEGANEVIBES
FOR THE SWEET POTATOES:
600-700

g

Organic sweet potatoes

Equivalent to 3-4 medium sweet potatoes

15

ml

Frying and baking oil

can also be omitted
FOR THE FILLING:
15

ml

Frying and baking oil

or another high-heat oil

1

Garlic clove or 1 tsp garlic granules

1

red onion

diced

200

g

sweet corn drained and well washed with cold water*.

or glass with 250

200

g

black beans drained and well washed with cold water*.

or jar with 400g

1

Bird Eye Chili or other chili powder to taste

1

tbspn

Cumin

½

tbspn

Paprika powder smoked

60

ml

Lime juice

Equivalent to the juice of one lime
FOR THE QUICK SOUR CREAM
250

g

Soy yogurt

or another vegetable yogurt, (alternatively soaked cashews + ½ cup water).

15

ml

Lemon juice

15

ml

Apple cider vinegar

¼

tbspn

Dijon mustard

¼

tbspn

Salt

more at will
OTHER:
Spring onion

cleaned and cut into rings

Vegan Mexican sauce to taste

Fresh coriander leaf to taste
Anleitung 
FOR THE SWEET POTATO Preheat oven to 200degrees and line baking tray with baking paper. Cut sweet potatoes in half and place flesh side down on baking sheet. (optional) If you like you can brush the sweet potatoes with a little oil. Put in the oven and bake for

40 minutes

. Depending on the size, the baking time may be longer or shorter. Just poke it with a fork and check. When the fork pierces easily, the sweet potato is cooked through and ready.

600-700 g Organic sweet potatoes,

15 ml Frying and baking oil

FOR THE FILLING Heat frying oil in a large frying pan. Add garlic and onion and sweat briefly. Add sweet corn and beans and sauté on medium heat for

3-4 minutes

. Add Bird Eye Chili, cumin and paprika and stir again until well combined. Deglaze with lime juice, remove from heat and set aside.

15 ml Frying and baking oil,

1 Garlic clove or 1 tsp garlic granules,

1 red onion,

200 g sweet corn drained and well washed with cold water*.,

200 g black beans drained and well washed with cold water*.,

1 Bird Eye Chili or other chili powder to taste,

1 tbspn Cumin,

½ tbspn Paprika powder smoked,

60 ml Lime juice,

Sea salt to taste

FOR THE QUICK SOUR CREAM Mix soy yogurt, lemon juice, apple cider vinegar, Dijon mustard and salt in a small bowl until well blended and set aside.

250 g Soy yogurt,

15 ml Lemon juice,

15 ml Apple cider vinegar,

¼ tbspn Dijon mustard,

¼ tbspn Salt

Place sweet potato halves, skin side down, on plates; fill with the bean vegetables. Pour sour cream on top, garnish with green onion and Mexican sauce and enjoy!

Spring onion,

Vegan Mexican sauce to taste,

Fresh coriander leaf to taste
Notizen
Nährwertangaben
Serving:
1
Portion
Calories:
369
kcal
Carbohydrates:
63
g
Protein:
10
g
Fat:
9
g
Sodium:
118
mg
Potassium:
849
mg
Fiber:
10
g
Sugar:
13
g
Vitamin A:
21475
IU
Vitamin C:
24.7
mg
Calcium:
147
mg
Iron:
2.4
mg