Yesterday was kind of a great day (besides the baked potatoes). I am always happy about links from dear people who try my Recipes try out. But the nice post from actor Kai Schumann made me especially happy. Together with his children he made my gluten free pancakes and was visibly thrilled. Together with fresh fruit, the picture on Instagram was just perfect. Kai has been following a vegan diet for several years and his son was diagnosed with gluten intolerance. So Kai, I hope you'll check in with me more often in the future (in return I'll also check Heldt *laughs*).
Baked potatoes for the win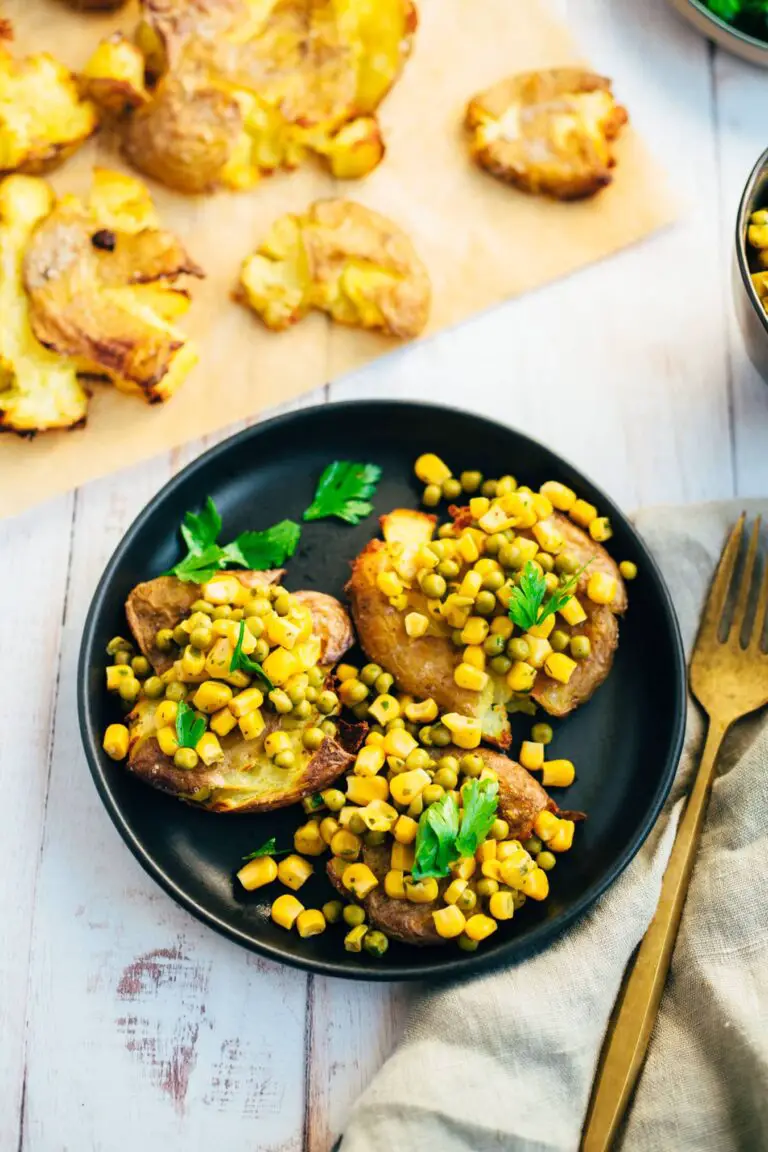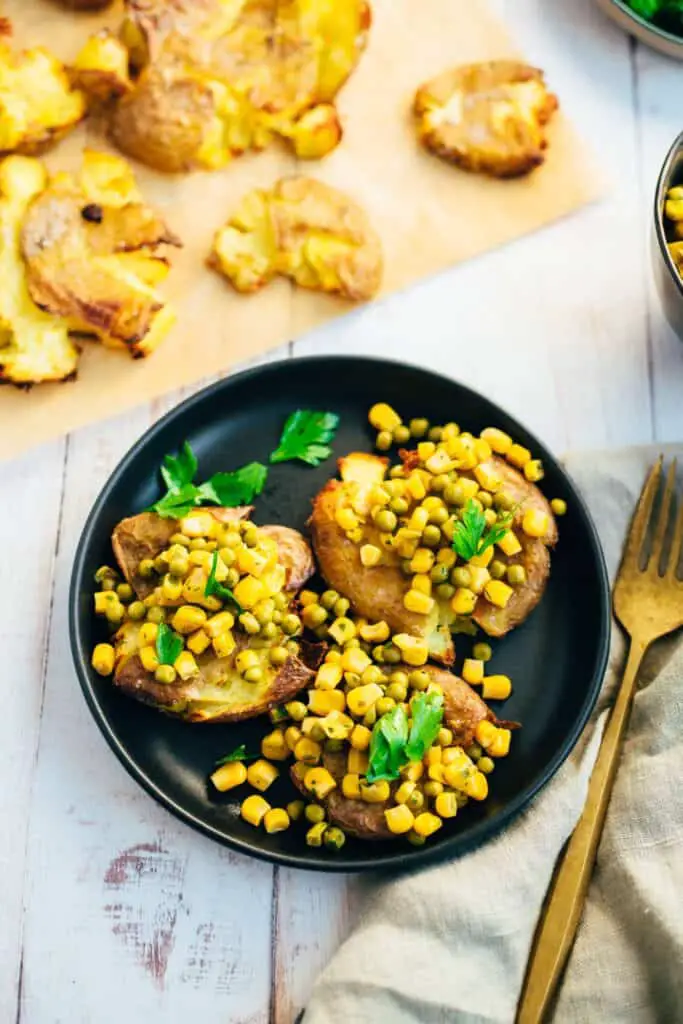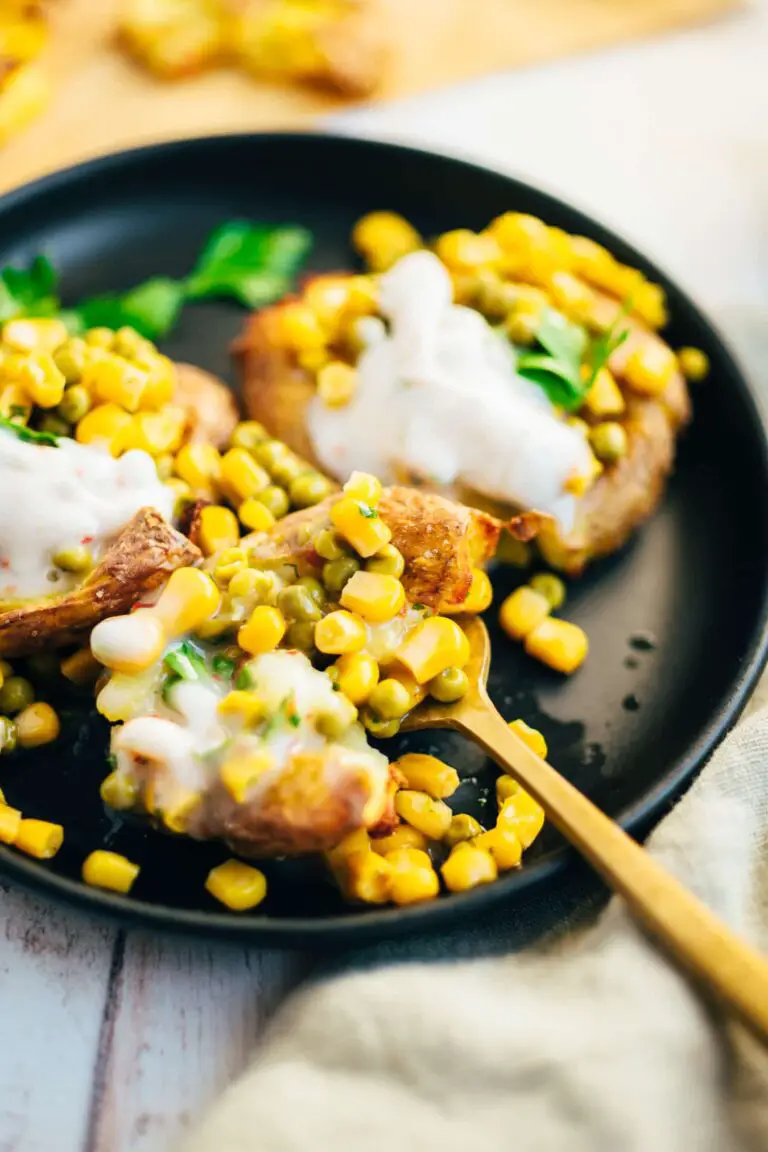 Most of the time it's the lack of time that keeps me from, Potatoes to make You have to cook them first and it all takes so long. In doing so, it is often a question of organization. Of course it is true that cooking the tuber takes a little longer than from Pasta . However, are suitable Recipes like this are just perfect for days when you're at home and have one thing or another to do around the house on the side (assuming you don't have a housekeeper or housekeeper).
The Potatoes are boiled in hot water and are soft after about 40 minutes. Then they go into the oven, coated with a little oil and salt, and are allowed to bake for another 30 minutes. The topping consists of delicious green peas and corn. Seasoned with a few herbs, salt and pepper. It is accompanied by a yogurt dip with more spices and chili. This combination is really an absolute vegan dream. So, best turn on the stove already.
Now are potatoes actually healthy or not?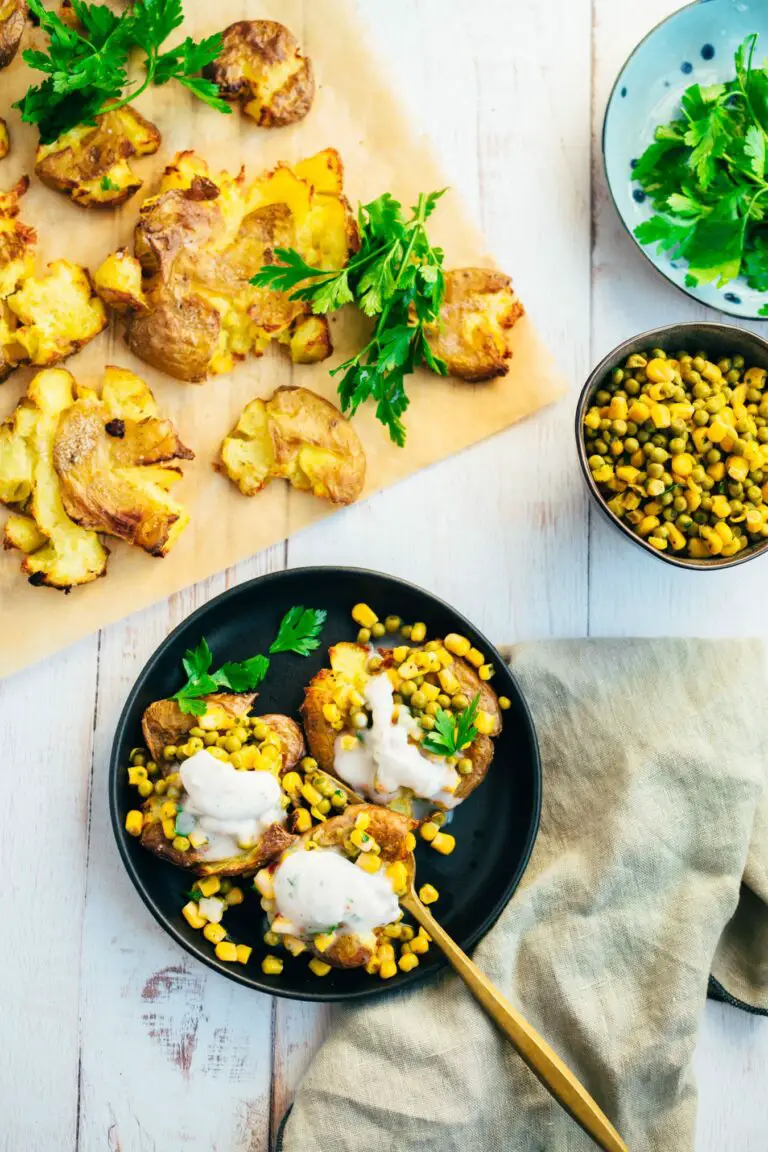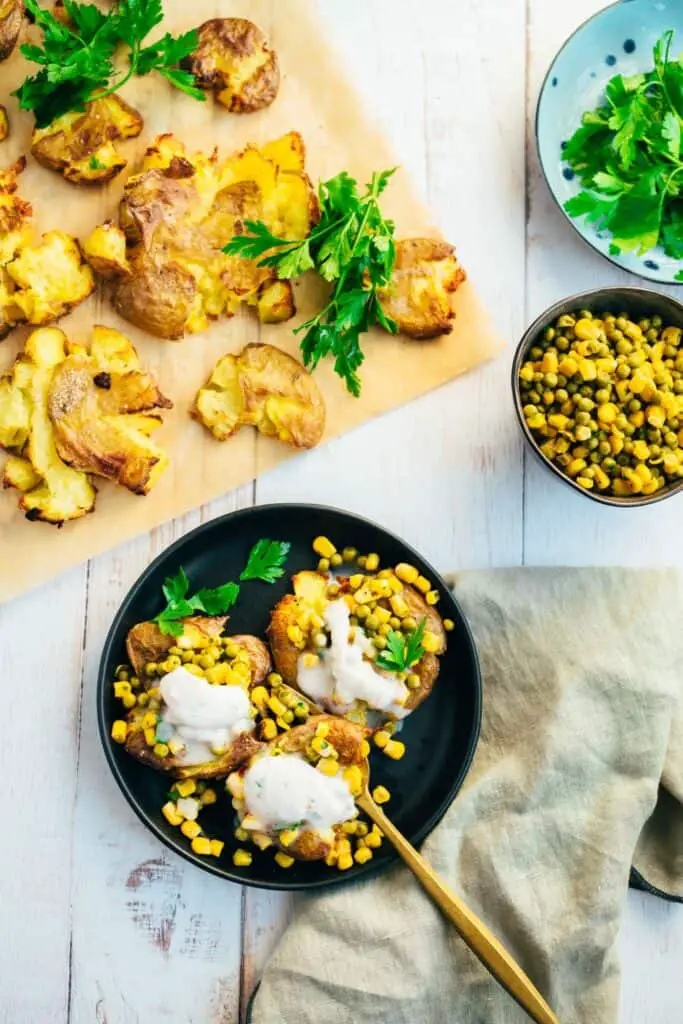 That's a good question and there are so many answers to it from different nutrition gurus. Some experts reject Potatoes strictly against them, and others raise them to the sky. What is true now? Personally, I think that the potato is not at all unhealthy, but often the preparation. If you look around the shelves of supermarkets, you will find the tuber usually highly processed and full of fat and flavors.
In fact, the potato is very healthy:
Low calorie with 70kcal per 100g
15mg vitamin C per 100g (Tip: Always cook with peel)
415mg potassium per 100g
Rich in Carbohydrates, protein, magnesium and iron
That doesn't sound so bad, but we should clarify one important question. Can you eat the skin of the potato? This is not a problem with small amounts, but pregnant women, nursing mothers and children should be careful. The reason for this are the bitter substances contained, the so-called glycoalkaloids. They have the task of protecting the plant from insect and fungal attack. But a healthy person would have to eat a couple of kilos of cooked potato peel to have problems. If in doubt, simply omit.
Perfectly fits our today's dish as a side dish to grilled food, or simply as a main course (my husband and I were papp full). As a dessert I recommend in the summer months a Apple muffin with a big scoop homemade vanilla ice cream .
Baked potatoes with pea topping and yogurt dip:
High fiber
aromatic
Spicy
filling
simple to be produced
Let's go with this delicious vegan oven dish. I wish you a lot of fun with the re-cooking and am happy about a review at the bottom of this page. If you post a picture, use the hashtag #veganevibes.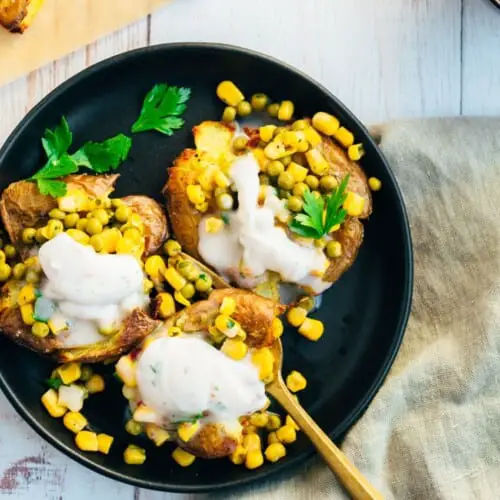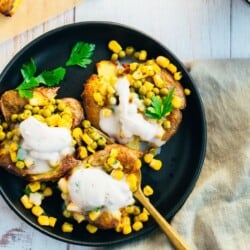 Baked potatoes with pea topping and yogurt dip
Crispy baked potatoes with a delicious topping of peas and corn. Topped off with aromatic herbs and a spicy yogurt chili dip. Perfect as a vegan, filling main dish or as a side dish with grilled meats.
AUTOR: VEGANEVIBES
FOR THE POTATOES:
680

g

Potatoes

predominantly waxy

½

tbspn

Salt
FOR THE PEA-CORN VEGETABLE:
150

g

Peas – pre-cooked peas on the jar

blanch fresh peas for 10 minutes longer beforehand, equivalent to a can or a jar

200

g

sweet corn drained and washed well with cold water

or glass

1

tbspn

mixed Italian herbs* gladly also frozen

½

tbspn

Salt

30

ml

Water
FOR THE YOGURT DIP:
300

g

creamy coconut yogurt

1

tbspn

mixed Italian herbs* gladly also frozen

½

tbspn

Harissa

or another chili paste or chili to taste

½

tbspn

Salt

Fresh pepper to taste
Anleitung 
Bring a large pot of water to a boil. Add the potatoes and cook for about

25 minutes

until the tubers are cooked. Towards the end of the cooking time, test with a sharp knife whether the potatoes are cooked. Otherwise, extend cooking time. Once quenched with cold water and let cool slightly.

Preheat oven to 200 degrees and line a baking tray with baking paper.

Place potatoes in a bowl, add oil and salt and toss until tubers are evenly coated.

680 g Potatoes,

7,5 ml Frying oil or other high heat oil,

½ tbspn Salt

Flatten potatoes with a flat kitchen utensil (I used a flat spatula) until they are about ½ cm high. CAUTION: Potatoes may still be hot inside.

Spread evenly on the baking sheet and place in the oven. Bake for

30 minutes

until golden brown.

Put another saucepan on the stove and add all the ingredients for the HERBS-MAIS vegetables. Simmer gently over medium heat for a little over

10 minutes

, then turn down to low and keep warm. If fresh peas are used, increase cooking time accordingly.

200 g sweet corn drained and washed well with cold water,

1 tbspn mixed Italian herbs* gladly also frozen,

½ tbspn Salt,

Pepper to taste,

30 ml Water,

150 g Peas – pre-cooked peas on the jar

FOR THE YOGHURT DIP, place all ingredients in a bowl and stir until evenly combined. Put in the refrigerator.

1 tbspn mixed Italian herbs* gladly also frozen,

½ tbspn Harissa,

½ tbspn Salt,

Fresh pepper to taste,

300 g creamy coconut yogurt

Portion baked potatoes onto plates, spoon pea-corn vegetables on top and serve with yogurt dip to taste and enjoy!

Store leftovers covered in refrigerator for 2-3 days (keep yogurt dip separate).
Notizen
* make your own Italian herb mixture: 2 tablespoons basil, 2 tablespoons oregano, 1 tablespoon rosemary, 1 tablespoon thyme, 1 teaspoon sage
Nährwertangaben
Serving:
1
g
Calories:
629
kcal
Carbohydrates:
53
g
Protein:
13
g
Fat:
40
g
Saturated Fat:
14
g
Sodium:
190
mg
Potassium:
903
mg
Fiber:
19
g
Sugar:
9
g
Vitamin A:
418
IU
Vitamin C:
39
mg
Calcium:
84
mg
Iron:
8
mg