Baked Cauliflower curry with fine Peas in a very, very tasty sauce. Just what I need at the moment. All I hear is Corona, Corona, Corona and Corona again. Besides daily walks with my husband and huskies, cooking is still the highlight of my day. Slowly it is also becoming more and more spring-like and I am happy about the first little flowers that sprout, such as daisies and violets. A dream! It's the little things that distract me a bit from all the terrible news and I try to stay away from it as much as possible. Inform yes, but please do not exaggerate. That's why I also have a really great suggestion at this point, put on a good mix, smile once and head for the kitchen. Maybe this will be your new Favorite dish ?
Baked cauliflower curry with peas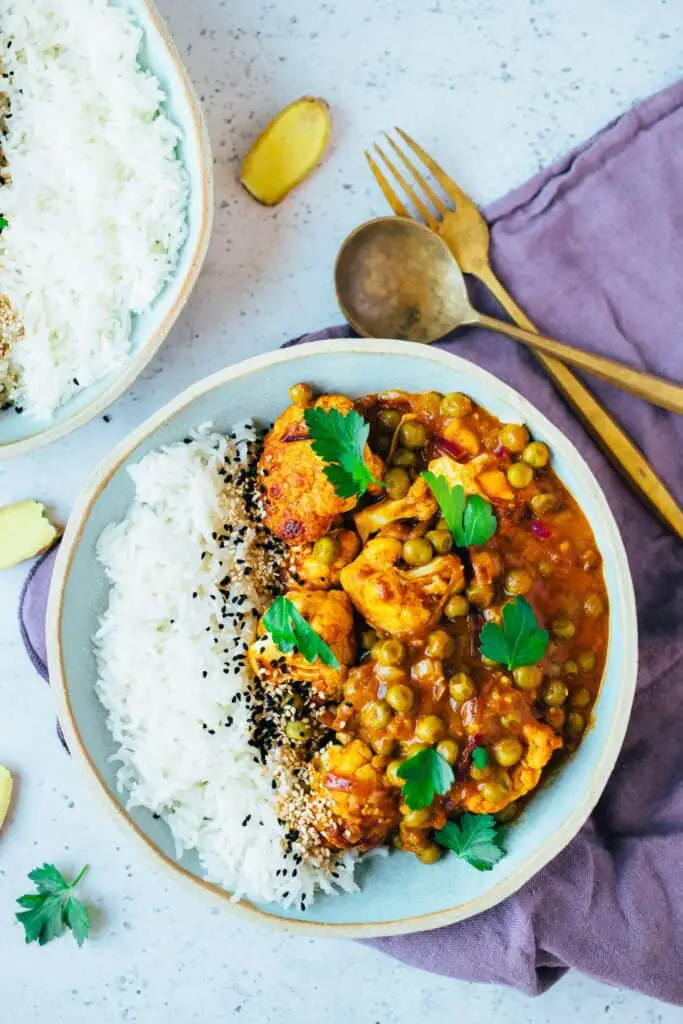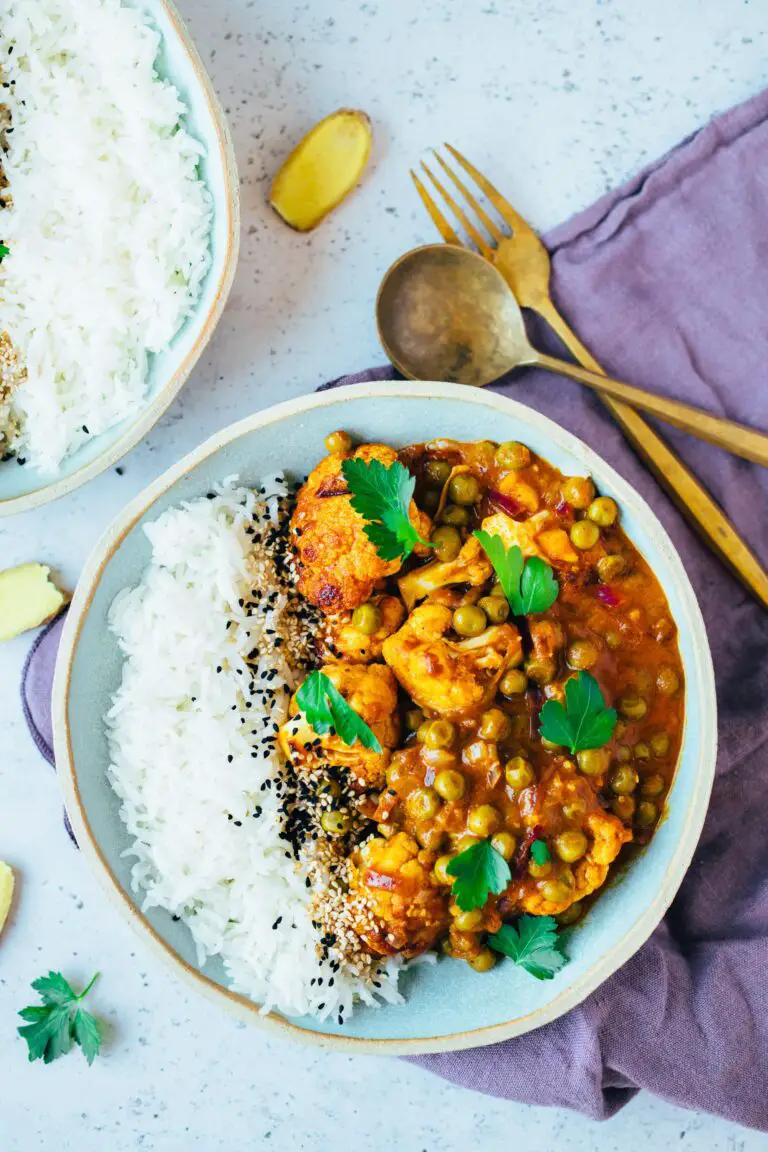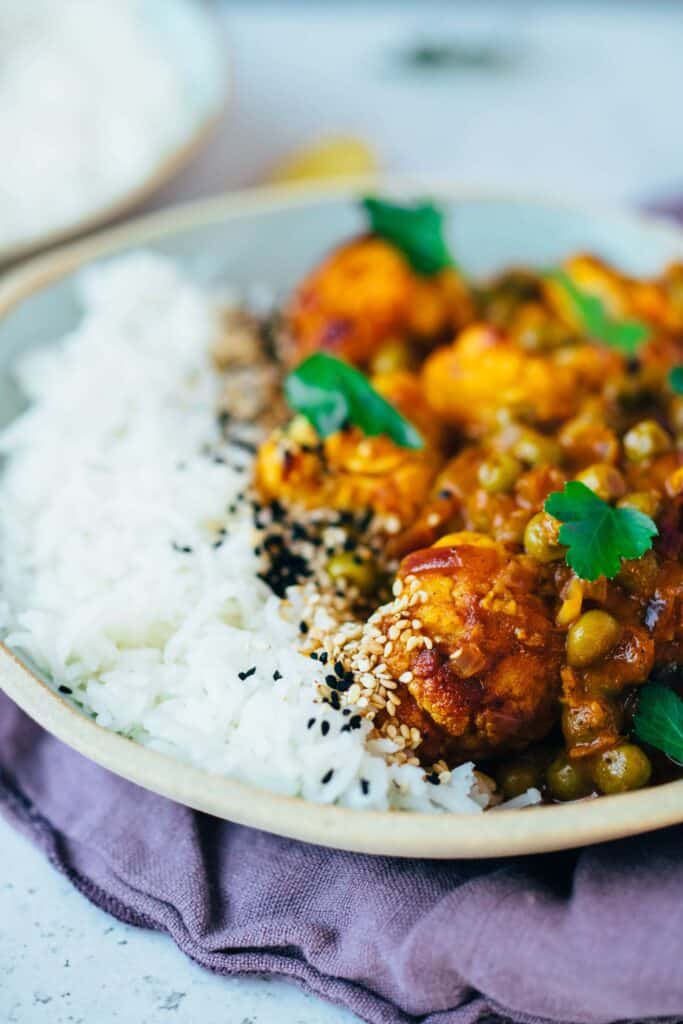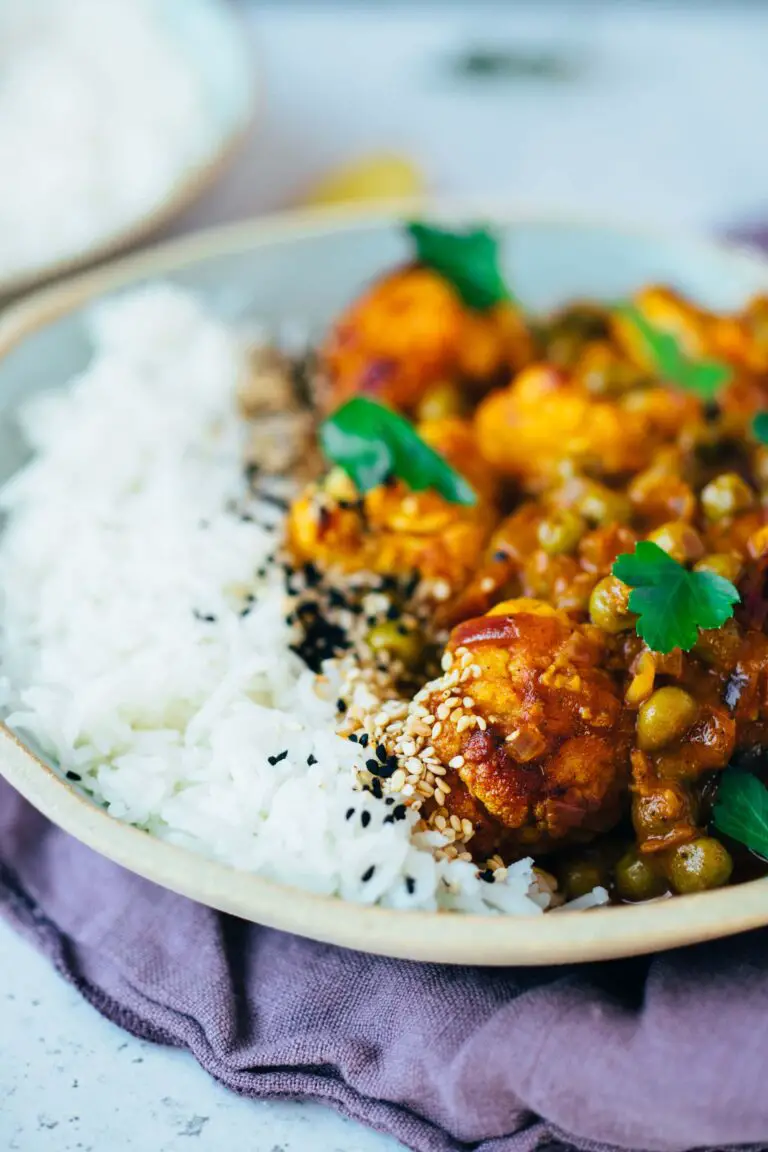 I am anyway such a big Curry fan and especially this overbaked version I find very, very smooth (sorry, that's probably Bavarian colloquial). All you really need is a baking dish and a blender, and you're good to go.
Cauliflower, a little oil and garlic first go into the oven for a few minutes and bake really nice. After that we add Peas and an onion and a delicious creamy sauce of coconut milk, ginger, tomato paste, Bird Eye Chili, Garam Masala cumin, coriander, turmeric, salt, coconut blossom sugar and (optional) water. This is mixed into a fine sauce and then goes over the cauliflower, onion and peas. Then all you really need is a good stick of patience, because cooking in the oven takes about 30 minutes .
I simply prepare the side dishes in the meantime, in this case simple basmati rice, but quinoa, millet, boiled potatoes and naan also fit.
DIY Garam Masala Curry Mixture Make Your Own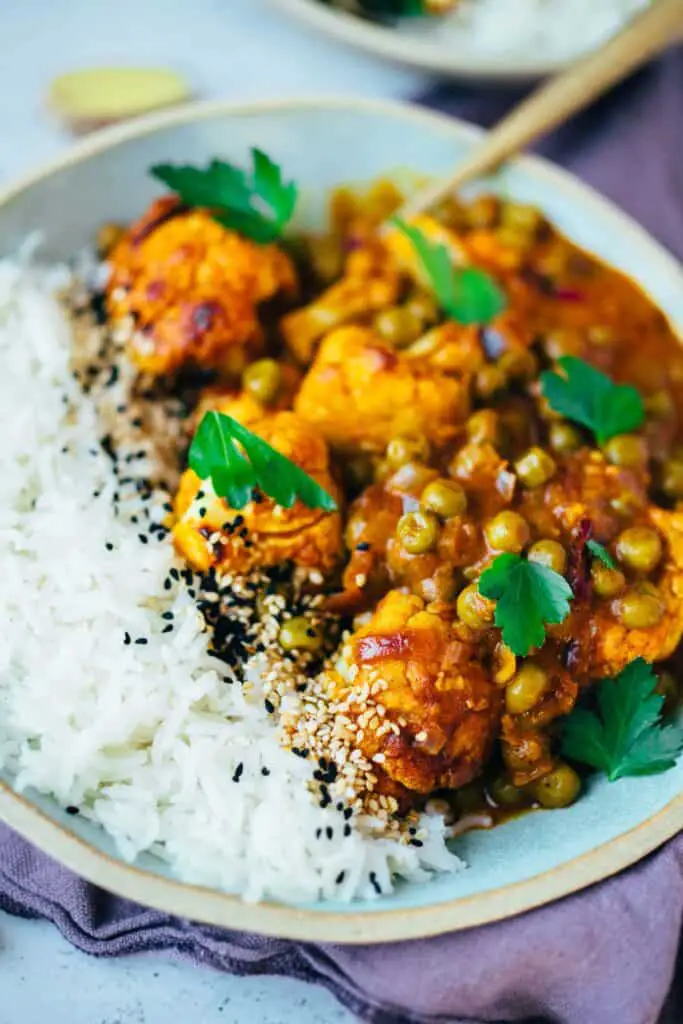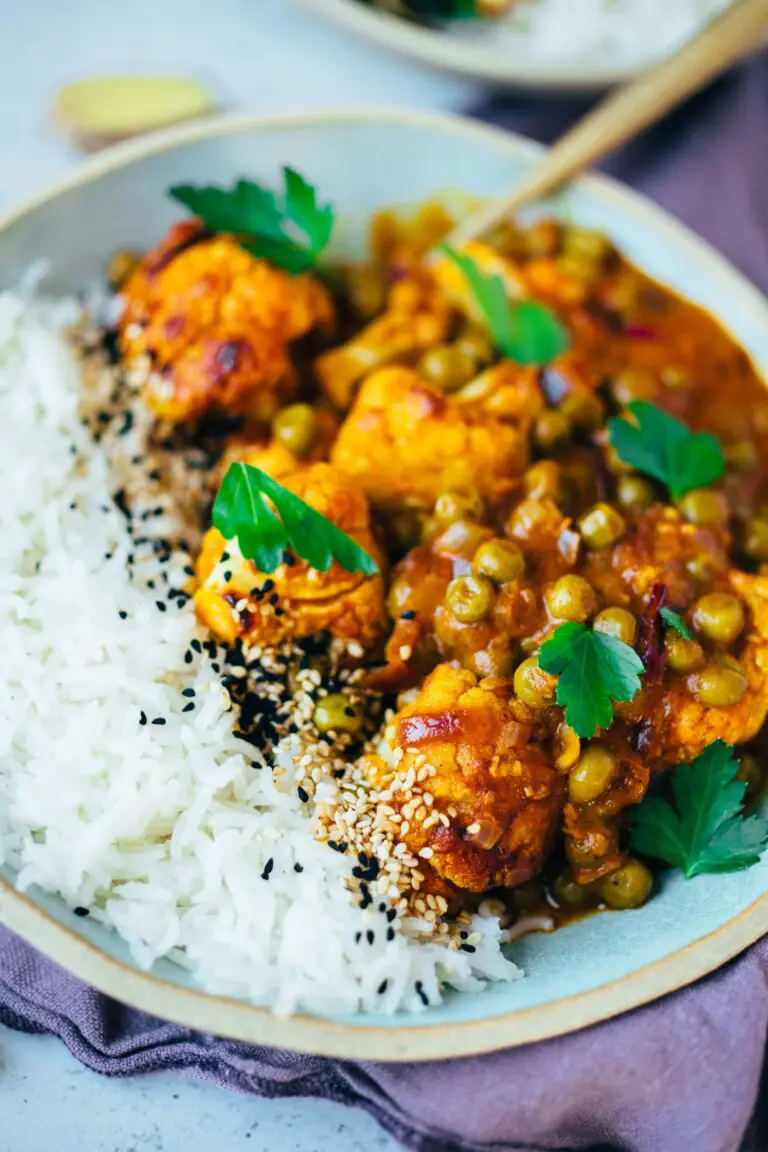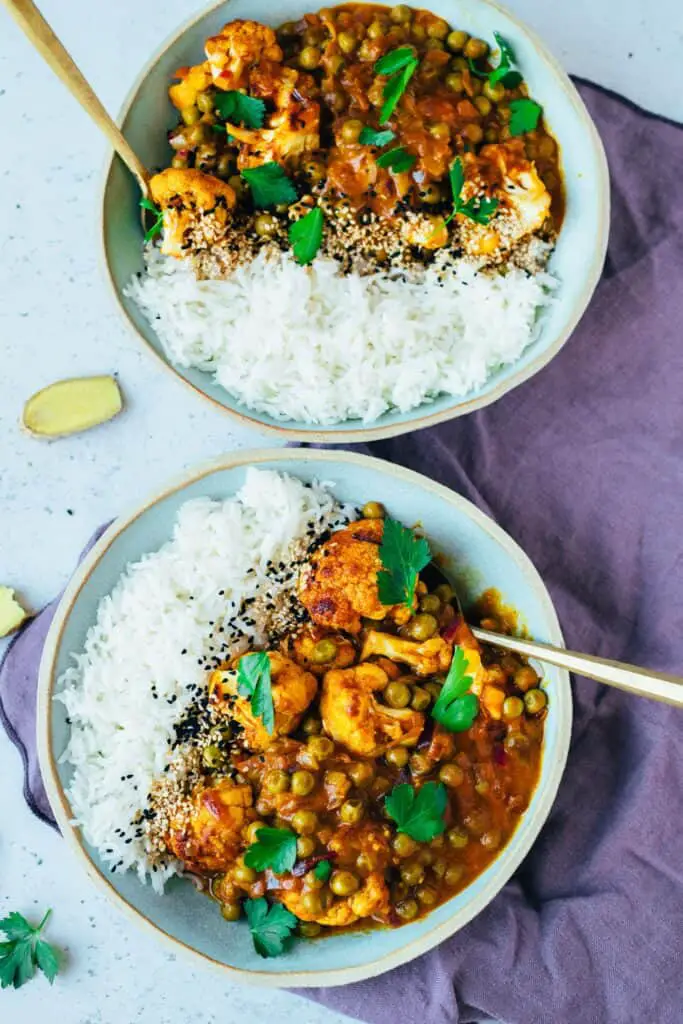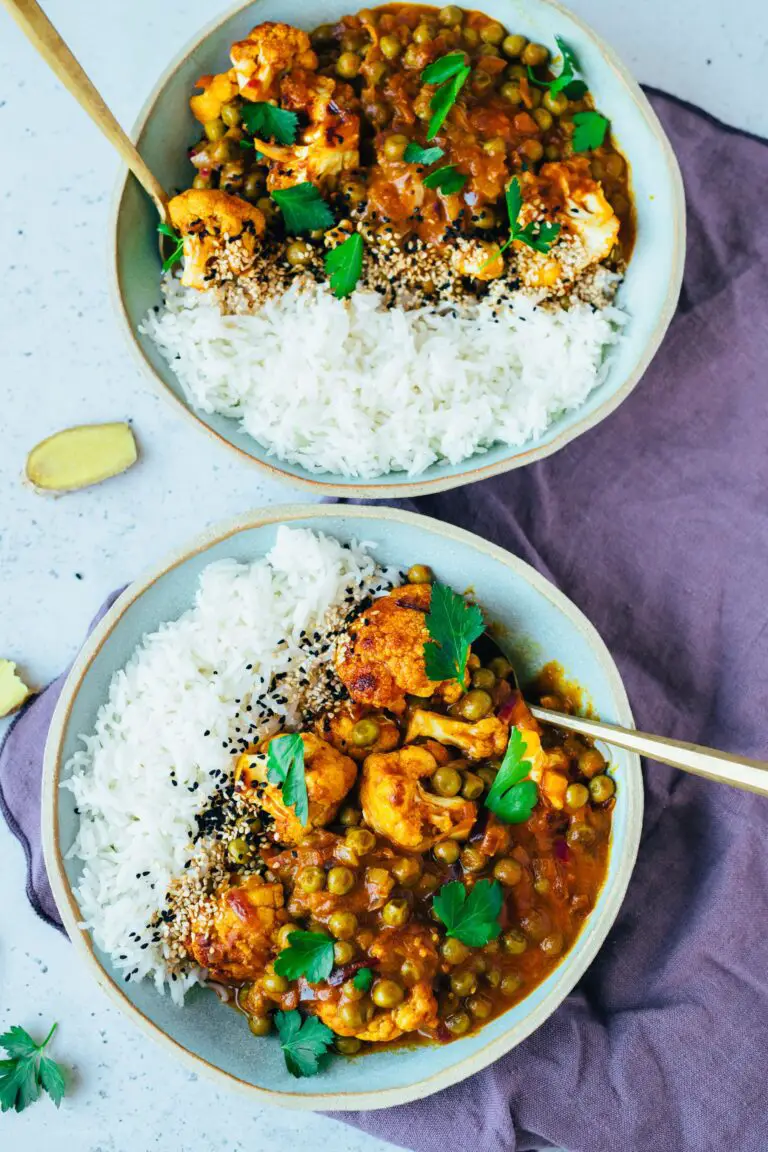 What I find funny is that curries have their origins not in Indian cuisine, but in South Asian, Southeast Asian and Japanese cuisine. A Curry is simply a creamy sauce with various ingredients and the addition of (in our case) vegetables. We use in our today's Curry a Garam Masala mixture, which you can also easily mix yourself at home:
3 tablespoons coriander seeds
2 tablespoons cumin seeds
1 tablespoon peppercorns, black
2 tsp cardamom, green
1 tsp cloves
¼ tsp nutmeg
PREPARATION FOR WHOLE SPICES : Roast in a pan without oil (be careful not to let it get too hot or it will burn). Cool briefly and remove the shells of the cardamom capsules. Place in a mortar and grind to a fine powder. Place in an airtight container and use as needed.
PREPARATION FOR GROUND SPICES : simply put all the spices in a bowl and stir until everything is well combined. Place in an airtight container and use as needed.
Vegan curries just always go
For those who don't feel like cauliflower and peas today, I recommend the. quick masala chickpea curry , vegan pumpkin curry or Creamy Korma Curry .
The baked cauliflower curry with peas is:
aromatic
Coconut creamy
Pleasantly sharp
filling
Easy to manufacture
Let's go with this delicious vegan curry . I wish you a lot of fun with the re-cooking and am happy about a review at the bottom of this page. If you post a picture, use the hashtag #veganevibes.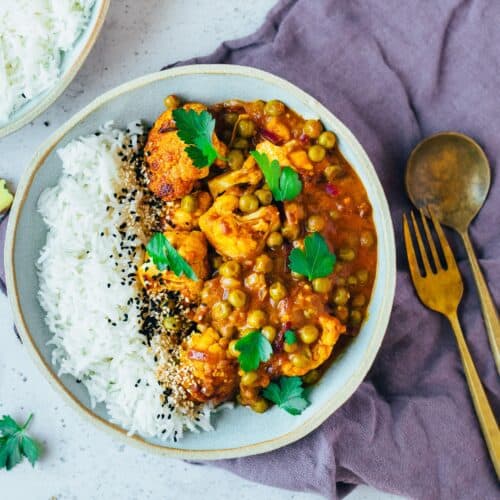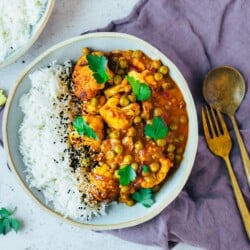 Baked cauliflower curry with peas
Delicious baked cauliflower, peas and onion baked in a fine sauce of coconut milk, tomato paste and aromatic spices. Together with rice, quinoa or millet the perfect vegan lunch or dinner.
AUTOR: VEGANEVIBES
FOR THE CAULIFLOWER:
350

g

Cauliflower

cleaned and cut into florets, equivalent to a medium-sized cauliflower

15

ml

Frying oil

2

Piece

Garlic cloves

pressed or 1 tsp garlic granules
TO SERVE:
Coriander or other fresh herbs to taste

Sesame seeds to taste
Anleitung 
Drain peas from can, rinse with cold water and set aside

Preheat the oven to 200 degrees and prepare a baking dish.

Add cauliflower florets, oil and garlic to baking dish and stir once until well combined.

350 g Cauliflower,

15 ml Frying oil,

2 Piece Garlic cloves

Put in the oven and roast at 200degrees for

10 minutes

.

In the meantime the sauce prepare the sauce by putting coconut milk, ginger, tomato paste, bird eye chili, garam masala, cumin, coriander, black pepper, cardamom, turmeric, salt and coconut blossom sugar in a blender and blend to a fine sauce. Optionally add 1 tablespoon of starch or flour, then the sauce will be a little more creamy during baking.

400 ml Coconut milk,

2 cm Ginger,

3 tbspn Tomato paste,

1 Bird Eye Chili,

1 tbspn Garam Masala,

1 tbspn Cumin,

½ tbspn Coriander,

½ tbspn black pepper,

½ tbspn Cardamom,

¼ tbspn Turmeric ground,

½ tbspn Salt,

1 tbspn Coconut blossom sugar,

1 tbspn Starch or flour for thickening

Remove cauliflower from oven, add chopped onion and peas and fold in. Caution hot! Work with a cooking glove.

1 red onion,

1 Cup green peas

Pour sauce over the top and stir with a spoon until everything is well combined. The cauliflower florets should protrude minimally from the liquid. Otherwise, add a little water and stir again.

Put back in the oven and bake for another

25 minutes

.

Turn heat down to 175 degrees and bake for another

10 minutes

.

Remove from the oven and let cool briefly.

Serve with rice, quinoa, potatoes or pita bread. Top with cilantro leaf and sesame seeds and enjoy!

Coriander or other fresh herbs to taste,

Sesame seeds to taste

Keeps up to 4 days in an airtight container in the refrigerator (without garnishes) or up to 1 month in the freezer.
Notizen
(Calorie calculation without side dishes)
Nährwertangaben
Serving:
1
Portion
Calories:
302
kcal
Carbohydrates:
17
g
Protein:
6
g
Fat:
26
g
Saturated Fat:
19
g
Sodium:
98
mg
Potassium:
619
mg
Fiber:
5
g
Sugar:
5
g
Vitamin A:
277
IU
Vitamin C:
62
mg
Calcium:
57
mg
Iron:
5
mg