Vegan rice salad with peanut dressing is the answer to my craving for warm temperatures. It's frustrating sometimes when you open Instagram and see so many people spending the winter months in really great places. The one digital nomad on Bali, the current star of the spiritual scene stays on Maui and also otherwise you see many great pictures of beaches, sunsets and warm temperatures. I don't mean to whine, but I like everything but wet and cold, and when I look outside right now, a cold shiver comes over me. Well, a few weeks we will still have to get along with a lot of rain and cold and therefore I make myself until then just a few summery Dishes. We live in a world where even in winter we can buy juicy and sweet Pineapple from the jar. I've loved pineapples ever since I went to college in Hawaii, and they always remind me of my time back there. The endless pineapple plantations were simply a sensational sight. Let's get going and bring home some rays of sunshine.
Vegan rice salad with delicious dressing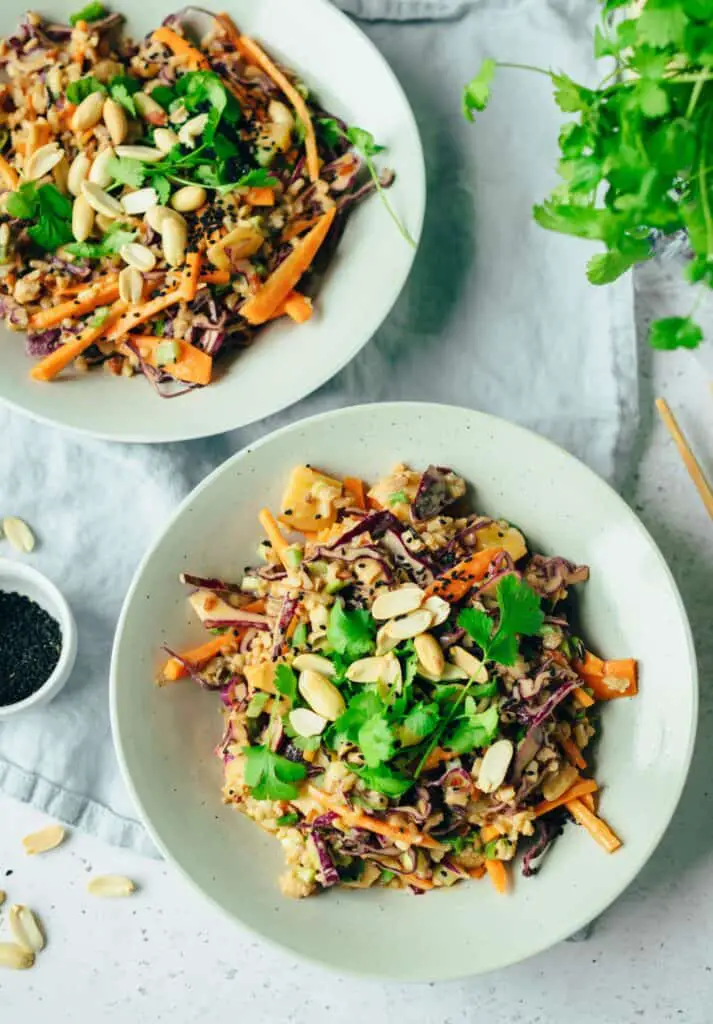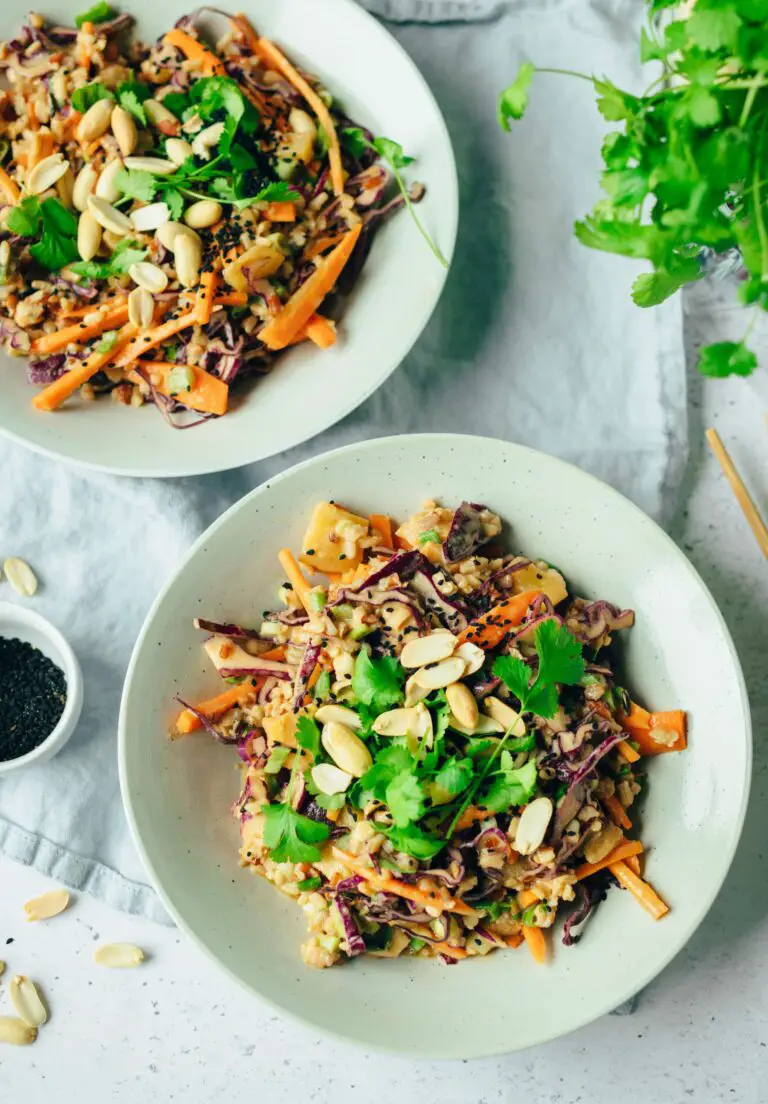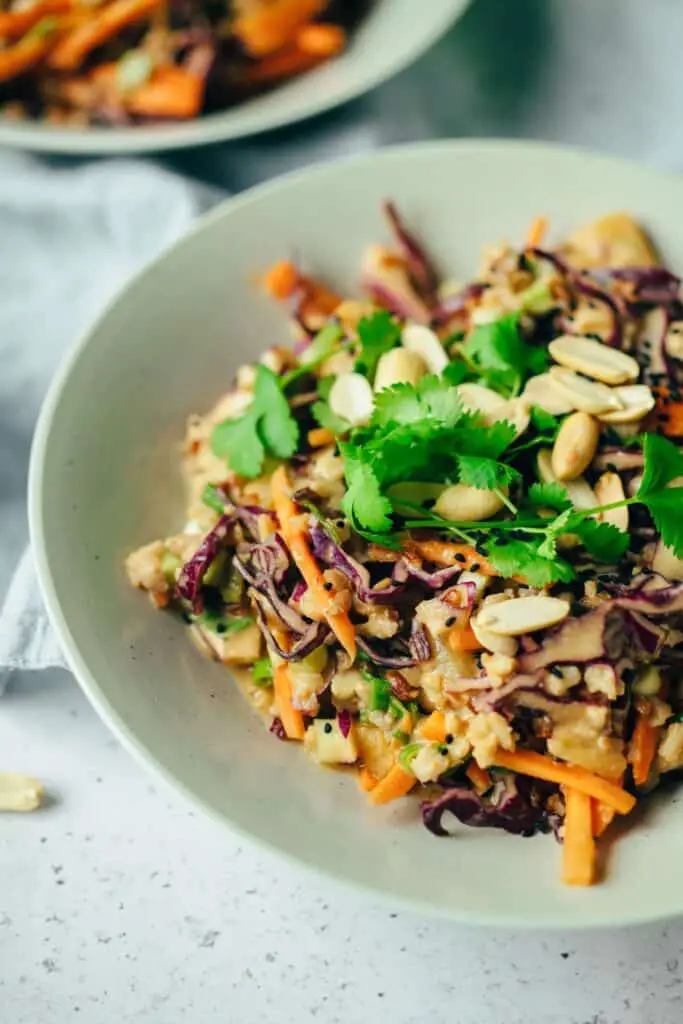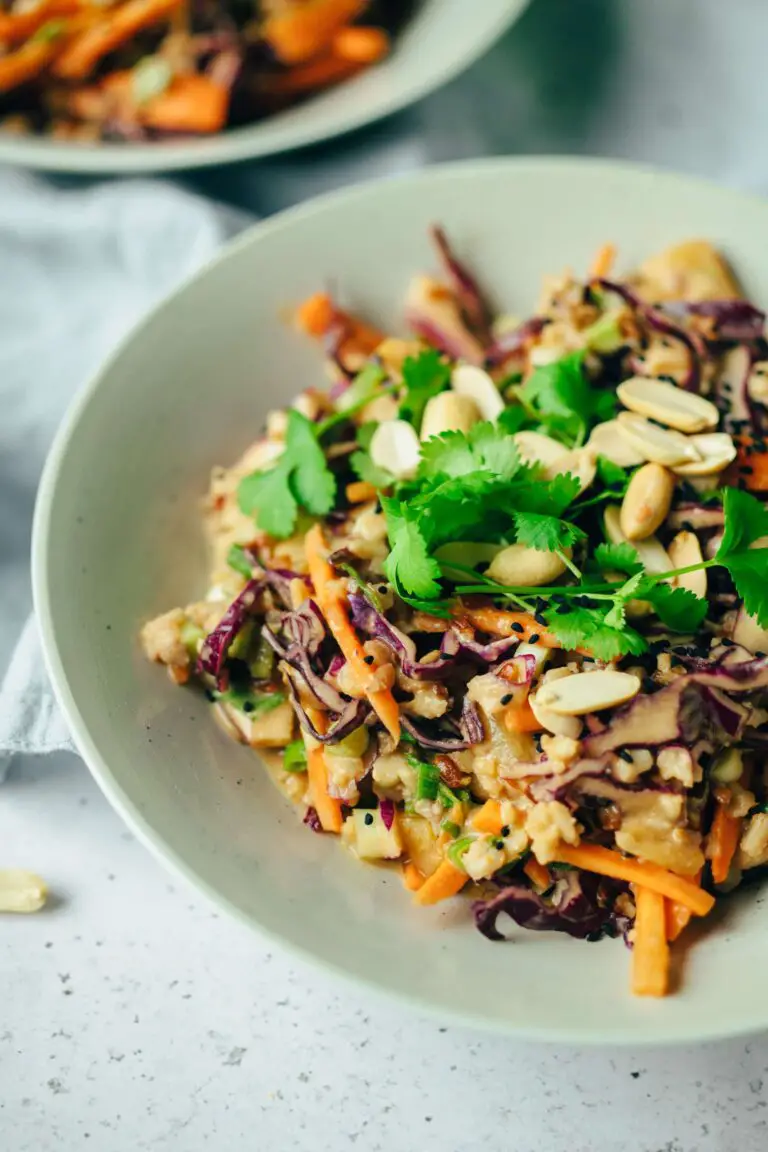 How often do you eat per week Rice ? For me, it's maybe once a week when it comes up. For some reason I always tend to Pasta . What is the reason for this? Maybe because Pasta is cooked so quickly and rice takes a tad longer. At the same time Rice a really great food and so versatile. Often people tend to always use the same type of rice, yet there are so many variations.

Here is a small overview of the most common types of rice:
Whole grain basmati rice
Nature rice , sweetish aroma
Black rice , nutty aroma
Red rice , earthy aroma
Wild rice , firm to the bite, is perfect for mixing with other types of rice
Jasmine rice , floral aroma
Risotto rice , slightly earthy aroma
How healthy is rice actually?
TIPS: When it comes to the healthiest types of rice, the combination of whole grain and organic performs the best. The background to this is that the healthiest part of rice is in the husk, and the husk really does have it in it. Vitamins, fiber and especially essential amino acids. White rice varieties are polished and thus unfortunately lose almost all important ingredients. In addition, whole grain rice helps with weight loss because it swells further in the stomach and thus fills you up faster. Does it make a difference to buy organic Rice to buy organic or not? Yes it does, because with every purchase you are committing yourself against the use of pesticides and for a more sustainable treatment of people, the environment and animals.
Vegan Spicy Asian Vibes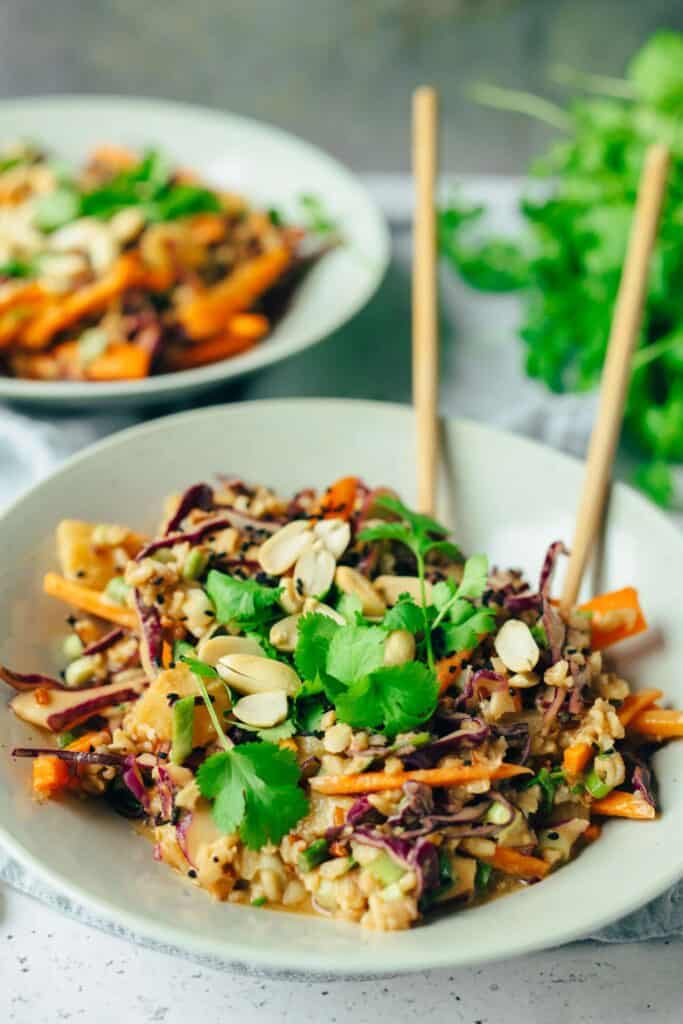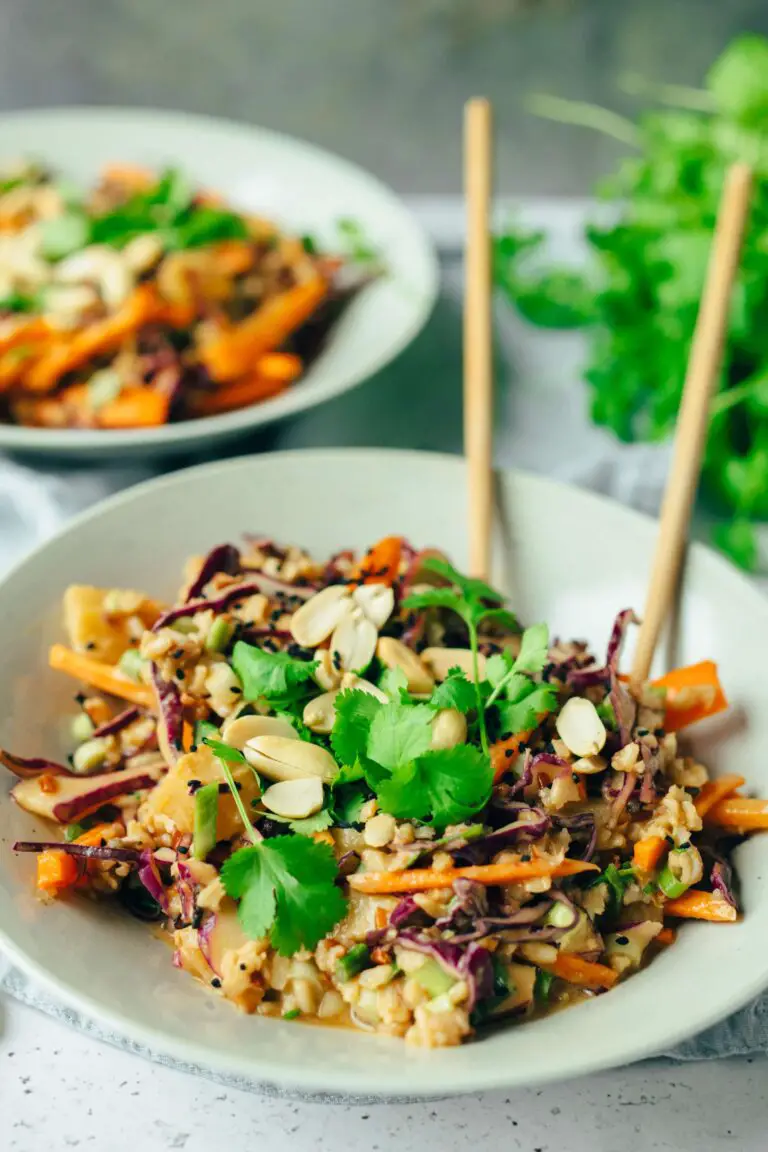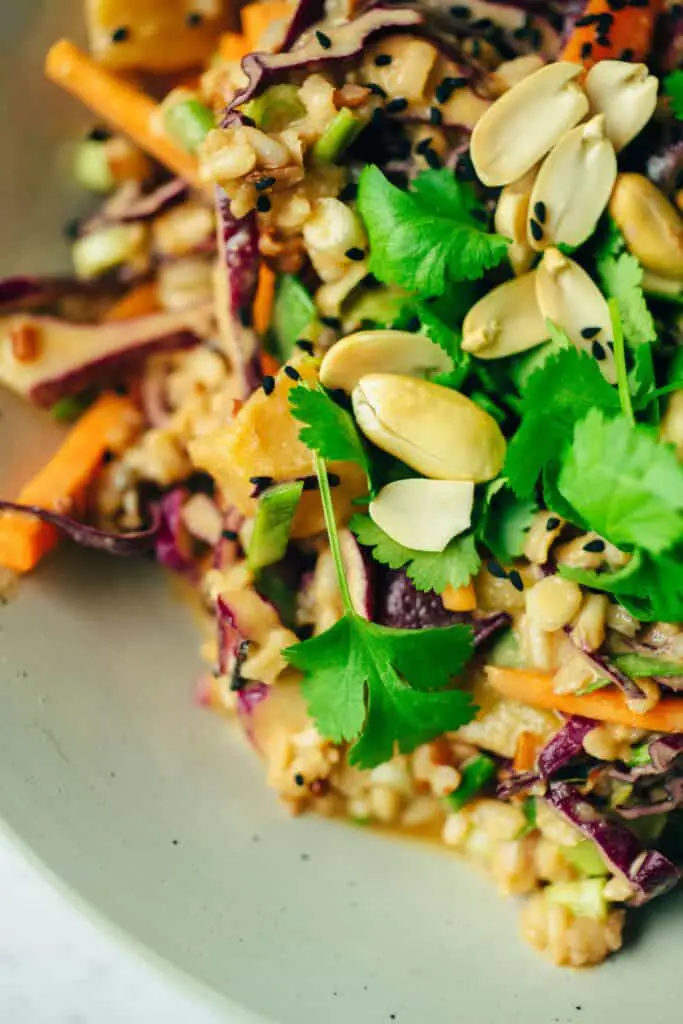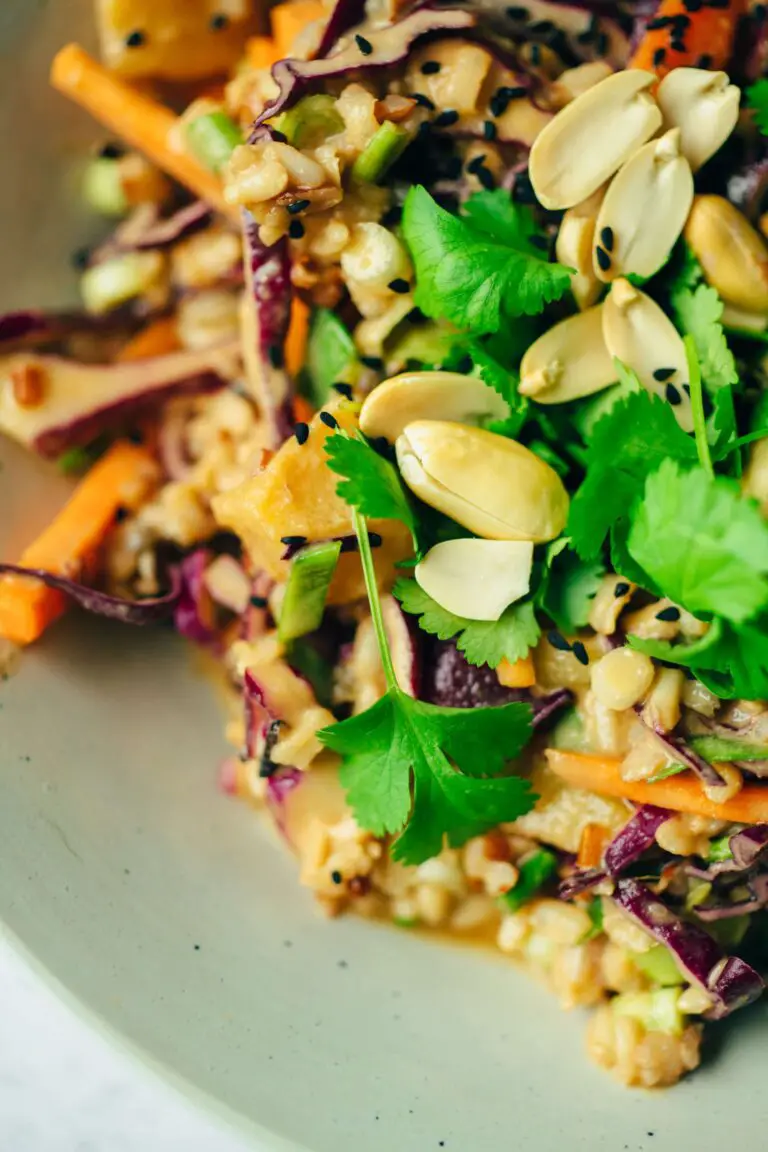 For our today's Salad I use a whole grain rice mix, because I currently find them particularly tasty. I also try to use different types of rice all the time and not always stick to one habit. Our today's Salad consists of whole grain rice, red cabbage, carrots Pineapple and spring onion.
Add to that a super tasty peanut sauce that gives this salad the spice it needs. Peanut butter, Vegetable milk , water tamari, molasses, maple syrup, garlic granules, ginger, chili, lime juice and sesame oil. This is then all mixed well and may like to pull a little, so that the dressing combines well with the Vegetables combines. As a decoration I love for example a ripe Avocado , lime or lemon quarters, black sesame seeds and a handful of peanuts. Yum!
TIP: The Salad is perfect as Main course together with spring rolls or really crispy Tofu . As a side dish or to a buffet, it cuts just as good a figure and can be wonderfully prepared.
The Asian rice salad with peanut dressing is:
Asian
spicy
aromatic
fresh
simply made
Well, did you get a craving for this delicious, vegan salad ? I wish you a lot of fun in recooking and of course a review at the bottom of this page. If you post a picture, feel free to use the hashtag #veganevibes.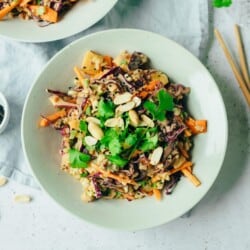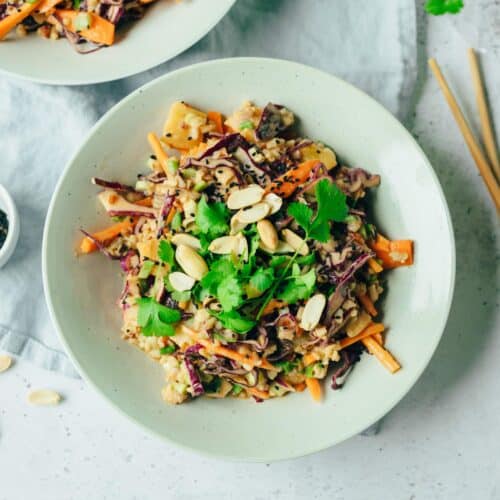 Asian rice salad with peanut dressing
Delicious and simple Asian salad with vegetables, pineapple, brown rice and a spicy peanut dressing. Perfect as a main dish, side dish and suitable for the whole family.
AUTOR: VEGANEVIBES
FOR THE SALAD:
300

g

brown rice

2 cups

250

g

Red cabbage

finely chopped, 4 cups

4

Piece

Carrots

peeled and cut into fine strips

300

g

Pineapple

cut into pieces

1

Confederation

green onion (bunch)

cut into fine rings

1

Handful of coriander greens

Roughly cut

7,5

ml

Sesame oil

1 TSP

Peanuts ½ cup

optional
TOPPINGS:
Avocado

Fresh coriander leaf

Lime Quarter
Anleitung 
FOR THE DRESSING : Place all ingredients in a blender and blend on medium speed to a fine dressing. Set aside. Alternatively, work with a bowl and a whisk.

4 tbspn Peanut butter,

80 ml Plant milk,

80 ml hot water,

45 ml Tamari,

1 tbspn Molasses,

22,5 ml maple syrup,

1 tbspn Garlic granules,

2 tbspn Ginger,

1 Bird Eye Chili,

30 ml Lime juice,

7,5 ml Sesame oil

FOR THE SALAD brown rice, red cabbage, carrots, pineapple and green onion, sesame oil, put in a bowl and mix well once.

300 g brown rice,

250 g Red cabbage,

4 Piece Carrots,

300 g Pineapple,

1 Confederation green onion (bunch),

7,5 ml Sesame oil

Pour the dressing on top and mix again.

Divide among plates or bowls and optionally garnish with black sesame seeds, avocado, cilantro leaf and lime quarter.

1 Handful of coriander greens,

Peanuts ½ cup,

black sesame,

Avocado,

Fresh coriander leaf,

Lime Quarter

Best enjoyed fresh. Store remaining salad (without toppings) in an airtight container in the refrigerator for up to 3 days.
Notizen
Note: Calorie calculation without peanuts, cilantro, sesame or avocado.
Nährwertangaben
Serving:
1
Portion
Calories:
503
kcal
Carbohydrates:
74
g
Protein:
17
g
Fat:
28
g
Saturated Fat:
5
g
Sodium:
738
mg
Potassium:
1767
mg
Fiber:
20
g
Sugar:
23
g
Vitamin A:
954
IU
Vitamin C:
46
mg
Calcium:
127
mg
Iron:
16
mg