Pasta alla Norma with oven roasted Eggplant , I could lay into this dish right now. I used to go to Italy so often with my parents and have only the best memories of it. La dolce vita with lots of Pizza and Pasta . Today I would order the Pizza order it without cheese or just hope that there is one nearby. vegan pizza nearby. It is a real pleasure to see how much is happening on the vegan market and a new product is launched every second. Many dishes are already vegan by nature, such as this delicious Pasta that we cook together today. Not to mention that it is also really good for the soul. Especially with this dingy weather, I need soul food and that certainly includes every single one Pasta dish on this page belongs to it. I will also do something for Body, Mind & Soul this afternoon, because I am going to my dear friend Mischi's Yin class. At this point I wish you a nice weekend with lots of tea, series, cuddling and vegan treats .
Pasta alla Norma with oven roasted eggplant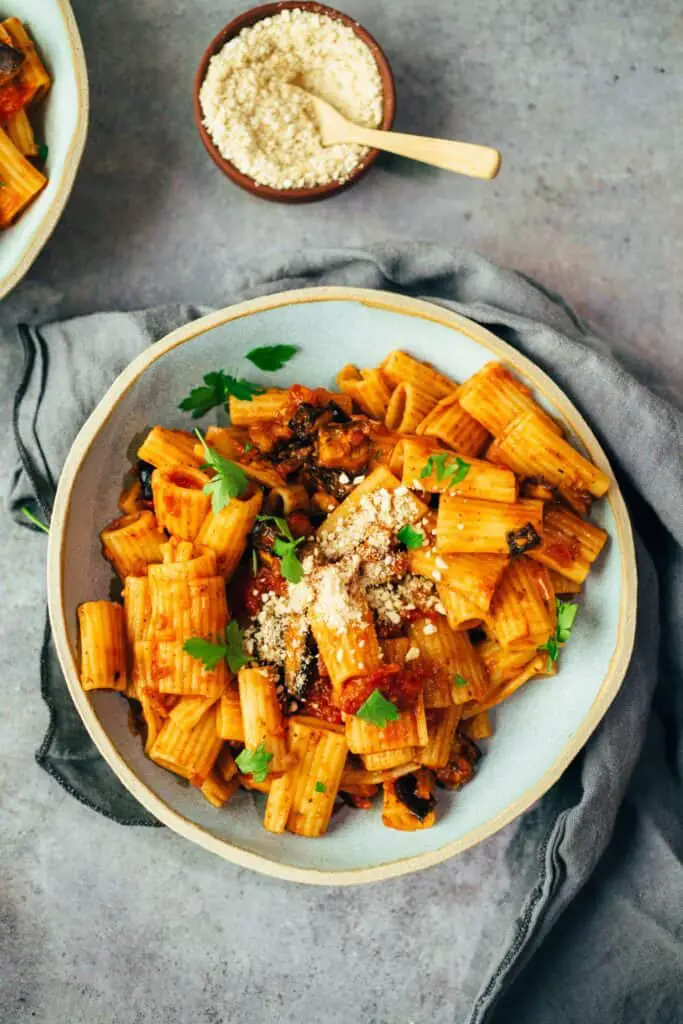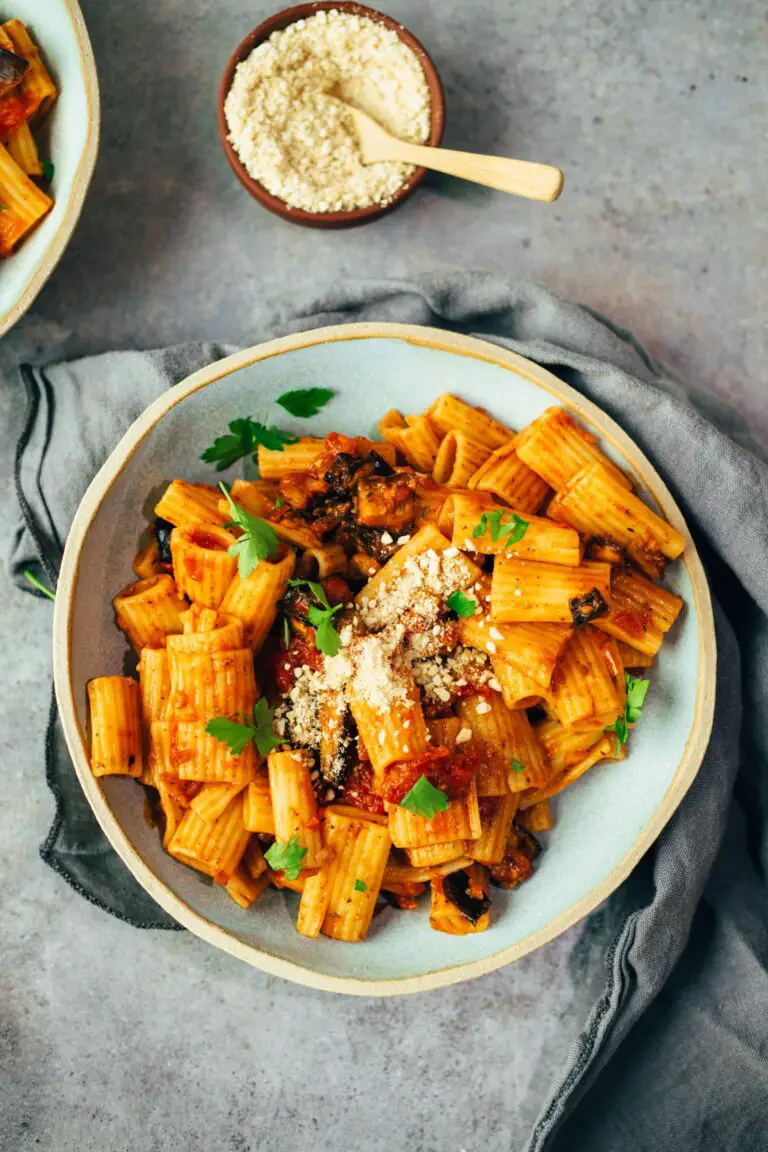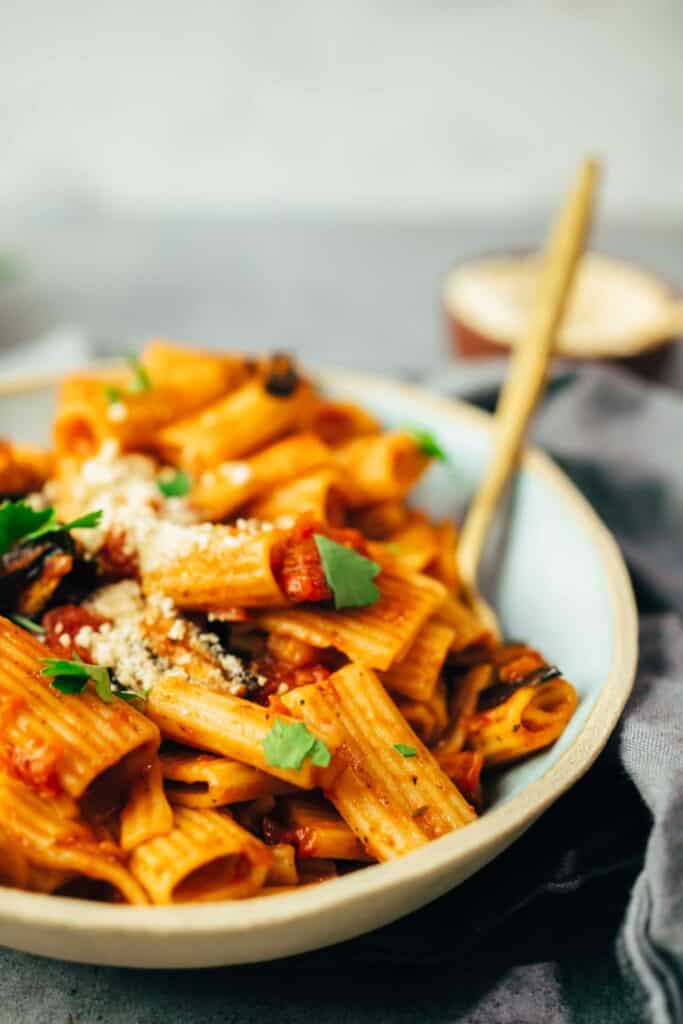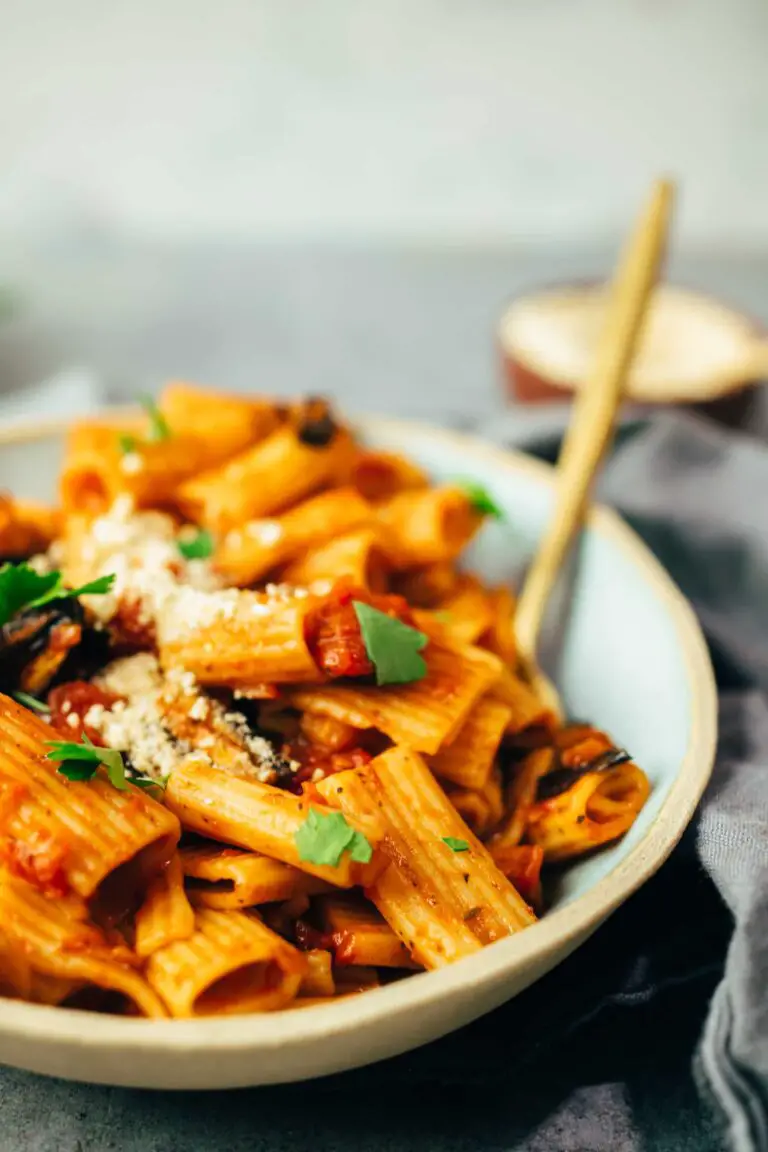 Today will be really challenging, because we need a pan, a pot of pasta and an oven. OMG! Ok, all kidding aside, this is actually Court totally simple and really, really tasty. In the classic version, the Eggplant not roasted in the oven, but usually made in a pan. However, the Eggplant itself really gobbles up a lot of oil and that's why I like to make it in the oven with a little salt and a small amount of olive oil. This is pretty straightforward, and the dark purple fruit roasts away while I prepare the Pasta and prepare tomato sauce.
The tomato sauce is also really super easy to make with a little oil, garlic, onion, sun-dried tomatoes (or tomato paste), canned tomato chunks, Italian seasoning mix, pepper, chili, coconut blossom sugar, a pinch of salt and a splash of balsamic vinegar. Simmer briefly and prepare the pasta in parallel. Then all mixed together and served with vegan parmesan served. My mouth is watering again.
How healthy is actually eggplant?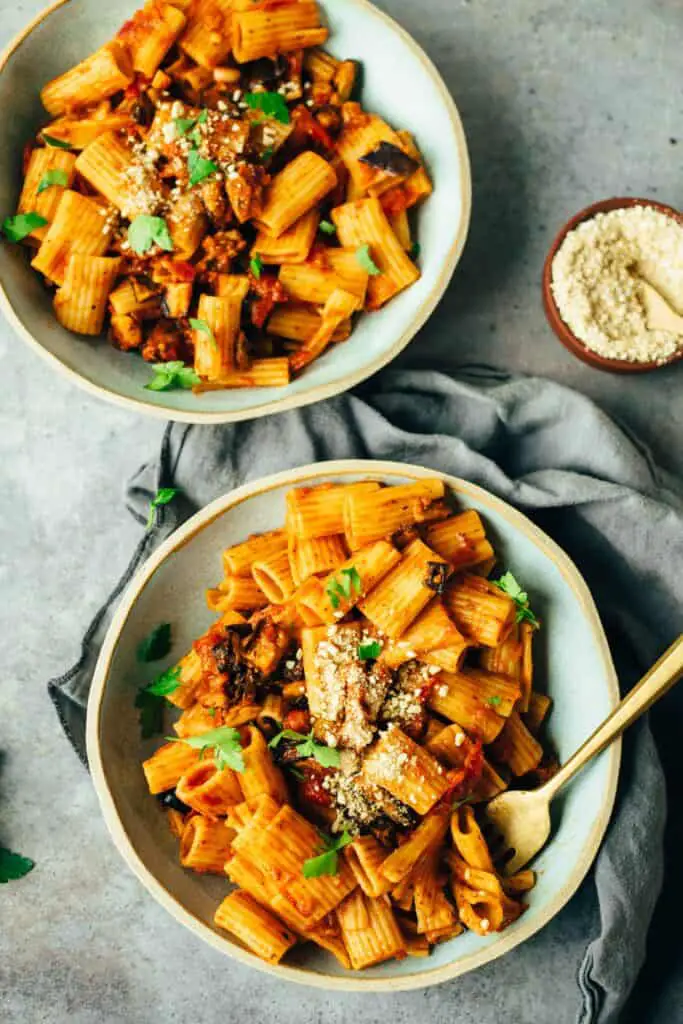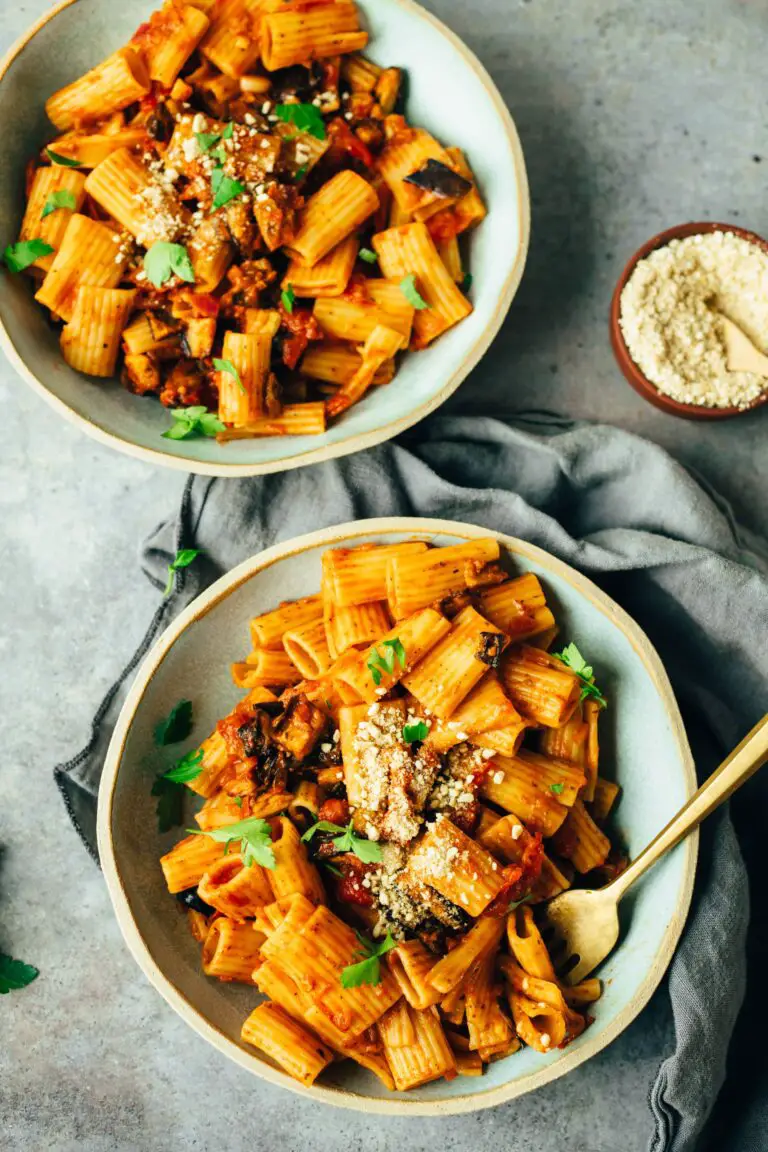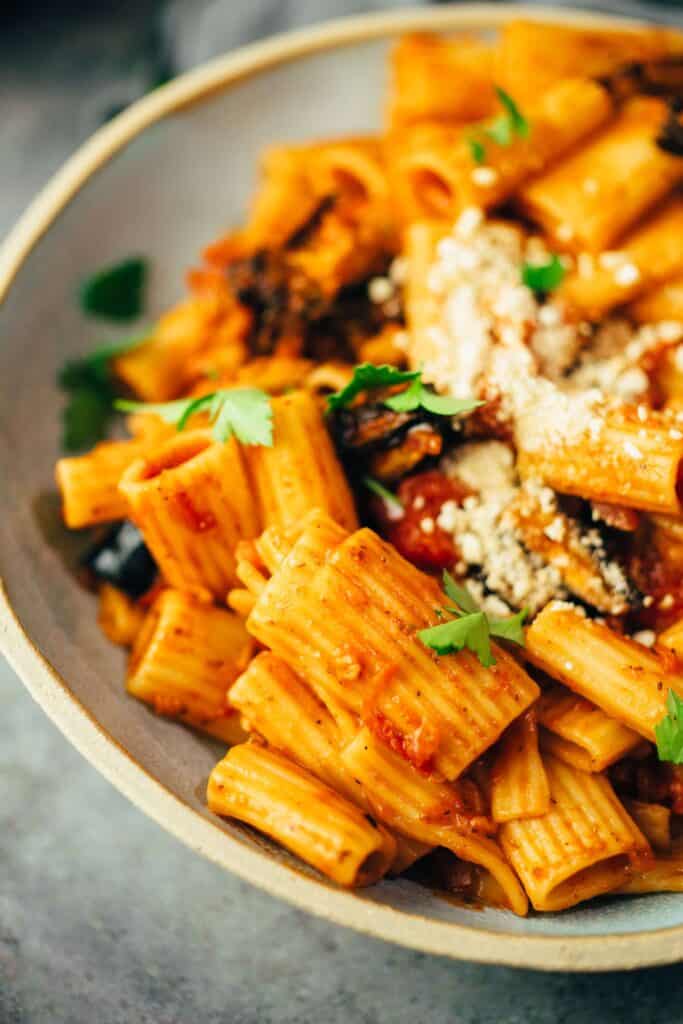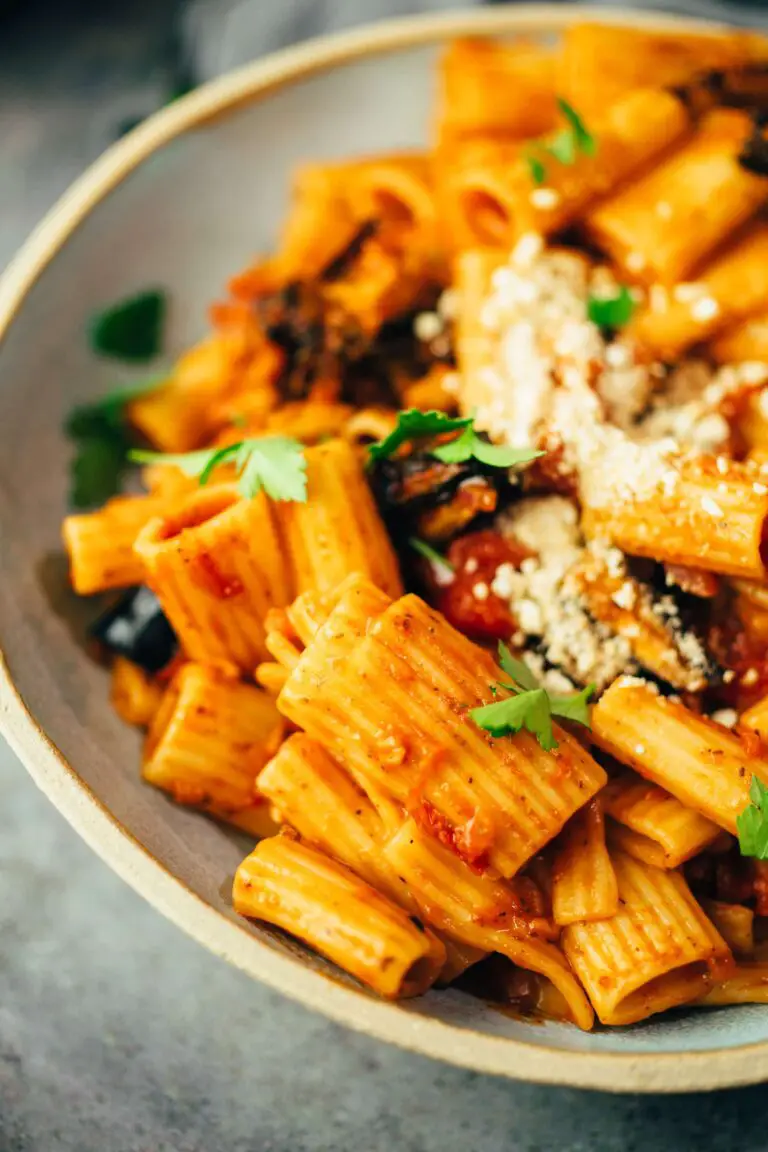 All good news first, because the Eggplant is very low in calories and quite mild in taste. That is why it goes well with many different dishes and is especially popular in Mediterranean and Asian cuisine. Here again the most important facts summarized for you:
Consist of 93 percent water
Very low in calories with 17 Kcal per 100g
Rich in potassium
Rich in B vitamins and vitamin C
Normally, they usually devour huge amounts of oil when fried in a pan. That's why roasting in the oven is a wonderful method that I also use with the Eggplant chickpea pan use.
TIP: Do not store too cool, that is best at about 10 degrees. Do not store next to tomatoes or apples, as they emit a ripening gas and eggplants react to it. Shelf life in the refrigerator up to 1 week.
Vegan eggplant pasta party
Especially delicious with this pasta dish is vegan parmesan and fresh basil. For dessert I recommend you a Tiramisu .
Pasta alla Norma with oven roasted eggplant (30 minutes)
aromatic
fruity
fine Roast aroma
filling
Easy to make
Are you ready for this Italian classic ? I wish you a lot of fun in recooking and of course a review at the bottom of this page. If you post a picture, use the hashtag #veganevibes.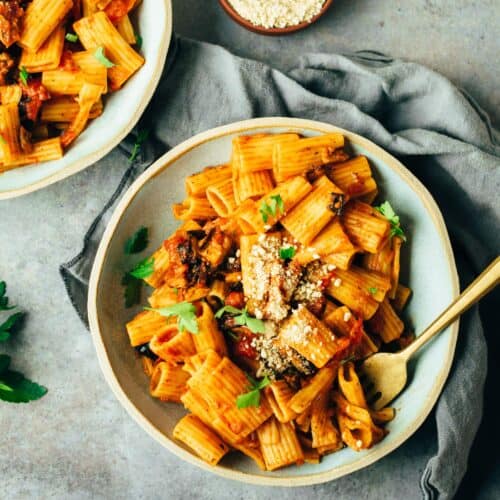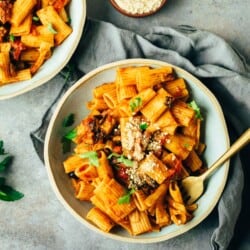 Pasta alla Norma with oven roasted eggplant (30 minutes)
Delicious pasta with fruity tomatoes and oven roasted eggplant. Vegan, gluten-free on request and full of flavors. Perfect as a main dish for the whole family.
AUTOR: VEGANEVIBES
Anleitung 
Cook pasta according to package directions and set aside.

Preheat oven to 215 degrees and line a baking sheet with a permanent baking mat.

FOR THE EGGPLANT , eggplant wash, cut off the ends, cut into slices 1 cm thick and dice. Put in a bowl, add olive oil and salt. Mix vigorously once with your hands.

1 medium eggplant,

15 ml Olive oil,

½ tbspn Salt

Spread on the baking sheet and place in the oven. Roast for 25 minutes.

FOR THE SAUCE Heat a large frying pan with the frying oil. Sauté garlic and onion until translucent. Add dried tomatoes (or tomato paste) and stir briefly. Add Italian herbs, chili, salt and pepper and stir once.

15 ml Frying oil or other high heat oil,

2 Garlic cloves,

1 red onion and 2 shallots,

30 g Dried tomatoes,

2 tbspn Italian herbs,

1 Bird Eye Chili or other chili of choice,

Salt and pepper to taste

Add canned tomato pieces, water, coconut blossom sugar and balsamic vinegar and stir. Put the lid on top and simmer for

15 minutes

.

250 g Tomato pieces or passata,

250 ml Water,

15 g Coconut blossom sugar,

15 ml Balsamic vinegar

After the baking time, add the eggplant cubes and pasta to the sauce and mix everything thoroughly.

Divide and (optionally) garnish with vegan parmesan and basil or parsley and serve. enjoy! Sauce without pasta lasts up to 5 days in an airtight container in the refrigerator, frozen up to 4 weeks or longer. Is very suitable for reheating. Always make pasta fresh to go with it.
Nährwertangaben
Serving:
1
Portion
Calories:
576
kcal
Carbohydrates:
102
g
Protein:
18
g
Fat:
12
g
Saturated Fat:
5
g
Sodium:
1092
mg
Potassium:
1411
mg
Fiber:
8
g
Sugar:
21
g
Vitamin A:
1384
IU
Vitamin C:
23
mg
Calcium:
75
mg
Iron:
6
mg