Cauliflower wings sweet and sour or a Dish for warm, summer temperatures. Well, when I look out the window, I don't even begin to see summer weather. It's rainy, damp and actually really fresh outside. Of course, the rain is an absolute boon to nature, but I don't mind sunbathing on the patio soon either. So far, the year 2020 has been a real one, depending on what you let get to you. I have the feeling that we are in a permanent crisis. Do you feel the same way? Or is it just that in the age of the Internet, we simply know everything immediately and experience it firsthand. I'm thinking of the heartbreaking images from Australia, the panic with Corona, and the conflicts in the US. I want to be informed, but sometimes I need time off. I take these in my kitchen when I prepare delicious Food prepare. Are you in?
Cauliflower wings sweet and sour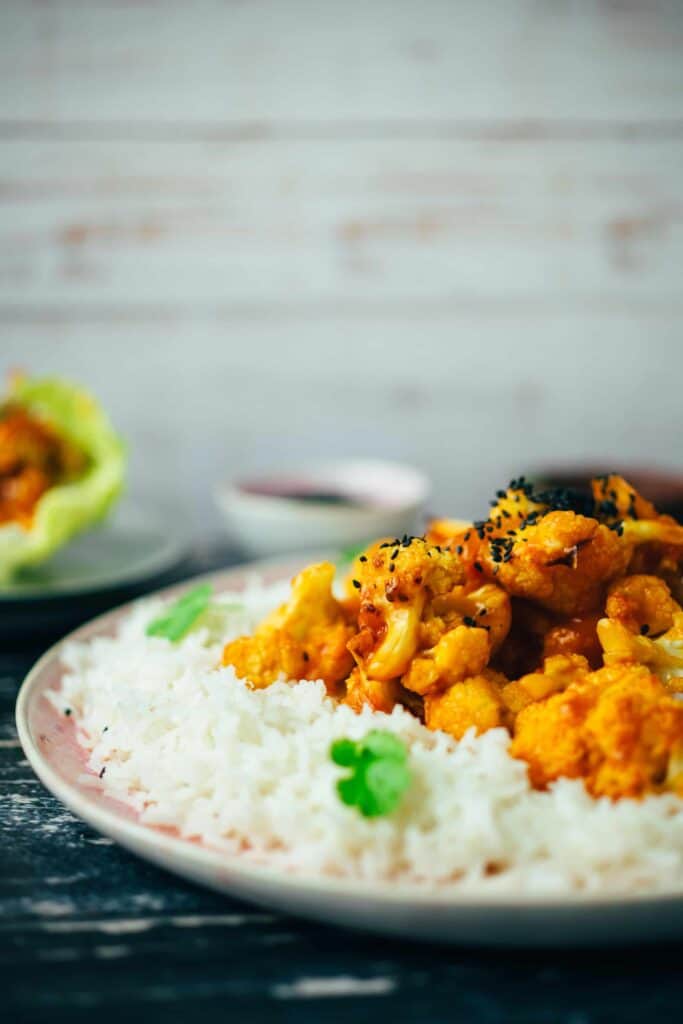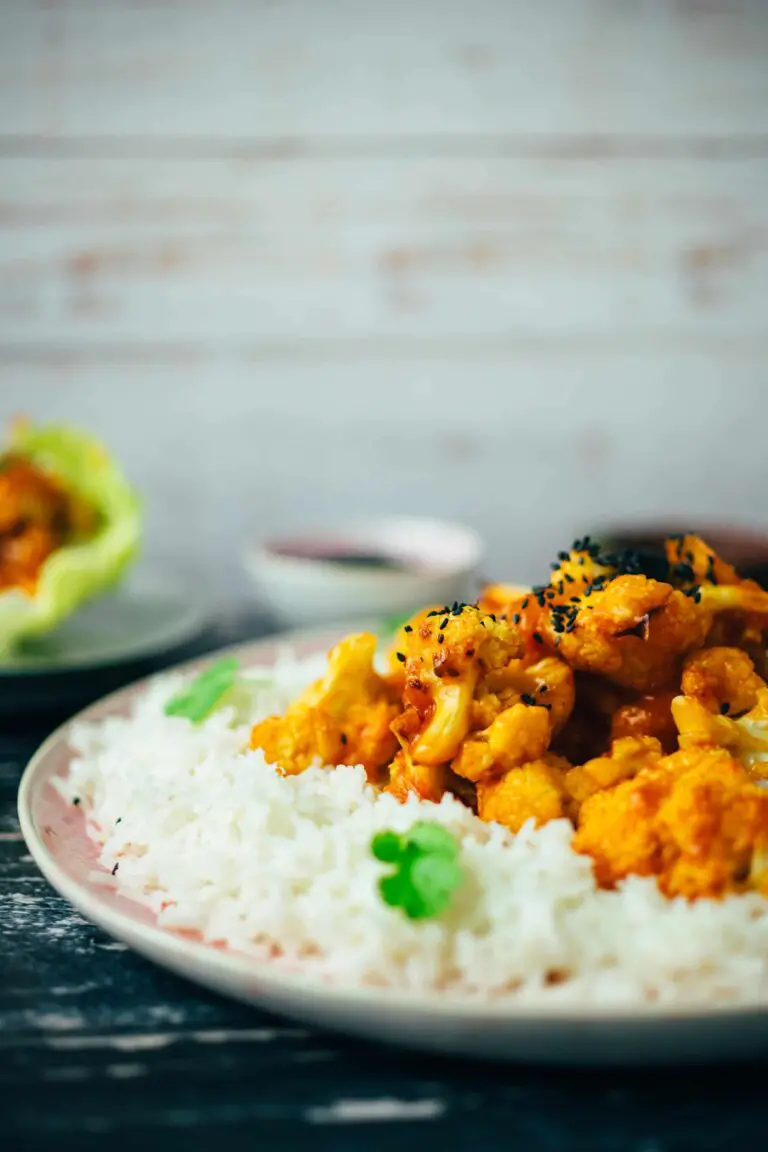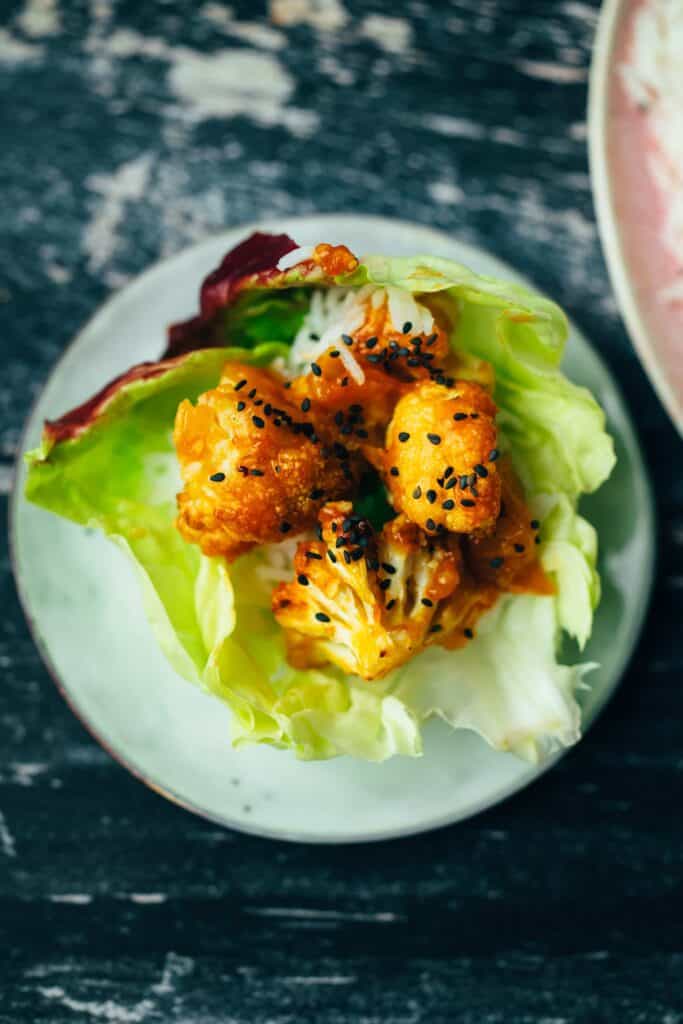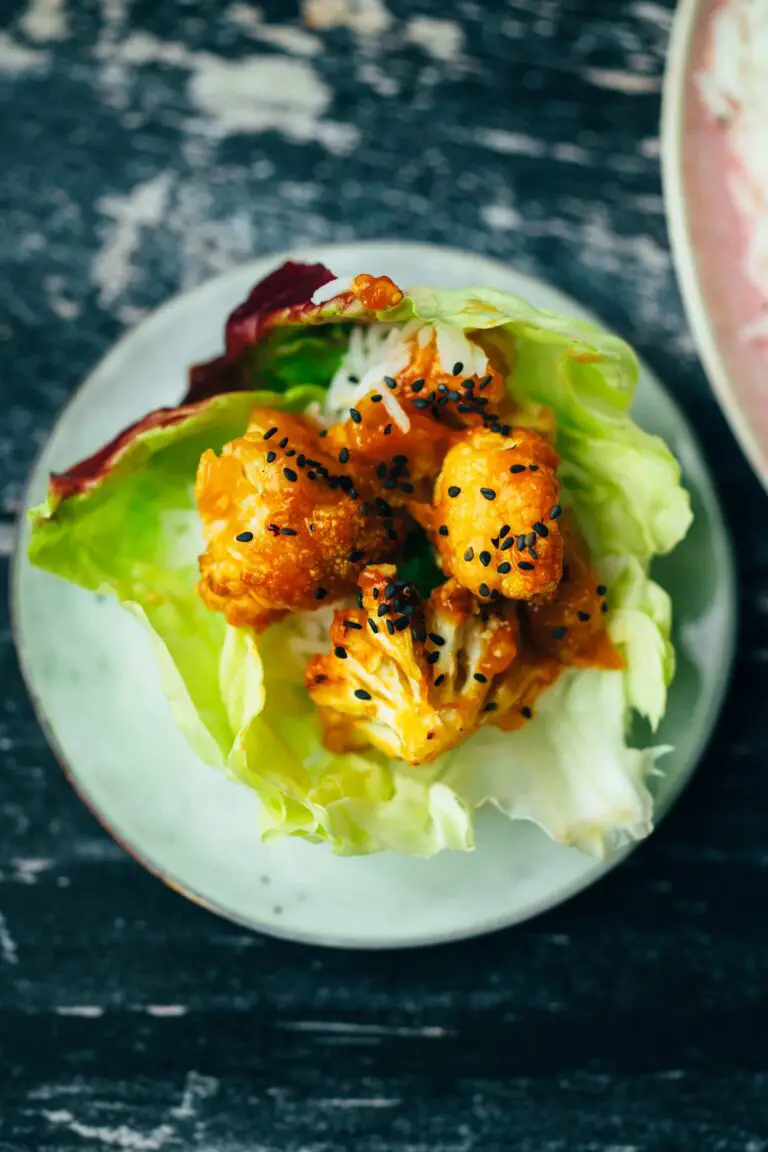 The other day I stumbled across a post that once gave me a big scare. Salmonella, Campylobacter and particularly dangerous multi-resistant germs are now found on every second supermarket chicken and on 9 out of 10 turkeys? According to the Robert Koch Institute, chicken and turkey meat should only be prepared with gloves. One more reason to perhaps opt for a different form of food for once. Cauliflower Wings instead of chicken wings and without any unwanted germs, viruses and the harmful and vascular-clogging LDL cholesterol. Enough is enough, let's take a look together at how the vegetable wings are made.
First Cauliflower Coat the florets with a baking dough, which consists of Vegetable milk , starch, salt, baking powder and rice wine vinegar. Put them on a baking tray, put them in the oven and bake them. Meanwhile, we prepare the sweet and sour sauce, from orange juice, tamari, maple syrup, tomato puree, garlic and Bird Eye chili. The sauce is thickened with part of the batter. Stir in, bring to the boil briefly, wait for the sauce to thicken, done!
The pre-baked Wing s soak up the fruity, sweet and sour sauce really nicely and then go back into the oven. I serve the Wings in a lettuce leaf together with rice. For me, it's the perfect light meal for warm days.
Cauliflower wings instead of chicken wings, yes!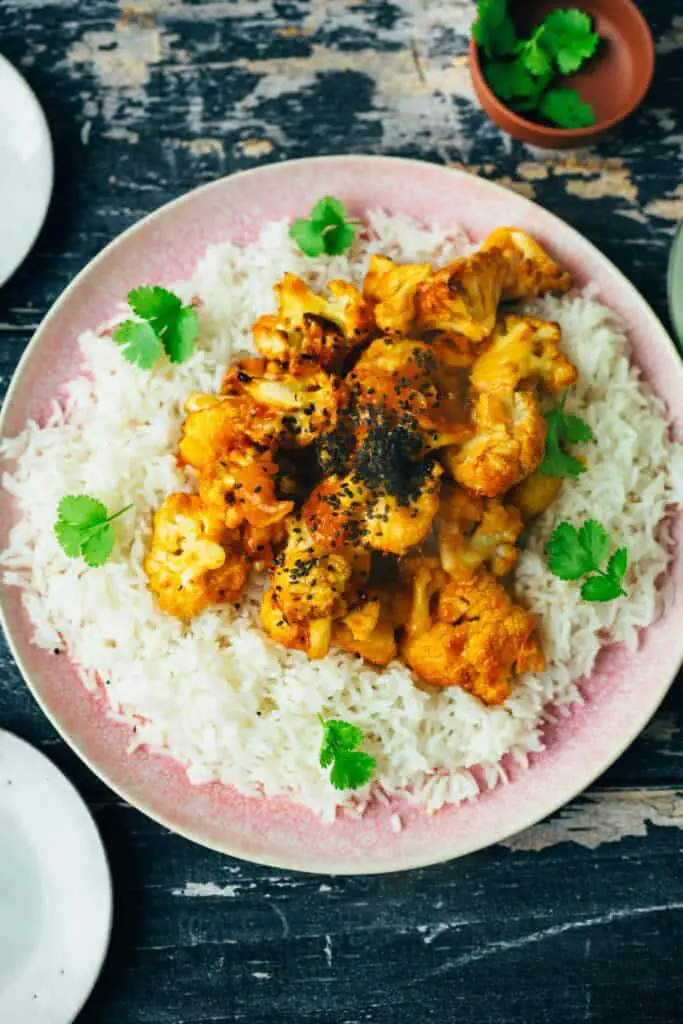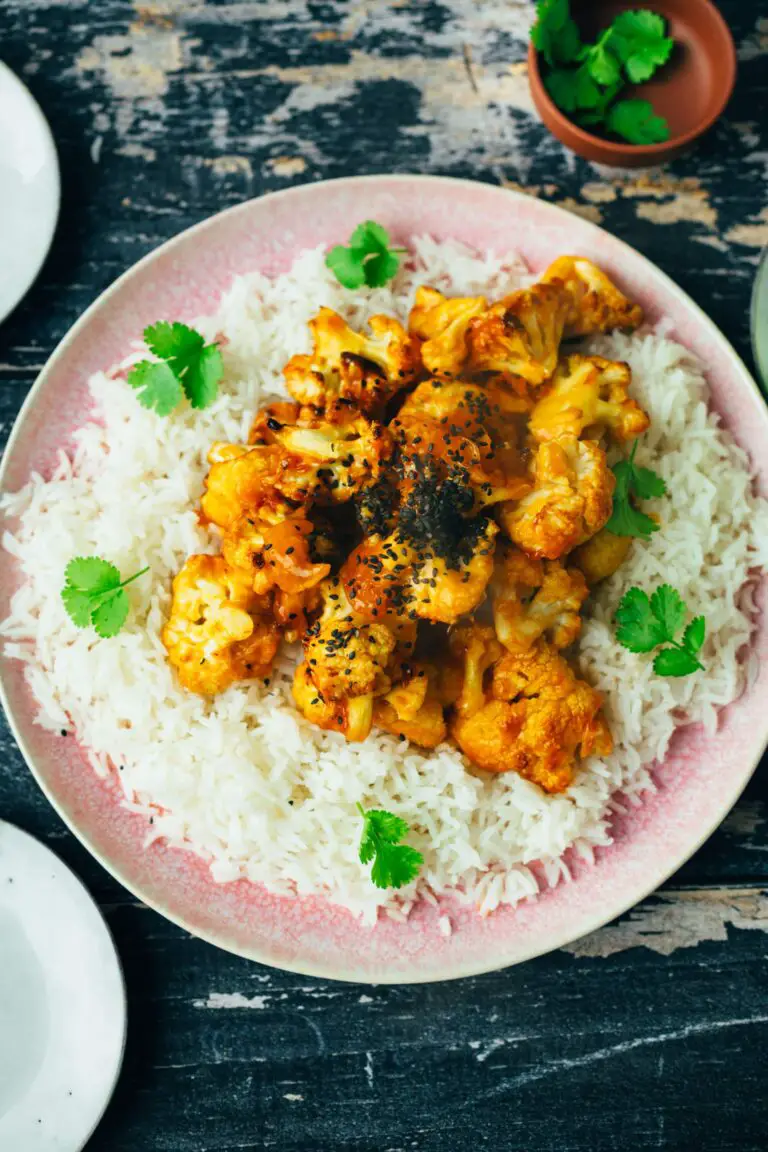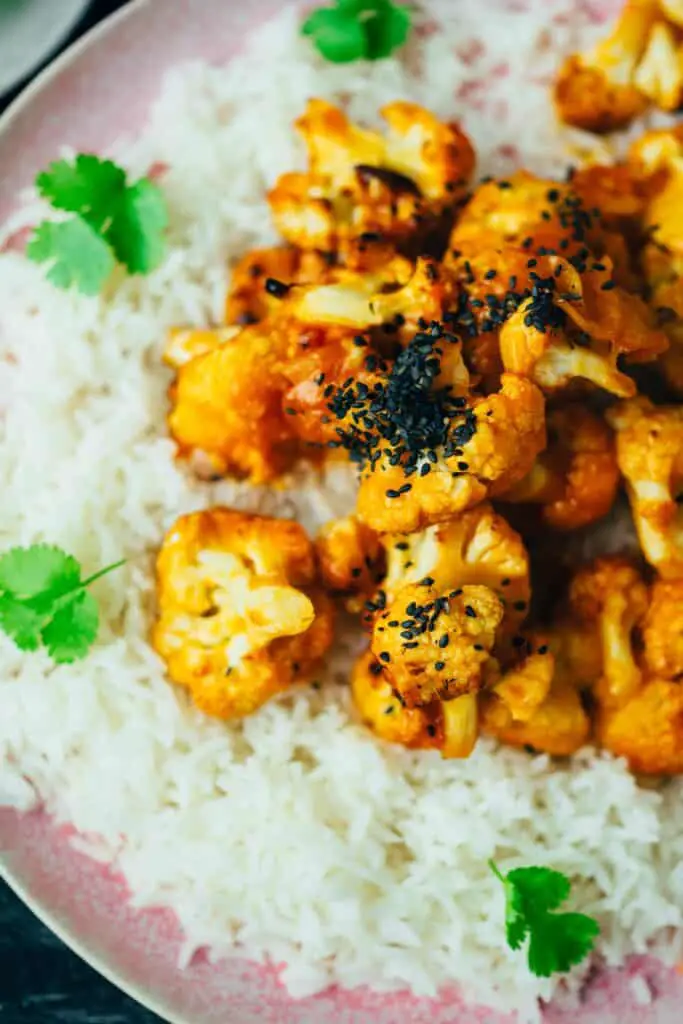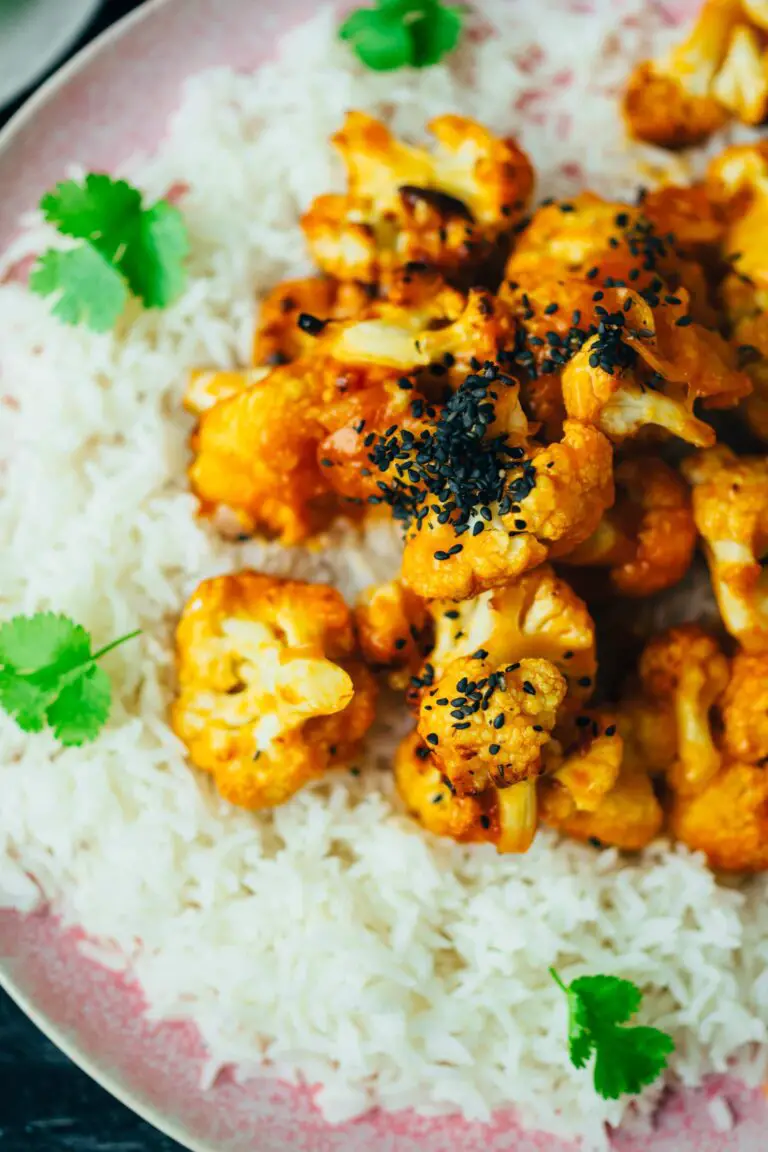 One more reason to once again Cauliflower head and admire its beauty. As I said, the advantage to "conventional" chicken wings is that the vegetable version is filling, but without any harmful ingredients. You can save the gloves for the preparation, too, unless you work in a restaurant.
TIP: If you like, you can also deep fry the wings. Either an Airfryer or the classic method with hot oil is suitable for this. With the Airfryer, simply prepare according to the manufacturer's instructions. For the classic method, heat 500ml of oil, test with a wooden spoon if the oil is hot enough. When bubbles form on the stem, that's it. Add cauliflower piece by piece to the hot oil and fry for 2-3 minutes. Work carefully, the oil is very hot and can cause burns.
For those who have a Cauliflower at home, but would like to do something different with it, I recommend the Spicy Wings , Cauliflower Rice make it yourself with Stir-fry and cashew butter tofu, Shawarma Bowl with cauliflower or Creamy Korma Curry .
Ideal accompaniment is rice, quinoa, amaranth and crisp fresh salad leaves.
Sweet and Sour Cauliflower Wings:
Low calorie
aromatic
Sweet and sour
filling
Easy to manufacture
Let's get started with this delicious cauliflower Wings . I wish you a lot of fun with the re-cooking and am happy about a review at the bottom of this page. If you post a picture, use the hashtag #veganevibes.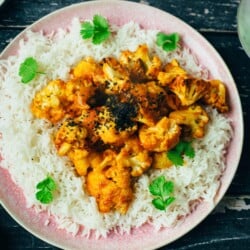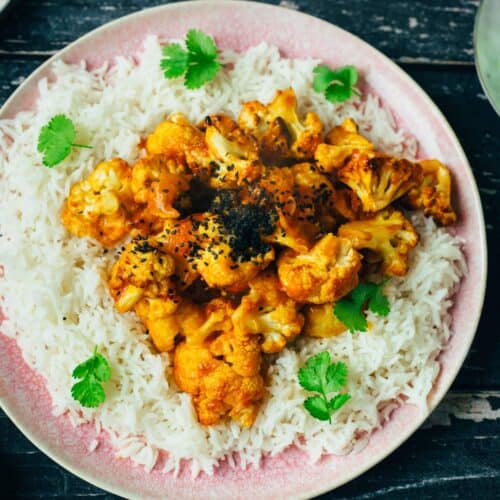 Sweet and Sour Cauliflower Wings
Cauliflower wings sweet and sour the vegan alternative to chicken wings, super tasty, plus few calories and very easy to prepare.
AUTOR: VEGANEVIBES
Anleitung 
Preheat oven to 200degrees and line a baking sheet with parchment paper.

FOR THE BATTER Combine vegetable milk, cornstarch, baking powder, salt and rice wine vinegar in a bowl and mix until a uniform dough forms.

125 ml Plant milk,

50 g Cornstarch,

½ tbspn Baking powder,

½ tbspn Salt,

45 ml Rice wine vinegar

Add cauliflower florets to bowl with batter and fold until all florets are evenly coated with batter.

Note: If the dough is too runny, just add some more cornstarch or flour.

Spread evenly on prepared baking sheet and place in oven. Bake for

25 minutes

.

In the meantime THE SWEET AND SOUR SAUCE prepare Add orange juice, tamari, maple syrup, tomato puree, garlic cloves, Bird Eye chili and liquid batter to a small saucepan and bring to a boil, stirring. Simmer for 6 minutes over medium heat.

250 ml Orange juice,

2 tbspn Tamari,

1 tbspn maple syrup,

15 g Tomato puree,

2 Garlic cloves,

1-2 Bird Eye Chili,

60 ml Baking dough

Remove cauliflower wings from oven after baking time and pour sauce over them. Stir vigorously with a spoon or silicone scraper until sauce coats all wings.

Return to the baking sheet, place in the oven once more and reduce heat to 180 degrees convection. Bake for another 10 minutes and then remove from the oven.

Fill lettuce leaf with rice and place wings on top. Roll up and enjoy!

Rice,

Fresh lettuce leaves,

Black sesame,

Light sesame

Best fresh!
Nährwertangaben
Serving:
1
Portion
Calories:
185
kcal
Carbohydrates:
41
g
Protein:
4
g
Fat:
1
g
Saturated Fat:
1
g
Sodium:
170
mg
Potassium:
543
mg
Fiber:
3
g
Sugar:
10
g
Vitamin A:
209
IU
Vitamin C:
94
mg
Calcium:
85
mg
Iron:
1
mg