Finally, the sun has shown itself again today. I took the opportunity right away and sat on the balcony for 15 minutes, wearing a jacket and a thick scarf, of course. Still, it did damn good, soaking up the sun. It's not that simple in our region, because just yesterday I heard on the radio (yes every now and then I listen to local radio – even if I'm quickly annoyed again thanks to super stupid advertising) that there is in Regensburg in December there was not even 60 minutes of sunshine per day on average. No wonder I was craving it. But now we come to the most important soul-soother in not-so-good weather: REALLY GOOD FOOD!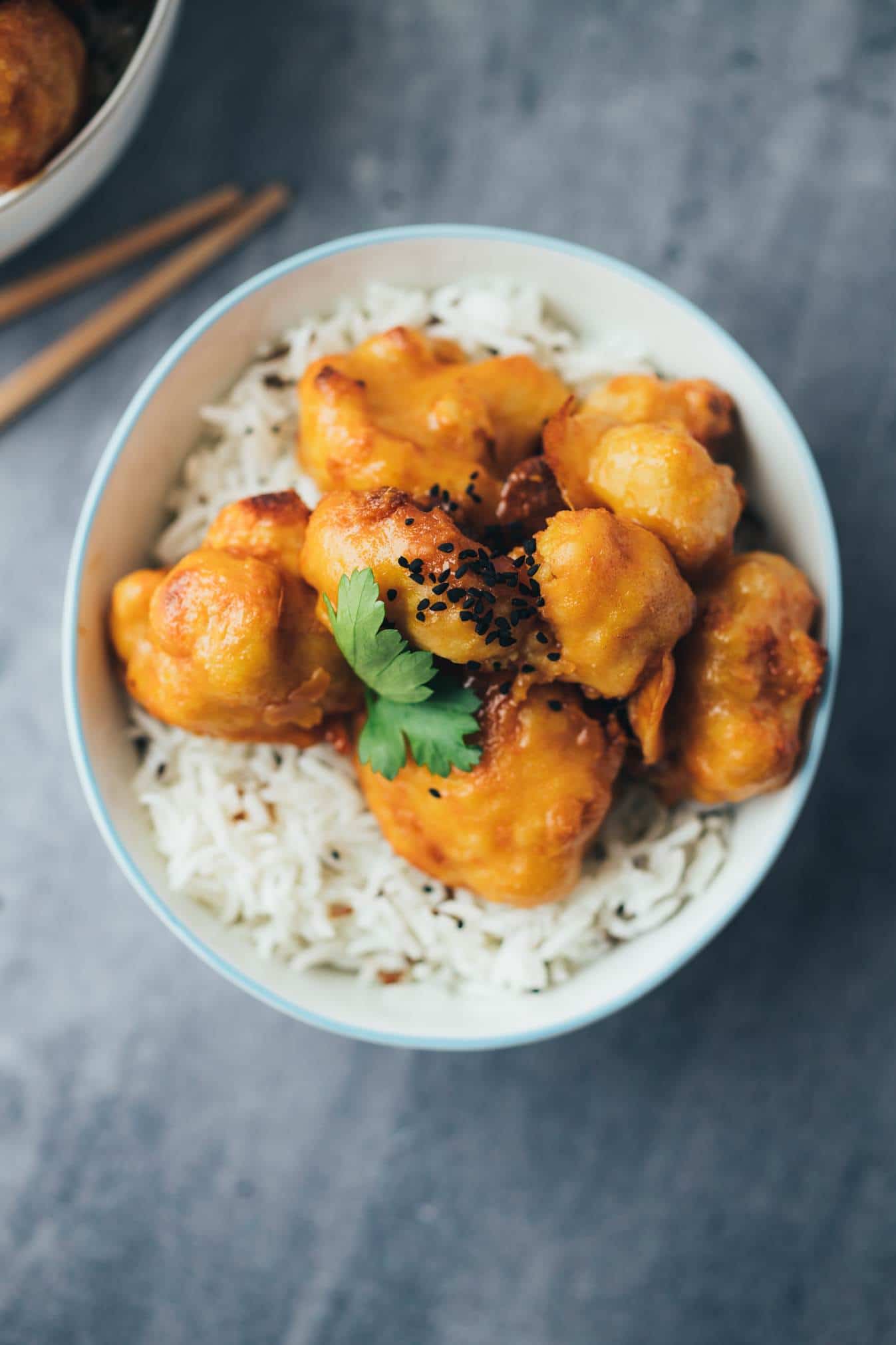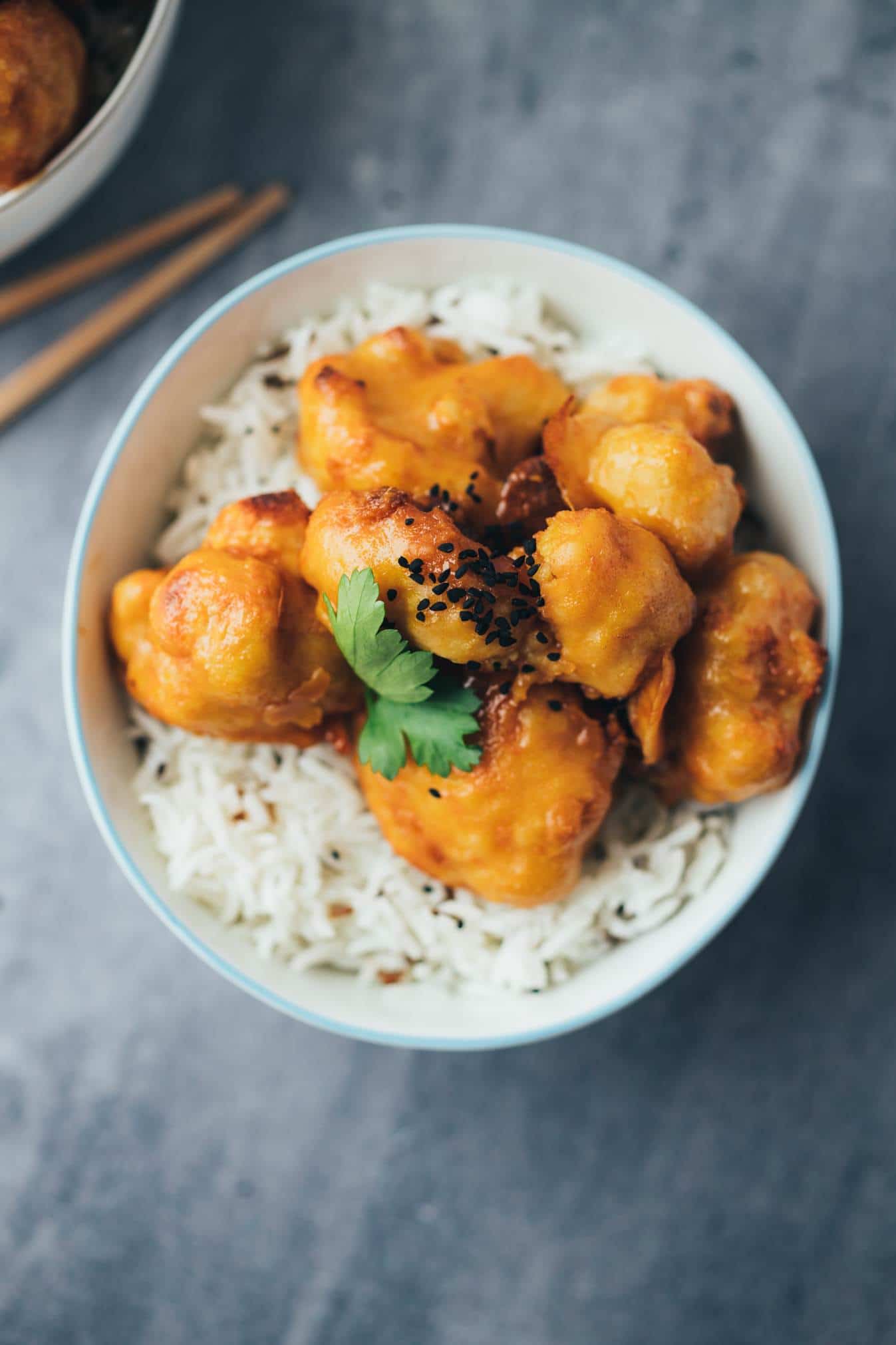 Sticky Sesame Chicken Wings
Asian food immediately puts me in a vacation mood
To be more precise, today we have delicious Chicken wings without chicken but with lots of healthy Cauliflower . This is coated in a sauce that makes it really nice and sticky. Somehow the little black sesame seeds have to stick, right? Why actually cauliflower? Because despite high temperatures in the oven, it still has a certain bite and is just damn healthy. It contains among other things:
Numerous minerals
B vitamins, vitamin C and vitamin K
Very low in calories (only 22 kcal per 100g)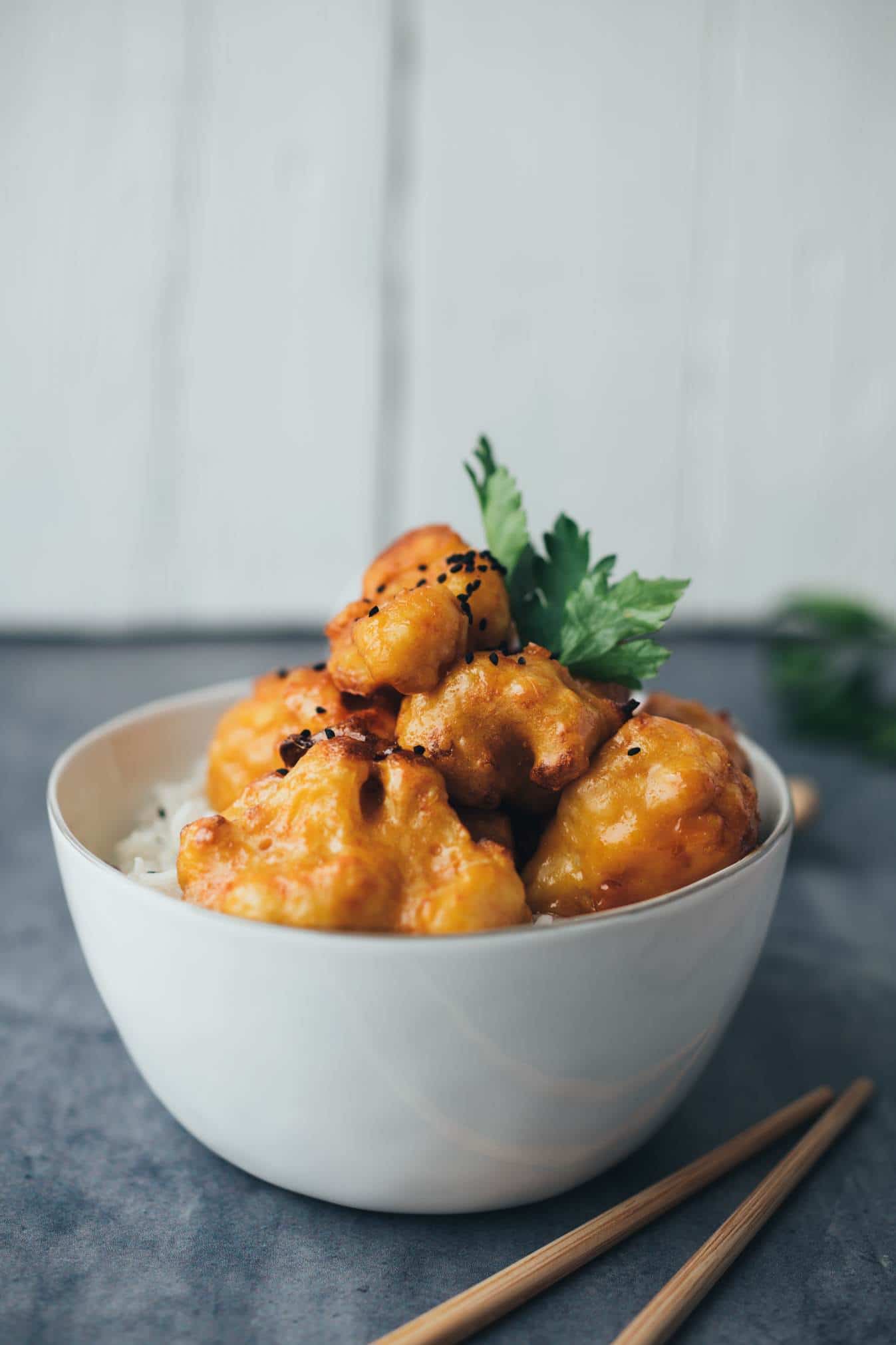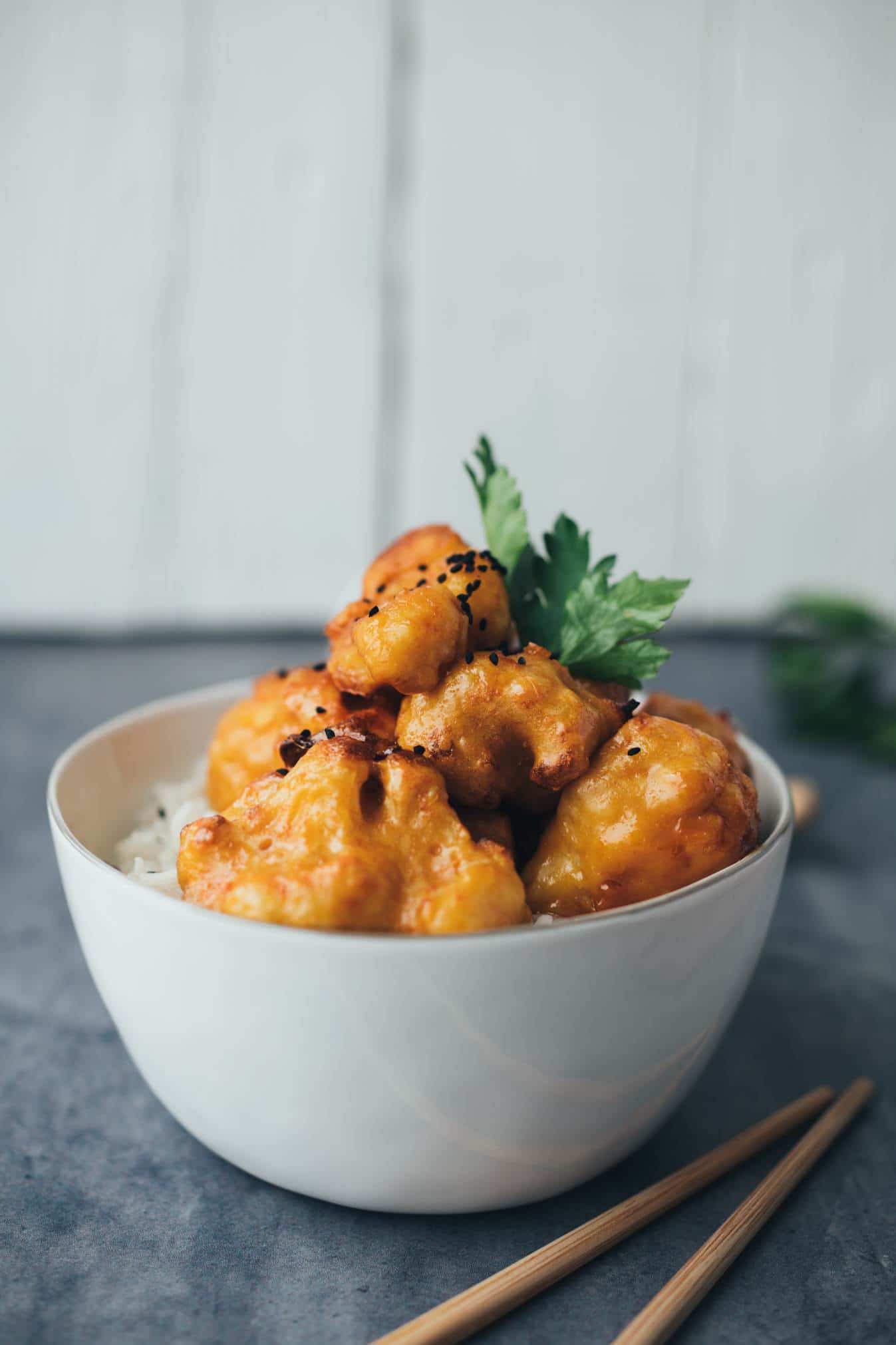 Reason enough to use the healthy vegetable much more often in the vegan kitchen. Every now and then I also quite like vegan meat substitutes, which above all are getting better and better. But the downside is that they are usually very expensive and who wants to spend 5€ every day for a Virginia chopped steakmade from lupine protein. That's why I love simple ingredients that are cheap and filling. This includes beans, Lentils and lots of vegetables, like my beloved cauliflower.
Cauliflower is healthy and extremely low in calories with 22kcal per 100g
First of all, the delicious cauliflower wings are coated with a neutral batter made with a little oil, Almond milk , flour, salt and baking powder and baked until crispy. This first layer is absolutely necessary, as it literally soaks up the sweet and sour, sticky marinade afterwards.
NOTE: Be sure to pat the cauliflower florets dry well after washing, otherwise the batter will not stick.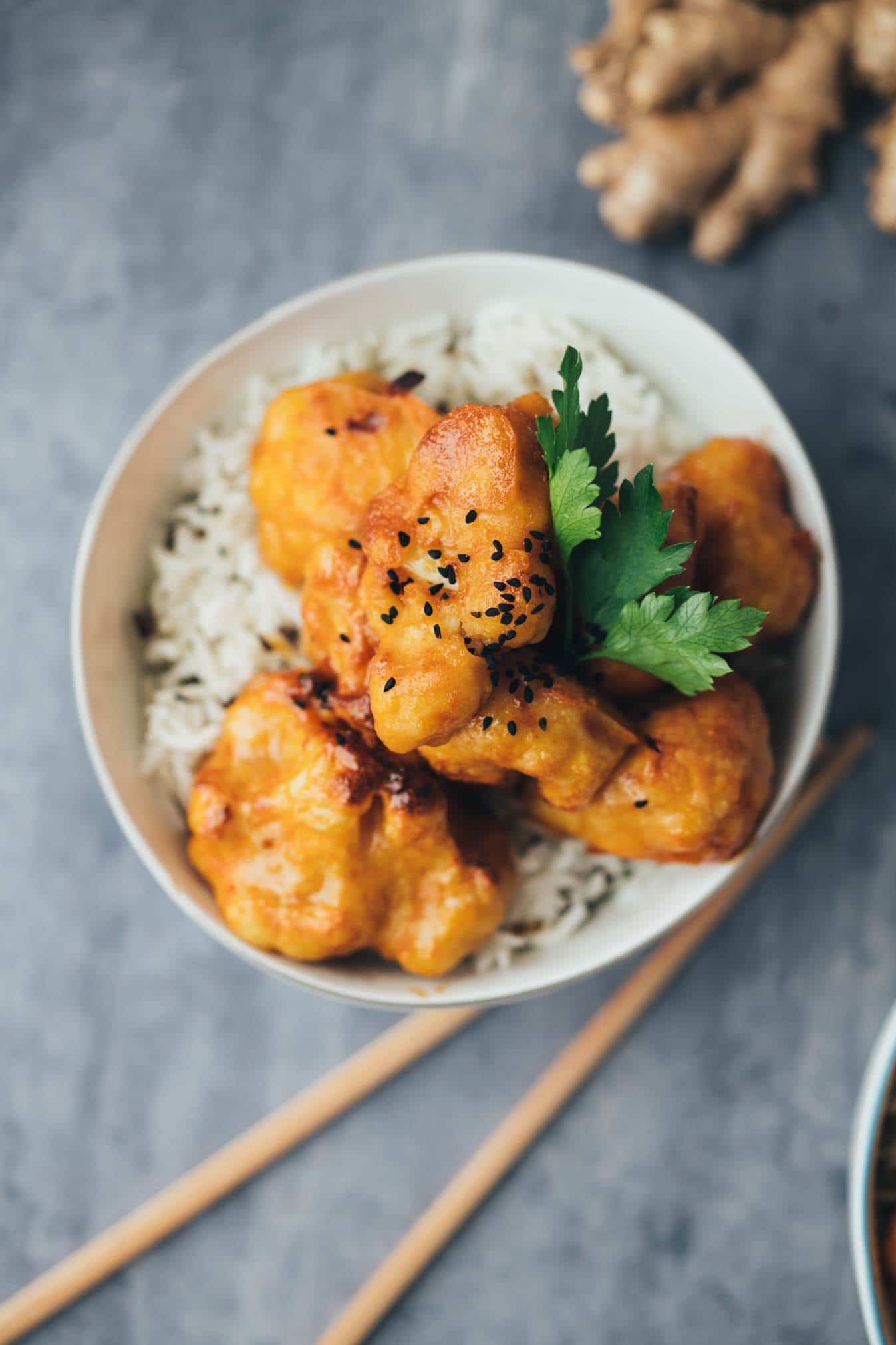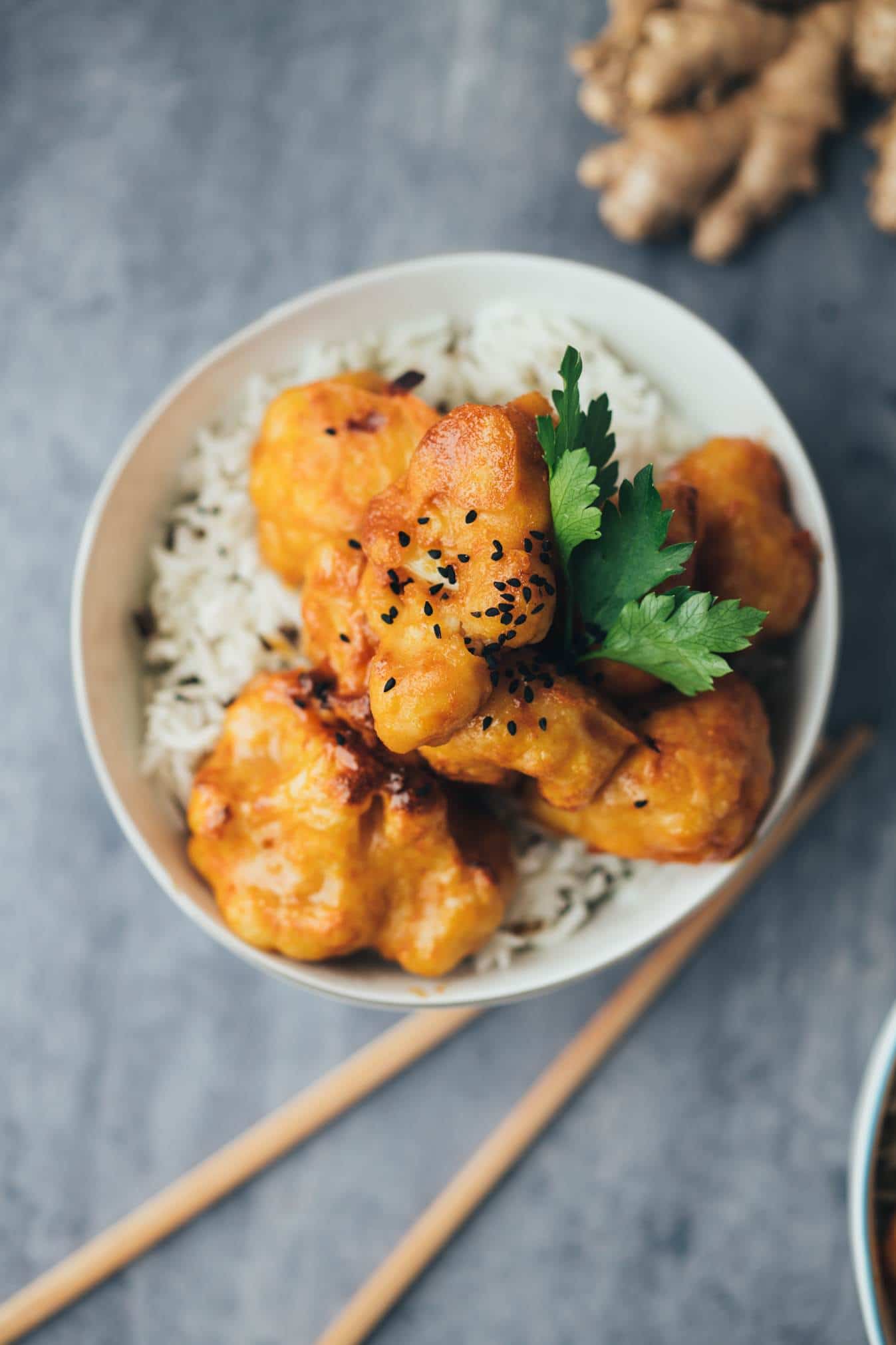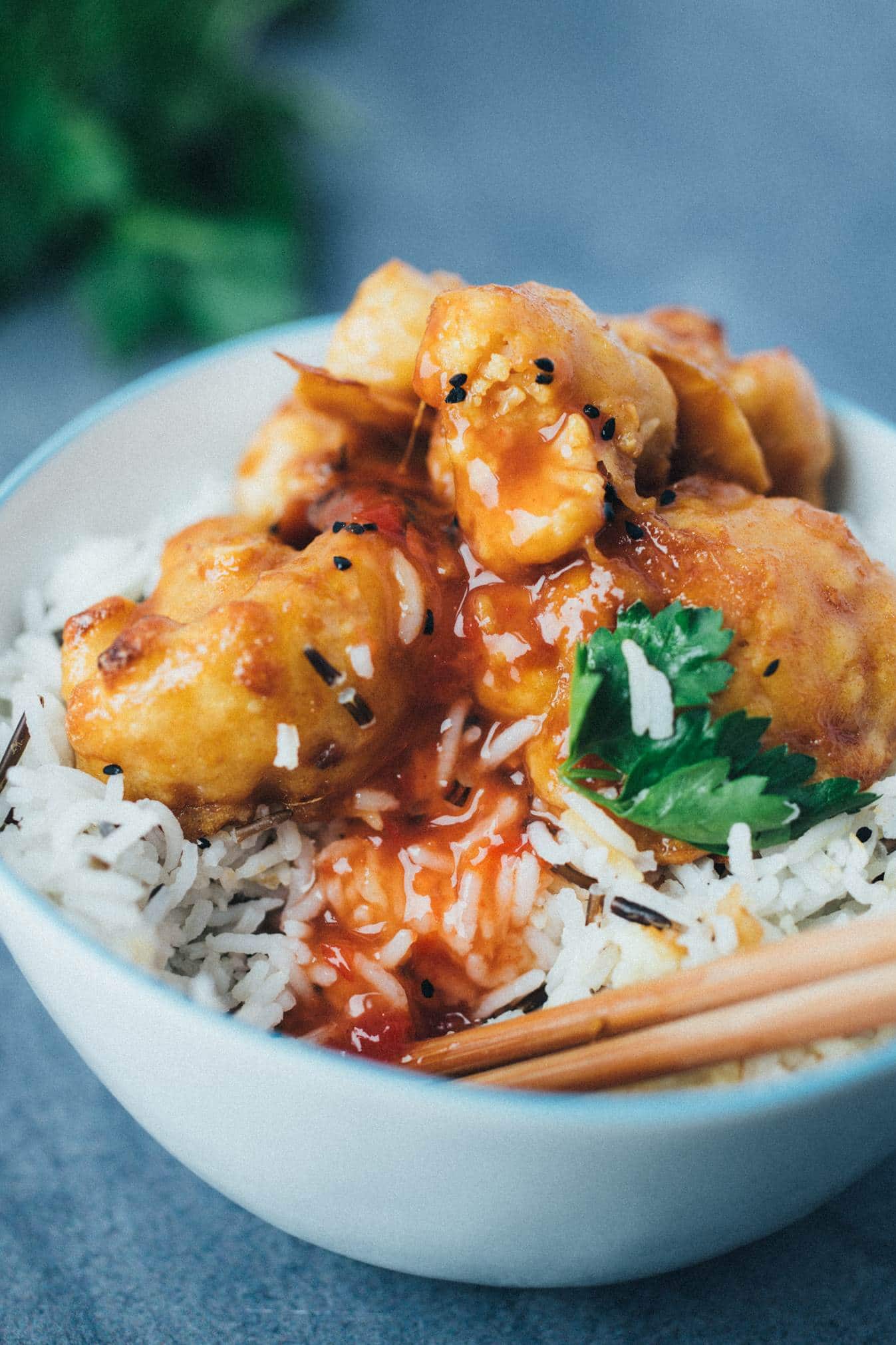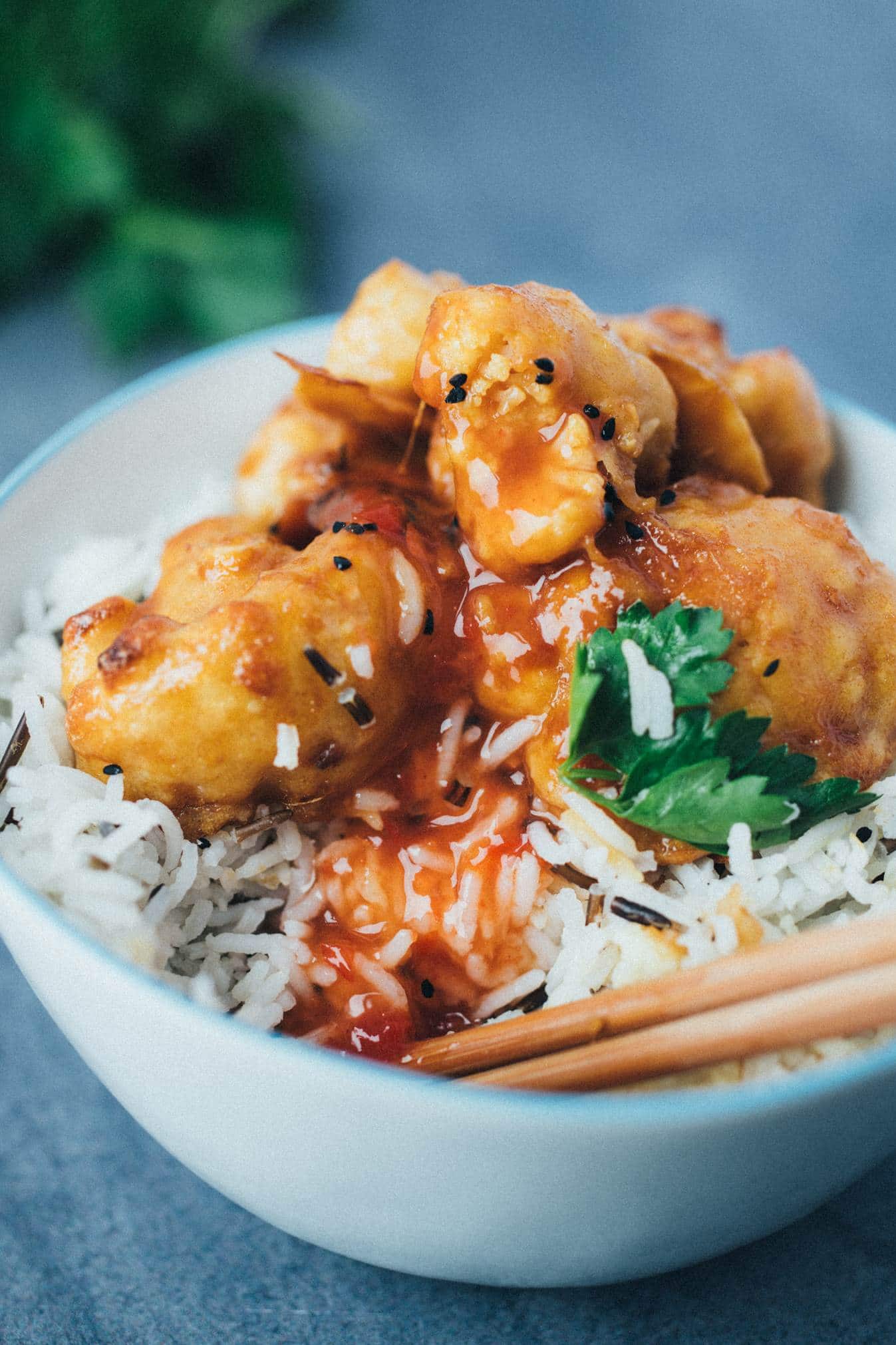 Frying is not possible – the wings are baked without the addition of extra oil.
The second layer or sticky sauce is a fairly typical mix of maple syrup, tamari, rice vinegar, ginger and sesame oil. Chili may not be missing, of course, and here again my beloved little Birds Eye chilies are used. Then the only thing missing is the basamti rice, if you want to make a main dish out of it. If it's going to be an appetizer, I would just serve the 'wings' on a nice big plate and scatter chop sticks with them. Your guests will love you.
For dessert we recommend for example Chocolate orange or Chai chocolate truffle . Ahhh Yummy! Easy to put in!
The Sticky Sesame "Chicken` Wings:
Asian
aromatic
hearty
filling
Quickly made
simple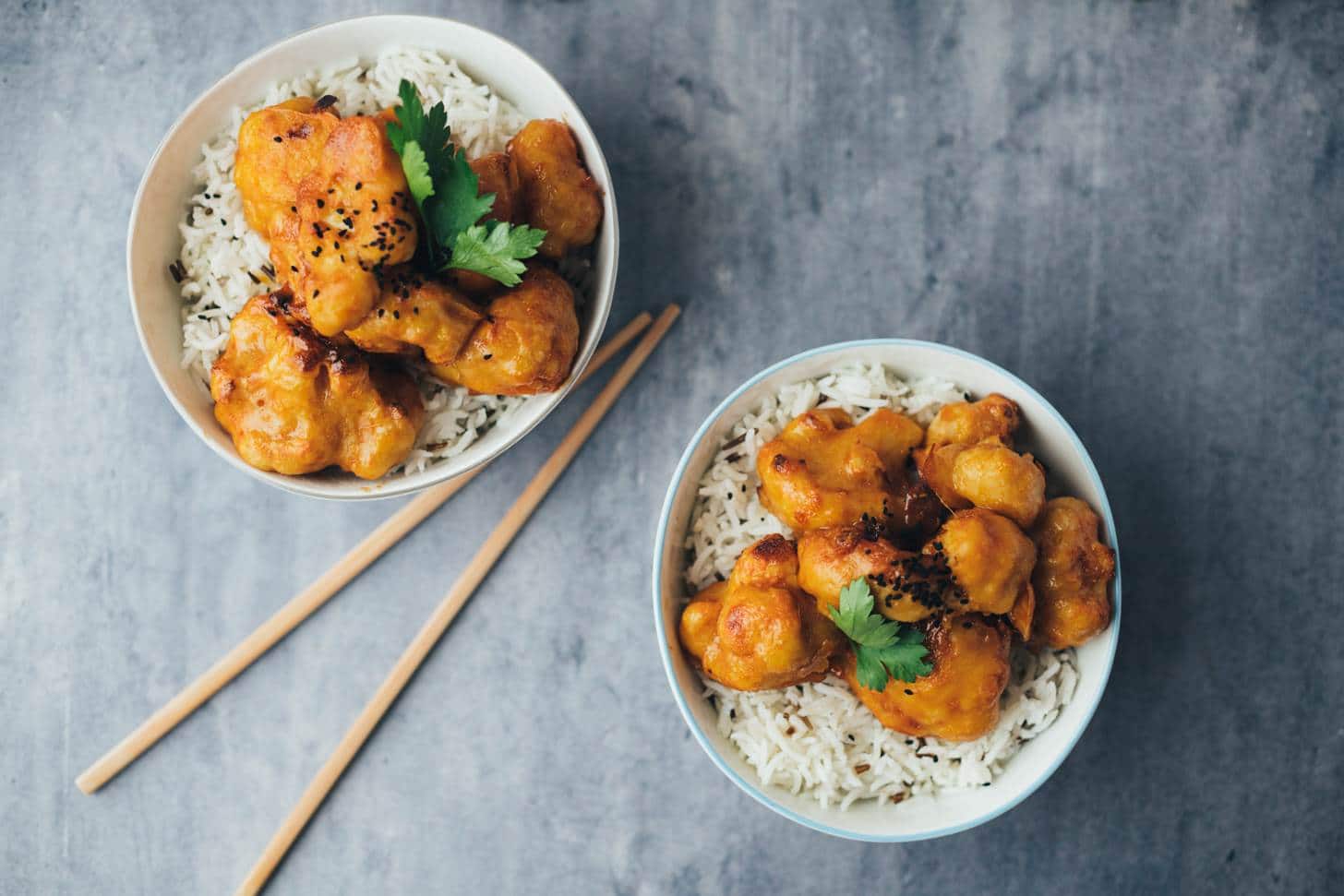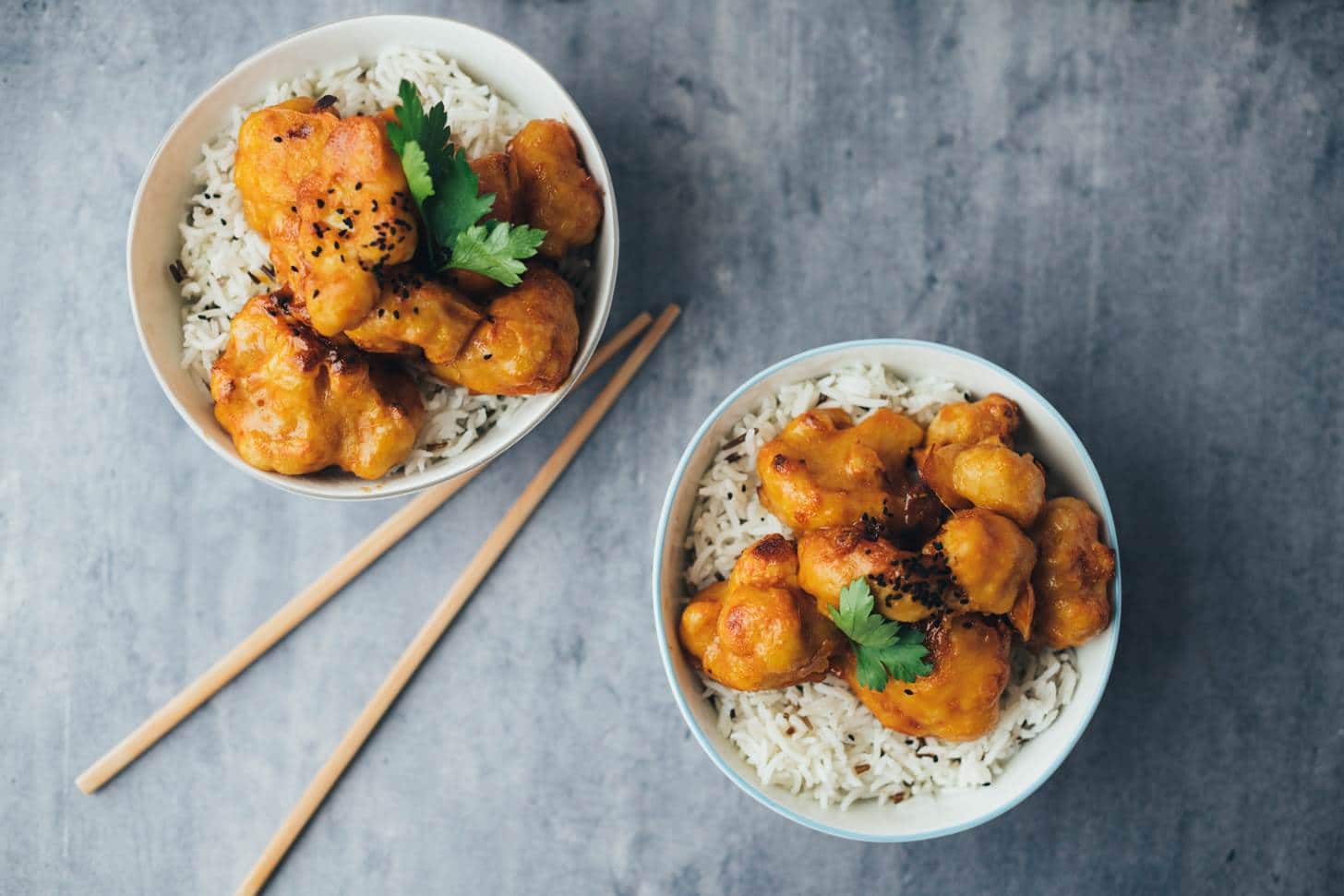 Perfect for a quick vegan Lunch or for a menu with friends. I wish you a lot of fun in recooking and of course a review at the bottom of this page. If you post a picture, use the hashtag #veganevibes.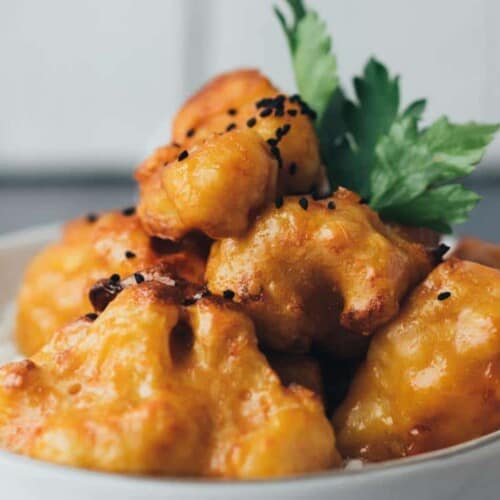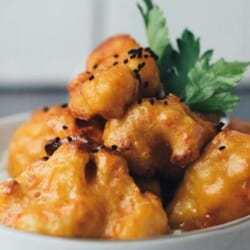 Sticky Sesame "Chicken` Wings
Simple, Asian-spiced vegan 'chicken' wings made with healthy cauliflower on a bed of delicious basmati rice. Ready in under 30 minutes, aromatic, delicious and filling.
AUTOR: VEGANEVIBES
FOR THE WINGS:
1

Head

Cauliflower

(~600g), cleaned and broken into small florets NOTE: Be sure to pat the cauliflower florets dry well after washing, otherwise the batter will not stick.

80

ml

maple syrup

30

ml

Rice vinegar

1

tbspn

Sesame oil

5

g

freshly grated ginger

or ¼ tsp ginger powder

1

Piece

Garlic clove

finely chopped or better pressed

1

Piece

Birds Eye chilies or ½ tsp chili powder

1

tbspn

Cornstarch

30-60

ml

Cold water
TO SERVE (OPTIONAL):
Black or white sesame seeds

Fresh coriander

Limes

quartered
Anleitung 
Prepare basmati rice or quinoa (optional) according to package directions.


Preheat the oven to 230 degrees and line a baking tray with baking paper.


FOR THE BATTER whisk all ingredients in a medium bowl.

15 ml Frying oil or other heat resistant oil,

300 ml Almond milk or another vegetable milk,

150 g gluten free flour mix,

½ tbspn Sea salt,

½ tbspn Baking powder

NOTE: Be sure to pat the cauliflower florets dry well after washing, otherwise the batter will not stick.

Dip the cauliflower florets, one at a time, into the batter until completely coated. Drain briefly and place on prepared baking sheet. If some batter drips next to it, no problem, also tastes very tasty at the end.

Put in the oven (medium heat) and bake for

10 minutes

.

In the meantime FOR THE WINGS Provide a small saucier or small pot. Add in tamari, maple syrup, rice vinegar, sesame oil, ginger, garlic and chili and stir. Simmer on medium heat for

2-3 minutes.

Whisk cornstarch into the water until the starch is completely dissolved and add to the pot of simmering sauce. Continue stirring and wait for the sauce to thicken. Remove heat. If the sauce is too thick, simply add a little water.

80 ml maple syrup,

30 ml Rice vinegar,

1 tbspn Sesame oil,

5 g freshly grated ginger,

1 Piece Garlic clove,

1 Piece Birds Eye chilies or ½ tsp chili powder,

1 tbspn Cornstarch,

30-60 ml Cold water,

Black or white sesame seeds,

60 ml Tamari or another gluten-free soy sauce

After

10 minutes of

baking, turn the cauliflower florets in the batter once with tongs and bake for another

5 minutes

. This way they will be crispy from all sides.

Remove from the oven and pour the sauce FOR THE WINGS over it. Run a fork or tongs through the tray once until all the florets are coated with the sauce. Place back in the oven and bake for another

3-5 minutes

until the 'wings' are nice and sticky.

Basmati rice,

Quinoa,

Fresh coriander,

Limes,

Chili sauce
Notizen
NOTES /HELPFUL ACCESSORIES:
Nährwertangaben
Serving:
1
Portion
Calories:
604
kcal
Carbohydrates:
94
g
Protein:
20
g
Fat:
17
g
Saturated Fat:
2
g
Sodium:
2077
mg
Potassium:
1354
mg
Fiber:
11
g
Sugar:
31
g
Vitamin C:
145
mg
Calcium:
348
mg
Iron:
5
mg