Spicy Cauliflower Wings or just an attempt to carry on normally in these stormy times. I never thought it would really degenerate like this with Corona. In the beginning, it was a virus that crippled China, and then it evolved at breakneck speed into something very threatening. Admittedly, it doesn't change much for me personally because I work from home most of the time. However, for many people it looks quite different at the moment. I'm just thinking of all the nurses and staff in hospitals. If I'm completely honest, I also laughed at Corona in the beginning and thought to myself that it can't be that bad. But if we think about how many people toil day and night for the health of others, then one can also make oneself comfortable at home at the moment. Thank you to the inventors of the Internet, because thanks to them we can also communicate with each other so wonderfully. Maybe you just use it as a great opportunity to try out this wonderful new recipe to try out?
Spicy Cauliflower Wings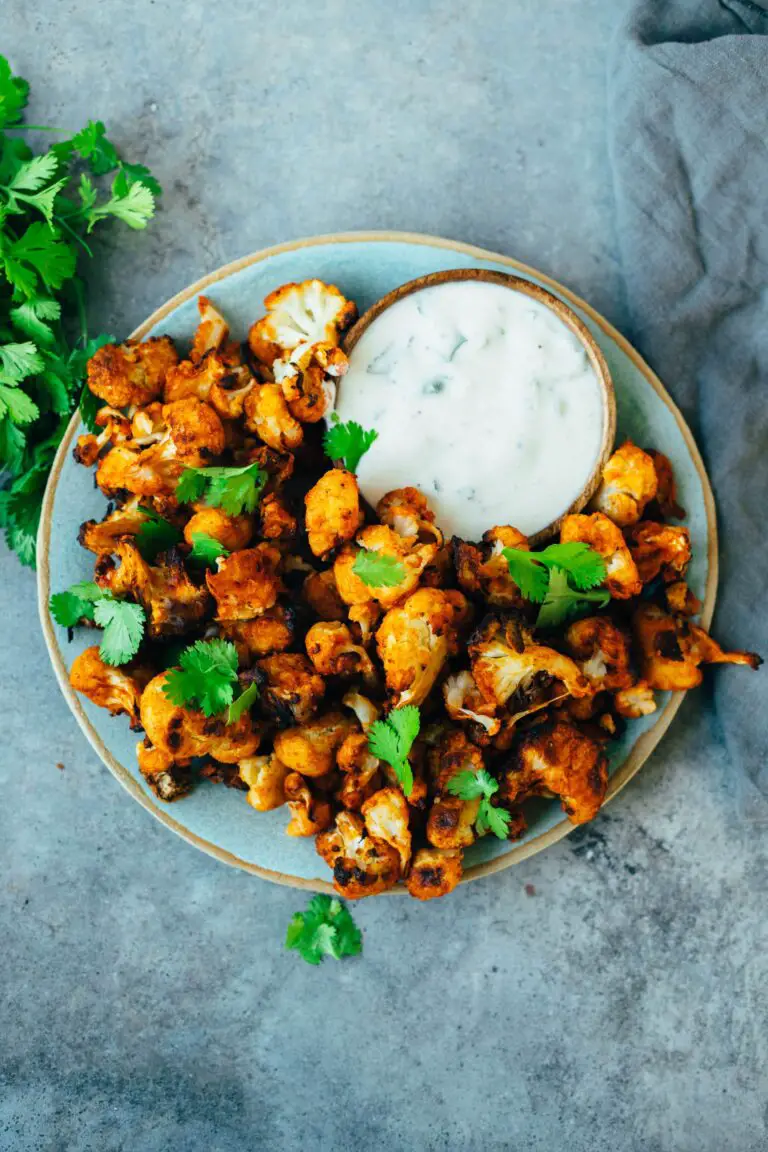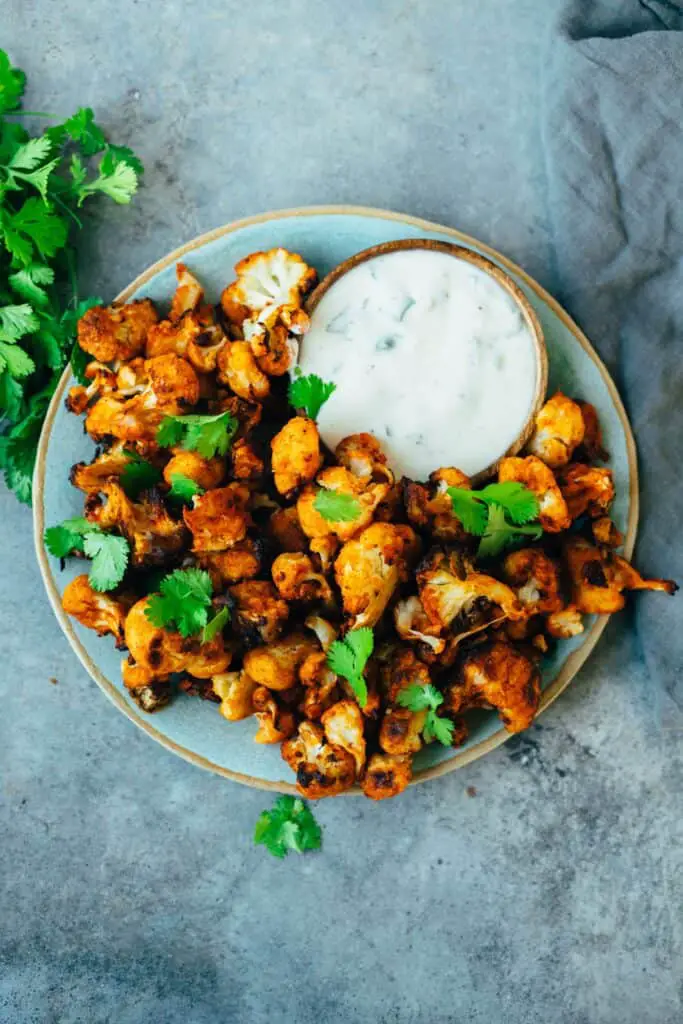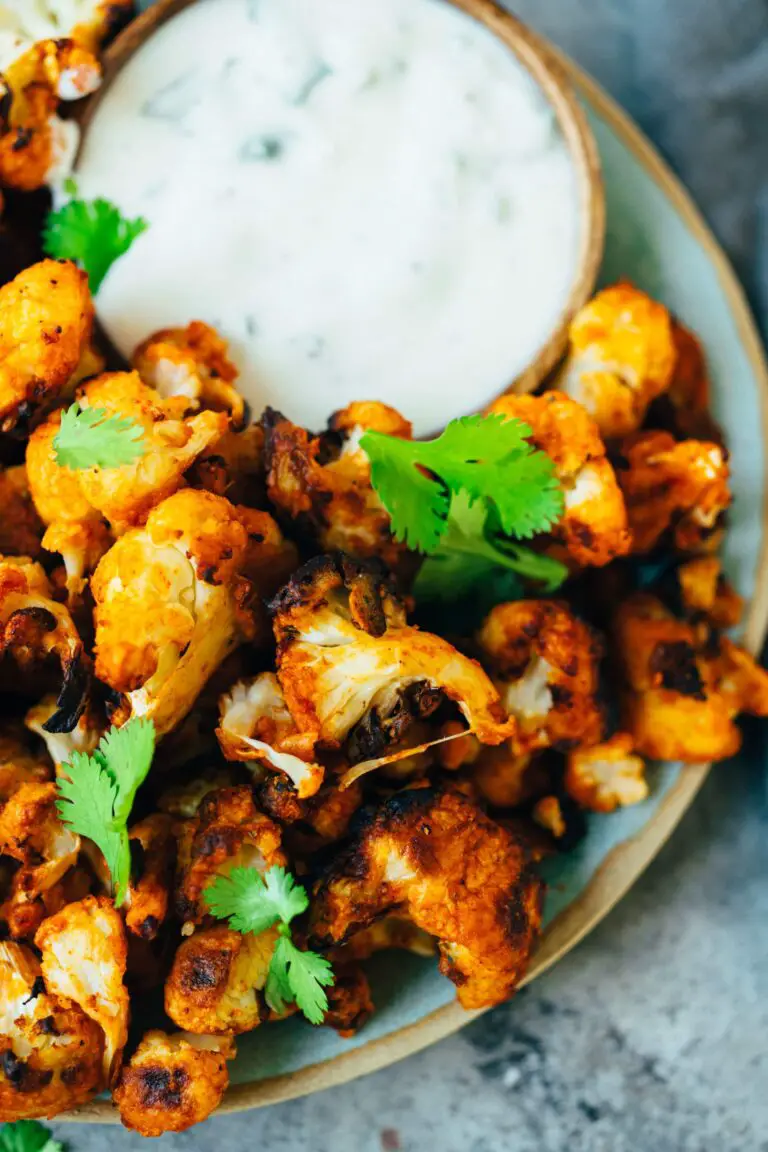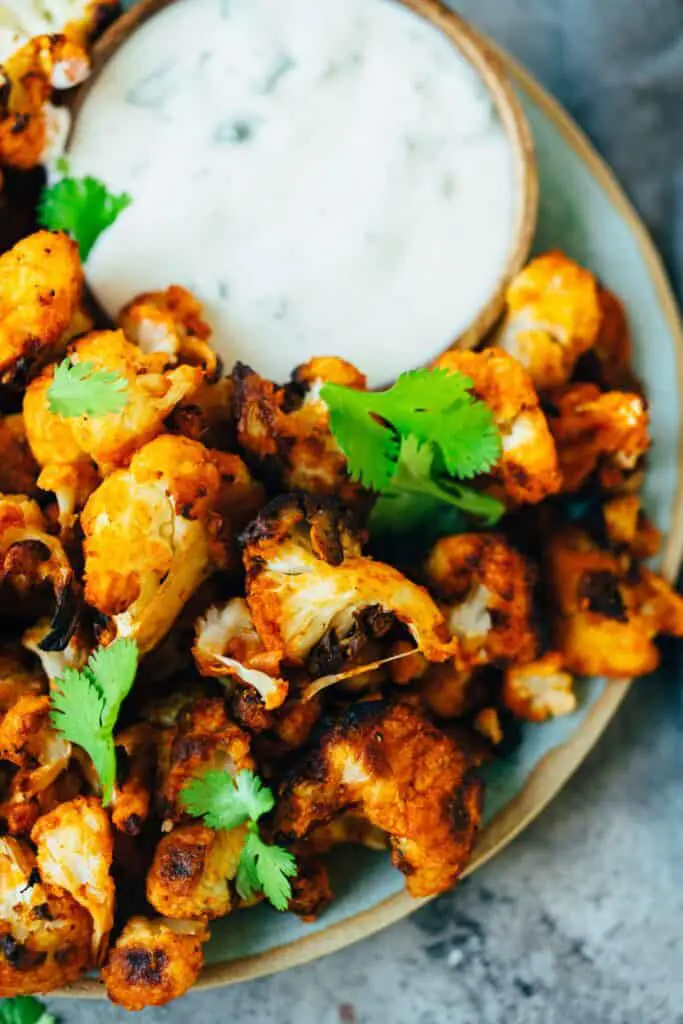 Right now I'm reminiscing about a vacation in Texas, the land of trucks and fried food. Once I ordered (at that time I still ate meat) a basket of Chicken Wings . The food came and at first I thought it was the portion for the whole table. Unfortunately wrong thought, it was solely my portion and I was not sure whether to laugh or cry. At the half of the portion was for me layer in the shaft and I felt afterwards anything but good. I would certainly not have this problem with today's Wings because I can promise you one thing, you don't have to count the calories in this dish. Cauliflower is extremely low in calories and the seasoning comes solely from the spices used.
First the Cauliflower florets are coated with a baking dough, made of Vegetable milk , garlic granules, salt, chili, flour, starch, baking powder and oil. Then they go into the oven and bake. Meanwhile, prepare the hot sauce using oil, cayenne, pepper, maple syrup, paprika, sage, garlic granules, vinegar and a dash of water. The pre-baked Wings soak up the sauce really nicely and then go back into the oven.
As a dip I make a quick yogurt sauce to it consisting of coconut yogurt, lemon juice, Maple syrup, salt, pepper and coriander. I find that fits just wonderfully to the sharpness of the wings.
Vegan chicken wings, for real?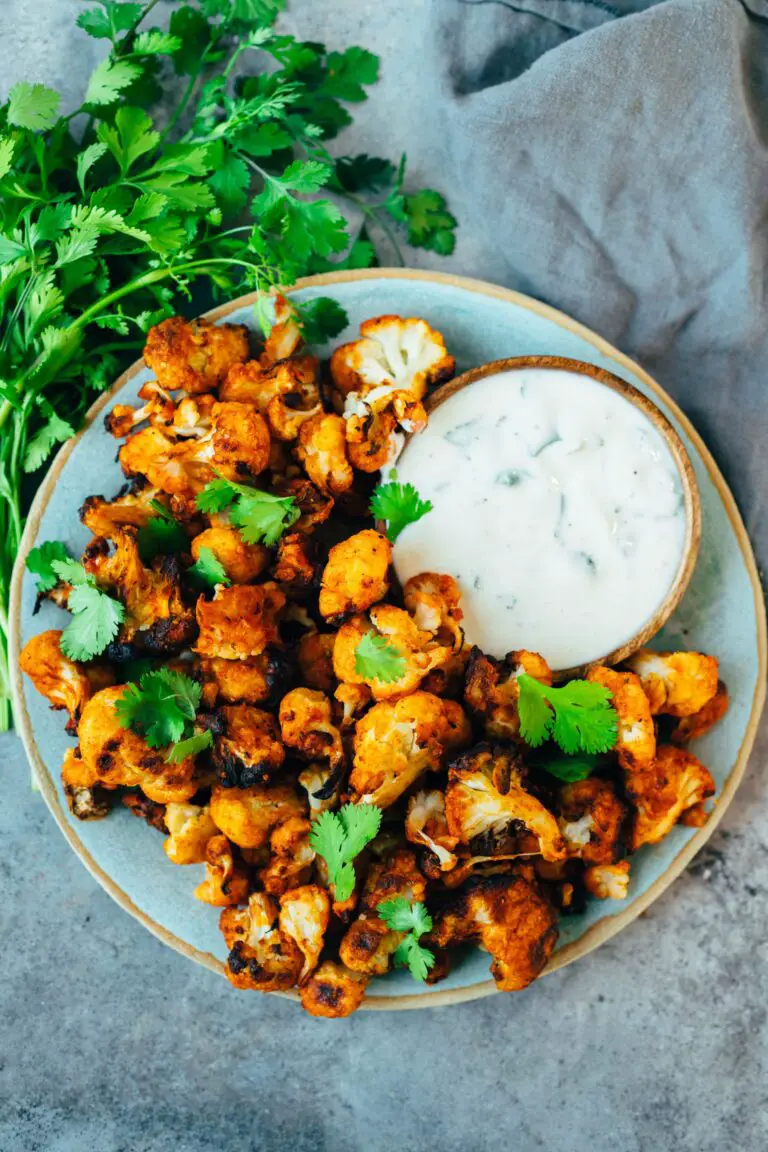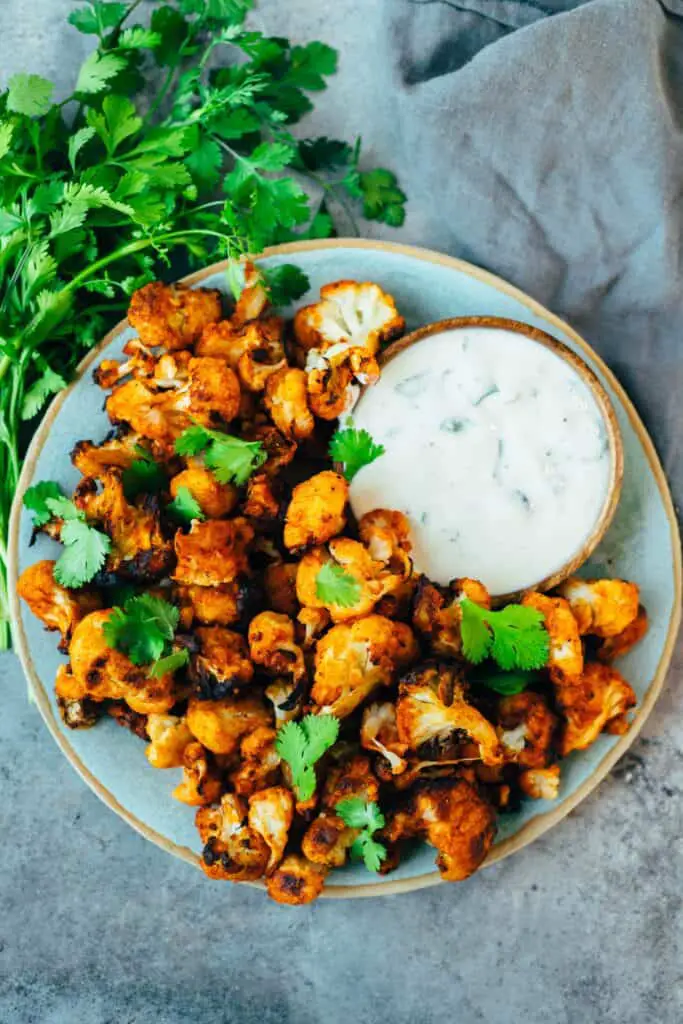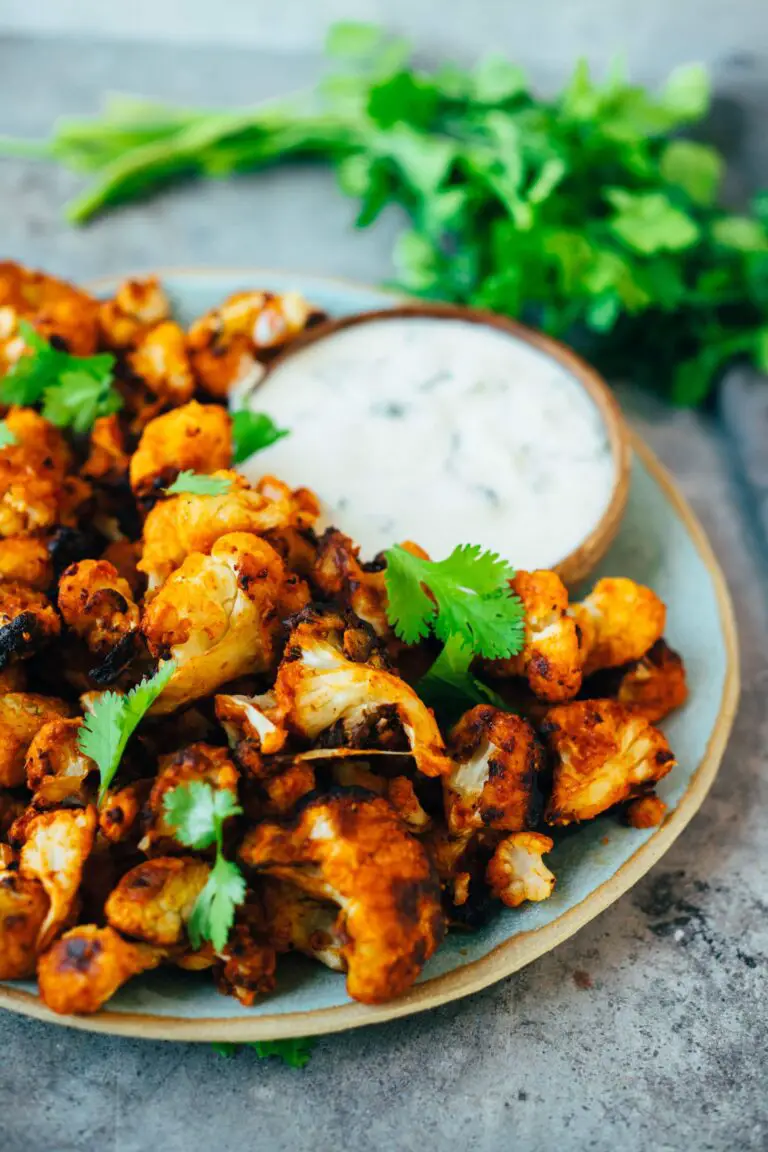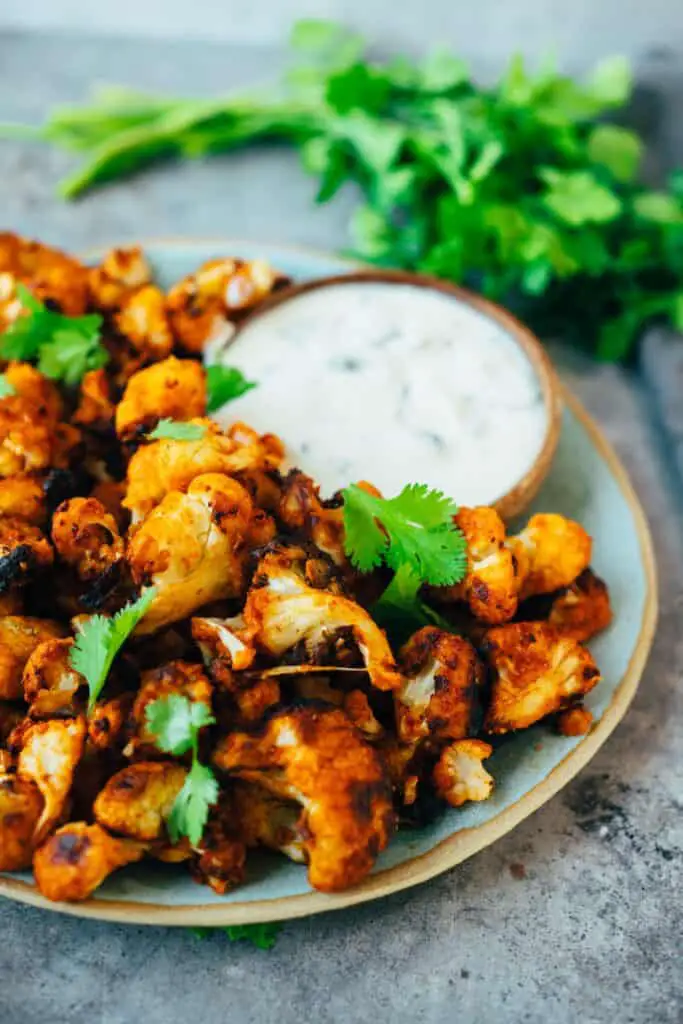 Sure, there's also the option of buying ready-made vegan chicken wings at the supermarket and just throwing them in the oven. However, I find the cauliflower Wings much more interesting because they are completely natural and do not require any industrial processing. An ordinary, simple cauliflower is masterfully transformed into a hearty, delicious and healthy Dish for the whole family. Cauliflower is:
rich in dietary fiber
Vitamin C
B vitamins
very low in calories with 25 calories per 100g
If you don't feel like wings today, there are many other great things you can do with cauliflower. Cauliflower rice make it yourself with Stir-Fry and Cashew Butter Tof u, Shawarma Bowl with Cauliflower , Creamy Korma Curry, easy Cauliflower Curry .
Ideal to go with rice, really crispy fries , Sweet potato wedges or a fresh, delicious Salad.
Spicy Cauliflower Wings (vegan chick wings):
Low calorie
aromatic
Spicy
filling
simple to be produced
Let's get started with this delicious vegan oven dish. I wish you a lot of fun with the re-cooking and am happy about a review at the bottom of this page. If you post a picture, use the hashtag #veganevibes.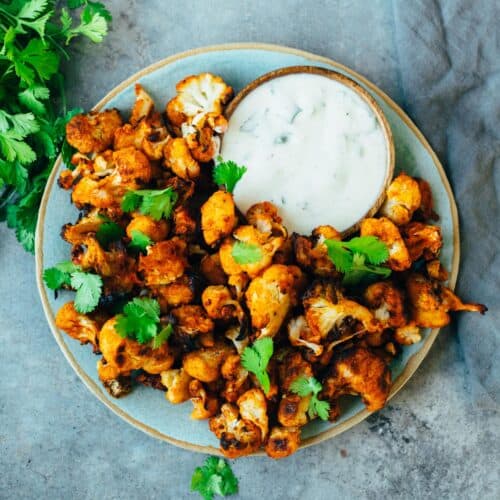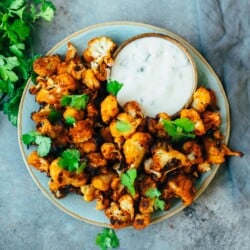 Spicy Cauliflower Wings
Aromatic baked Spicy Cauliflower Wings with a delicious spicy yogurt dip. Perfect as a vegan, filling main dish with a side of rice or chips.
AUTOR: VEGANEVIBES
FOR THE CAULIFLOWER:
200

g

Cauliflower

Stalk removed, cut into florets
FOR THE BATTER:
80

ml

Plant milk

I take oat milk

22,5

g

Cornstarch

alternatively use more flour

35

g

Spelt flour

when using gluten-free flour mix, I recommend adding 1/2 tsp. locust bean gum or 1/4 tsp. xanthan gum

½

tbspn

Baking powder

1

tbspn

Garlic granules

alternatively 1-2 cloves of garlic, freshly pressed

½

tbspn

Salt
FOR THE YOGURT DIP:
300

g

creamy coconut yogurt

or any other vegetable yogurt of your choice

15

ml

Lemon juice

15

ml

maple syrup

Fresh pepper to taste

1

Handful of fresh coriander leaf

coarsely chopped
Anleitung 
Preheat oven to 200degrees and line a baking sheet with parchment paper.

FOR THE BATTER Combine vegetable milk, cornstarch, spelt flour, baking powder, garlic granules, salt, frying oil and Bird Eye Chili in a bowl and mix to form a uniform batter.

80 ml Plant milk,

22,5 g Cornstarch,

35 g Spelt flour,

½ tbspn Baking powder,

1 tbspn Garlic granules,

½ tbspn Salt,

15 ml Frying oil or other high heat oil,

1 Bird Eye Chili

Add cauliflower florets to bowl with batter and fold in with clean hands until all florets are evenly coated with batter.

Spread evenly on prepared baking sheet and place in oven. Bake for

25 minutes

. Halfway through baking time, run a serving spoon through once and turn.

In the meantime THE HOT SAUCE prepare Combine tomato ketchup, water, oil, maple syrup, apple cider vinegar, paprika powder, cayenne bell pepper, black pepper, sage and garlic granules in a small bowl.

1 tbspn Garlic granules,

½ tbspn Salt,

15 ml Frying oil or other high heat oil,

1 Bird Eye Chili,

45 g Tomato ketchup,

15 ml Water,

15 ml Oil,

15 ml maple syrup,

15 ml Apple cider vinegar,

1 tbspn Paprika powder,

¼ tbspn Cayenne pepper,

½ tbspn black pepper,

½ tbspn Sage,

½ tbspn Garlic granules

In addition, in the meantime the YOGHURT DIP prepare For thisPlant yogurt, lemon juice, maple syrup, fresh pepper, cilantro, salt and pepper in a bowl and mix. Set aside.

300 g creamy coconut yogurt,

15 ml Lemon juice,

15 ml maple syrup,

Fresh pepper to taste,

1 Handful of fresh coriander leaf,

Salt to taste,

Pepper to taste

Remove cauliflower wings from oven after baking time is up and pour hot sauce over them. Stir vigorously with a spoon or silicone scraper until sauce coats all wings.

Return to the baking sheet, place in the oven once more and reduce heat to 180 degrees convection.

Bake

for another

10 minutes

and then remove from the oven.

Arrange wings on a platter, serve with yogurt dip and your choice of garnishes and enjoy!

Best fresh!
Nährwertangaben
Serving:
1
Portion
Calories:
623
kcal
Carbohydrates:
42
g
Protein:
8
g
Fat:
46
g
Saturated Fat:
15
g
Sodium:
444
mg
Potassium:
228
mg
Fiber:
14
g
Sugar:
14
g
Vitamin A:
398
IU
Vitamin C:
29
mg
Calcium:
77
mg
Iron:
3
mg