Spicy peanut butter spread should not be missing from any brunch. This makes me wonder when I actually hosted the last brunch. It's been way too long and right now every day feels the same too. We released the new homepage on Sunday and the hours just flew by. Sure, it's a lot of fun to get a project like this off the ground, but it also leaves a lot of things undone. I'd best not tell you now that our towels have been drying on the clothesline for a week for sure. No one thinks of taking them down either. Don't worry, we do the most important things every day. Dear Mrs. Klöckner, our dogs get enough exercise every day. Sorry for the side hustle, let's make this delicious spread now. Are you in?
Vegan spreads for your brunch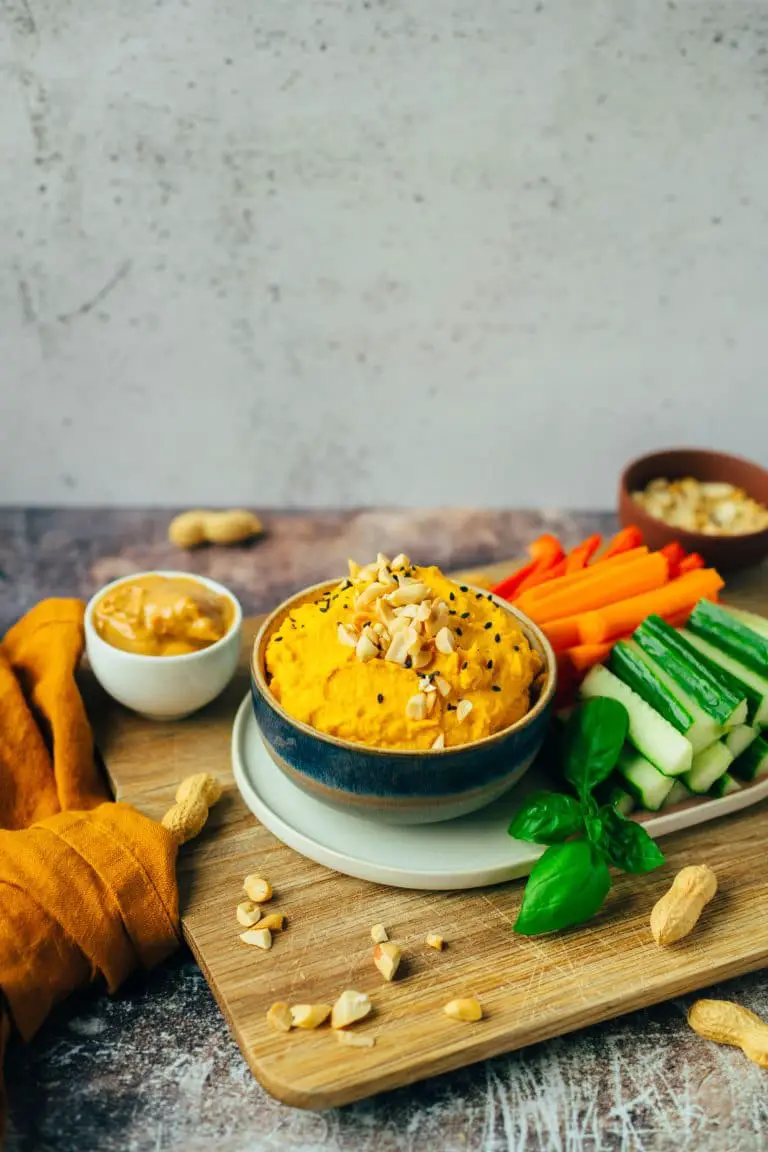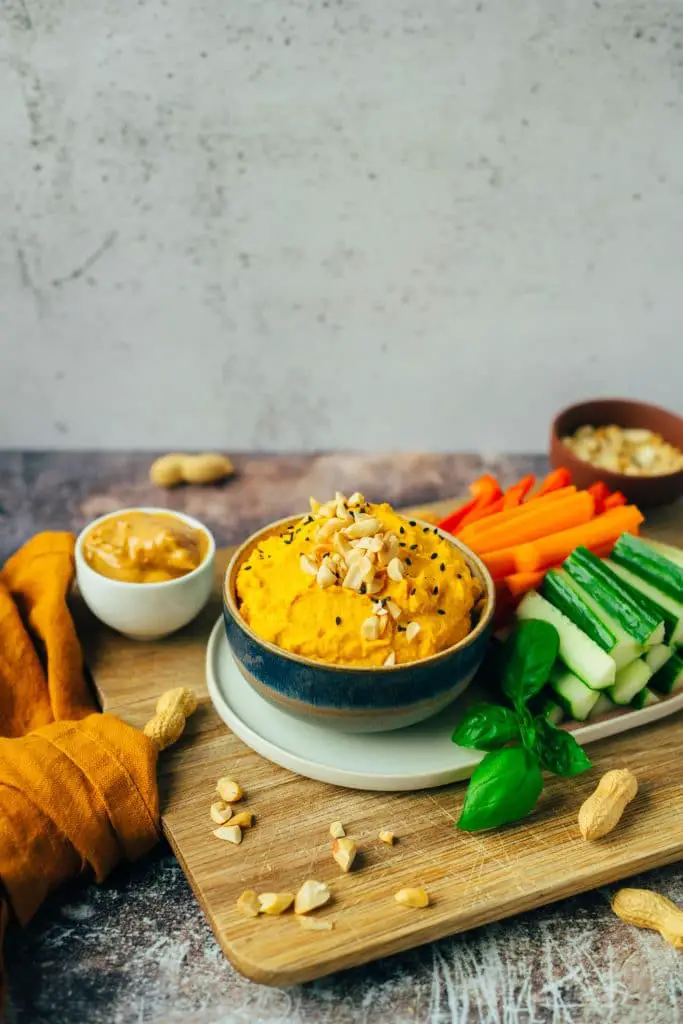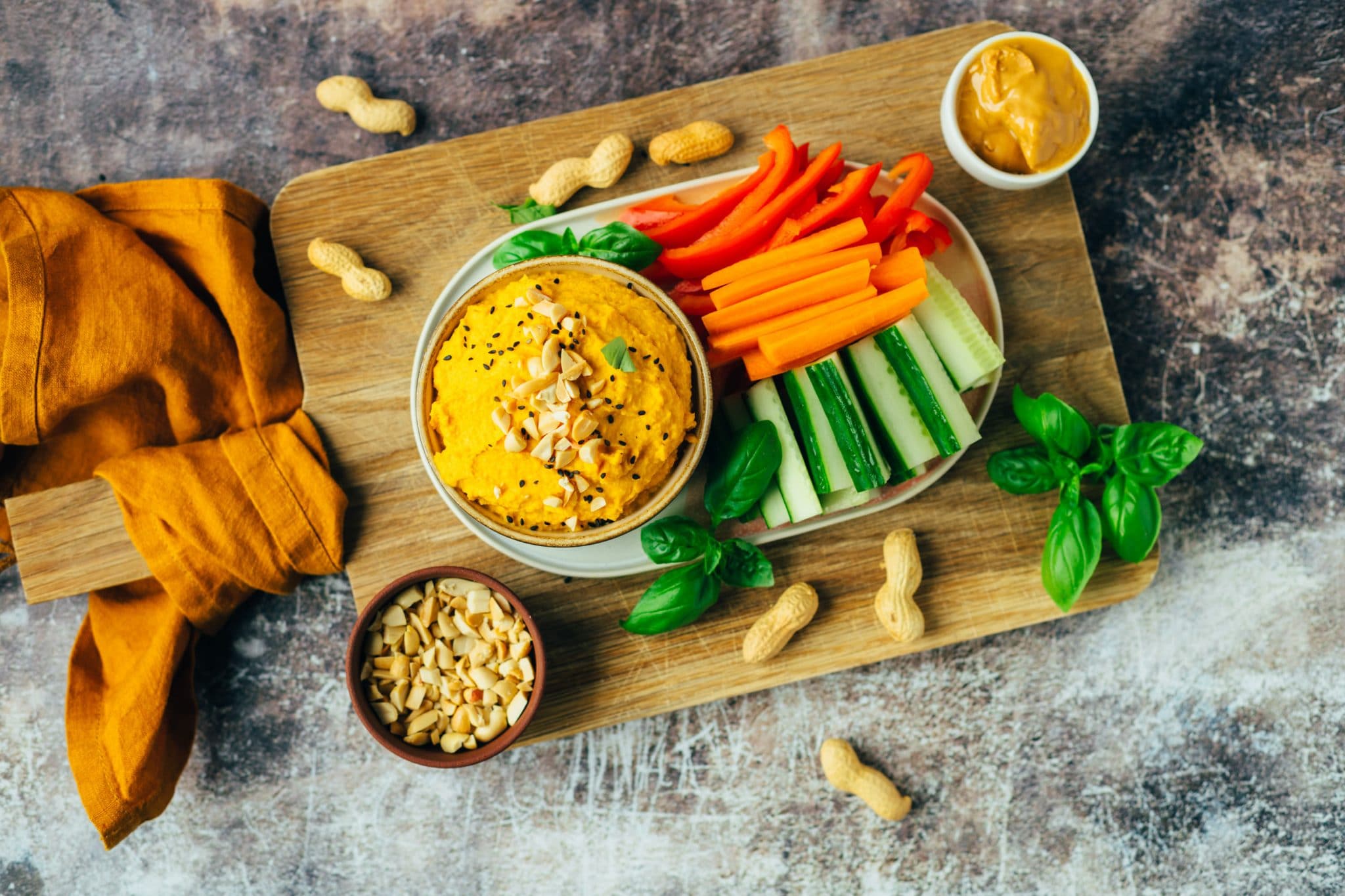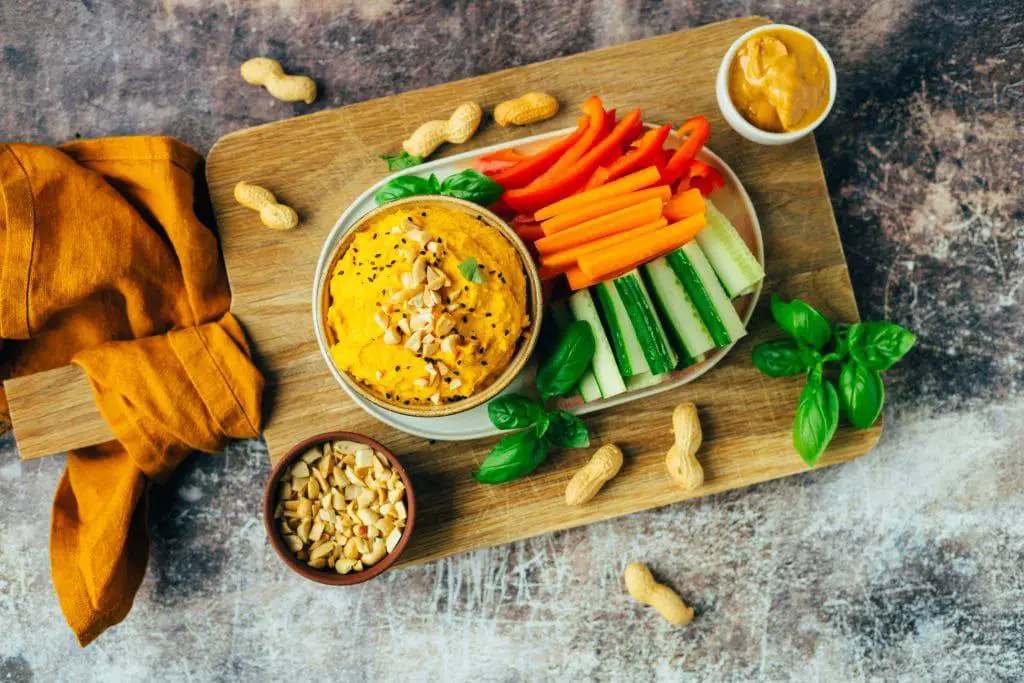 I found the combination of carrot, peanut butter and chili really super exciting. So why not make a great spread out of it. The beauty of homemade spreads and dips is that you can decide what's in them. There are really endless, high-quality organic spreads on the market. The disadvantage is often that they contain a lot of oil and other fillers. Please don't get me wrong, I super love buying the wonderful products from sustainable brands. However, nothing beats "made at home".
If we look at the costs, then you are definitely at an advantage with the homemade version. Carrots are now really cheap to get in organic quality and the peanut butter is now also no longer an overpriced exotic. Also, we do not use too much of it. With this homemade spread, good and cheap takes on a whole new meaning.
Quick vegan spreads – and so delicious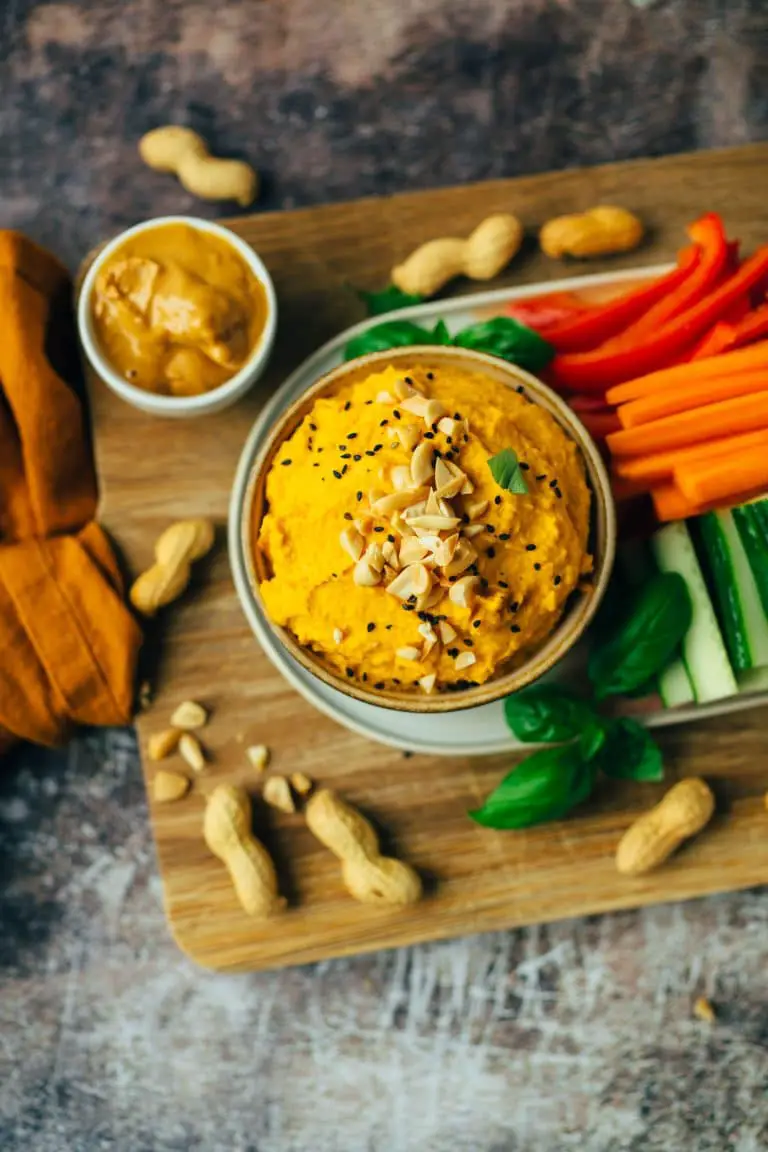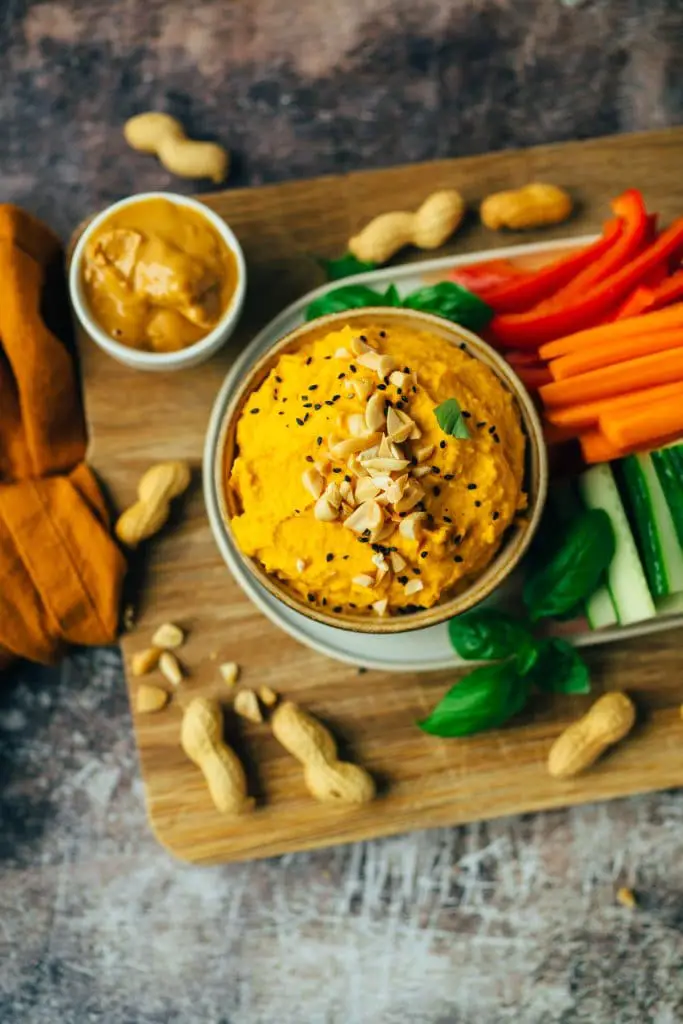 Cooked carrots, peanut butter, lemon juice, Bird Eye Chili, salt, garlic granules and a sip of the cooking water from the carrots. Just put everything together in the blender and blend to a fine, creamy spread.
Tip: for spreads I super like to use garlic granules instead of fresh garlic. Fresh, pressed cloves can have a very intense flavor that many dislike. Alternatively, you can roast the garlic cloves in the oven or sauté them briefly in a little oil.
If you don't have carrots in the house, then you can substitute them with sweet potatoes . A mixture of carrots, sweet potatoes and potatoes also works wonderfully. The starch from the potatoes makes the spread just a tad creamier.
TIP: If you want to make more of a dressing from the spread, just add sips of sage hot water until the desired consistency is reached. Highly recommended also for Buddha Bowls.
How healthy are peanuts actually?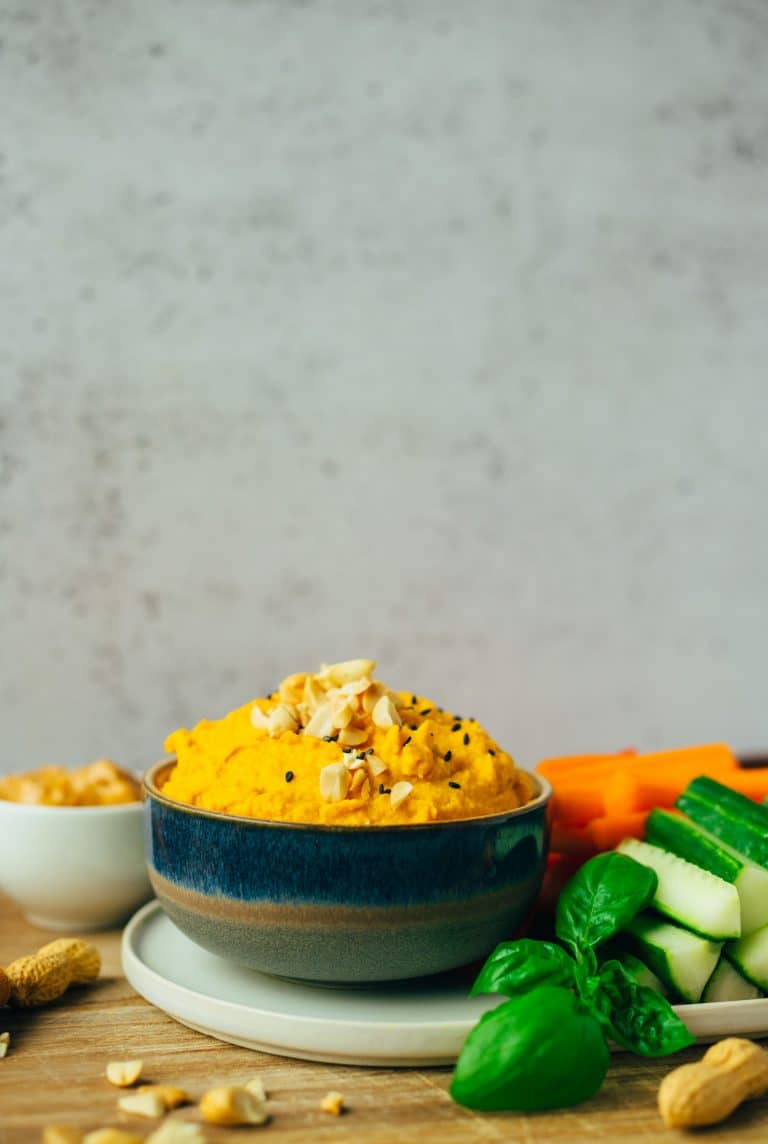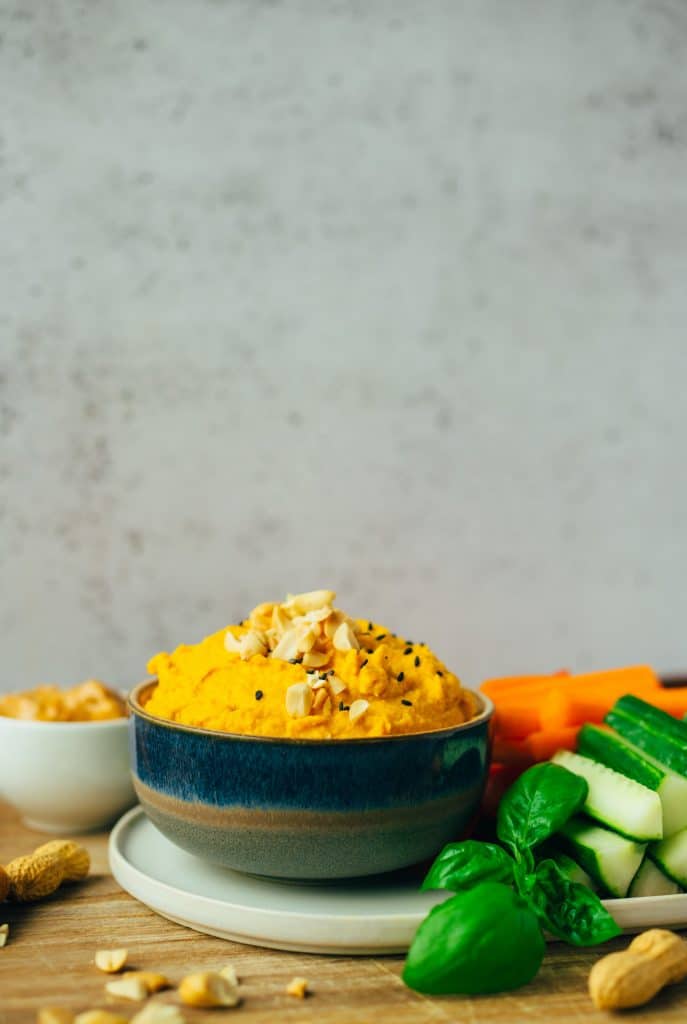 Did you know that peanuts are not actually nuts? They are more closely related to legumes than to almonds or cashews. In this country, they can be bought in all kinds of variations, pure, salted, as mush or flour. Unfortunately, they often have a bad reputation, as peanuts are often found at the bar as a not-so-healthy snack with a lot of salt. Today we want to take a look at the peanut itself, which has it all in a positive sense:
Excellent source of vegetable protein (25g protein per 100g)
Contain important nutrients that can reduce heart disease and lower cholesterol (several independent studies have shown this, from a minimum consumption of 15g daily).
Contain important vitamins and minerals such as magnesium, niacin (B3), phosphorus, vitamin E, folic acid, manganese, copper and biotin
Contain low carbohydrates with 7g per 100g and high quality fats (48g per 100g) The fats contained consist mainly of monounsaturated fatty acids (24g), polyunsaturated fatty acids (16g) and only 7g of saturated fatty acids
So we see that peanuts are wrongly perceived as unhealthy, because they are almost something like a superfood. In combination with carrots, they become virtually unbeatable in terms of nutritional content.
What goes well with our Spicy Peanut Butter Spread? Maybe a great platter of fresh vegetable sticks. Sourdough bread, naan bread or a gluten-free bread fits just as perfectly.
The Spicy Peanut Butter Spread (oil-free) is:
Super fast made
creamy
Rich in valuable minerals
Few ingredients
Slightly sharp
Do you love vegan spreads as much as I do? Then I look forward to a review at the bottom of this page. If you post a picture, then like to use the hashtag #veganevibes.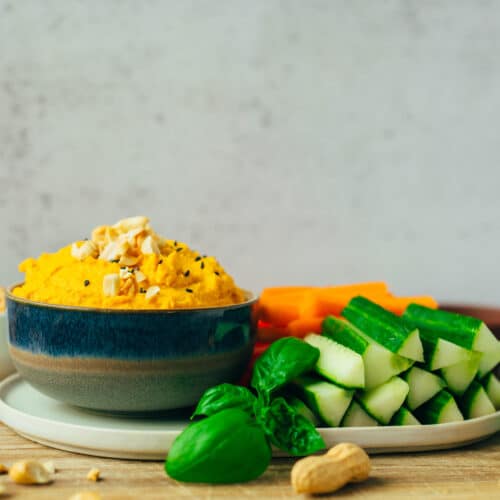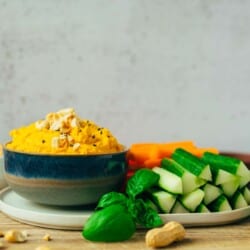 Spicy peanut butter spread (oil free)
Quick vegan spread made with carrots, peanut butter and chili. Perfect on bread, or slightly diluted as a dressing for salads and Buddha Bowls.
AUTOR: VEGANEVIBES
FOR THE CARROTS:
300

g

Carrots

peeled and cut into pieces

1000

ml

Water

½

tbspn

Salt
FOR THE TOPPING:
75

g

Peanut kernels

for roasting as topping
OTHER:
Sourdough bread

Toast or fresh naan

Various vegetables

cut suitable for snacks

Fresh basil leaf
Anleitung 
FOR THE CARROTS provide a small pot, pour in water, add carrots and salt. Stir briefly and bring to a boil. Cook for

10 minutes

with the lid closed until the carrots are soft. They should not be completely cooked through, but still have a little bite.

300 g Carrots,

1000 ml Water,

½ tbspn Salt

Catch and save the boiling water. The water is full of nutrients and flavor and we need it later for refining. The rest can be stored in an airtight container in the refrigerator and used for soup, sauces, etc. to dilute and refine.

TO MAKE THE STIR, place carrots, peanut butter, Bird Eye Chili, lemon juice, garlic granules, salt, and 1-2 tablespoons of the carrots' cooking water in a blender. I use my MagiMix with an S-shaped knife for this.

300 g Carrots,

45 g Peanut butter,

1 Piece Bird Eye Chili,

30 ml Lemon juice,

½ tbspn Garlic granules,

½ tbspn Salt

Blend until the desired consistency is reached. Keep scraping down the sides with a silicone scraper to make sure everything is worked evenly. Set aside.

FOR THE TOPPING, toast peanut kernels in a frying pan over medium heat without oil for about

5 minutes on

all sides. Set aside.

Place in a bowl, top with roasted peanuts and garnish with desired toppings.

Store remaining spread in an airtight container in the refrigerator for up to 3 days.
Notizen
*Calculation without topping (peanut kernels).
** Recipe inspired by Marisa (Plant Base Berlin) via veecoco.de
Nährwertangaben
Serving:
1
Portion
Calories:
99
kcal
Carbohydrates:
10
g
Protein:
4
g
Fat:
6
g
Saturated Fat:
1
g
Sodium:
104
mg
Potassium:
313
mg
Fiber:
3
g
Sugar:
5
g
Vitamin A:
12530
IU
Vitamin C:
9
mg
Calcium:
30
mg
Iron:
1
mg