Buckwheat Granola has been on my list for a long time, but somehow I never managed to make it. It's finally here and I'm blown away by how delicious it is. Buckwheat is a pseudo-cereal and is definitely not the number one favorite cereal among Germans. Strictly speaking, it is also not a cereal, but a pseudo cereal that is naturally gluten-free. Here between door and Angel I write now quite quickly this Recipe and then I'm off to Austria to hike. At the moment I have rather mixed feelings, because finally it's nice and summery here in Bavaria. Still, the mountains are just beautiful and I'm looking forward to it. The buckwheat Granola I have of course already packed.
Make buckwheat granola yourself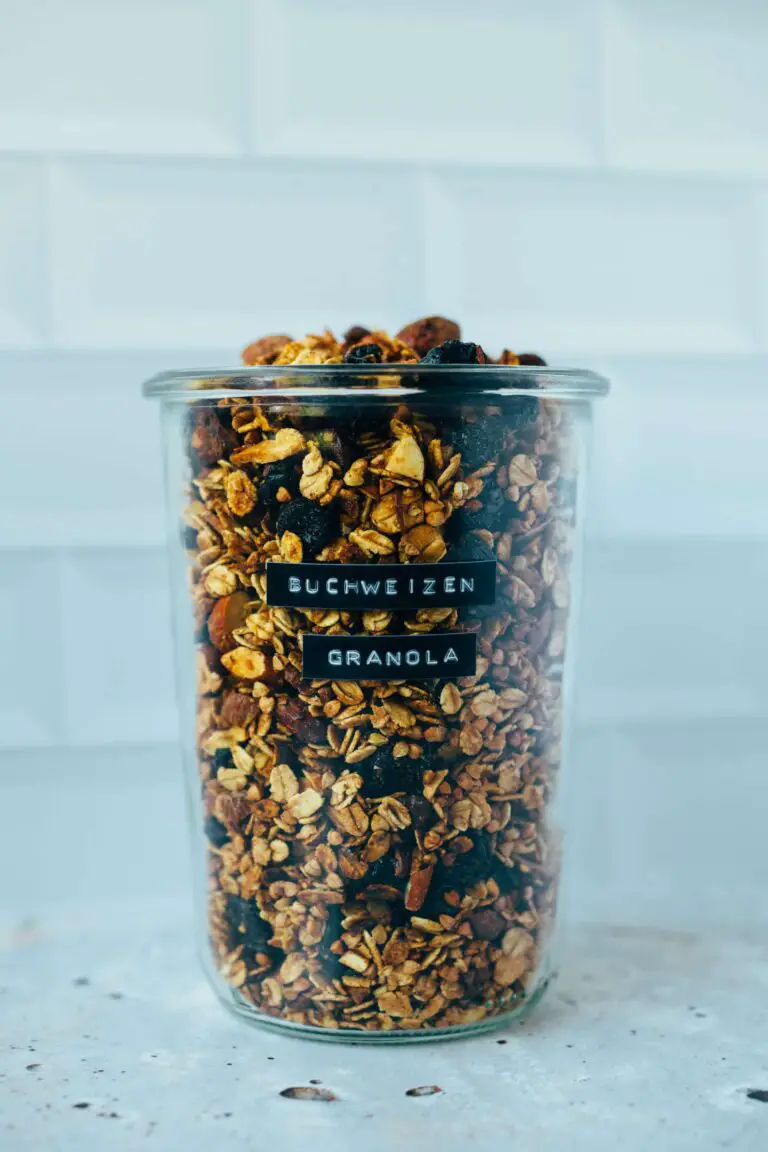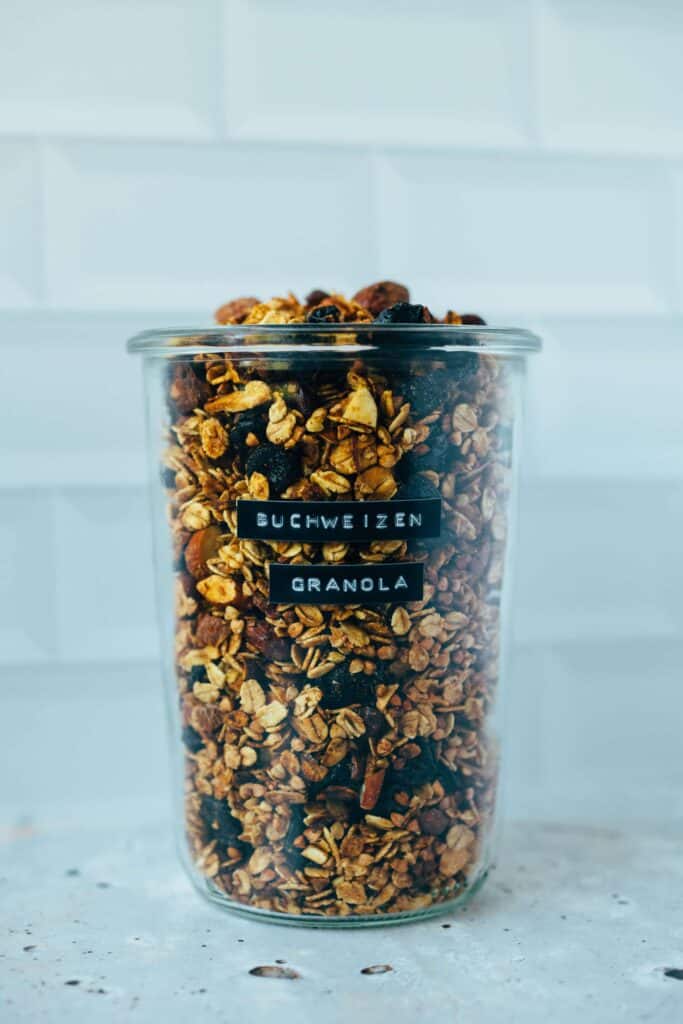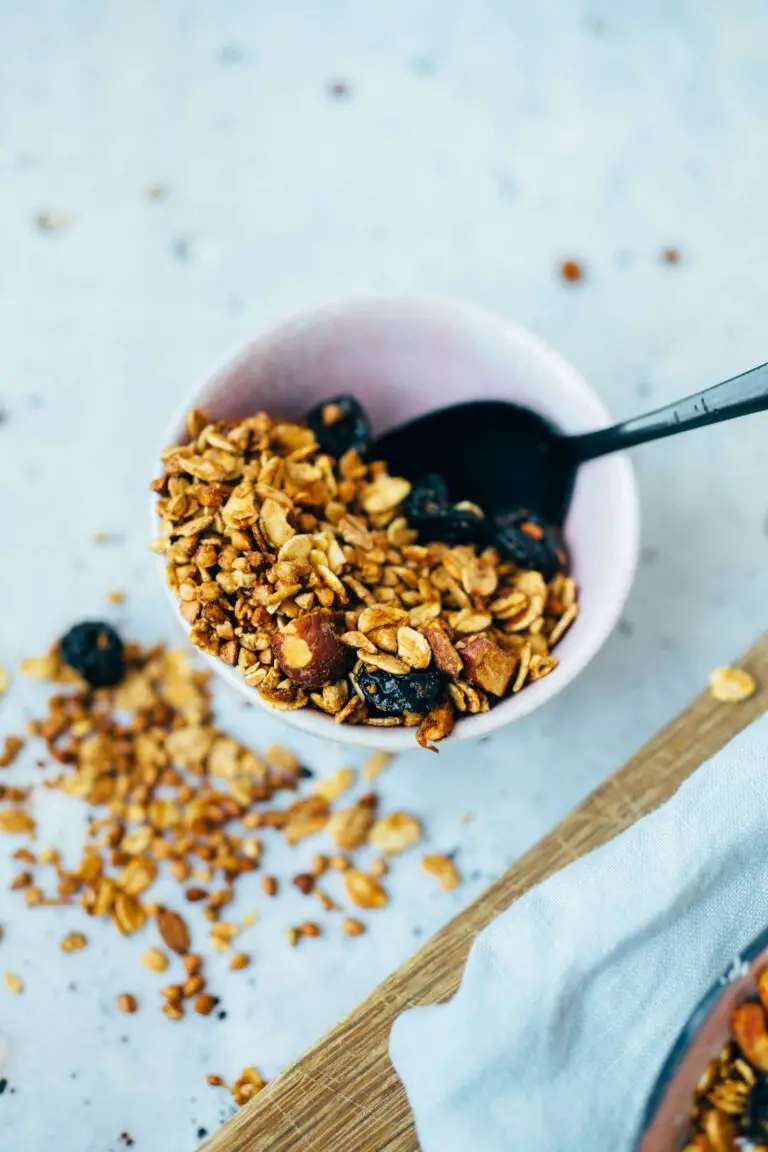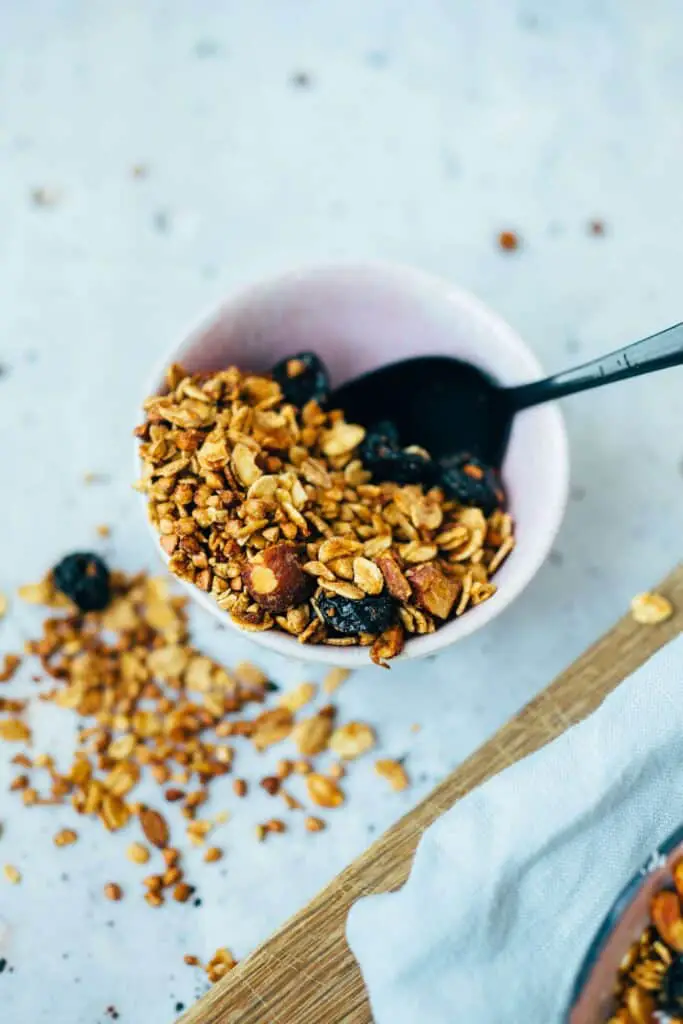 Just a few days ago I was in Berlin and once again in my favorite store "The Plant-base". They really have the best Brunch in the whole capital and I was in love with the Granola . This immediately spurred me to go in search of the best Buckwheat Granola to make.
Rolled oats, mixed chopped nuts, buckwheat, dried sour cherries, maple syrup, coconut blossom sugar, cinnamon, ginger, vanilla and salt. Mix vigorously once and then off to the oven.
TIP: When baking, run a wooden spoon through the granola again and again at intervals of 10 to 15 minutes, then it will toast really evenly.
How healthy is buckwheat actually?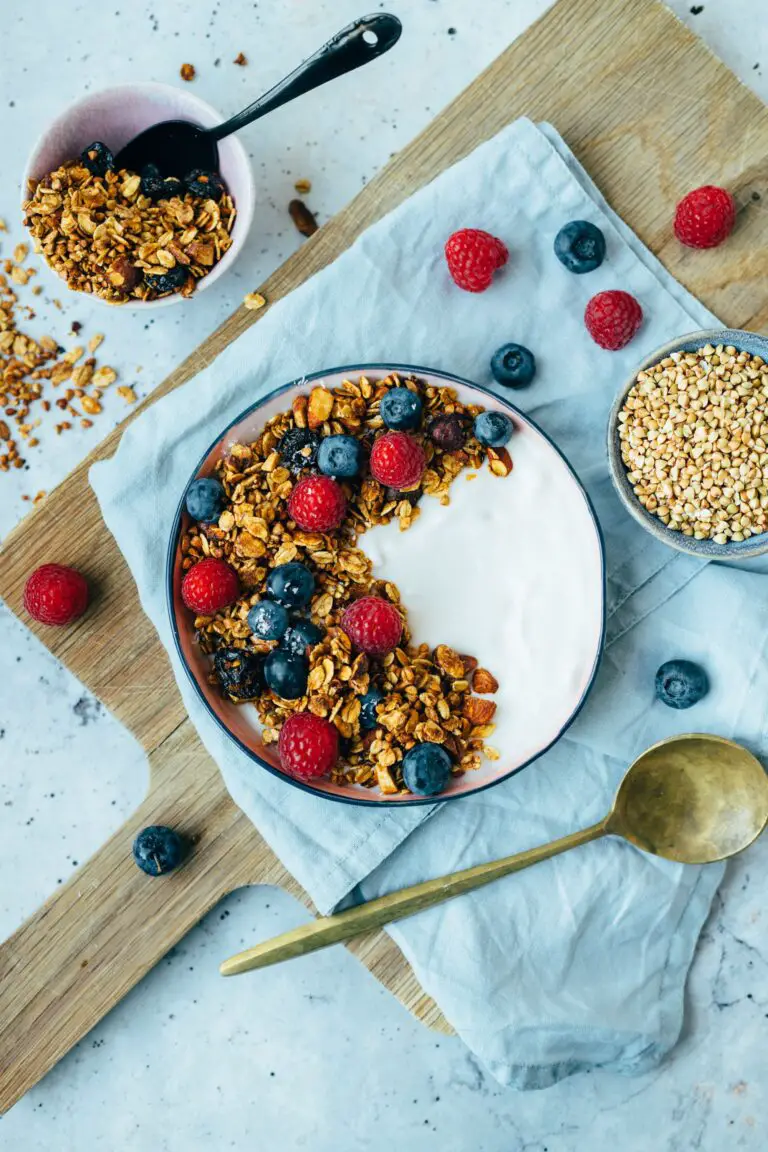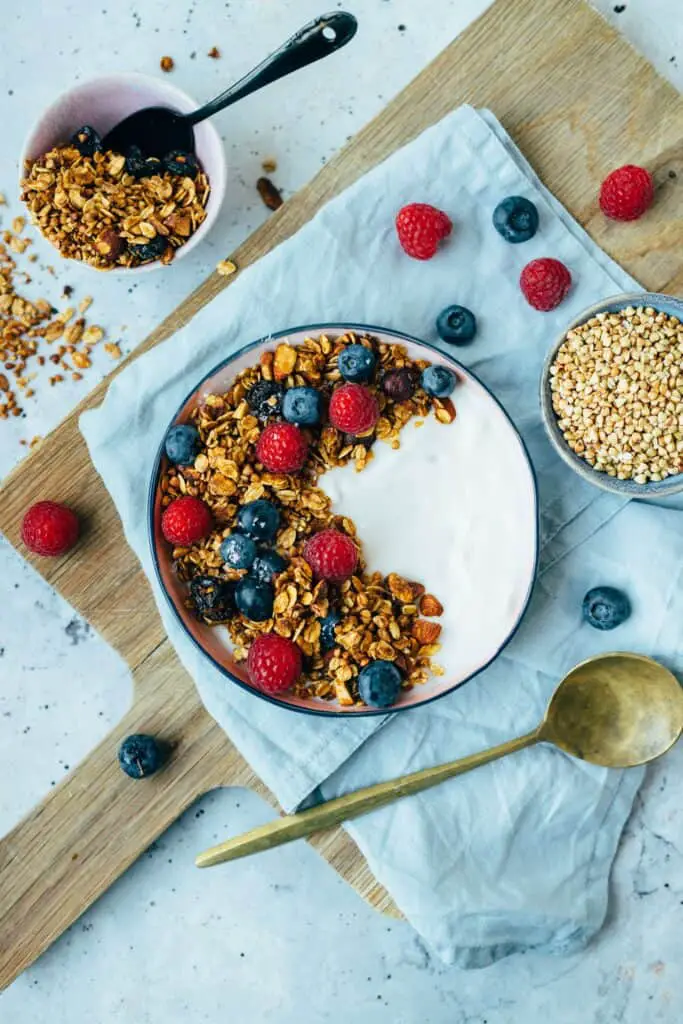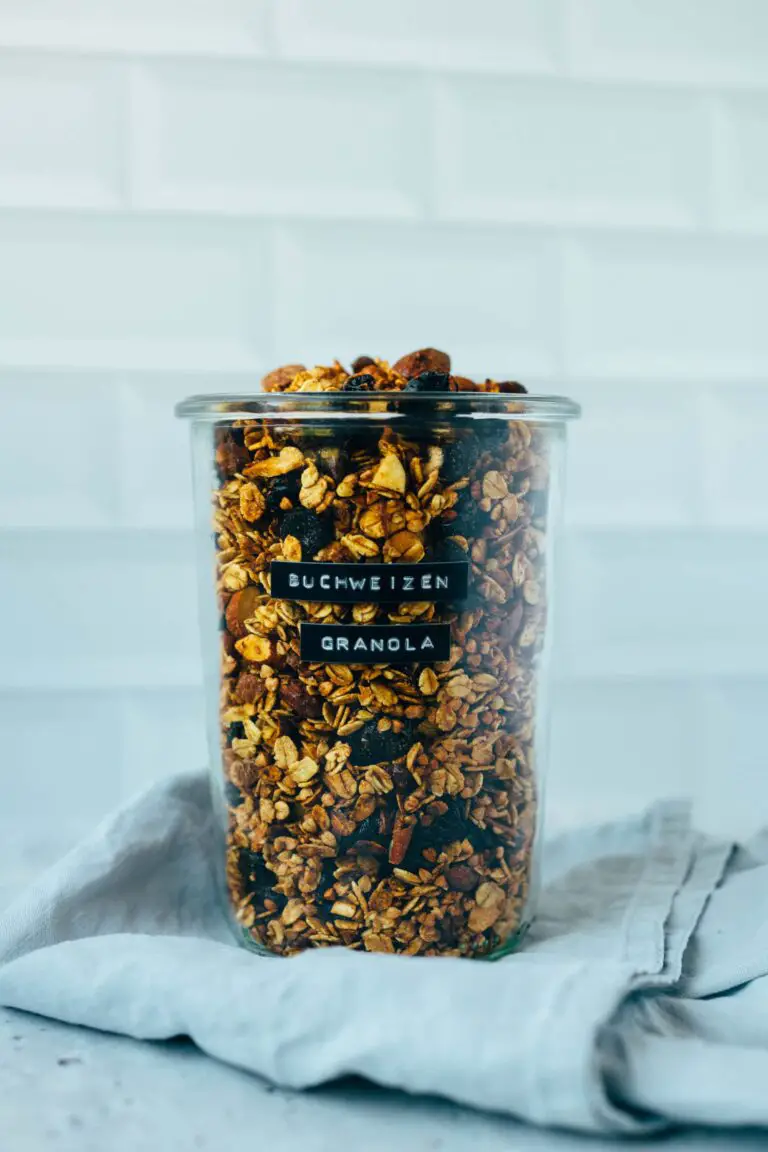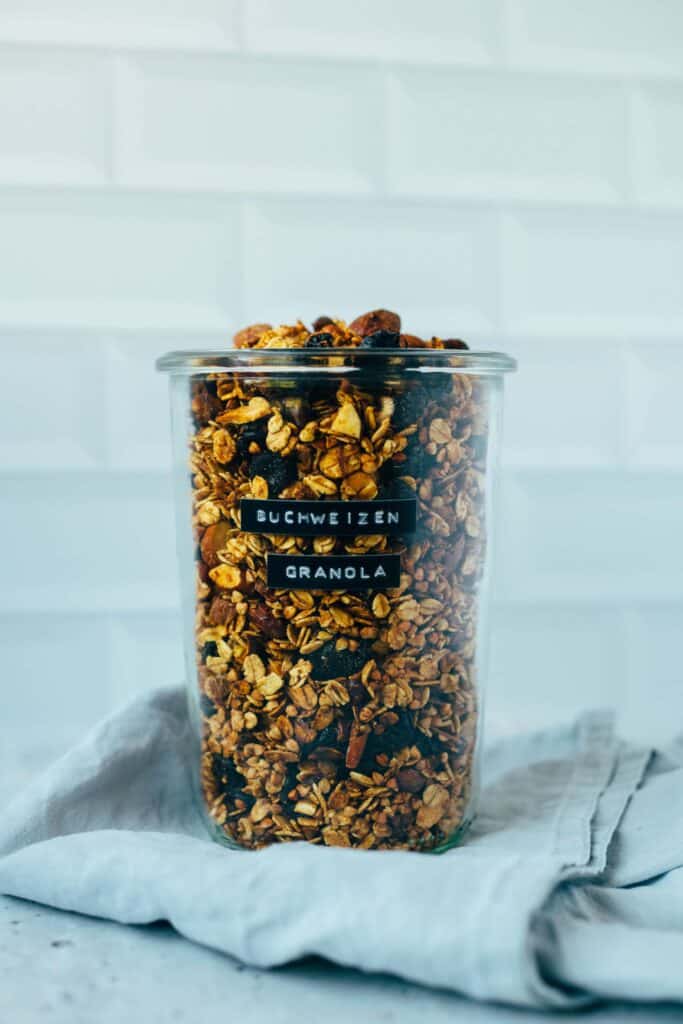 Buckwheat used to be considered a poor man's food, yet it is full of healthy ingredients.
With about 10% protein, it is particularly interesting for vegan living people who pay attention to a sufficient supply. The biological value is higher than all other cereals and pseudocereals. This means that the protein is particularly well absorbed by the body.
Buckwheat is rich in magnesium, potassium and iron.
Particularly rich in vitamin E with 2.1g per 100g. The vitamin protects our cells from free radicals and thus counteracts the aging process.
Very rich in lysine, an amino acid that provides particularly stable bones and also interesting for athletes who want to build muscle.
TIP: Buckwheat is also wonderful for sprouting. Germinated seeds are more easily digested by the body, and important minerals are also better absorbed by the body.
For me personally this buckwheat Granola is an allrounder for Breakfast or Snack . Sometimes I just indulge in a handful before or after a workout. But my favorite thing to do is mix it into coconut yogurt and eat it with fresh fruit. A pleasure!
Ideal with this buckwheat granola goes a homemade and creamy barista milk . Your creativity is needed for the topping. Banana slices, coconut yogurt, fruits, berries, superfoods or dark chocolate drops. Perfect as a snack in between, or as a small, fine gift the colleague who is just training for a half marathon?
The vegan buckwheat granola is:
Naturally sweetened
nutty
Crunchy
Cinnamon-vanilla
Easy to manufacture
Let's go with this crunchy Dream, with which you can refuel really nice energy. I wish you a lot of fun with the Nachbackenand of course about a rating at the bottom of this page. If you post a picture, use the hashtag #veganevibes.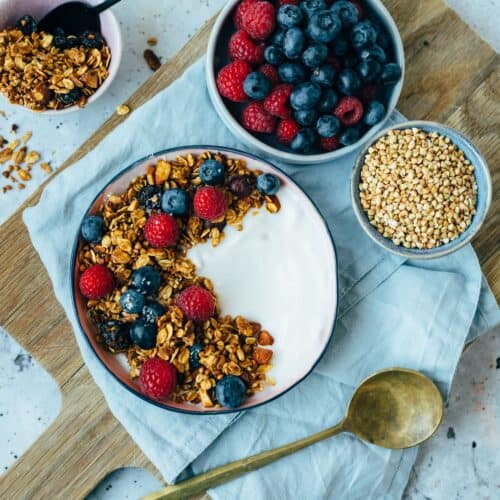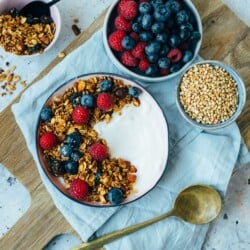 Buckwheat granola
Very tasty and healthy buckwheat granola with oatmeal and nuts. Rounded with fine vanilla, cinnamon and ginger. Naturally oil-free, sugar-free and gluten-free.
AUTOR: VEGANEVIBES
Toppings:
Coconut yogurt

Fresh fruits

Banana slices
Anleitung 
Preheat the oven to 160 degrees (upper-lower heat) and line a baking tray with baking paper or a permanent baking mat.

Provide a large bowl. Add in buckwheat, rolled oats, mixed nuts, dried sour cherries, maple syrup, coconut blossom sugar, cinnamon, ginger, vanilla and salt and mix with a spoon until everything is well combined.

168 g Buckwheat,

230 g Oatmeal),

195 g mixed nuts,

50 g dried sour cherries,

160 ml maple syrup,

37,5 g Coconut blossom sugar,

½ tbspn Cinnamon,

½ tbspn Ginger,

¼ tbspn Vanilla,

¼ tbspn Sea salt

Spread the finished mixture evenly over the baking sheet and bake in the oven for

30 minutes

. Run a large spoon through every 10 minutes, this distributes the heat better and the granola toasts more evenly.

Remove from the oven and allow to cool completely.

Garnish with fresh plant milk, coconut yogurt and fruit and optional toppings. enjoy!

Coconut yogurt,

Fresh fruits,

Chocolate drops,

Barista milk,

Banana slices

Store in an airtight container at room temperature for up to 2 weeks.
Nährwertangaben
Serving:
1
Portion
Calories:
212
kcal
Carbohydrates:
32
g
Protein:
6
g
Fat:
8
g
Saturated Fat:
1
g
Sodium:
48
mg
Potassium:
229
mg
Fiber:
4
g
Sugar:
9
g
Vitamin C:
1
mg
Calcium:
33
mg
Iron:
2
mg