Cookie Snack Bites are right next to me right now and I'm about to treat myself to one too. I'm sure you understand that, because all the writing already costs an insane amount of energy. I'm also still pretty tired from my little short trip to Paris. My dear friend Janine Knizia had invited to present her latest treasures in Clean Beauty in her beautiful showroom "Muse & Heroine" in Paris. It's really fascinating to see how many great and especially sustainable brands there are. The founders of these brands, all had interesting stories in their luggage and I still have the scent of this great body butter in my nose. Of course I took the opportunity and tested different vegan Locations tested. You can find the results in the Stories on my Instagram account.
Cookie Dough Snack Bites or in German cookie dough energy balls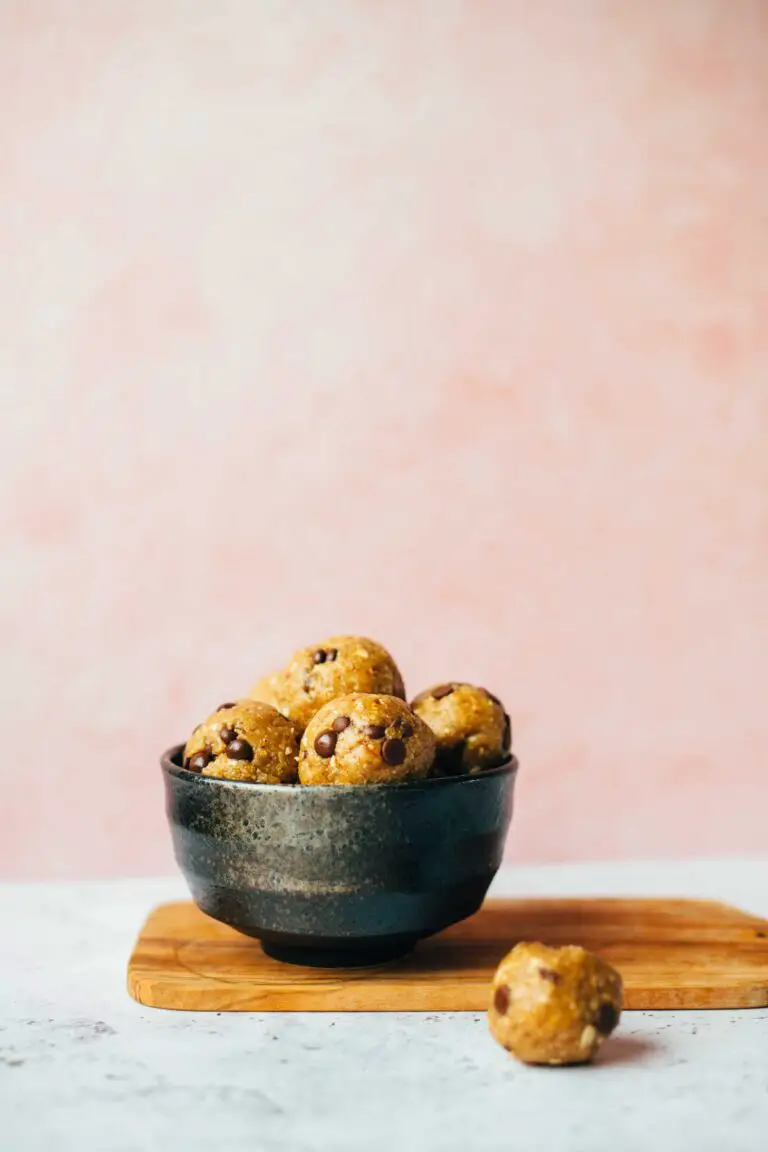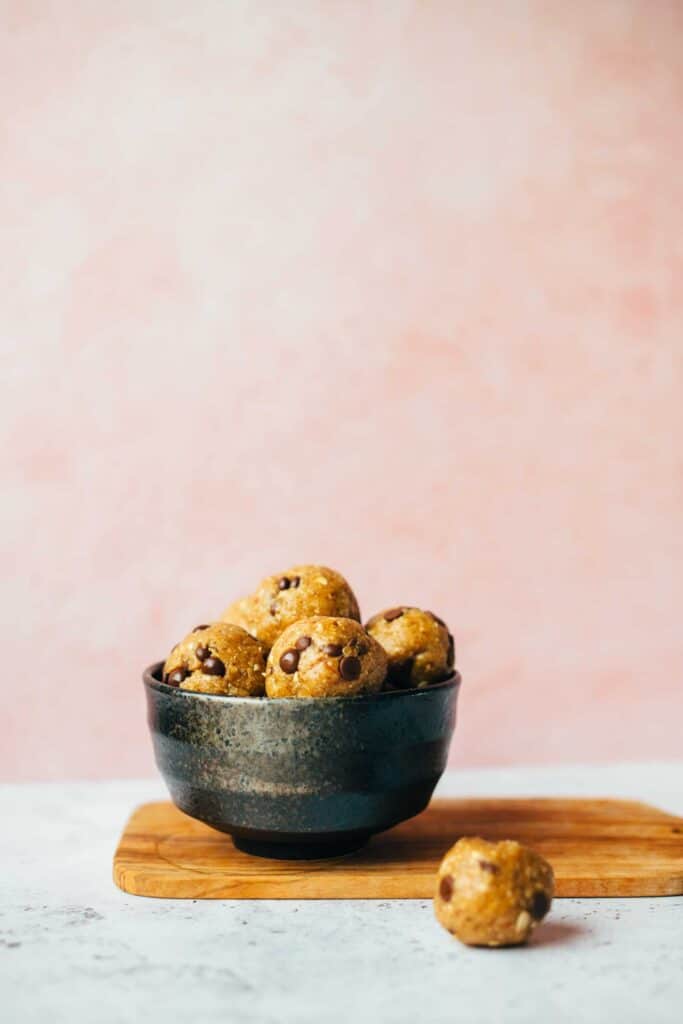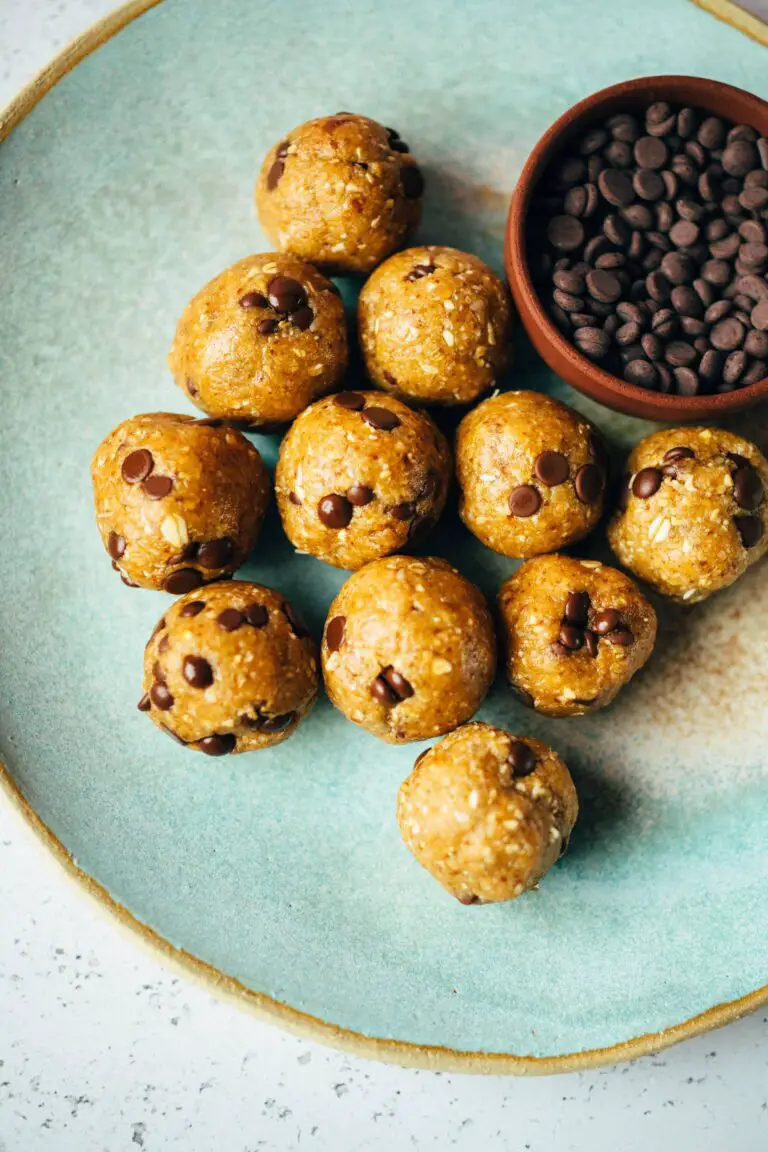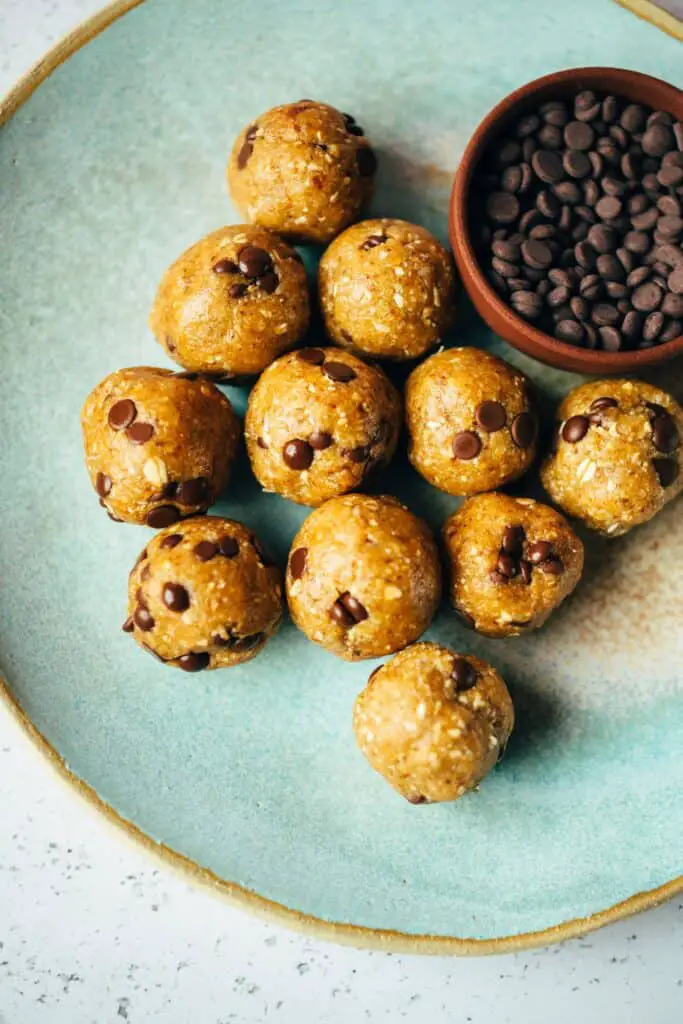 On the way to Paris I did not have Snack Bites with me, but I had Dates . They kept my blood sugar level right up already and I could confidently do without the plastic-wrapped sandwiches on the plane. On short trips, it's always such a thing with food anyway. At least I have not yet come across vegan sandwich option come across one. I don't even ask, I just bring my own stuff. This Snack Bites are particularly suitable for this purpose and can also be easily transported in a resealable box.
Vegan snacks, may I?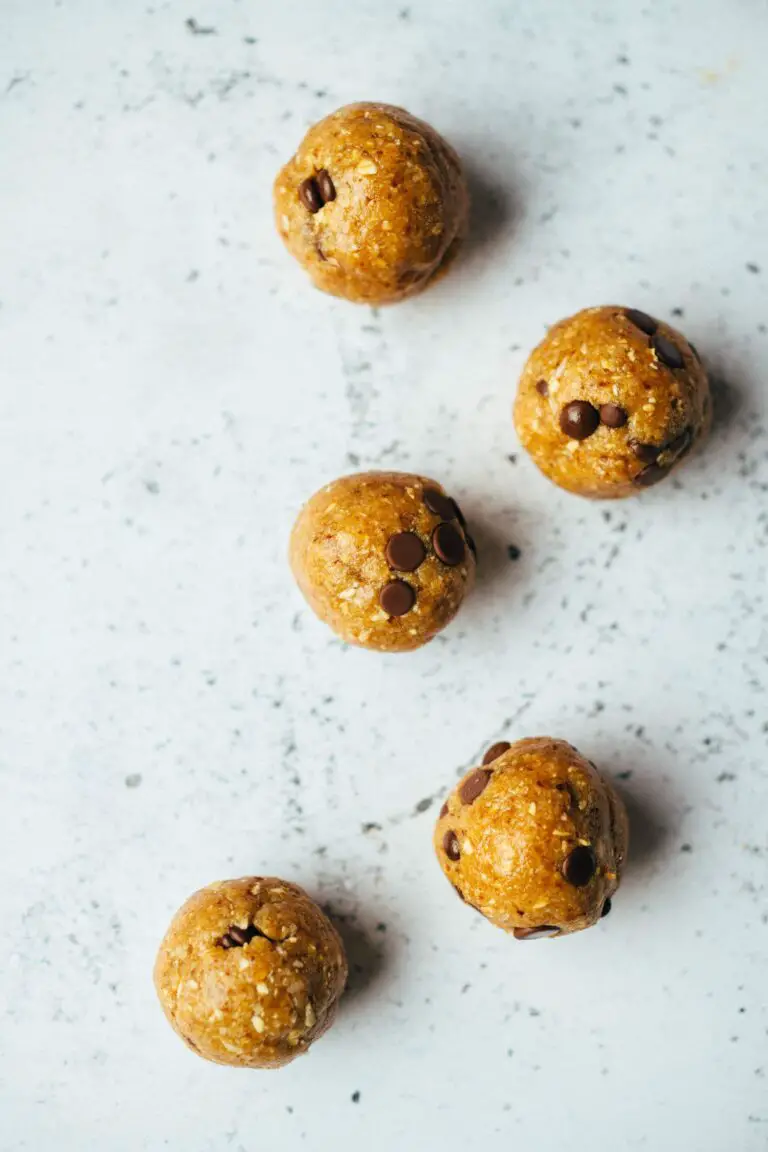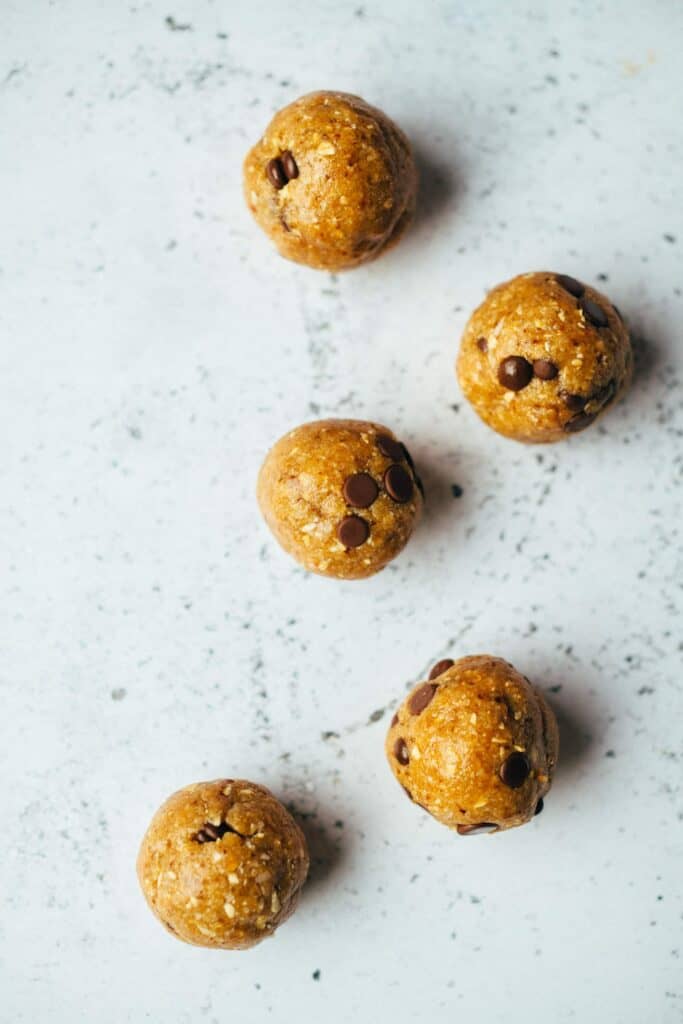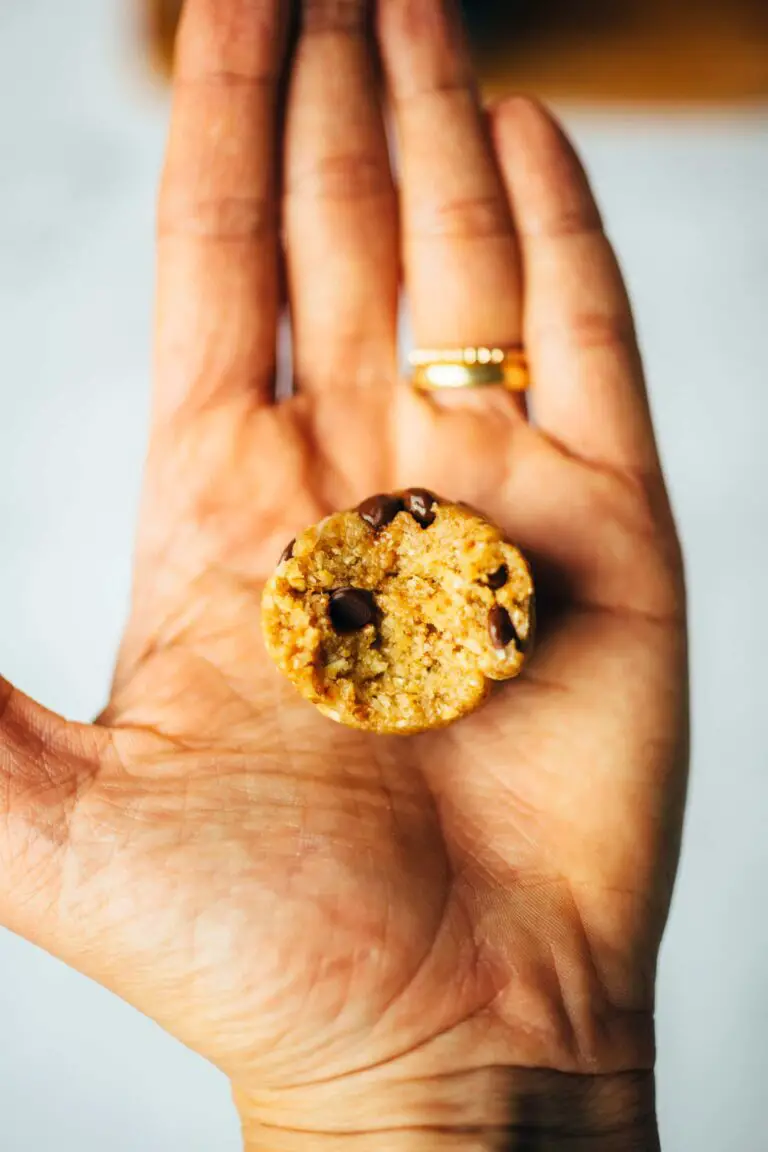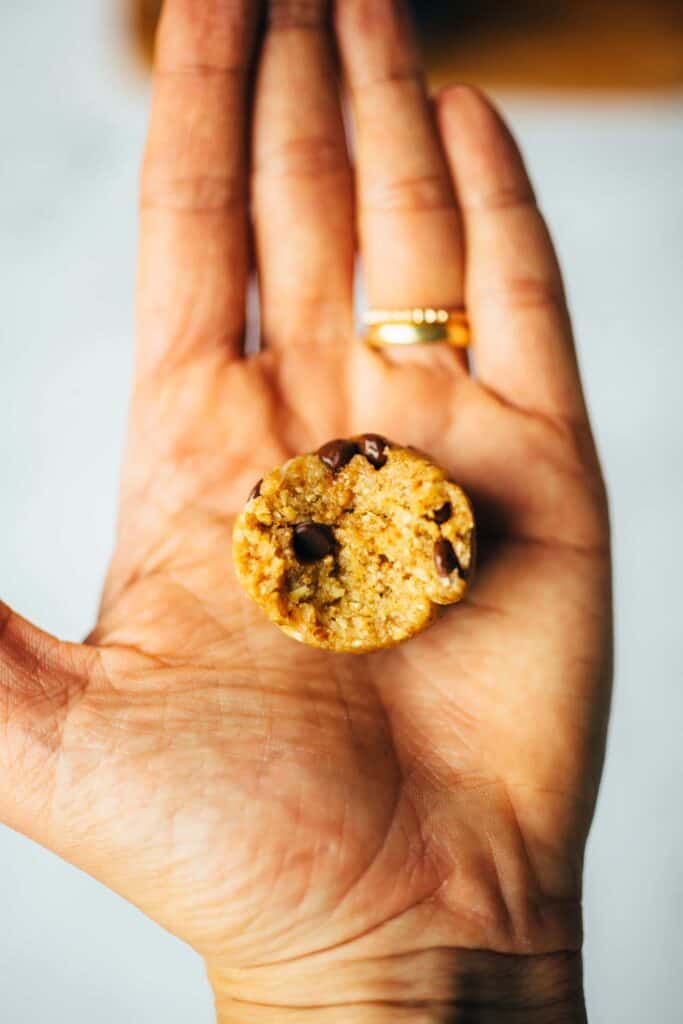 As usual, the ingredient list is short and crisp. Rolled oats, dates, shredded coconut, maple syrup, nut butter, a pinch of salt and dark vegan chocolate drops. Once everything is in the blender (except the chocolate drops), use a food processor to make a fine dough that is slightly sticky and easy to shape. Add chocolate drops and form once nice Bliss Balls shape. Best enjoyed immediately!
Who already knows me a little bit knows how I love dates. It must also always and necessarily be king dates or Medjool dates. Why? Here is the answer:
High content of dietary fiber
Rich in natural glucose from 60-70%.
Vitamins A, B, C
Iron, folic acid, zinc and potassium
contain tryptophan, the amino acid is the precursor of the sleep hormone melatonin, Tip: A few dates before falling asleep can help!
Our snack today Bites are definitely healthy, high in fiber and naturally sweetened. If you're going gluten-free, look for a gluten-free variety when buying oatmeal. If you want to avoid maple syrup and other liquid sweeteners, just use a little water or liquid date sweetener.
Get started with these delicious, Cookie Bliss Balls . I hope you enjoy the reel and of course about a review at the bottom of this page. If you post a picture, use the hashtag #veganevibes.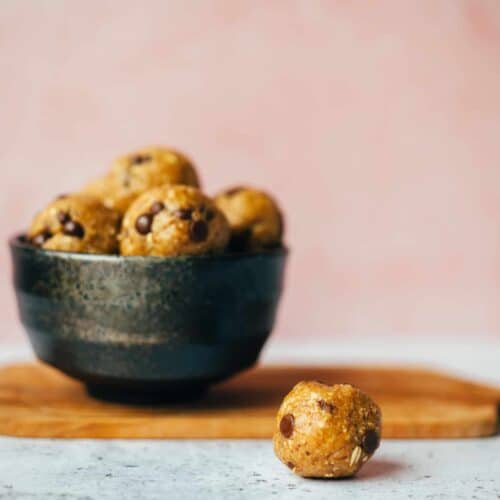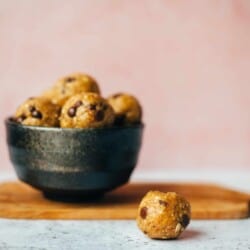 Cookie Snack Bites
Extremely delicious, snack bites that taste like Cookie Dough or cookie dough. For the perfect energy in between, vegan and gluten-free. Pithy, coconutty and sweetened with healthy, fiber-rich dates.
AUTOR: VEGANEVIBES
Anleitung 
If dates are very hard, soak in hot water for 30 minutes and strain before processing. For high quality Medjool dates, this step can be ignored as the dates are usually soft enough.

Add dates, oats, shredded coconut, nutmeal, maple syrup and salt to a food processor (I use my MagiMix here) or high-powered blender and blend until a uniform dough is formed. This should be slightly sticky, but not too dry.

140 g Medijool dates,

100 g Coconut flakes,

60 g Oatmeal,

30 ml maple syrup,

30 g Nut puree,

A pinch of salt

Pour batter into a bowl and fold in chocolate drops.

50 g dark vegan chocolate drops

Form 12 ball with wet hands (I use a spoon for this). For the best result, alternate pressing and rolling. If too much pressure is applied, the bites will fall apart again. Simply work with a little flair.

Enjoy immediately or place remaining Bliss Balls in a resealable box and store in the refrigerator or freezer. In the refrigerator they last about 1 week, in the freezer up to 4 weeks.
Nährwertangaben
Serving:
1
Bite
Calories:
135
kcal
Carbohydrates:
16
g
Protein:
2
g
Fat:
8
g
Saturated Fat:
6
g
Cholesterol:
1
mg
Sodium:
14
mg
Potassium:
156
mg
Fiber:
3
g
Sugar:
12
g
Vitamin A:
28
IU
Vitamin C:
1
mg
Calcium:
27
mg
Iron:
1
mg