Nutella Bites saved my life yesterday. Okay, that's not entirely true, but there is some truth to it. Our dear two huskies decided to escape yesterday. In sub-zero temperatures, they naturally have the most energy and what better way than to explore the area on your own. I then rode my e-bike over hill and dale, forest and meadows, looking for them hopefully. At some point I couldn't do it anymore, the muscles were burning and I needed something I could eat quickly. Perfect that I still had a few of these tasty little scoops in the fridge. After a few hours we found the two runaways. But I didn't give them any of the Nutella Bites.
Nutella Bites and no I give away nothing from it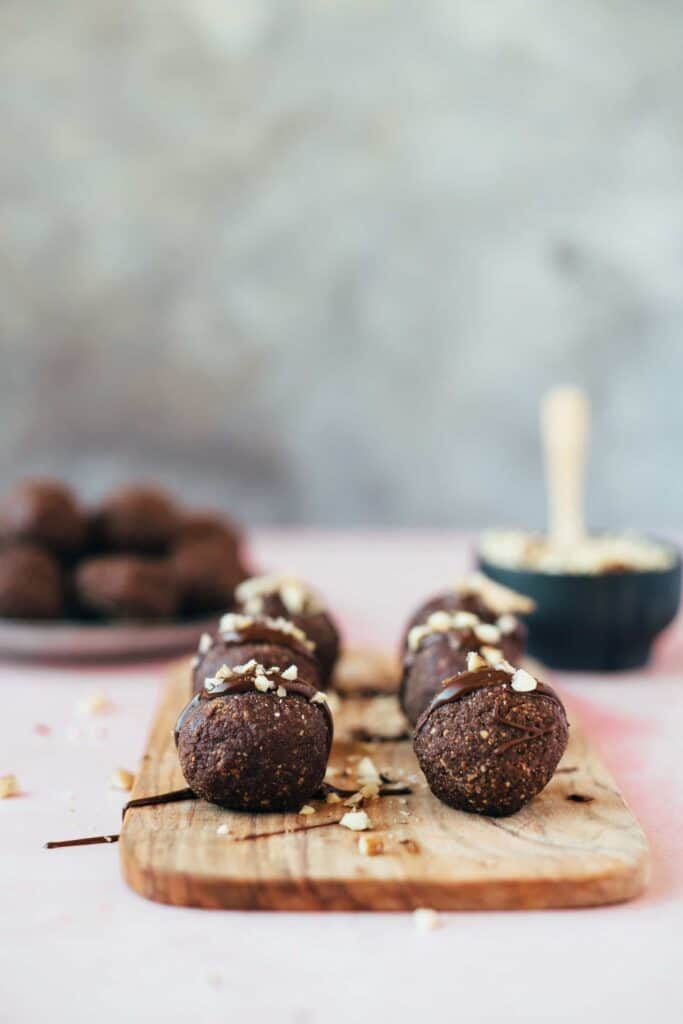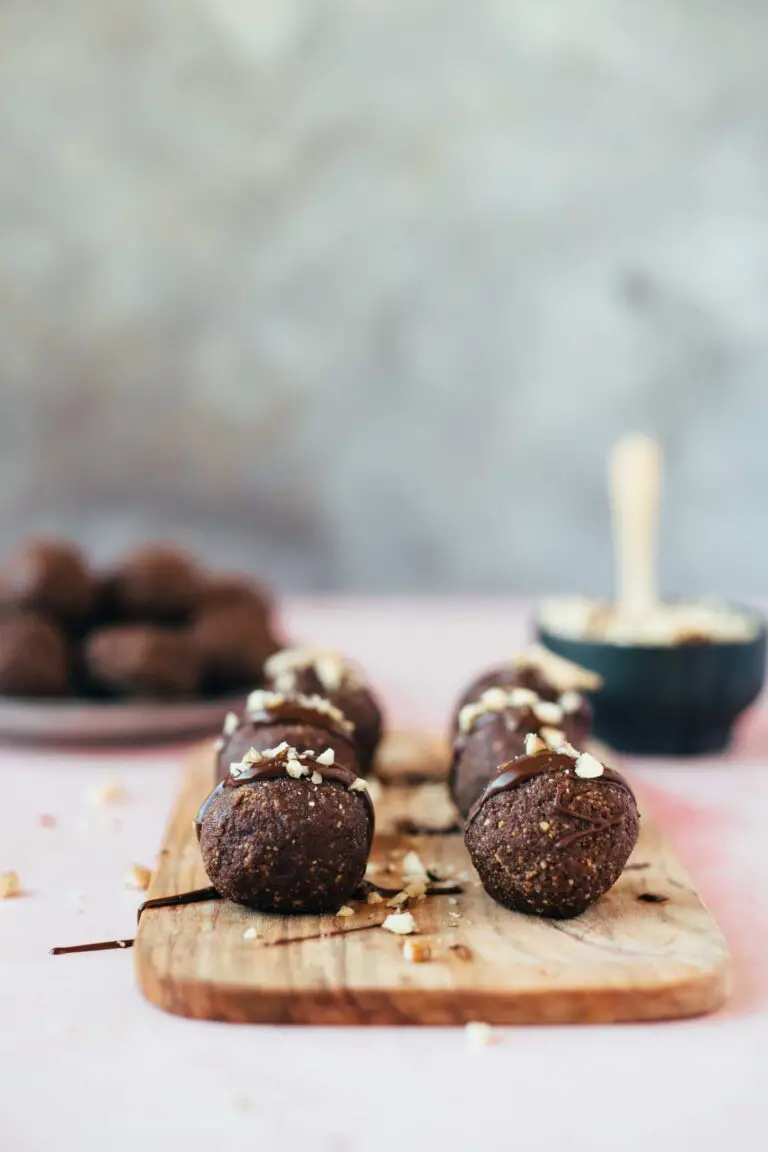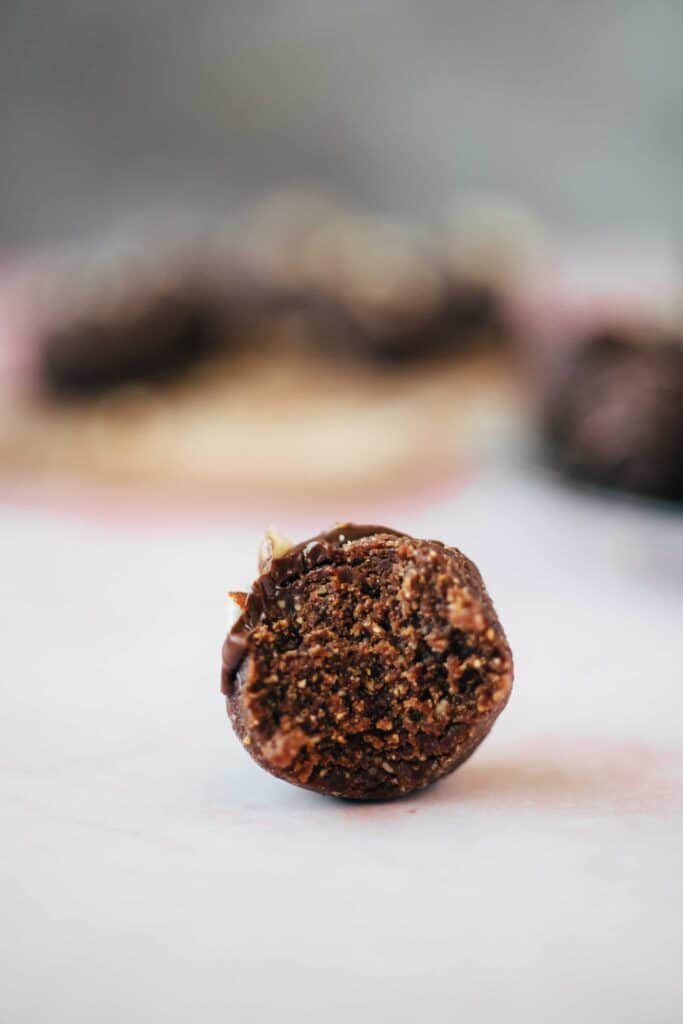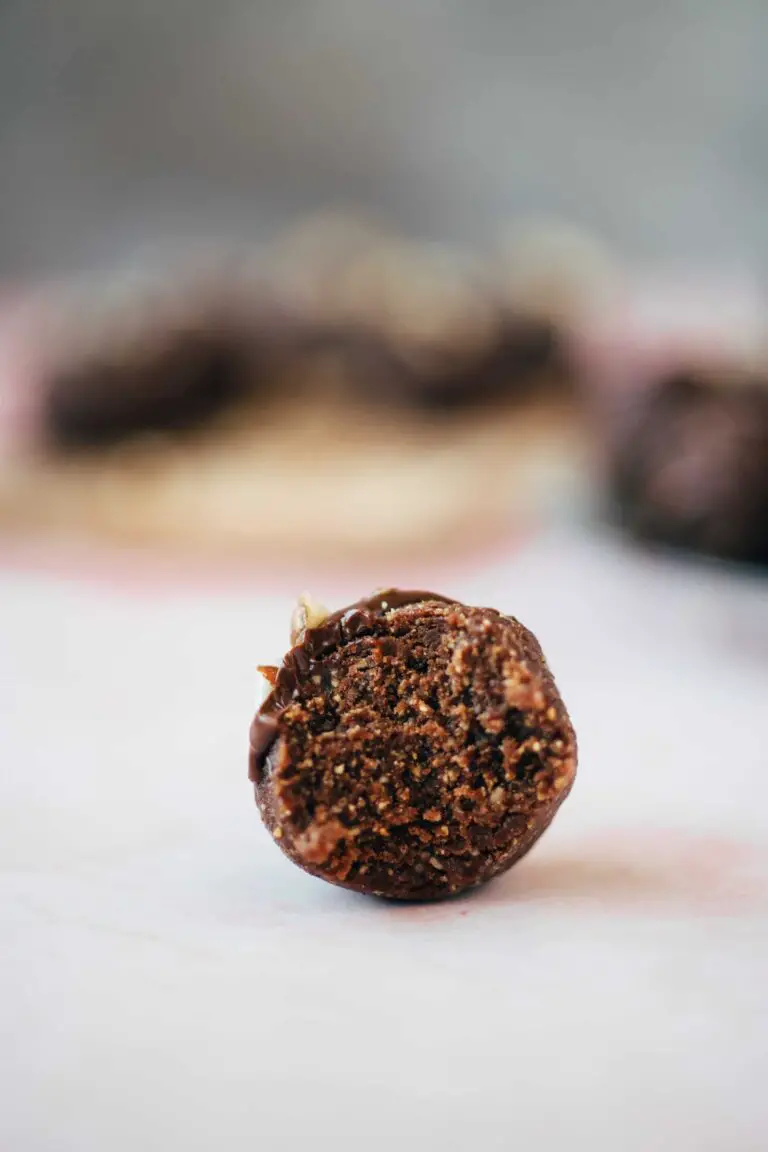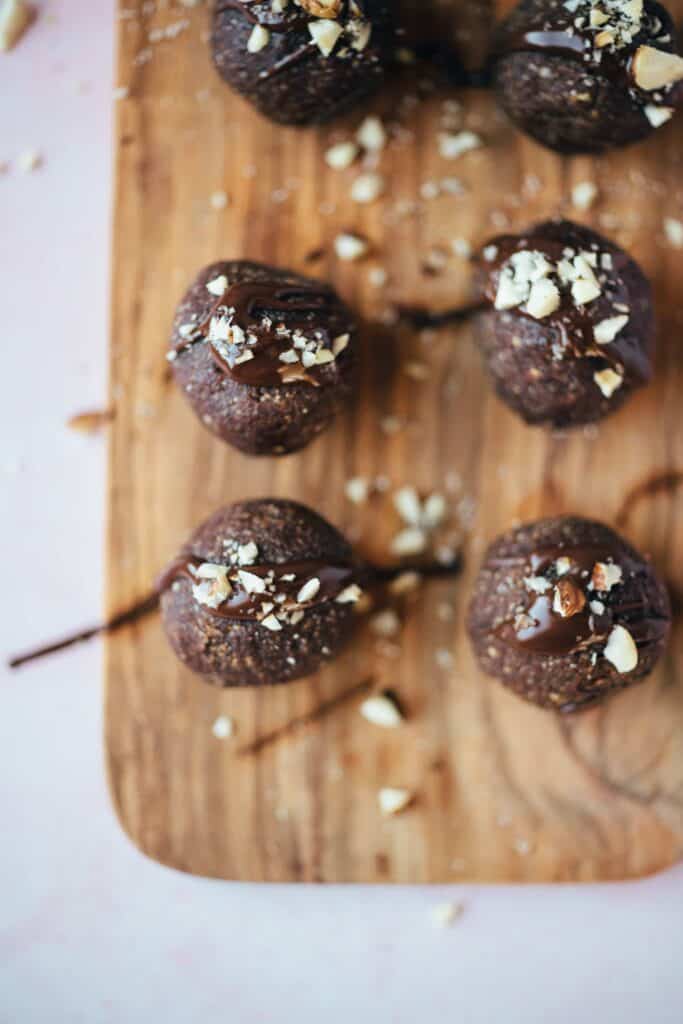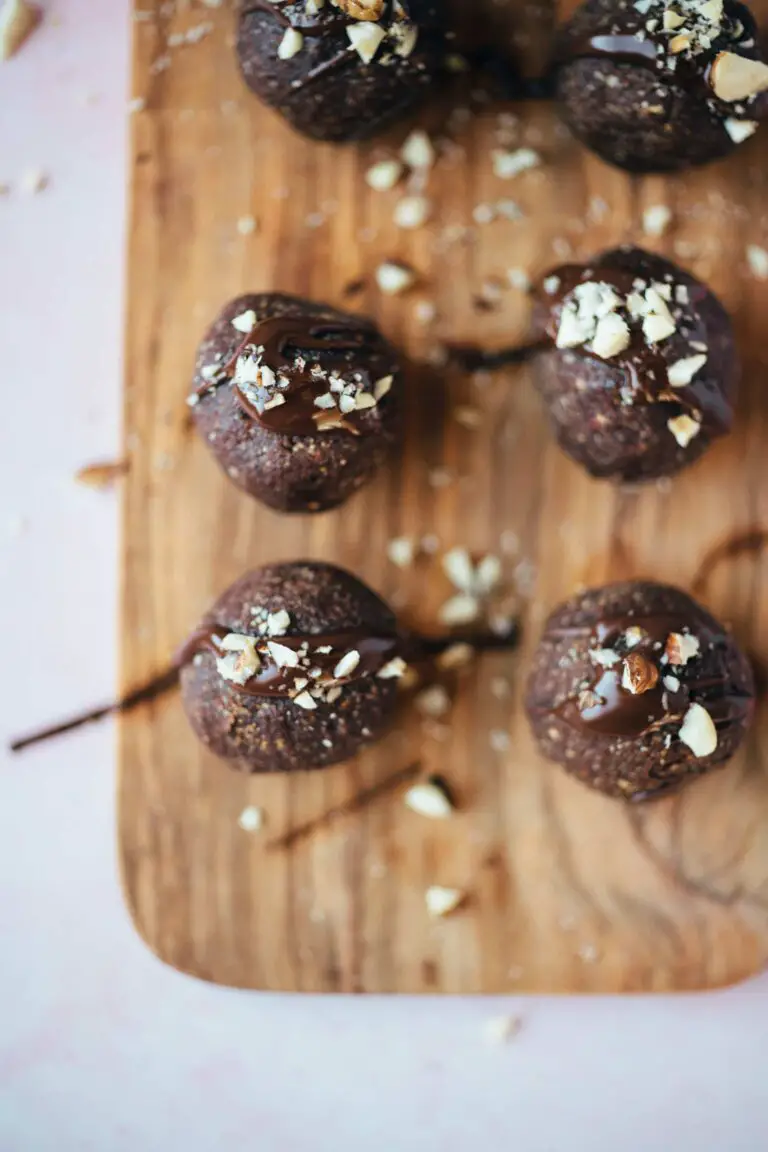 I think it's super important to always have healthy Snacks at home. Especially when you are active and need quick energy. Now I don't just mean the vegan bodybuilder who wants to build mass. People who work, learn or face other challenges in the office also need quick and healthy energy sources. I did an involuntary fast one evening the other day, and the next day I was scheduled for a hike with the dogs. Honestly, I have never felt so tired and powerless as I did that day. Fast, healthy energy suppliers like Bliss Balls are actually little miracles here and quickly provide you with energy in the form of fats, carbohydrates and proteins. Protein in vegan food ? Yes, but so what!
Nutella Bites sweetened with dates, but of course!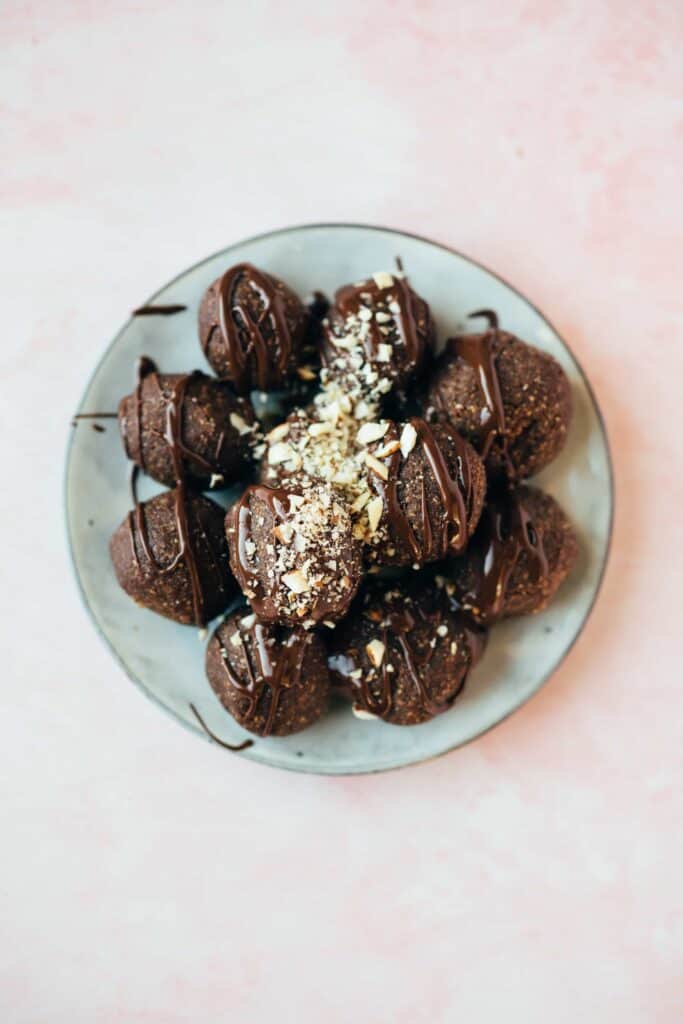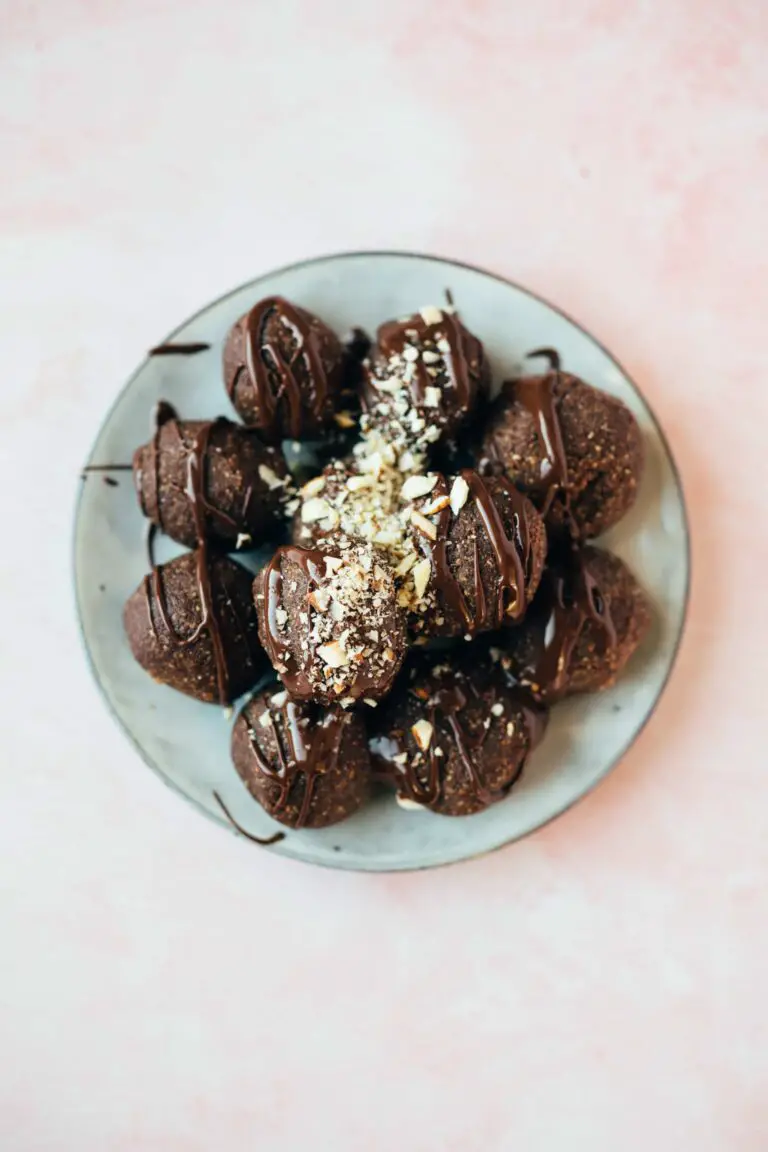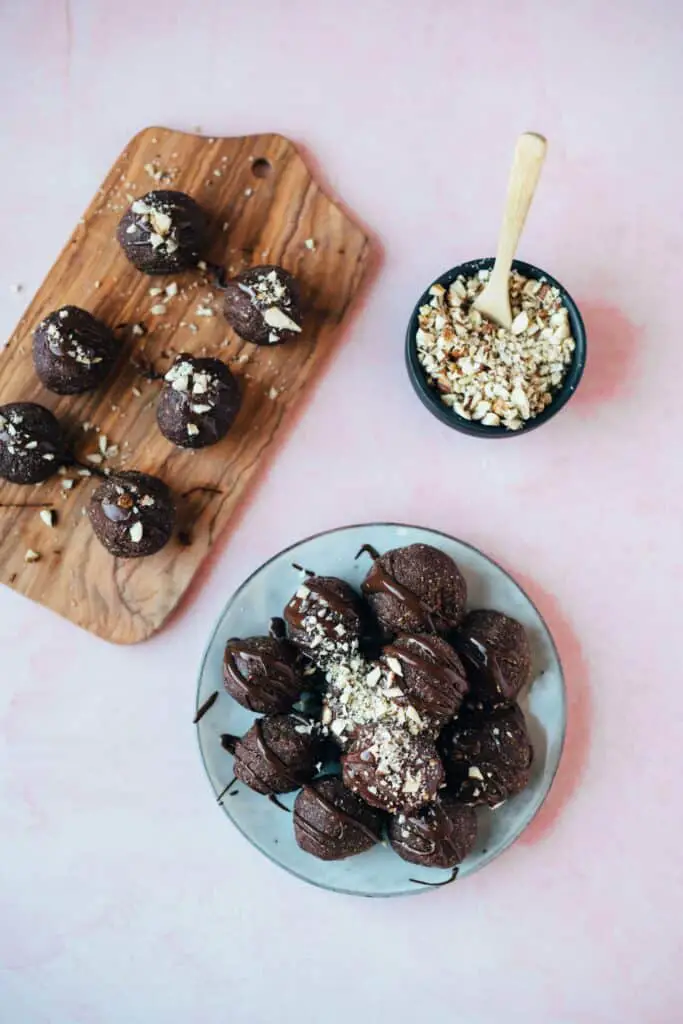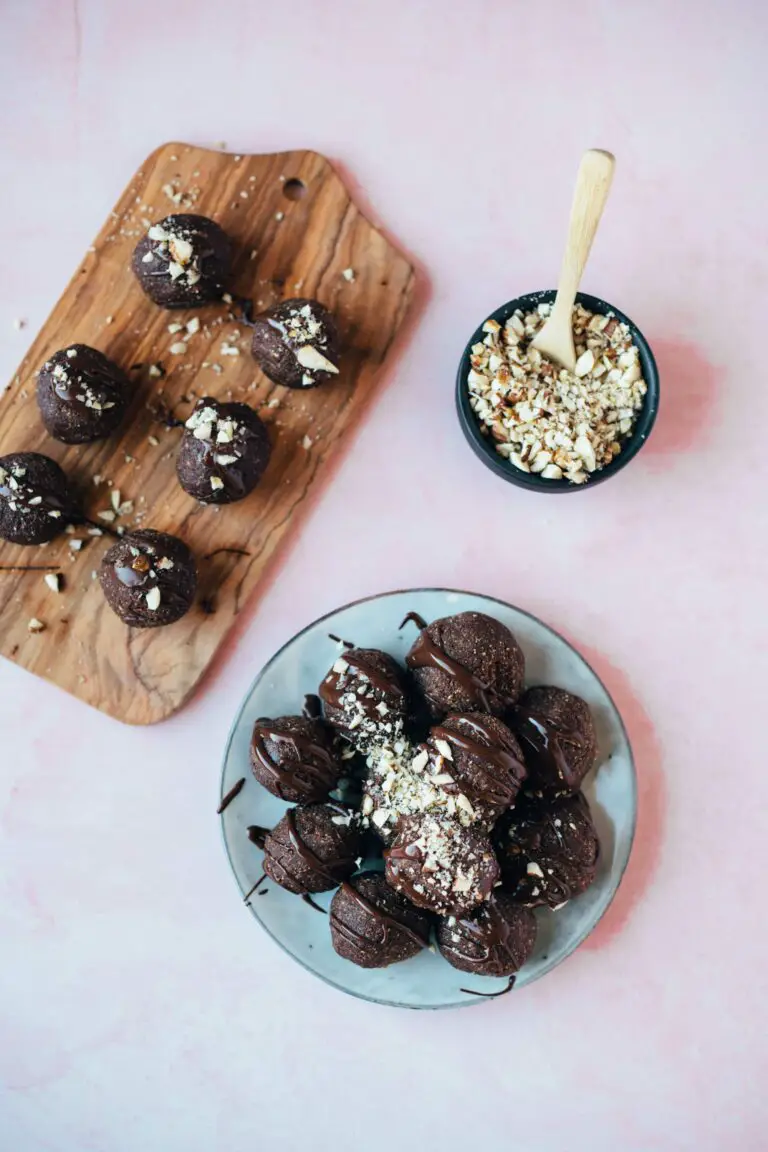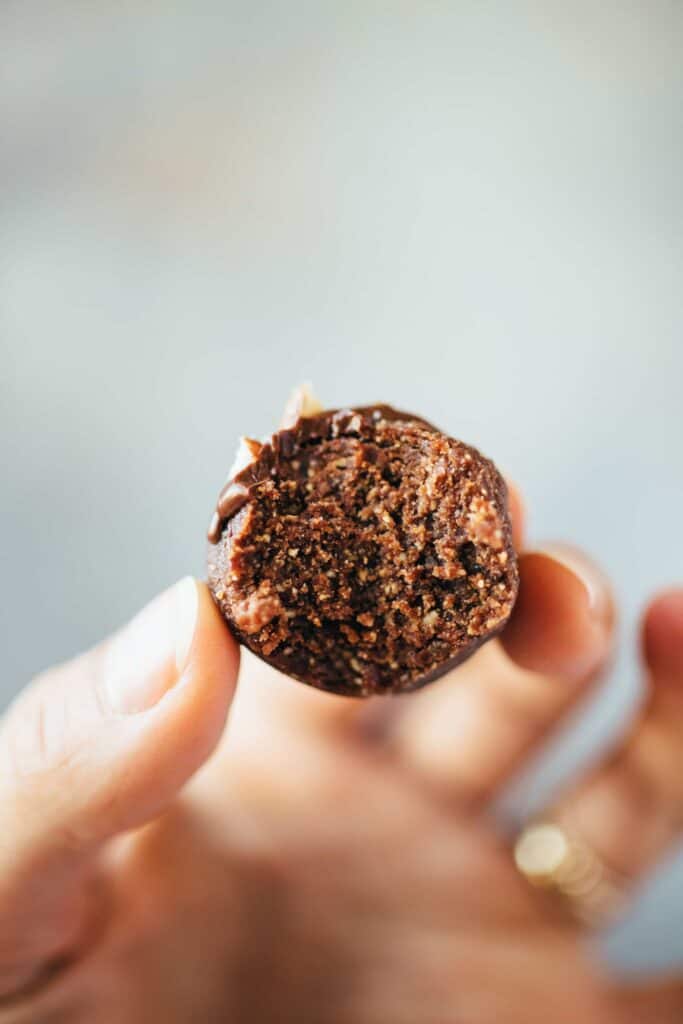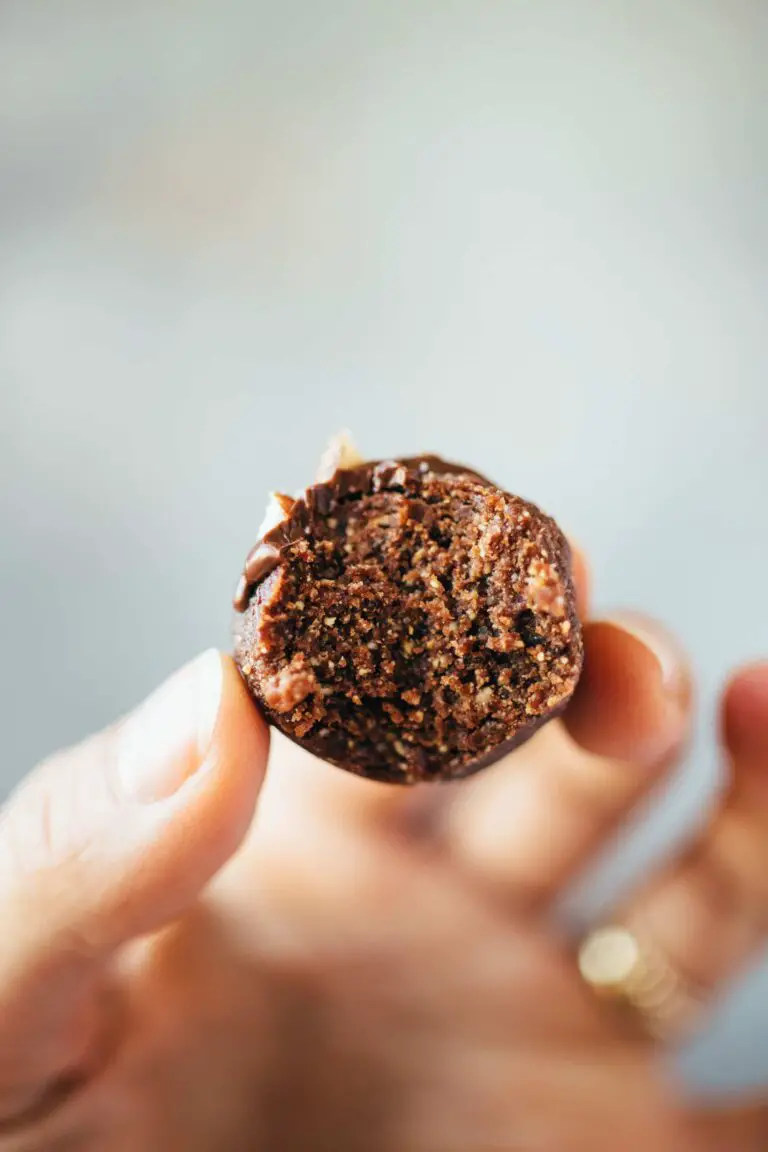 We need exactly 3 ingredients for our bites today: Dates , melted dark chocolate and roasted Hazelnuts . Play a very special role Dates which really have it in them in terms of nutrients:
Rich in healthy fiber
High, natural glucose content of 60-70% make making them an ideal, healthy energy store
Rich in Vitamins A, B, C and D
Rich in iron, folic acid, zinc and potassium
contain tryptophan, the amino acid is the precursor of the sleep hormone melatonin, tip: a few Dates before going to sleep can help!
So you see that our Nutella -Bites not only taste damn good, but are full of healthy ingredients. With the Chocolate simply make sure that it is firstly vegan and secondly with little sugar. Best to take a look at the label. Alternatively, you can make the chocolate yourself by substituting cocoa butter and cocoa powder. More about this below in the ingredients.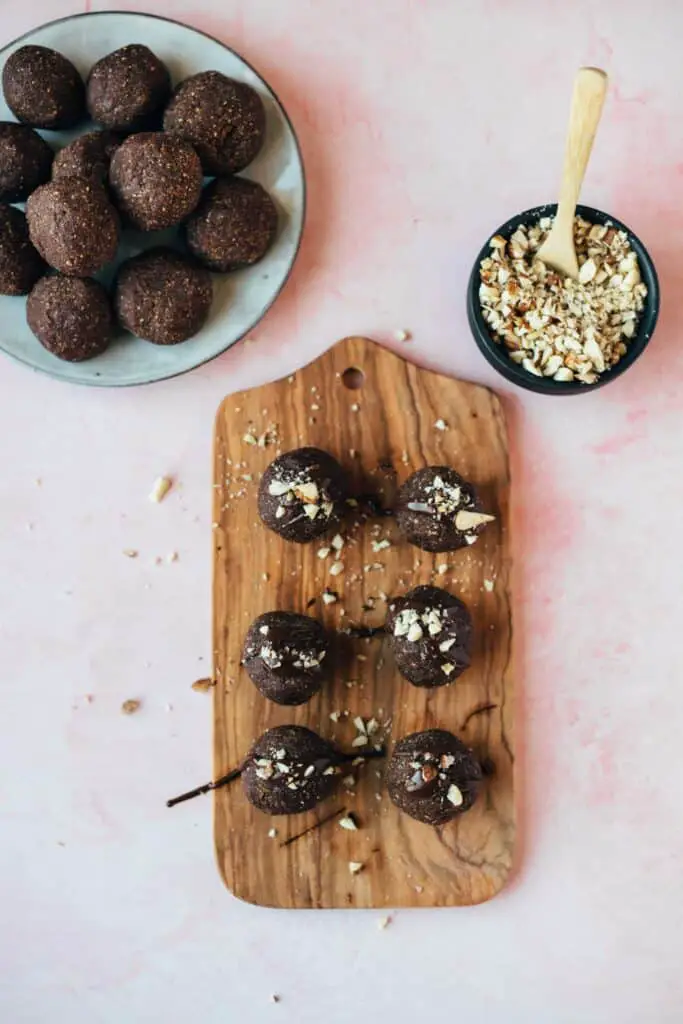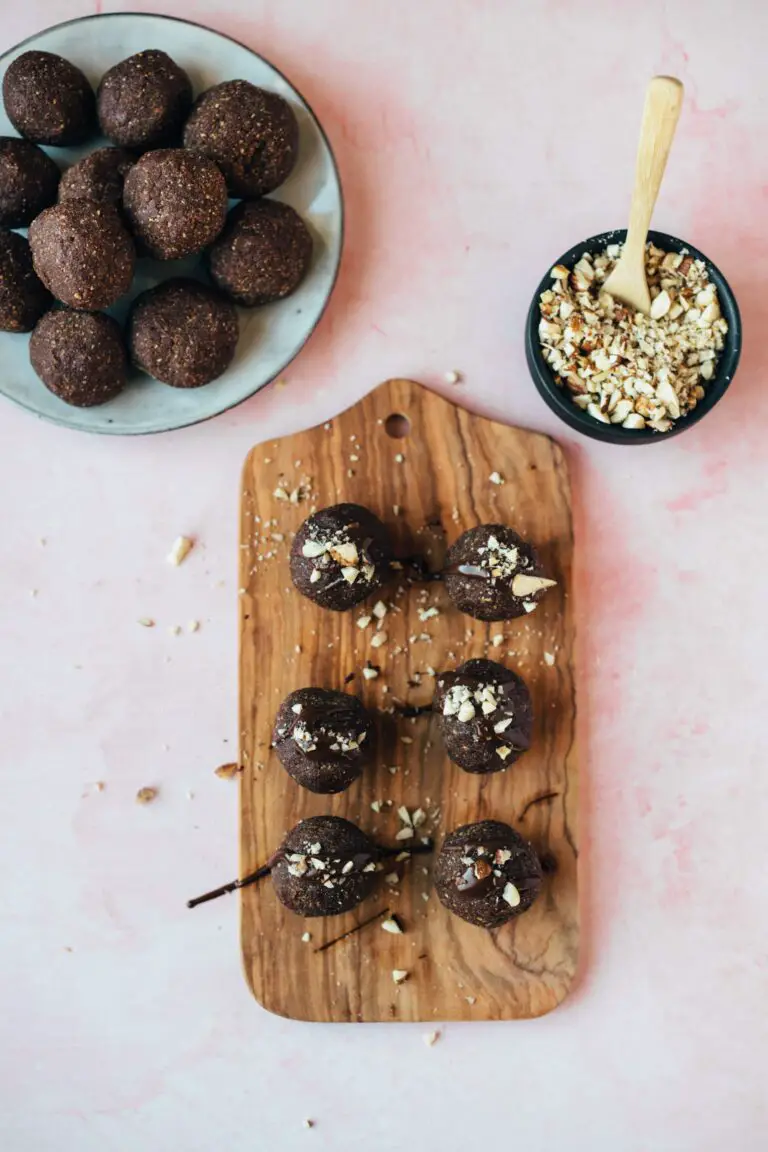 Get started with these delicious, nut nougat Bliss Balls . I hope you enjoy the reel and of course about a review at the bottom of this page. If you post a picture, use the hashtag #veganevibes.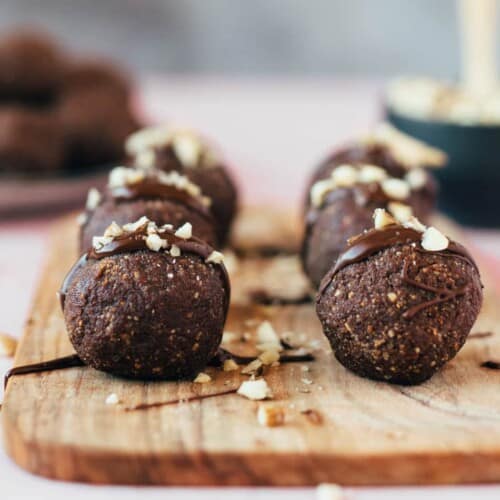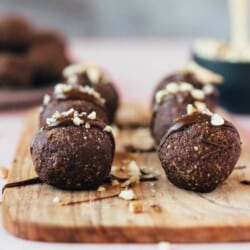 Nutella Bites (3 ingredients)
Extremely delicious, nut-nougat Bliss Balls for the perfect energy in between, vegan and gluten-free. Pithy, nutty and sweetened with healthy, fiber-rich dates.
AUTOR: VEGANEVIBES
TOPPING:
A little more melted chocolate

Chopped hazelnuts
Anleitung 
If dates are very hard, soak in hot water for 30 minutes and strain before processing. For high quality Medjool dates, this step can be ignored as the dates are usually soft enough.

Preheat oven to 175 degrees convection, line with a permanent baking mat or baking paper and spread hazelnuts on top. Put in the oven and roast for

15 minutes

. Halfway through the roasting time, check once to see if the nuts are getting too dark. If necessary, turn down the temperature by 10-15 degrees.

NOTE: This step is omitted if using finished, roasted hazelnuts.

Remove hazelnuts from oven, let cool briefly and place in a clean kitchen towel. Rub against each other with your hands to loosen the shell from the nuts. It will not come off completely for all nuts, but partially. It makes sense to have much of the peel removed, as it can taste a bit bitter.

Place all ingredients in a food processor (I use my MagiMix here) or high-powered blender and blend until a uniform dough is formed. This should be slightly sticky, but not too dry.

140 g Medijool dates,

200 g Hazelnuts,

100 g dark vegan chocolate

With wet hands, form 18 (more or less depending on your preference) balls (I use a portioning spoon for this). For the best result, alternate pressing and rolling. If too much pressure is applied, the bites will fall apart again. Simply work with a little flair.

Optionally decorate with melted chocolate and chopped hazelnuts.

A little more melted chocolate,

Chopped hazelnuts

TIP: Let Bliss Balls soak in the refrigerator for one night, then they become really delicious.

Place remaining balls in a resealable box and store in refrigerator or freezer. In the refrigerator they last about 1 week, in the freezer up to 4 weeks.
Nährwertangaben
Serving:
1
Piece
Calories:
125
kcal
Carbohydrates:
10
g
Protein:
2
g
Fat:
9
g
Saturated Fat:
2
g
Cholesterol:
1
mg
Sodium:
1
mg
Potassium:
169
mg
Fiber:
2
g
Sugar:
7
g
Vitamin A:
12
IU
Vitamin C:
1
mg
Calcium:
22
mg
Iron:
1
mg