Date caramel slices my dears, is once again a snacking highlight deluxe. I was really skeptical at first if this tastes good with only 3 ingredients . The surprise was even greater when I was then allowed to test the result. And what was my reaction? Yes, Yes, Yes! Once again a dream that literally melts in your mouth. There is supposed to be such an extraordinary event at the moment, a so-called carnival or fasching. So it wouldn't be so bad to take some homemade Snacks to take with you. Appropriately, you could dress up as a schoolgirl or schoolboy and carry a backpack with vegan snacks and other Drinks to take with you. So, but now enough with rambling, let's get started with today's Recipe . Alaaaaaffff. Kille Wau and Tangri Tangri!
Nuts, dates and chocolate, this can only be good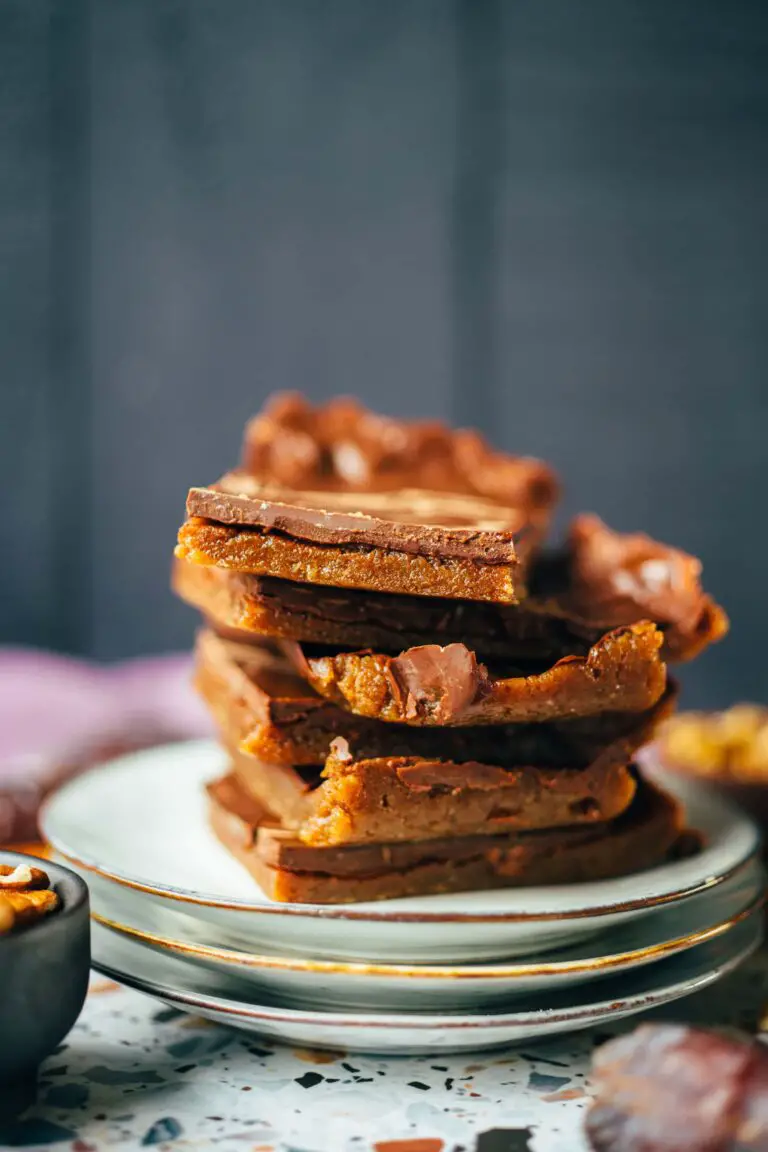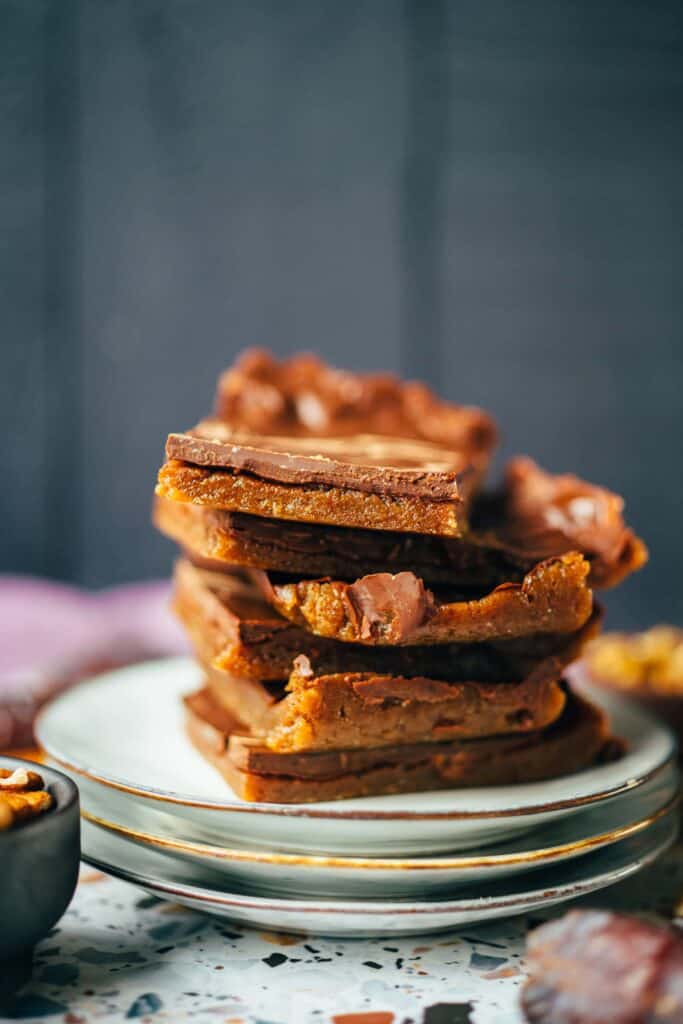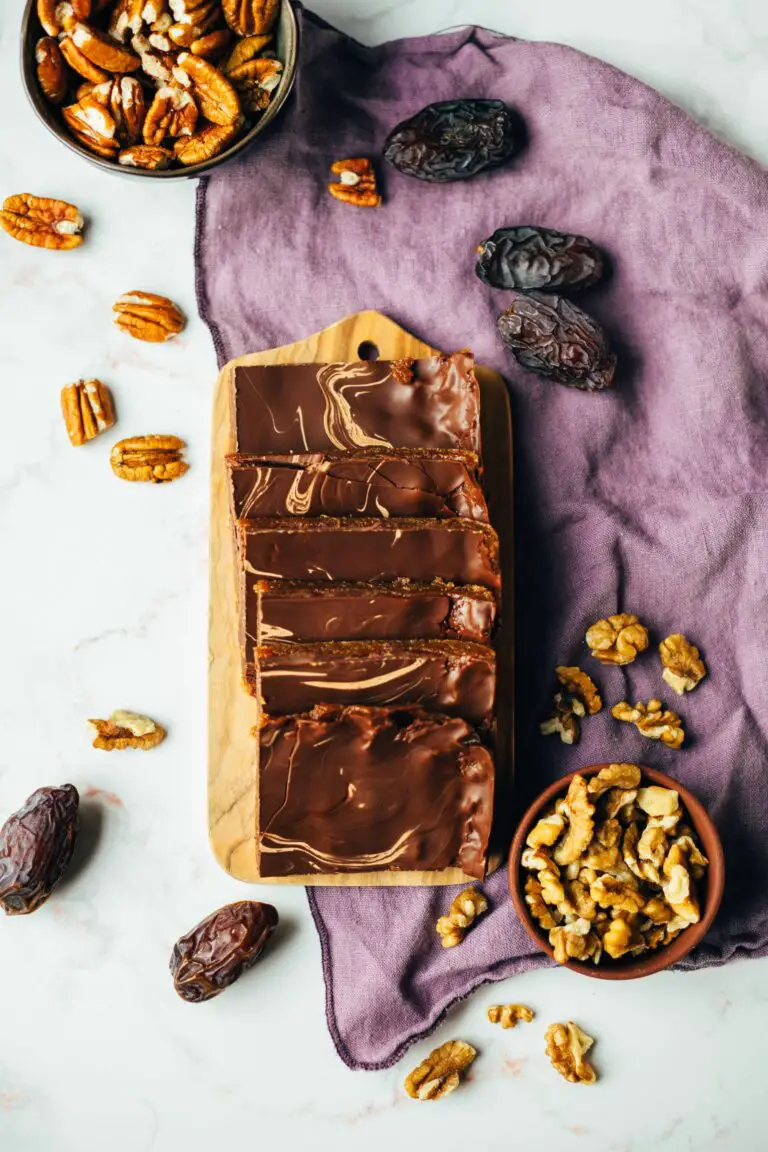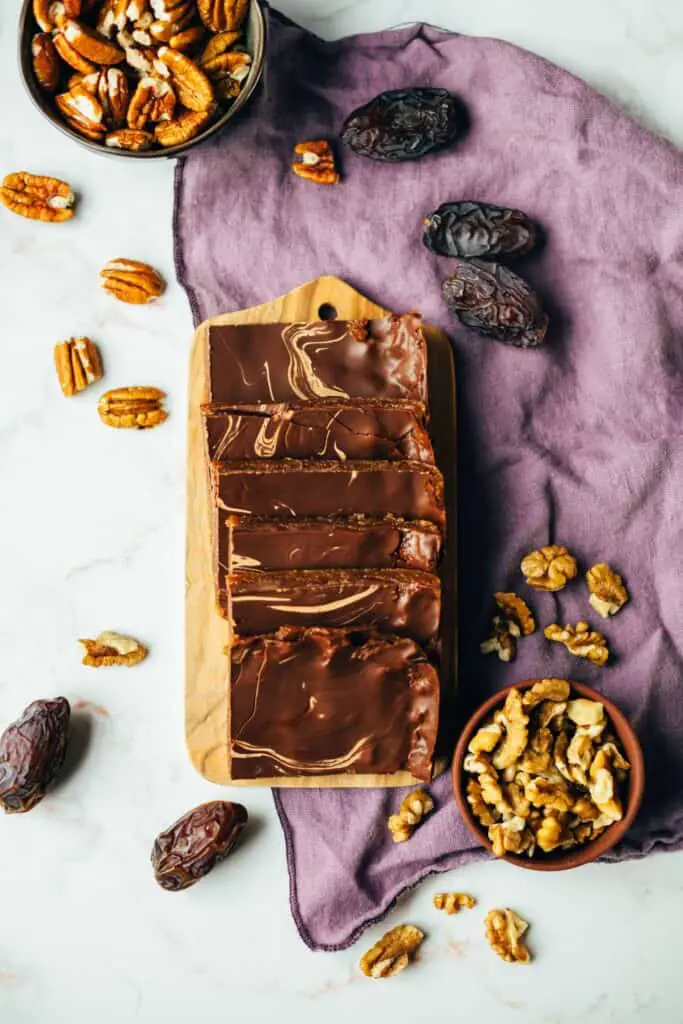 Once again we start with the ingredients list. Chocolate, nuts and Dates , nothing else. The only important thing is that the quality of the ingredients is right. So today I'm going to take a little more time to go into detail about each ingredient:
Dates: Here you should definitely pay attention to the quality. I know, dates are not exactly cheap, but they are full of vitamins, minerals and valuable fiber. It's just worth spending a little more money for. I use relatively much dates and always buy a 5 kilogram package right away. There are online but also very good offers in smaller quantities. Medjool dates are my favorites here, because the so-called king dates are soft, are not overly fibrous and are particularly easy to process.
Nuts: Here, too, it is worth online to look and buy a little in stock. I have linked you to a supplier that offers great quality at a fair price. In addition, the products are packaged and shipped plastic-free, an absolute plus point in my opinion.
Chocolate: Once again, it is important to pay attention to the right quality. I use a vegan chocolate coating of very good quality, as classic chocolates can often be quite bitter. Here I have also linked you to a sustainable manufacturer, of which I am absolutely convinced.
TIP: It really pays to buy large quantities of certain products, store them properly and save money in the process. When buying small quantities, the price per kilo usually increases as well. I store my dates for several months at 6 degrees in the refrigerator and have had only the best experiences.
Prepare vegan date caramel slices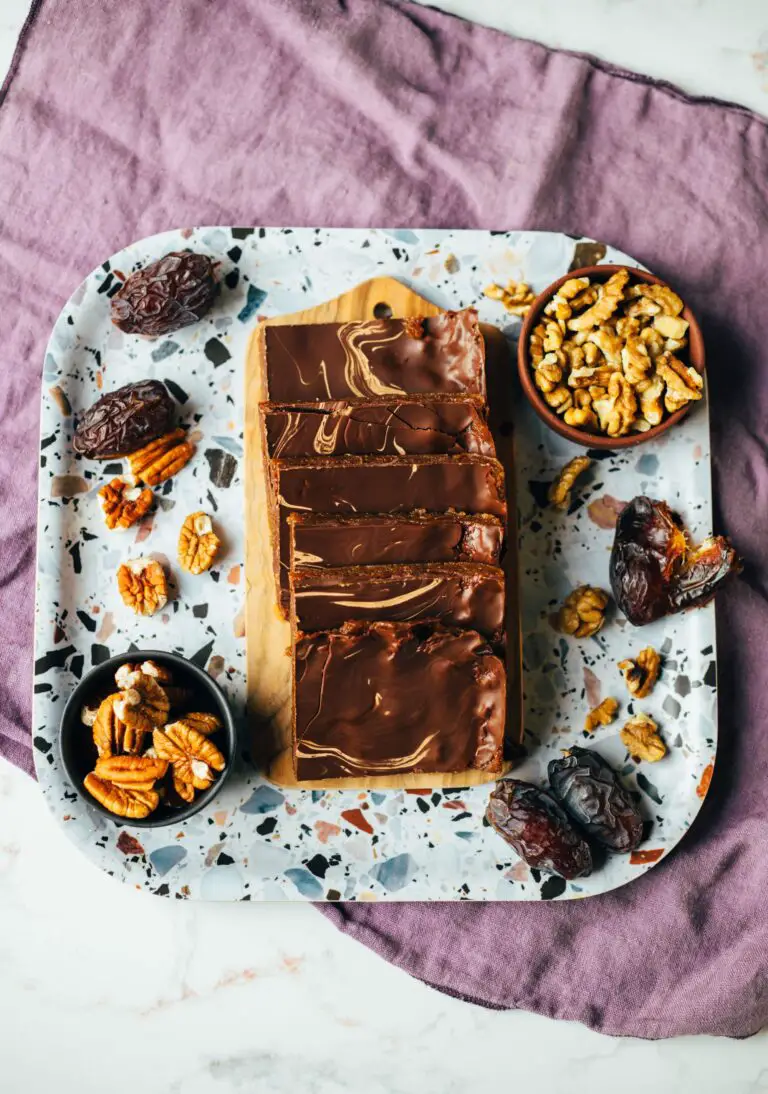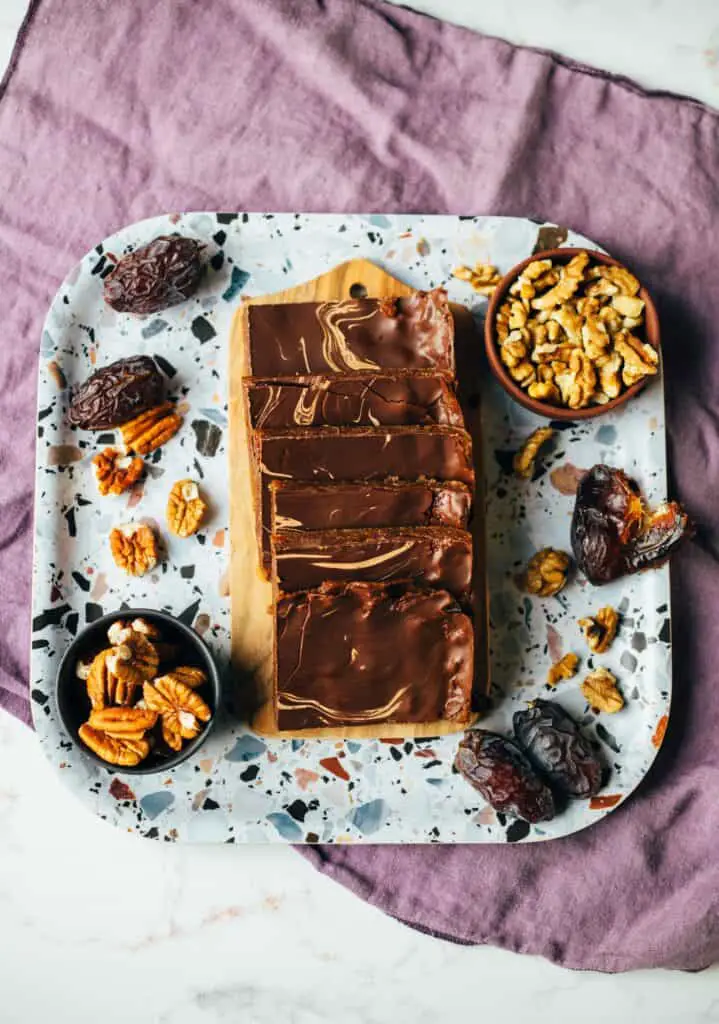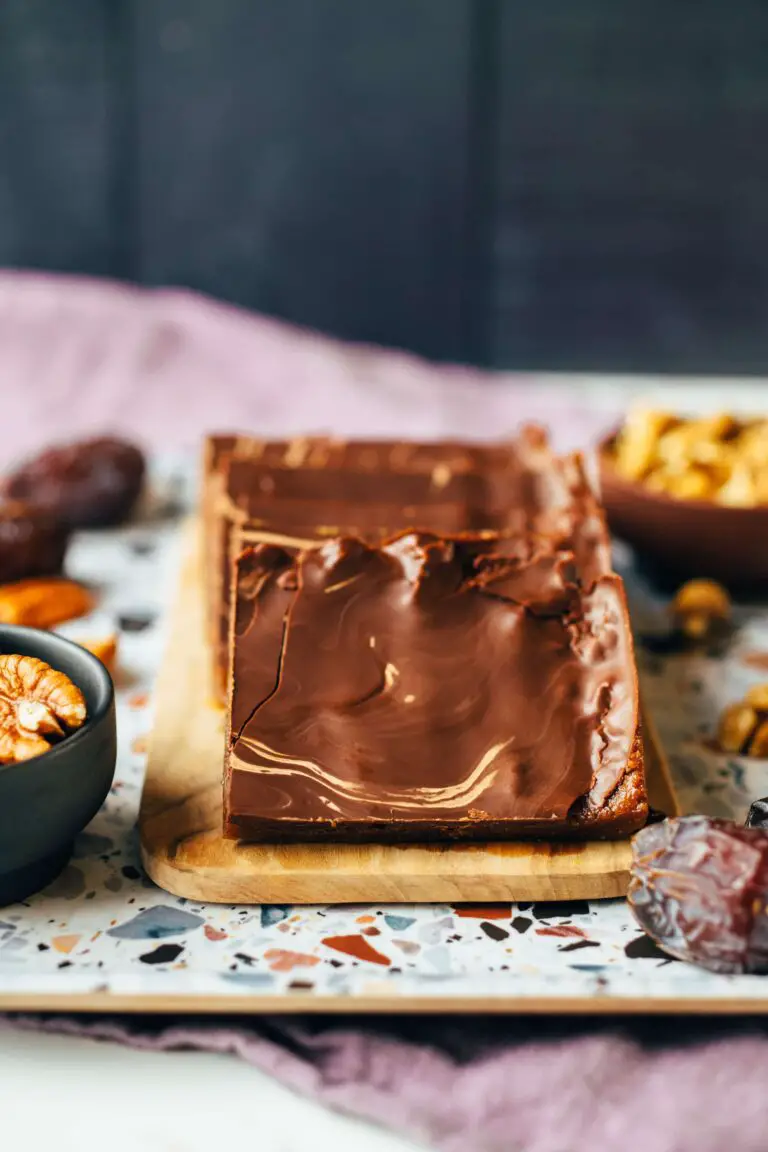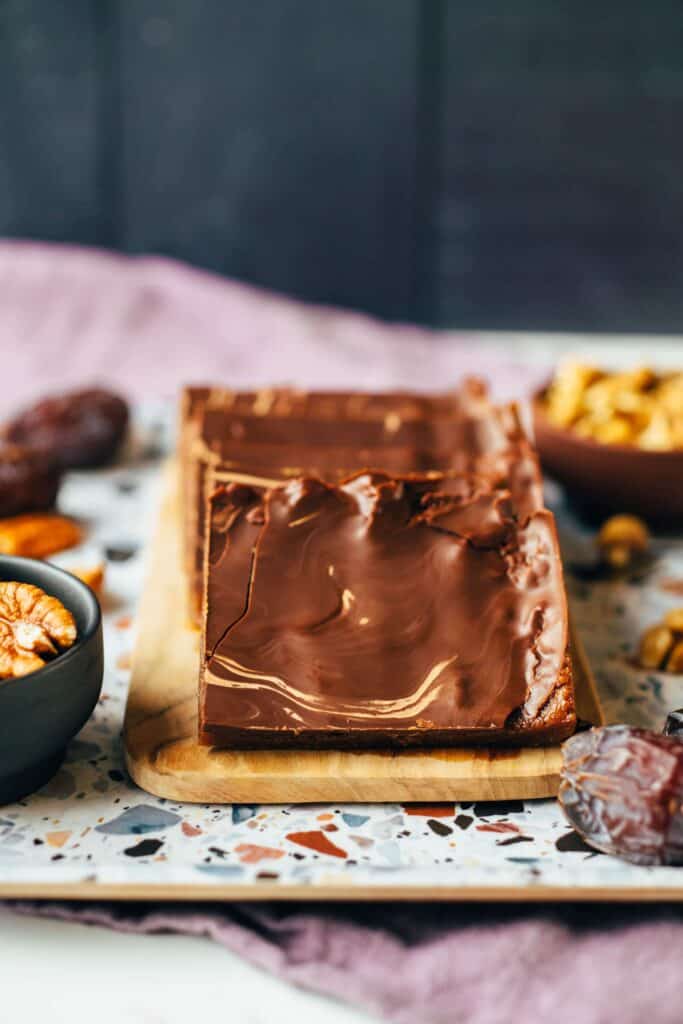 Let's take another look on the manufacturing process, because the devil is in the details. I would like make it as easy as possible for you, so here are my tips and tricks for the Manufacture:
Blender: simply again, a good blender is needed. I use my Magimix, with which I get a super result and the date-nut base is easy to put in. Do you know of other, good food processors that are especially good for processing nuts and dates? I look forward to comments further down the page.
Chocolate: Melt carefully and do not let it get too hot, otherwise it can form unsightly crystals. My trick, melt two thirds of the chocolate over the water bath, remove from heat and then melt the remaining third in it.
Consistency: I like the date-nut base really already crunchy and leave it extra long in the food processor. Here you decide which consistency you prefer. Coarser, finer, everything is allowed. Important If mixed for a long time, the nuts begin to secrete fat. You can either leave it like that or dab it with a clean kitchen towel. I leave the fat in the bulk because it is a whole nut oil with health benefits.
Let's get started with these simple, vegan snack . I hope you enjoy and of course about a rating at the bottom of this page. If you post a picture, use the hashtag #veganevibes.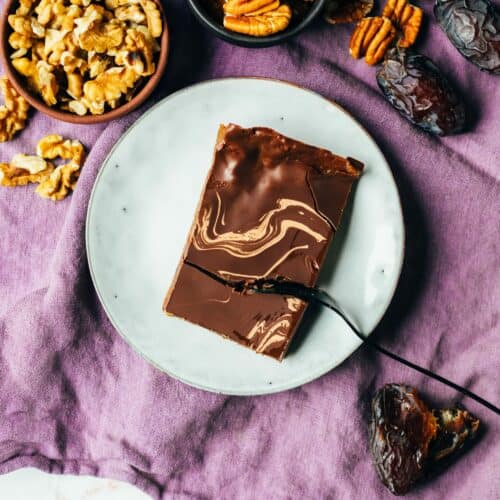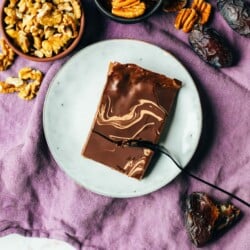 Date caramel slices (3 ingredients) – vegan
Incredibly delicious, caramel slices with only 3 ingredients. Perfect vegan snack with healthy, wholesome ingredients, no added oil, sugar-free and ideal for the whole family.
AUTOR: VEGANEVIBES
12

Piece

Medjool dates

cored *if too dry, soak overnight in water

165

g

Mixed nuts

I use pecans and walnuts, but it goes with all nuts without problems

175

g

Chocolate

good quality melted
Anleitung 
Melt the chocolate carefully over a water bath.

Line mold with baking paper and set aside.

Place pitted dates and nuts in a high-powered food processor and blend until a compact paste is formed. Depending on your preference, leave the consistency finer or coarser. I like them so fine until the fat from the nuts settles and the consistency is really nice and firm and malleable(see video).

12 Piece Medjool dates,

165 g Mixed nuts

Press the dough into the mold and flatten it once really firmly.

Spread melted chocolate over the date-nut base.

Let cool completely and cut into 16 pieces (can be more or less pieces, just as you like).

TIP: The slices taste especially good chilled from the freezer.

enjoy! Place remaining slices in a resealable box and store in refrigerator or freezer. In the refrigerator they last about 1 week, in the freezer up to 4 weeks.
Nährwertangaben
Serving:
1
Piece
Calories:
118
kcal
Carbohydrates:
10
g
Protein:
3
g
Fat:
9
g
Saturated Fat:
3
g
Sodium:
1
mg
Potassium:
67
mg
Fiber:
2
g
Sugar:
6
g
Calcium:
21
mg
Iron:
1
mg