Hempies, you may be wondering what that could possibly be. Honestly, I got the idea to make these delicious snacks via American Instagram icon Earthy Andy. What else are you supposed to do at this time of the year, except celebrate carnival (sorry Cologne people, I meant carnival), or sit on the couch and indulge in your serial addiction and healthy Snacks to chow down? I can still remember when I worked in Cologne and was able to experience the hype in full once. Party without end, empty offices and people desperately trying to get a ticket for a legendary Stunk meeting. Well, and who was lucky enough to be invited there? Me!!! Unfortunately, I understood only half, but I'm probably everything.
Hempies = hemp seeds, puffed rice + chocolate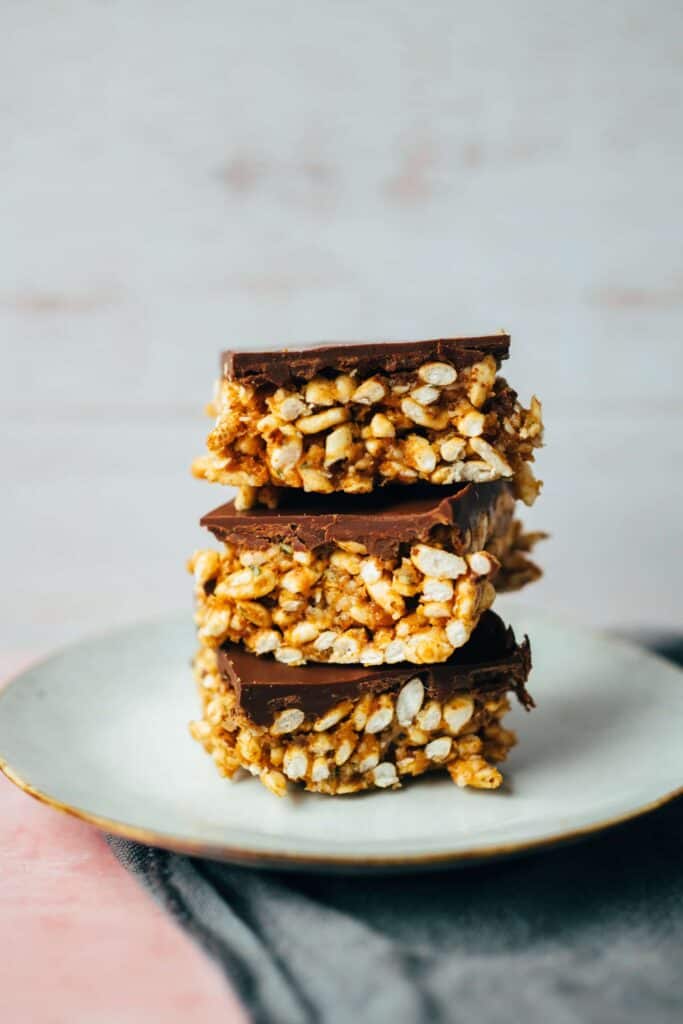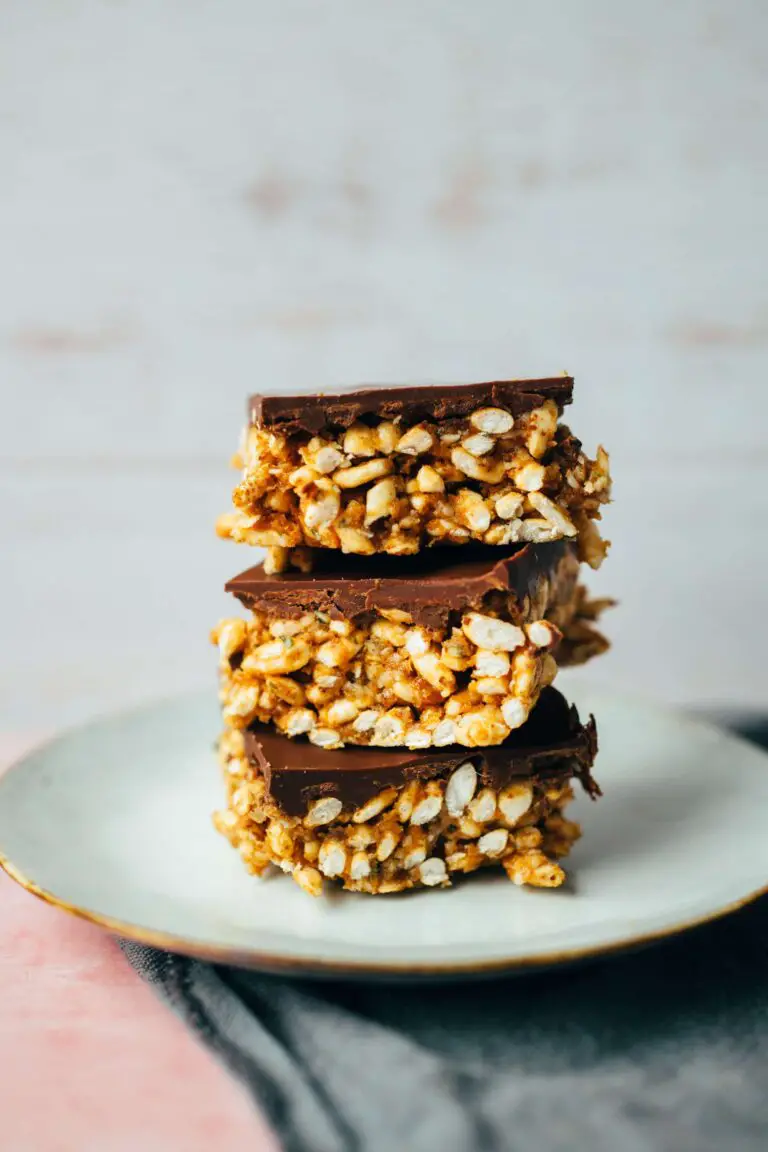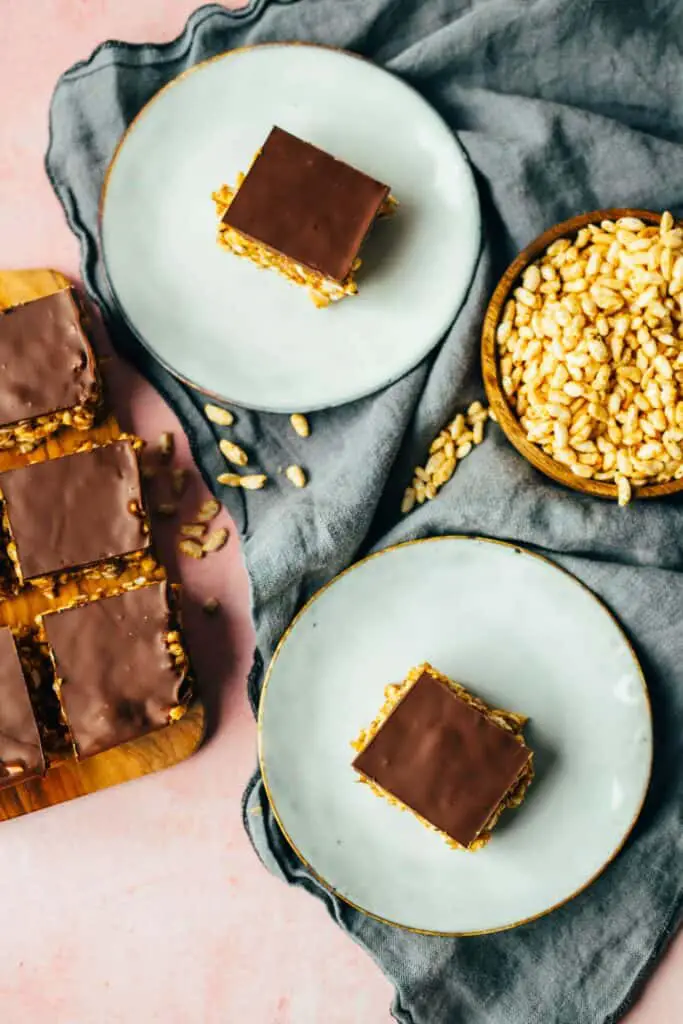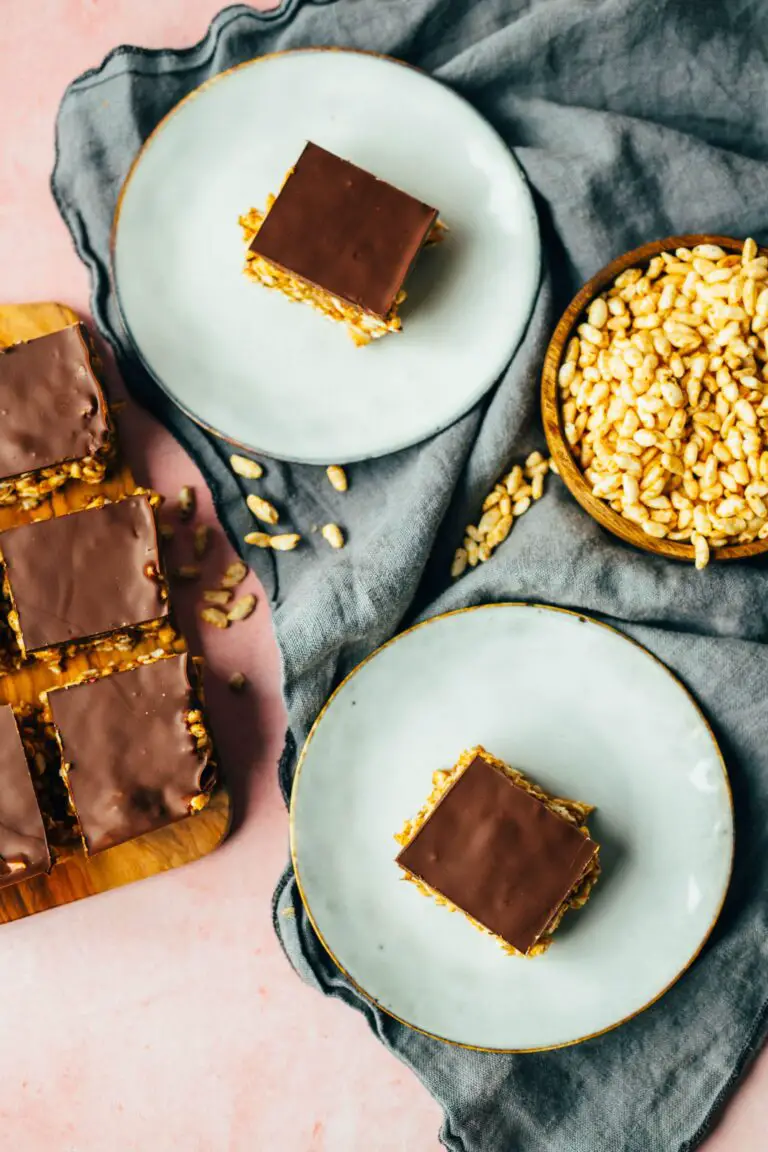 For this Recipe you don't need to have any previous experience, because all you need is a bowl, something to stir with, a mold and a melting pot to Chocolate melt. That's it, but it's allowed to be simple sometimes, isn't it?
Puffed rice, nut butter, hemp seeds, maple syrup, bourbon vanilla and a pinch of salt. No, that's all it will be. Mix everything once and then put it in the mold. Flatten, press and melt the dark vegan chocolate on the side. A little more Nut puree with the melted chocolate and coat the base with it. Let cool and you are ready to go!
I appreciate this kind of Snacks very much because they are very natural and without any extra oil. The nut puree makes them extremely rich and provides you with healthy fatty acids and fiber. The body can get quick energy from the rice Krispies, because they are easily digestible carbohydrates. TIP: I buy whole grain rice Krispies, because the whole grain contains many more micronutrients than white rice, which consists almost only of starch.
How healthy are hulled hemp seeds?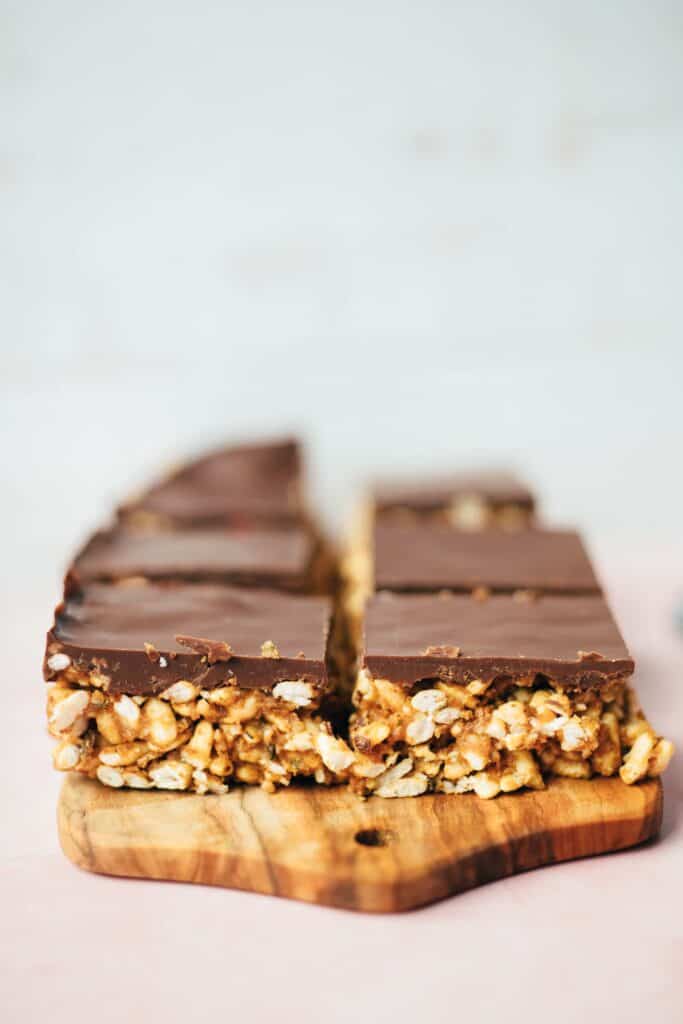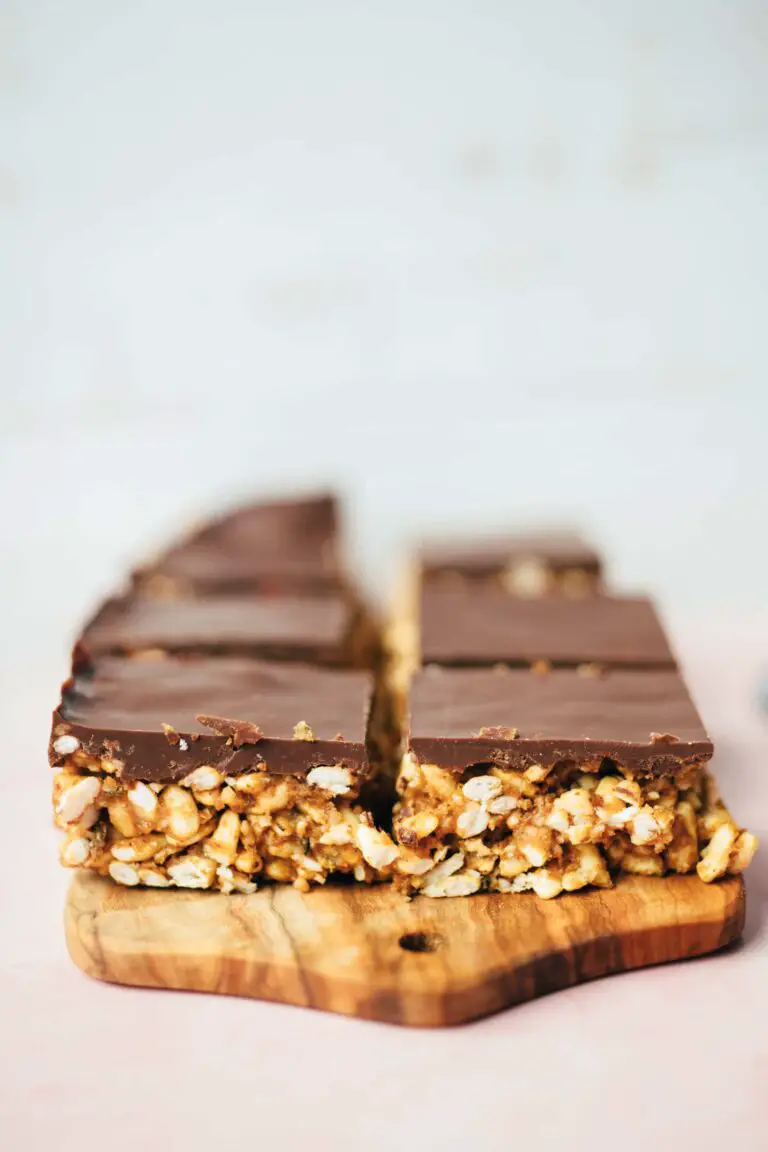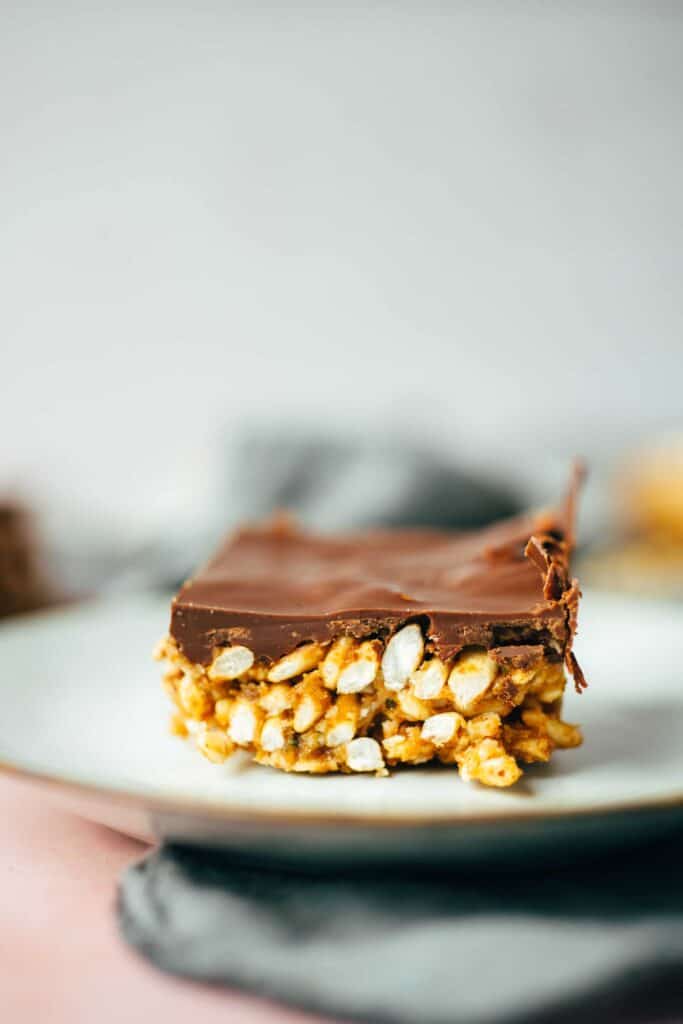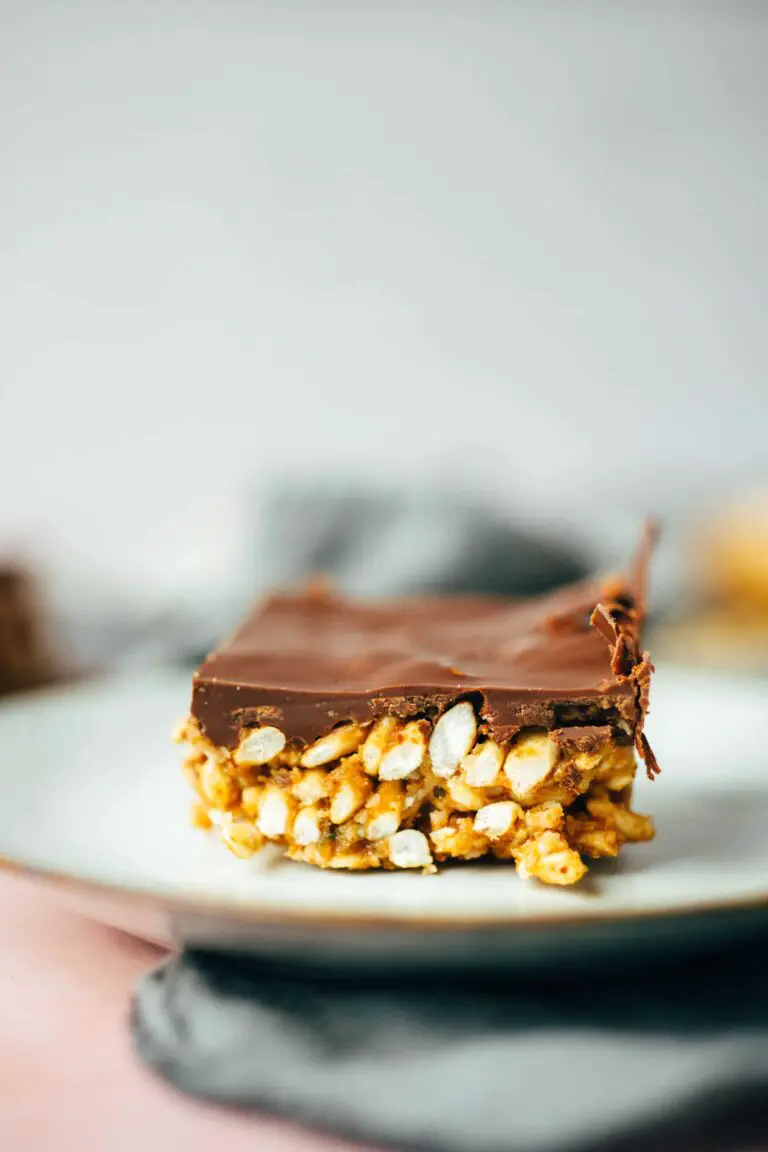 Especially vegan living people run the risk of taking in too little omega-3 fatty acids(anti-inflammatory) and too much omega-6(pro-inflammatory). Valuable sources of omega-3 are, for example. Walnuts , flaxseed and hempseed and, of course, the oils derived from them. Hemp seeds play an exceptional role in this, because they are literally packed with healthy micronutrients. It contained, among other things:
Vitamin B1 and B2 (mental health)
Polyunsaturated fatty acids (heart health, cholesterol)
Trace elements such as calcium, magnesium, iron and potassium
Vitamin E (muscle regeneration, skin & hair)
Valuable amino acids (performance, muscle formation)
Furthermore, hemp seeds are said to strengthen the immune system and can alleviate the symptoms of premenstrual syndrome (PMS). can alleviate (I know what I am talking about). These include especially fatigue, mood swings and cramps. For me, hemp seeds definitely have a permanent place in the kitchen.
Let's get started with these delicious vegan hempies. I hope you enjoy snacking and of course about a review at the bottom of this page. If you post a picture, use the hashtag #veganevibes.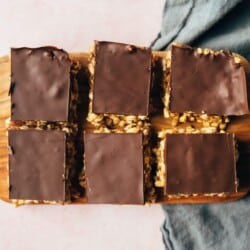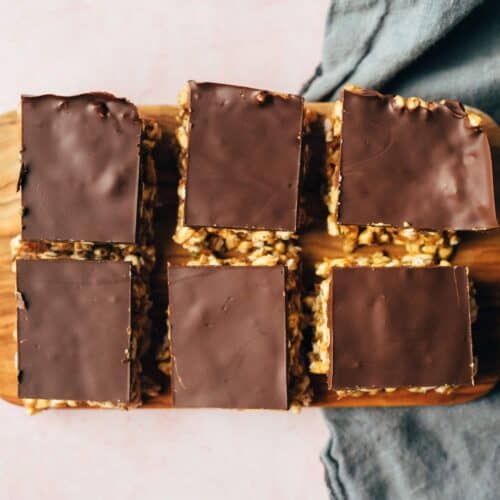 Hempies (7 ingredient vegan)
Extremely delicious gluten and oil free snacks with whole grain Krispies (Hempies), nut butter, maple syrup, hulled hemp seeds and delicious vanilla. Perfect, substantial snack for the whole family.
AUTOR: VEGANEVIBES
Anleitung 
Melt the chocolate carefully over a water bath.

250 g vegan dark chocolate

Line mold with baking paper and set aside.

Provide bowl, add Krispies, maple syrup, nut puree, hulled hemp seeds, bourbon vanilla and salt and stir vigorously once until well combined.

100 g Whole Rice Krispies,

110 ml maple syrup,

250 g Nut puree,

60 g Hulled hemp seeds,

¼ tbspn Bourbon vanilla,

1 Pinch of salt

Pour the dough mixture into the mold and flatten it once really firmly (see video).

Mix the melted chocolate with the nut puree (1 tablespoon) and spread over the Krispie Nut batter.

250 g vegan dark chocolate,

15 g Nut puree

Let cool completely and cut into 24 pieces (can be more or less pieces, just as you like).

enjoy! Place remaining Hempies in a resealable box and store in refrigerator or freezer. In the refrigerator they last about 1 week, in the freezer up to 4 weeks.
Nährwertangaben
Serving:
1
Piece
Calories:
157
kcal
Carbohydrates:
16
g
Protein:
4
g
Fat:
9
g
Saturated Fat:
3
g
Sodium:
59
mg
Potassium:
34
mg
Fiber:
3
g
Sugar:
9
g
Vitamin A:
117
IU
Calcium:
44
mg
Iron:
2
mg