A sandwich with "tuna" Cream somehow always reminds me of beach trips to the sea or lake. Don't ask me why, but I associate it with that. Today is the really first, hot day in Bavaria and I maybe already go to the lake. Let's see how quickly I will finish writing this recipe. Tuna I used to eat with great pleasure, also in combination with Egg . Ever since I learned the facts and figures about how much marine plastic is now contained in a single Fish is contained in a single fish, I have lost my appetite. Therefore, curtain up for the greatest vegan alternative ever. Let's get started!
Sandwich with tuna cream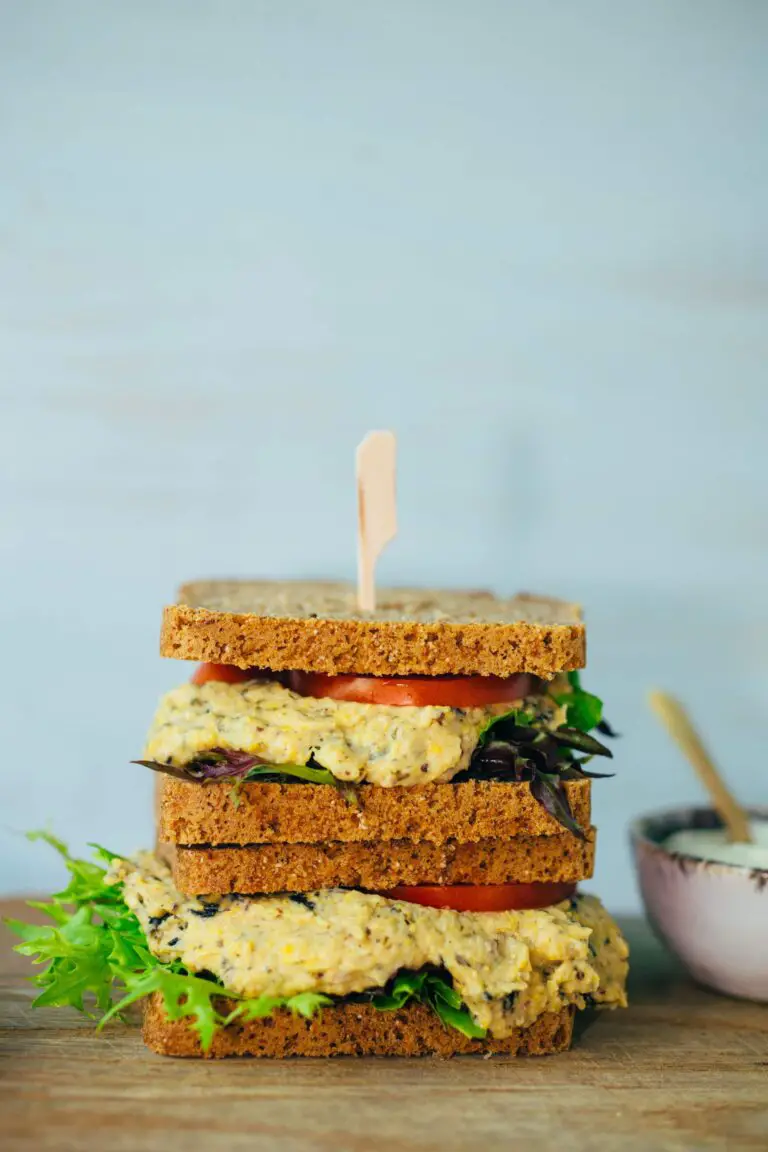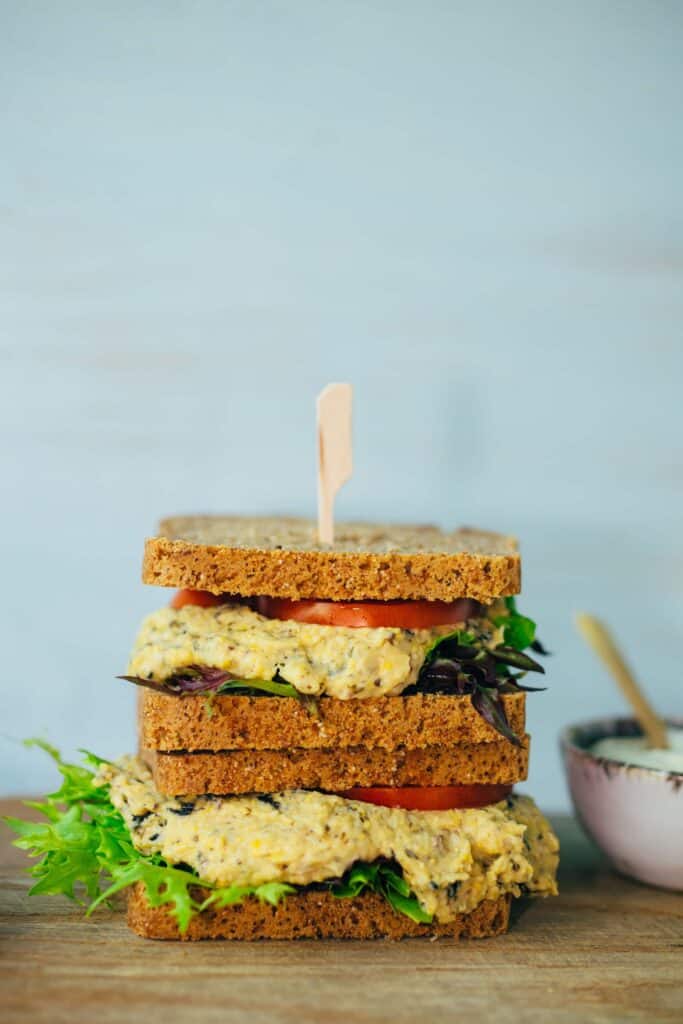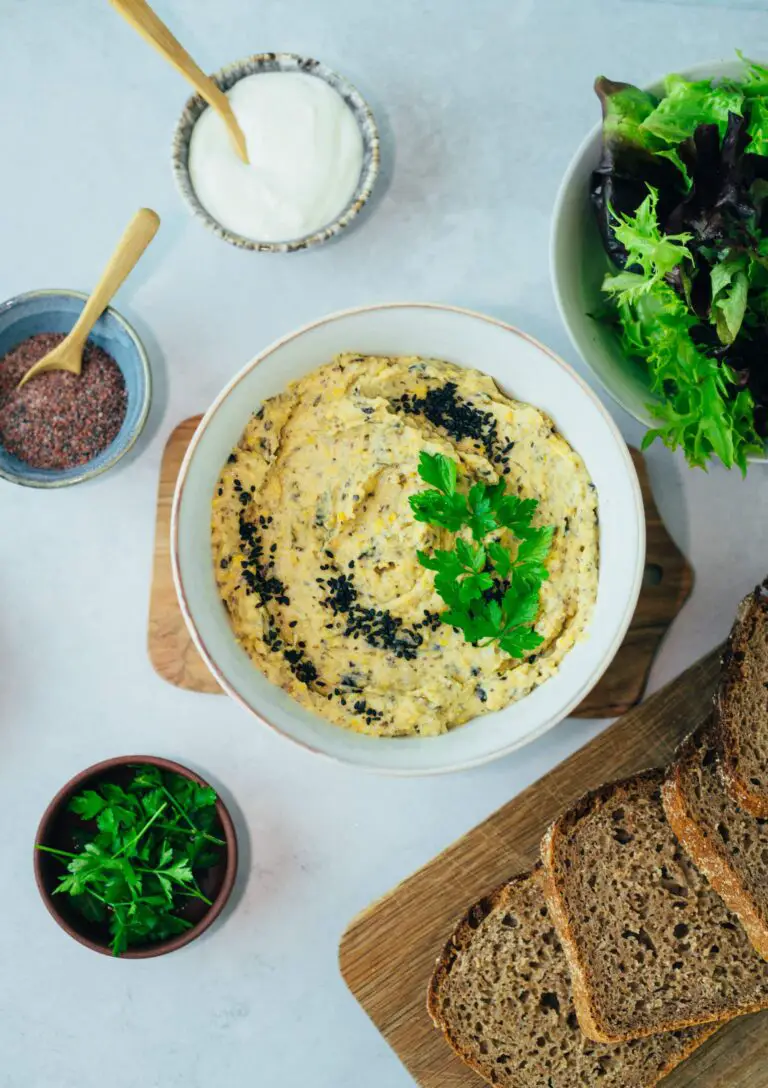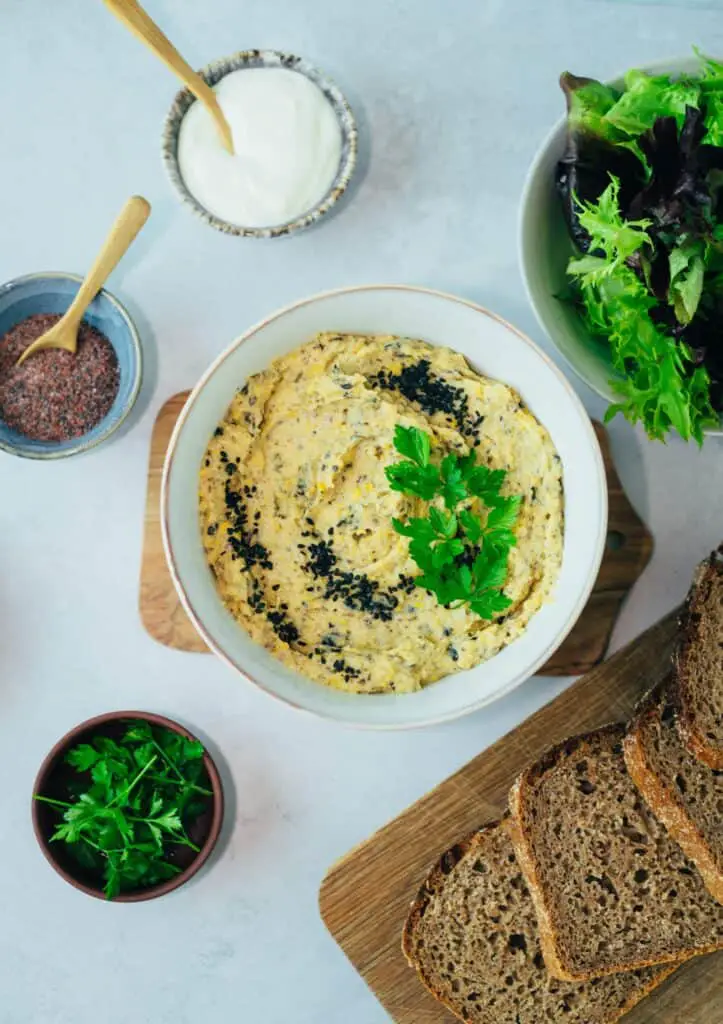 I'm already counting the hours until the first comment comes with the hint that there is no vegan tuna. I'm definitely aware of that, but how else would someone please find this post? I can also call it "tuna" or "cream that tastes like fish". I am sure that we please the fewest. So I just stick with my "vegan tuna cream". Let's move on to the ingredients. First, we shred a nori leaf. I do this in my MagiMix, otherwise any other blender works just fine.
TIP: If you don't have a blender, just cut the nori sheet as small as possible with a sharp knife.
Add to this Chickpeas , corn, vegan mayonnaise , red onion, vinegar, kala namak (or normal salt) and pepper. If you like, add a teaspoon of maple syrup to round out the flavor a bit.
TIP: Chickpeas and corn, if possible, pat dry with a clean cloth after washing. If there is too much liquid in the mixture, the cream can quickly become mushy.
What actually is Kala Namak?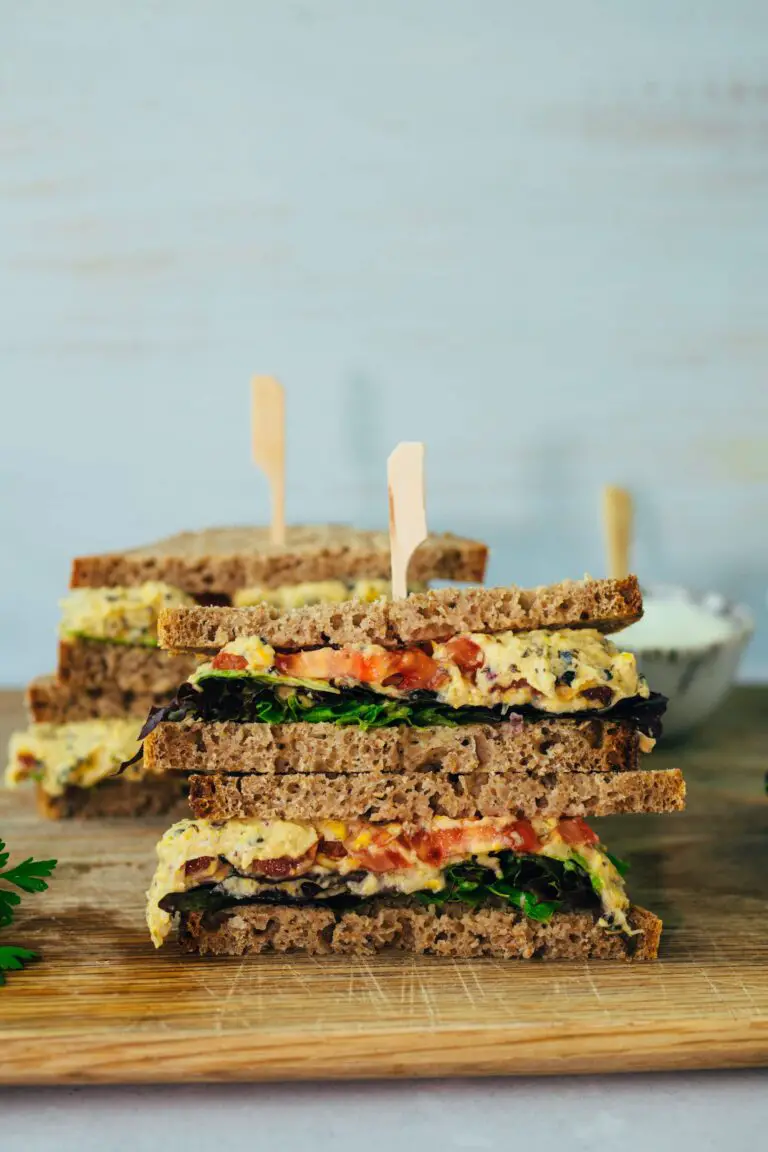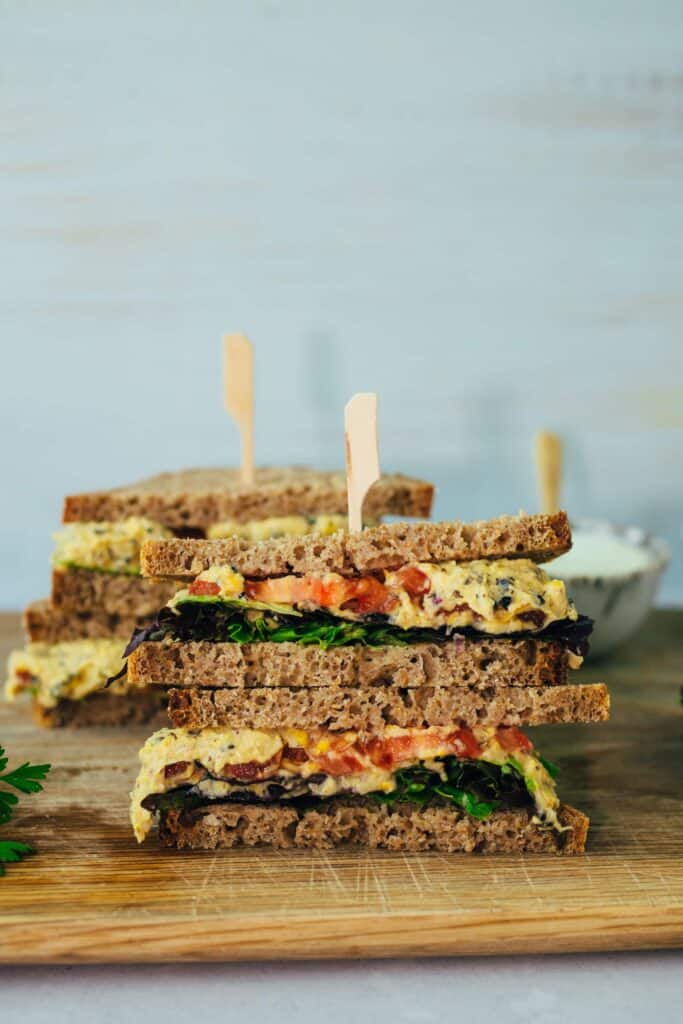 Maybe you have asked yourself more than once what exactly Kala Namak is. I have already used it in various Recipes and it is used here again. I always use it when I want to recreate the taste of hard boiled eggs. This goes very well with the vegan scrambled eggs or even in combination with our today's tuna cream.
Kala Namak is a black salt, or black salt, that comes almost exclusively from India or Pakistan. The gray-pink salt variety gives dishes a particularly aromatic flavor. The flavor is sulfurous-smoky and can, in addition to being used as a " Egg" substitute , it can also be used to refine many other dishes. In the gourmet kitchen, even fruit desserts are refined with it.
What else fits on our Sandwich ? Fresh lettuce leaves, tomatoes, avocado and fresh parsley round out the tuna cream wonderfully. If you'd rather try a different vegan spread today, I highly recommend my Beet hummus or the vegan liverwurst.
The sandwich with tuna cream is:
"fish-like"
creamy
High in protein and fiber
Few ingredients
Simply made
Do you love this tuna cream as much as I do? Then I look forward to a review at the bottom of this page. If you post a picture, then like to use the hashtag #veganevibes.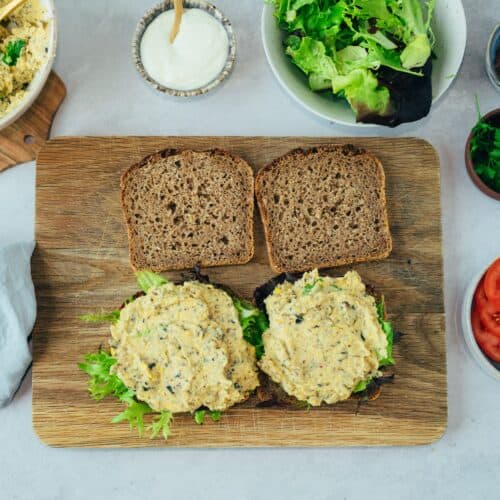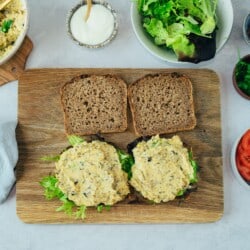 vegan "tuna" cream
Quick sandwich with homemade vegan tuna cream, perfect for those who want to satisfy their hunger for fish with a vegan option. Rich in fiber and valuable vegetable proteins.
AUTOR: VEGANEVIBES
OTHER:
Wholemeal bread or toast

Sliced tomatoes

Leaf salads

Cucumber slices

Parsley or other fresh herbs
Anleitung 
Place nori sheet in a food processor and "blend" as finely as possible.

If no blender available, simply cut as small as possible with a sharp knife.

Add chickpeas, sweet corn, red onion, mayo, apple cider vinegar, kala namak and black pepper.

265 g Chickpeas drained – save chickpea water for other recipes. 1 can or jar with 400g,

150 g sweet corn,

1 red onion,

60 g Mayonnaise,

15 ml Apple cider vinegar,

½ tbspn Kala Namak,

Black pepper to taste

Blend until the desired consistency is reached.

Sandwich bread with lettuce leaves, put tuna cream on it and refine with tomato slices, cucumber or avocado as desired. Put the lid on and enjoy!

Wholemeal bread or toast,

Leaf salads,

Cucumber slices,

Parsley or other fresh herbs,

Sliced tomatoes

Store remaining cream in an airtight container in the refrigerator for up to 3 days.
Notizen
Calorie calculation only for cream not for sandwich
Nährwertangaben
Serving:
1
Portion
Calories:
126
kcal
Carbohydrates:
15
g
Protein:
4
g
Fat:
6
g
Saturated Fat:
1
g
Sodium:
46
mg
Potassium:
157
mg
Fiber:
3
g
Sugar:
3
g
Vitamin A:
58
IU
Vitamin C:
2
mg
Calcium:
19
mg
Iron:
1
mg