A vegan Caesar Salad has definitely been missing on this blog. At the moment I am totally into Salads but I like a little variety. In times of Corona everything is a bit more monotonous, then you can at least take turns eating, right? I'm really curious how long this is going to go on with the exit restrictions. Of course I absolutely see the need, but such a small Easter coffee party with the family is then but what nice. My grandma would certainly be happy about a visit, where she was already not allowed to have a visitor on her birthday. Of course, protection from infection absolutely comes first, so I'll just put a bouquet of flowers outside her door. There will be other times, without a virus. Where does it actually come from now? Zoonosis? Brrrrrr, I'm kind of glad to have this blog with a whole lot of Recipes without animal and viruses.
Vegan Caesar salad with crispy croutons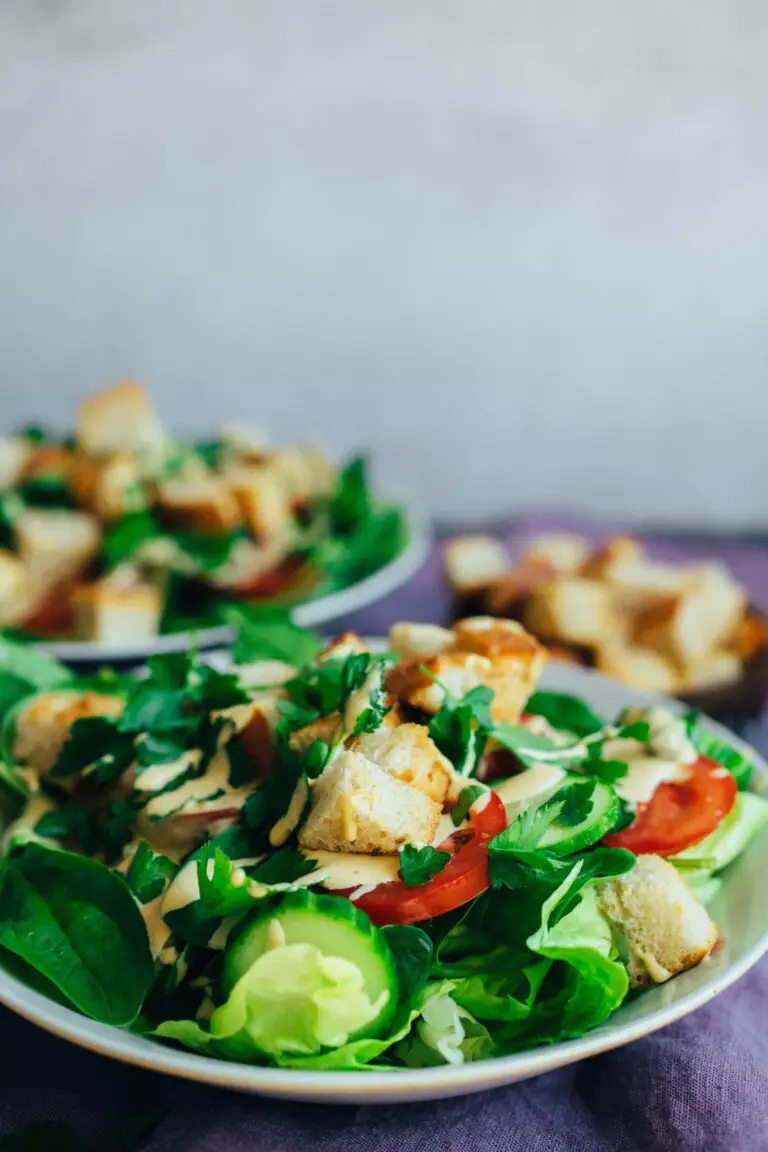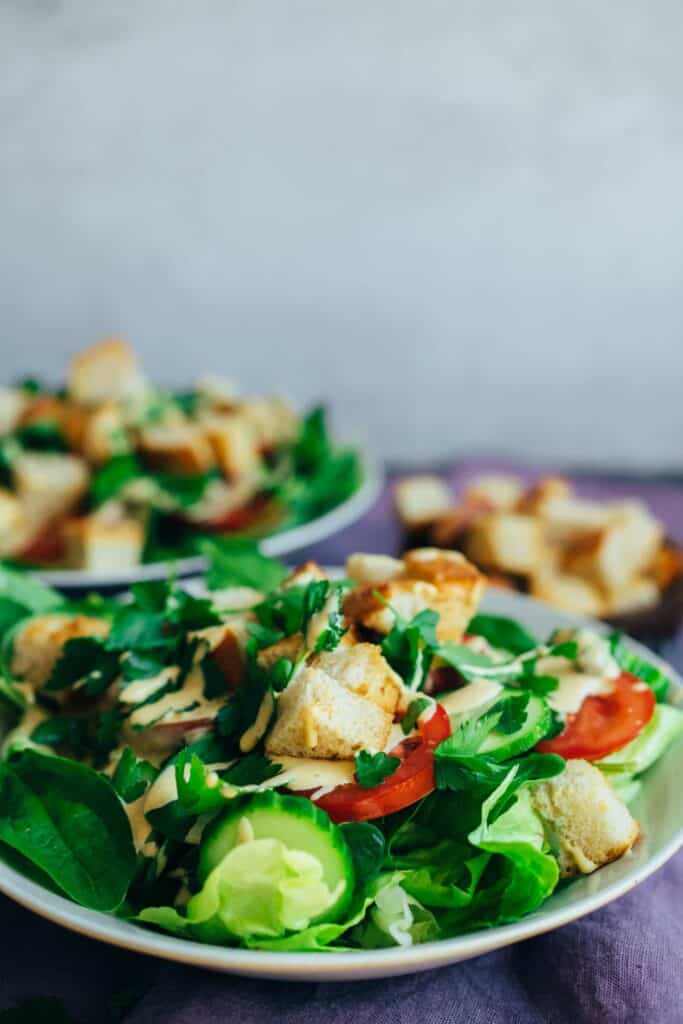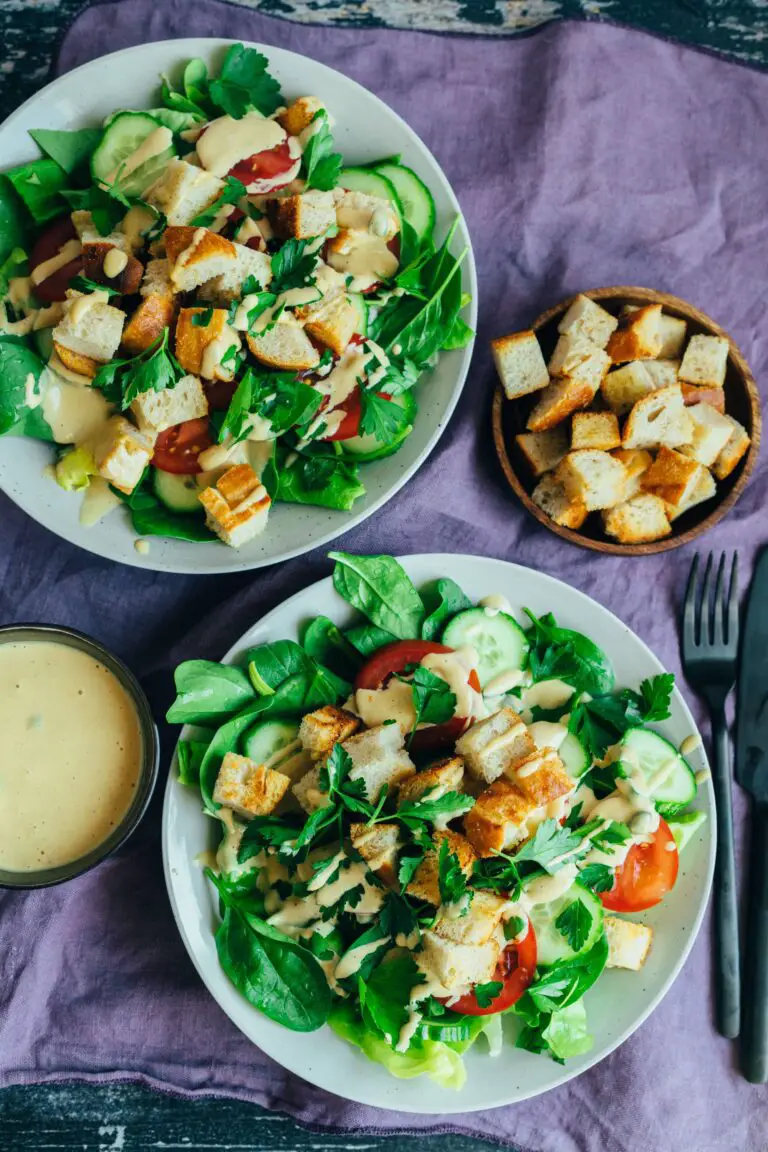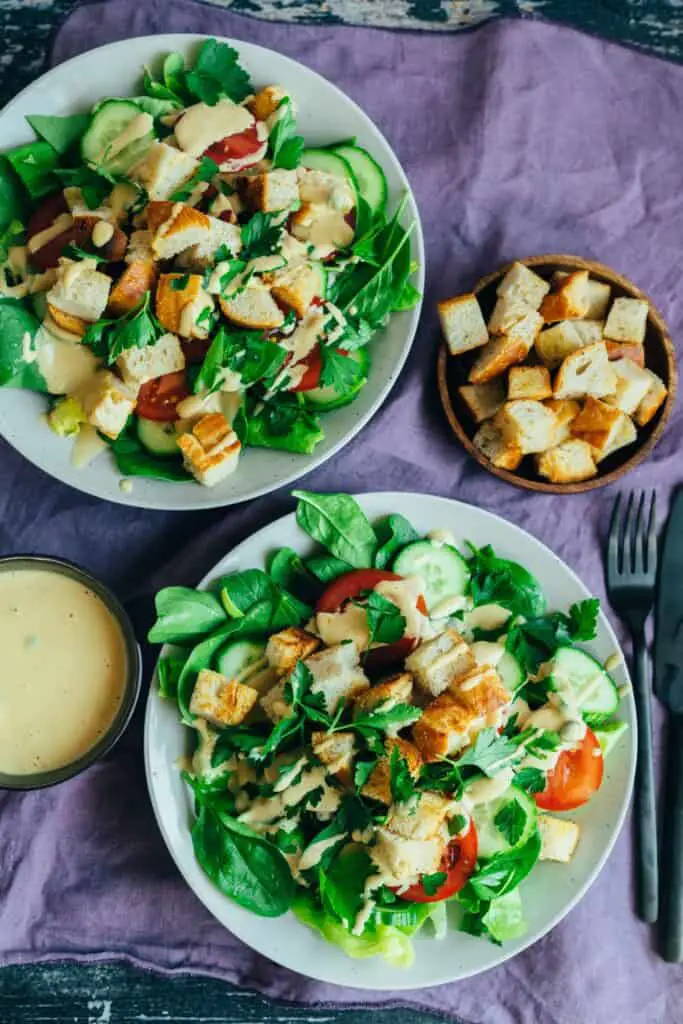 There my husband wanted to have absolutely once again a Baguette have and so it should be then. The first day it was still quite good and soft, with a crispy crust. The very next morning, I wasn't sure if I could still cut it with a knife or maybe get the chainsaw out of the barn. Then the idea of Caesar Salad came up again, which I loved so much in the USA. The Dressing is simply heavenly, with vegan mayo , mustard, capers, maple syrup, soy sauce, lemon juice, maple syrup, salt and a little pepper. The vegan mayo I make myself on the basis of cashews . If this is too rich for you, you can substitute about half of the Mayo for example by Silken tofu that also works. But there's nothing like a really creamy, fine dressing with lots of healthy fat from cashews.
Vegan dressings are just soooooo delicious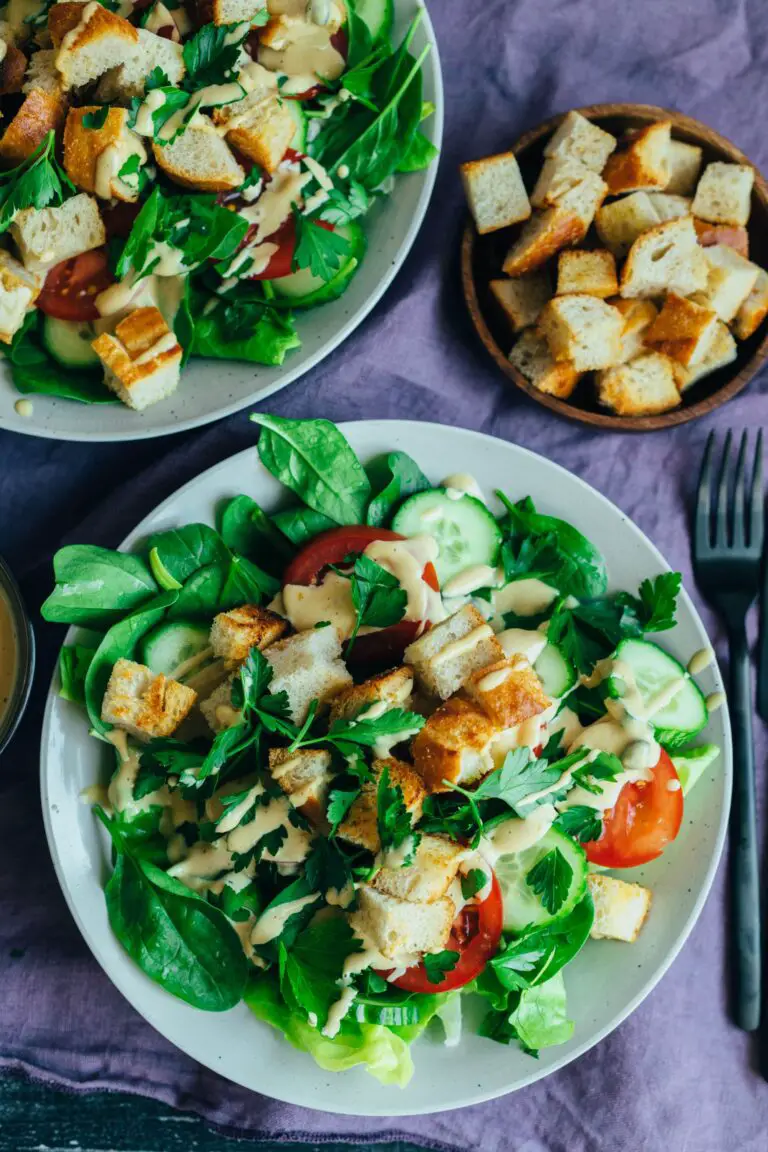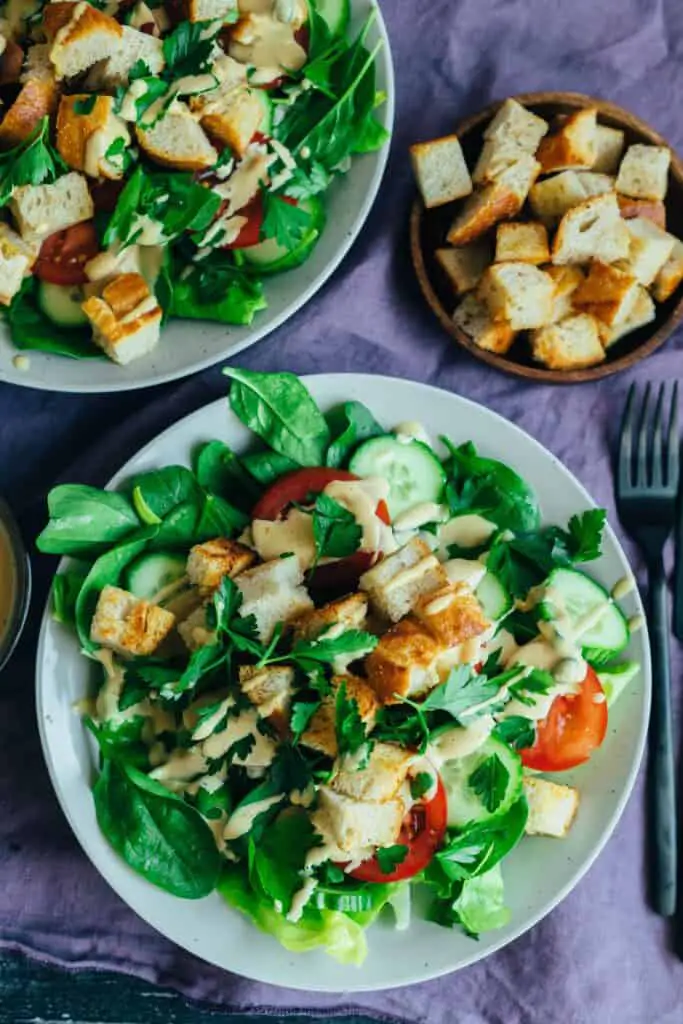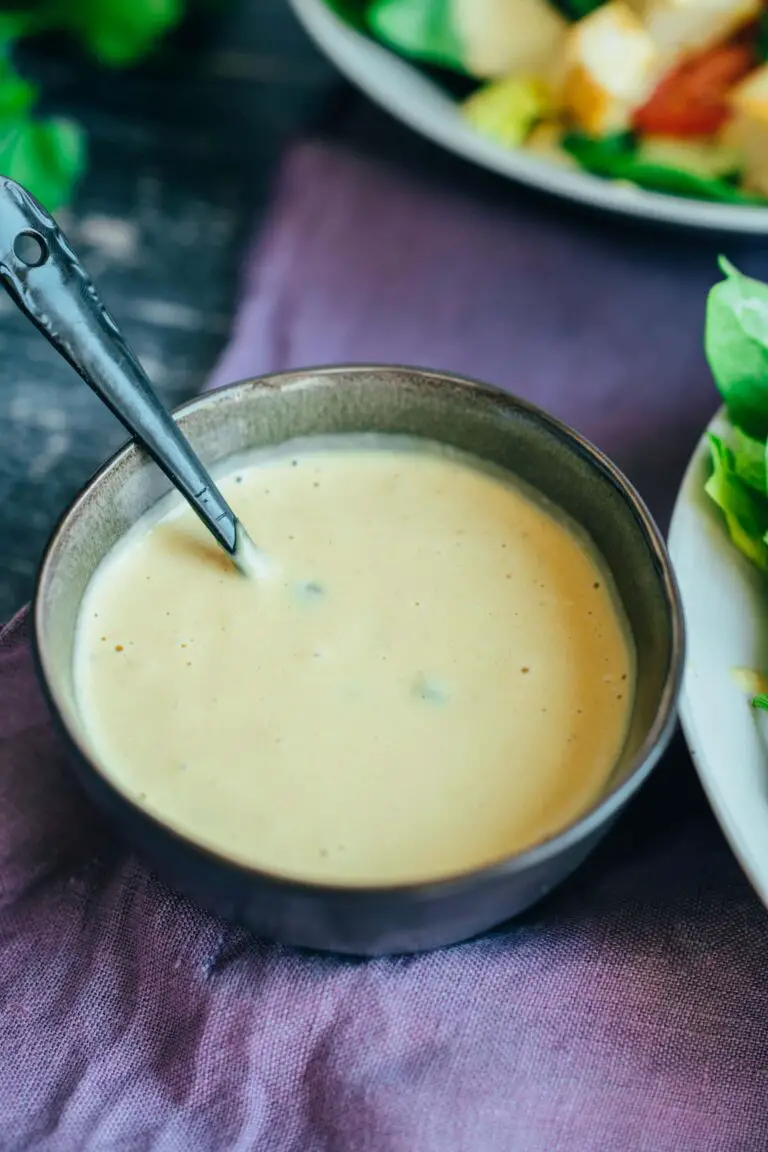 The classic Caesar Salad actually comes from US cuisine, prepared in the original with romaine lettuce. To this we add the creamy dressing, croutons and Parmesan . The salad is supplemented with Avocado tomato, other protein side dishes or even bacon. I took this a little looser and used plain leaf lettuce, Baby spinach, tomatoes and cucumber. According to the motto, everything salad and vegetables in the refrigerator is allowed:
Romaine lettuce
Green salad
Arugula
Baby spinach
Iceberg lettuce
Lettuce
Uvm.
The Croutons are fried in olive oil and garlic in the classic version. This is a bit too much for me personally and so I just leave the Garlic simply omitted completely. But if you're a big fan of it, add it anytime or just use garlic oil.
What exactly are capers?
I was not sure for a long time what Capers actually exactly are and was already close to classify them as something animal. Embarrassing, isn't it? Thereby capers, the buds of the caper shrub. Before they open, they are picked, dried for a few days and pickled in a sour broth or salt. Capers Are always cooked before being processed, so they are not raw food. The question quickly arises whether they are also healthy?

Here's some info:
The pickling process produces Mustard oil glycosides which can have a positive effect on the cardiovascular system, as well as the inflammatory markers in the body.
High percentage of Antioxidants
Have an effect draining, digestive and appetite stimulant
Can increase the Promote fat digestion
Rich in Vitamin B2, B6 and folic acid
You should always look at the label when buying, then in Germany are also offered so-called false caper apples. These are the buds of marsh marigolds. Therefore, better to check again whether it is genuine capers of very good quality.
If you're not particularly in the mood for a Caesar Salad today, I highly recommend my Roasted Fennel Salad, Sweet Potato Chickpea Salad, or Roasted Vegetable Salad with Tomato Cashew Dressing.
The Vegan Caesar Salad is:
aromatic
creamy
Crisp
filling
Easy to manufacture
Let's go with this delicious vegan Salad . I hope you enjoy feasting and I look forward to your review at the bottom of this page. If you post a picture, use the hashtag #veganevibes.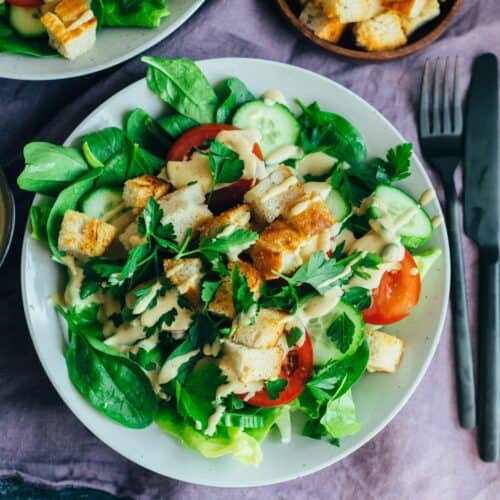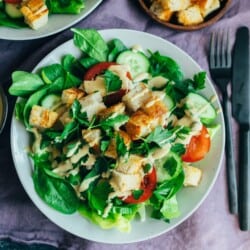 Vegan Caesar Salad
Delicious vegan Caesar salad with a creamy cashew mayo based dressing and crispy baked croutons. The perfect appetizer for a vegan menu or as a great main course.
AUTOR: VEGANEVIBES
FOR THE SALAD:
200-220

g

mixed leaf salads

for the original use romaine lettuce, I take lettuce and baby spinach mixed

120

g

Cucumber

sliced

150

g

Tomatoes or cherry tomatoes

sliced or halved

Optionally one ripe avocado

Peel removed cut into slices
FOR THE DRESSING:
15

g

Dijon mustard

or other hot mustard to taste

60

g

vegan mayo

I use my homemade cashew mayo

2

Garlic cloves

peeled and pressed or finely diced, or 1 tsp garlic granules

2

tbspn

Capers

30

ml

Lemon juice

15

ml

Tamari

or another soy sauce to taste, alternatively ½ tsp salt

15

ml

maple syrup

15

ml

White wine vinegar
FOR THE CROUTONS:
2

Cups

White bread

diced

2

tbspn

Olive oil

Optional: 2 cloves of garlic

peeled and pressed or finely diced
Anleitung 
For the dressing Dijon mustard, nutritional yeast flakes, vegan mayo, garlic cloves, lemon juice, tamari, maple syrup, white wine vinegar ( NO CAPERS YET ) in a blender and process to a fine, creamy dressing. At the very end, mix in the capers. Set aside.

15 g Dijon mustard,

17 g Nutritional yeast flakes,

60 g vegan mayo,

2 Garlic cloves,

2 tbspn Capers,

30 ml Lemon juice,

15 ml Tamari,

15 ml maple syrup,

15 ml White wine vinegar

Heat a pan FOR THE CROUTONS Heat a frying pan, heat the olive oil (not too hot or everything will burn) and add the bread cubes (optionally also the garlic cloves). Roast for 5-10 minutes until croutons are nice and golden brown.

2 Cups White bread,

2 tbspn Olive oil,

Optional: 2 cloves of garlic

Divide lettuces, tomatoes and cucumbers among plates, pour sauce over them and sprinkle croutons on top. enjoy!

200-220 g mixed leaf salads,

120 g Cucumber,

150 g Tomatoes or cherry tomatoes,

Optionally one ripe avocado

Best fresh! Sauce without lettuce and croutons keeps airtight in the refrigerator for up to 3 days.
Nährwertangaben
Serving:
1
Portion
Calories:
159
kcal
Carbohydrates:
12
g
Protein:
4
g
Fat:
11
g
Saturated Fat:
1
g
Sodium:
360
mg
Potassium:
301
mg
Fiber:
2
g
Sugar:
5
g
Vitamin A:
902
IU
Vitamin C:
21
mg
Calcium:
19
mg
Iron:
1
mg