Fall time is stew time my loves and I just can't get enough of it. At the moment I collect pumpkins and preferably the variety Hokkaido and Butternut. There's one exotic I haven't touched yet, and that's the Spaghetti Squash. I'm curious to see what else I can come up with. Today we have a warming stew with butternut squash and I especially love it. Even when I cut it open, I'm happy, because the pumpkin fleshis just incredibly delicious. I always try to incorporate as many different plant-based foods as I can into my diet. Diversity is the key to a diverse and healthy microbial composition in the gut. Let's get started together.
Butternut squash recipes vegan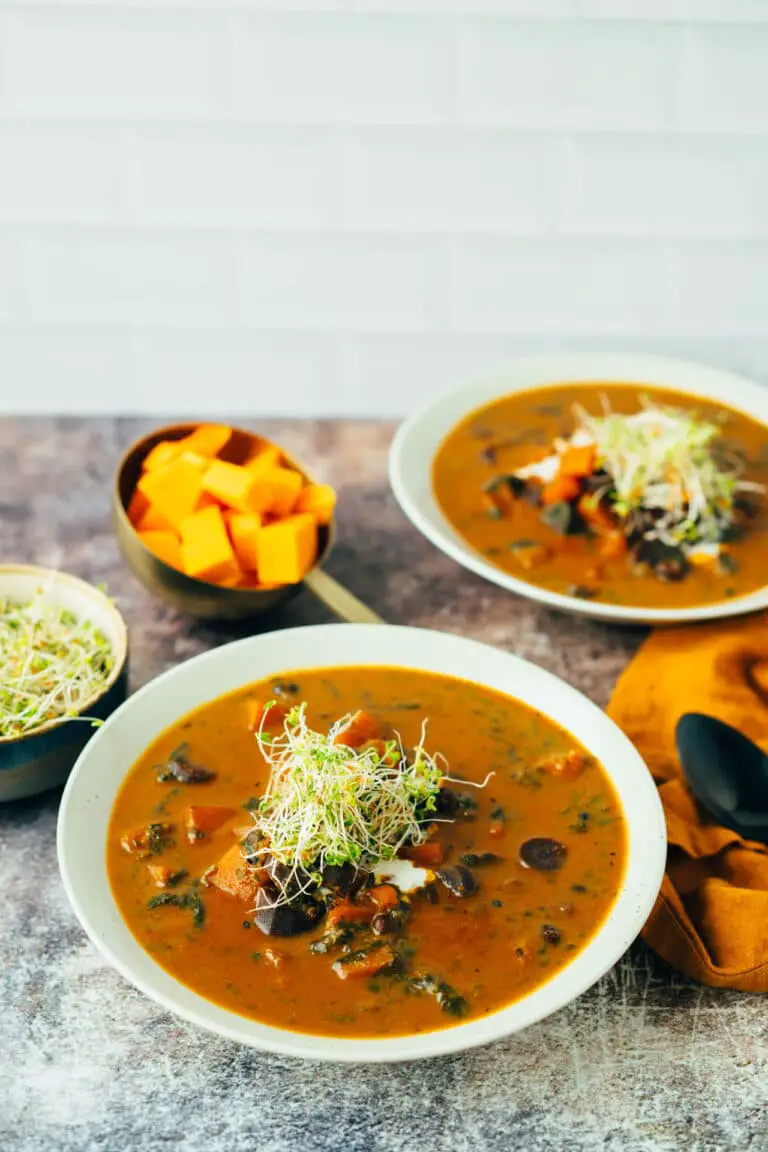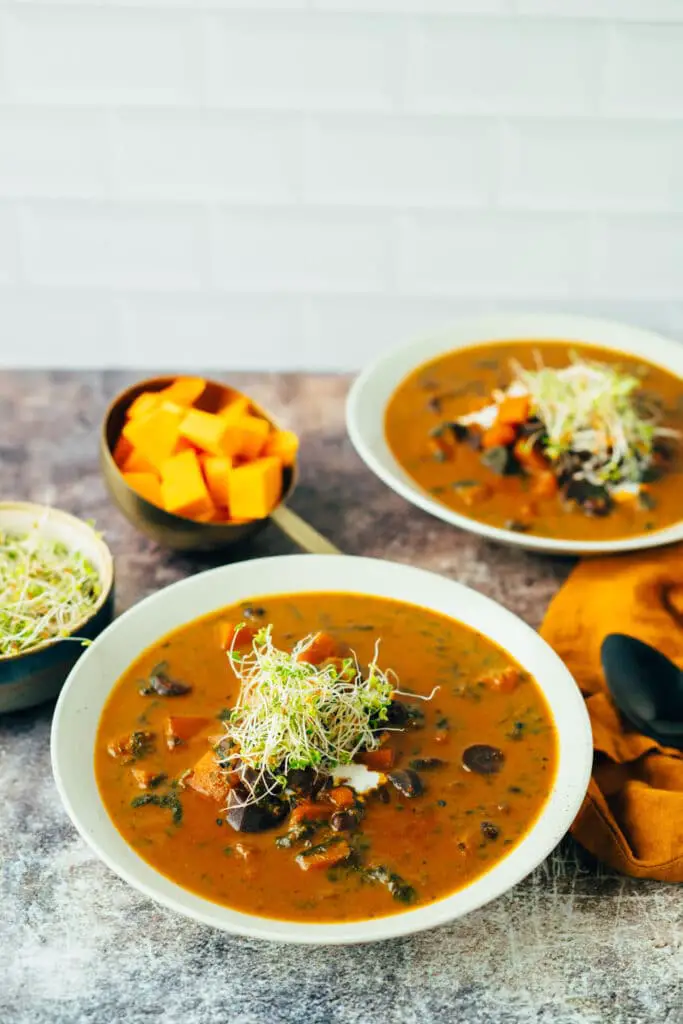 Did I tell you I got myself a pressure cooker? The first cooking attempts were still uncertain, but in the meantime I have become pretty good. Originally I had bought the pot to be able to prepare legumes quickly and easily. I was simply tired of the countless cans and wanted a solution that would save packaging waste. Pulses can be purchased in larger packing units and sometimes loose at unpacking stores, and that saves canned waste or lugging around jars. In the meantime, however, I have discovered that such a pressure cooker has many other advantages:
The aromas and flavors of foods and herbs are more intense after cooking if they have been cooked in a pressure cooker. By cooking in a closed space with pressure, they can not get out with the steam and stay where they are … We notice the difference in every dish!
The cooking time is up to 70 % shorter, which in reverse
Saves up to 50% energy
Significantly more valuable vitamins and minerals are retained than when cooking in conventional pots
Especially cooking and preparing stews is super fun in a pressure cooker and saves a lot of time.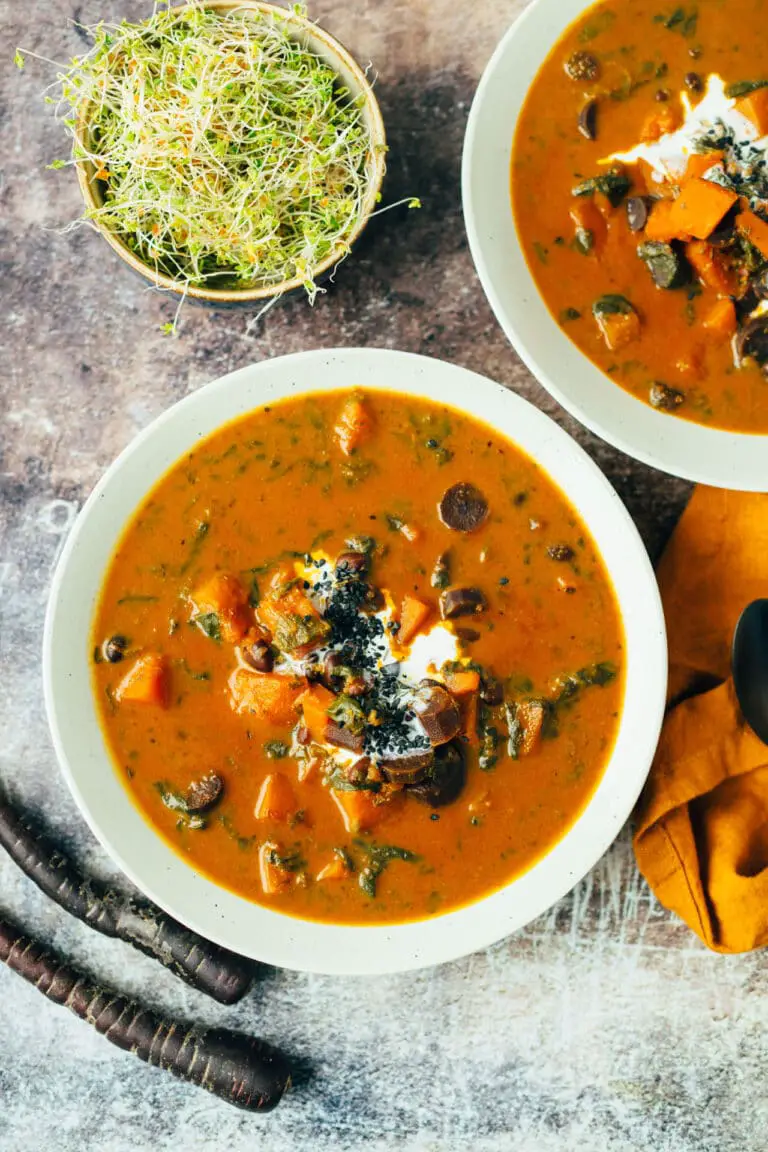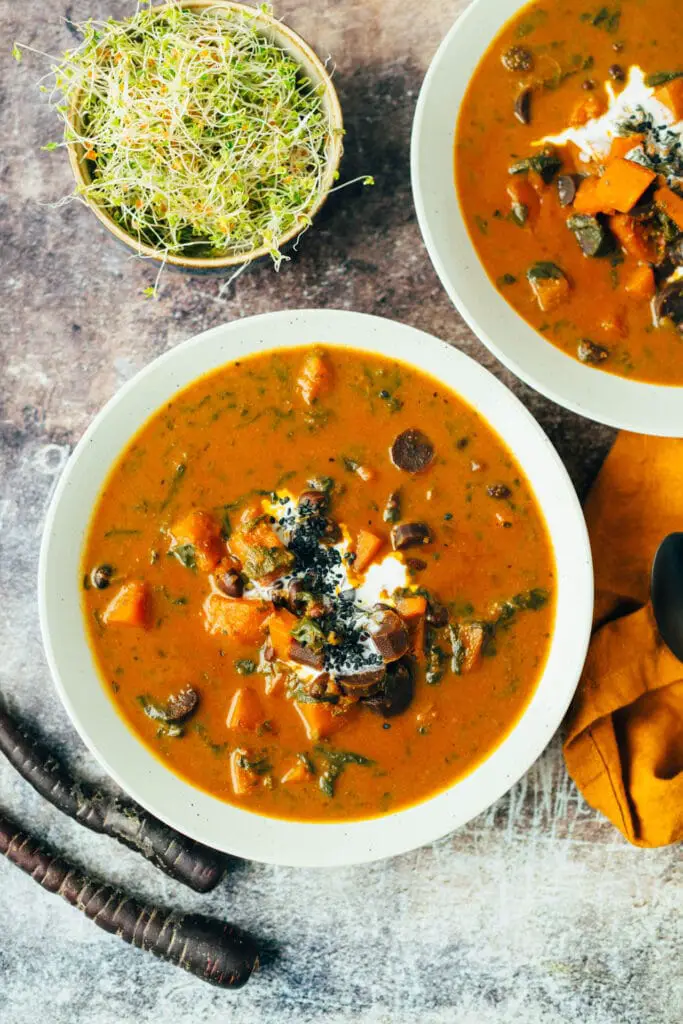 Notice: I have no connection with Fissler and ordered and paid for the pot myself. Should you decide to purchase a pressure cooker through my store, I will receive a small commission that will allow me to run this blog.
Black beans recipes – vegan, simple, delicious
Especially delicious in combination with the butternut squash are black beans, which are rich in fiber and protein. They perfectly complement the sweetness of the pumpkin with their neutral flavor. I can't stress enough how healthy and important Legumes are in the vegan diet.
As I already explained in my protein burger post, the Amino acid composition in plant foods is usually not complete and so it is with black beans. However, this can be easily upgraded to a complete amino acid profile with a clever combination of foods.
TIP: 1-2 slices of whole grain bread with your stew and you'll turn the dish into a perfect plant-based protein source with a biological value approaching that of meat.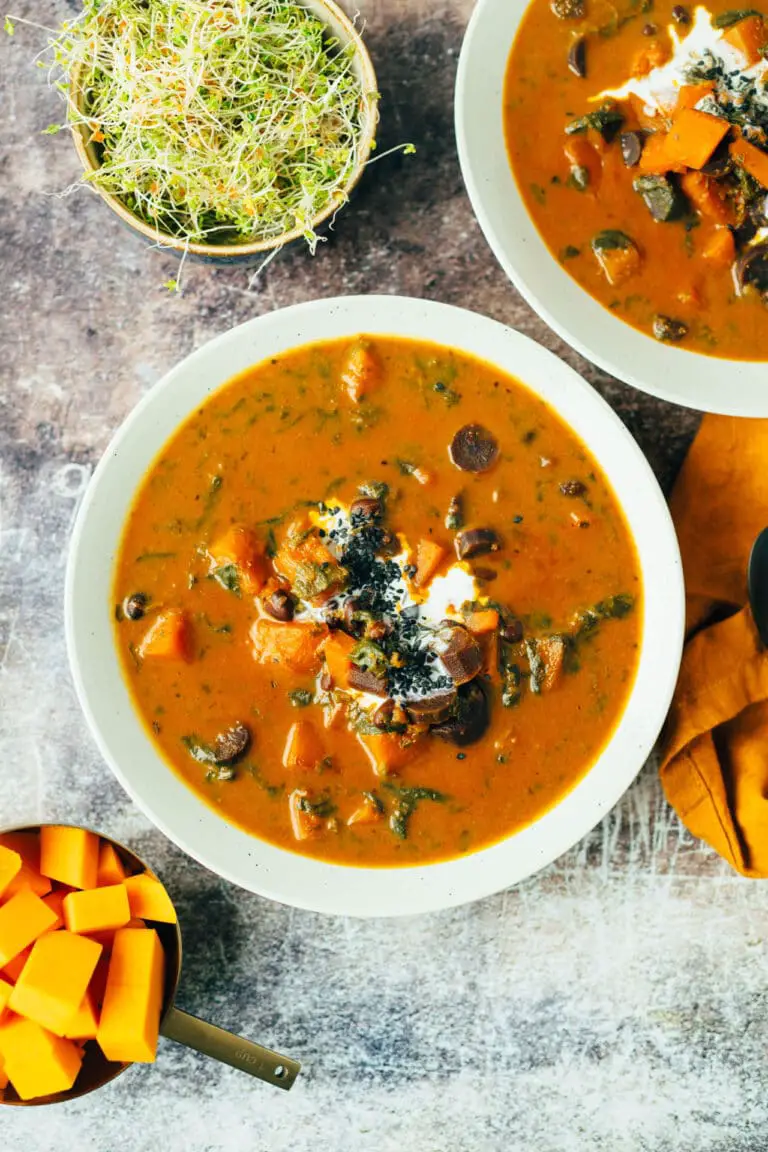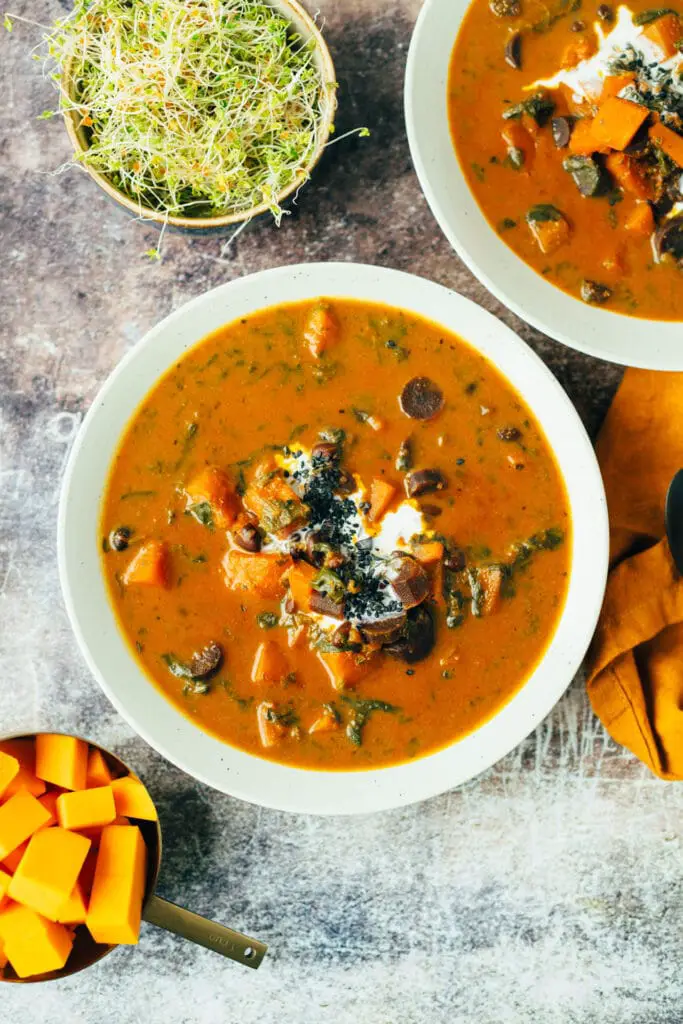 More reasons to be sure to include black beans in your diet:
Rich in complex carbohydrates that naturally regulate the function of the gastrointestinal tract
Vitamins of groups A and B
Rich in minerals and trace elements
Greatest antioxidant effect among all common bean varieties
If you don't have butternut squash at home right now, I recommend the my sweet potato stew with white beans, lentil soup for every day or the creamy potato leek soup.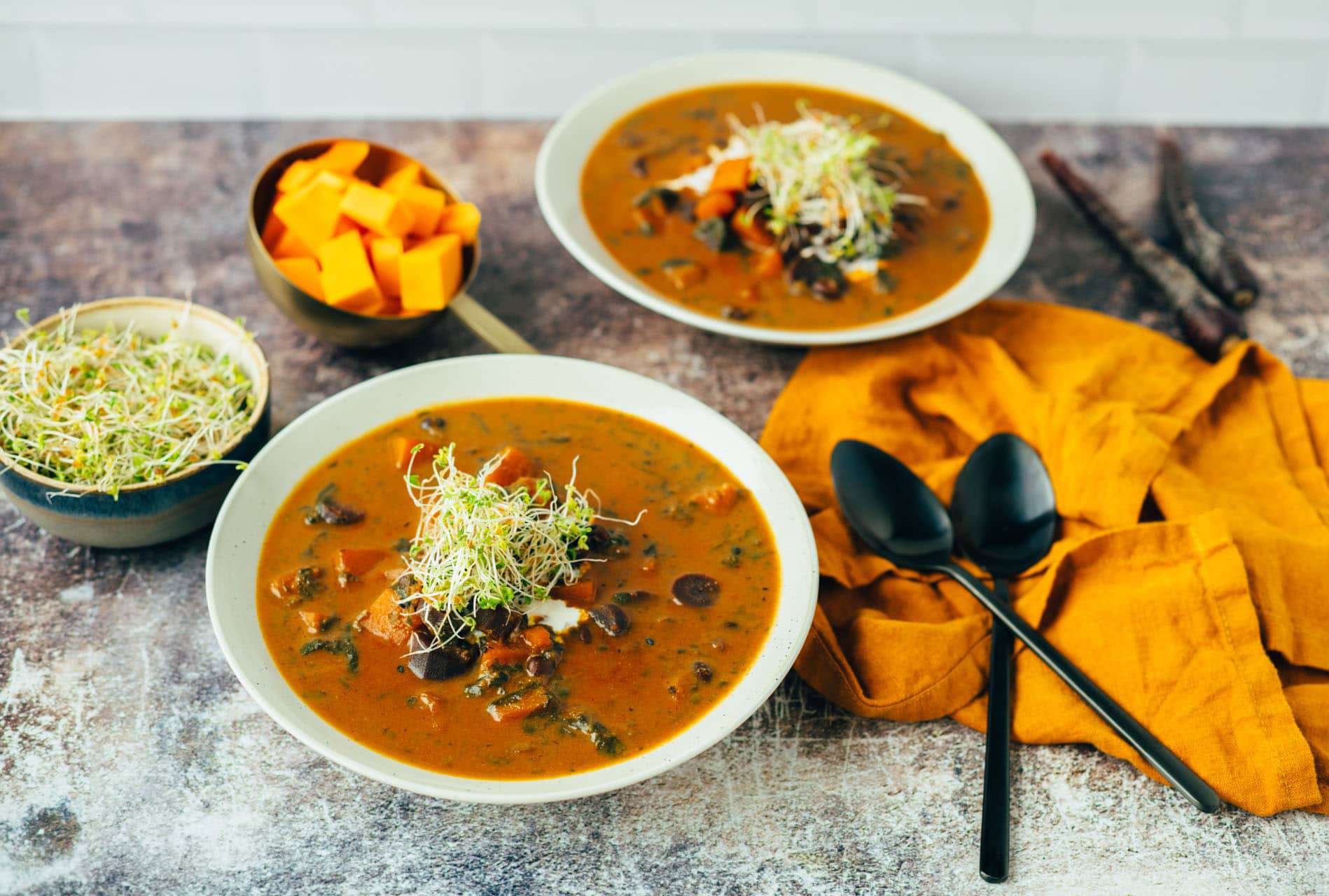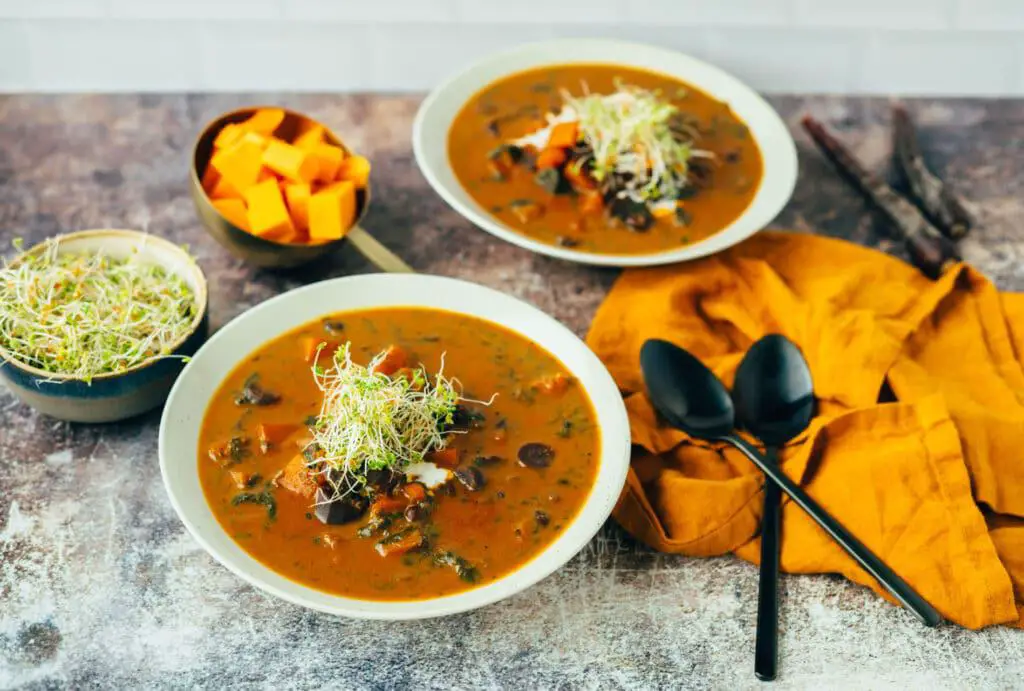 Hearty stew with butternut squash and black beans (30 minutes)
Warming
Spicy
Rich in fiber and protein
filling
Easy to make
Are you ready for this hearty stew? I wish you a lot of fun in recooking and of course a review at the bottom of this page. If you post a picture, use the hashtag #veganevibes.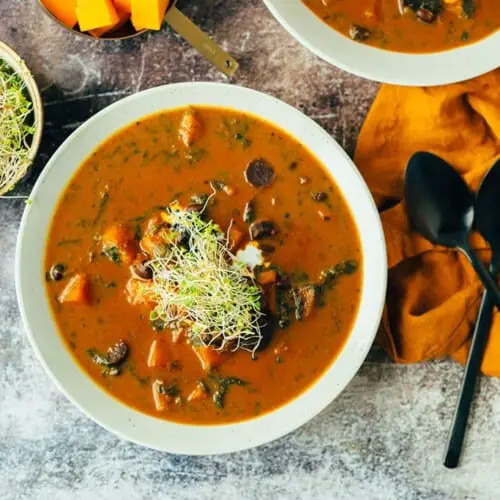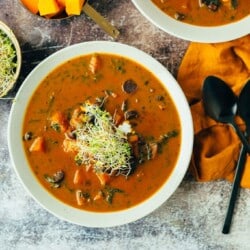 Hearty stew with butternut squash and black beans
Delicious, warming and vegan stew with fruity butternut squash and hearty black beans. Ideal for the colder season with plenty of vegetable protein from legumes. Perfect as an uncomplicated and quick dish for every day. Simple and easy to make with just a few ingredients.
AUTOR: VEGANEVIBES
1

tbspn

Onion powder

or 1 red onion, peeled and finely chopped

2

tbspn

Garlic granules or 2-3 cloves of fresh garlic

peeled and pressed

2

tbspn

Tomato paste

250

g

Butternut squash

peeled and cut into cubes, how to cut a butternut squash properly, I show in this video

4

Piece

big carrots

peeled and sliced, I use purple carrots, but yellow ones also work

2

tbspn

Italian spice blend

½

Cayenne pepper or dried chillies

1

tbspn

Turmeric

750

ml

Vegetable broth

250

ml

Coconut milk

or more vegetable broth

230

g

black beans

corresponds to the drained weight of a can or jar

150

g

Spinach frozen

or fresh, but then add just before the end of the cooking time

Salt and pepper to taste

1-2

tbspn

Tamari to refine

add only after cooking, the product is fermented and would lose its effect in the cooking process

Optional: add 150g of soy cutlets along with 1 cup of vegetable broth for an extra serving of hearty protein.
TO SERVE:
Fresh sprouts

Vegetable cream

Wholemeal bread
Anleitung 
Heat large pan with the frying oil on the stove.

1 tbspn Frying oil or other high heat oil

Briefly sauté carrots and pumpkin cubes. Add onion powder (or fresh onion), garlic (or fresh garlic), turmeric, cayenne pepper, Italian spice mix, tomato paste and stir well once.

1 tbspn Onion powder,

2 tbspn Garlic granules or 2-3 cloves of fresh garlic,

2 tbspn Tomato paste,

250 g Butternut squash,

4 Piece big carrots,

2 tbspn Italian spice blend,

½ Cayenne pepper or dried chillies,

1 tbspn Turmeric,

Optional: add 150g of soy cutlets along with 1 cup of vegetable broth for an extra serving of hearty protein.

Add vegetable broth powder and water, black beans, frozen spinach and coconut milk and stir vigorously one more time.

750 ml Vegetable broth,

230 g black beans,

150 g Spinach frozen,

250 ml Coconut milk

Simmer for

15 minutes

– 20 minutes over medium heat until the squash is nice and soft.

Tip: add fresh spinach just before the end of the cooking time.

Season with salt and pepper and optionally refine with tamari or soy sauce.

Salt and pepper to taste,

1-2 tbspn Tamari to refine

Divide stew into plates, garnish with (optional) fresh sprouts, vegetable cream and black sesame seeds and serve. enjoy! Keeps up to 2 days covered in the refrigerator, frozen up to 4 weeks. Is very suitable for reheating.

Fresh sprouts,

Vegetable cream,

Black sesame,

Wholemeal bread
Nährwertangaben
Serving:
1
Portion
Calories:
640
kcal
Carbohydrates:
18
g
Protein:
6
g
Fat:
63
g
Saturated Fat:
54
g
Sodium:
785
mg
Potassium:
413
mg
Fiber:
6
g
Sugar:
2
g
Vitamin A:
4188
IU
Vitamin C:
11
mg
Calcium:
53
mg
Iron:
2
mg