Today we havePumpkin Pie, with my pumpkin purees after I am addicted. Yep, it has a permanent place in my kitchen and I diligently pick up all the Hokkaido pumpkins I can find. Yesterday I had a visit from friends and proudly presented my Pumpkin Pie. The invited guests also had an idea of the subject matter, because one of them is a real American and his husband is from London. Pumpkin Pie is particularly popular in the USA. I was all the more pleased with his praise. Really delicious! To my surprise, he even liked the vegan cream from Soyatoo. I would say that was a precision landing. All the more motivated I am to veganize many more recipes. It remains exciting.
Pumkin Pie vegan and simple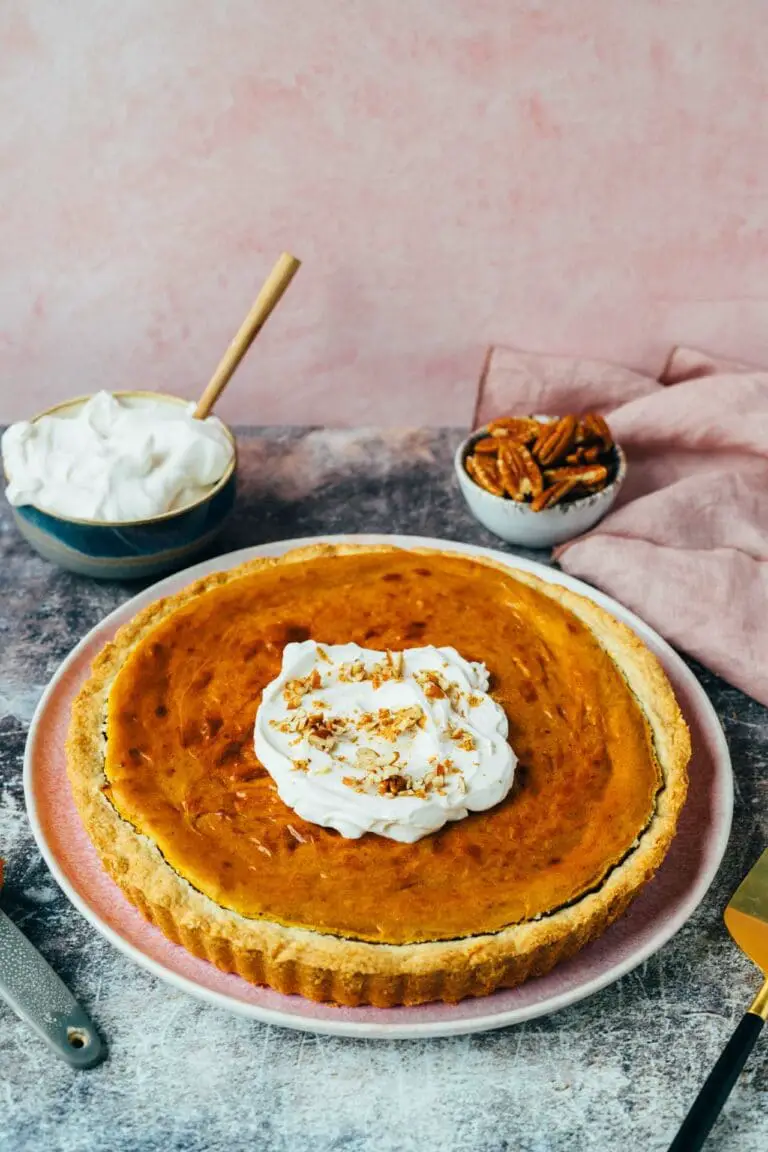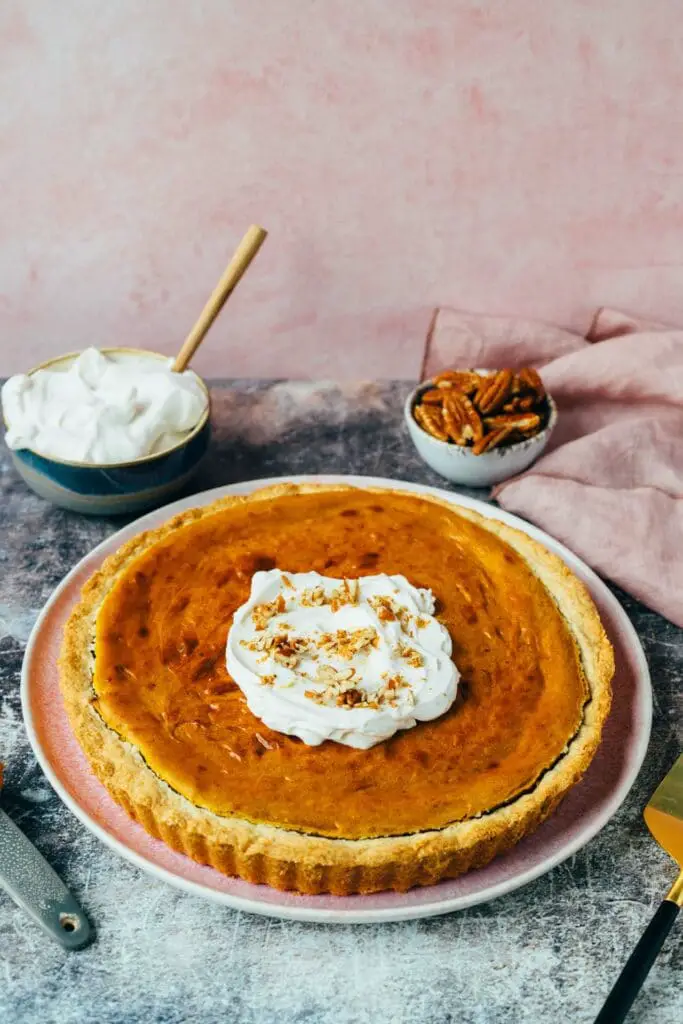 Why are there so few Pumkin Pies in Germany? For me this cake, or rather tart is a dream come true of shortbread and creamy filling. I'm looking forward to the last piece this afternoon, because there is exactly one left.
For the delicious, creamy pumpkin pie we need two components. Once the shortbread and the filling of silken to fu and pumpkin puree.
TIP: Click here for detailed instructions on how to make the pumpkin puree. Always make sure the pumpkin is of good quality. I've had the pleasure of bitter gourds a few times. Of course, this is especially annoying if you go to the trouble of cooking it in the oven for an hour beforehand. I get particularly good quality through the local Ökokiste or organic stores.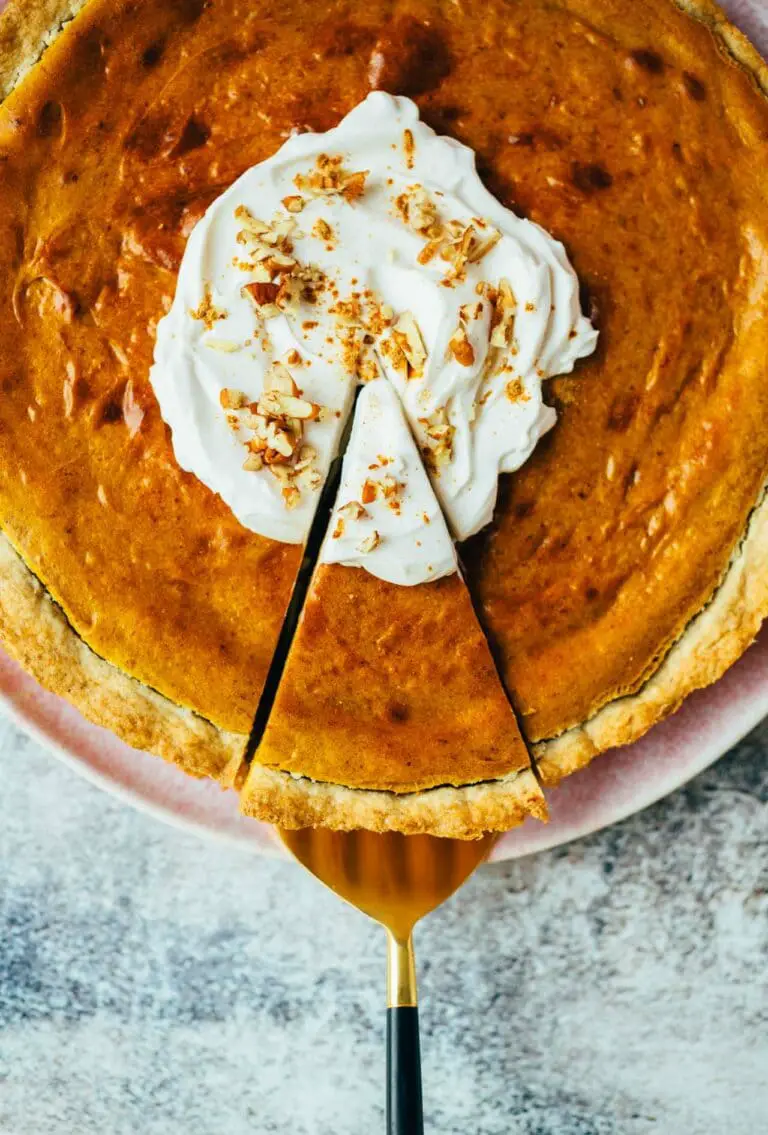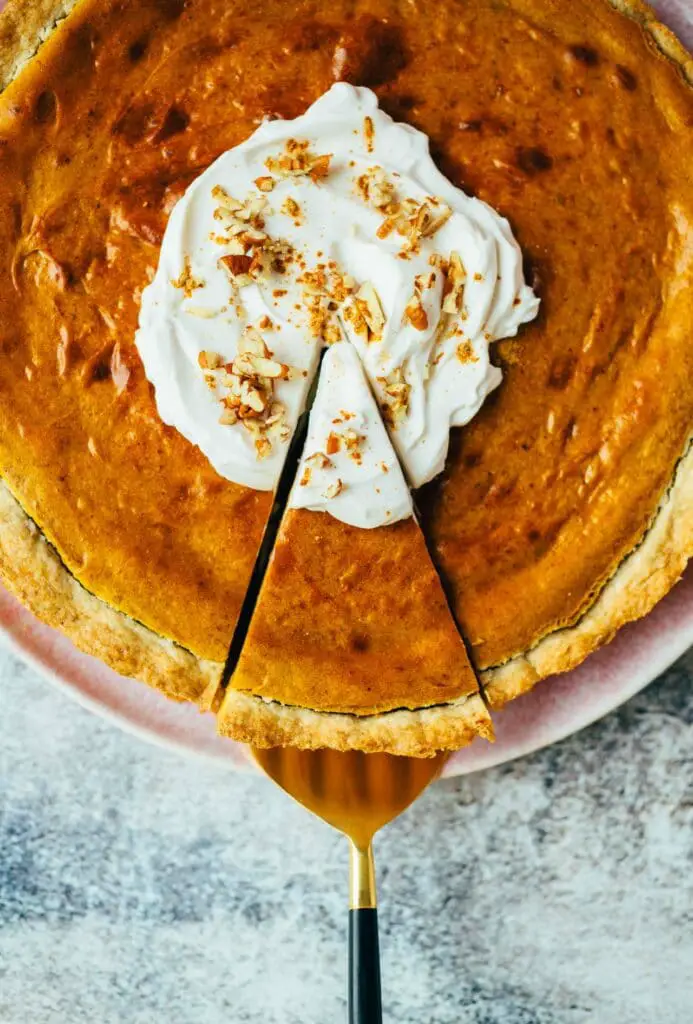 The first step is to prepare the shortcrust pastry from flour, raw cane sugar, vegan margarine, baking powder, vanilla and cold water. Knead, refrigerate and in the meantime prepare the filling. Pumpkin puree, raw cane sugar, silken tofu, nut puree, cinnamon, ginger, nutmeg, cardamom, cloves and a pinch of salt. Process in food processor to a fine puree.
TIP: I use a mixed puree in this case, but all nut purees are suitable for preparing the filling. Always mix well before use.
Vegan pumpkin pie, where to go?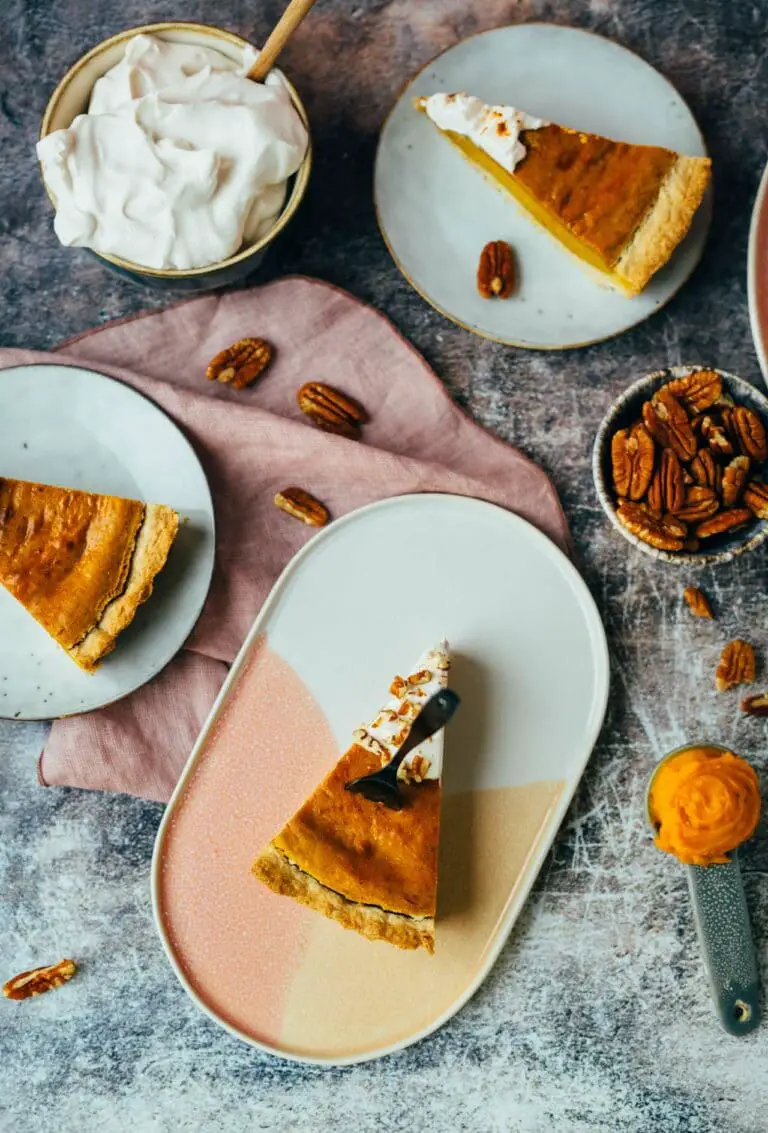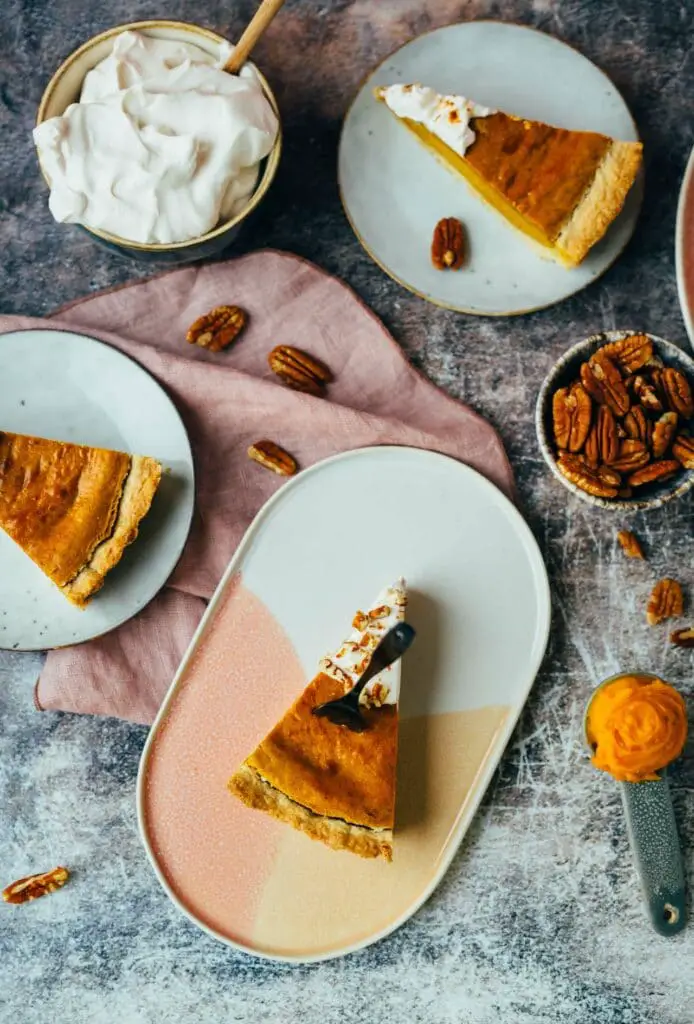 You can prepare this recipe wonderfully when the guests announce themselves on the weekend. The shortbread is even happy to spend a night in the refrigerator, but the finished cake is even better if it has been allowed to soak for a few hours at low temperatures. I find the Pumpkin Pie really super exciting, because it is not very common in Germany. So if you're in the mood for some serious chunking, this is just the ticket.
Once again we come to our famous Trouble Shooting. Better to read one line too many than to be disappointed at the end. Here we go:
The mold should preferably be one with a loose bottom, or a classic springform pan with a diameter of 28cm
Always grease the mold well and/or line it with baking paper. This is especially important with this cake because the filling is relatively rich.
Instead of margarine, you could also use coconut oil. I myself do not like to work with it for some time, because it is very rich in saturated fatty acids and especially my husband does not like the taste of coconut.
The consistency of the shortbread dough should be compact, but neither too firm nor too soft. You should be able to loosely form a ball with your hands. Take a look at the video, there you can see how the dough looks in the optimal case.
If you don't have silken tofu at home, you can also use firm tofu natural. Please add vegetable milk by feel until the filling has a similar consistency as in the video.
The filling curves upwards a lot during baking. Don't let this bother you, as it will collapse again as it cools.
For a gluten-free option, I would use a gluten-free flour and add in 1 tsp of carob bean gum for better binding. Note: I have not yet tested the gluten-free version.
CONCLUSION: This pumpkin cake is an absolute highlight at every coffee party. Surprise your family and friends with it.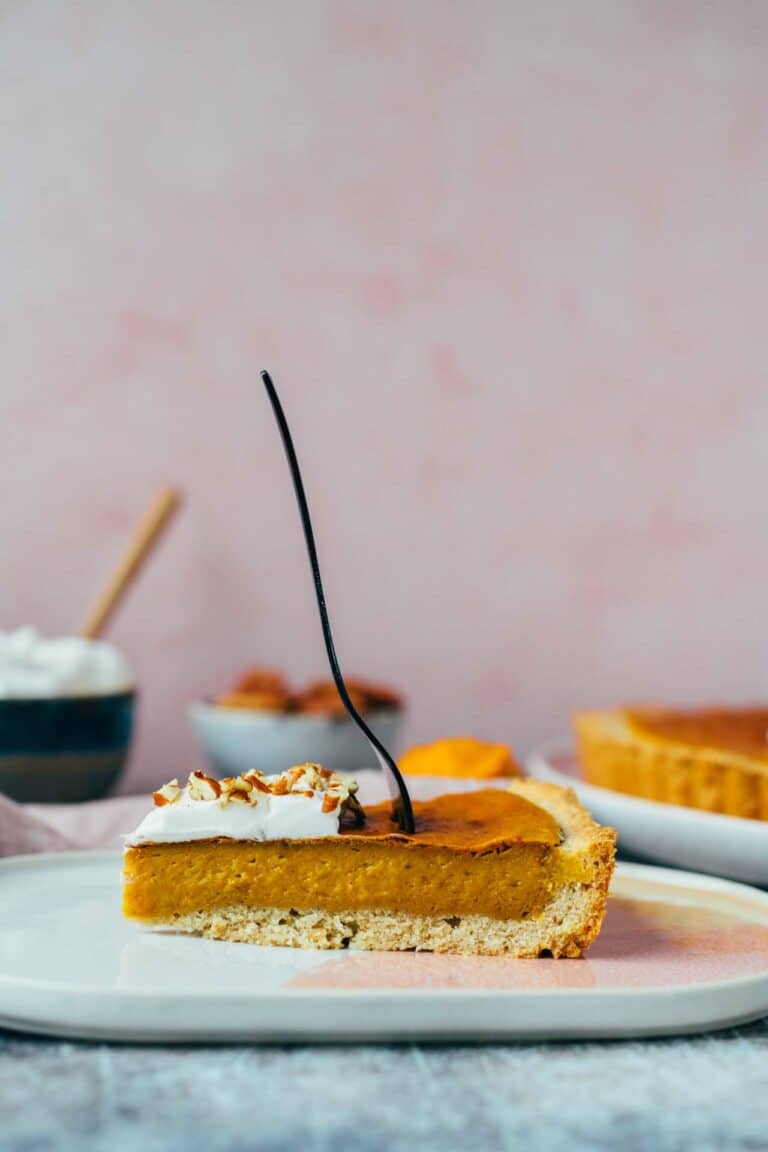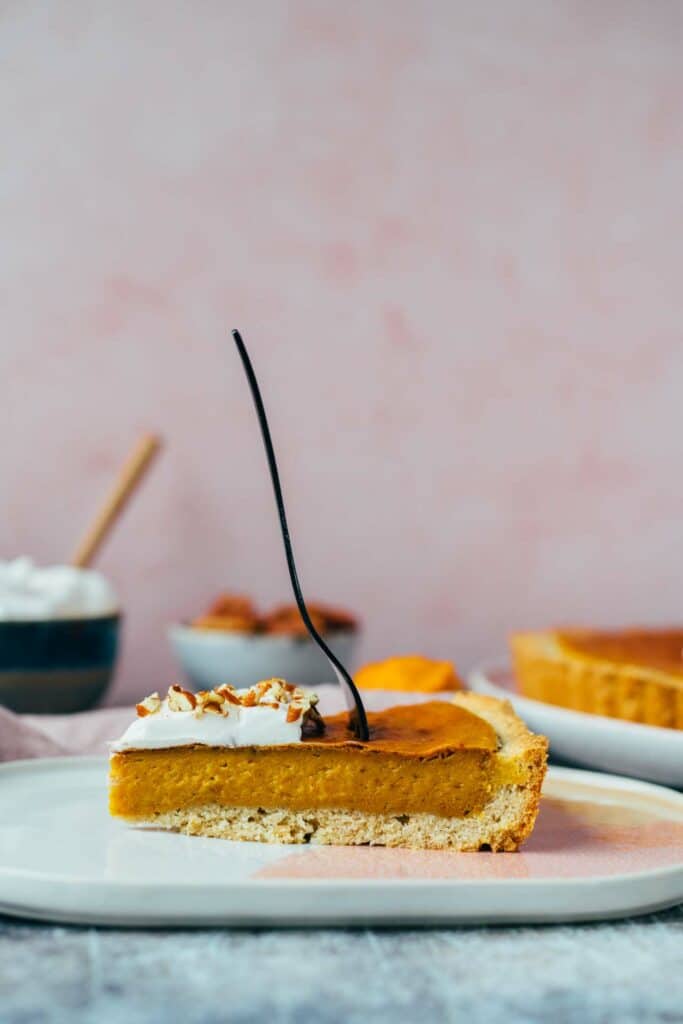 Not in the mood for Pumkin Pie today? Then feel free to check out my other pumpkin recipes, here you will find delicious Pumpkin Scones or a pumpkin pie with nut crumble.
Then it can start now with our delicious pumpkin pie. I hope you enjoy baking and of course about a review at the bottom of this page. If you post a picture, use the hashtag #veganevibes.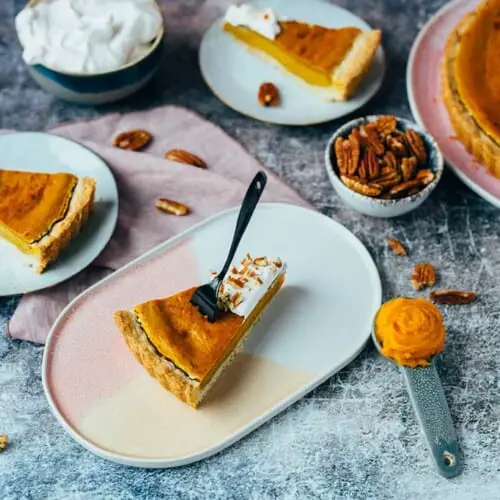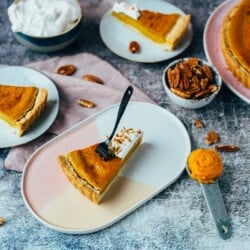 Pumpkin Pie (Pumpkin Pie) vegan
Simple, juicy Pumpkin Pie made of shortcrust pastry, with creamy filling of pumpkin puree and silken tofu. An American classic that will get you noticed at any coffee gathering.
AUTOR: VEGANEVIBES
FOR THE SHORTCRUST PASTRY:
TOPPING:
Vegan cream

I use in this case the one from Soyatoo

Chopped pecans
Anleitung 
FOR THE PASTRY, put vegan margarine, flour, raw cane sugar, baking powder, bourbon vanilla and cold water in a bowl and knead with your hands until a uniform dough is formed.

125 g vegan margarine,

200 g Spelt flour,

30 g Raw cane sugar,

½ tbspn Baking powder,

¼ tbspn Bourbon vanilla ground,

60 ml Water

The consistency of the shortbread dough should be compact, but neither too firm nor too soft. You should be able to loosely form a ball with your hands. If in doubt, use a little more flour (if too liquid) or more vegetable milk (if too solid). Feel free to look at the video, there you can see how my dough looks like.

Place in a bowl, cover with a cloth and refrigerate for one hour.

In the meantime, make the FILLING by adding pumpkin puree, silken tofu, raw cane sugar, tapioca starch, nut puree, cinnamon, ginger powder, cardamom, cloves, nutmeg and salt to a high-powered blender or food processor and blend to a fine cream. Set aside.

400 g Pumpkin puree,

200 g Silken tofu,

80 g Raw cane sugar,

24 g Tapioca starch,

45 g Nut puree,

1 tbspn Cinnamon,

½ tbspn Ginger powder,

¼ tbspn Cardamom,

¼ tbspn Cloves,

1 Msp. Nutmeg,

¼ tbspn Salt,

*like to replace with 2-3 tsp pumpkin spice

Preheat oven to 175 degrees (convection oven).

Pour the dough into the mold and press it into the mold with your hands, pulling up the edges. Prick several times with a fork (this will prevent the dough from curling during baking).

Pour in filling and smooth out.

Put in the oven and bake for

60 minutes

.

Remove from the oven and allow to cool completely.

Cut into 10 pieces and serve (optional) with cream and chopped pecans.

Vegan cream,

Coconut cream,

Cashew cream,

Chopped pecans

Store sealed in the refrigerator for up to 3 days. Frozen (best to portion beforehand) can be kept for 1-2 months.
Nährwertangaben
Serving:
1
Portion
Calories:
258
kcal
Carbohydrates:
33
g
Protein:
5
g
Fat:
12
g
Saturated Fat:
2
g
Sodium:
100
mg
Potassium:
152
mg
Fiber:
4
g
Sugar:
13
g
Vitamin A:
6703
IU
Vitamin C:
2
mg
Calcium:
35
mg
Iron:
2
mg