Chocolate Mousse I have always loved, chocolate tart now too. At that time it was the Mousse-au-Chocolate that my uncle brought to Christmas brought. I always wanted to be able to recreate this the same way, fluffy, with really fine chocolate chips that melted in my mouth. I must be able to do that in vegan be able to? Of course, and it really is so incredibly easy. Today we do not have a classic mousse, but a tart with a delicious nut base. I must admit that it is a Recipe that blows me away myself. why? Because it's so simple and so delicious. Especially when I think of Christmas think, we are Desserts the savior in the hustle and bustle. Prepare one day before. Leave in the refrigerator for one night. enjoy!
Chocolate tart, am I in heaven?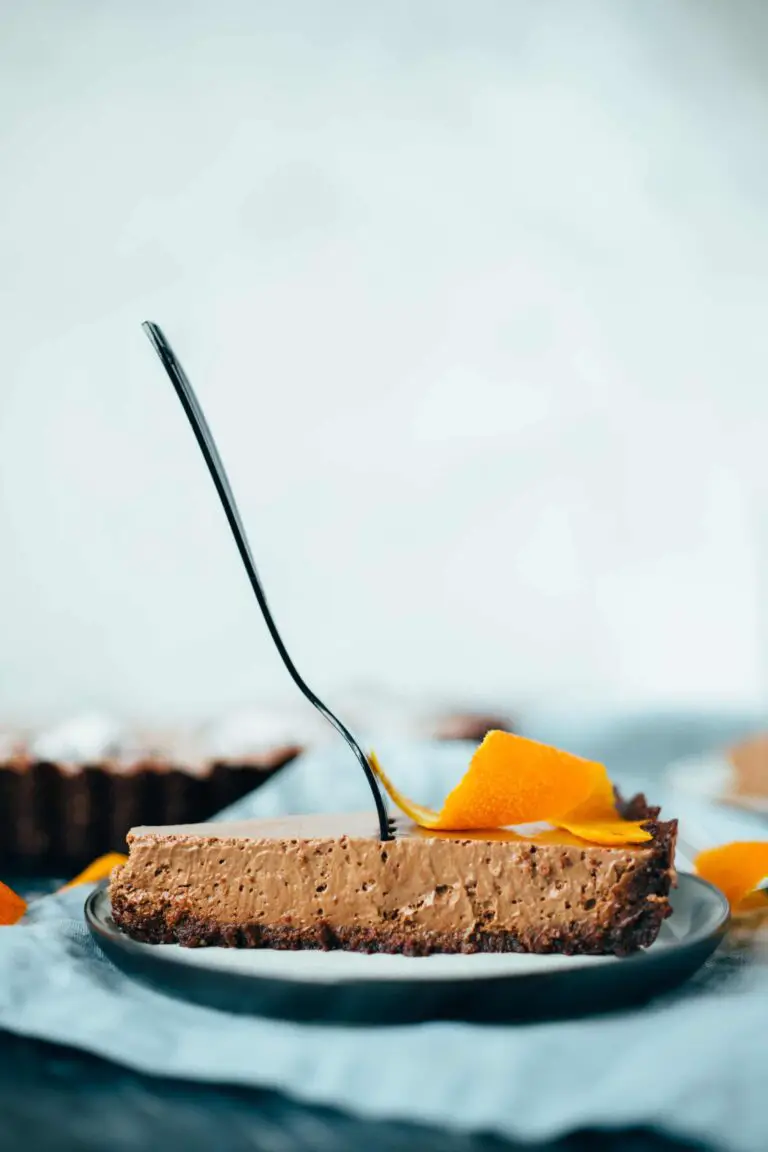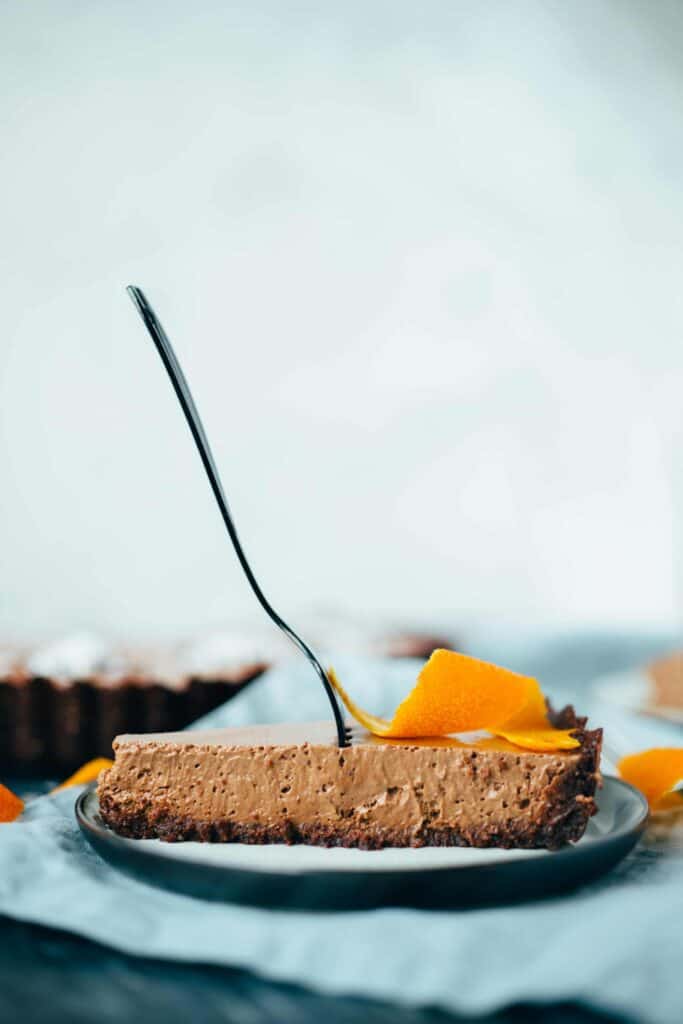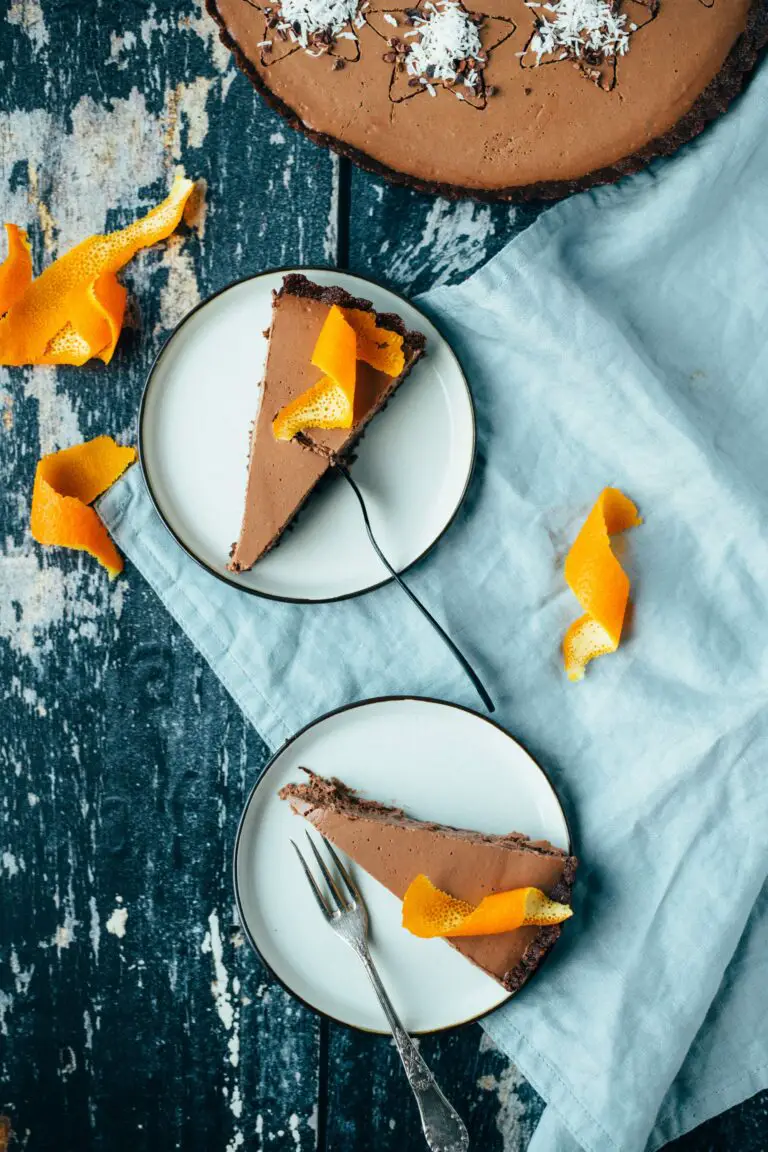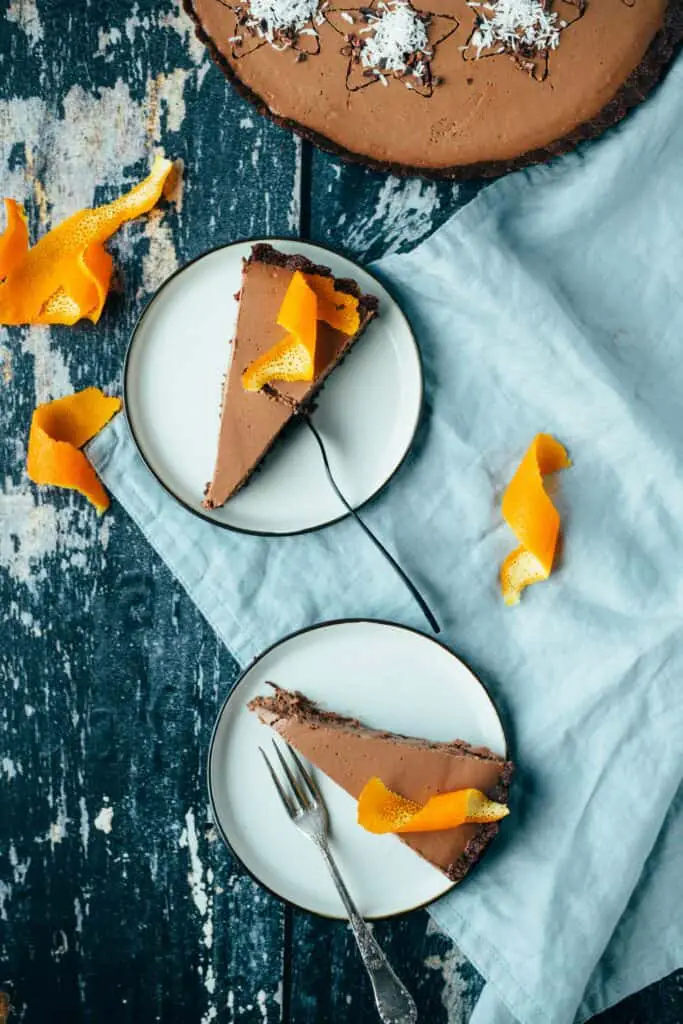 When I imagine heaven (completely independent of any faith), I imagine clouds of chocolate mousse. All kidding aside, I could literally lay into this one. Court into it. At the same time it is really quite simple to make. For the base you need mixed nuts, dates (I take very soft and juicy Medjool Dates which I have linked below), cocoa powder and a pinch of salt.

TIP: It is important to have a good blender that can work without liquid. A high-powered blender is not a good choice here. I use my MagiM ix (Advertising since brand name is mentioned, but no connection to the company). Probably a Thermomix or similar device will also work here. Do you have a tip? Feel free to write me a comment at the bottom.
Press it, baby! Chocolate Tarte Time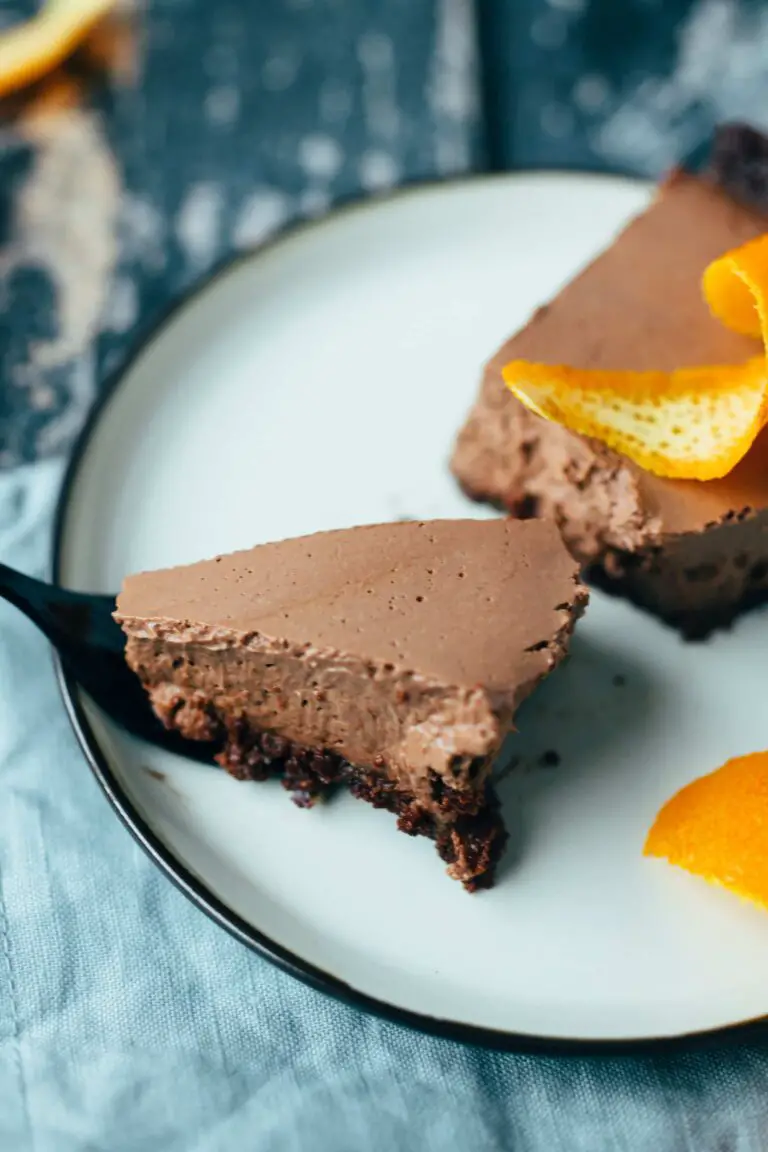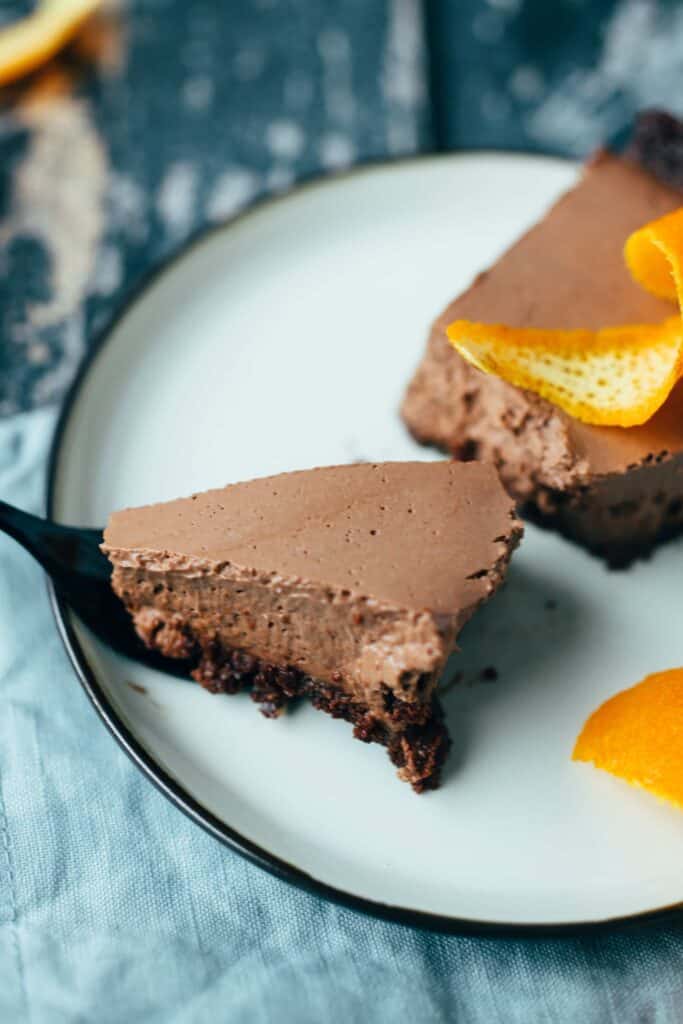 That's right, because as soon as you've made the base from nuts, dates, cocoa and salt into a malleable dough, you're ready to move on. Next we need a Tart mold . Here I recommend one with a removable bottom, otherwise be sure to line it with foil or baking paper. There is nothing more stupid than a beautiful tart that does not want to come out of the mold at the end.
The filling consists of Silken tofu , melted chocolate and Vegetable milk . These are the basics and now a creativity is needed. Here are a few suggestions on how you can make the tart even more exciting:
Gingerbread spice
Orange oil
A pinch Chili
Dried Fruits
Whole nuts
Creamy chocolate heaven in this Christmas tart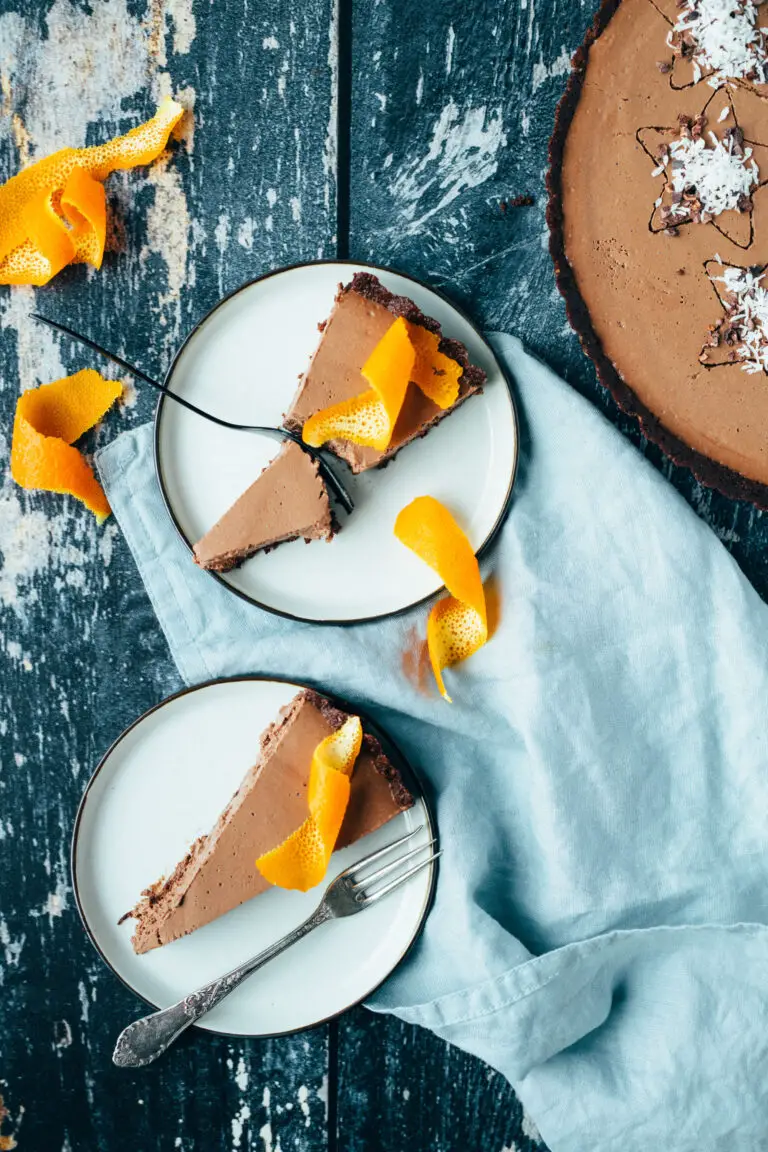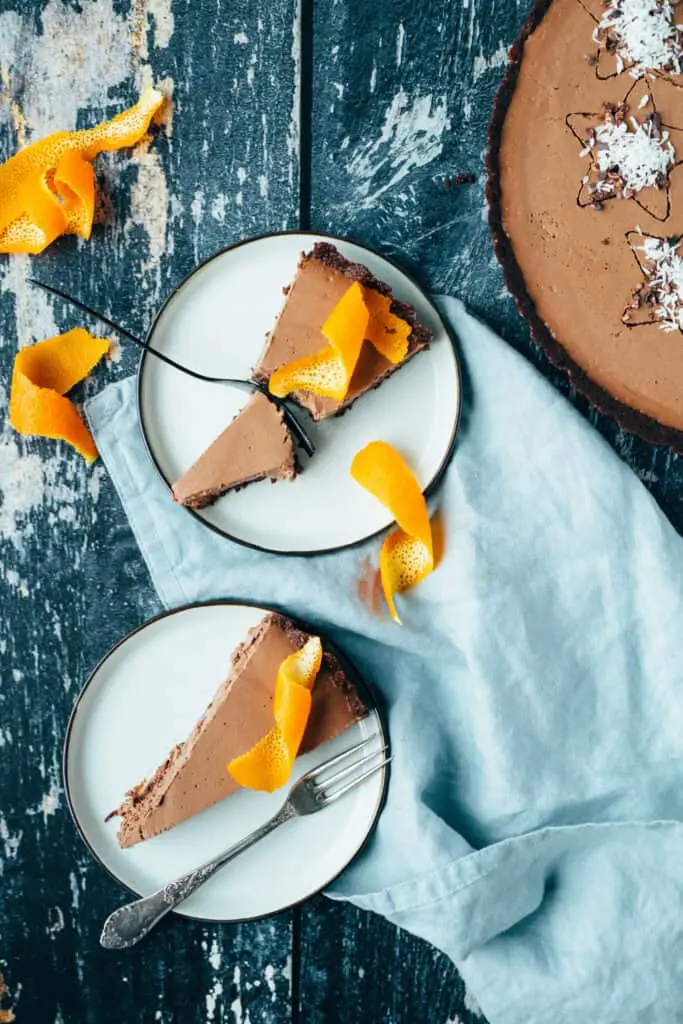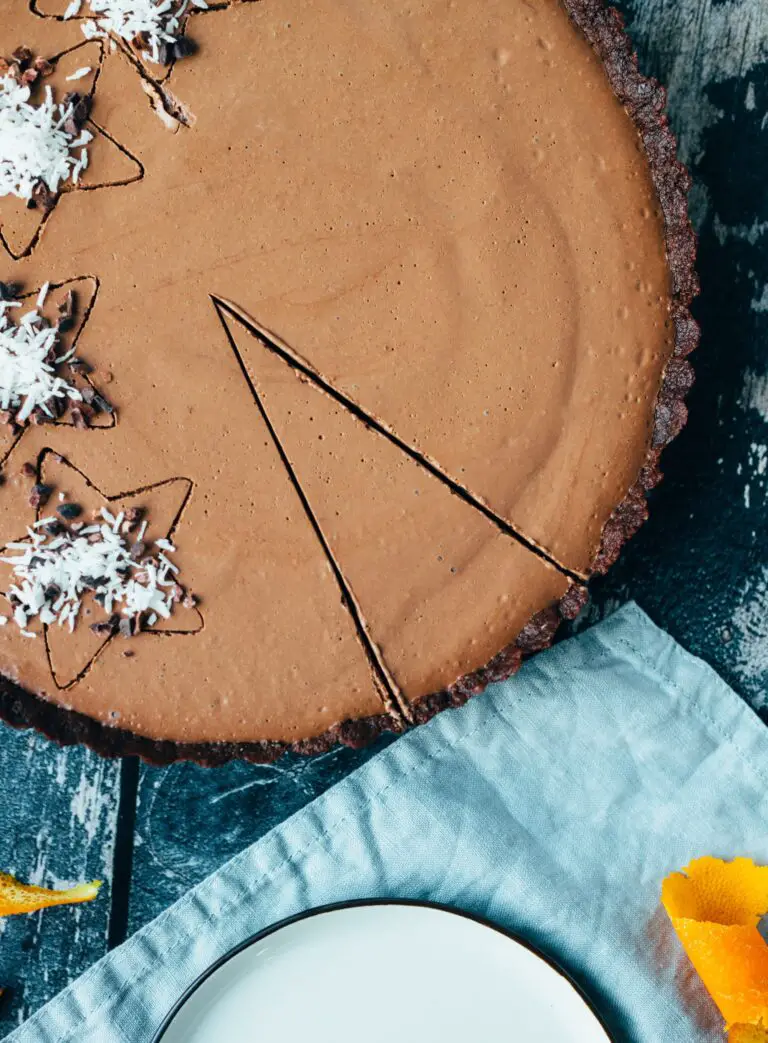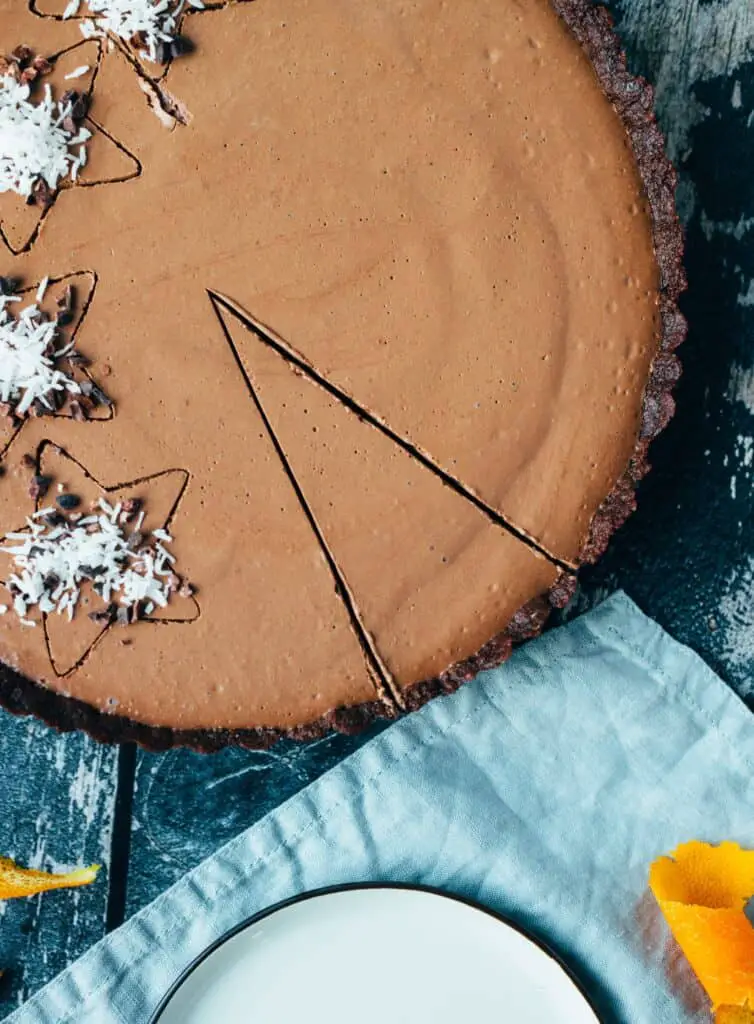 The recipe is really simple and quickly made. You also don't need any special previous knowledge. Here are a few more helpful tips & tricks to make sure you get everything working:
Best Use Medjool dates as they are naturally soft and juicy. When the dates are quite hard, soak them in hot water for 10 minutes, drain and process only then.
The right Food processor is extremely important, especially for the floor. I use my MagiMix, do you have a tip for the community? Then feel free to comment below.
Get firm well leave for at least 2 hours, preferably overnight. Before cutting like Place in the freezer for 15 minutes, then it will be even easier to cut.
If you want to know more Christmas recipes then subscribe to my newsletter Newsletter and you'll get two free e-books with over 24 sweet Christmas recipes. As a menu I recommend the Salad with pear as a starter and the Roast nut with red cabbage and Potato gratin as main course.
Let's get started with this simple, creamy tart. I hope you enjoy baking and of course about a review at the bottom of this page. If you post a picture, feel free to use the hashtag #veganevibes.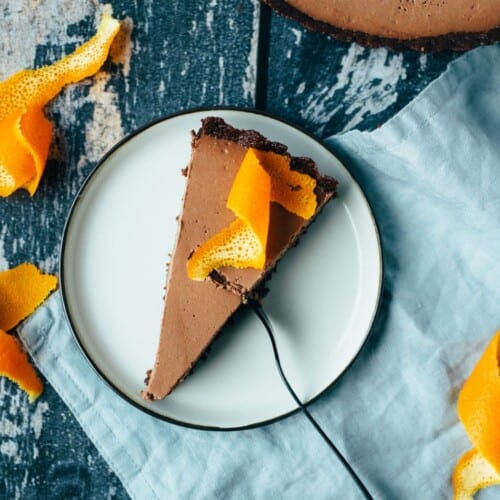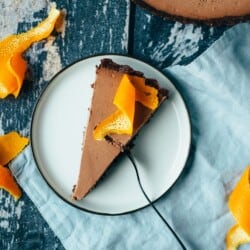 Einfache Schoko Tarte
Einfacher, cremige und vegane Schokotarte, schnell gemacht mit einem Boden aus Nüssen und Datteln. Die cremige Füllung aus Seidentofu und Schokolade macht die Tarte zu einem echten Gaumenschmaus.
AUTOR: VEGANEVIBES
Anleitung 
FÜR DEN BODEN gemischte Nüsse, Datteln, Kakaopulver und Salz in einen Mixer geben und zu einem formbaren Teig verarbeiten.

185 g gemischte Nüssen,

35 g Kakaopulver,

175 g Medjool Datteln,

1 Prise Salz,

optional 1 EL Kokosöl, falls der Teig sehr trocken ist

In eine Tarte Form geben und den Teig mit den Händen hineindrücken bis ein gleichmäßiger Boden mit Rand entstanden ist. In den Kühlschrank oder Gefrierschrank stellen.

FÜR DIE FÜLLUNG Schokolade im Wasserbad schmelzen. Vorsicht! Nicht zu heiß werden lassen, im Zweifel mit einem Thermometer arbeiten. Die Schokolade sollte nicht heißer als 42 Grad werden.

200 g dunkle vegane Schokolade

Seidentofu aus der Packung nehmen und überflüssige Flüssigkeit abgießen. Zusammen mit der geschmolzenen Schokolade und der Mandelmilch in einen Mixer geben und zu einer feinen Creme verarbeiten.

425 g Seidentofu,

120 g Mandelmilch,

1 TL Lebkuchengewürz,

1 paar Tropfen Orangenöl

Boden aus dem Gefrierschrank nehmen und Schokoladenmasse hineingießen.

Glattstreichen und für mindestens

2 Stunden

im Kühlschrank festwerden lassen. Gerne abgedeckt eine Nacht.

Nach Belieben verzieren (Tipps weiter oben bei den Zutaten), in Stücke schneiden und mit Toppings nach Belieben verzieren. Servieren und genießen!

Ganze Nüsse nach Belieben,

Trockenfrüchte,

Orangenschalen,

Pistazienstücke,

Kokosnusssahne,

Cashewsahne,

Granatapfelsamen

Hält bis zu 5 Tage gut verschlossen im Kühlschrank. Eingefroren bis zu 4 Wochen (am besten vorher portionieren).
Nährwertangaben
Serving:
1
Portion
Calories:
365
kcal
Carbohydrates:
48
g
Protein:
12
g
Fat:
16
g
Saturated Fat:
5
g
Cholesterol:
1
mg
Sodium:
43
mg
Potassium:
313
mg
Fiber:
6
g
Sugar:
19
g
Vitamin A:
28
IU
Vitamin C:
6
mg
Calcium:
111
mg
Iron:
5
mg