I finally want a burger again, my husband announced between door and door. Briefly, I'm not sure if this is a nice request or a command. Well, I thought, it's been a while since there was a burger recipe on veganevibes.de. To be more precise, it's already been 6 months and that cries out for a new recipe. It should be a protein-rich burger, so that the men are also full. Sorry, I know that this is an absolute prejudice, but there are supposed to be people who still believe that as a vegan you suffer from a lack of protein. Hmmm, yes, of course, that's what an industry has been telling us for decades. Real men eat meat? With us it's not like that, here real men eat vegetables and vegan burgers!
Vegan protein burger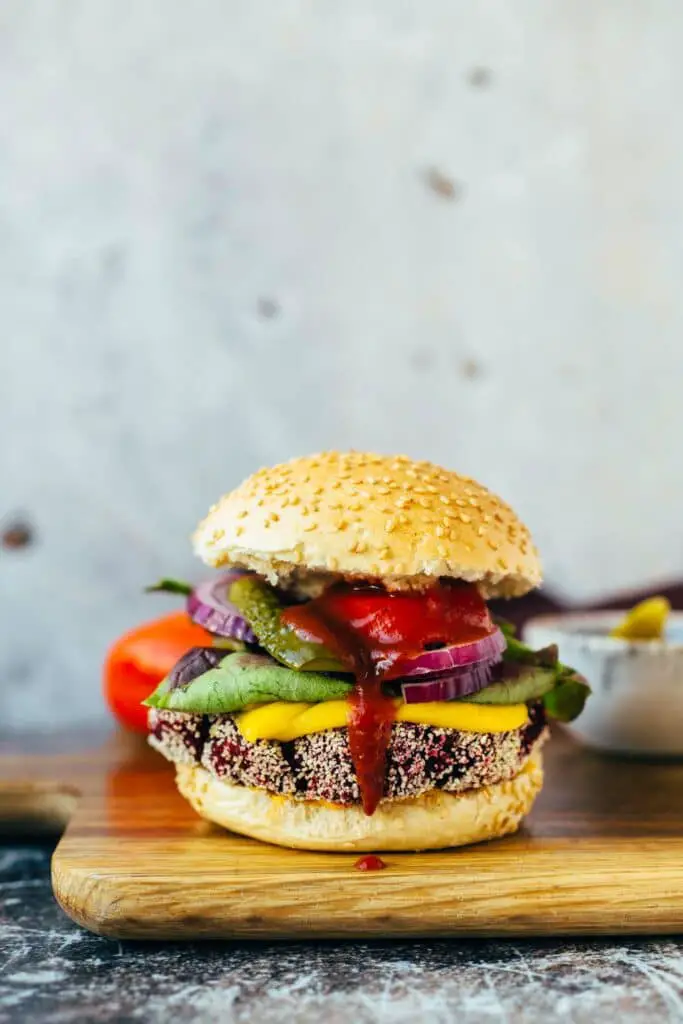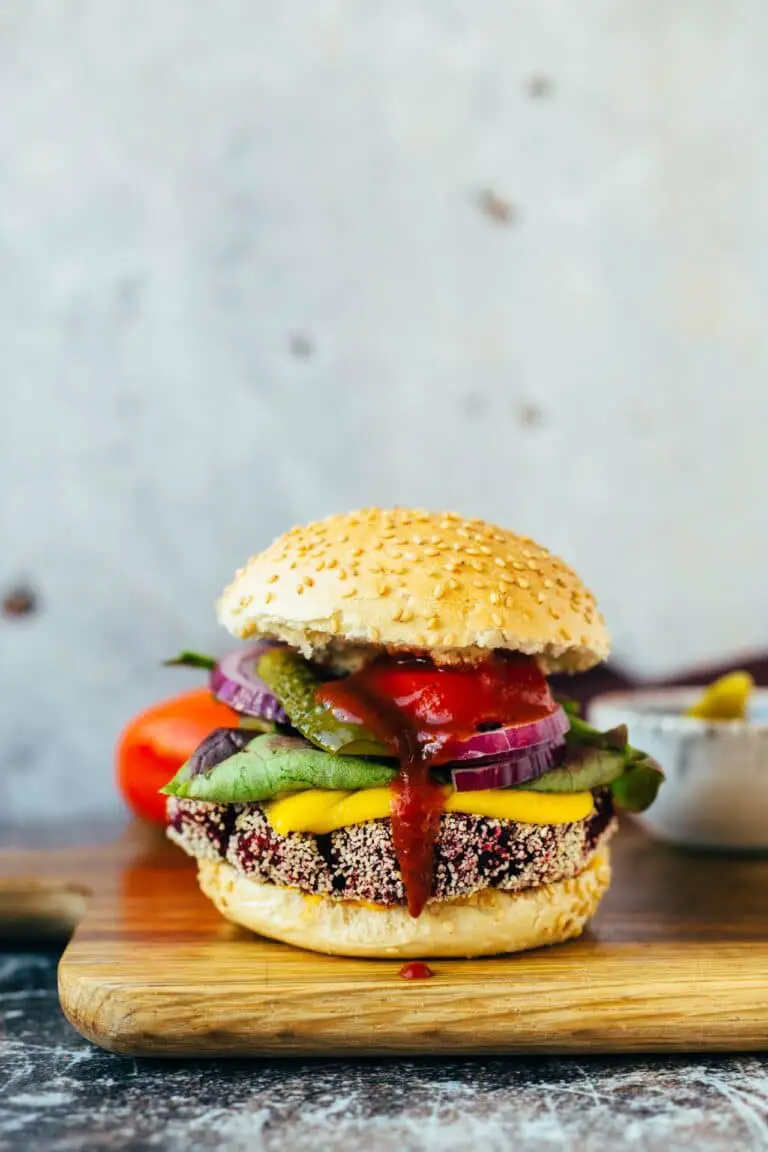 What are actually the best protein sources for vegans? Maybe we just start different, because proteins are made by our organism from amino acids. It is important to know that plant proteins usually do not have an optimal amino acid pattern. This means that at least one amino acid is missing. Is that a problem now? No, it's not, because we can just cleverly combine different protein sources and we're in the green.
Note: It is not important to consume all essential amino acids within one meal. It is important to have a balanced distribution and adequate intake throughout the day.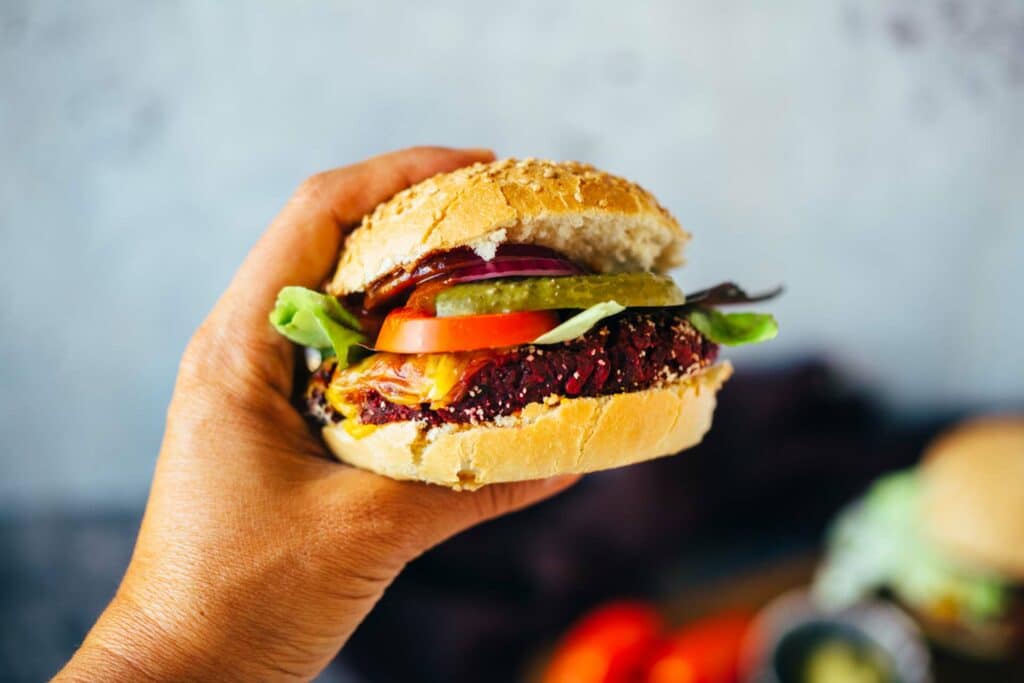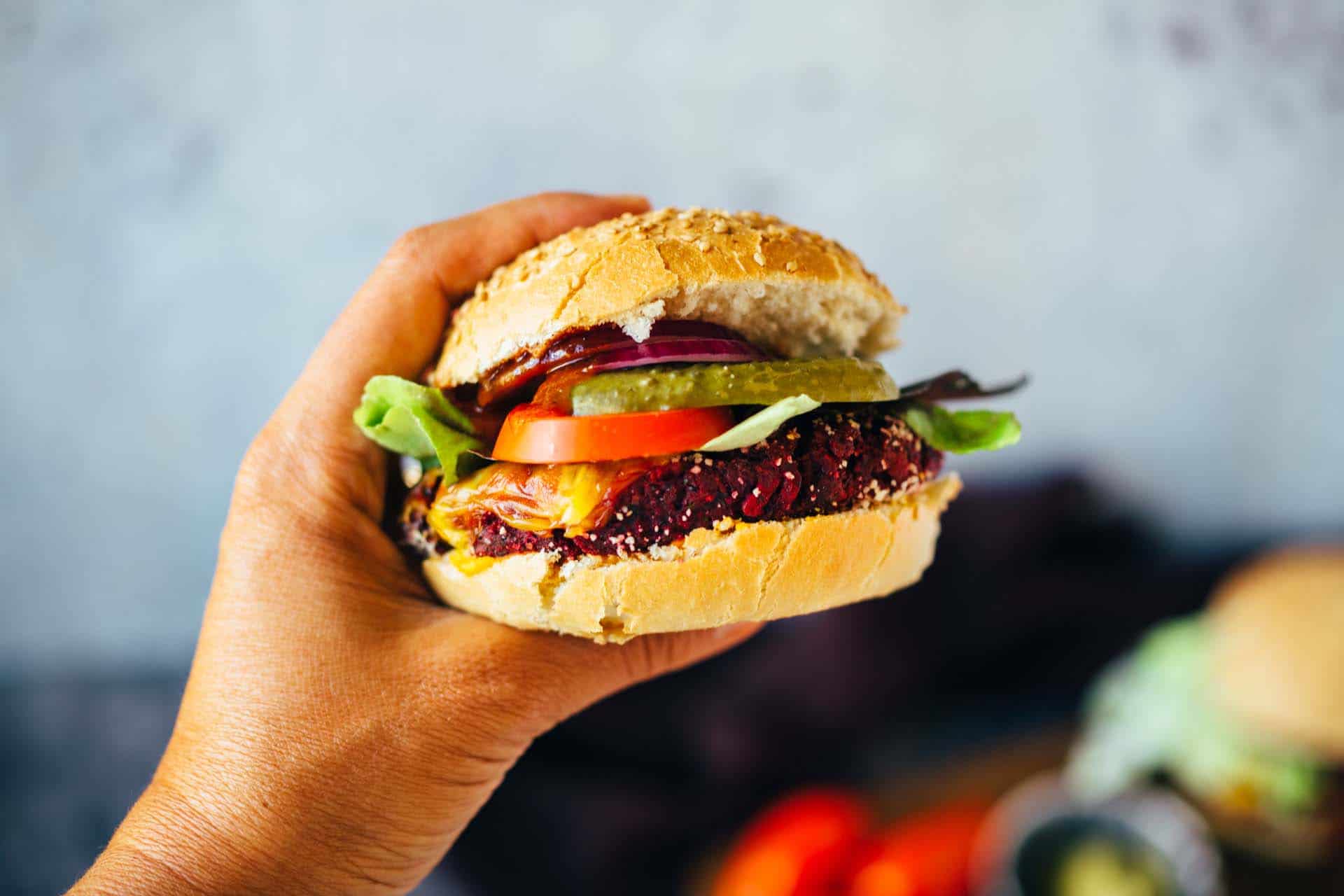 Maybe you have heard about the BW (Biological Value) heard of. This was defined to assess protein quality. By definition, vegetable proteins are always lower than animal proteins, as they are closer to human needs. Don't let this put you off, however, because the value of dietary proteins can be increased with clever combinations of foods.
Here are some practical examples:
Rice with legumes (see my recipe fried rice with lentils).
Spinach and almonds (simply sprinkle a handful of almond flakes over the finished dish).
Peanut butter and whole wheat bread (with extra jelly as Peanut Butter & Jelly Sandwich).
Hummus with wholemeal bread or other wholemeal products
Fact: Did you know that the body converts 92% of the protein from meat and 91% from soybeans? Soybeans seem to me to be the better alternative, also for environmental reasons. Why should we first grow the soy to then feed it to animals? Well, I don't have to tell you that.
Vegan burger patties very easy to make yourself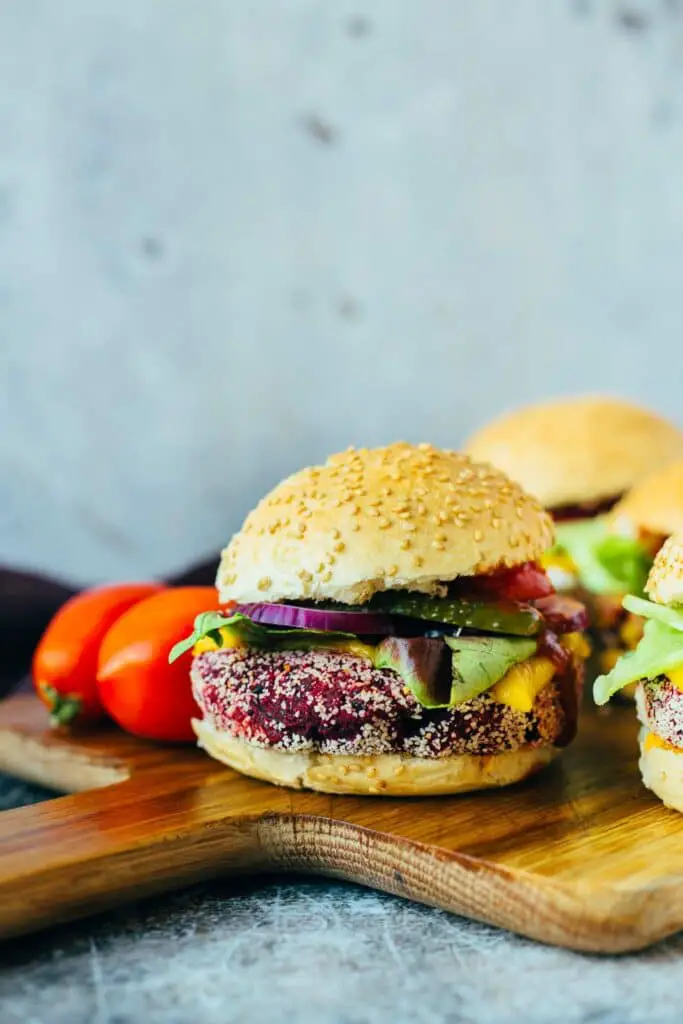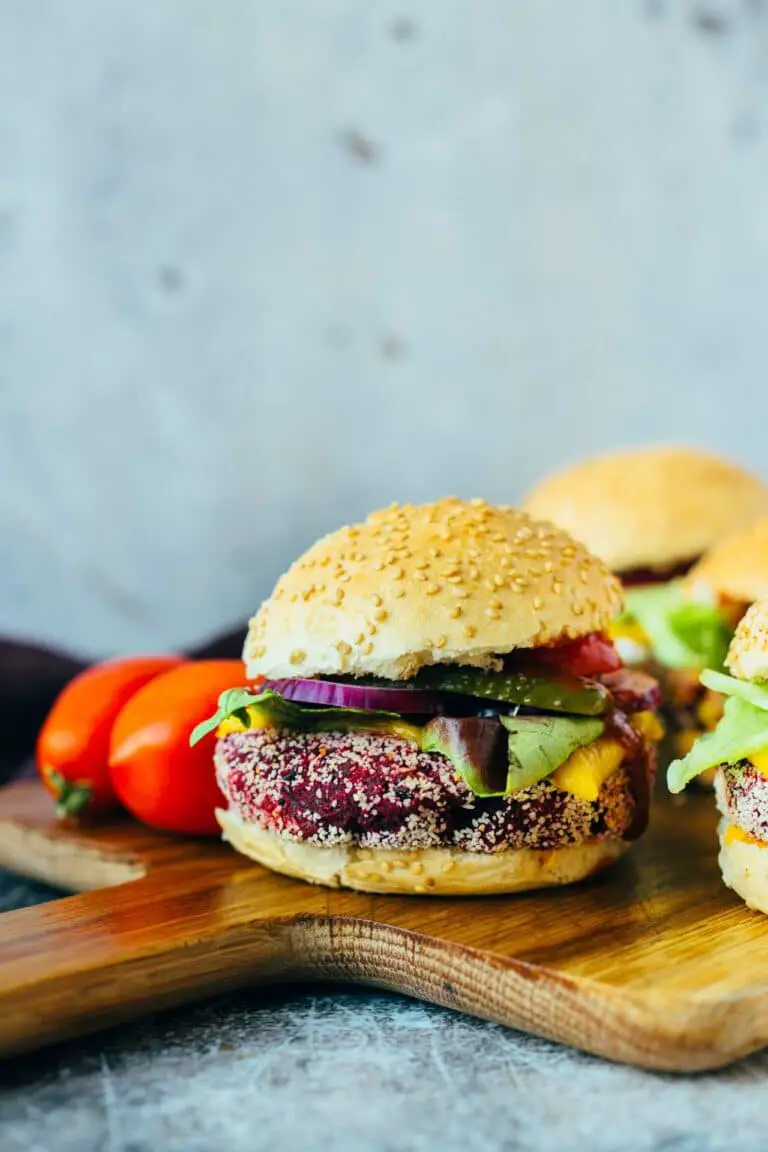 Finally we come to the recipe. You may already be wondering why I call the burger protein-rich. This is due to the soy shreds, which come in at 52g protein per 100g to account. Soy shreds, beet, black beans, ground oats, shredded flaxseed, coconut blossom sugar, garlic granules, cumin, parsley, cardamom, pepper and salt. Optionally, I add xanthan gum. If you've been following me for a bit, you know that xanthan gum is my favorite natural binder.
TIP: Let the dough for the burger patties soak overnight. This gives them time to become really nice and firm.
The next day, divide the dough into equal portions, shape into burgers and process (as desired) in a burger press. Brown in pan on both sides and then place in oven. After 15 minutes they are perfect.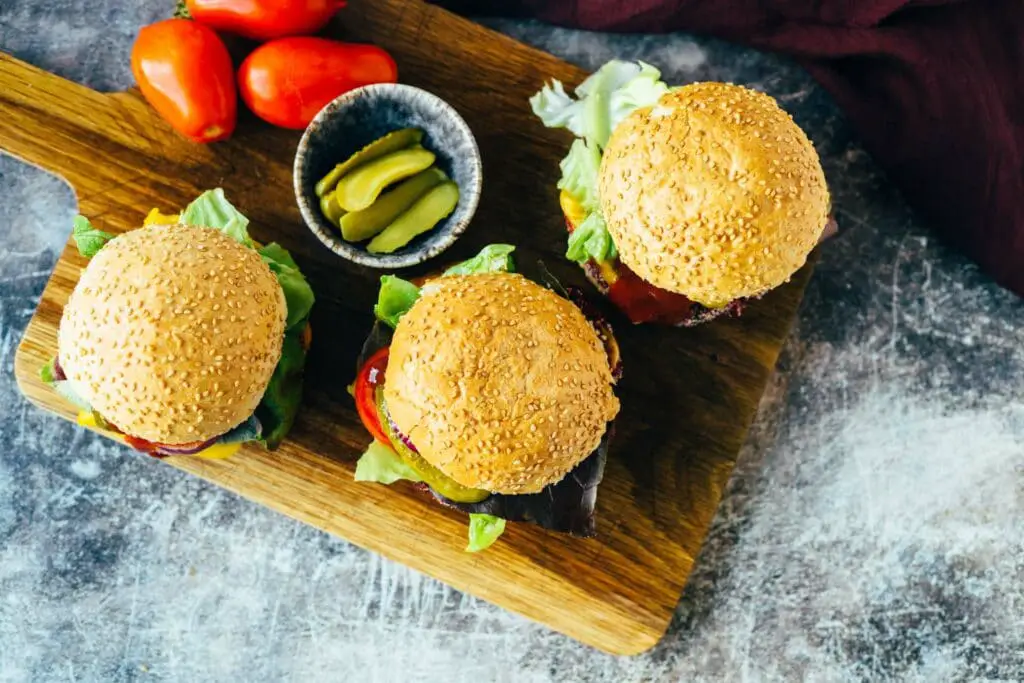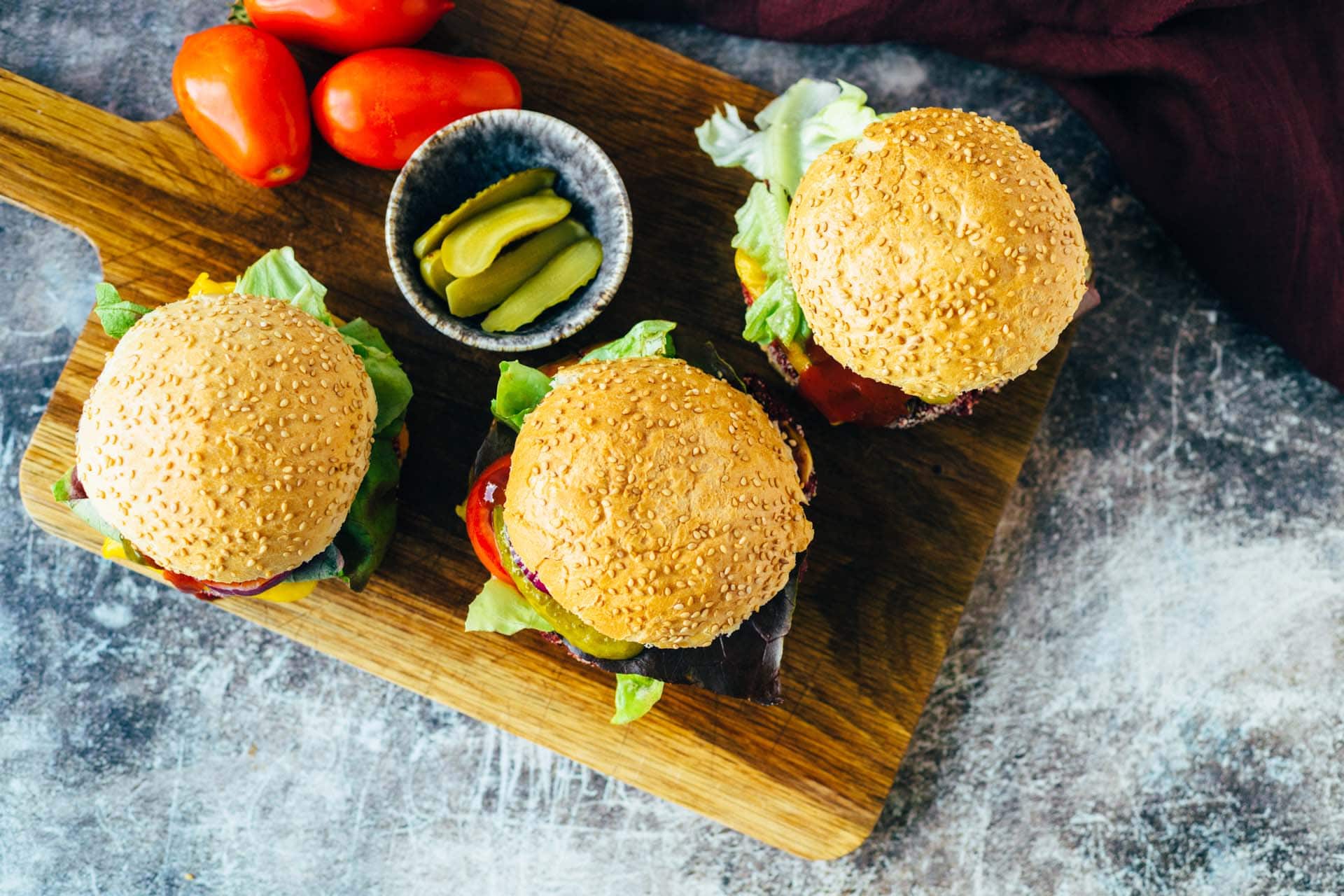 Here are my top 3 binders for vegan burger patties:
Ground oatmeal = binds a lot of liquid and provides good strength. In my opinion, home-ground oatmeal (e.g. in a food processor) binds better than ready-bought oatmeal.
Ground flaxseed = perfect egg substitute to bind the patties.
Tapioca starch = ideal to further bind, the starch is obtained from a root and has a permanent place in my kitchen. I also use it to make vegan mozzarella, for example.
Xanthan gum = a natural binder that is also approved for organic foods. I always have it in my closet.
Shall we get started? Oh yeah, I haven't tested the burger on the grill yet, but I'm pretty sure that should work just fine. Feel free to write me your experience below in the comments.
Protein burger with beetroot:
hearty
Easy to manufacture
Spicy
Protein-rich with 19g protein per patty
Firm consistency
Extremely tasty
What else goes with this Italian highlight? Homemade fries, sweet potato wedges and a cole slaw. If you want to make a low carb version of this, then I recommend replacing the rolls with large lettuce leaves.
Well did you get a craving for this spicy, protein-rich vegan burger? I wish you a lot of fun with the re-cooking and of course I am happy about a review at the bottom of this page. If you post a picture, use the hashtag #veganevibes.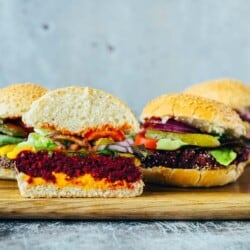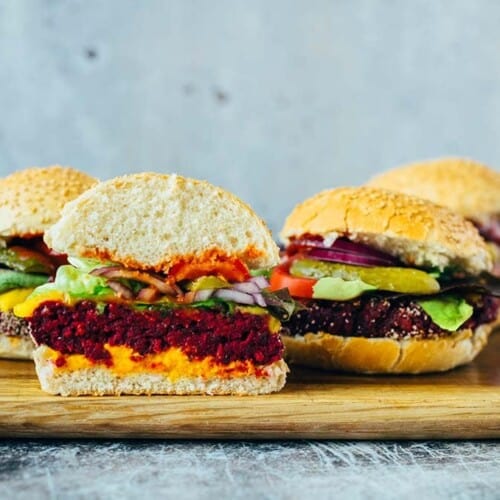 Protein burger with beetroot
Hearty seasoned vegan burger with extra protein from soy shreds. Black beans and beet round out the flavor along with tasty spices. The perfect burger with an extra serving of plant-based protein.
AUTOR: VEGANEVIBES
FOR THE PATTIES:
130

g

Soy cutlets

alternatively ground almonds

1

Liter

Vegetable broth

240

g

black beans

drained and washed (equivalent to a can or jar of 400g before draining).

220

g

beet

precooked cut into cubes, equivalent to a medium-sized beet

50

g

Linseed meal

or more oatmeal, I grind the flaxseeds myself for this, alternatively use purchased flaxseed meal.

90

g

gluten free oat flour

grind yourself or buy ready

2

tbspn

parsley

2

tbspn

Garlic granules

1

tbspn

Cumin

½

tbspn

Cardamom

optional

½

tbspn

black pepper

1-2

tbspn

Sea salt

High heat oil for baking out

if oil-free simply omit
TOPPINGS:
Red onion

cut into rings

Tomatoes

sliced

Salad leaves

Pickles

sliced

Vegan cheese slices

the ones from SimplyV type "spicy "melt especially well *unpaid
TO SERVE:
vegan burger buns

Cole Slaw
Anleitung 
Place soy cutlets in a heatproof bowl and pour hot vegetable broth over them. Strain, use remaining vegetable broth for another dish, and set aside softened soy cutlets.

130 g Soy cutlets,

1 Liter Vegetable broth

NOTE: Preparation of shreds may vary from manufacturer to manufacturer, please prepare according to package instructions.

Place beet and black beans in a food processor (e.g. MagiMix) and blend until a homogeneous mass is formed.

220 g beet,

240 g black beans

Next, place in a large bowl, add in flax meal, soy shreds, rolled oats, coconut blossom sugar, parsley, garlic granules, cumin, cardamom (optional), black pepper and salt and knead with your hands to form a uniform dough. Note: Beetroot can discolor hands and clothing, optionally use gloves and protect clothing.

130 g Soy cutlets,

50 g Linseed meal,

90 g gluten free oat flour,

15 g Coconut blossom sugar,

2 tbspn parsley,

2 tbspn Garlic granules,

1 tbspn Cumin,

½ tbspn Cardamom,

½ tbspn black pepper,

1-2 tbspn Sea salt

Season to taste and add sea salt and pepper to taste. The consistency should be firm but malleable, neither too dry nor too mushy. If too dry, sip some vegetable milk, if too wet, add more oatmeal.

Form into a ball, place in a bowl and cover and refrigerate for at least

30 minutes

, preferably overnight. The patty mixture should be really nice and firm now.

Heat medium frying pan and add frying oil. Separate dough into 6 equal portions (mine were about 170g) and shape into burger patties. Ideally, use a burger press to help.

High heat oil for baking out

Preheat oven to 175 degrees and line a baking sheet with parchment paper or a reusable baking mat.

Sear patties first in skillet for about 3-5 minutes on each side until lightly browned on the outside.

Then place patties in oven and bake for

15 minutes

. If using vegan cheese, after 10 minutes of baking, place cheese slices on top of patties and allow to melt.

Slice open vegan burger buns, spread with sauce, place patty on top, decorate with tomatoes, onion, pickles, vegan cheese and other toppings as desired, place bun lid on top and enjoy!

Patties last 2-3 days covered in the refrigerator, preferably fresh. Frozen up to 1 month.
Notizen
Note: Calories without rolls and toppings
Nährwertangaben
Serving:
1
Portion
Calories:
251
kcal
Carbohydrates:
36
g
Protein:
19
g
Fat:
3
g
Saturated Fat:
1
g
Sodium:
771
mg
Potassium:
526
mg
Fiber:
10
g
Sugar:
9
g
Vitamin A:
405
IU
Vitamin C:
2
mg
Calcium:
109
mg
Iron:
5
mg