Chocolate Protein Truffle is the perfect snack for those who want to snack delicious and healthy. I am currently training again and it helps enormously to provide myself with a small portion of easily digestible energy beforehand. A large portion Pasta right before a cardio class may not be the best choice, unless you want to feel 5 pounds heavier than you really are. But the little chocolaty beauties are not only suitable for athletes, but fit perfectly into any handbag. When traveling, it is often problematic to find something healthy that you can quickly snack in between. Therefore I like to pack a box with Bliss Balls in my bag to be optimally supplied.
Healthy chocolate protein in ball form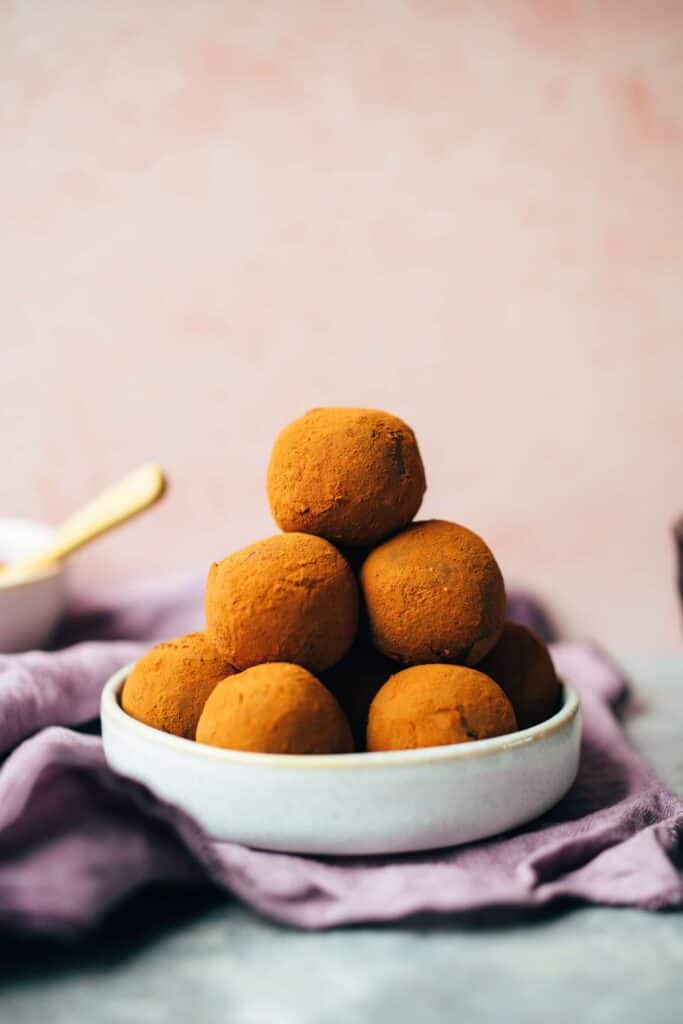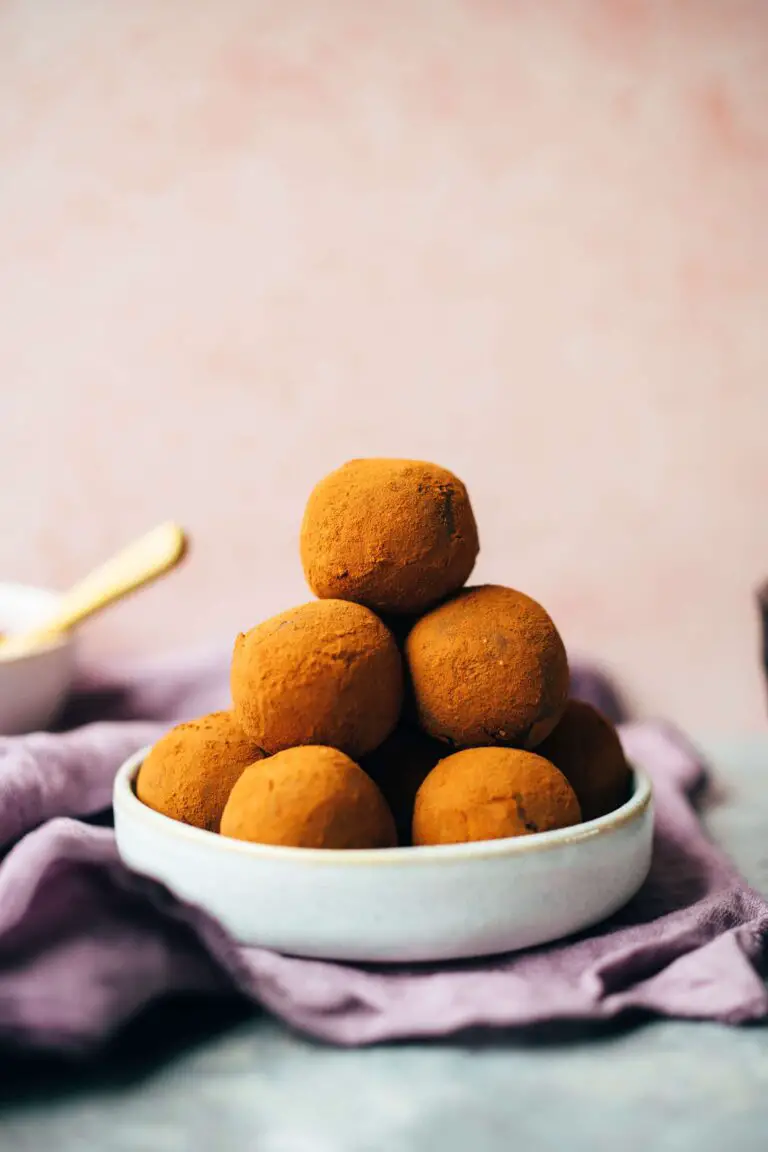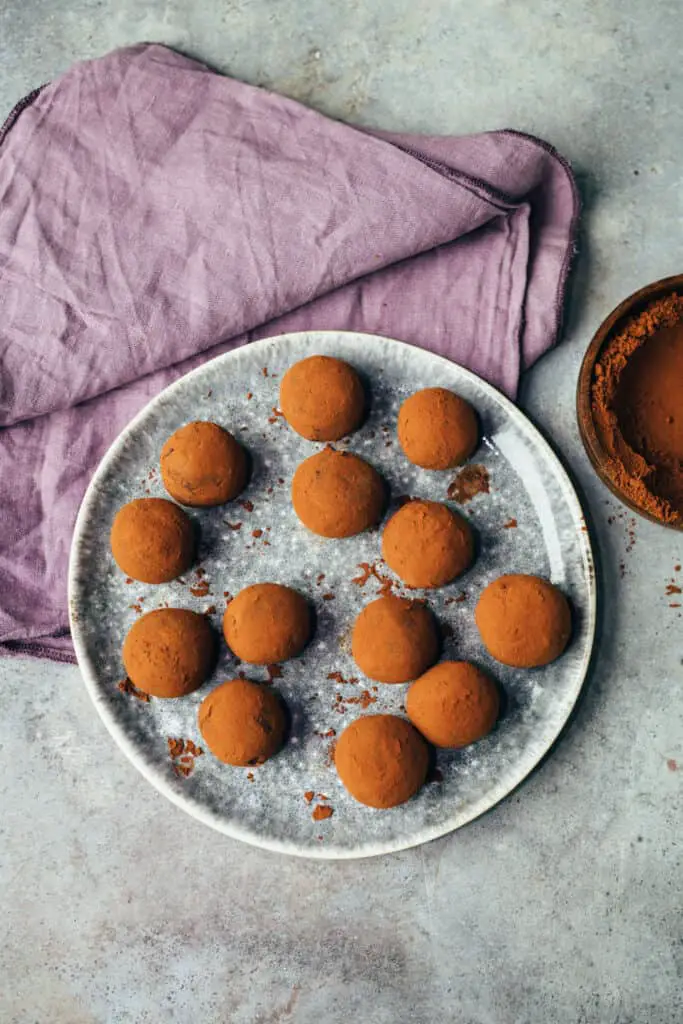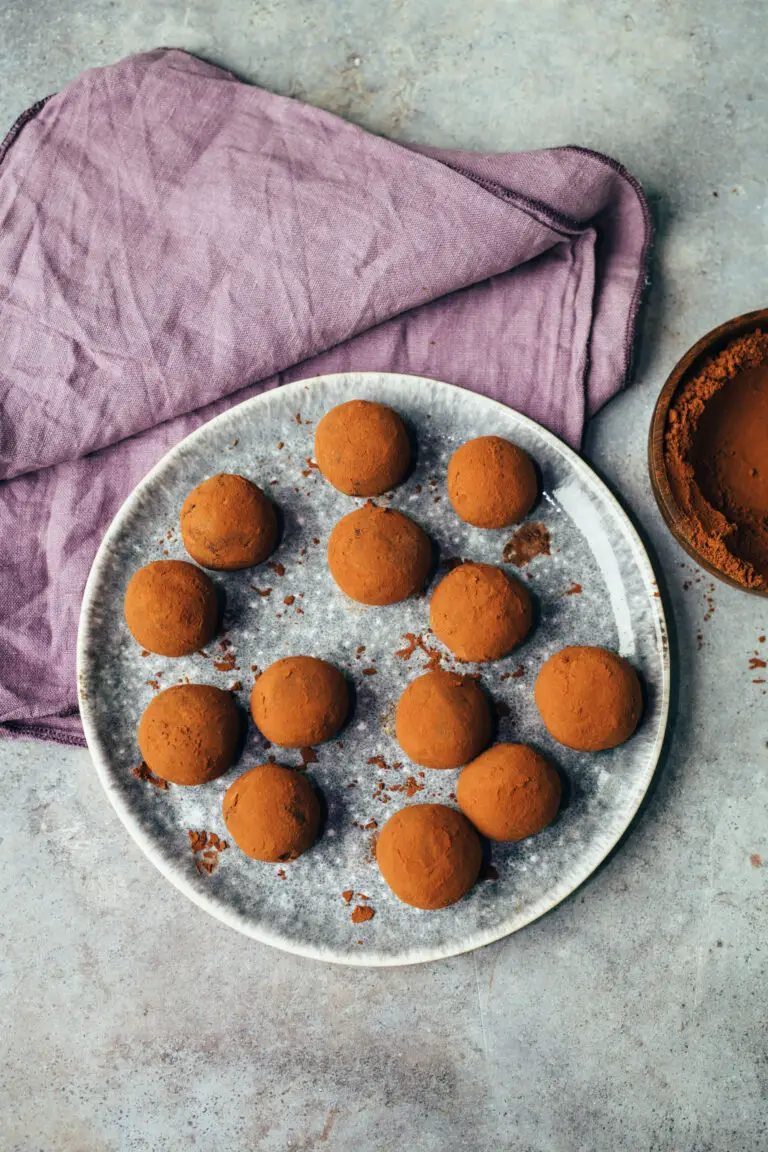 In very many Bliss ball recipes you can find coconut oil in rough quantities. I'm not really a fan of too much oil, so I've cut it out completely here. The ingredients in our small, fine Bliss Balls are wholesome, oil-free, and most importantly, no added white sugar. I can't stress enough how important a healthy source of sugar is. Your blood sugar level will thank you if you use whole sugars instead of simple ones. Dates instead of simple sugars.
Let's get straight to the ingredients. Dates , nut puree, cocoa powder, oat flour, vanilla and a vegan protein powder. This all goes together in the blender and is processed into a fine, raw dough. If the dates are soft and juicy enough, you don't need to add any more liquid. Otherwise, add lukewarm water a little at a time so that the dough can bind well. When it is really nice and compact at the end, it can also be wonderfully portioned and formed into balls.
TIP: Instead of oat flour, you can always use almond flour or another gluten free flour use. If you happen to have pulp (pressed cake from the production of nut milk) left over, this is also ideal as a flour substitute. Zero-Waste!
Vegan protein powder – what to look for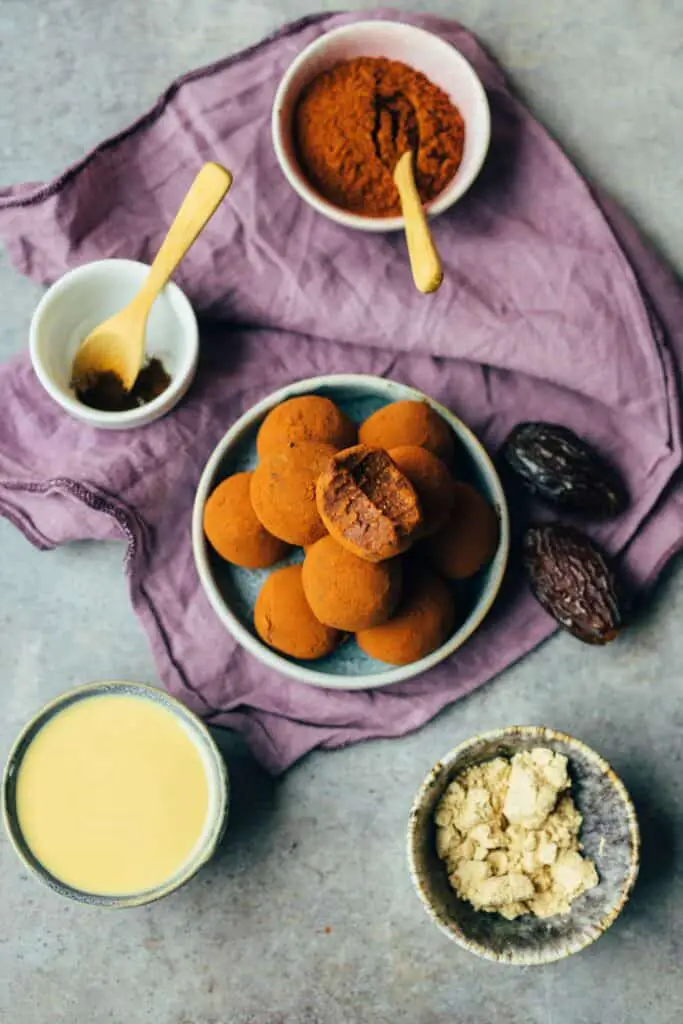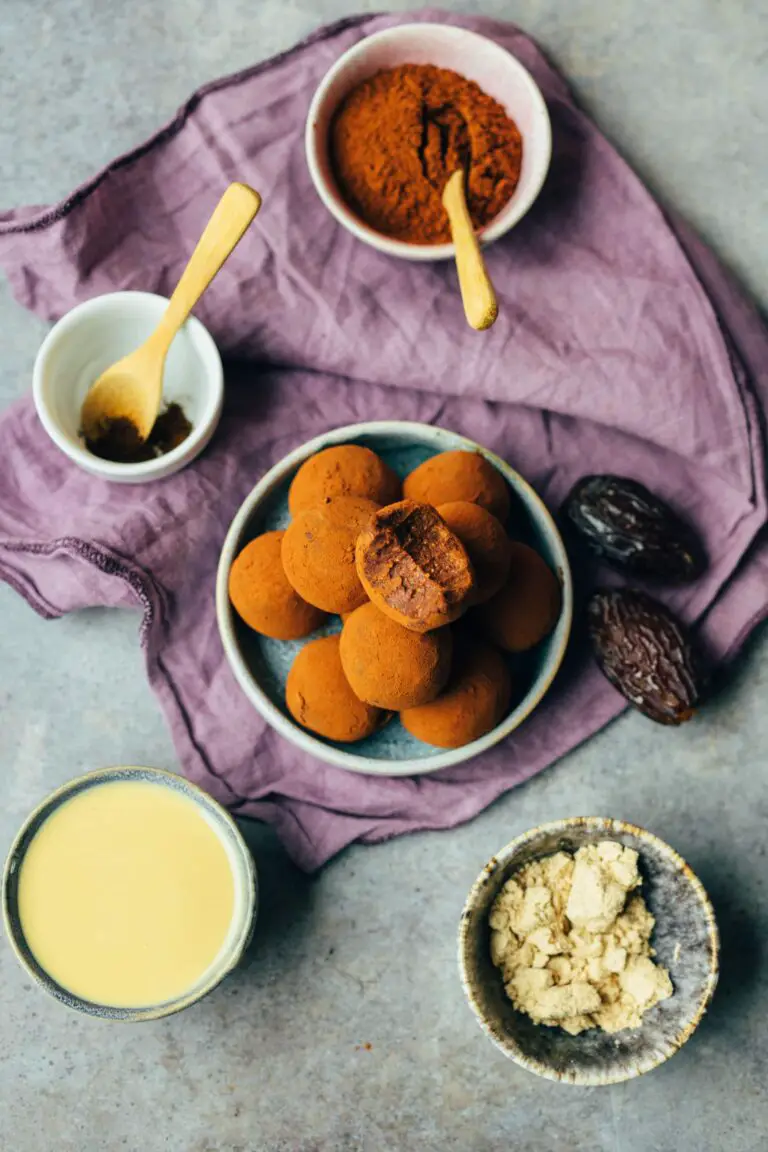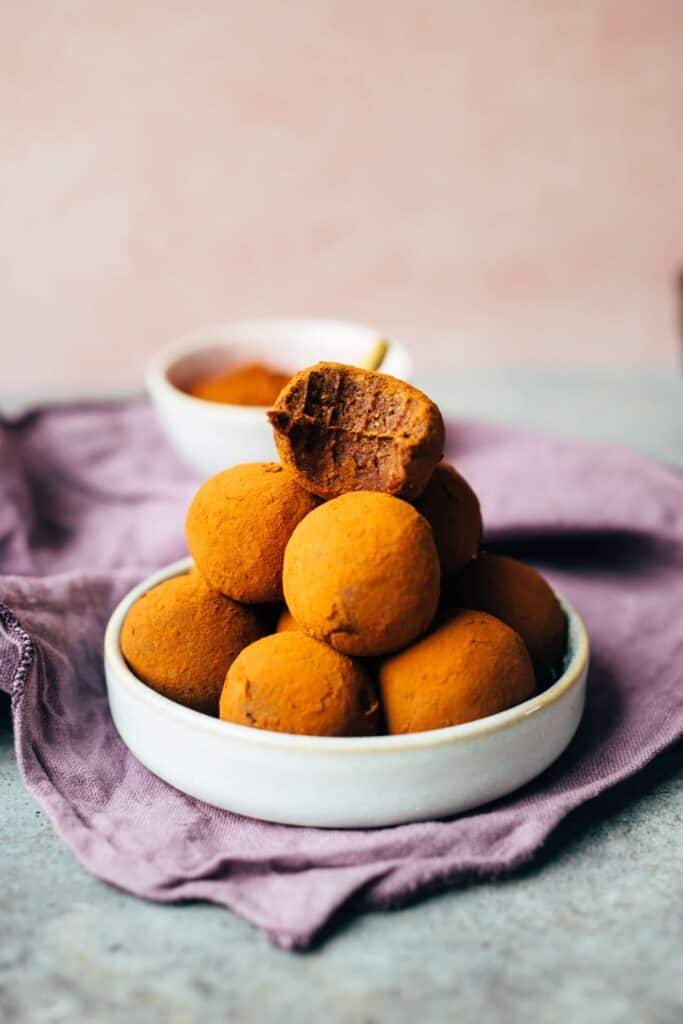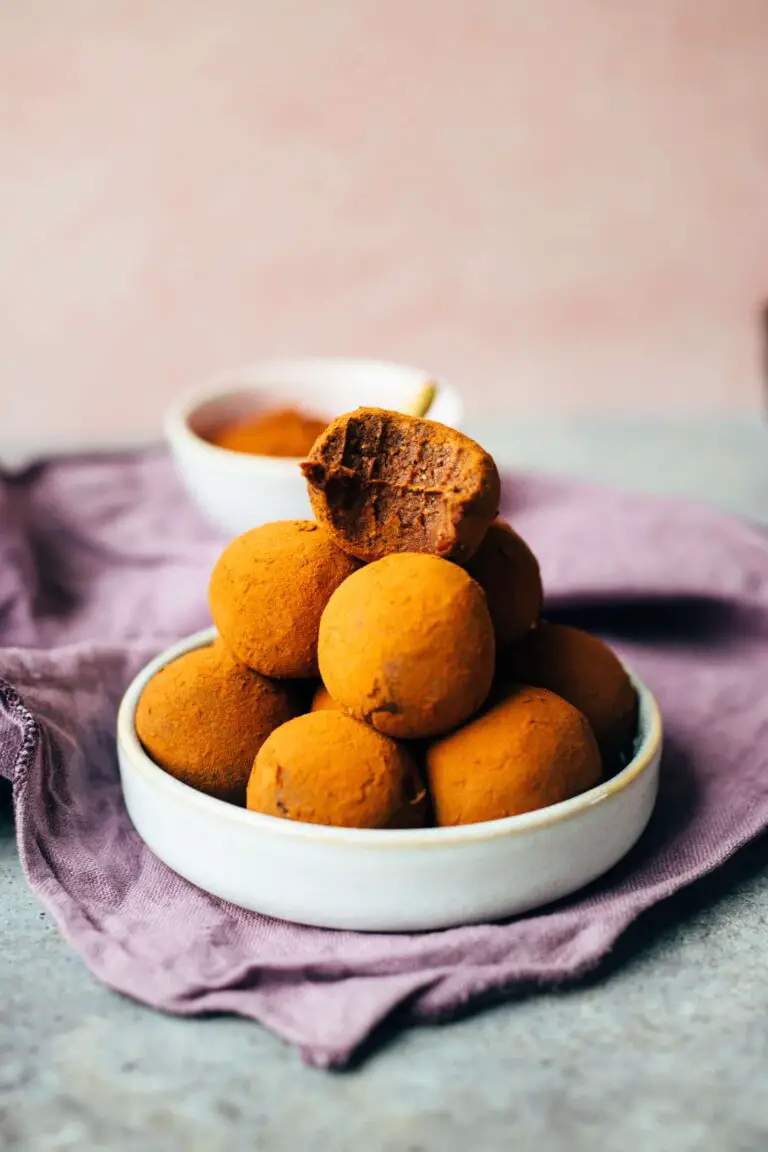 When it comes to protein powders, there is an endless choice on the market and often one's head is spinning when it comes to choosing one or the other. Basically, you have the choice between a simple protein powder, for example, a pure pea protein or rice protein powder, or a ready-made mixture that also contains other health-promoting ingredients. I'm a big fan of protein blends and have summarized for you here what I look for in my selection:
NO SWEETENERS OR FLORASES I think it's important that ingredients are as natural as possible and that includes only all-natural sweeteners and natural flavors.
ALL ESSENTIAL AMINO ACIDS should be included in a protein mix. Vegetable protein sources can be limited in composition, so a clever combination is key here. Pea and sunflower protein, for example, together form a perfect amino acid profile.
ADDITION OF BALLASTS & VITAMINES can be useful! According to the national consumption study, many Germans eat too little dietary fiber. Adding natural sources of fiber to a protein mix can help meet daily fiber requirements
Last but not least, it makes sense to take a closer look at the manufacturer and check to what extent he does without conventional plastic packaging, the raw materials are organic & fair and he supports meaningful projects with the proceeds from sales.
So much for protein powder, but now back to our delicious vegan Truffle . Since I have just eaten three pieces again, I can tell you that they taste really delicious fresh from the fridge.
In addition to this high protein option, I highly recommend the super chocolate chai truffle , Chocolate Orange Raw Truffle or Chocolate-Coconut Energy Balls .
Chocolate Protein Balls:
high protein
chocolatey
Full of healthy micronutrients
Naturally sweetened
Quickly made
Let's go with this dream from Protein and Cocoa . I hope you enjoy the reel and of course about a review at the bottom of this page. If you post a picture, use the hashtag #veganevibes.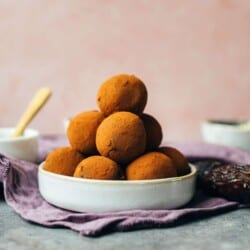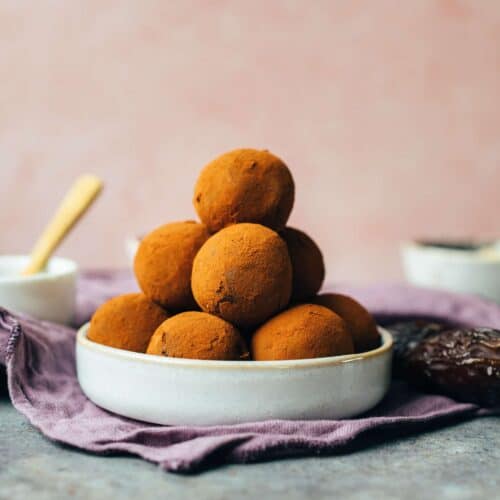 Chocolate protein (15 minutes)
Extremely delicious, high protein, vegan and gluten-free truffles for the perfect energy in between (or before/after workouts). Chocolatey, high protein, high fiber and oil free.
AUTOR: VEGANEVIBES
85

g

Oatmeal

*I grind gluten-free rolled oats myself, alternatively another gluten-free flour of choice.

180

g

Medjool dates

if very dry, soak in hot water for one hour

24

g

raw cacao powder

gladly a high-quality, raw cacao powder or carob powder

45

g

Nut puree of your choice

I use a light almond paste

¼

tbspn

Bourbon vanilla ground

A strong pinch of salt

10

g

vegan protein powder

I use one with vanilla flavor
TOPPING:
Anleitung 
To make the dough, first put the rolled oats in a food processor (I use my MagiMix here) or high-powered blender and blend until a fine flour is formed. Alternatively, use ready-milled oat flour.

Add pitted dates, cocoa powder, nut butter, bourbon vanilla, salt, and protein powder and mix to a fine, slightly crumbly, yet sticky dough.

Tip: It may take a few minutes for the dough to become nice and firm and pliable.

180 g Medjool dates,

24 g raw cacao powder,

45 g Nut puree of your choice,

¼ tbspn Bourbon vanilla ground,

A strong pinch of salt,

10 g vegan protein powder

Portion with a moistened spoon and shape into balls. Roll in cocoa powder and enjoy.

Place remaining truffles in a resealable box and store in refrigerator or freezer. Store in the refrigerator for up to 2 weeks, in the freezer for up to 4 weeks.
Nährwertangaben
Serving:
1
Portion
Calories:
74
kcal
Carbohydrates:
14
g
Protein:
2
g
Fat:
2
g
Saturated Fat:
1
g
Sodium:
1
mg
Potassium:
168
mg
Fiber:
2
g
Sugar:
10
g
Vitamin A:
22
IU
Calcium:
25
mg
Iron:
1
mg