No Bake Cookie my dears, or a great alternative if you don't feel like baking one day. At the moment, I honestly don't feel like doing anything, because I just came from the dentist. Still, the anticipation is there when I can soon bite into another delicious Cookie bite. I have already stored them neatly in the refrigerator and they are literally waiting to be eaten. When I look out of the window, I wonder when it will finally be summer? Such a summer with sunshine and balmy nights, where you can sit outside without a jacket until 1 am. Good question, next question, because according to the weather forecast it should be soon. Well, I'm happy to wait, with a few delicious. Cookies , no problem.
No Bake Cookies or simply energy balls in cookie form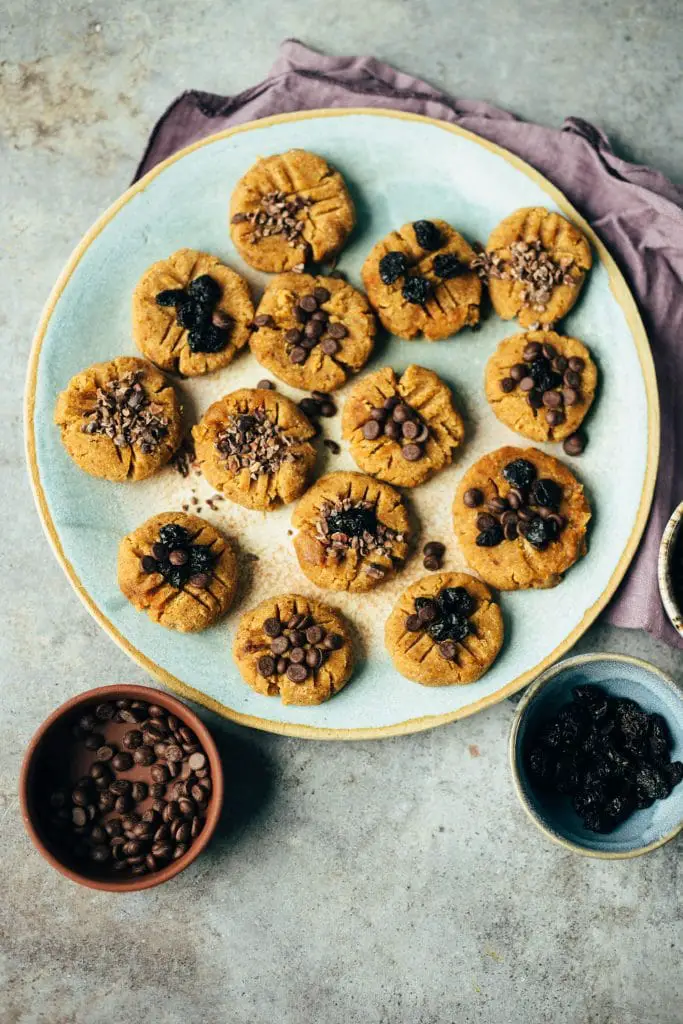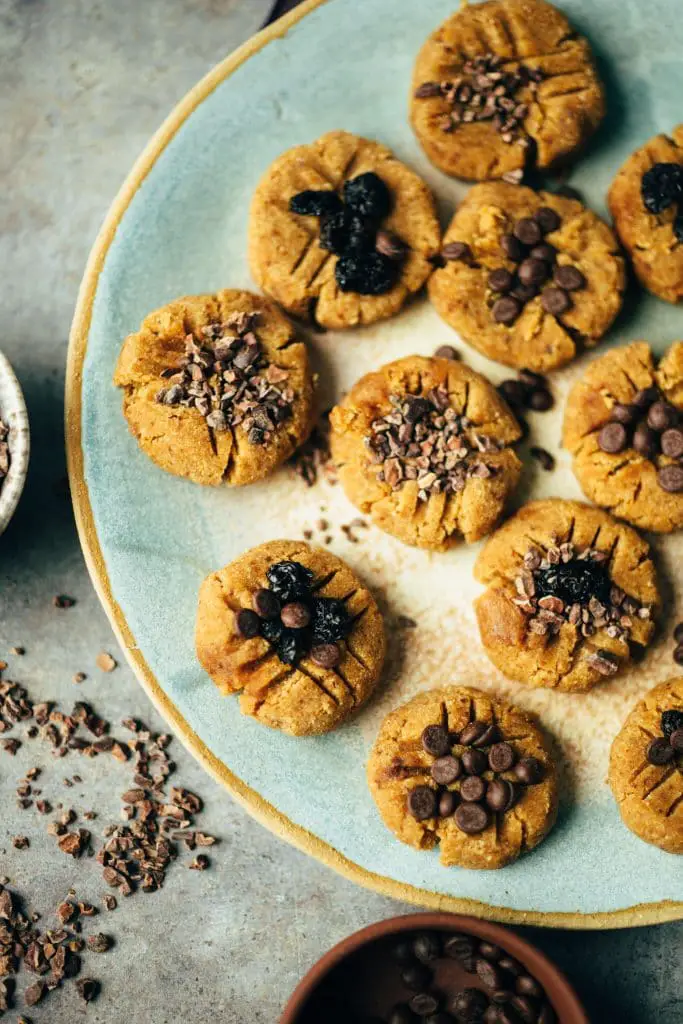 It's really easy if you have a good blender. This is exactly the thing we should talk about sometime, because I have already destroyed a few blenders. I love using my MagiMix (no sponsoring) here because it gets the dates super small. With high-powered blenders, you have the problem that they only work well with enough liquid. Otherwise, they "go crazy" and that can be quite exhausting. Therefore, my tip for any vegan kitchen for the preparation of raw food and / or smoothies and dressings:
Work with 2 mixers:
SMOOTHIES/DRESSINGS: High performance blender
ROHKOST:like these "no bake cookies": mixer with powerful motor that can work well without liquid.
Otherwise, there is not much to consider when making the Cookies not much to consider. I use Medjool dates, almond flour (feel free to mix with shredded coconut), a pinch of salt and bourbon vanilla. If you like it even creamier, add an optional heaping tablespoon of peanut butter.
TIP: If the dates are too dry, simply add a sip of water to the blender. Dose carefully, too much water makes the dough mushy.
Vegan snacks without sugar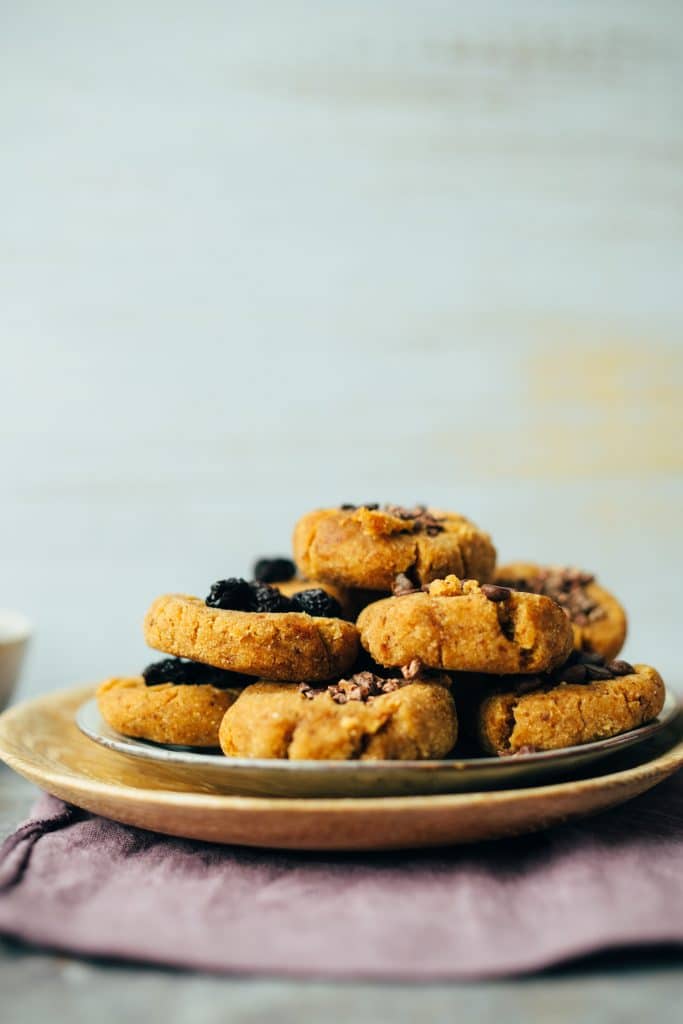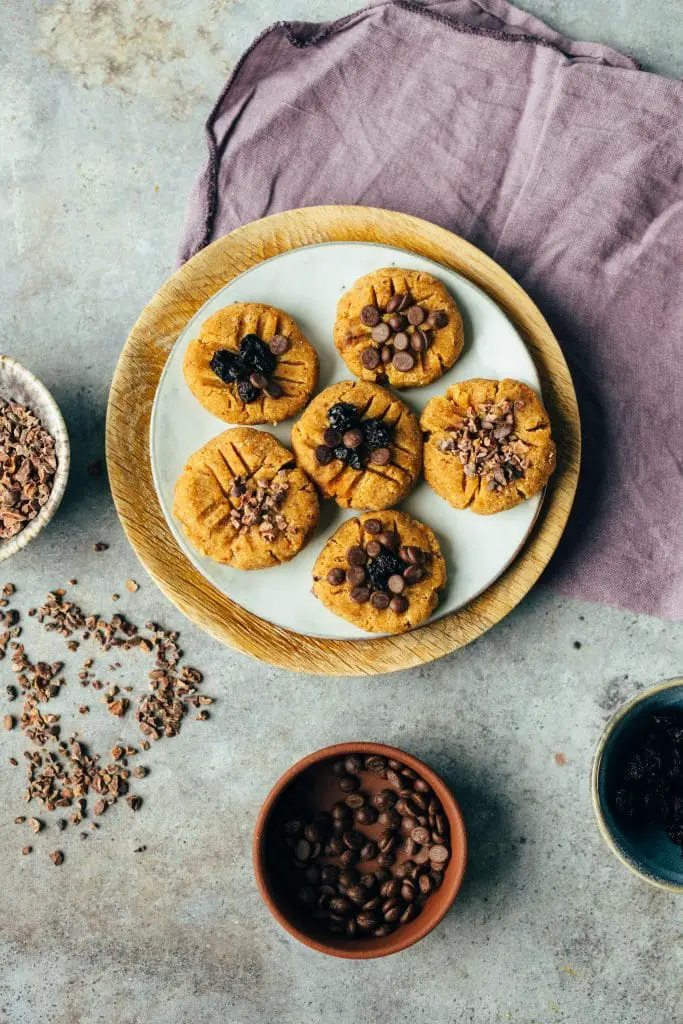 That's exactly what it is, because this snack is one hundred percent without white sugar (or household sugar) and we only with Dates sweetened. Are actually Dates also sugar? Strictly speaking, yes, but the sugar does not come in isolated form, but together with many other valuable ingredients such as fiber, vitamins A, B and C, iron, folic acid, zinc, potassium and tryptophan. The latter is an amino acid and the precursor of the sleep hormone melatonin. Therefore, also like to nibble a cookie before bedtime.
Let's move on to the toppings, which ones are particularly good for the raw cookies?
Dark vegan chocolate drops
Cocoa nibs
Dried cherries
Coconut flakes
Mixed chopped nuts
Here, however, you can let your imagination run wild, because anything that tastes good is allowed.
Our today's raw Cookies are definitely healthy, high in fiber and naturally sweetened. If you are gluten free are on the go, look for a gluten-free option when buying oatmeal.
Get started with these delicious, no bake. Cookies . I wish you a lot of fun baking and of course a review at the bottom of this page. If you post a picture, use the hashtag #veganevibes.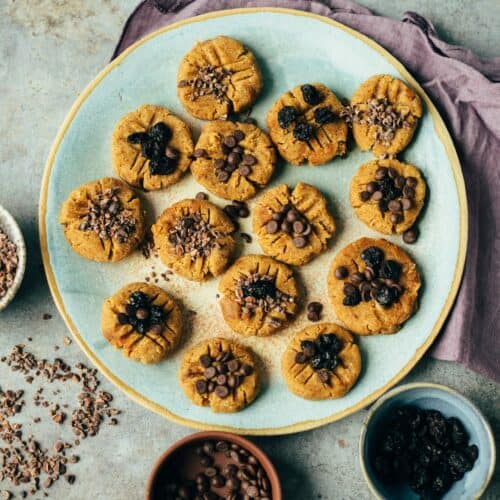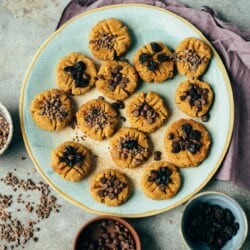 No Bake Cookies
Extremely delicious raw cookies that are quick and easy to make. Dates and almond flour make them a healthy and energy-rich snack. Perfect as a healthy snack idea for kids. Naturally sweetened, without added sugar.
AUTOR: VEGANEVIBES
Anleitung 
If dates are very hard, soak in hot water for

30 minutes

and strain before processing. For high quality Medjool dates, this step can be ignored as the dates are usually soft enough.

First, put the dates in the blender and process to a fine paste. Using a silicone spatula, keep brushing down the edges.

Add almond flour, bourbon vanilla and salt and continue mixing.

115 g Almond flour,

¼ tbspn Bourbon vanilla,

1 Pinch of salt

If the dough is too dry, add a sip of water and continue mixing.

Add peanut butter and continue mixing until everything is well combined and a compact dough is formed that can be easily shaped. See video.

15 g Peanut butter,

A few sips of water

Separate dough with a spoon into 14 equal pieces and shape into a ball. Flatten slightly with the flat of your hand and shape into a cookie.

(Optional) using a damp fork, press a typical diamond pattern into the cookies.

Garnish with desired toppings and serve.

Enjoy immediately or place remaining cookies in a resealable box and store in the refrigerator or freezer. In the refrigerator they last about 1 week, in the freezer up to 4 weeks.
Nährwertangaben
Serving:
1
Cookie
Calories:
108
kcal
Carbohydrates:
15
g
Protein:
3
g
Fat:
5
g
Saturated Fat:
1
g
Sodium:
1
mg
Potassium:
125
mg
Fiber:
2
g
Sugar:
11
g
Vitamin A:
25
IU
Calcium:
35
mg
Iron:
1
mg