Bounty Tart how I have missed you. There is already a recipe for vegan Bounties on the site and now comes the crowning glory for the situations when we are finally allowed to make a real Kaffeekränzchen again. My husband and I can Tart not devour all alone, so I currently offer a "Pick Up" service for friends and relatives. Who wants, I simply put two, three pieces ready to pick up in front of the door. Our Huskies are unfortunately not so the cake fans, they are more interested in a piece of the smoked tofu. The Tart definitely transports itself mentally to countries where coconut is grown. Close your eyes and imagine lying under a coconut tree with a hammock. If you feel even a little bit better now, then I have achieved my goal.
BOUNTY TARTE, WHEN? WHERE.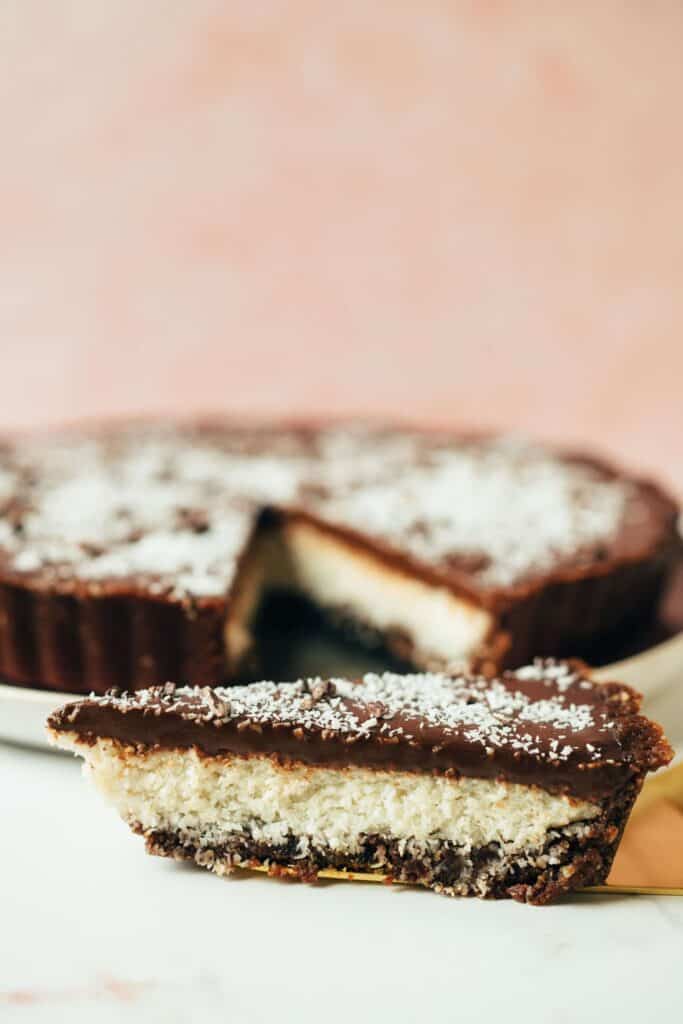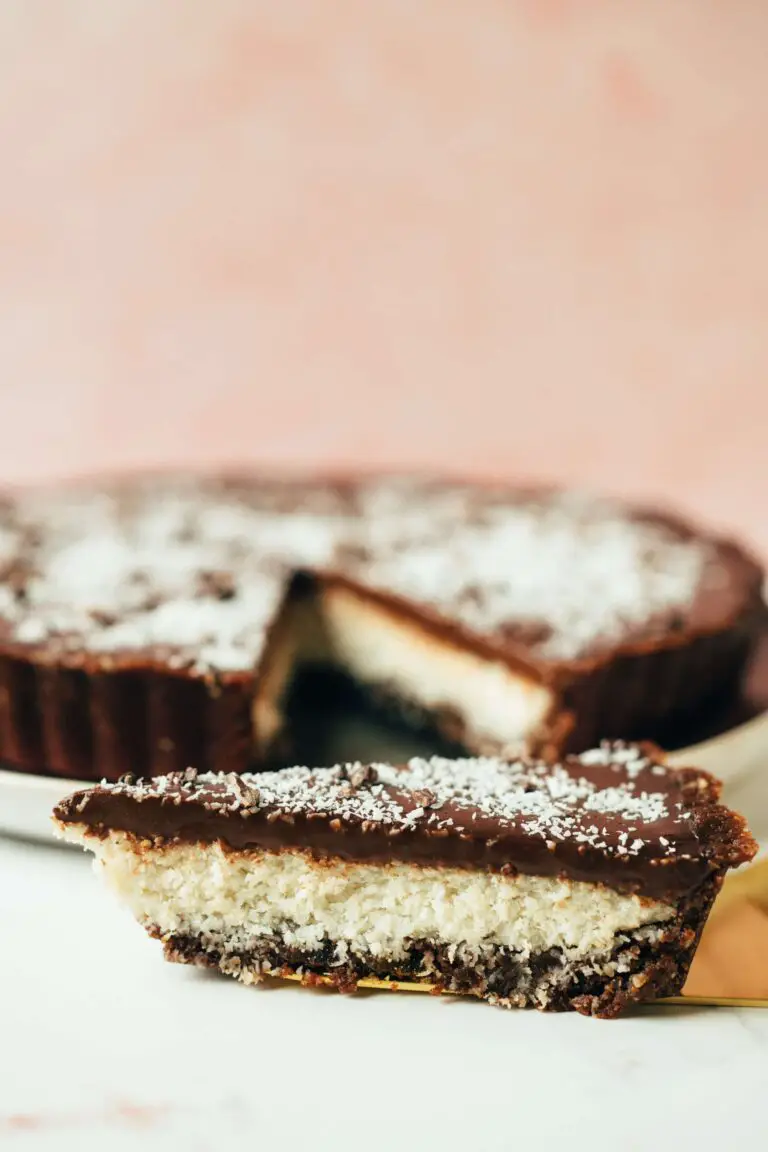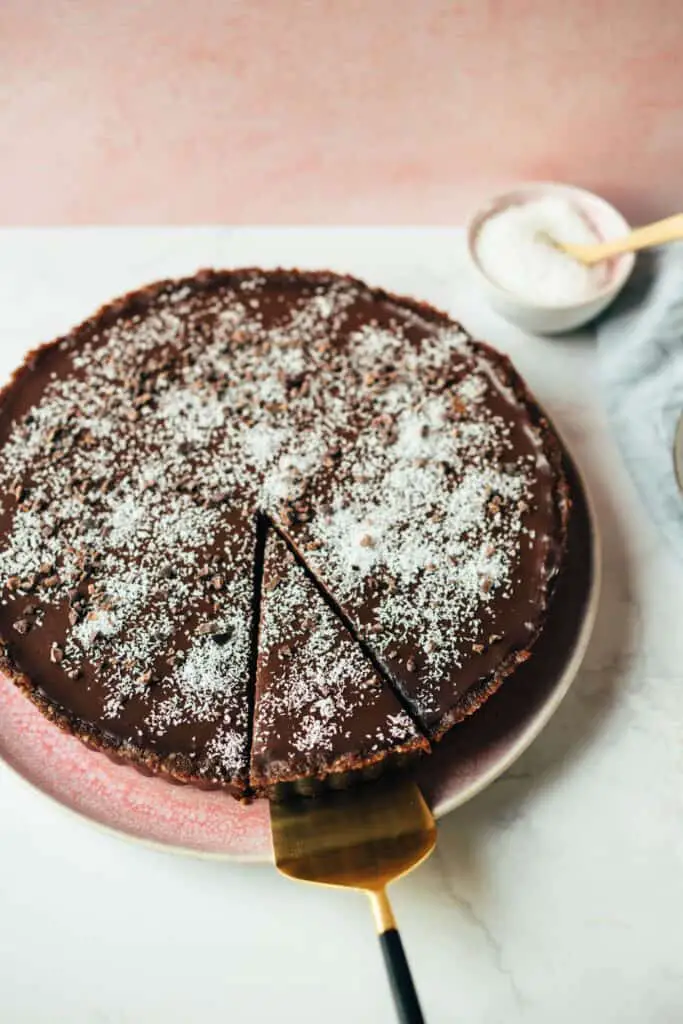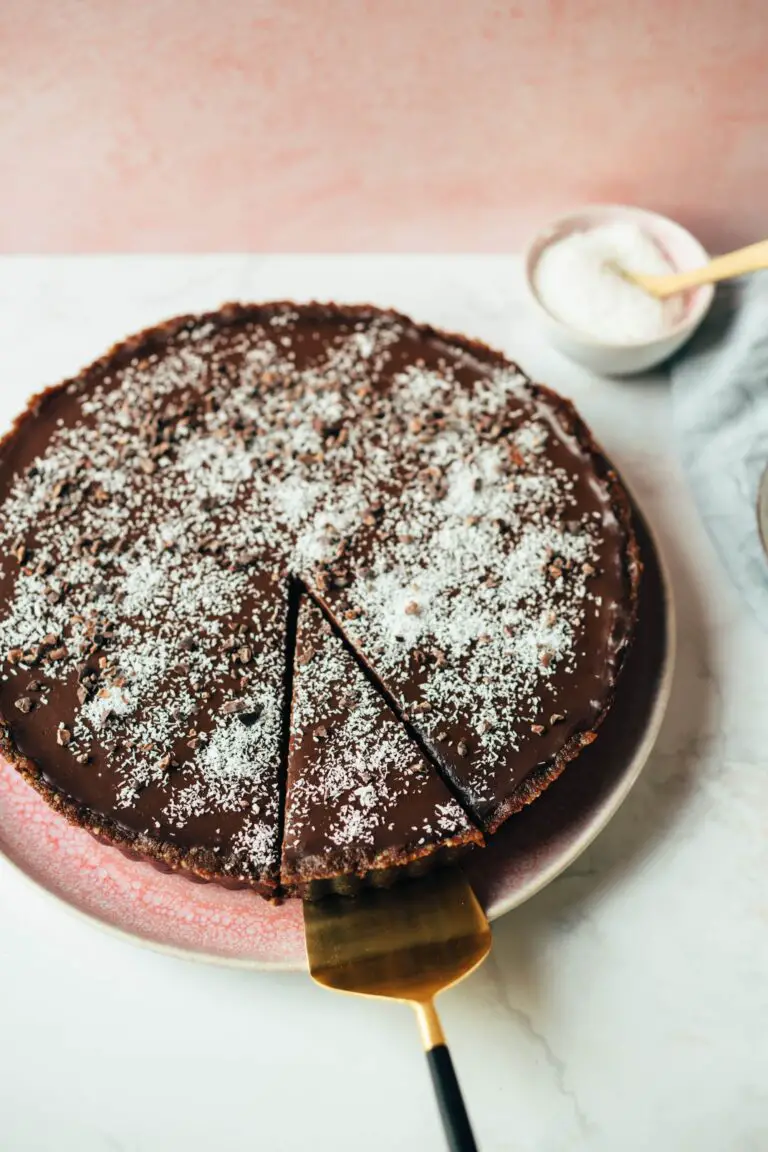 The Bounty Tarte consists essentially of three layers . The base of dates, nuts, maple syrup and salt. This is processed into a fine base in the food processor and pressed into the tart mold.
TIP: I use a tart pan with a loose bottom. This means that the bottom can be lifted out and so you can get the tart out of the mold without great restrictions. I've linked you to my mold below with the ingredients.
The intermediate layer consists of grated coconut, coconut cream (the solid part of coconut milk), maple syrup and vanilla. This then goes on top of the raw vegan base and all that's really missing is the Ganache to the end. This is made quite simply from couverture and Vegetable milk made.
Just a little patience until the Tart has set in the refrigerator and off you go with this exotic-vegan dream.
COCONUT MEETS CHOCOLATE, WHO CAN RESIST?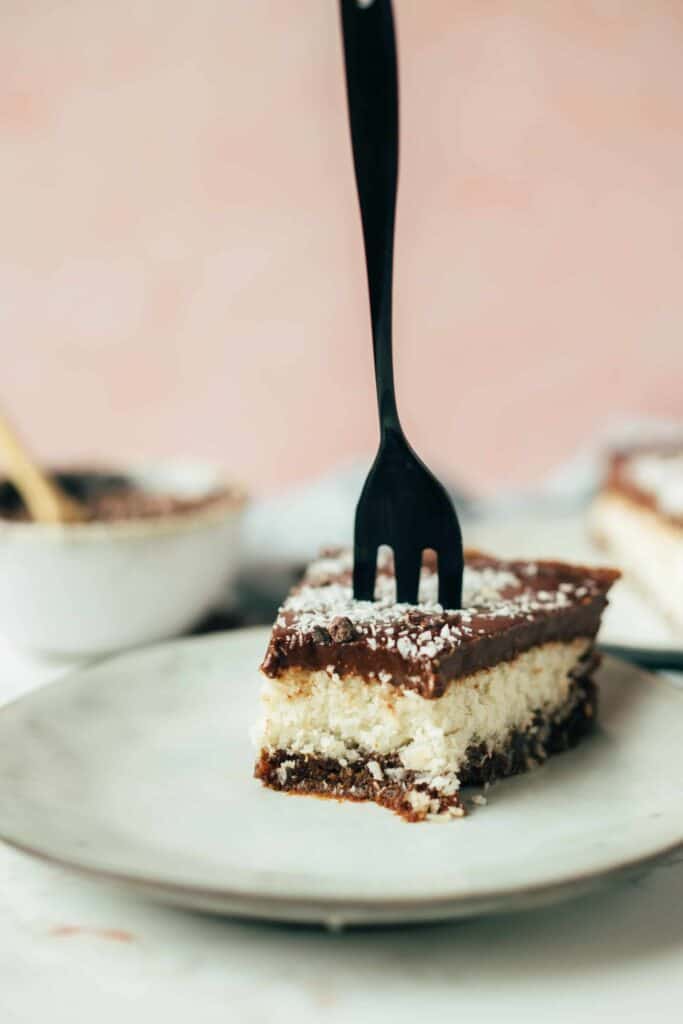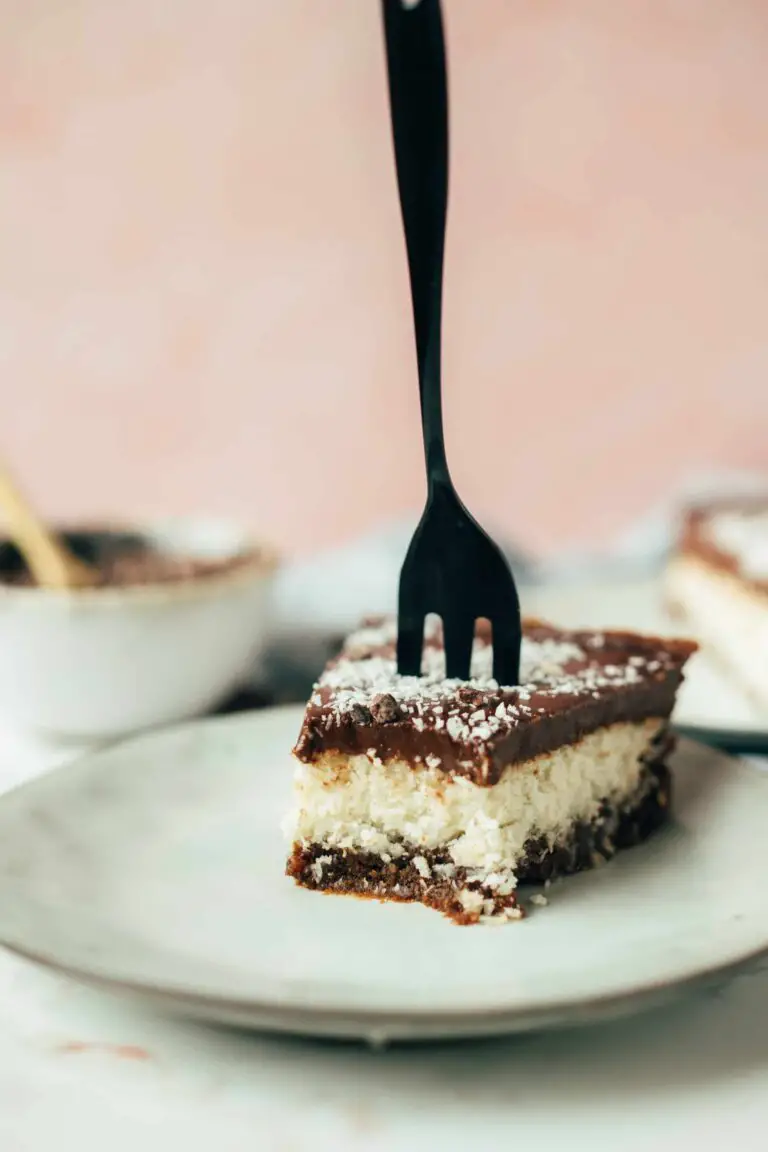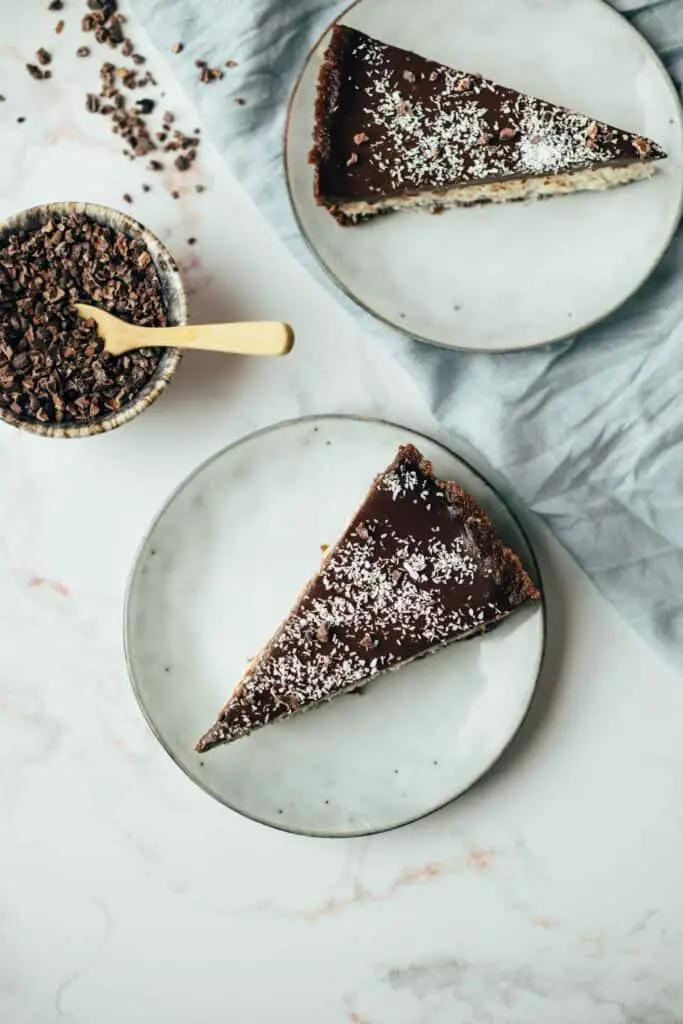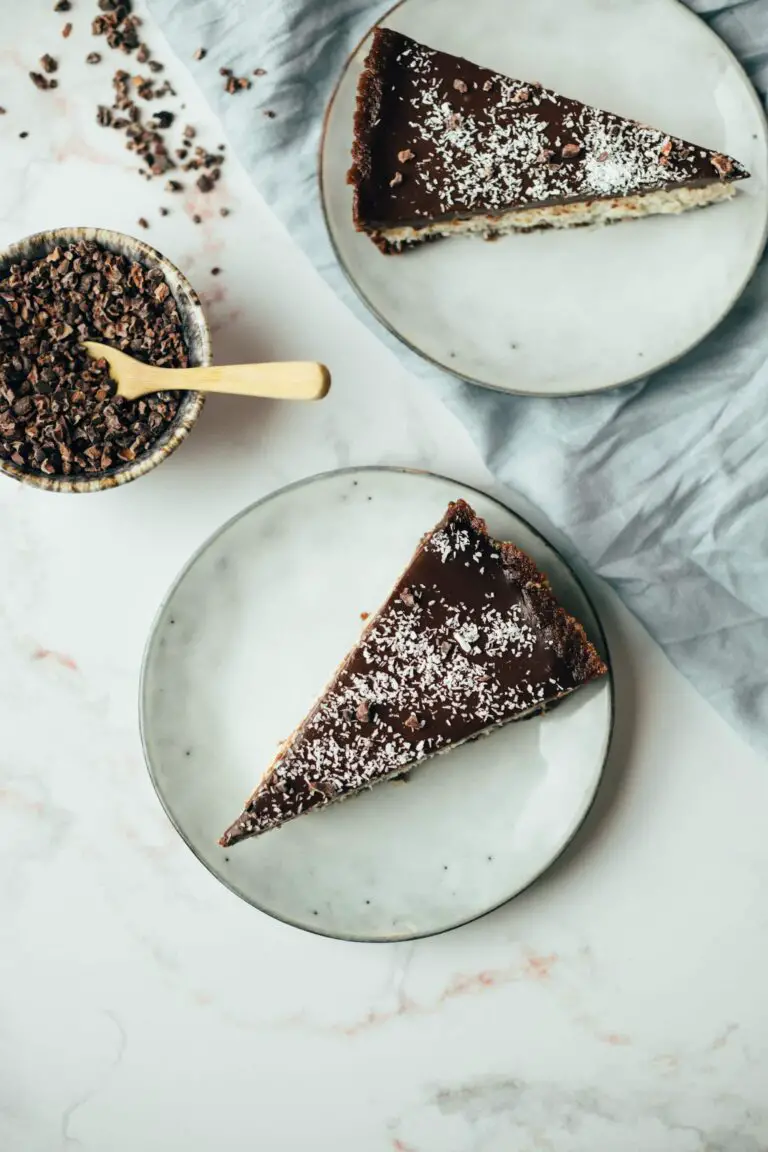 I love vegan tartes, because they provide a change from the classic Sponge cake provide. Many of you may be thinking to yourselves that this Recipe is quasi raw-vegan. I'm sorry to disappoint you, why? By definition, something is raw food if k an ingredient and at over 42 degrees Celsius. has been produced and no higher temperatures have been reached during processing either. This is where it starts, because in most cases the coconut milk is canned and pasteurized. You could just about make the filling while staying within the 42 degree mark, but when it comes to the ganache, it becomes more difficult. The chocolate would have to be made raw-vegan and also the plant milk for the ganache should not be heated too much.
CONCLUSION: One could Tart also as Raw vegetable tart However, it is probably not so easy to implement. However, if you happen to live in Sri Lanka, congratulations! I'm sure you can get your coconut milk fresh from the farmer.
Here are a few tips and tricks to make sure the tart is a success:
Make the base with a powerful mixer , I have linked you mine below. However, there are other very good devices from well-known German manufacturers that also do a very good job. Check out the vegan forums on Facebook, they have great tips and tricks too.
I use Medjool dates because they are very soft and can also be processed super. If your dates are not so soft, it is best to soak them overnight in hot water. For a quick method, simply place in hot water for one hour.
Best Use a mold with loose bottom as I have described above
The ganache can also "act" a little tricky. why? Because it seems very liquid after melting and you wonder if that can ever become solid. Yes definitely! It takes time and must necessarily solidify at least 2 hours to one night around refrigerator.
TIP: The Tart best to prepare a day in advance and let set over night. This is how you get the best result.
ARE YOU A COCONUT LOVER – Then try this Bounty Tart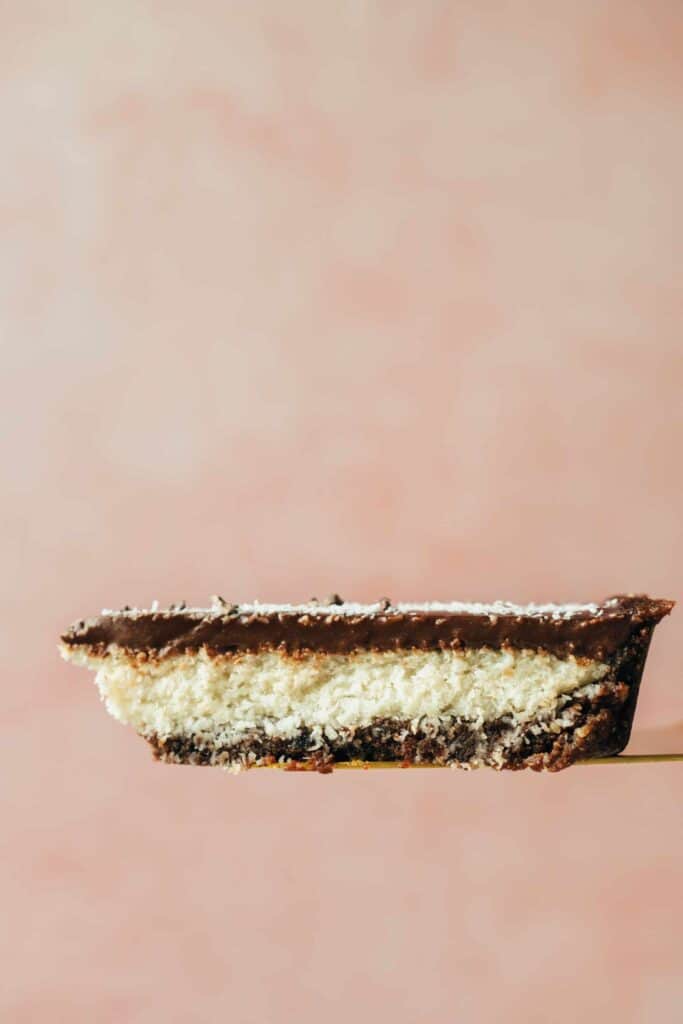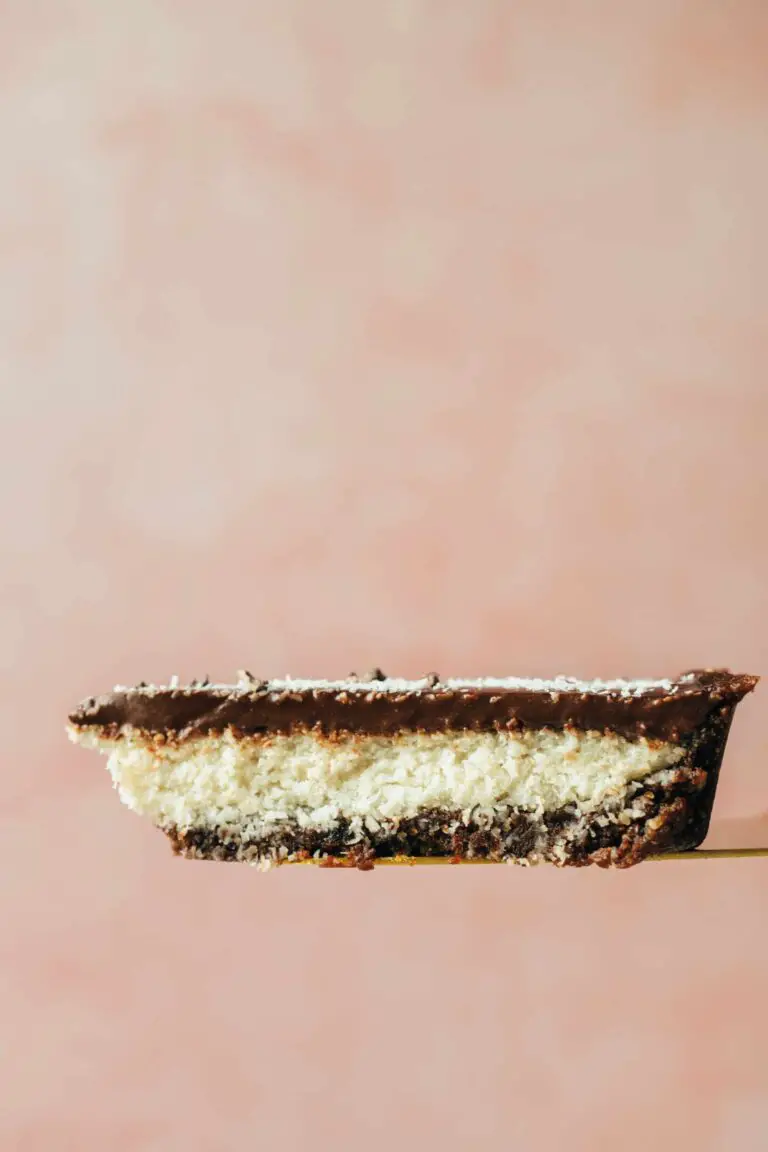 This Bounty Tarte definitely made me happy and I hope you feel the same way. If you don't feel like coconut today, feel free to check out my Mousse Tart, the Yogurt raw cheesecake or the Strawberry Cheesecake this one.
Are you ready for this chocolate coconut temptation?
The Bounty Tart is:
Quickly made
coconutty
sweet
chocolaty
Full of healthy fiber
like Bounty as a cake
Here we go with this incredibly delicious vegan Bounty Tarte , I wish you a lot of fun with Nachbacken and of course about a rating at the bottom of this page. If you post a picture, use the hashtag #veganevibes.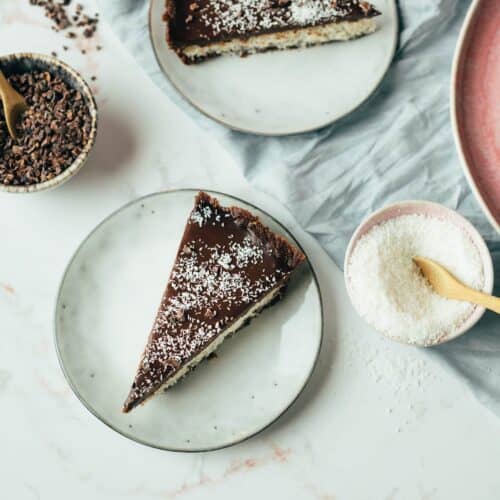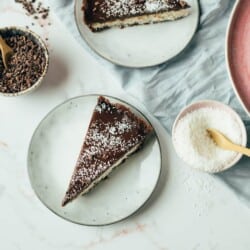 Bounty tart
The Bounty Tart is an irresistible temptation of fine raw vegan cake, juicy coconut filling and a creamy chocolate topping. Like Bounty as a cake!
AUTOR: VEGANEVIBES
Anleitung 
FOR THE BOTTOM Place nuts in a food processor and grind finely. Yes according to preference, the nut flour can be ground a little coarser, or quite fine. Add dates, cocoa, maple syrup and salt. Mix until a soft "kneadable" raw base is formed. See video.

300 g Nuts,

2 tbspn Cocoa,

230 g Medjool dates,

2 tbspn maple syrup,

A pinch of salt

Pour dough into a tart pan and press in evenly with your fingers or a silicone spatula. Pull the edges a little higher.

Put in the refrigerator.

For the filling Provide a pot. Add in coconut milk, maple syrup, raw cane sugar, vanilla and shredded coconut. Stir slowly over medium heat until everything is well combined and the coconut shreds look really "juicy". Remove the base from the refrigerator and pour in the filling. Flatten again with your hands or a silicone scraper until everything is straight and clean in the mold. Put back in the refrigerator.

300 ml Coconut cream,

60 ml maple syrup,

50 g Raw cane sugar,

½ tbspn Bourbon vanilla,

300 g Coconut shavings

For the GANACHE, heat vegetable milk in a saucepan, then add coarsely chopped chocolate and place lid on top. Do not touch for five minutes and allow to melt.

240 ml Plant milk,

250 g dark

Remove lid again and mix with a whisk or silicone scraper until everything is well combined. Allow ganache to cool to room temperature for

20 minutes

before pouring into tart pan. Even if the ganache seems very liquid at first, it becomes solid!

Place finished tart, covered, back in refrigerator and let set and firm up for at least

2 hours,

ideally overnight.

If any filling remains, roll into small balls and garnish the finished tart with them.

Garnish with shredded coconut and cacao nibs, cut into pieces and serve.

Coconut shavings,

Cocoa nibs

To store, place covered in the refrigerator and consume within 3 days. Otherwise, cut into pieces and put in a box in the freezer. Remove and allow to thaw about 20 minutes before eating.
Nährwertangaben
Serving:
1
Piece
Calories:
461
kcal
Carbohydrates:
36
g
Protein:
7
g
Fat:
35
g
Saturated Fat:
22
g
Cholesterol:
1
mg
Sodium:
21
mg
Potassium:
512
mg
Fiber:
8
g
Sugar:
21
g
Vitamin A:
59
IU
Vitamin C:
1
mg
Calcium:
67
mg
Iron:
4
mg