Raw vegan banoffee tart? Yes Baby! For many, the word combination " raw-vegan " already sounds quite adventurous. Some might think of Birkenstock-wearing hippies living in a remote hacienda in Ibiza. I'm definitely very happy that raw food and vegan food are becoming more and more socially acceptable. Gone are the dusty times of the Vegan or what would you say? The other day I asked a conversation the question whether the modern man actually still Milk needs. That did not go down well at all. In such moments I always notice that vegan to be nevertheless not yet in the center of the society arrived, as I often erroneously mean. Well, today is simply about a damn tasty. Re z ept , raw, healthy and delicious. That's socially acceptable then, isn't it?
Banoffee – it's clear, bananas and toffee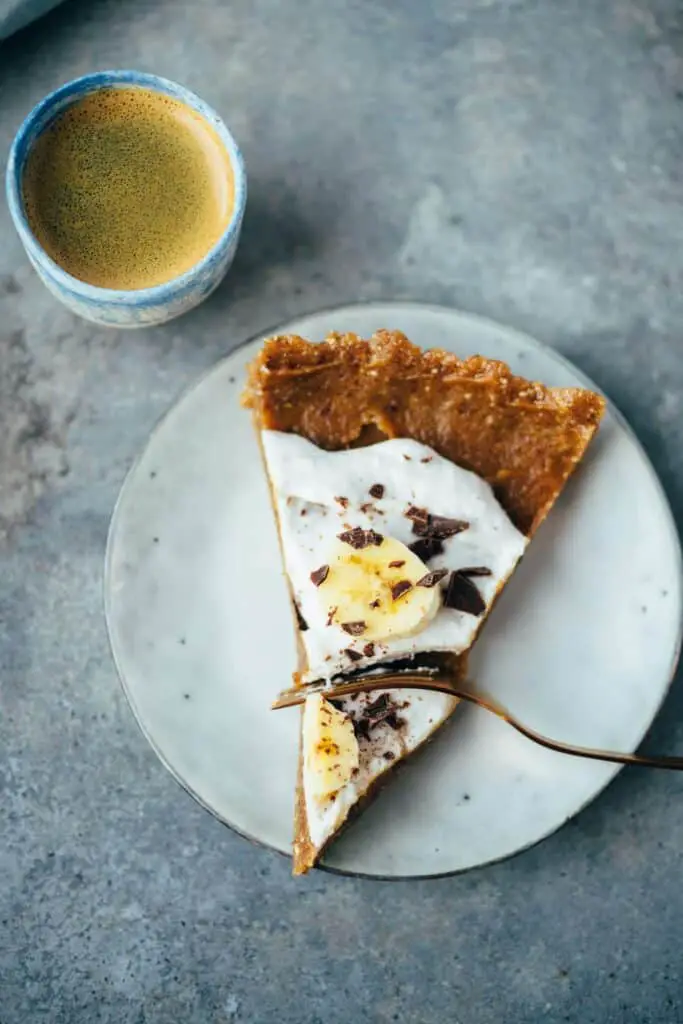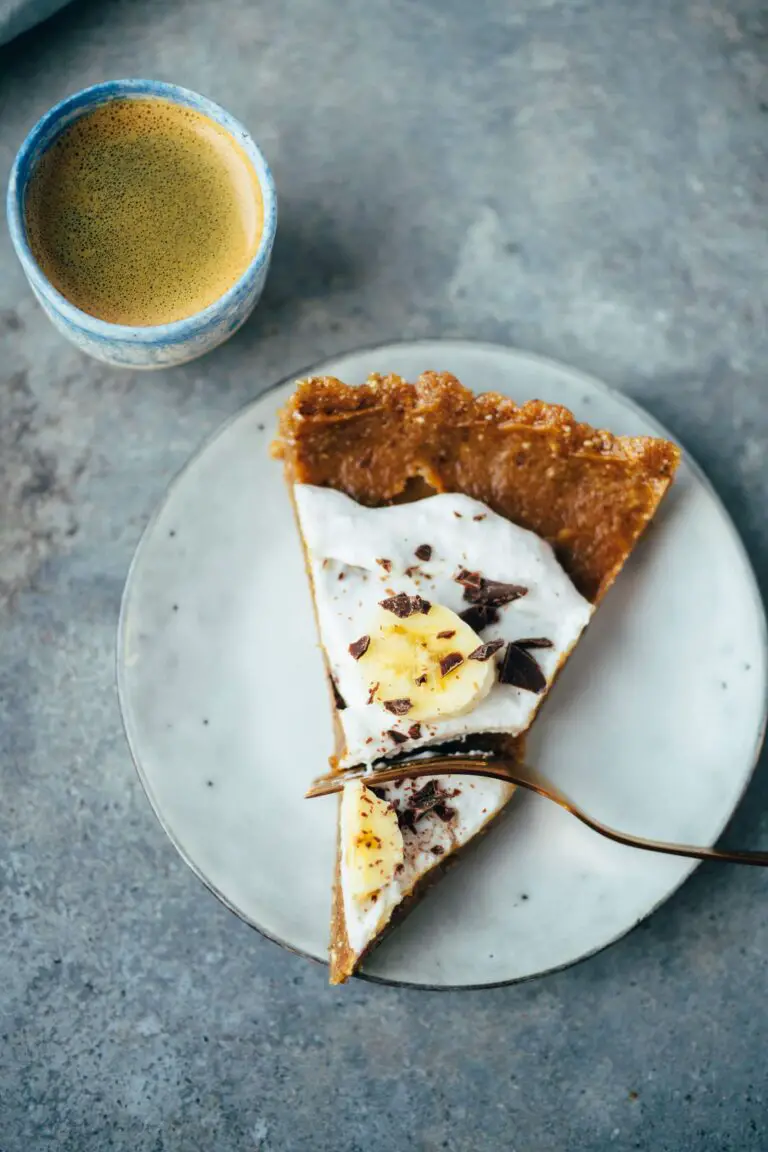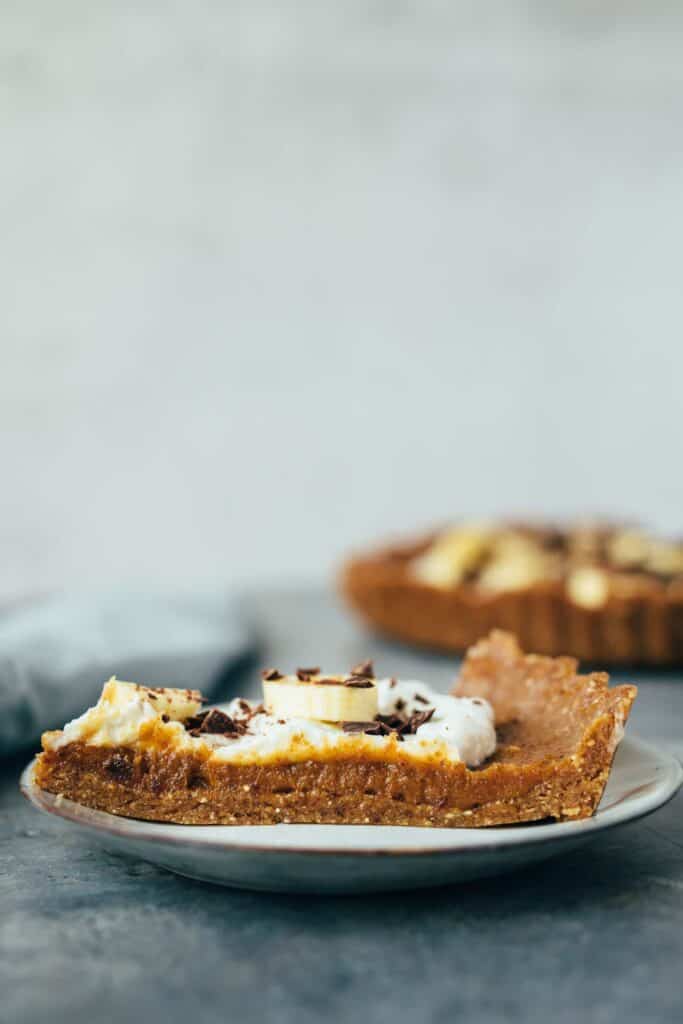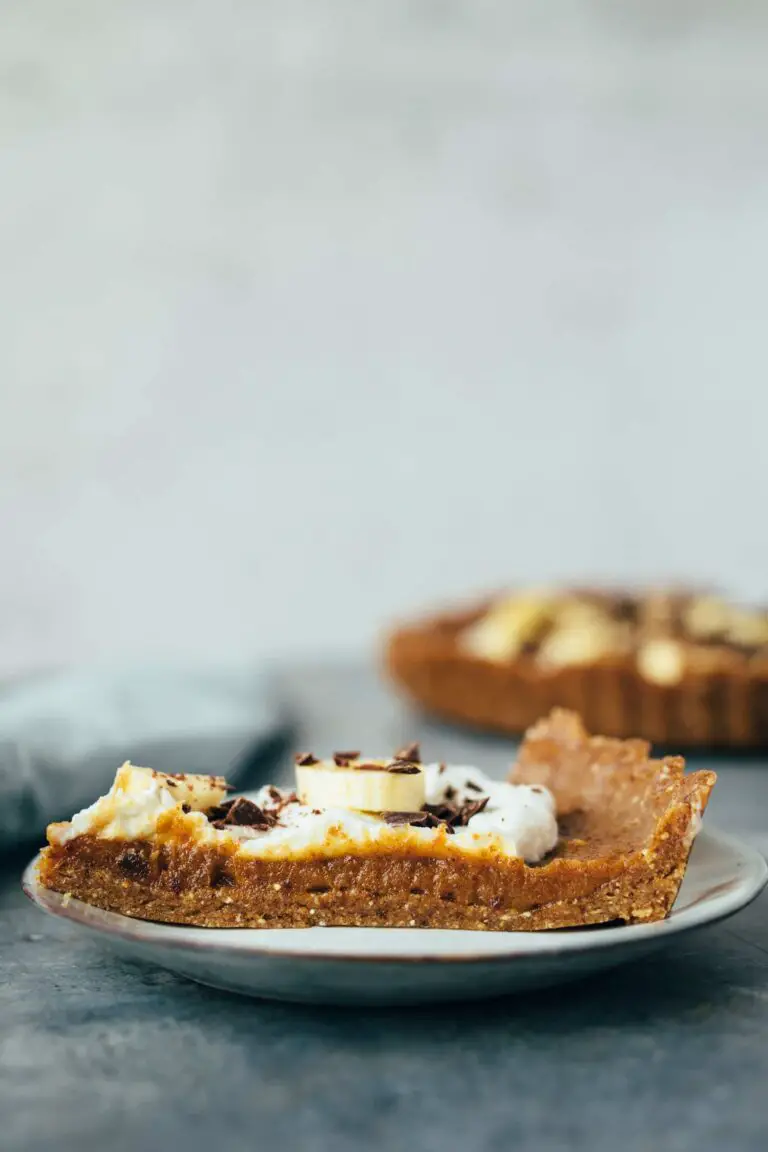 Today is another day when my Mixer may work. I'll be honest, without a good blender, making recipes like this is half the fun. I remember all too well my first attempts at making a raw food cake and destroyed several mixers in the process. Small blenders, stick blenders, and finally one from my mother-in-law. She was lucky that she could return the device to a well-known teleshopping station while it was still under warranty. Long story short, I really recommend you to get a good one. Kitchen appliance one. I'll link you below to the device I've been using for a few years and am very satisfied. Otherwise, dear community, what do you recommend? I look forward to your comments at the very bottom of the page.
Vegan raw food cake, not only for hippies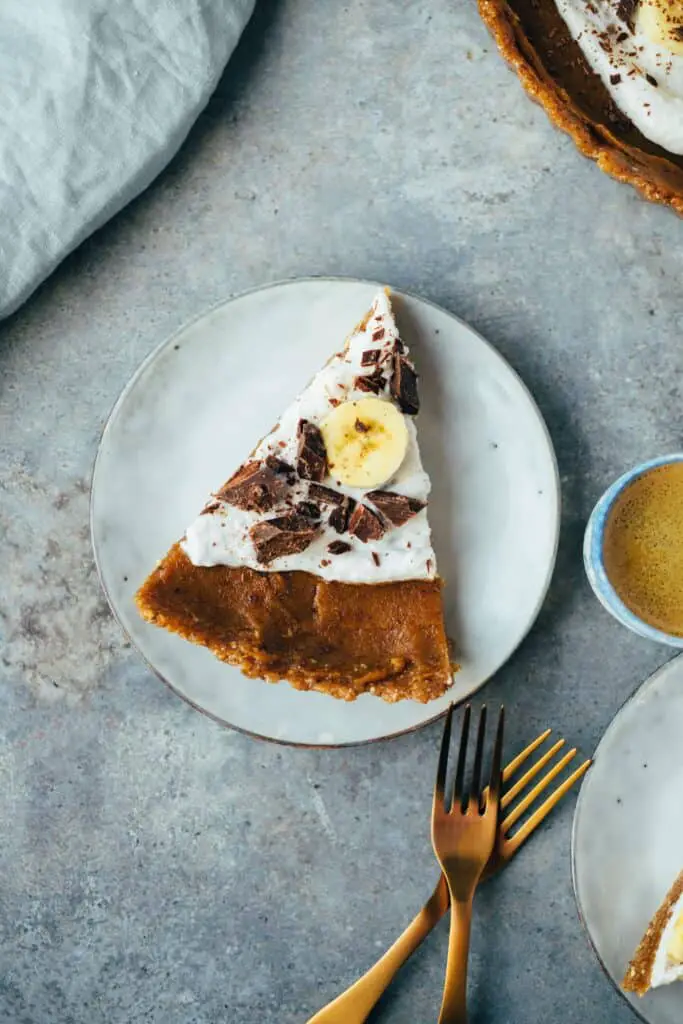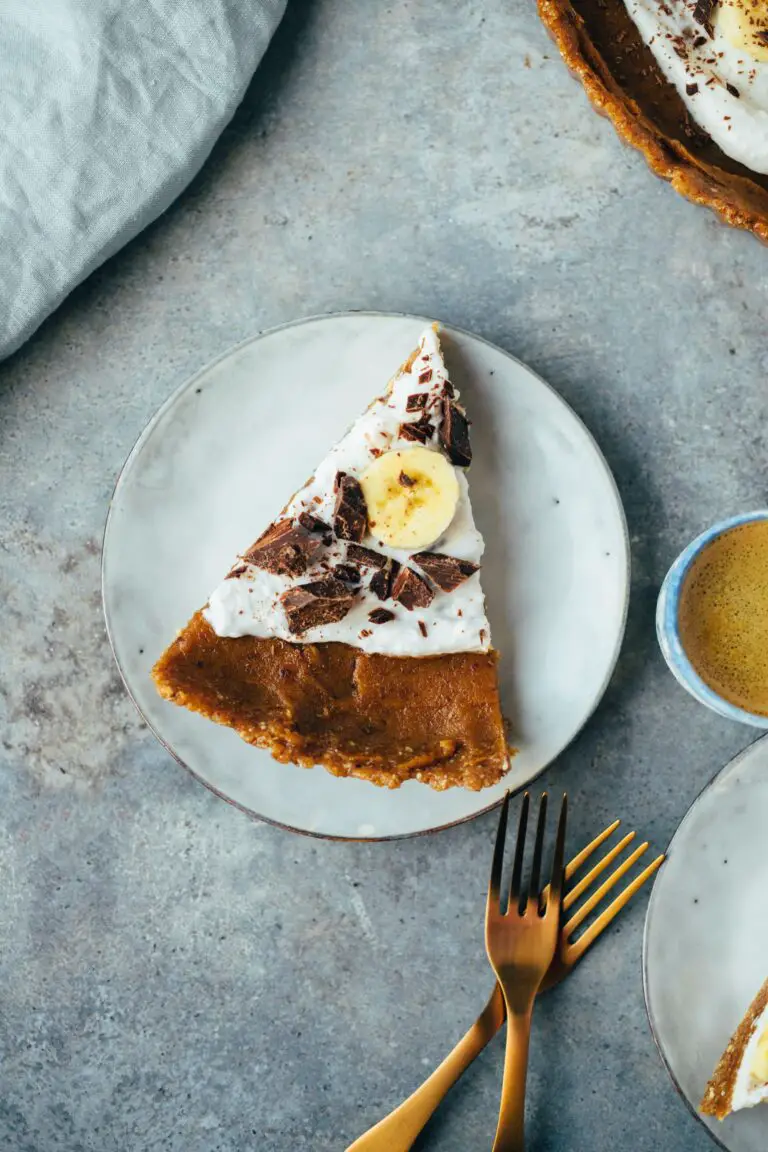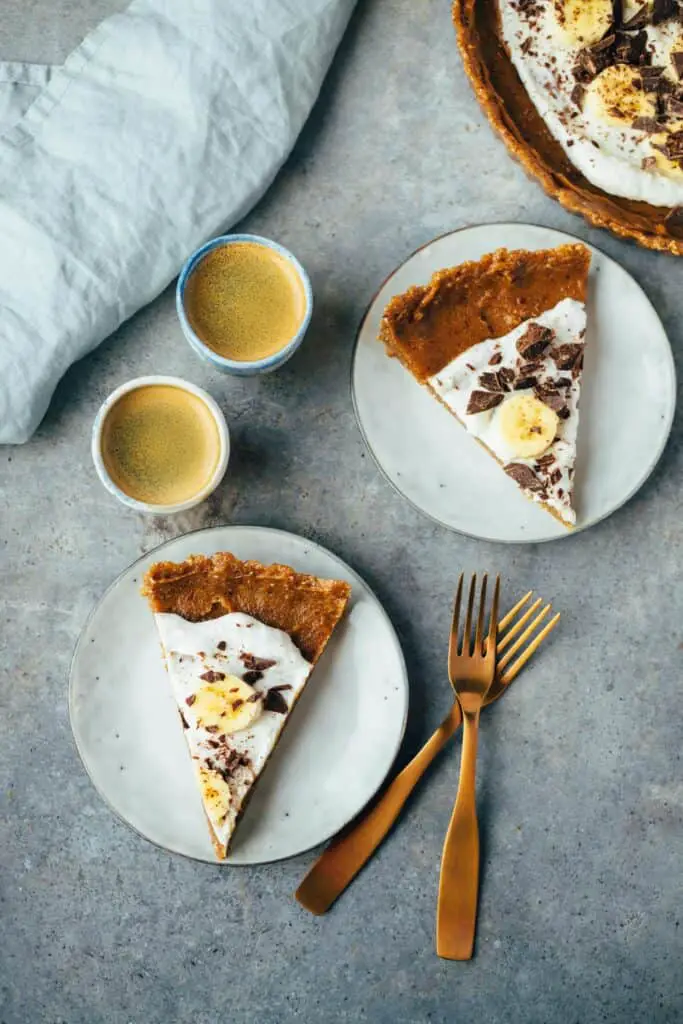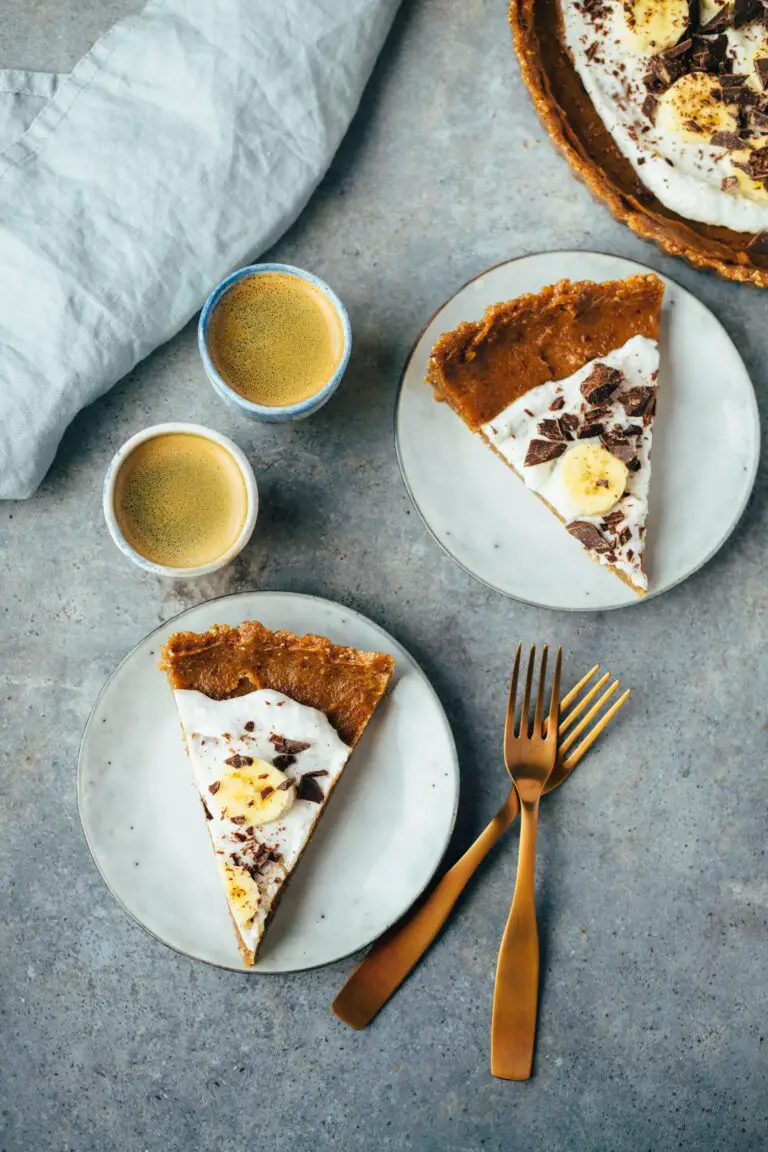 Our today's Cake consists of three layers. Once the base of nuts and Dates then the toffee layer of Dates and vegetable milk. Finally, we top this delicious story with a thick layer of Coconut cream . My husband immediately asked me if any other cream would work. Well, if you look at it very narrowly, no, because strictly speaking it is no longer a raw food. Once Plant cream has been heated and pasteurized (above 42 degrees) it is no longer considered a raw food. By the way, this also applies to the commercial coconut products that you can buy in cans. So if you want to make a completely proper raw food cake, you would have to make your Milk make it yourself. To be honest, however, I sometimes turn a blind eye here.
Here are a few more valuable tips and tricks to make it really work:
Dates: I use Medjool dates, they are particularly soft by nature and are very easy to work with. If your dates aren't that soft, feel free to soak in hot water for an hour, drain and then use.
Blender: As I mentioned in the text above, it pays to buy a really good one. Otherwise, always mix long enough and still stop too early. Over time, the nuts release their natural fat and ensure that the dough holds together well.
Toffee: the same applies to the toffee layer as above, the dates should be as soft and juicy as possible. A good blender does the rest and ensures a creamy result.
Keep cool: Always store raw cakes in a cool, covered place in the refrigerator and remove just before serving.
I like to serve the Raw cake with a Espresso , Golden Milk or Immune Booster Latte .
I hope you now have a desire for a delicious piece of this delicious banoffee Cakes . If yes, then I wish you much fun with the "Nachbacken" and of course about a rating at the bottom of this page. If you post a picture, use the hashtag #veganevibes.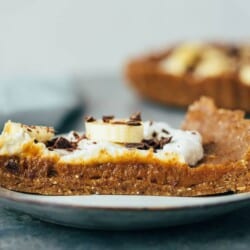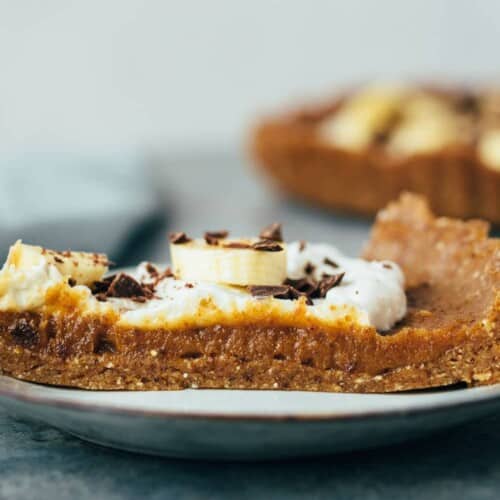 Banoffee Tarte (raw, vegan)
A gorgeous raw banoffee tart (cake) with a delicious base of nuts, followed by a layer of date toffee and topped with a thick layer of coconut cream.
AUTOR: VEGANEVIBES
FOR THE FLOOR:
155

g

mixed nuts

I take hazelnuts and cashews, but any nuts will work

280

g

Medjool dates

Equivalent to about 11 large dates, pitted

45

g

Oatmeal

for a gluten-free version use gluten-free rolled oats

15

g

Date syrup

optional, makes the dough even stickier, especially if the dates are not so soft
TOPPING:
2

ripe bananas

cut into pieces

Chocolate shavings at will
Anleitung 
Provide a tart pan. I use a 26cm diameter pan, but it also works with 24cm (then the tart will be a little thicker). Greasing is not necessary in this case, but if the mold is not well coated, line the bottom with baking paper.

FOR THE BOTTOM. Using a food processor, blend nuts, dates, rolled oats, date syrup, and sea salt into a uniform, slightly sticky measure. If the dates are very dry, add a few drops of hot water. With wet hands, press into springform pan until bottom and sides are evenly lined. Place in the freezer.

155 g mixed nuts,

280 g Medjool dates,

45 g Oatmeal,

15 g Date syrup,

1 Pinch sea salt

FOR THE FILLING Place dates and almond milk in a high-powered blender and blend to a homogeneous toffee cream.

375 g Medjool dates,

80 ml Almond milk

Remove base from freezer and spread toffee cream on top.

As a final step, spread coconut cream on top. Decorate with banana slices and chocolate shavings. Cut into pieces, serve and enjoy!

2 ripe bananas,

Coconut cream,

Chocolate shavings at will

Lasts up to 5 days in the refrigerator and 1 month in the freezer.
Nährwertangaben
Serving:
1
Piece
Calories:
252
kcal
Carbohydrates:
50
g
Protein:
4
g
Fat:
7
g
Saturated Fat:
1
g
Cholesterol:
1
mg
Sodium:
14
mg
Potassium:
527
mg
Fiber:
5
g
Sugar:
39
g
Vitamin A:
102
IU
Vitamin C:
2
mg
Calcium:
58
mg
Iron:
1
mg