Cookie Dough from Chickpeas , simply heavenly. Who of you didn't used to snack on mom when she baked delicious Cake baked? I was definitely always at the start and there could never be enough raw dough for me. I wonder how that still worked out with baking back then. I yes always half spooned away before the cake was in the oven. Especially in these stormy times I need a lot of things that ground me and that includes Cookie Dough definitely one of them. This year, it feels like one crisis follows the next. Starting with the devastating fires in Australia, through storm Sabine, the Corona crisis, to the current unrest in the USA. If your nerves get the better of you, open the fridge and get out the Cookie Dough. Spoon in and all is right with the world again. The whole thing is then also full of healthy vegetable proteins, fiber and without industrial sugar. Perfect, right?
Healthy Cookie Dough for spooning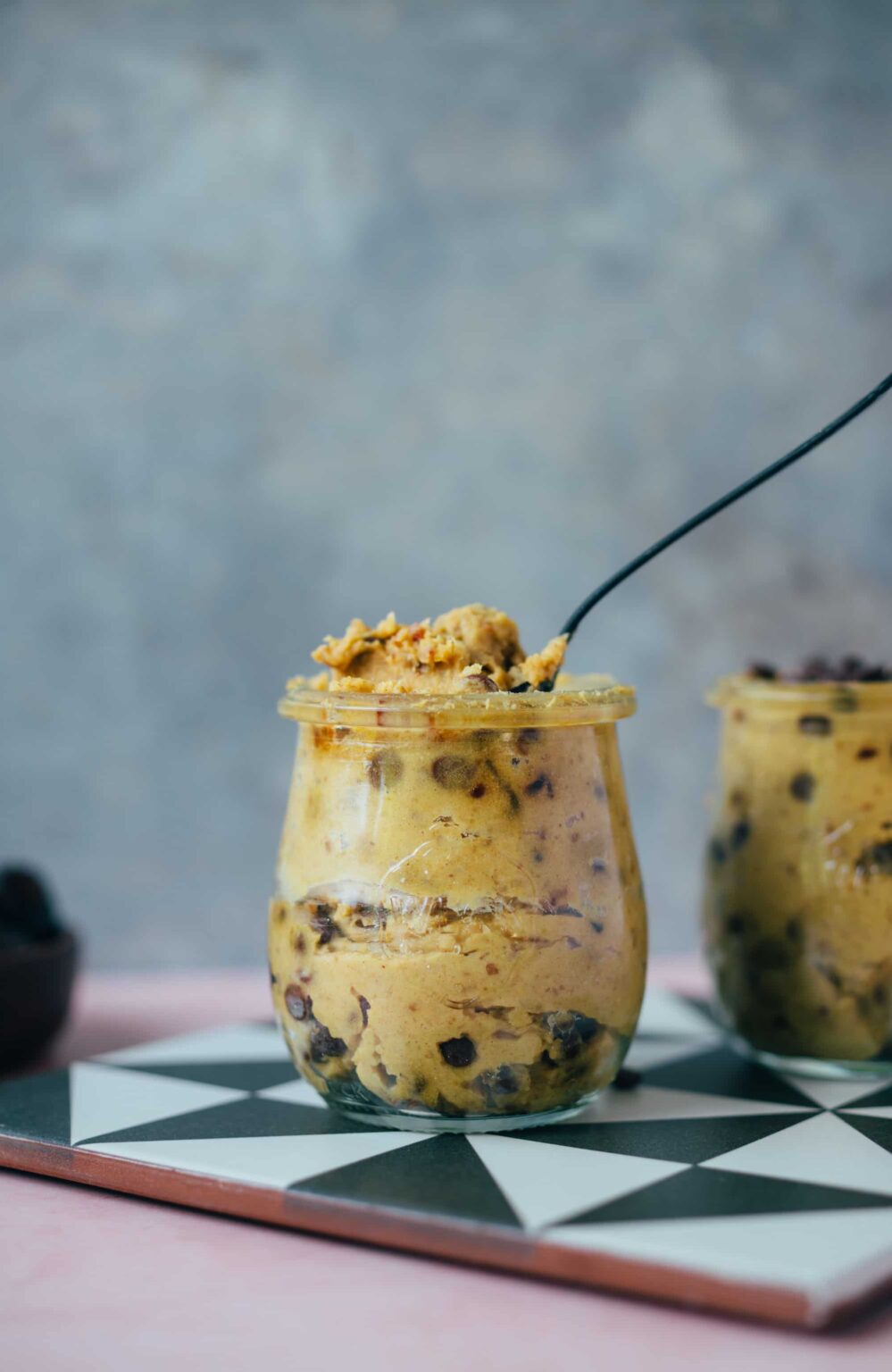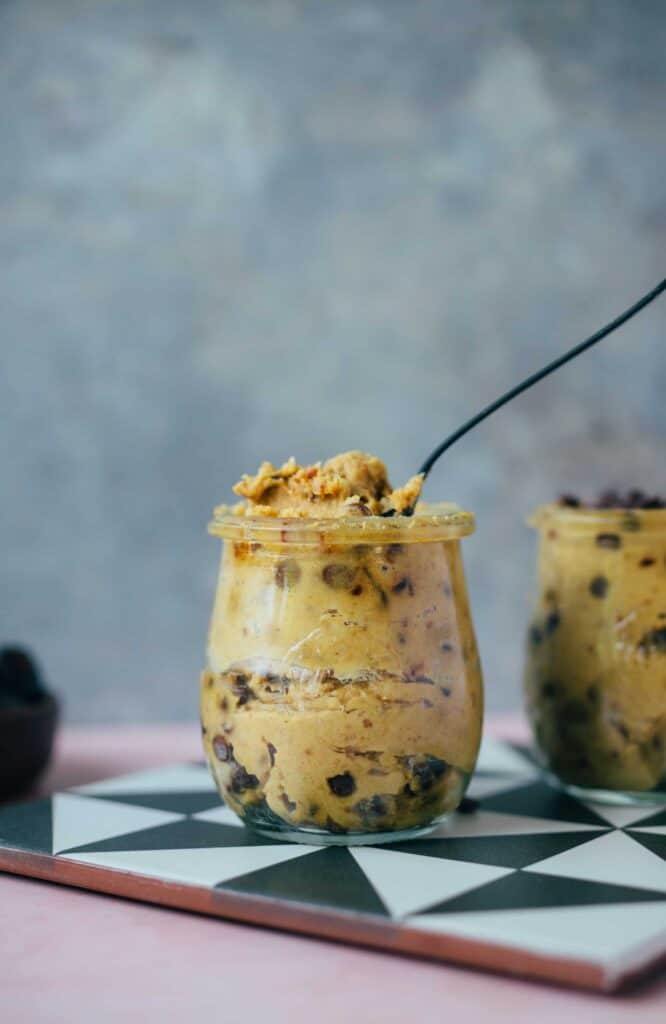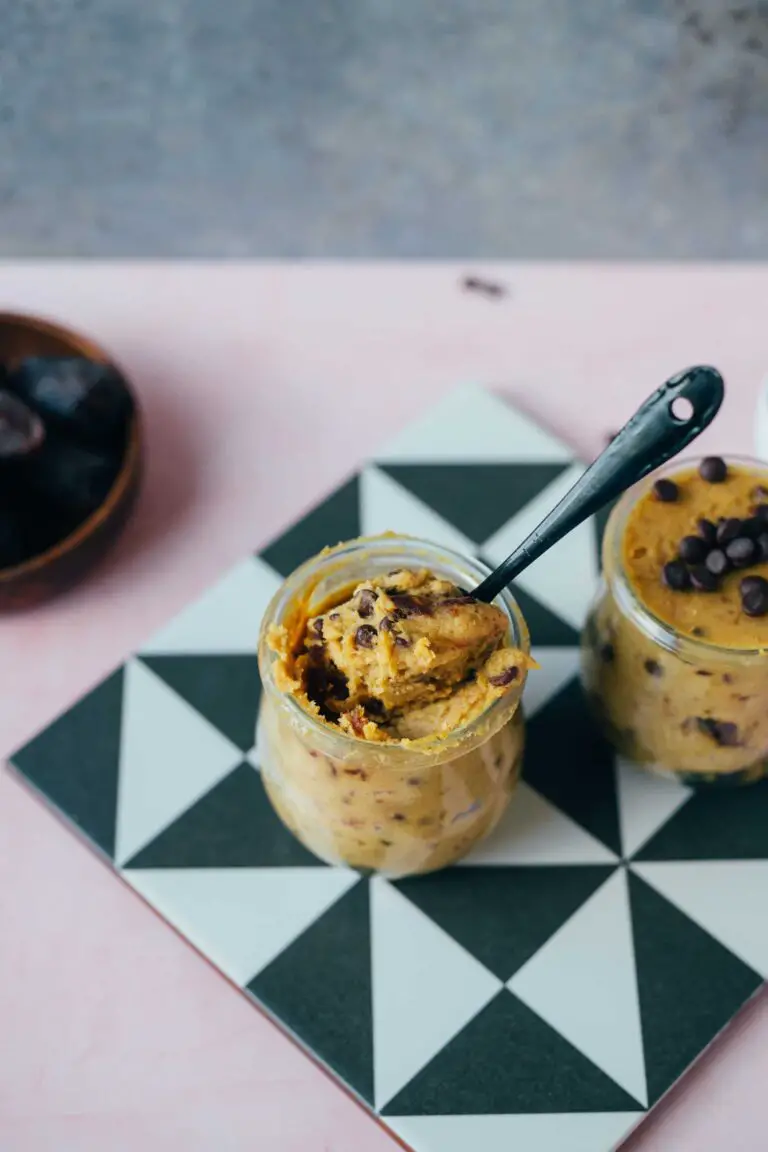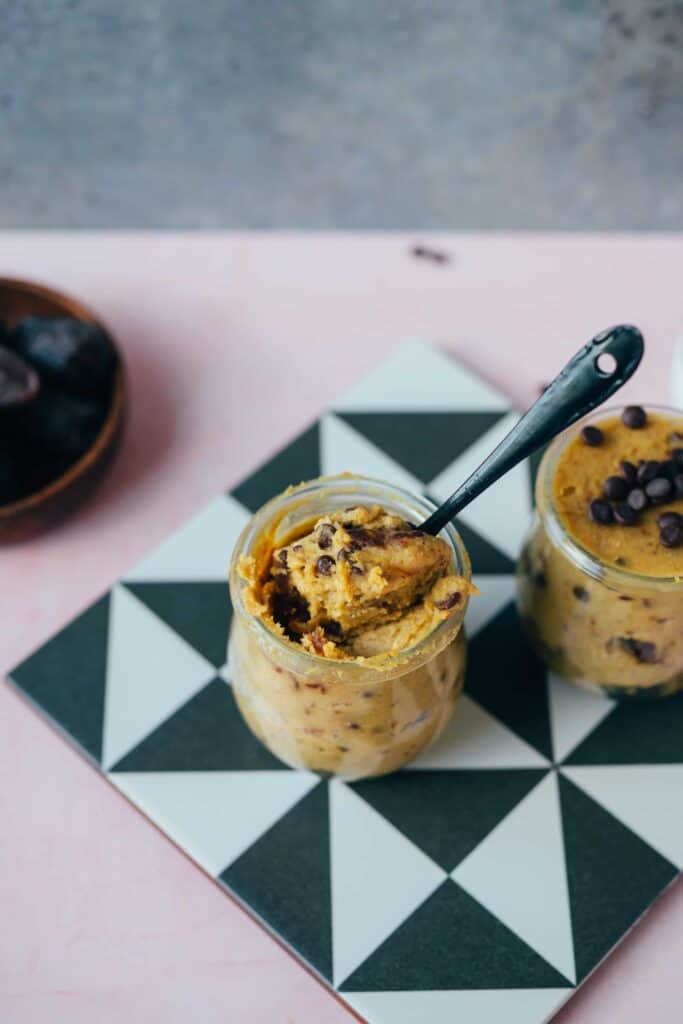 Cookie Dough from the jar is essentially made up of many healthy ingredients. Chickpeas , Dates , maple syrup, nut butter, bourbon vanilla, salt and dark vegan chocolate drops. This all goes together in the blender and off you go. Now mix until a uniform, fine mass is formed.
TIP: Depending on how dry or firm the dates are, it definitely makes sense to soak them. I use Medjool dates and I don't mind if there are a few pieces in the dough. However, if you like it superfine, then I empe empfehlen you, the Dates soak them in hot water for at least 2 hours, but preferably overnight. Then first put in the blender and process to a fine puree. Only then add the remaining ingredients. Of course, chocolate drops come at the very end.
Vegan snacking without remorse and without industrial sugar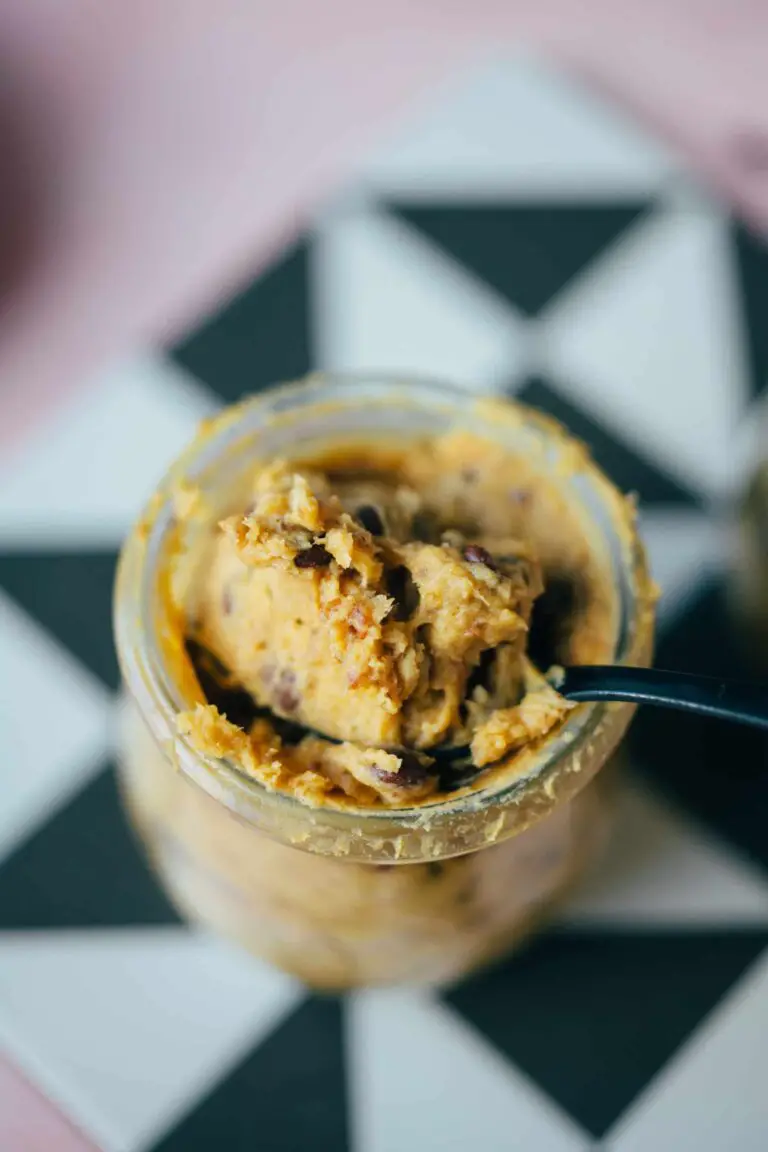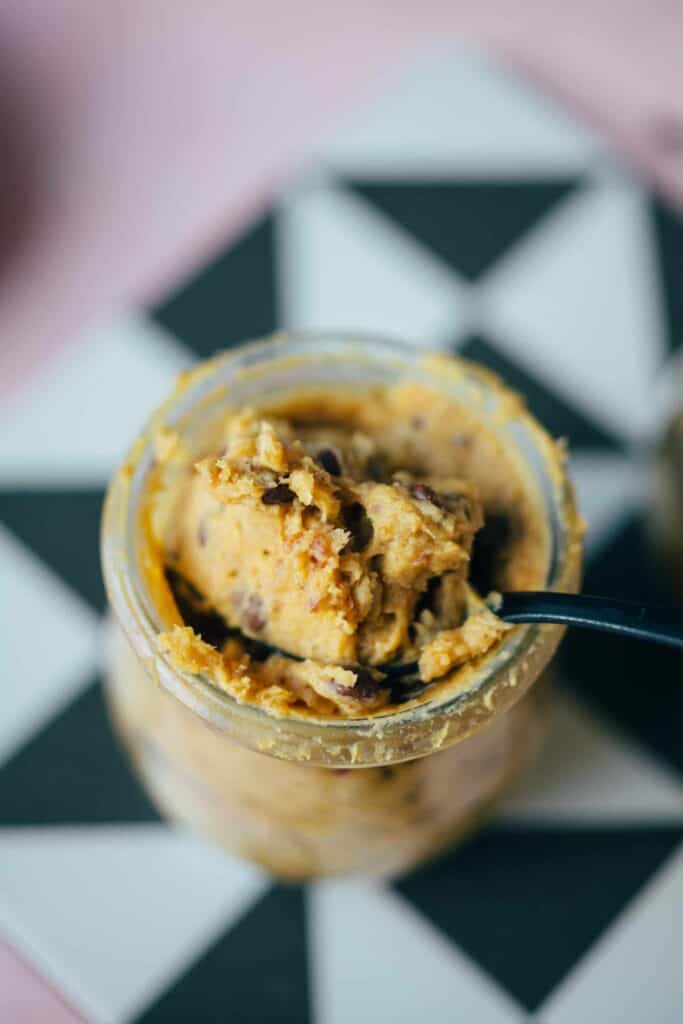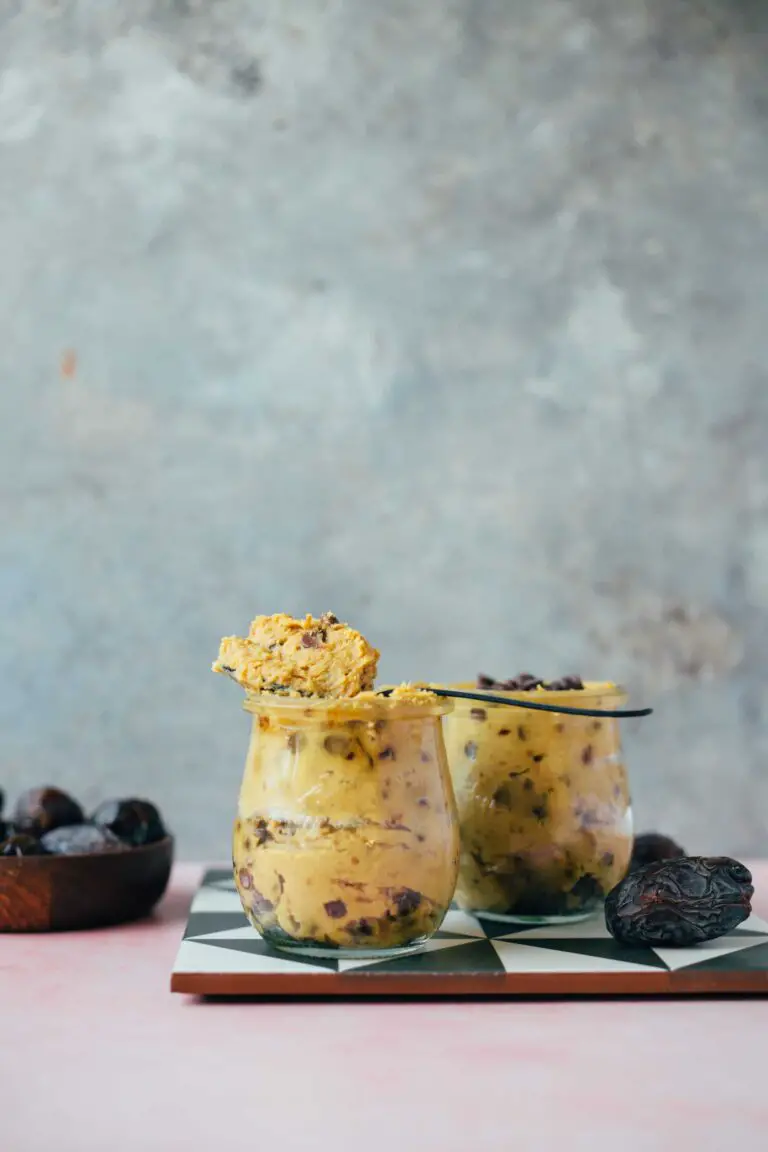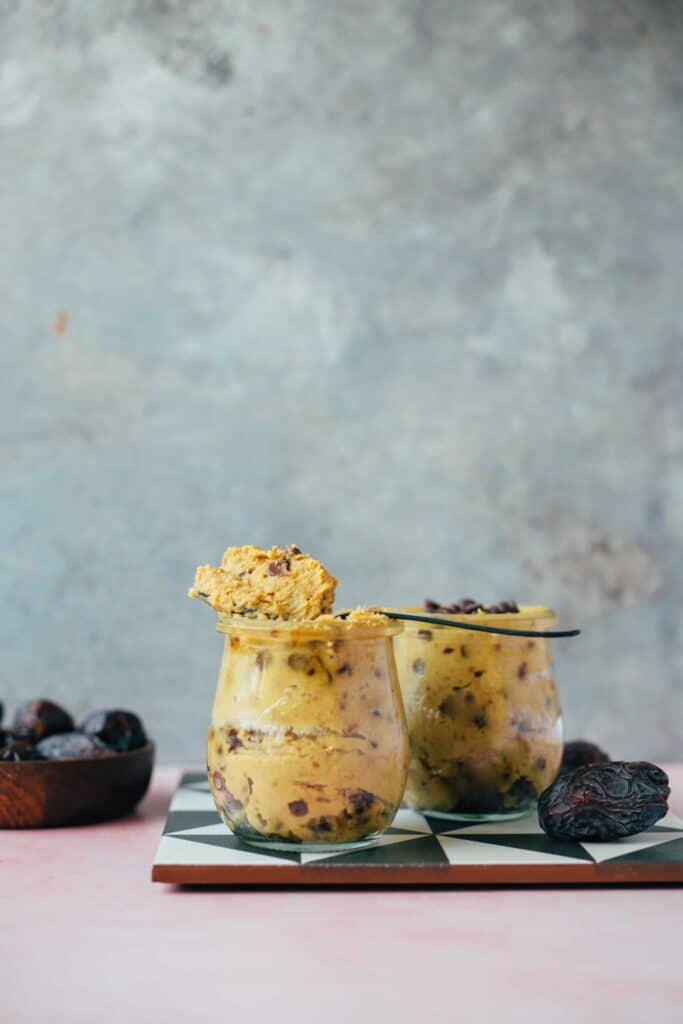 There are now many people who want to do without industrial sugar and I can understand that without restriction. Nowadays, sugar is added almost everywhere and often in a hidden form. High Fructose Corn Syrup is one of the culprits and if you see the name on a package, it's best to put it right back on the shelf. But what actually makes this harmless-looking syrup so dangerous?
Ordinary household sugar = is obtained from sugar beets and the ratio of fructose and glucose is a fixed 50:50.
Isoglucose = a collective term for sugar obtained from corn, wheat, or potatoes. The difference to household sugar is that glucose and fructose can be contained in different ratios to each other. The exact division can be determined very precisely in industrial production.
Isoglucose = cheaper to produce than table sugar.
The proportion of fructose is often higher than that of glucose because fructose has a higher sweetening power.
Experts have been warning for some time that fructose in particular causes the liver to become fatty more quickly, and triglycerides as well as the harmful LDL cholesterol in the blood to rise.
Long-term risk for coronary heart disease, obesity and diabetes may increase.
The increasingly inactive and sedentary nature of human activity contributes to the fact that calorie requirements are reduced and the surplus Calories from fructose in the liver increased as fat calories are stored.
TIP: The Ratio of glucose and fructose does not have to be stated in exact proportions on the package, but the dominant ingredient must be in front. Glucose-fructose syrup = there is more glucose than fructose. Fructose-glucose syrup = there is more glucose than fructose.
Sorry for the lengthy text on the subject of fructose syrup, however, you should tend to deal with it because the food industry loves everything that is cheap, sweet and fatty. The long-term health consequences can often only be guessed at and it is dismissed as "it's not so bad after all". I definitely advise natural sweeteners like dates, date syrup and natural sugars like cane sugar or raw cane sugar.
This Cookie Dough for spooning is definitely great fun and full of healthy ingredients. Complex carbohydrates from chickpeas, fiber, and a subtle sweetness from natural sugars.
If you're not in the mood for cookie dough today, I highly recommend my simple strawberry dessert , ultimate chocolate dessert or the raw banana split .
Are you ready for this creamy sweet temptation?
The Cookie Dough is:
Quickly made
creamy
High in fiber and protein
chocolaty
Natural sweetened
the perfect healthy snack
Let's get started with this incredibly delicious vegan Cookie Dough for spooning. I wish you a lot of fun with the imitation and of course about a rating at the bottom of this page. If you post a picture, use the hashtag #veganevibes.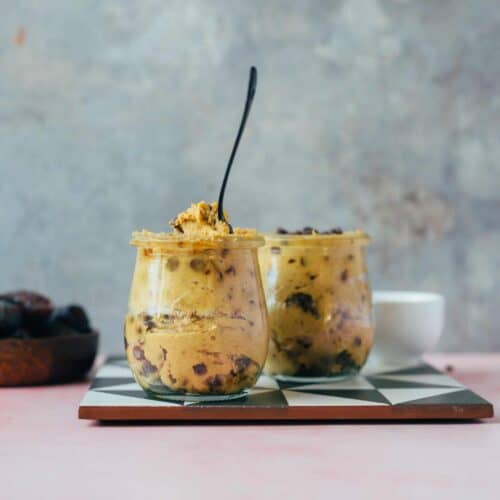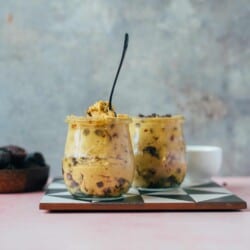 Cookie Dough for spooning
Healthy Cookie Dough for spooning made with fine chickpeas, dates, maple syrup and dark vegan chocolate drops. Snacking without regret for the whole family and especially suitable as a healthy snack for children.
AUTOR: VEGANEVIBES
Anleitung 
If the dates are quite hard and dry, it is best to soak them overnight in cold, or 2 hours in hot water. I use Medjool dates, which I do not soak beforehand, as they are nice and soft and juicy.

Strain chickpeas, reserving chickpea water. This can be used to make aquafaba, for example. Wash chickpeas well and ideally soak them in cold, clear water for another

30 minutes

. This ensures that the typical flavor of chickpeas is somewhat reduced.

FOR THE DYING Place the chickpeas, dates, nut puree, maple syrup, bourbon vanilla and salt in a blender and blend until a fine, uniform dough is formed. Stir in dark chocolate drops at the very end.

265 g Chickpeas drained,

6 Piece Medjool dates,

30 g maple syrup,

45 g Nut butter,

1 tbspn Bourbon vanilla,

⅛ tbspn Salt,

45 g dark vegan chocolate chips

Pour into dessert glasses and refrigerate for at least 2 hours.

Just before serving, remove from refrigerator and enjoy.

Dark chocolate drops at will

For further storage, place covered in the refrigerator and consume within 3 days.
Nährwertangaben
Serving:
1
Portion
Calories:
259
kcal
Carbohydrates:
33
g
Protein:
9
g
Fat:
12
g
Saturated Fat:
3
g
Sodium:
18
mg
Potassium:
304
mg
Fiber:
7
g
Sugar:
14
g
Vitamin A:
18
IU
Vitamin C:
1
mg
Calcium:
94
mg
Iron:
3
mg