Cookie Dough Vanilla Cheesecake , today once not quite raw, but with a baked cookie base. At the moment, the funniest illustrations and pictures are circulating on the web, depicting the scenario before and after the exit restrictions. Once a slender, trained horse that suddenly becomes a fat, chubby pony. I rather feel that people have never exercised more in their lives than they do now. Homeyoga, Functional Training and what else can be imagined. That's why I think the world's population is more likely to leave the house with a steeled six-pack and not necessarily twice as many kilos as before the crisis. Today I contribute with my Recipe in any case not to the six-pack, but rather to a nice belly. In the end, it's the taste that counts, not the extra calories.
Cookie Dough Vanilla Cheesecake Baby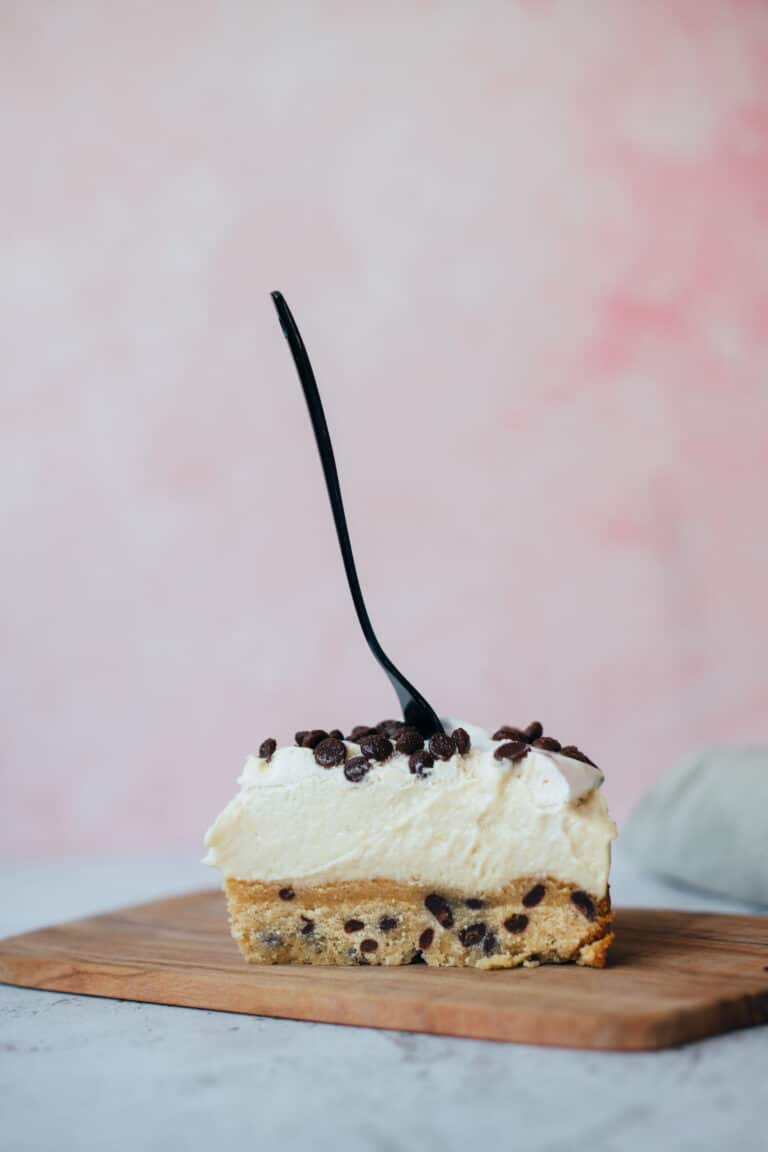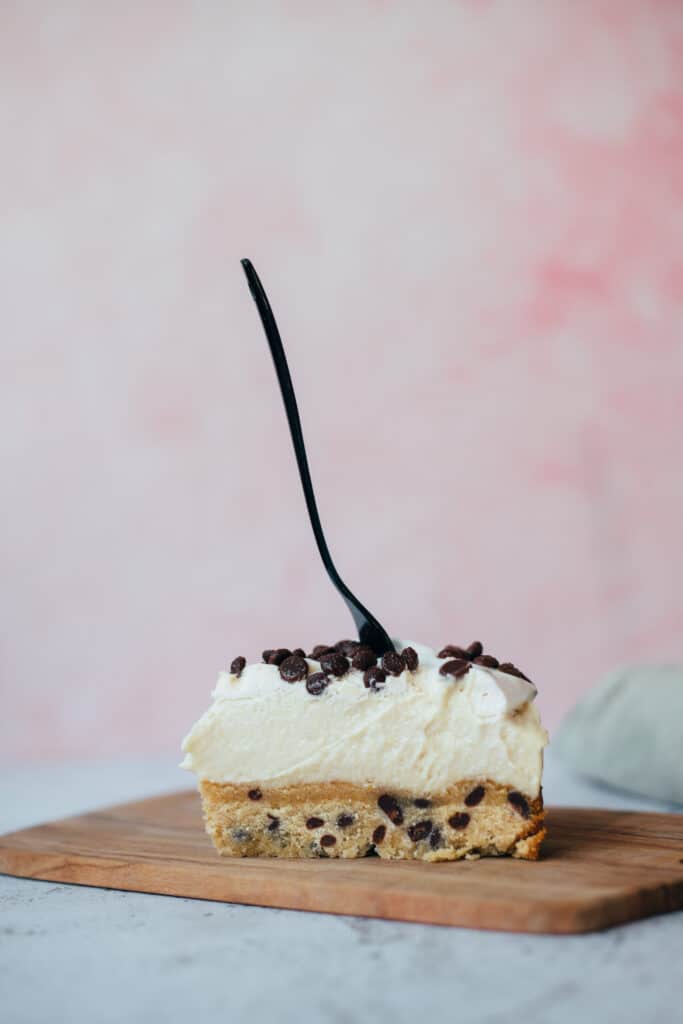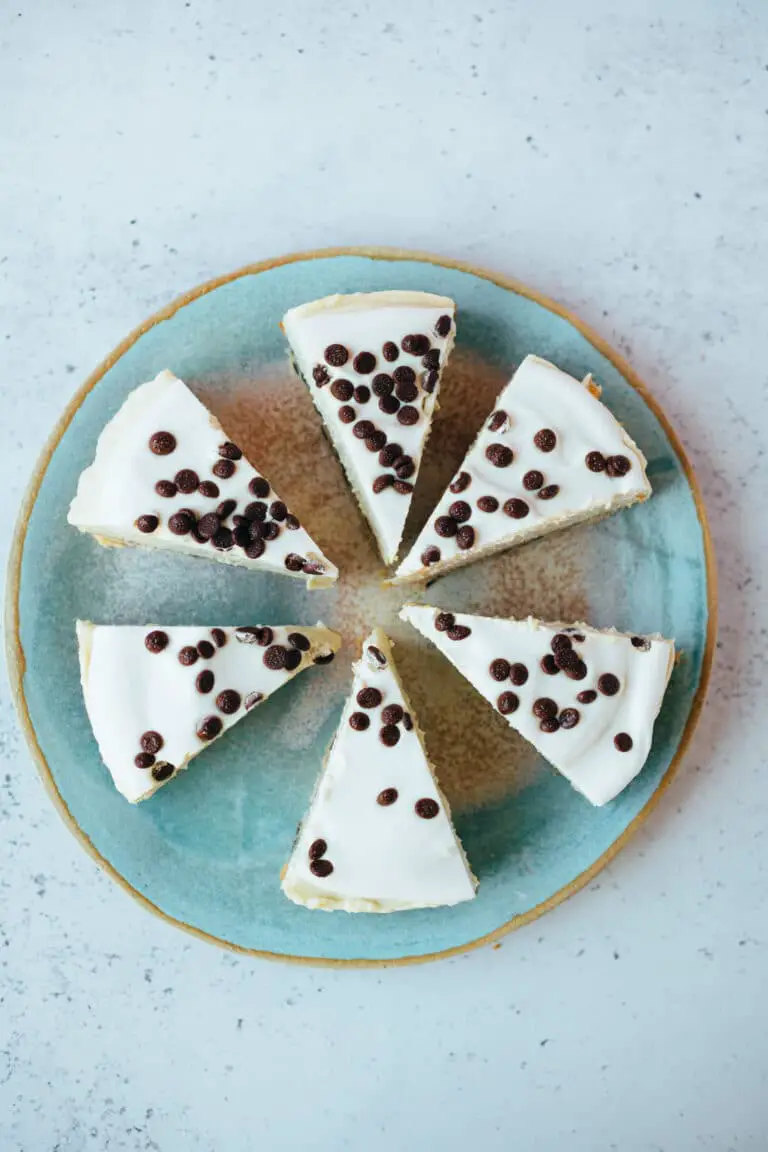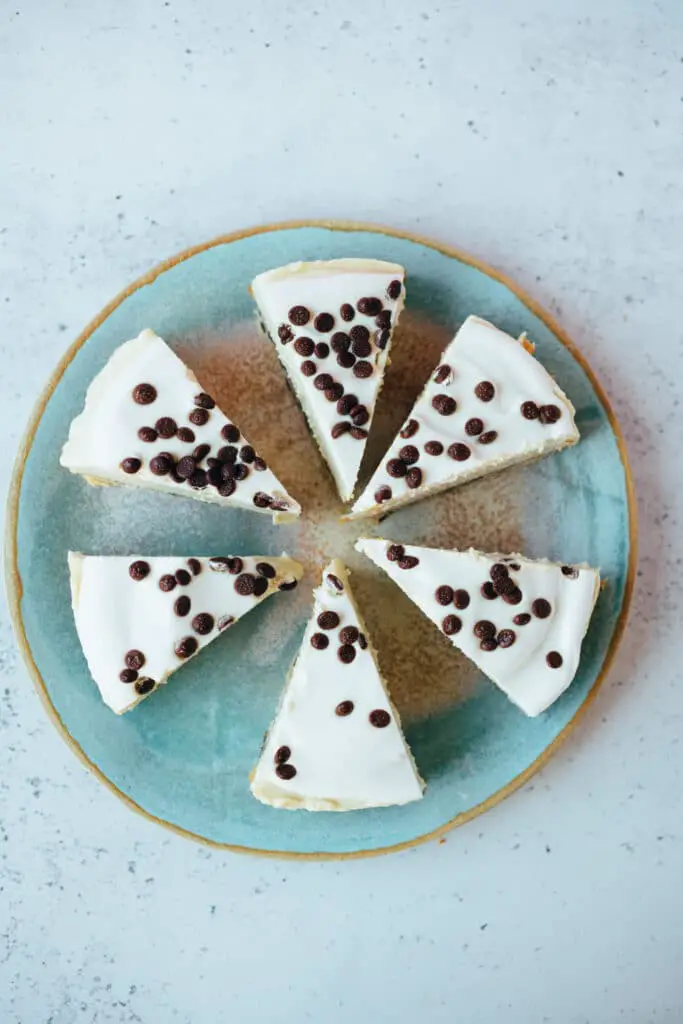 The Cheesecake consists essentially of three layers . A baked Cookie Dough base, made with coconut flour, some Vegetable milk , maple syrup, almond butter, oil, vanilla, baking powder, salt and dark chocolate chips. On top is a creamy cheesecake filling made with cashews, maple syrup, lemon juice, lemon zest, vanilla, a pinch of salt and xantah gum.
TIP: I can't stress it enough that xanthan gum is the top helper in the vegan cuisine is. It ensures that a good binding occurs in dishes that are not cooked up. Don't let the strange name distract you, because xanthan gum is nothing more than a natural thickener. I've linked you to my favorite below with the ingredients.
At the very end, a good portion of Cream on top. Here you are spoiled for choice and can decide between a Coconut cream or a purchased variant. I have chosen this time for the vegan soy cream from Soytoo(advertising since brand mention, but bought myself).
THIS VEGAN CHEESECAKE IS ADDICTIVE AND HAPPY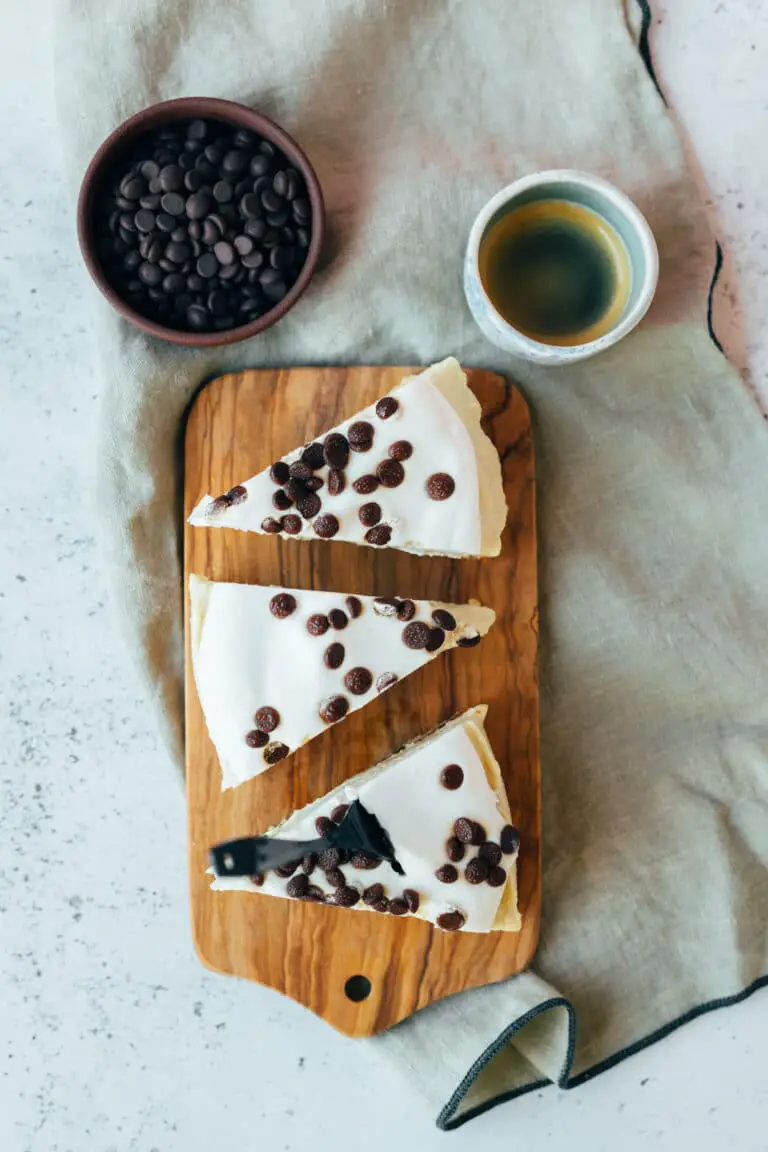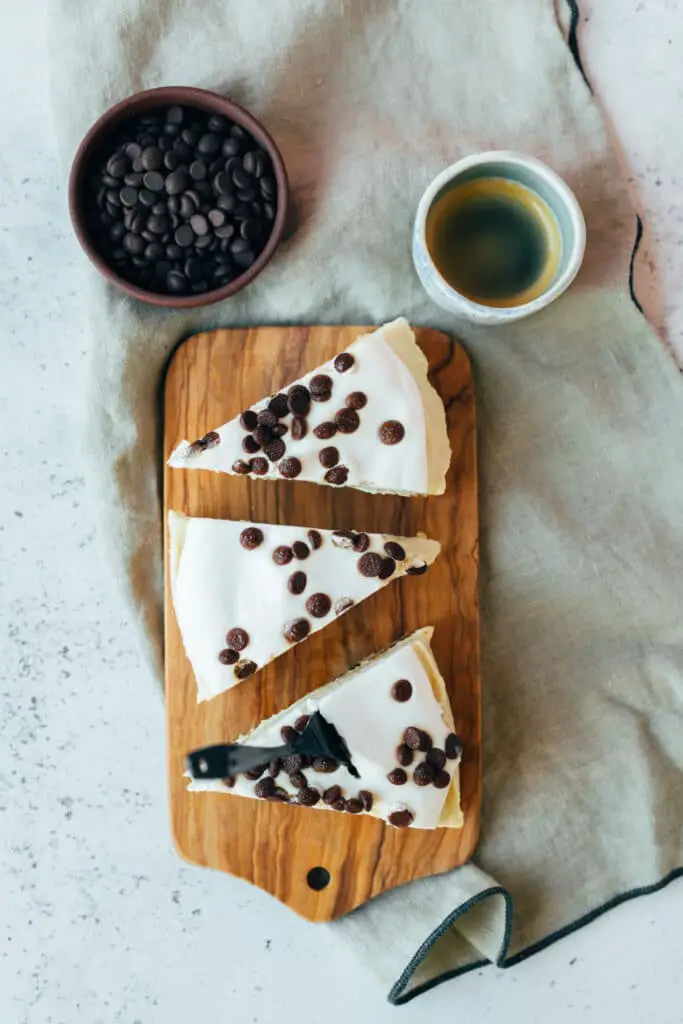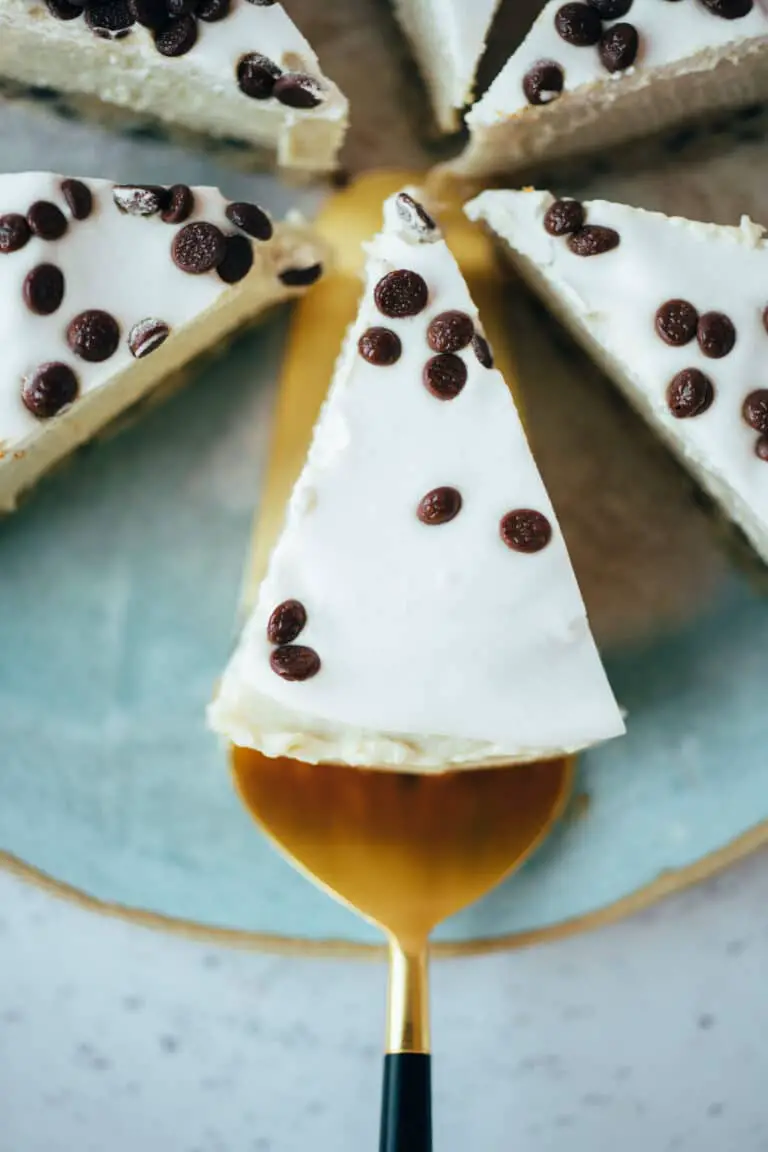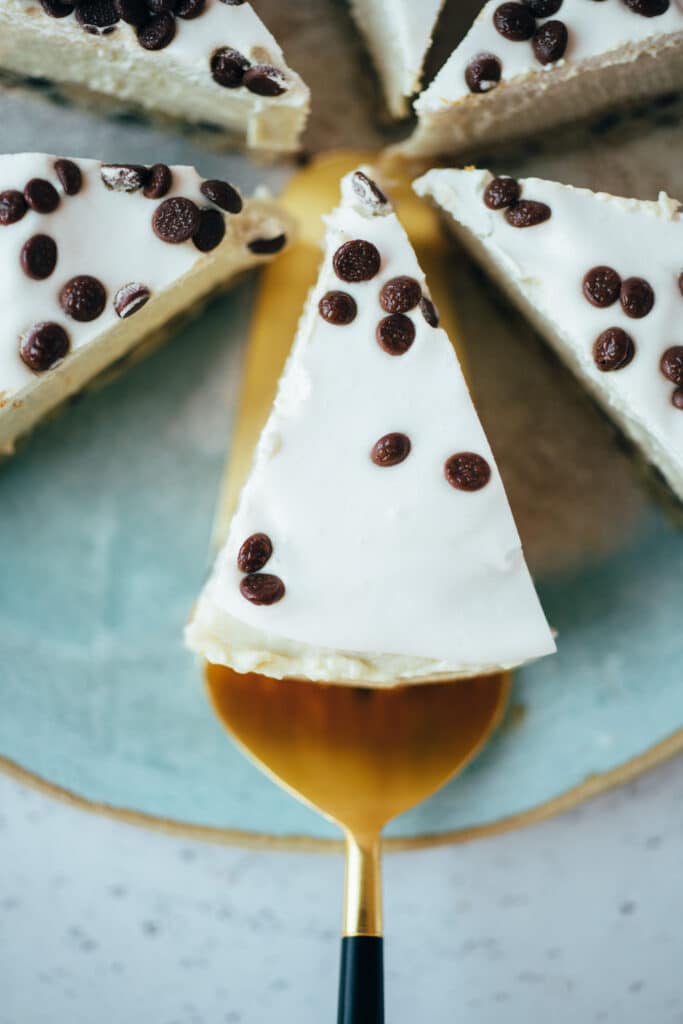 I love Cheesecakes in all variations and especially when they are vegan and homemade. At the very beginning when I started, I had to try a lot until I found the best basic recipe for me. Soak cashews , yes or no? Which mixer is the best for the cream(I also scrapped a few at the very beginning). Here my best tips and tricks so that the cheesecake also succeeds with certainty:
Bottom do not bake too long , otherwise it will be too firm and ideally we want a soft bottom, baked only on the surface.
Be sure to soak cashews ( here is a guide ), especially if the blender is not particularly powerful. Otherwise, you can put them directly into the blender without soaking first. I have a Blendtec blender and usually do NOT soak them. For this I use a sip more vegetable milk.
If you don't have xanthan gum at home, use coconut oil to stabilize it, as it is known to solidify at low temperatures.
Allow the base to cool, otherwise the filling will melt and the cheesecake will literally run away from you.
Always add cream to the cake at the very end before serving, as it is not as stable as the rest. If you want to freeze part of the cake, cut it into pieces beforehand and freeze it without cream.
Be sure to refrigerate cheesecake long enough for everything to set well, and at warmer temperatures, feel free to place in the freezer for 20-30 minutes for a better cut.
SAY CHEESE-CAKE
This cheesecake definitely makes you happy and addicted at the same time. I like to enjoy it with a cup of espresso, or a creamy Immune Booster Latte (that can't hurt at Corona times).
If you are not in the mood today for Cookie Dough I recommend my Strawberry- , Yogurt – or Pumpkin Raw Cheesecake .
Are you ready for this creamy cookie temptation?
The Cookie Dough Vanilla Cheesecake is:
Quickly made
creamy
cookie
chocolaty
creamy
Pleasantly sweet
Let's go with this incredibly delicious vegan Cheesecak e, I wish you a lot of fun with the Nachbacken and of course about a rating at the bottom of this page. If you post a picture, feel free to use the hashtag #veganevibes.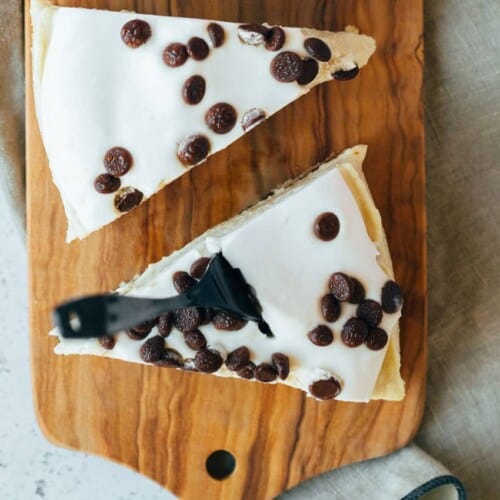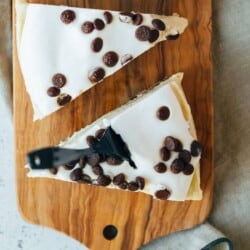 Cookie Dough Vanilla Cheesecake
Vegan Cheesecake made with a delicious cookie base, topped with a Creamy Cheesecake layer and vegan whipped cream. The perfect temptation for the whole family.
AUTOR: VEGANEVIBES
For the Cookie Dough base:
FOR THE VANILLA CHEESECAKE:
Anleitung 
Preheat oven to 175 degrees and line a 20cm springform pan with baking paper. The edges can be left blank.

For the base, mix almond butter, oil, maple syrup, coconut flour, baking powder, vanilla and salt. Mix with a silicone spatula or wooden spoon until a uniform dough is formed. Stir in chocolate chips, pour batter into springform pan and bake in oven for 12-15 minutes. Attention, the dough should not be baked completely through, only baked. This keeps the floor soft. After baking time, remove from oven and let cool completely.

160 g Almond butter,

52 g Frying and baking oil,

75 g maple syrup,

1 tbspn Bourbon vanilla,

130 g Coconut flour,

¼ tbspn Baking powder,

⅛ tbspn Salt,

90 g dark vegan chocolate chips

To make the Vanilla Cheesecake Filling, place all ingredients in a high-powered blender and blend until smooth and creamy. Put the measurements in the mold with the cooled base and put in the refrigerator. Ideally let set overnight, the next day the cheesecake is perfect. If time is short, the cake can also be placed in the freezer for 2 hours.

300 g Cashews,

50 ml Plant milk,

150 g maple syrup,

30 ml Lemon juice,

¼ tbspn Salt,

¼ tbspn Xanthan gum or 50g coconut oil melted

As a final step, spread with cream and (optionally) decorate with more Chocolate Chips. Cut into pieces and enjoy!

To store, place covered in the refrigerator and consume within 3 days. Otherwise, cut into pieces and put in a box in the freezer. Remove and allow to thaw about 20 minutes before eating.
Nährwertangaben
Serving:
1
Piece
Calories:
396
kcal
Carbohydrates:
34
g
Protein:
9
g
Fat:
27
g
Saturated Fat:
6
g
Sodium:
43
mg
Potassium:
307
mg
Fiber:
7
g
Sugar:
18
g
Vitamin A:
9
IU
Vitamin C:
1
mg
Calcium:
93
mg
Iron:
3
mg