Coconut chocolate Cookies because Cookies save my life at the moment. When it gets restless outside, I need things that calm me down inside and bring me into a certain stability. It really is madness when I think about the whole world coming to a standstill all at once. For as long as I can remember, I have been allowed and able to go where I want and have never been restricted in my choices. From one day to the next, Corona has us fully in its grip and I can unfortunately only send my congratulations to my grandmother today on her 95th birthday in the form of a flower delivery. I am all the more grateful in these moments that I am still allowed to do good here in my kitchen. Good things, in the form of Recipes for you, to sweeten life at home in the lock down for you and your loved ones. I think it's sensational how people are currently getting creative and you can do the coolest yoga classes online right now, thanks especially to Yogahausen and Tarayoga for the offers. But now I'd say let's get started on some wonderful cookies! Caution: Danger of addiction!
Coconut and chocolate have always been a dream team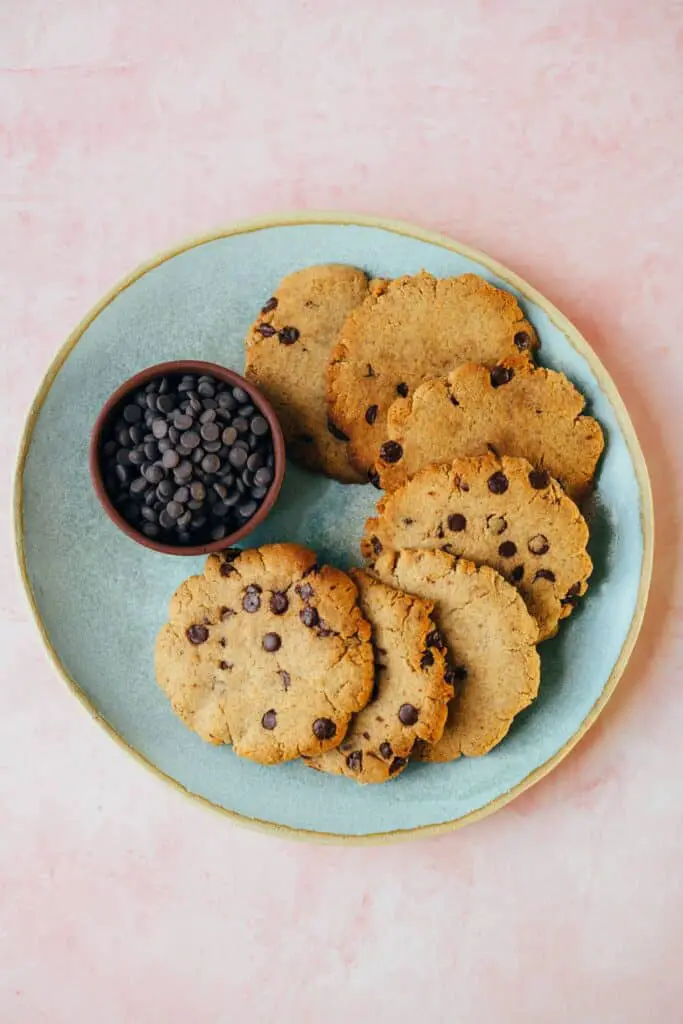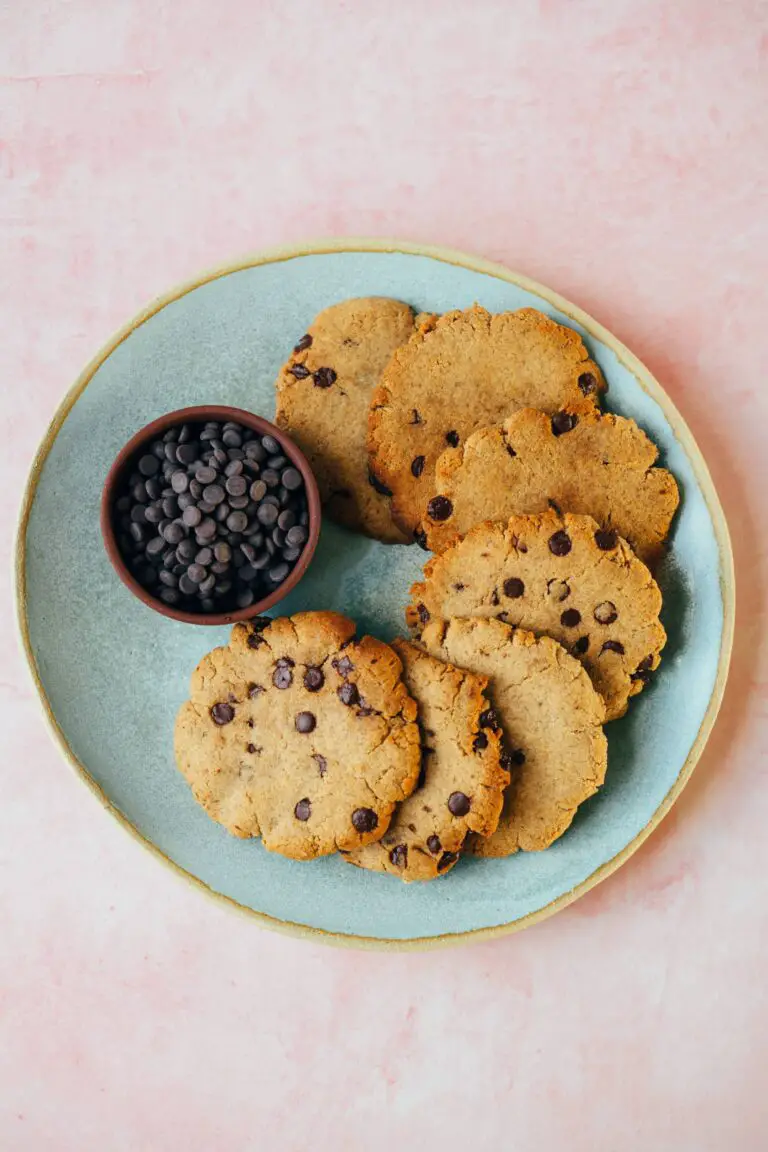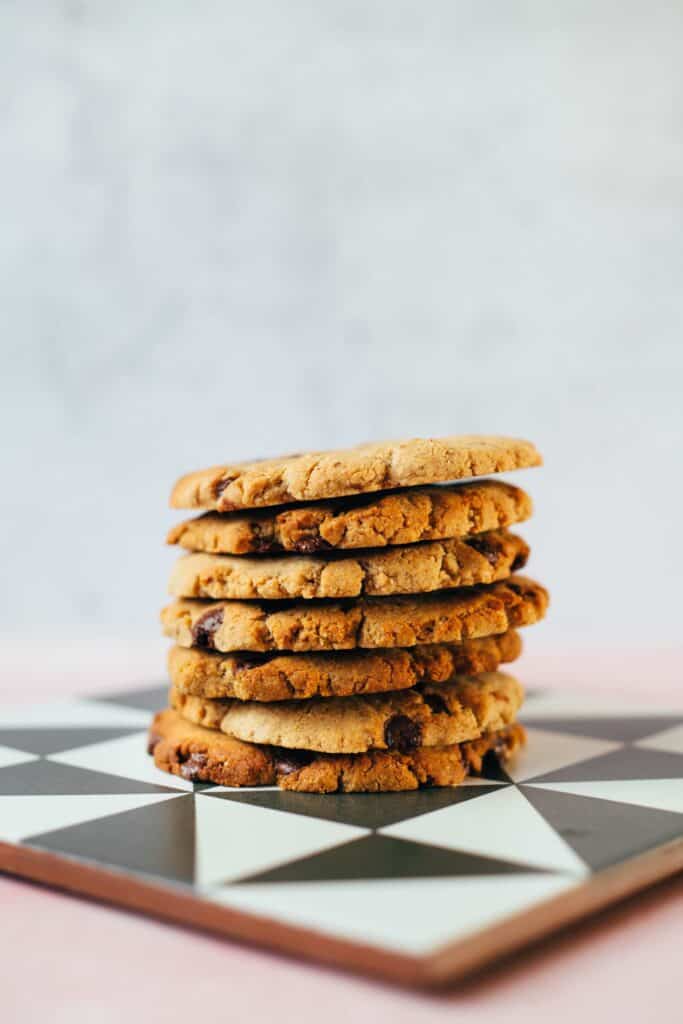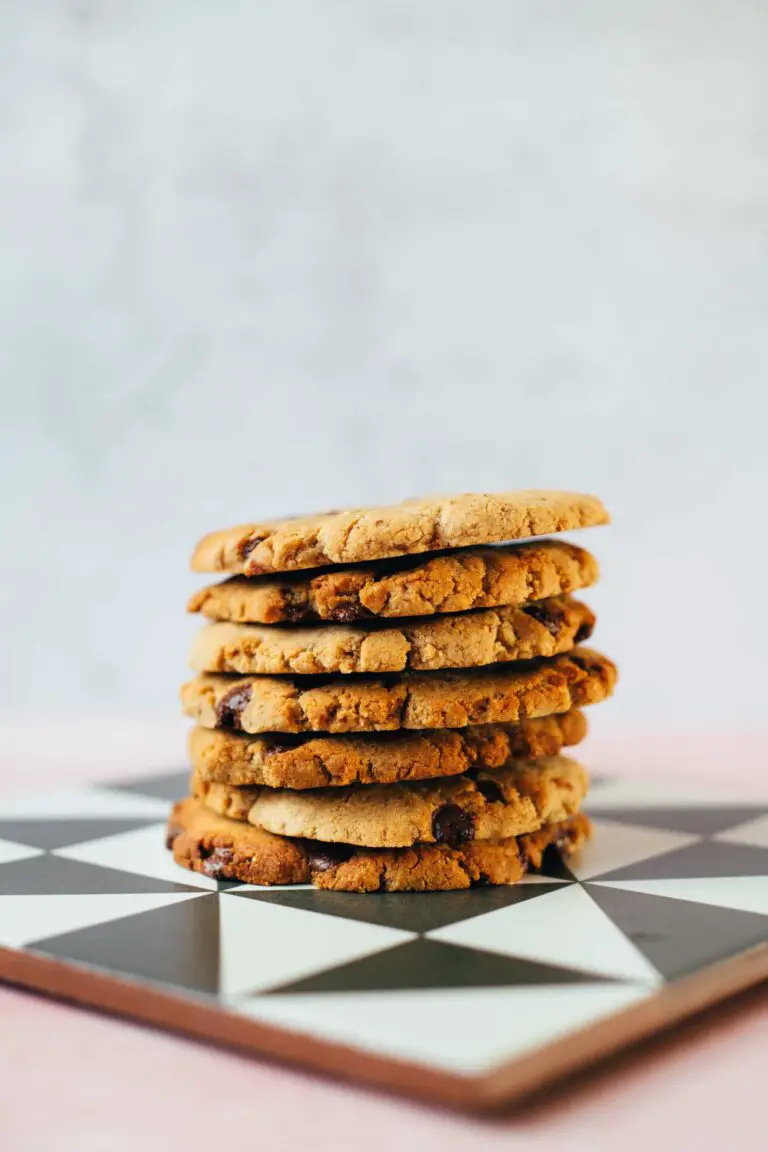 Who knows me knows that I stand on the motto "keep it simple" and exactly that applies again today. Coconut puree, sugar, maple syrup, Vegetable milk , spelt flour, coconut flour, baking soda, vanilla and a pinch of salt are processed in the food processor to a fine dough. Fold in chocolate drops and you're done. Go in the oven and enjoy the Cookie Enjoy the smell in the kitchen.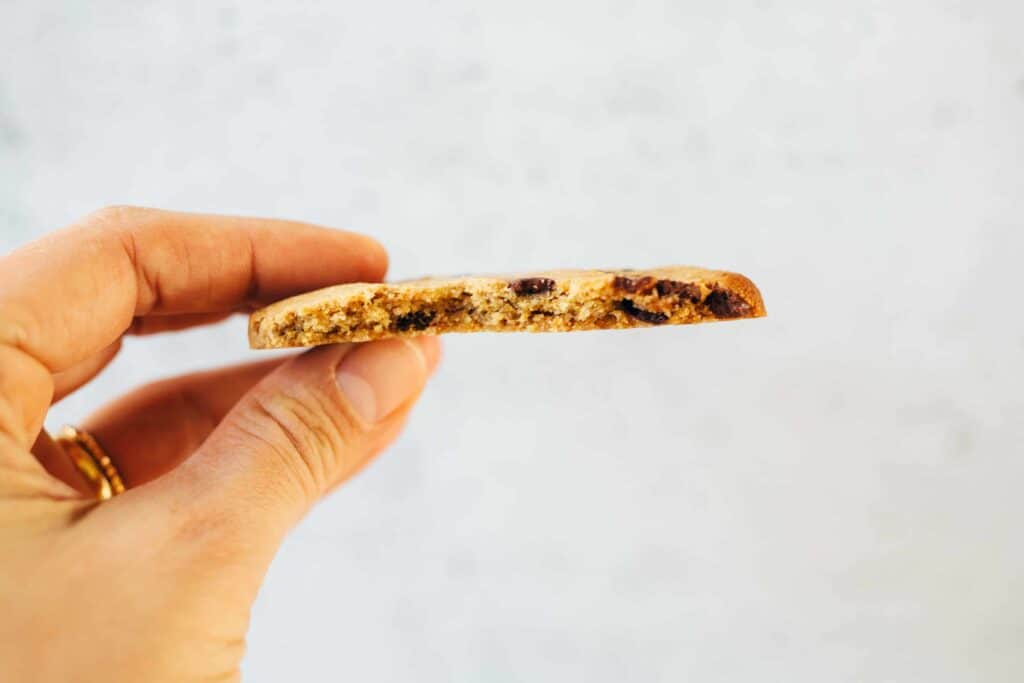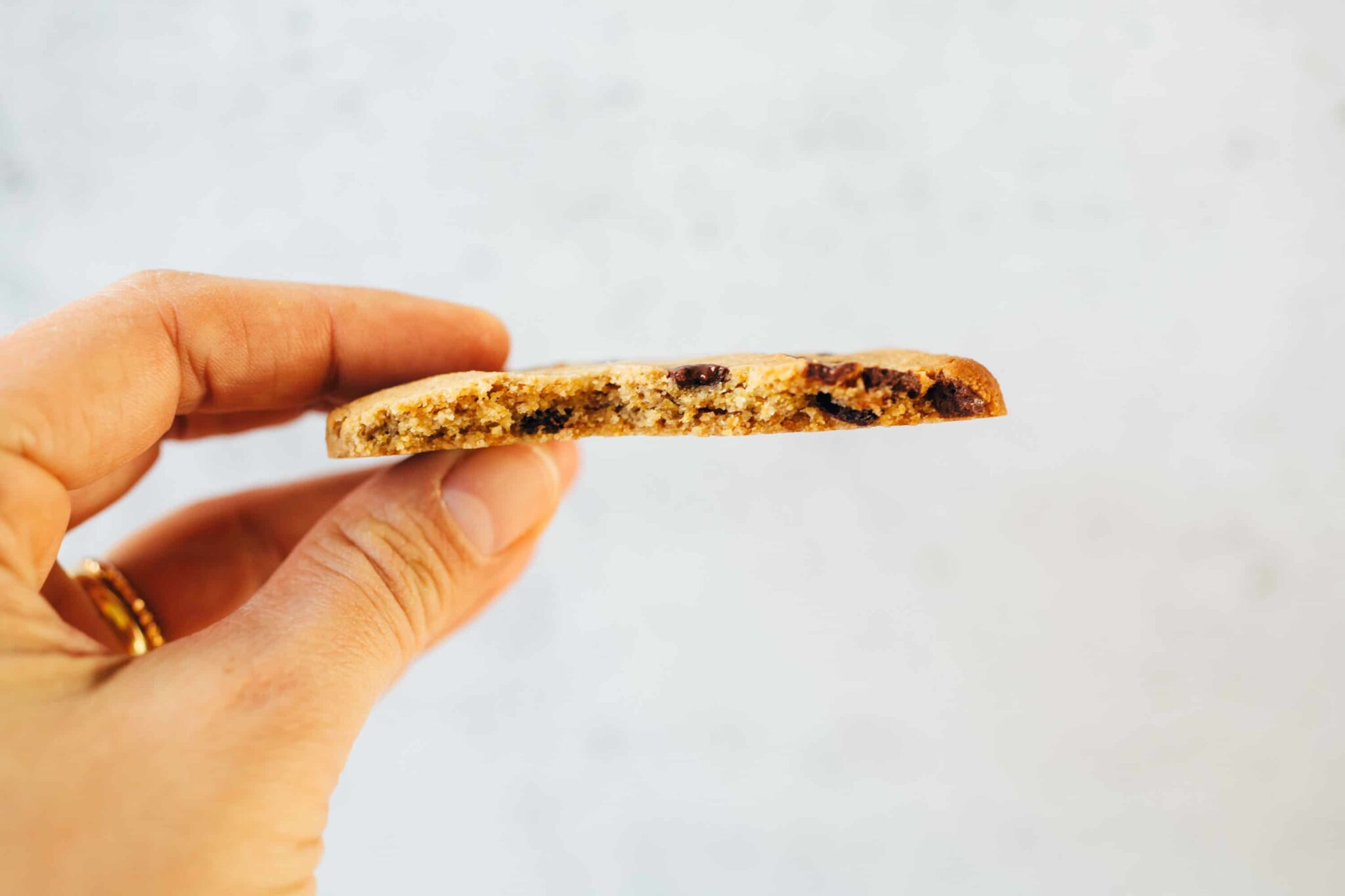 I just love baking cookies because it's so quick and hardly anything can go wrong. However, there are a few tips and tricks that will help to make the Cookies really become like something out of a picture book:
Warm coconut puree in the oven beforehand so it's nice and runny and easy to work with. You can also make it yourself from coconut flakes, for that you can find instructions here.
Form cookies best with a spoon, or even better with an ice cream scoop. Then they all become uniform.
Always keep an eye on the oven, because every oven is different and it can easily happen that the cookies burn. Therefore, check more often and, if in doubt, turn down the baking temperature.
After baking cookies on the tray to cool and only then remove. As long as they are hot, they can break easily.
How healthy is actually spelt flour?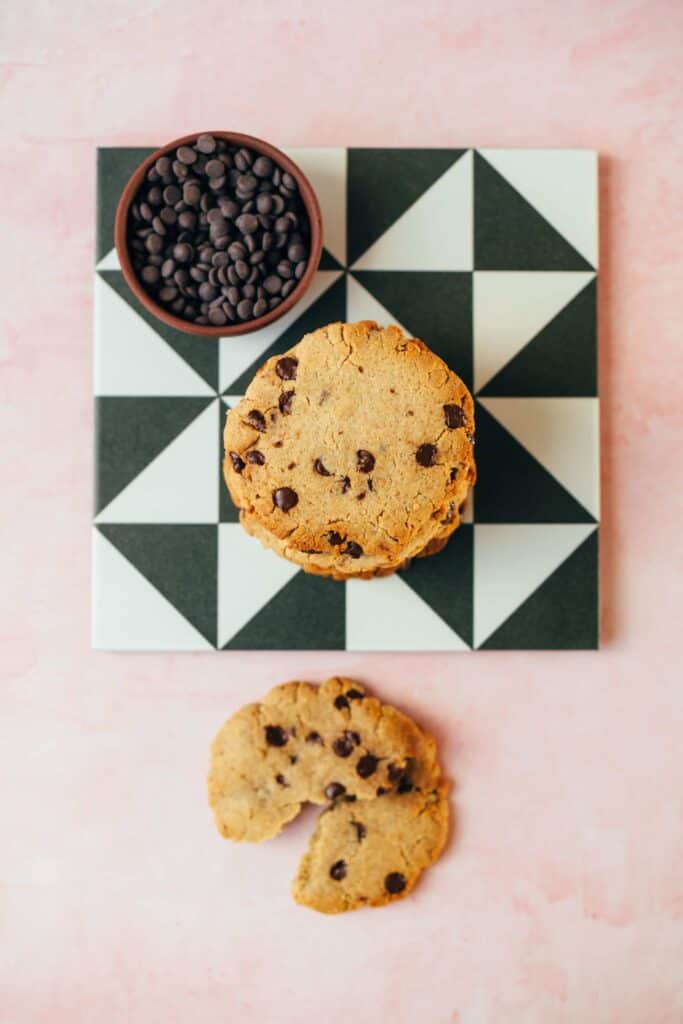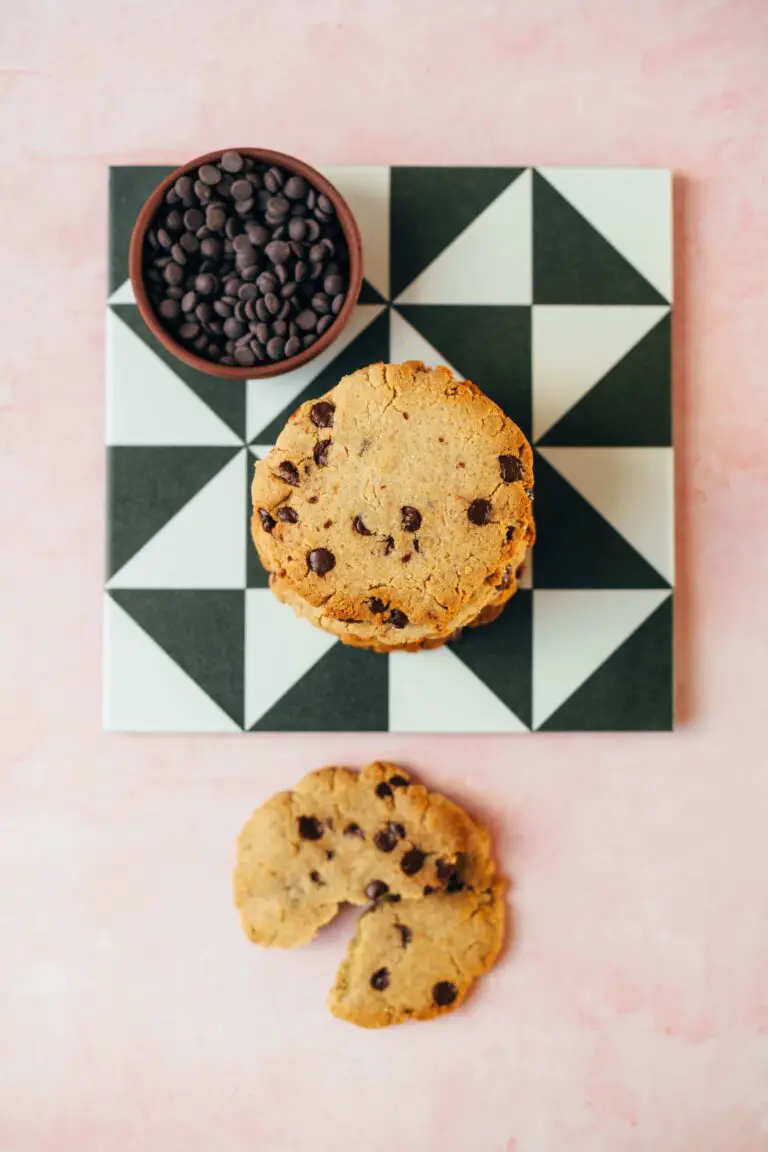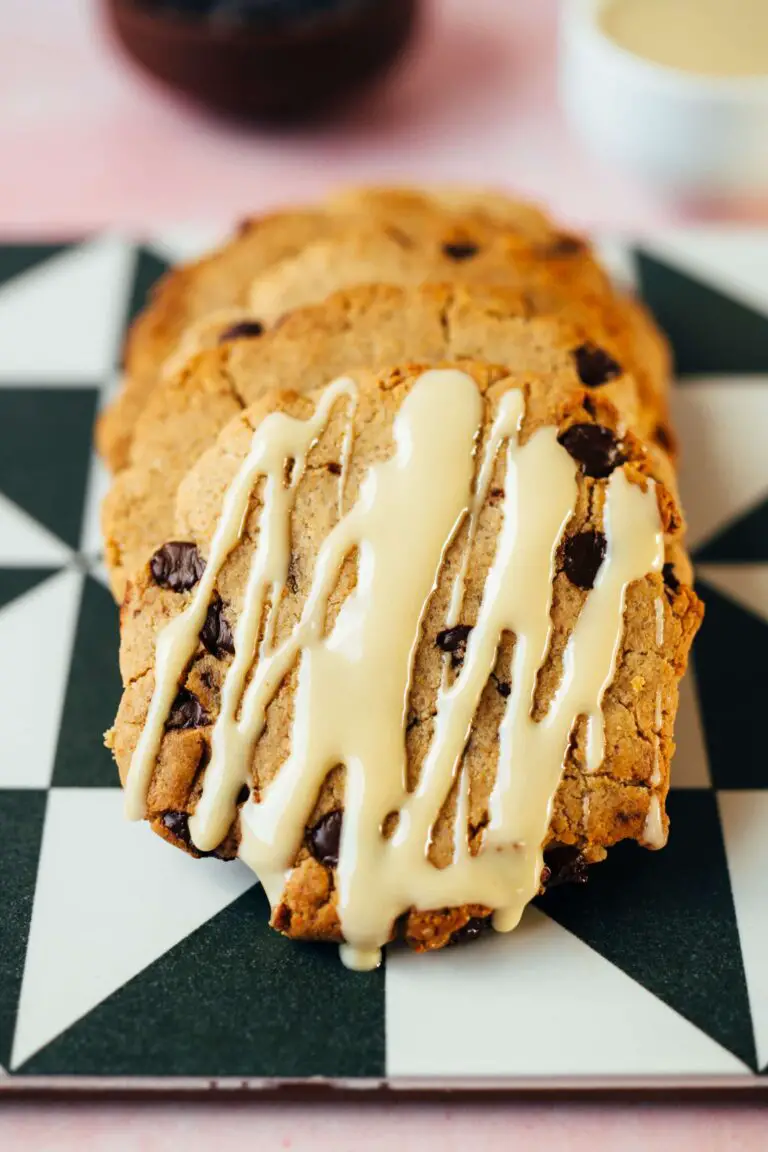 Sounds like a very trivial question and I have to admit that it's more fun to ponder the ingredients of spirulina or chlorella. Flour However, is so self-evident and it is easy to forget why it is actually so healthy. What is certain is that spelt is a grain with a lot of healthy ingredients:
Contains More protein than other common cereals
Especially High quality proteins which are well utilized by the body
Provides important B vitamins
Vitamin E
Rich in Magnesium
Healthy Dietary fiber
Here, of course, once again applies the principle that spelt- Wholemeal flour provides far more nutrients than an extraction flour. I like to mix both types of flour and occasionally bake with pure whole wheat flour. Spelt is the original form of wheat and is often well tolerated by people with Wheat allergy often well tolerated. The situation is different for people with gluten allergy, who should avoid spelt at all costs, as it contains more Gluten protein than wheat.
If you're not in the mood for coconut chocolate cookies today, try the best vegan chocolate cookies , Cookie Snack Bites or Tahini Chocolate Cookies .
Are you ready for this incredible delicious coconut chocolate cookies? You are
Quickly made
Coconutty-sweet
Inside soft
Outside crispy
oil-free
Pleasantly sweet
Let's go with these incredibly delicious vegan Cookies I wish you a lot of fun while baking and of course about a rating at the bottom of this page. If you post a picture, use the hashtag #veganevibes.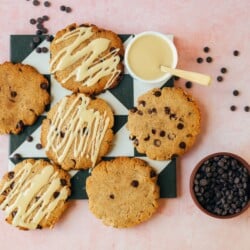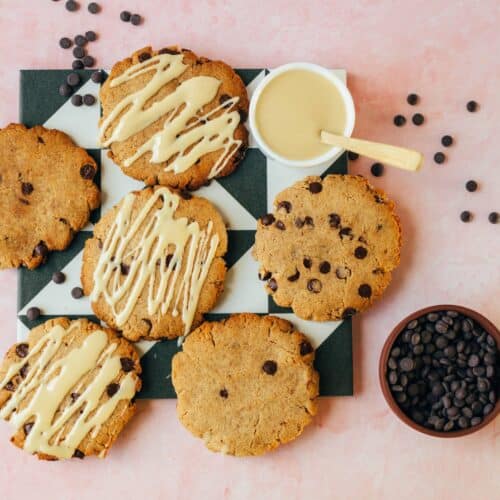 Coconut chocolate cookies (oil free)
Vegan, oil-free coconut chocolate cookies with fine spelt flour (or gluten-free flour blend). Extra coconut sweet, crispy outside with soft center.
AUTOR: VEGANEVIBES
Anleitung 
Preheat oven to 175 degrees, line baking sheet with parchment paper or a permanent baking mat.

Place coconut puree in the oven for a few minutes, or heat in a water bath to make it nice and smooth.

FOR THE Dough Coconut puree, raw cane sugar, maple syrup, vegetable milk, spelt flour, coconut flour, baking soda, bourbon. Blend vanilla and salt in a food processor until uniform. Add chocolate drops at the very end.

120 g Coconut Mush,

120 g Raw cane sugar,

60 ml maple syrup,

45 ml Plant milk,

115 g Spelt flour,

46 g Coconut flour,

1 tbspn Baking soda,

¼ tbspn Bourbon vanilla or ½ tsp vanilla extract,

A pinch of sea salt,

50 g dark vegan chocolate drops

Using your hands and a spoon, separate 12 even portions. Form into balls, place on baking sheet, flatten and shape into cookies. Decorate with extra chocolate drops as desired.

Dark vegan chocolate drops

Put in the oven and bake for

8 minutes

. At this baking time they become nice and soft. If you want them drier, increase baking time to 10 minutes.

Remove from the oven and allow to cool completely. enjoy!
Nährwertangaben
Serving:
1
Cookie
Calories:
162
kcal
Carbohydrates:
26
g
Protein:
3
g
Fat:
6
g
Saturated Fat:
5
g
Cholesterol:
1
mg
Sodium:
35
mg
Potassium:
77
mg
Fiber:
3
g
Sugar:
15
g
Vitamin A:
8
IU
Vitamin C:
1
mg
Calcium:
15
mg
Iron:
1
mg