Potato salad with wild garlic pestois a real pleasure. I usually know potato salad as either a classic French version or with a creamy dressing. But this potato salad is quite different because it is flavored with an aromatic wild garlic pesto. It's finally getting warmer and spring is in full swing. This invites to extensive walks, where you can often find wild garlic leaves. Just pluck it, take it with you, wash it thoroughly and make a great pesto out of it. Admittedly, sometimes I am not quite sure if it is really wild garlic. To be sure, I do the rub test on the leaf and try to find out by smell if it really is wild garlic. In the near future I will certainly take a wild herbs course once, just to get a better understanding of it. But now we turn to our highlight of today the potato salad.
Vegan potato salad with wild garlic pesto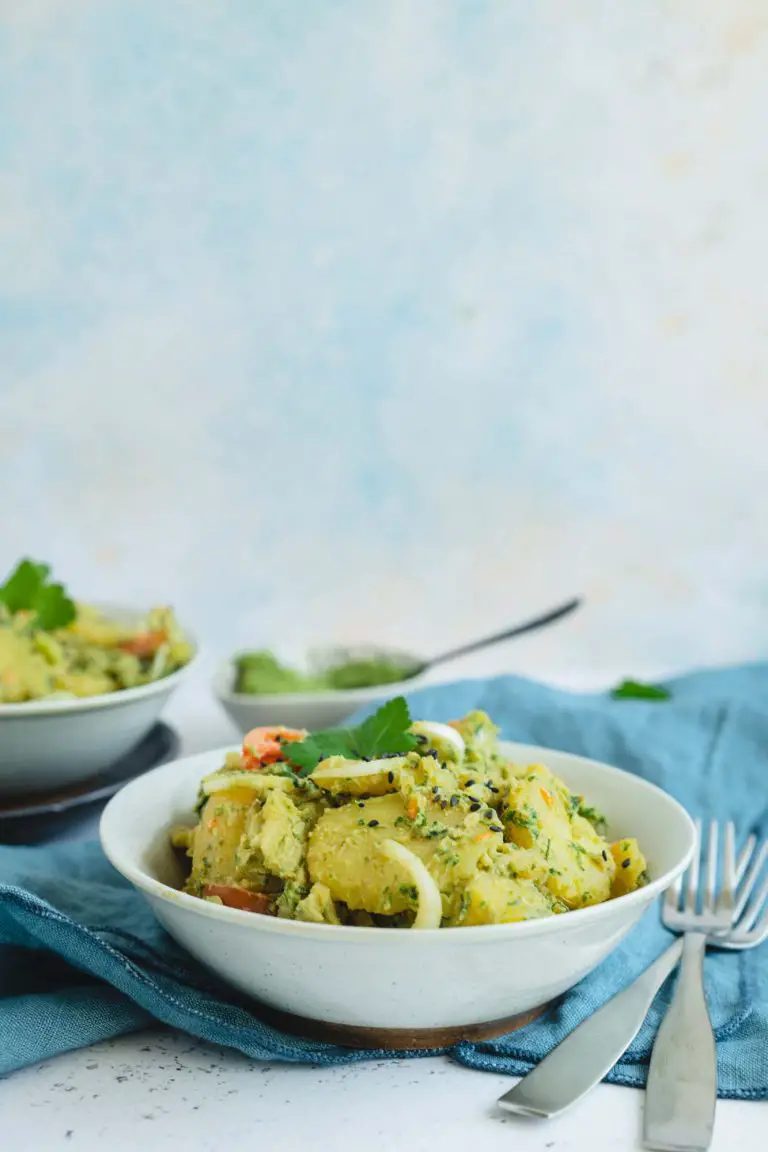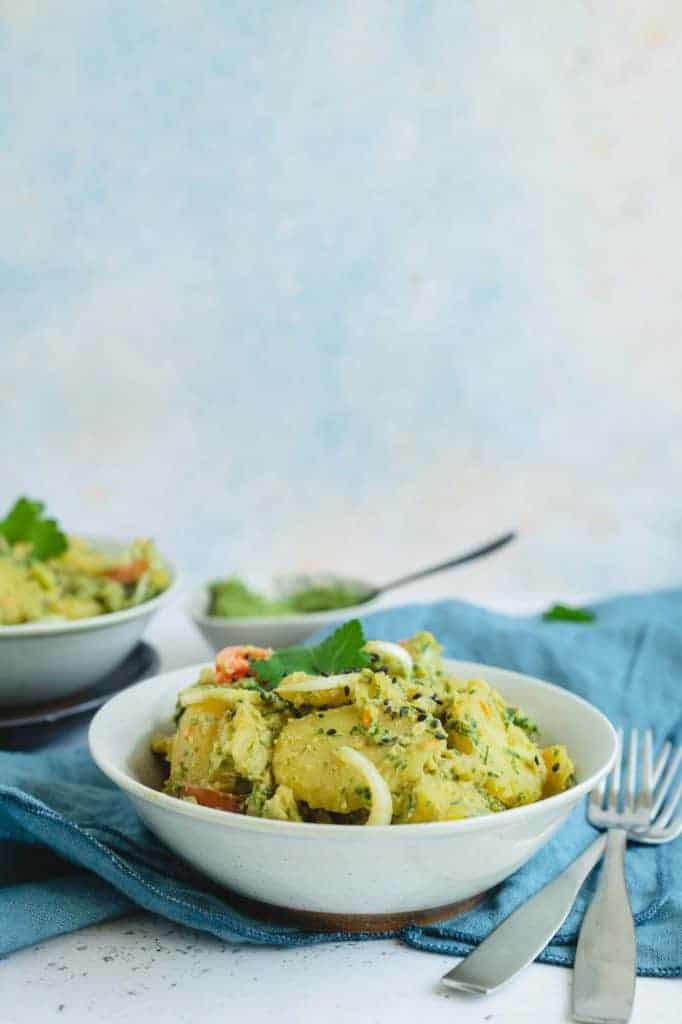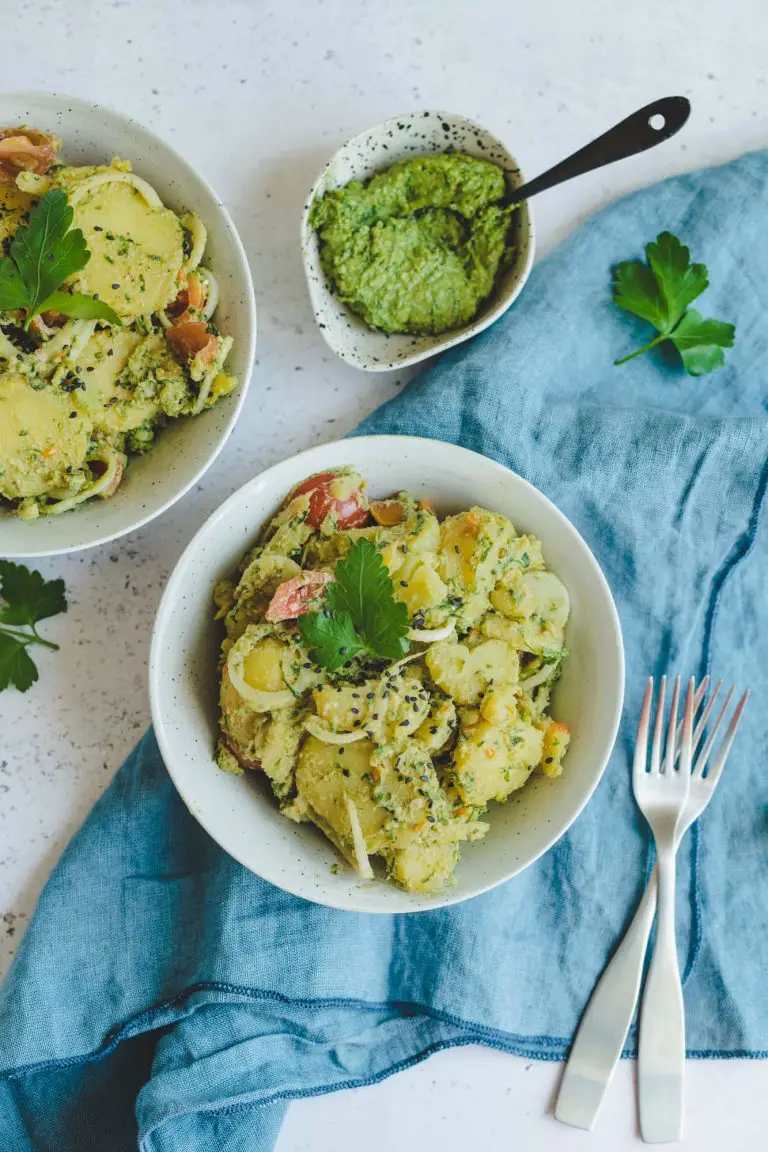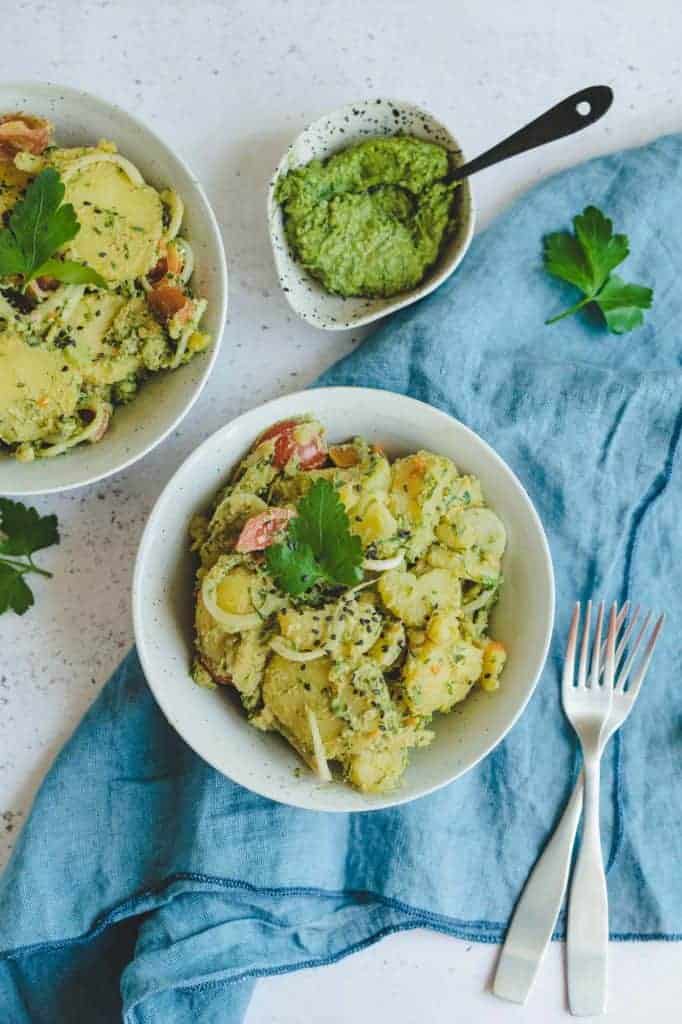 You're invited to a barbecue and you're supposed to bring a potato salad? Then this recipe is just the thing for you, as it makes a nice change from the classic potato salads. The preparation of the tubers is done quickly, or simply. Boil water, brush potatoes a little and boil them with the peel until soft. The dressing could not be simpler, because it consists simply of a single ingredient, wild garlic pesto. You can find the instructions here. What else do I put in the salad? Cherry tomatoes and white onion, cut into fine rings.
Otherwise, you can refine the salad according to personal taste, for example with:
Paprika
Spring onion
Carrots
Cucumbers
Celery
Potato salad with pesto simple and fast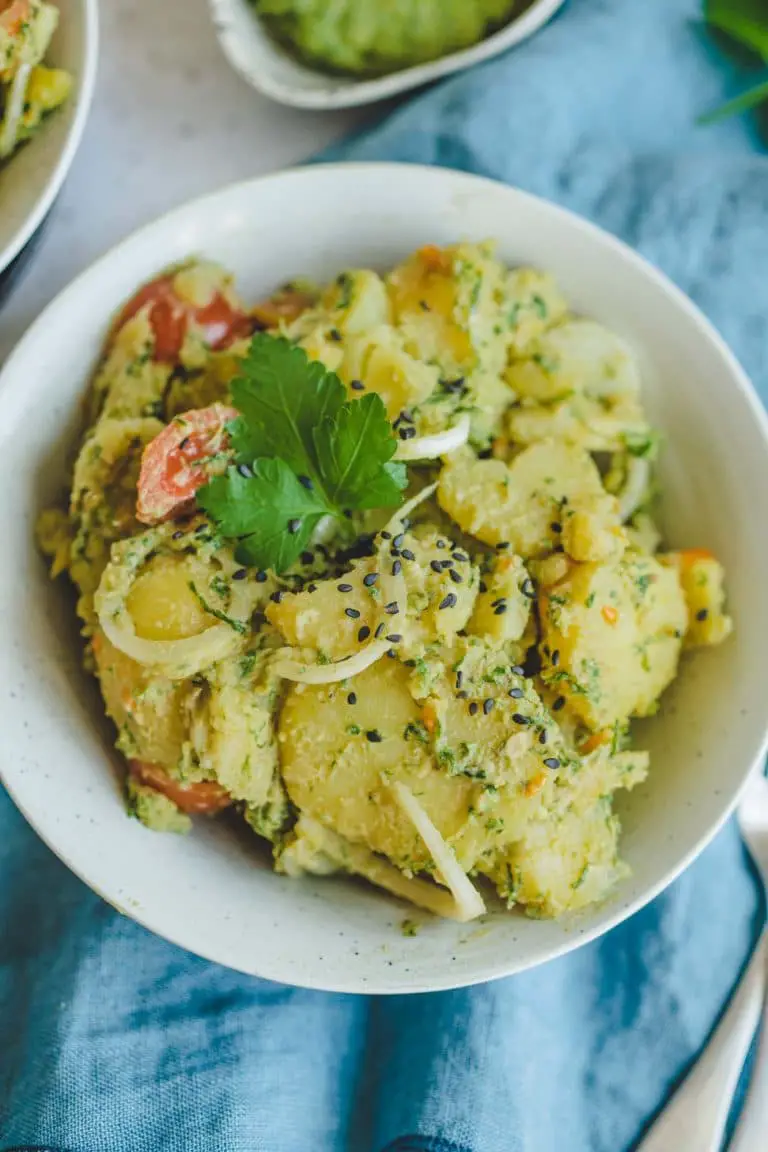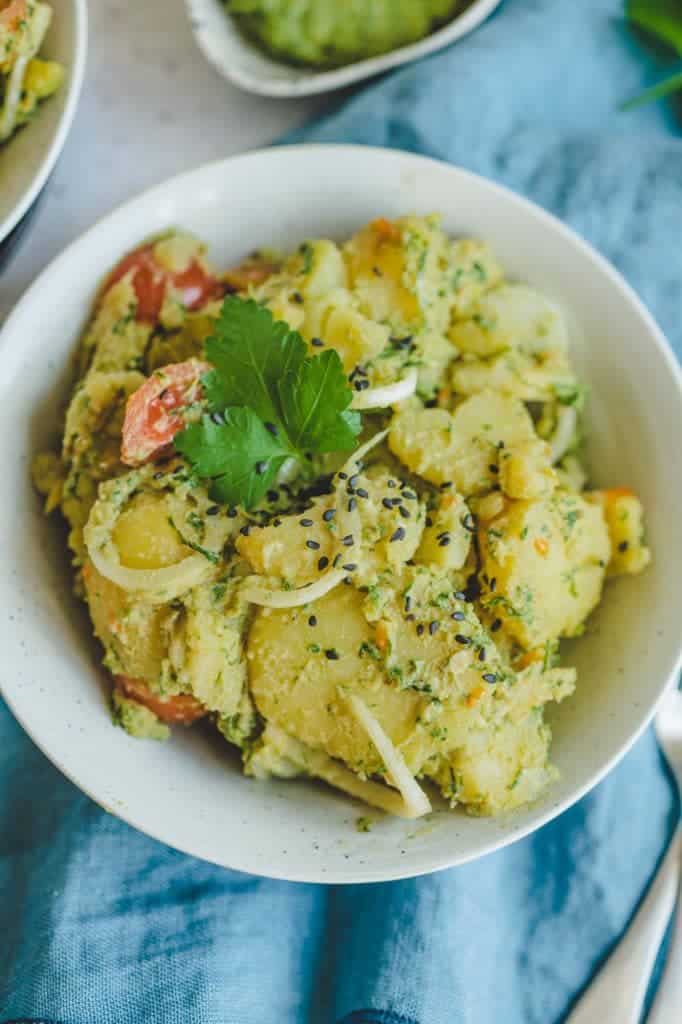 The potato salad is especially good for a picnic in the park. As long as Corona keeps us busy and the gastro is only partially open, picnics are becoming more popular. Simply assemble the various delicacies yourself at home, pack them well in a basket and off you go into the countryside. The weather is also slowly playing along and so you can spend a few quiet hours with delicious delicacies in the fresh air. If you can't make it to the park, you may have the opportunity to barbecue at home. As a side dish, our recipe today is just as wonderful. Here are some more suggestions for delicious barbecue side dishes:
Are potatoes actually healthy?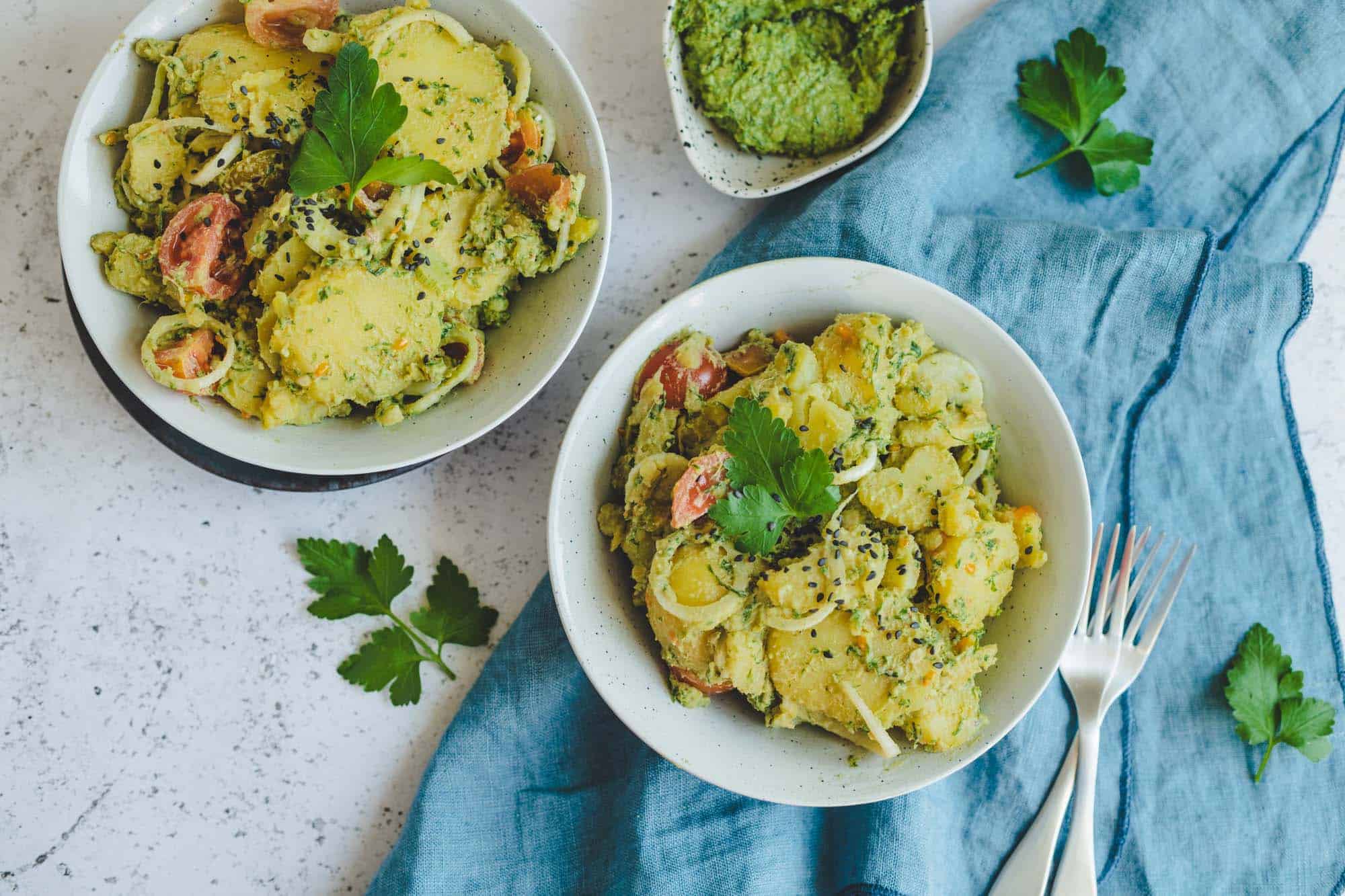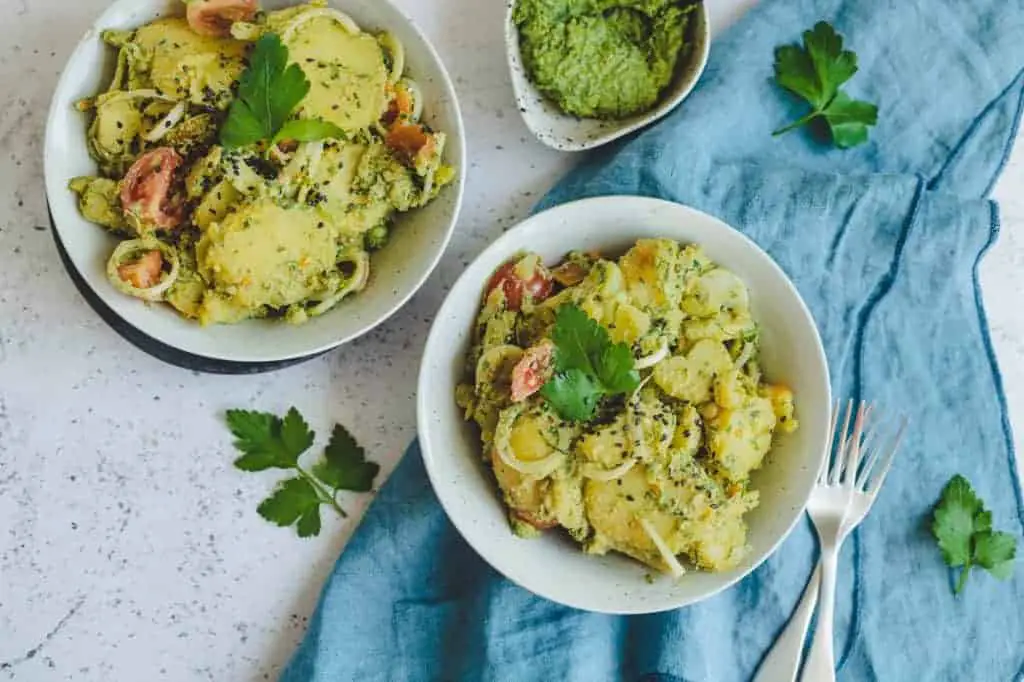 But now back to our potato salad and the question of whether potatoes are actually healthy? The answer is yes. It's the preparation alone that determines whether you make a healthy salad or a drippy, greasy fry.
Here are the advantages of potatoes once again summarized. Potatoes are:
very low in calories , consist of up to 80% water
form during cooling resistant starch which, like dietary fiber, are indigestible but extremely good "food" for healthy intestinal bacteria.
rich in vegetable protein , B vitamins, vitamin C and potassium
contain Flavonoids and Anthocyanins (valuable secondary plant compounds), which can protect against cardiovascular disease and cancer.
The only question is which is better, organic or conventionally grown potatoes? Here the answer is clearly pro organic! why? Organic farmers are not allowed to use synthetic mineral fertilizers. This means that the potatoes ultimately contain an average of 30 percent less nitrate and many times less pesticide residues. I always buy organic potatoes directly from the farmer at the farm. This saves money and unnecessary transport routes, as in the case of early potatoes from Egypt, for example.
But now enough with theory and back to our salad.
The potato salad with wild garlic pesto is:
hearty
Super nutritious
aromatic
creamy
Perfect with grilled food and picnic
Well, did you get a craving for this delicious vegan potato salad? I wish you a lot of fun in recooking and of course a review at the bottom of this page. If you post a picture, use the hashtag #veganevibes.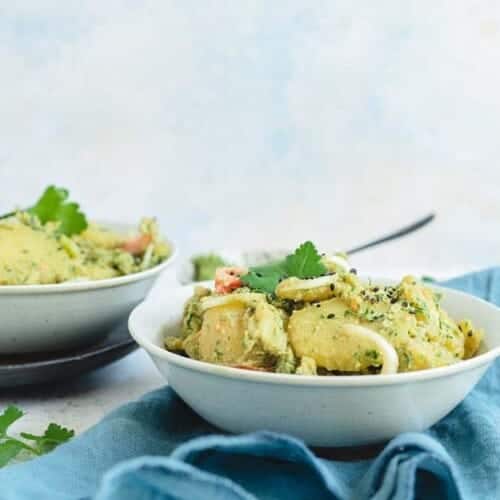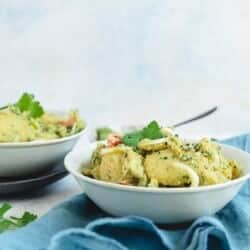 Potato salad with wild garlic pesto
Incredibly creamy, flavorful potato salad with delicious wild garlic pesto and crunchy vegetables. The perfect side dish for grilled food or as a TO-GO salad for the summer picnic. Easy to prepare, damn tasty and healthy!
AUTOR: VEGANEVIBES
FOR THE FAVORITE SALAD:
500

g

Potatoes at will

roughly cleaned (tip: the smaller the potatoes, the faster they are cooked)

150

g

Vegetables to taste

e.g. cherry tomatoes, onion, bell bell pepper, carrots, green onion, cucumber, celery, 1 cups, cleaned and coarsely diced or cut into rings

1

Portion

Wild garlic pesto To the recipe

Pinch of pepper

Fresh parsley greens to taste
Anleitung 
Heat a large pot with about 2 liters of water and bring to a boil with the potatoes. Cook for about

20 minutes

until tender. Check with a fork or wooden stick. Rinse with cold water, set aside and allow to cool. Peel, slice and place in a large salad bowl.

1 Portion Wild garlic pesto

Add pesto to lukewarm potatoes, add vegetables to taste and stir well until everything is evenly mixed.

150 g Vegetables to taste

To serve, plate or pour into glasses, garnish with optional parsley and Enjoy! Serve with optional fresh baguette or grilled meat.

Fresh parsley greens to taste,

fresh baguette,

Spelt roll

Keeps airtight in a sterile jar for several weeks in the refrigerator, once opened consume in the first 2-3 days.
Nährwertangaben
Serving:
1
Portion
Calories:
190
kcal
Carbohydrates:
30
g
Protein:
7
g
Fat:
2
g
Saturated Fat:
7
g
Sodium:
26
mg
Potassium:
630
mg
Fiber:
5
g
Sugar:
1
g
Vitamin A:
1907
IU
Vitamin C:
29
mg
Calcium:
37
mg
Iron:
1
mg