Greek salad with quinoa my dears, heralds the warmer season for me. We have arrived in March and finally the days are getting longer again. Actually, I would like to plan a vacation, preferably to Mykonos again and rent a nice little cottage there. Well, but unfortunately there is still a problem and that is called Corona, because currently nothing can be planned. I would call it more of a vacation bet. You can book, but whether it will really be something is the question. I'm almost certainly setting myself up for a vacation here in beautiful Bavaria. To be on the safe side, I'm already preparing a few recipes that will transport me, at least in my mind, to the respective vacation destinations. Let's start today with Greece and this sensational Greek salad.
Greek quinoa salad or vacation at home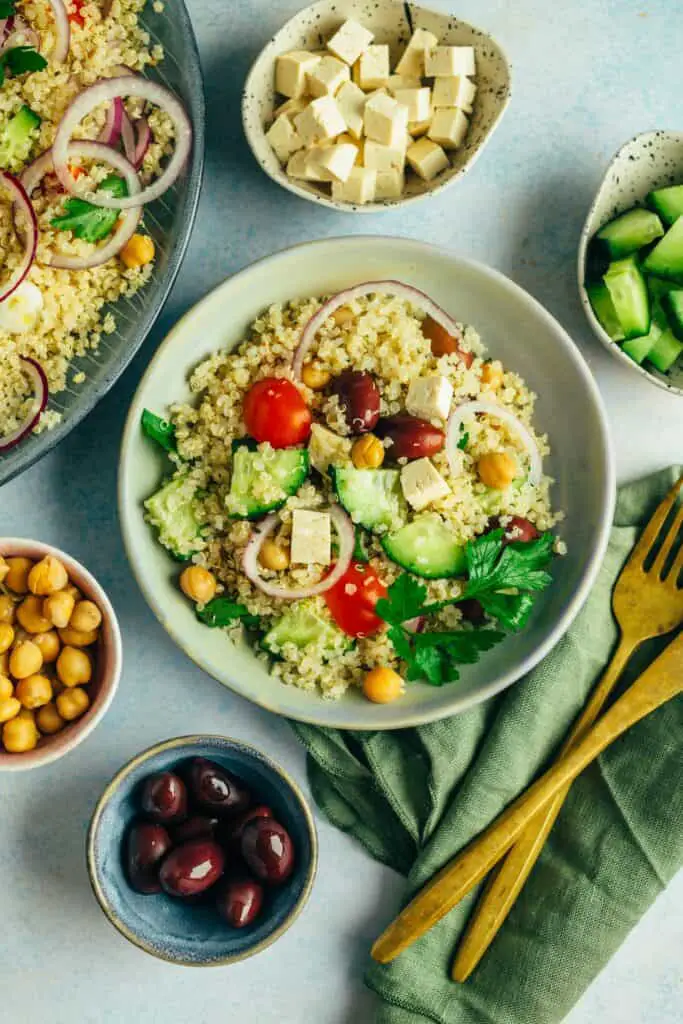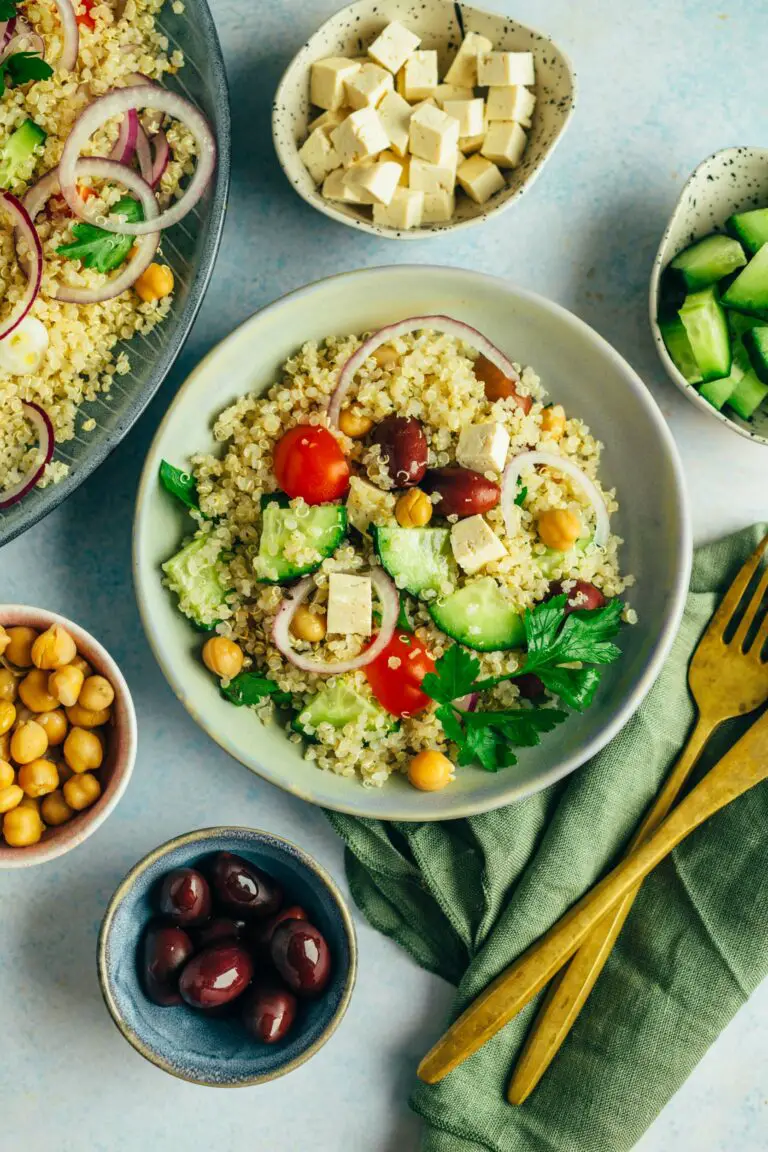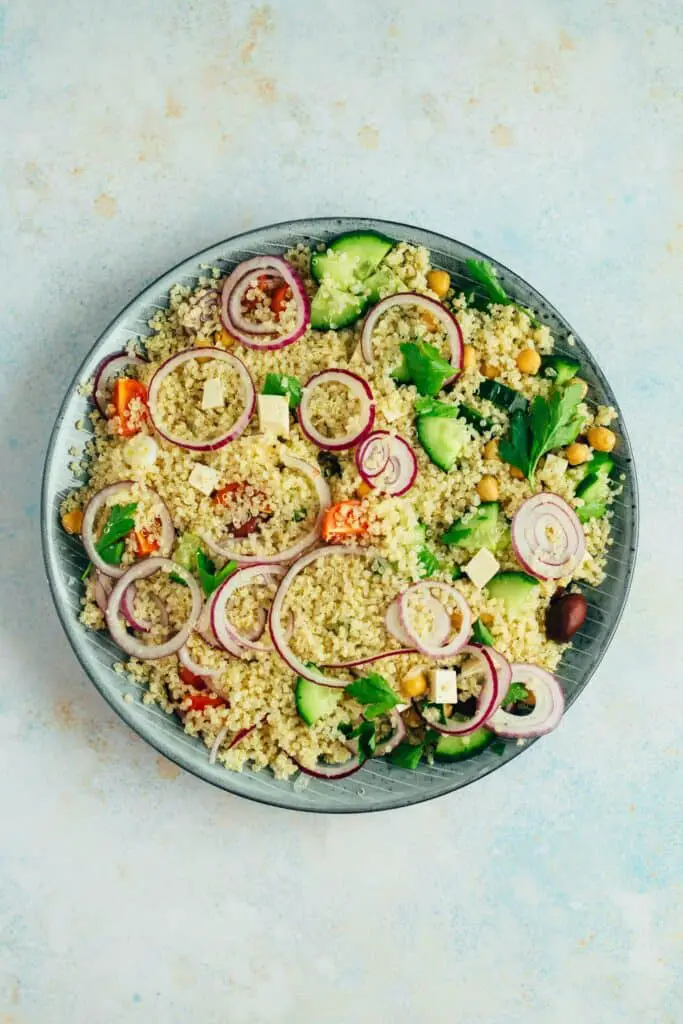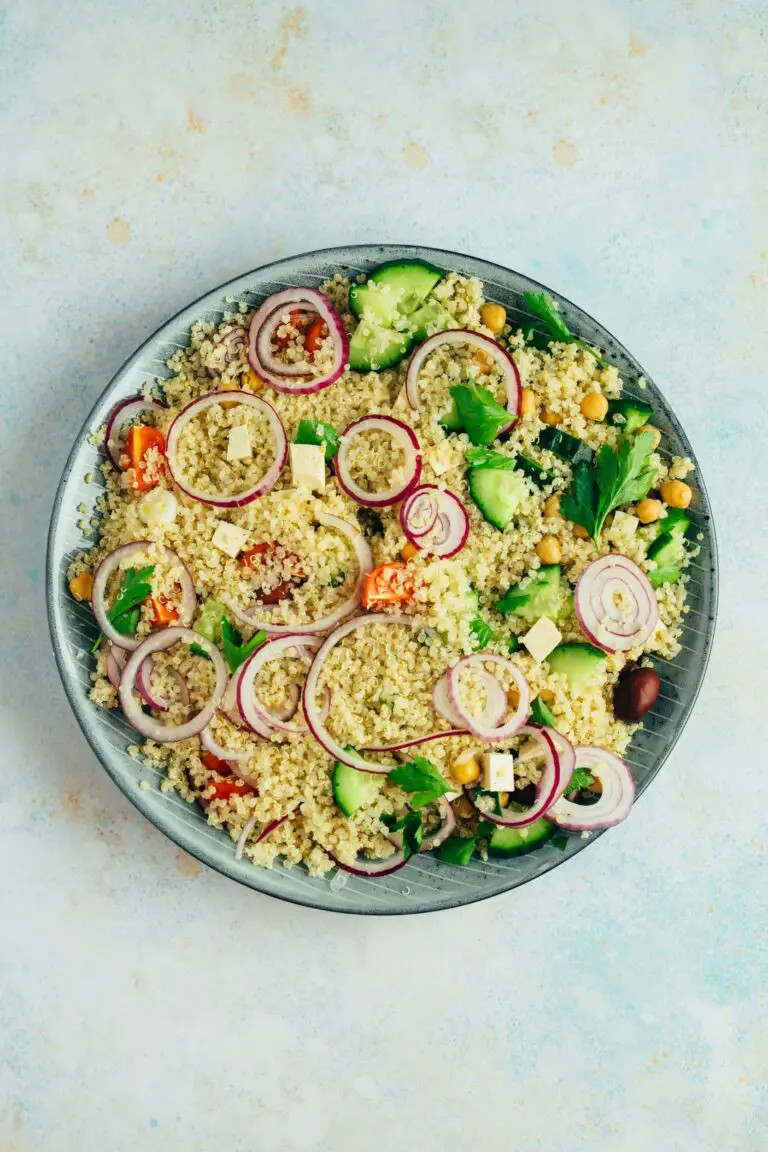 I'll be honest, quinoa is far too rarely on our table. Most often there is pasta, rice or potatoes. The classic carbohydrates, for which there are also the most recipes. So-called pseudo-cereals are a wonderful and above all gluten-free alternative to this. Quinoa in particular is sensationally easy to prepare and flexible to use. I'm thinking burgers, salads, skillet and oven meals, for example. Once cooked, a larger quantity can be stored in an airtight container in the refrigerator throughout the week.
But before we get to the exact ingredients of quinoa, let's like to talk in more detail about today's salad. Cooked quinoa, chickpeas, cherry tomatoes, cucumber, red onion, olives and parsley. These are the basic ingredients for this delicious, refreshing dish. Add a fine dressing of olive oil, lemon, oregano, salt and pepper. Mix everything together, pour over the salad and you're done.
With this salad you may once again get creative. Of course, you can expand the list of vegetables used as you wish:
Carrots
Paprika
Spring onion
Hot peppers
Antipasti
Zucchini, best shaped with the spiral cutter
Fried mushrooms
Pomegranate seeds or raisins for an oriental flair
How healthy is quinoa actually?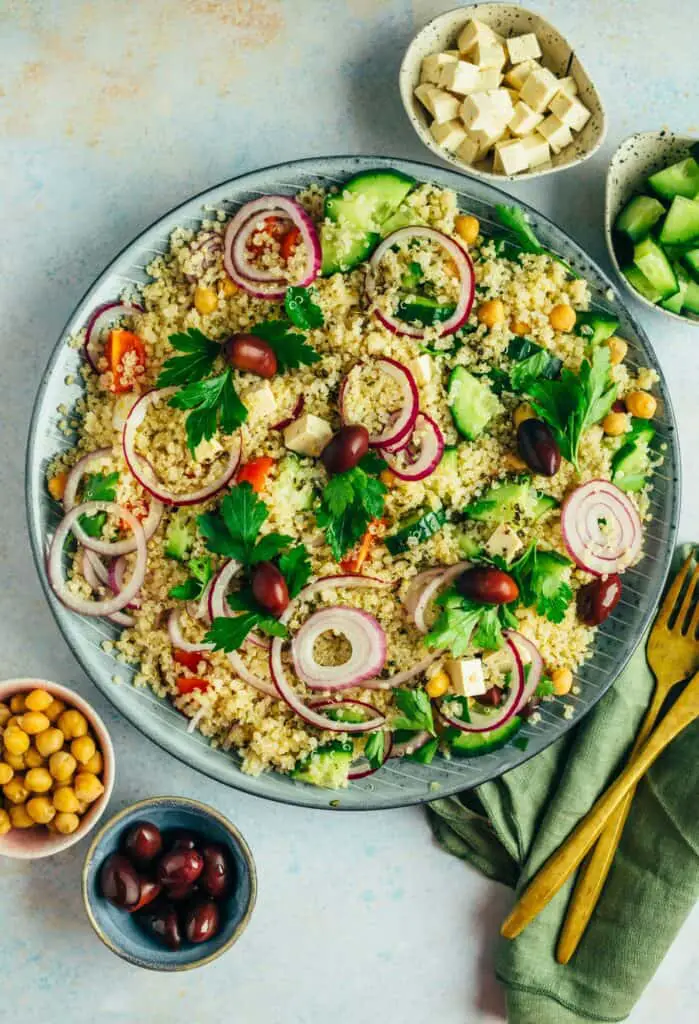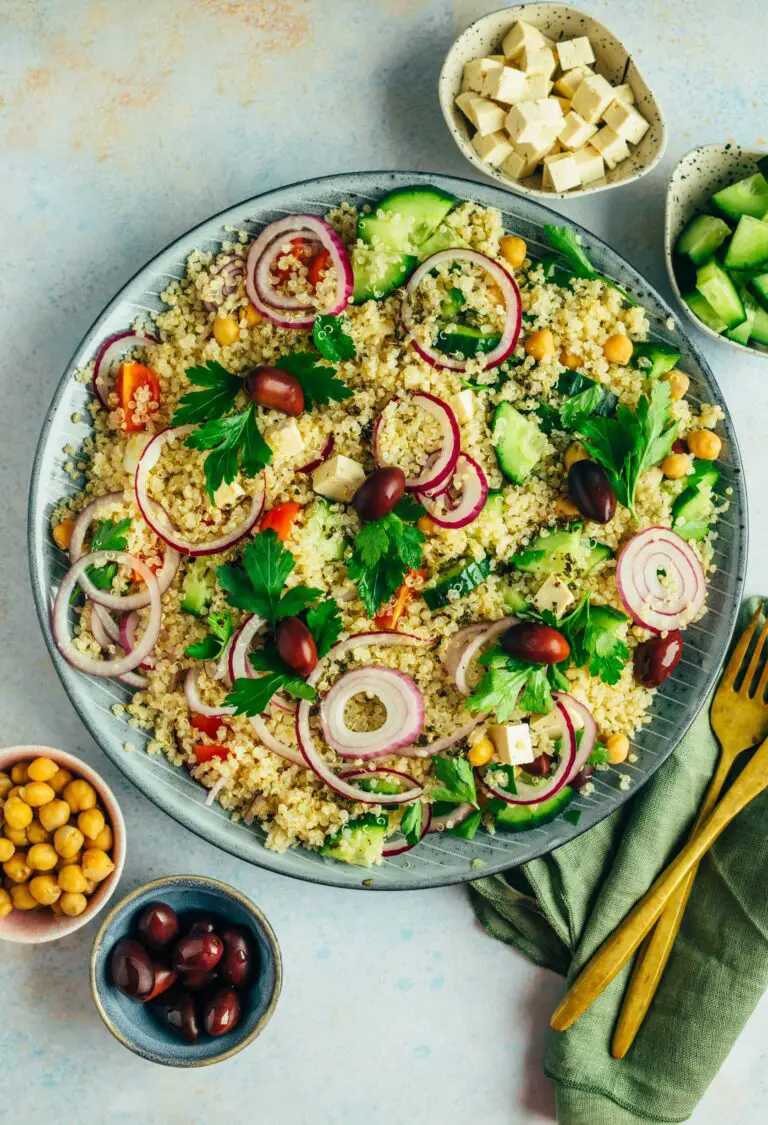 Quinoa actually comes from South America, but has long been very popular in our kitchen. The pseudocereal is often called the "mother of all cereals" and has been cultivated for more than 5000 years. The small grains are especially suitable for people who value gluten-free food. Quinoa can score in terms of nutritional values in many respects:
Very good source of high quality vegetable protein
Rich in iron, folic acid, magnesium, zinc and manganese (100g of quinoa already cover 25% of the daily requirement of iron, 50% of magnesium and more than 100% of manganese).
Rich in complex carbohydrates, which, unlike simple carbohydrates from white bread, are released slowly into the blood. This results in a more stable blood sugar.
TIP: I always make sure when buying quinoa that it comes from organic farming. Conventional farming usually uses a variety of pesticides that are harmful to the environment and wildlife. Here you can find an interesting article from Rapunzel Naturkost on this topic(unpaid brand mention). So a little extra investment in organic products pays off. I've linked you my favorite product below.
This quick salad is ideal with herbed oyster mushroom skewers, oyster mushroom steaks, seitan burgers, eggplant filets, tempeh skewers or grilled corn on the cob.
The Greek Quinoa Salad is:
versatile
hearty
Greek
filling
High fiber
Let's get started with this delicious vegan salad. I wish you a lot of fun in the recooking and look forward to a review at the bottom of this page. If you post a picture, use the hashtag #veganevibes.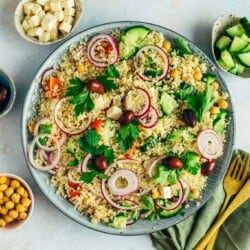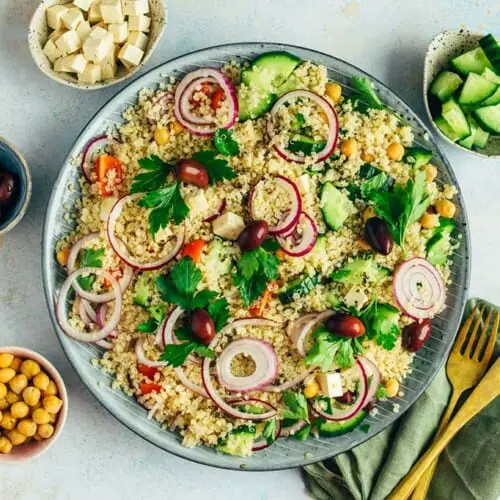 Greek Quinoa Salad (v&gf)
Vegan Greek quinoa salad with fine dressing. Packed with healthy veggies and quinoa, this salad provides you with a truckload of healthy ingredients. High in protein, vitamins and minerals. Suitable as a main course or side dish with grilled food. High in protein, high in fiber and gluten-free. Suitable for a low-carb diet.
AUTOR: VEGANEVIBES
FOR THE SALAD:
150

g

Quinoa

I use light quinoa, alternatively colored or red quinoa

450

ml

Water

1

Piece

red onion

peeled and cut into fine rings

½

Piece

Snake cucumber

finely diced

150

g

Cherry tomatoes

washed and halved

265

g

Chickpeas drained and washed thoroughly

1 can or jar with 400g

½

Pack

Feto

(package approx. 200g) cut into cubes (optional), or another vegan feta of your choice

½

Cup

Olives

I use black olives, here just use what you love
TO SERVE:
Fresh baguette or focaccia

Parsley to taste
Anleitung 
Wash quinoa thoroughly with cold water, preferably with the help of a close-meshed sieve.

150 g Quinoa,

450 ml Water

Place in a saucepan and add water.

Bring to a boil and simmer for

15 minutes

. Remove from heat and let swell for another 10-15 minutes, until the water is absorbed and the quinoa is nice and fluffy. Salt lightly to taste. Place in a large salad bowl, set aside and allow to cool slightly.

In the meantime, process all Vegetables process as described above and add to the quinoa.

1 Piece red onion,

½ Piece Snake cucumber,

150 g Cherry tomatoes,

265 g Chickpeas drained and washed thoroughly,

½ Pack Feto,

½ Cup Olives

For the DRESSING Mix olive oil, lemon juice, maple syrup, oregano, salt and pepper and set aside.

30 ml Lemon juice,

15 ml maple syrup,

1 tbspn Oregano,

Salt to taste,

Pepper to taste,

15 ml Olive oil

Pour dressing over the quinoa and vegetables and mix everything well.

Portion onto plates and serve with baguette or other accompaniments of choice.

Fresh baguette or focaccia,

Parsley to taste

Can be prepared the day before, store covered in the refrigerator. Keeps up to 3 days airtight in the refrigerator.
Nährwertangaben
Serving:
1
Portion
Calories:
212
kcal
Carbohydrates:
32
g
Protein:
8
g
Fat:
6
g
Saturated Fat:
1
g
Cholesterol:
1
mg
Sodium:
138
mg
Potassium:
341
mg
Fiber:
6
g
Sugar:
4
g
Vitamin A:
174
IU
Vitamin C:
8
mg
Calcium:
46
mg
Iron:
3
mg