Sweet potato rosemary spread should not be missing from any snack. Right now, my husband and I make a vegan snack almost every day because we ordered some super yummy cheese. It's incredible how similar vegan cheese is to cow's milk cheese. The brand "Happy Cheeze" recently held a blind tasting in France. The subjects thought they were getting Camembert made from cow's milk and were asked to rate it. The majority was highly enthusiastic and has praised the cheese in the highest tones. After Happy Cheeze revealed that it was vegan cheese made from cashews, the testers were surprised. Positive! Sorry, I actually wanted to write about the delicious spread. That's what I'm doing now.
Quick spreads vegan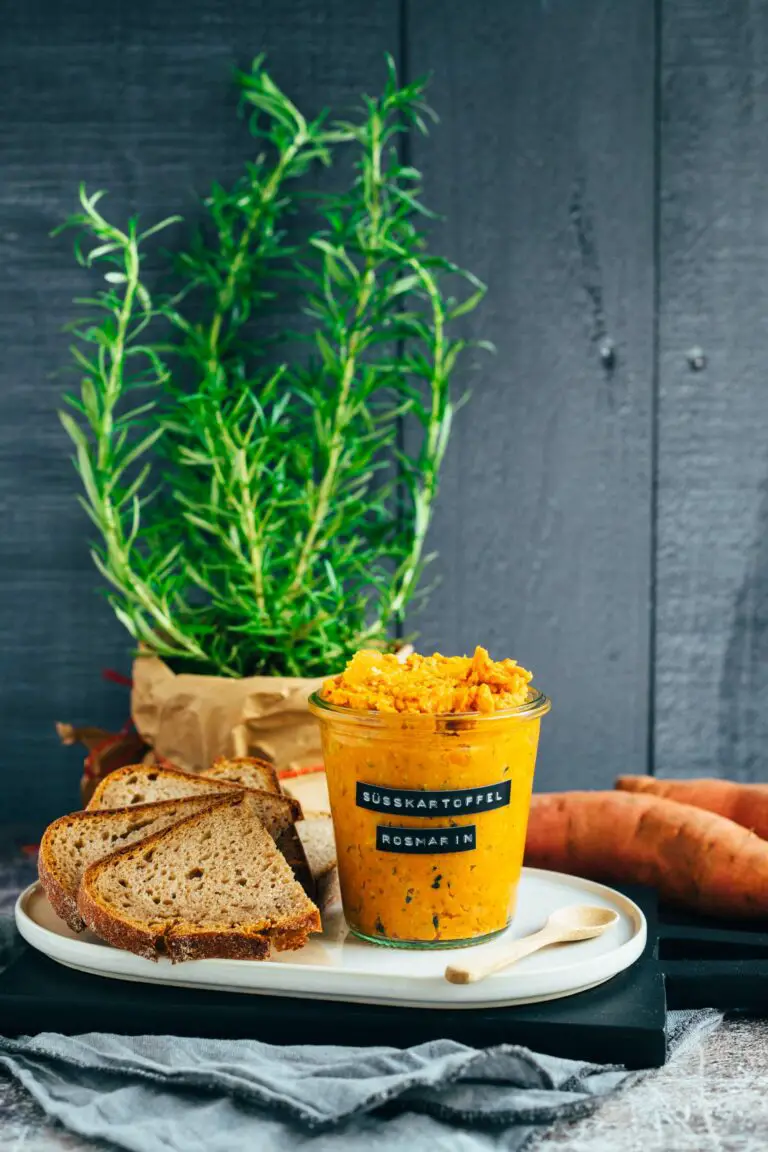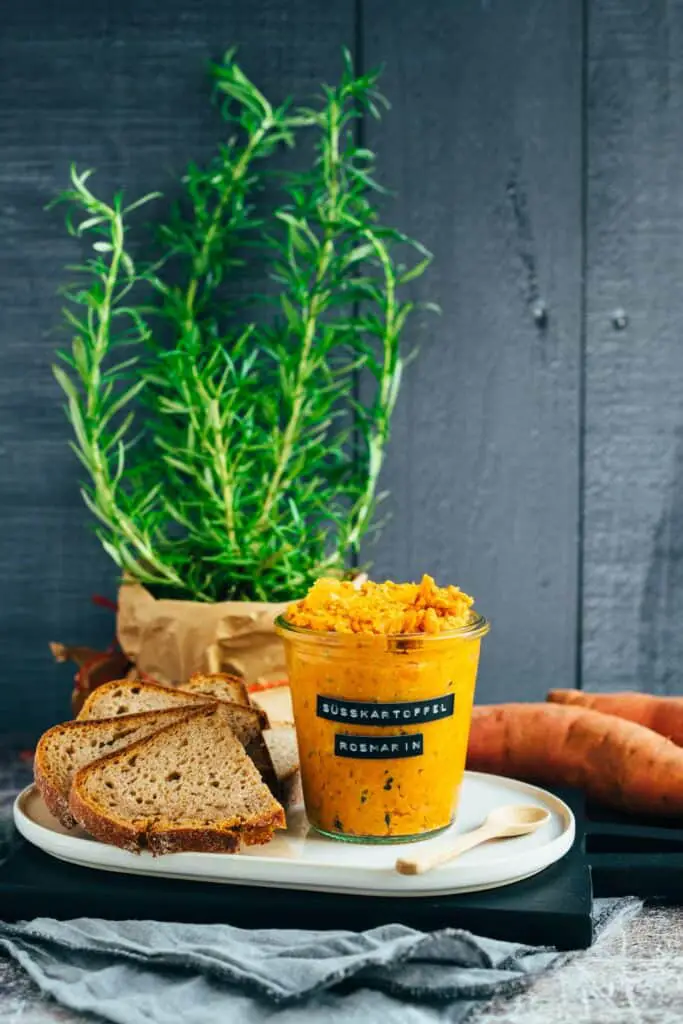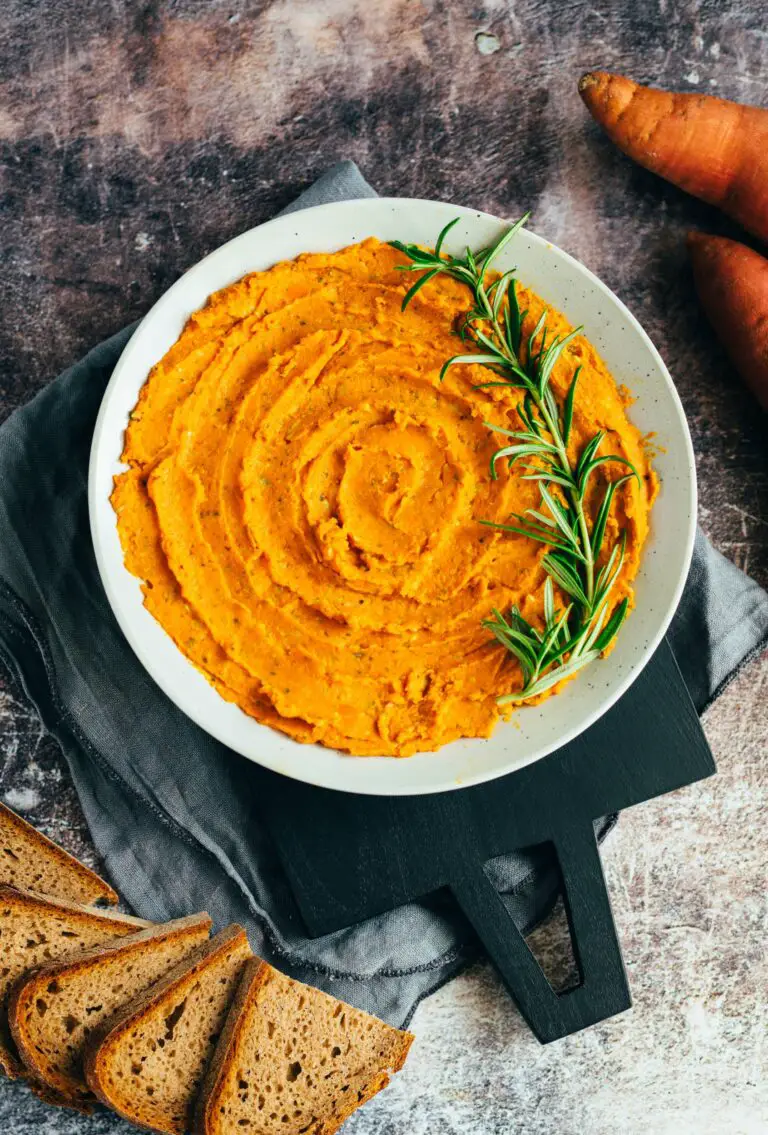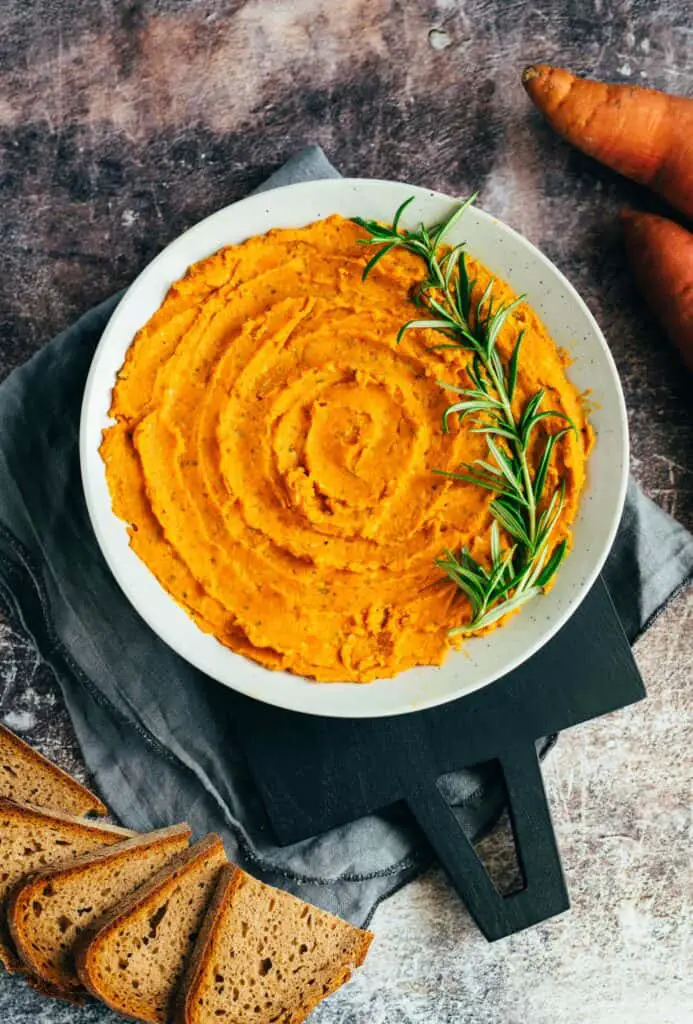 Today we're making a super tasty spread from an exciting combination of sweet potato, sunflower seeds, carrots. Tomato paste, onion, apple cider vinegar, garlic, agave syrup, sea salt, lemon juice, turmeric, rosemary, oregano, pepper and parsley.
I would especially like to emphasize the combination of rosemary and sweet potato. The sweetness of the tuber goes just wonderfully with the intense flavor of rosemary. Maybe you're asking yourself right now why you should make a spread yourself when you can easily and quickly buy it at the store? Here are my answers:
You determine the ingredients. Many spreads contain vast amounts of oil, flavorings and binders that you really don't want. In addition, palm oil is often used as a cheap filler. Do-it-yourself means determining exactly whether ingredients are used and in what quantity.
Homemade spreads are in most cases much cheaper, because the main ingredients are often carrots, potatoes or sweet potatoes, which can also be obtained very cheaply in organic quality.
The quality of the ingredients is often better because you choose them yourself. With industrially manufactured products, the margin is always the decisive factor. In many cases, this only comes at the expense of quality. Please do not misunderstand, there are many manufacturers that offer excellent product quality.
Making your own often goes hand-in-hand with less waste and is therefore more environmentally friendly, especially if you're working with local produce and refillable jars.
Tip: I like to use garlic granules instead of fresh garlic cloves for spreads. Freshly pressed garlic can develop a very intense to pungent flavor that many dislike. Alternatively, you can roast the garlic cloves in the oven or sauté them briefly in a little oil.
Hearty vegan spreads
If you don't have sweet potatoes in the house, then you can substitute them with carrots. A mixture of carrots, sweet potatoes and potatoes also works wonderfully. The starch from the potatoes makes the spread just a tad creamier.
TIP: If you're looking for a dressing for your salad or bowl, you can dilute the spread with water and drizzle it over your dish. This way you'll easily have a delicious, oil-free and flavorful dressing.
How healthy are sunflower seeds?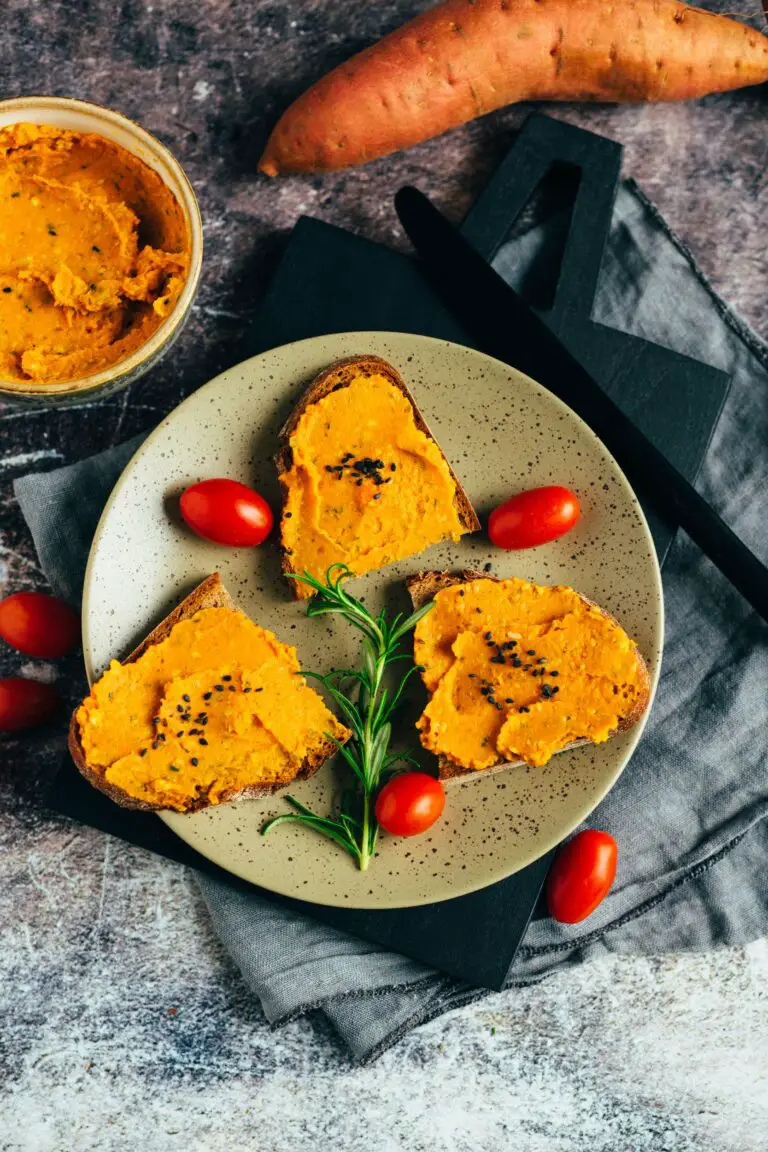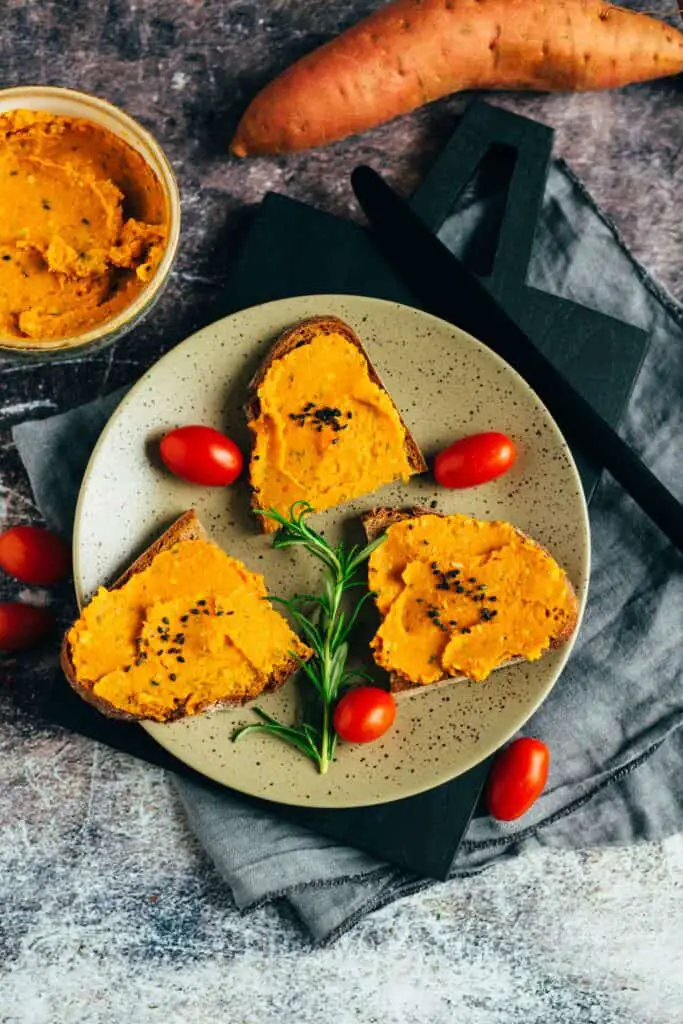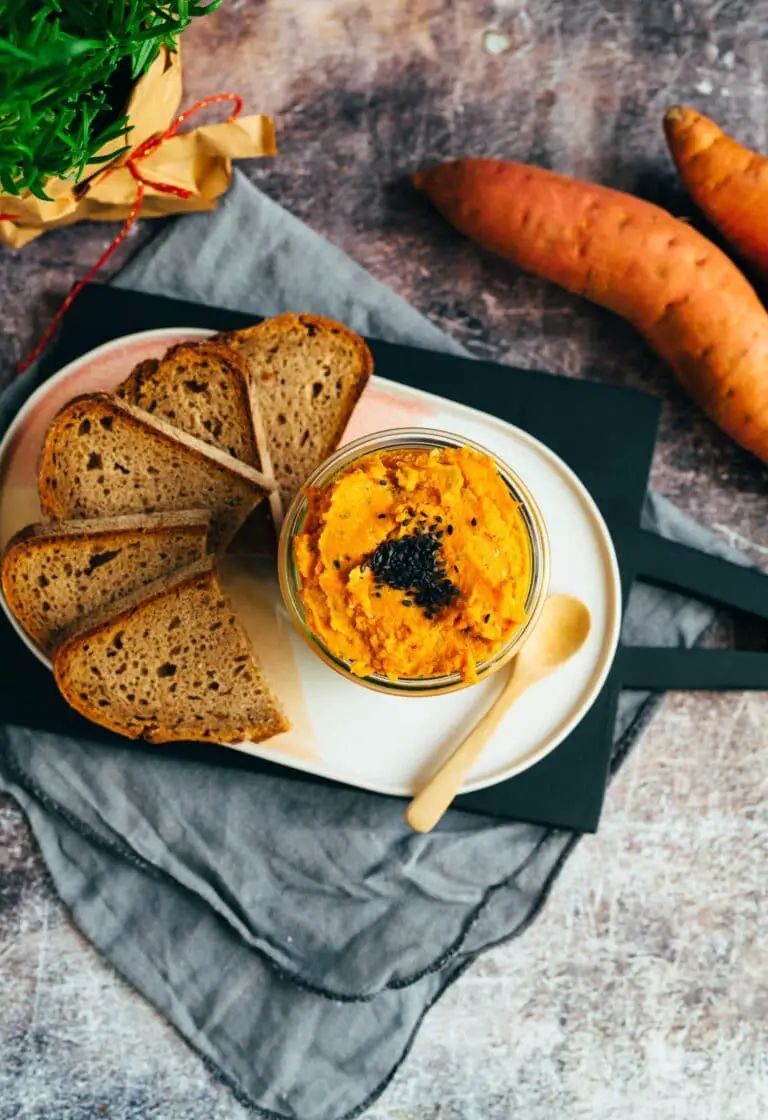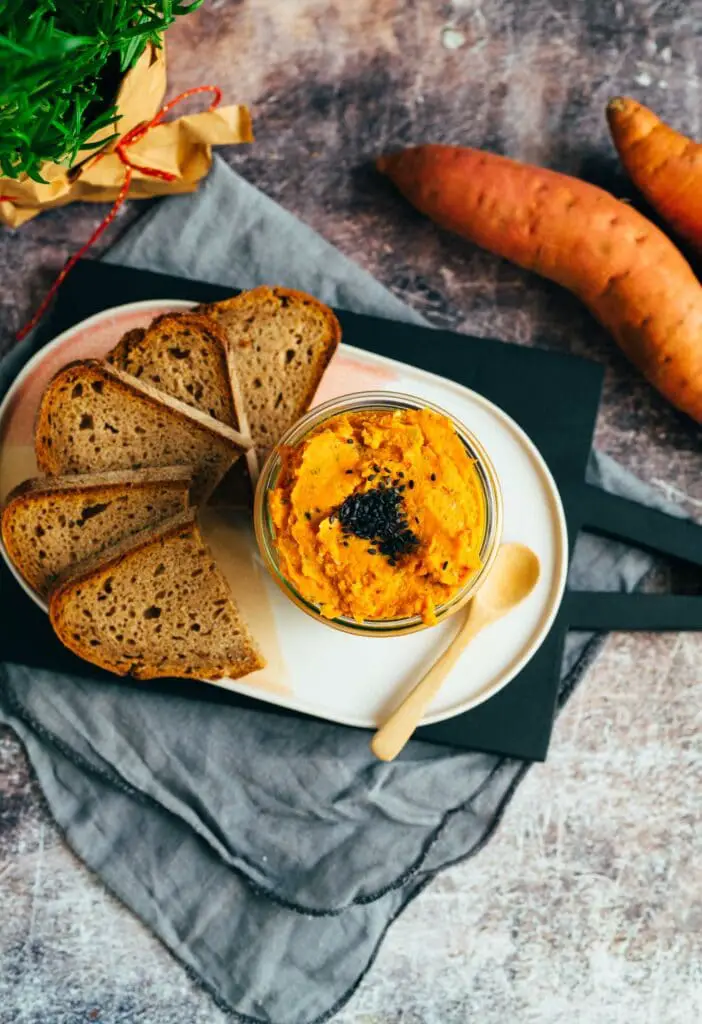 Sunflower seeds are packed with power! An unbeatable total package of fat, protein and carbohydrates. The content of vegetable protein is enormous and beats even meat and fish by far. Perfect for vegan and vegetarian people who want to meet their protein needs with plant-based foods.
Excellent source of vegetable protein (19g protein per 100g)
Rich in vitamin B1, B2, B6 and vitamin A
Magnesium, calcium, iron and potassium
Contain 90 percent polyunsaturated fatty acids
Low-carbohydrate
Contained linoleic acid can have a positive effect on heart health
Have an anti-inflammatory effect according to a study of 6,000 adults, due to their high content of antioxidants https://academic.oup.com/aje/article/163/3/222/59715
In my opinion, seeds and kernels are given far too little attention in our diet. They should be best daily with on the table, because they are literally small power packages.
What goes well with our sweet potato rosemary spread? Maybe a great platter of fresh veggie sticks, sourdough bread, or freshly baked spelt buns?
The sweet potato rosemary spread is:
Super fast made
aromatic
Rich in valuable minerals
Few ingredients
oil-free
Do you love vegan spreads as much as I do? Then I look forward to a review at the bottom of this page. If you post a picture, then like to use the hashtag #veganevibes.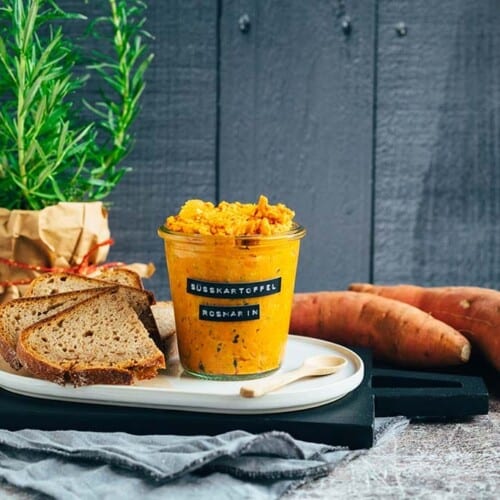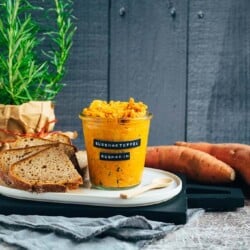 Sweet potato rosemary spread (oil-free)
Quick vegan spread made with sweet potatoes, sunflower seeds and rosemary. Perfect on bread, or slightly diluted as a dressing for salads and Buddha Bowls. Oil-free and gluten-free.
AUTOR: VEGANEVIBES
for the sweet potatoes and carrots:
200

g

Sweet potato

peeled and cut into pieces

100

g

Carrots

sliced

1000

ml

Water

½

tbspn

Salt
OTHER:
Sourdough bread

Toast or fresh naan

Various vegetables

cut suitable for snacks

Fresh basil leaf
Anleitung 
FOR THE SWEET POTATO AND CARROTS, provide a small pot, pour in water, add sweet potatoes, carrots and salt. Stir briefly and bring to a boil. Cook for

10 minutes

with the lid closed until the carrots are soft. They should not be completely cooked through, but still have a little bite.

200 g Sweet potato,

100 g Carrots,

1000 ml Water,

½ tbspn Salt

COLLECT BOILING WATER and save. The water is full of nutrients and flavor and we need it later for refining. The rest can be stored in an airtight container in the refrigerator and used for soup, sauces, etc. to dilute and refine.

FOR THE SPREAD Place sweet potatoes, carrots, sunflower seeds, tomato paste, onion powder, garlic granules, apple cider vinegar, maple syrup, salt, lemon juice, turmeric, rosemary, oregano, black pepper, and parsley in a blender (please do not use a high-powered blender, it will need more liquid, except for models with a pestle). I use my MagiMix with an S-shaped knife for this.

200 g Sweet potato,

100 g Carrots,

50 g Sunflower seeds,

35 g Tomato paste,

2 tbspn Onion powder,

1 tbspn Garlic granules,

1 tbspn Apple cider vinegar,

1 tbspn maple syrup,

1 tbspn Salt,

1 tbspn Lemon juice,

1 tbspn Turmeric,

1 tbspn Rosemary,

½ tbspn Oregano,

½ tbspn black pepper,

½ tbspn parsley

Blend until the desired consistency is reached. Keep scraping down the sides with a silicone scraper to make sure everything is worked evenly. Set aside.

Place in a bowl, garnish with fresh rosemary and sunflower seeds and enjoy.

Sourdough bread,

Various vegetables,

Black sesame,

Fresh basil leaf

Store remaining spread in an airtight container in the refrigerator for up to 5 days.
Nährwertangaben
Serving:
1
Portion
Calories:
117
kcal
Carbohydrates:
10
g
Protein:
1
g
Fat:
8
g
Saturated Fat:
1
g
Sodium:
173
mg
Potassium:
225
mg
Fiber:
2
g
Sugar:
3
g
Vitamin A:
7602
IU
Vitamin C:
3
mg
Calcium:
20
mg
Iron:
1
mg