Miso-Tahini dressing already sounds promising, don't you think? I'm a big fan of bowls and especially quick, vegan dressings. Vegan dishes, or bowls with different components can be put together in a versatile way. At the same time, the variation possibilities are limitless. Healthy, wholesome carbohydrates combined with vegetables and a source of protein. The bowl is ready, isn't it? No, just not, the most important thing is still missing and that is the dressing. That's exactly why today I want to introduce you to this ingenious, simple and delicious dressing. It's full of flavors and if you like, you can even enhance it with live cultures. How this works, what miso has to do with umami and much more info you will learn in this article.
Make your own miso tahini dressing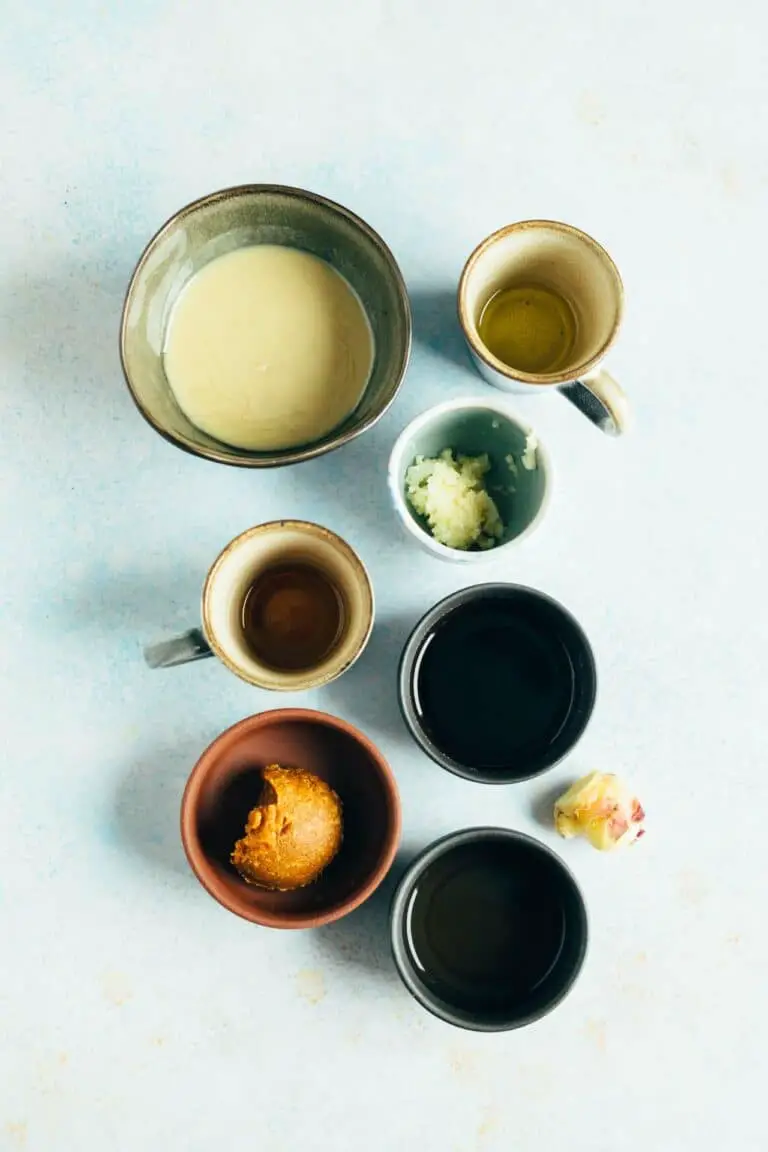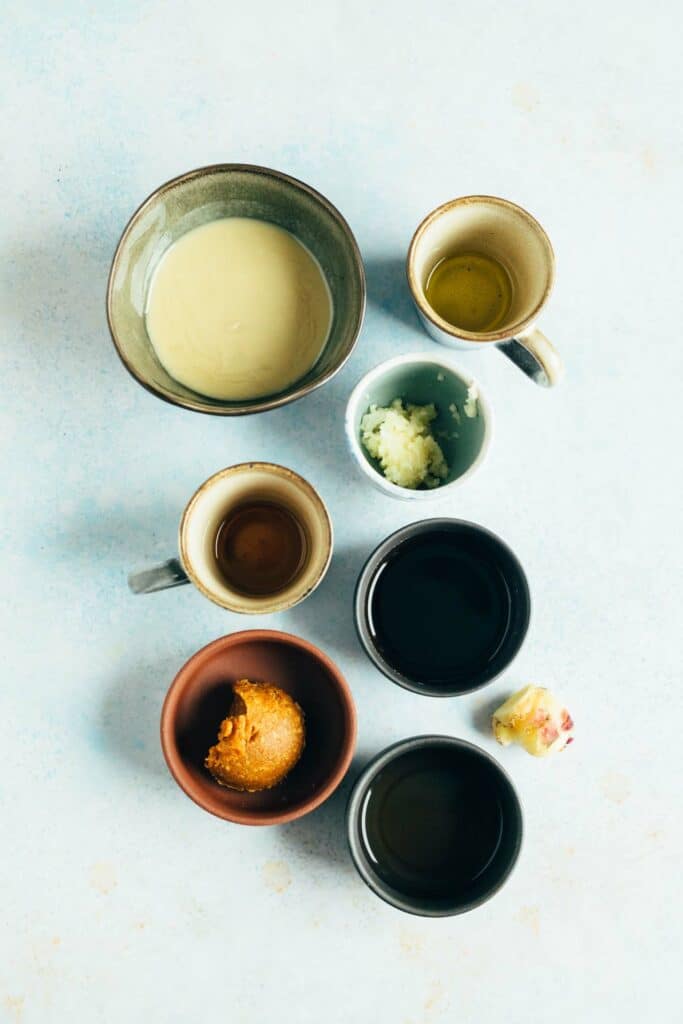 What do you need for the dressing?
Tahini = sesame paste, comes in light and dark form. Light miso is made from hulled sesame seeds, darker miso is made from unhulled seeds (here you have the healthy components of the hull in there too, but it's not as light in color). Please be careful, there are tahini variants that are already salted. Taste and, if in doubt, use less tamari.
Maple syrup = provides the necessary sweetness, feel free to replace with another sweetener of your choice such as date syrup, agave syrup or raw cane sugar. Please note that agave syrup and raw cane sugar have a stronger sweetening power and a smaller amount is sufficient.
Sesame oil = I use roasted sesame oil for refining, which has a special fine taste. If you don't have the oil at home, just leave it out.
Ginger = it is best to use fresh organic ginger. Note: Organic ginger does not need to be peeled and can be used with peel.
Garlic = Alternatively, you can use garlic granules, but this would be my second choice as it doesn't taste as intense as a freshly pressed clove of garlic.
Miso Paste = more information about miso can be found below in the next paragraph.
Tamari = provides an intense, strong note. Alternatively, use soy sauce or Coconut Aminos.
Rice vine gar = is a particularly mild Asian vinegar made from rice. Alternatively, you can use apple cider vinegar, but this changes the taste a little.
Water = absolutely necessary to dilute the dressing. It will be especially creamy if you blend everything together in a high-powered blender.
What exactly is miso and umami?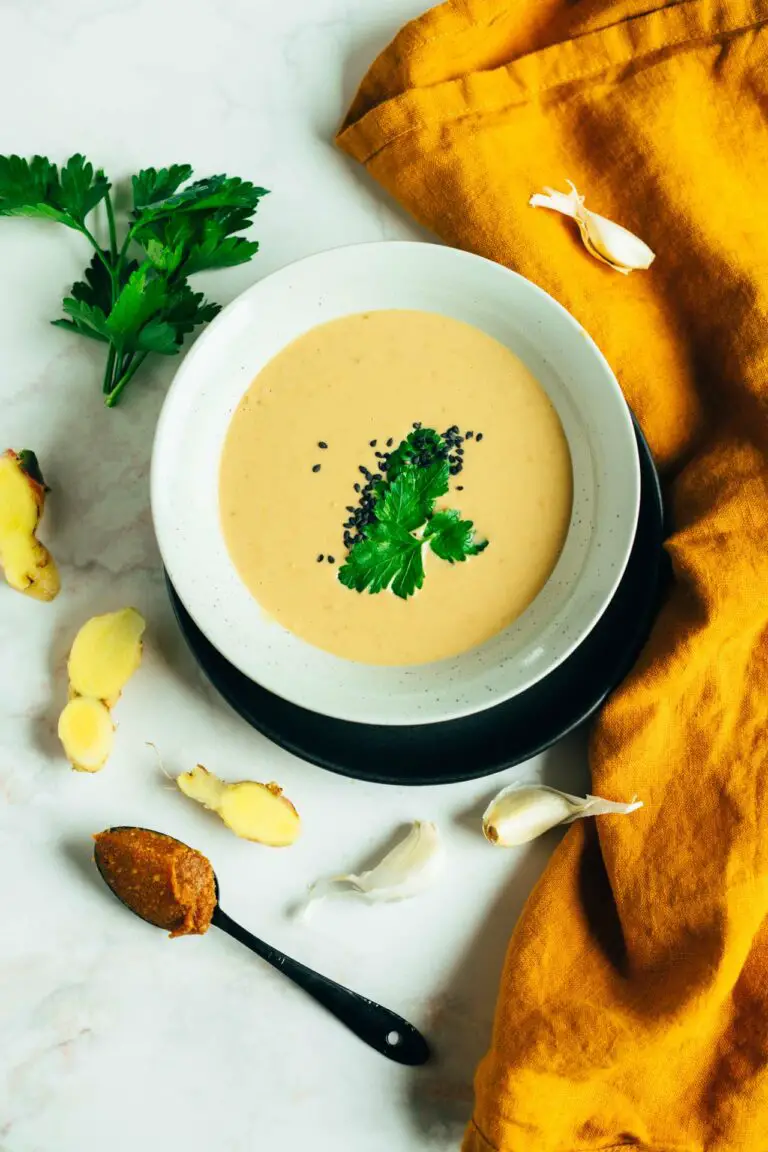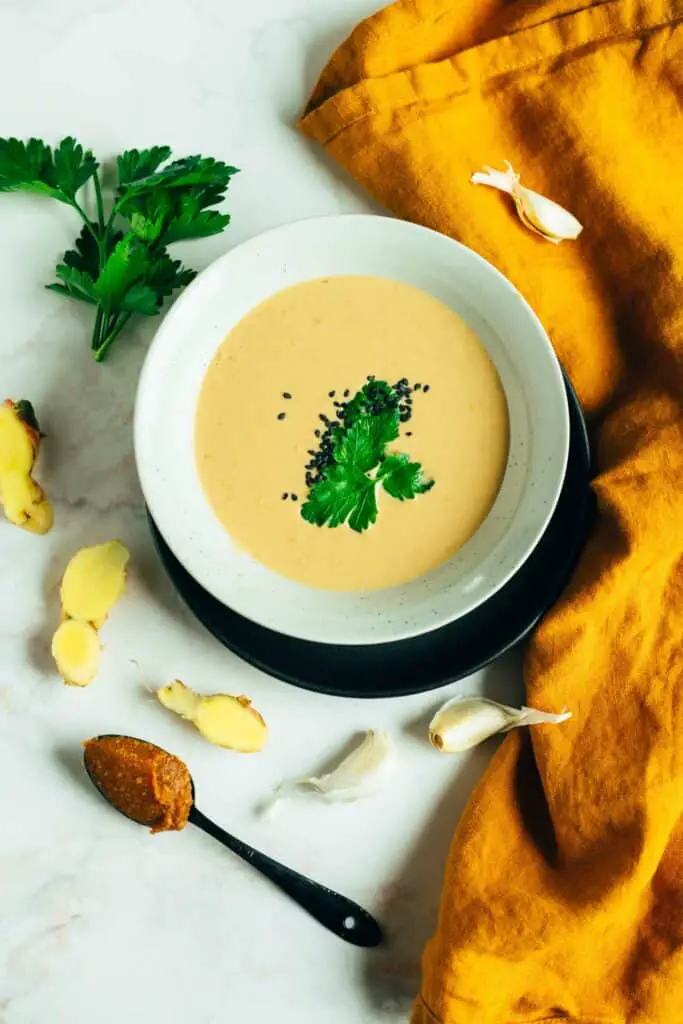 Miso is made from fermented soybeans and/or rice. The consistency is thick and resembles a pie. In the manufacturing process, the soybeans are fermented together with a mold called koji , resulting in a unique flavor also called umami.
Umami is often referred to as the secret flavor. We are already familiar with the tastes salty, sweet, sour and bitter. Umami is the so-called fifth flavor, which just tastes very unique. The best thing is to try it out for yourself.
How healthy is miso actually?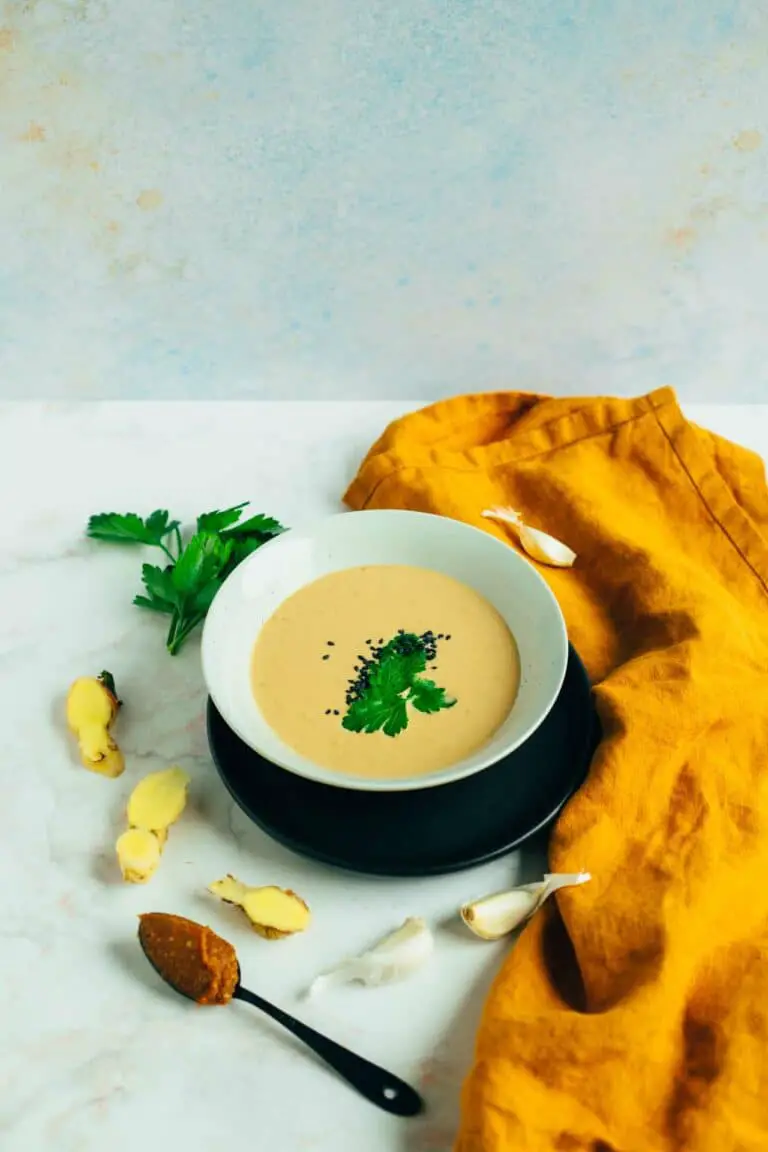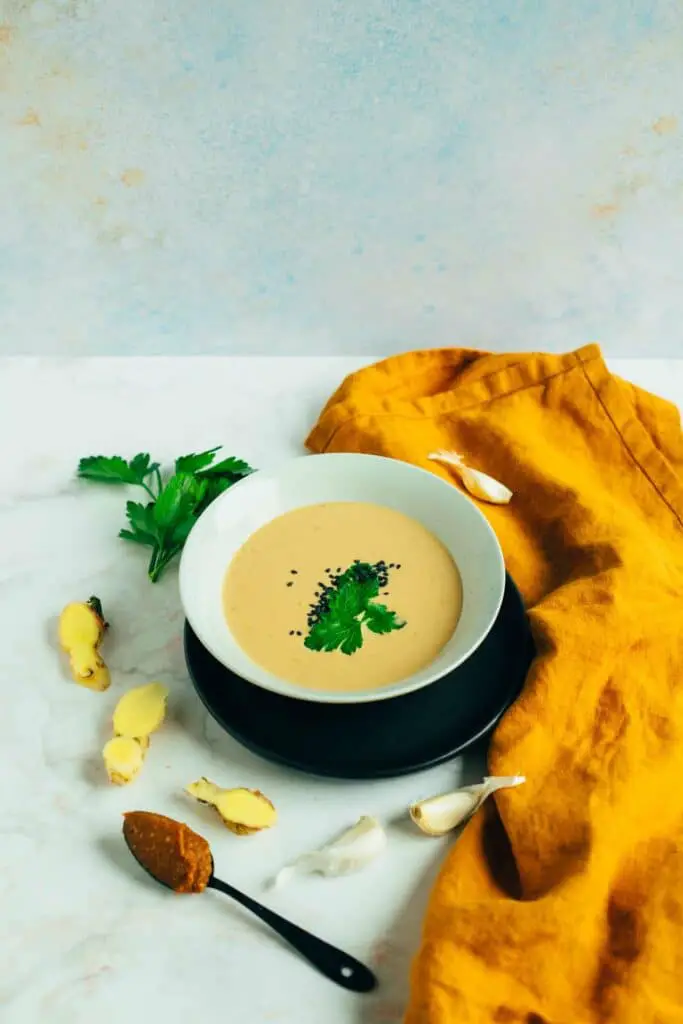 As described above, miso is a fermented food and therefore a healthy source of probiotics. What are probiotics again? These are microorganisms (mainly bacteria and some yeasts) with particularly health-promoting properties for the human organism. Studies show that they have a positive effect on the balance of intestinal flora. Figuratively, you can imagine that probiotics strengthen the healthy helpers in the gut and put the bad guys in their place. Some of these microorganisms can even antibiotic defense substances against pathogenic germs produce or Increase activity of immune cells . The fascinating world of our microbiome and the mode of action of microorganisms in the gut are currently being intensively researched.
TIP: Fermented foods such as miso, kefir or lactic fermented vegetables should never be cooked, but always consumed as raw foods. The bacteria would be destroyed in the course of heat exposure and lose their effect. If you want to use miso in a soup, stir it in after serving, when it has already cooled a bit. Important! Probiotic foods can develop their effect only with regular consumption, it is not enough to eat a small amount here and there.
Here is some more information about miso:
Regular consumption of miso can support the health of your gut microbiome and thus have a positive effect on your overall health.
Natural source of copper, manganese, zinc, and vitamin K
Make sure your miso is high quality and not made from genetically modified soybeans. It should not be pasteurized or ultra-heated, as these processes can destroy the delicate microorganisms. I am a big fan in this area of Complete Organics which are handmade in Munich (unpaid brand mention)
Traditional miso is gluten-free, but please check the label again to be sure
The most popular miso is the Shiro Miso (mild to sweet), there are also the Genmai miso (semi-sweet to full-bodied), Mame Miso(intense), Mugi Miso(salty to full-bodied) and Hatcho Miso (matured for 2-3 years and very strong).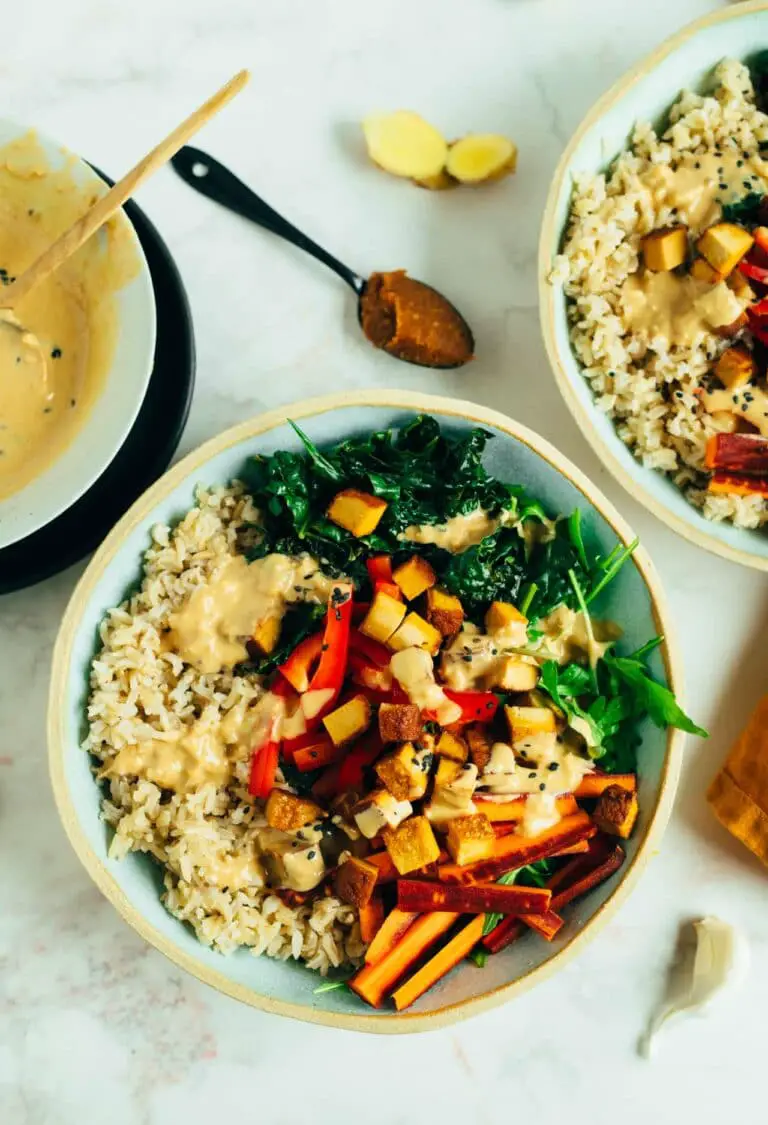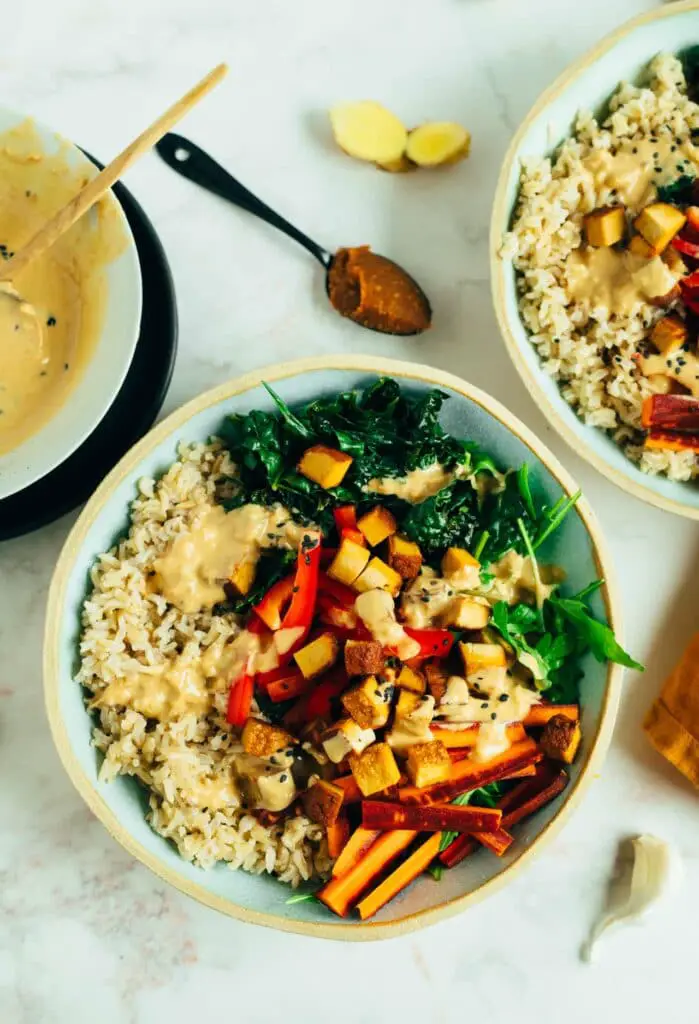 Now you definitely have a base of knowledge to get started with miso. I am already looking forward to my next Bowl with Miso Dressing . Otherwise, you can use it to refine any salad or Asian dish. Just let your imagination run wild. I'm thinking, for example, of my Asian bowl with peanut butter tempeh or the cauliflower wings sweet and sour.
This is:
Asian
spicy
aromatic
full of microbiotic life
simply made
Well, have you got a hankering for this delicious vegan dressing? I wish you much fun in remixing and of course about a review at the bottom of this page. If you post a picture, use the hashtag #veganevibes.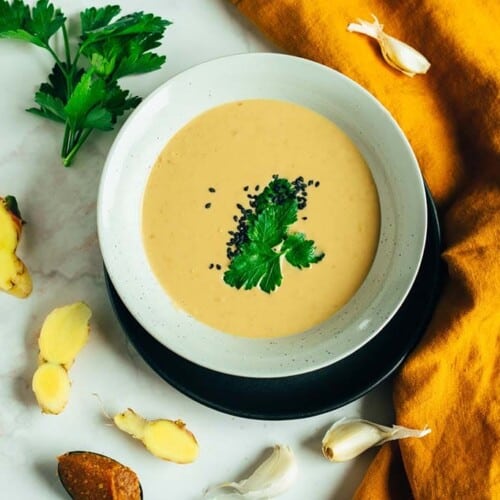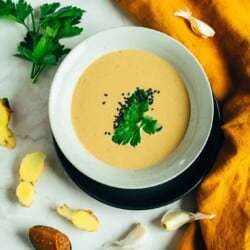 Miso-Tahini Dressing (Probiotic)
Simple, delicious Asian dressing with live probiotic bacteria cultures from miso. Ideal for supporting a healthy gut microbiome. Intense, with the unique umami flavor, to enhance salads, bowls and Asian dishes.
AUTOR: VEGANEVIBES
Anleitung 
FOR THE DRESSING: Place garlic cloves, sesame oil, tamari, maple syrup, rice vinegar, tahini, miso paste, ginger, hot water (and optional Bird Eye Chili) in a bowl and whisk to combine.

2 Piece Garlic cloves,

7,5 ml Sesame oil,

15 ml Tamari,

22,5 ml maple syrup,

15 ml Rice vinegar,

60 g Tahini,

1 tbspn Miso paste,

2 tbspn Ginger,

80 ml hot water,

1 Bird Eye Chili

Alternatively, blend finely in a high-powered blender.

Pour over a bowl, salad or dish of choice and enjoy!

black sesame,

Fresh coriander leaf

Keeps in an airtight container for up to 3 days in the refrigerator.
Notizen
Nährwertangaben
Serving:
1
Portion
Calories:
125
kcal
Carbohydrates:
8
g
Protein:
3
g
Fat:
10
g
Saturated Fat:
1
g
Sodium:
226
mg
Potassium:
82
mg
Fiber:
1
g
Sugar:
4
g
Vitamin C:
2
mg
Calcium:
27
mg
Iron:
1
mg