Vegan peanut butter curry soup. Yes, that's right, read that correctly, a soup with peanut butter. This is actually also the first time I've ever put a nut puree in a soup . Not quite true, because I have also used cashew nut puree on many occasions. This is just wonderful for adding a very quick twist to a dish and making it really nice and creamy. At the moment, I'm already sitting on coals a bit, because the US election is in full swing. I'm not even American, but I don't remember such an exciting election. It even makes me go to news sites that I normally avoid. Too much bad news from all over the world. Recently I downloaded the Good News App downloaded. Cool thing, just consume good news for a change.
vegan peanut butter curry soup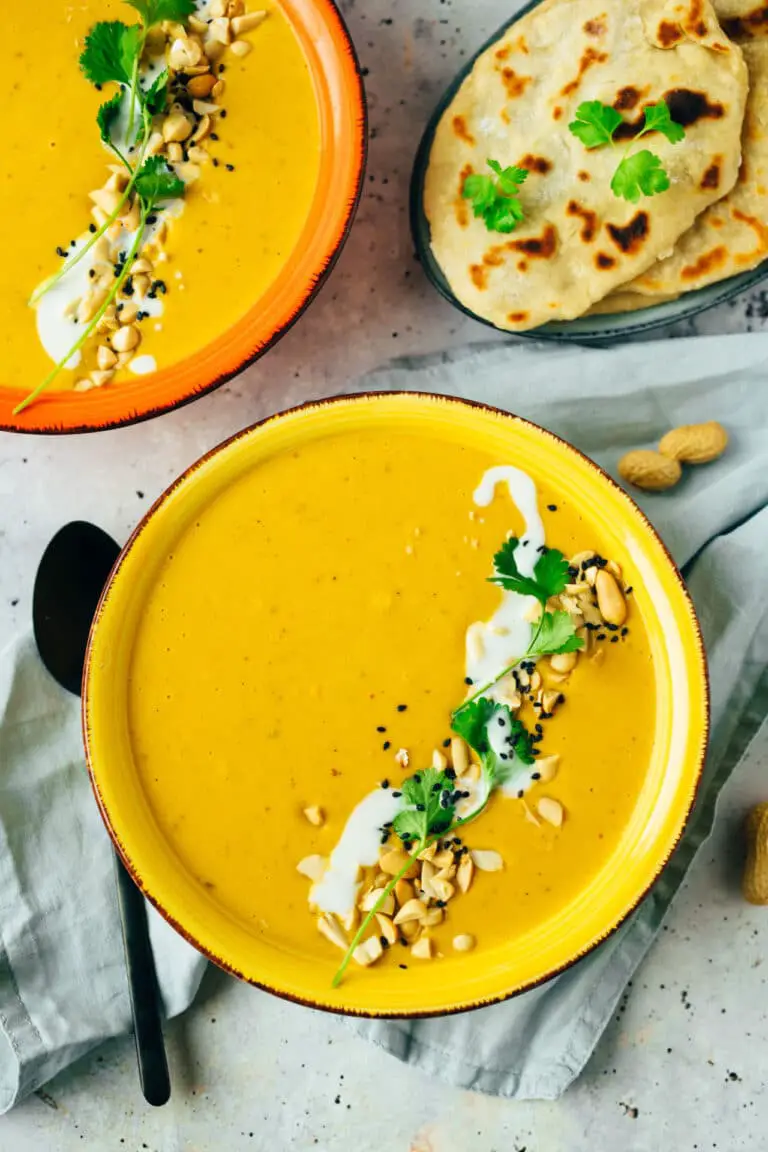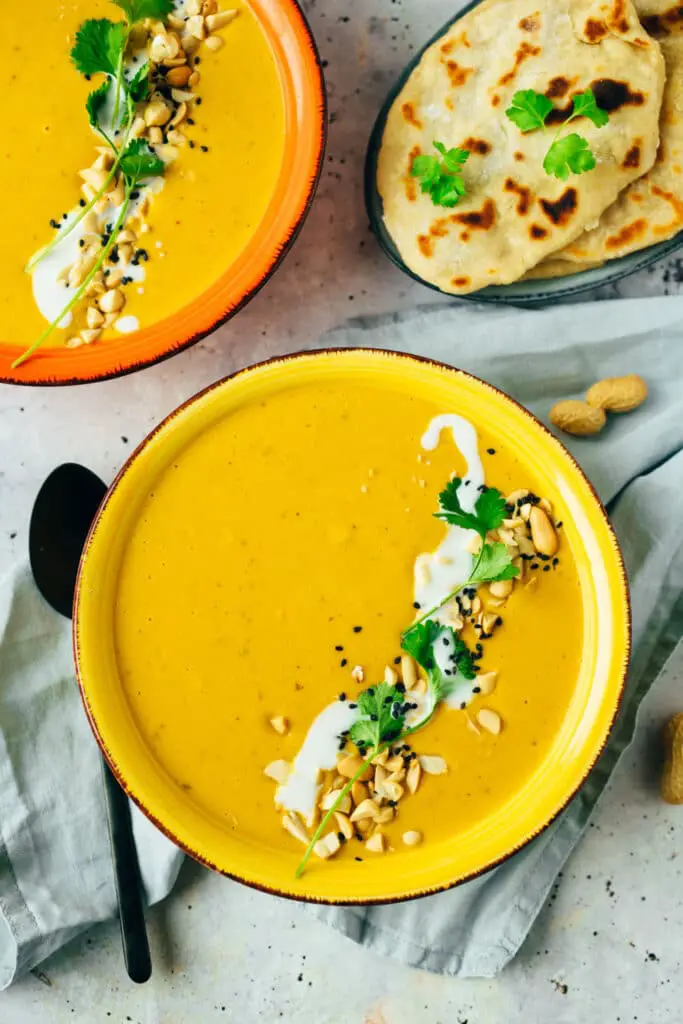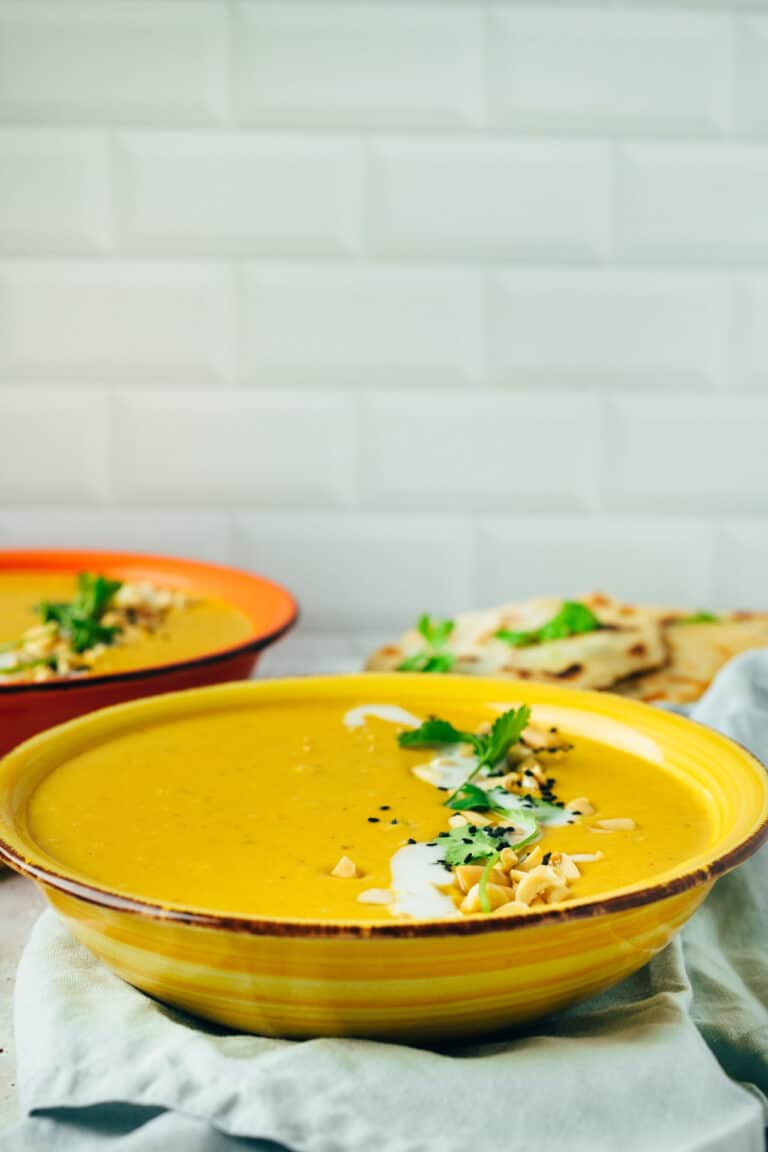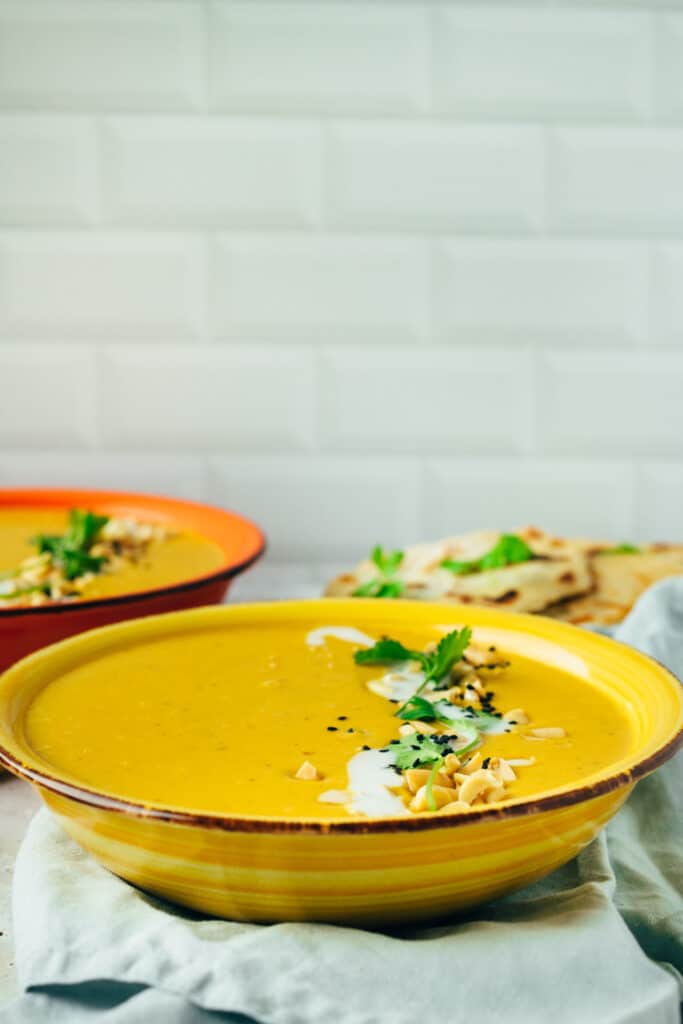 I'll just say creamy and vegan, that'll have to do, right? Haha, of course not, because I promise you that this soup once set a whole new standard. It's almost like a stew and very rich, enhanced with pure peanut butter and coconut milk.
Let's move on to the ingredients. A little oil for sweating, white onion, ginger, garlic, sweet potato, potato, carrot, banana, curry powder, coriander, paprika, bird eye chili, vegetable broth, salt and peanut butter. Put everything together in a pot and stir. Bring to a boil and simmer over medium heat for 20 minutes. Then refine with a little coconut milk and perfect is the soup.
Alternatives for refining the soup:
Tip: Perfect with this soup fits a naan bread, here I have two recipes for you up my sleeve. Once a naan made from spelt flour with yeast and the other variant made from gluten-free flour, which is completely without yeast.
Mix vegan curry powder yourself?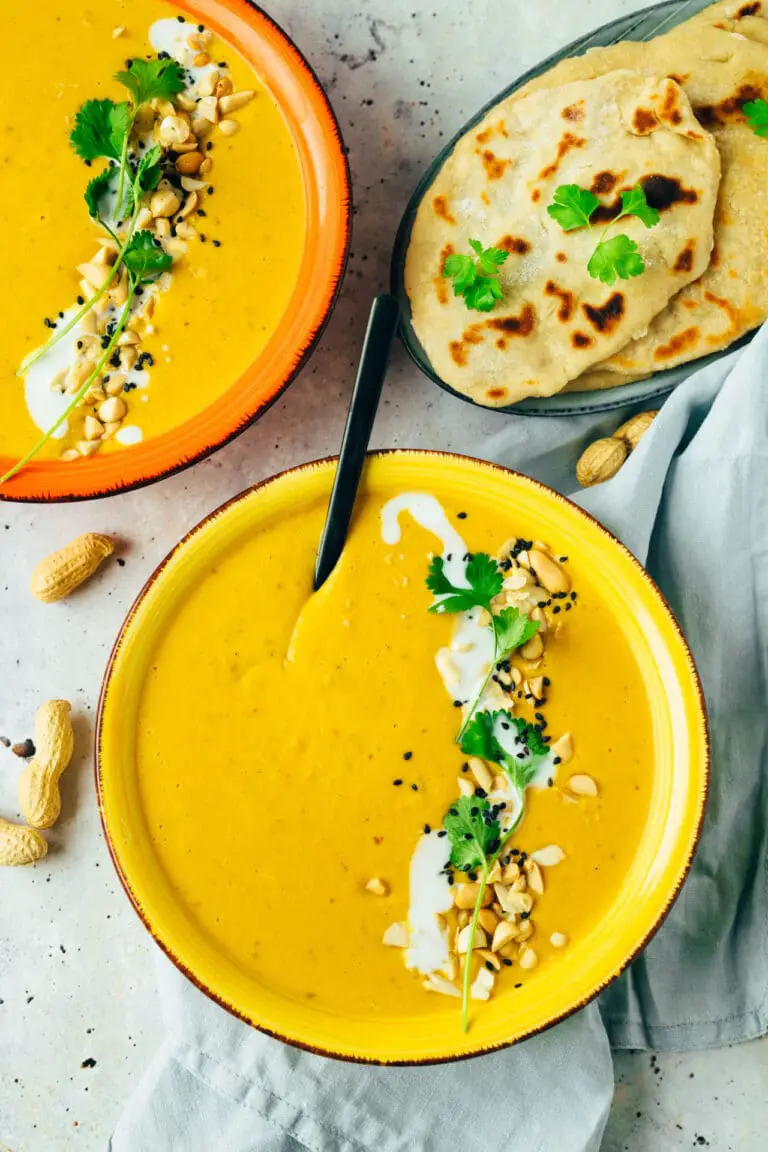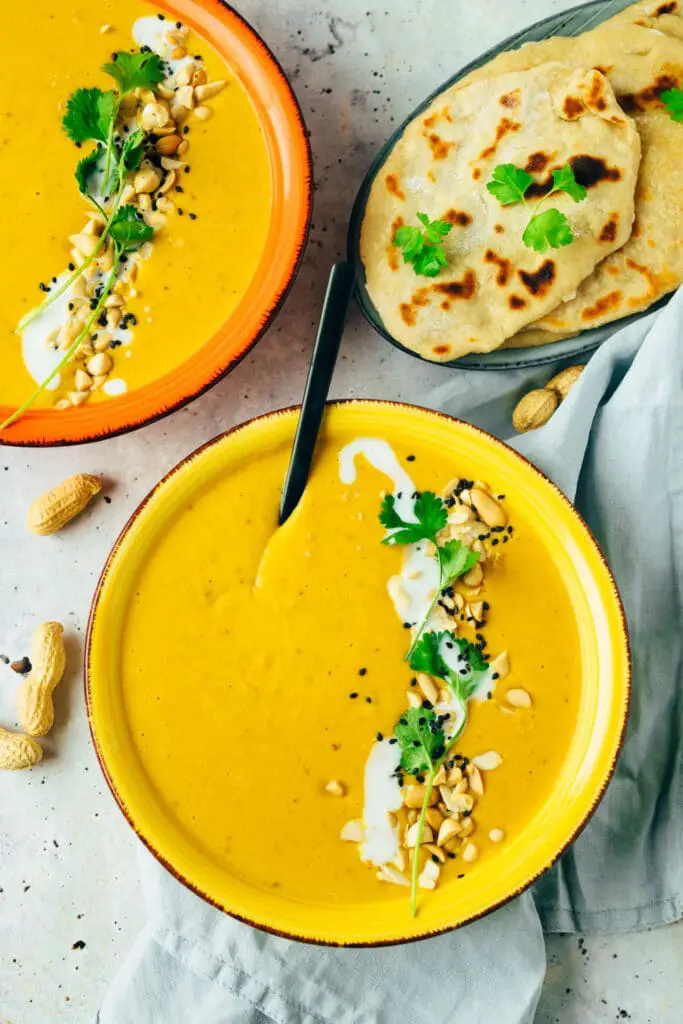 If you don't have curry powder at home, I recommend mixing your own. The prerequisite, of course, is to have a few spices on hand. Here's my "House Blend" for a curry mix that is very versatile (makes the amount for a small screw-top jar).

For the mixture you need (all ground):
4 tsp turmeric
3 tsp coriander
2 tsp paprika, sweet
2 tsp pepper
2 tsp cardamom
2 tsp garlic
2 tsp cumin
2 tsp ginger
2 Bird Eye chili or 1 tsp cayenne pepper
1 tsp cinnamon
1 tsp allspice (simply omit if not at hand)
¼ tsp nutmeg
Perfect, now nothing can go wrong, or maybe it can? What else is important in the preparation of the soup, you can find out here.
If the soup is too creamy, feel free to thin it with some vegetable broth.
When pureeing, you can make the soup a little finer if you like, or leave some coarse chunks in it. I like it when there are still some vegetable pieces in the soup. My tip If you like the soup very fine, then puree it for 60 seconds in a high-powered blender.
When reheating the soup, it is best to use a lid and dilute a little. Due to the very creamy consistency, it can easily splash.
Instead of Bird Eye Chili, you can use any other chili variety. The spiciness is indispensable for this dish.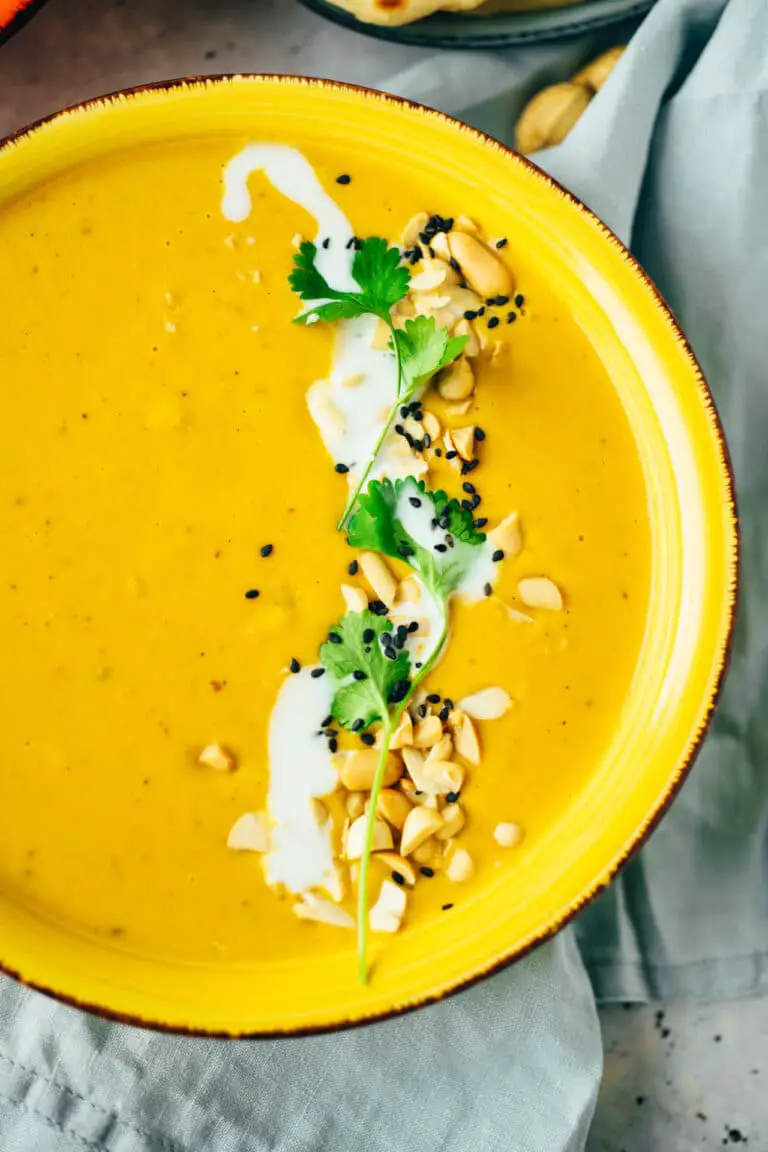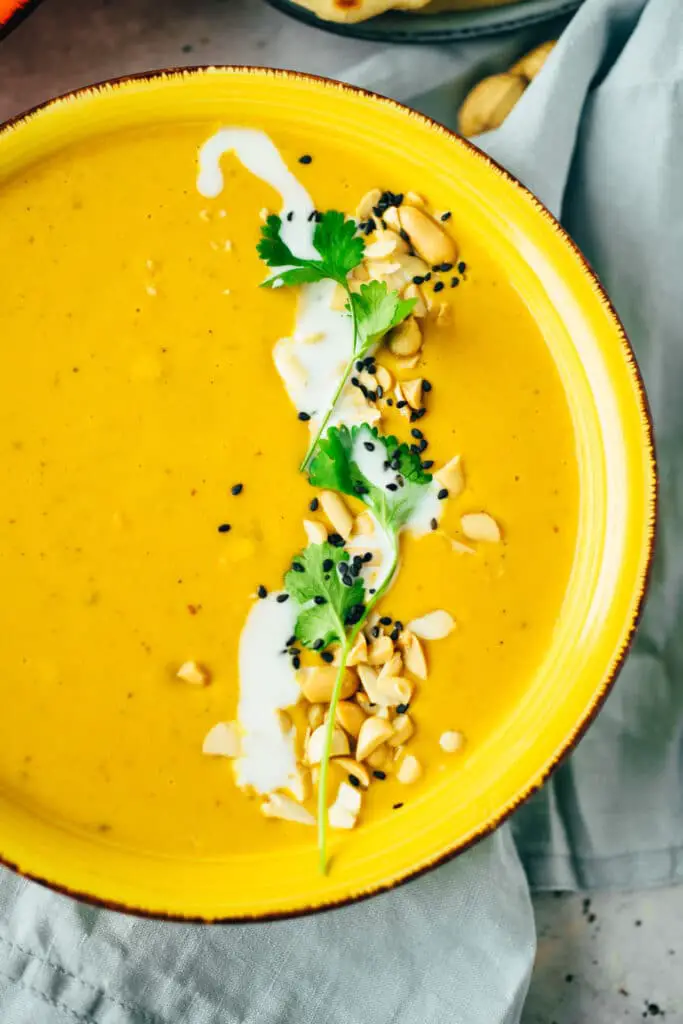 That's all you need to know about this soup. If you're not in the mood for this intense, flavorful soup today, I recommend my Parsnip Soup, Potato Leek S oup, or Grandma's Chicken Soup. Perfect with a piece of naan bread, freshly baked in the pan. Brand new on veganevibes you can find a recipe for a quick, gluten-free naan bread, completely without yeast.
The peanut butter curry soup is:
Warming
Slightly spicy
aromatic
creamy
Slightly sweet
Are you ready the delicious and tasty , vegan and warming soup for cold days? I wish you a lot of fun in recooking and of course a review at the bottom of this page. If you post a picture, use the hashtag #veganevibes.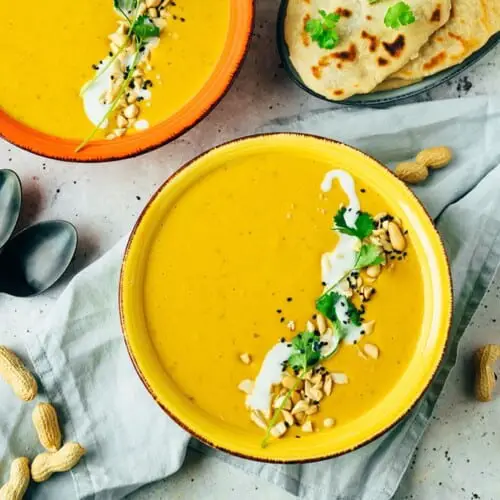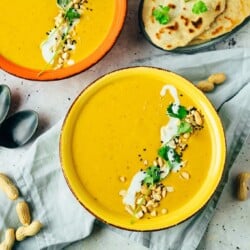 Peanut butter curry soup
Quick, warming peanut butter curry soup (v&gf), enhanced with the natural sweetness of a banana and heat from chili. A perfect dish for the whole family and a wonderful change from classic vegetable soups.
AUTOR: VEGANEVIBES
30

ml

Frying oil or other high heat oil

if oil-free replace with vegetable broth or water

1

Piece

light onion or 2 shallots

peeled and finely chopped

2

Piece

Garlic cloves

peeled and finely chopped or pressed, alternatively 1 tsp garlic granules

15

g

fresh ginger

grated, note: with organic ginger the peel can be grated as well

2

Piece

medium sweet potatoes

cleaned and cut into cubes, note: for organic sweet potatoes, be sure to use the skin, the total weight of potatoes and sweet potatoes should be about 650g (unpeeled).

2-3

Piece

medium potatoes

peeled and cut into cubes, the total weight of potatoes and sweet potatoes should be about 650g (unpeeled).

2

Piece

medium carrots

Peeled and sliced, Note: Fresh, organic carrots do not need to be peeled.

1

Piece

ripe banana

peeled and sliced

2

tbspn

Curry powder

1

tbspn

Coriander

ground

1

tbspn

Paprika powder

ground

1000

ml

Vegetable broth

I use a vegan vegetable broth powder without yeast

125

g

Peanut butter

I use a fine mush unsalted, when using a salted mush reduce the amount of salt when seasoning.

½ – 1

TL salt

alternatively use coconut aminos or tamari

100-200

ml

Coconut milk to refine

use more at will
TO SERVE:
Fresh naan

Fresh naan

gluten-free
Anleitung 
Heat pot with frying oil.

30 ml Frying oil or other high heat oil

Add onion, garlic and ginger and sauté briefly while stirring.

1 Piece light onion or 2 shallots,

2 Piece Garlic cloves

Add potatoes, sweet potatoes, carrots, banana, curry powder, coriander, paprika, bird eye chili and stir vigorously once and sweat for 2-3 minutes.

1 Piece light onion or 2 shallots,

2 Piece Garlic cloves,

15 g fresh ginger,

2 Piece medium sweet potatoes,

2-3 Piece medium potatoes,

1 Piece ripe banana,

2 tbspn Curry powder,

1 tbspn Coriander,

1 tbspn Paprika powder,

1 Bird Eye Chili,

2 Piece medium carrots

Deglaze with vegetable stock.

Add peanut butter and stir vigorously once more.

Add a little salt to taste.

Stir and bring to a boil, covered.

Simmer for about

20-25 minutes

until the vegetables are soft.

Puree finely with a hand blender or high-powered blender. To refine, add coconut milk (alternatively oat cream or another vegetable cream to taste) to the soup.

100-200 ml Coconut milk to refine

Season to taste, place in plates, garnish as desired, serve and enjoy!

Fresh coriander greens,

Black sesame seeds,

Fresh naan,

Fresh naan

Keeps airtight in the refrigerator for up to 5 days. Frozen up to 1 month.
Nährwertangaben
Serving:
1
Portion
Calories:
179
kcal
Carbohydrates:
7
g
Protein:
5
g
Fat:
16
g
Saturated Fat:
6
g
Sodium:
860
mg
Potassium:
146
mg
Fiber:
1
g
Sugar:
3
g
Vitamin A:
551
IU
Vitamin C:
1
mg
Calcium:
9
mg
Iron:
1
mg