Roasted cauliflower soup sounds kind of cooler in English, where it's called Roasted Cauliflower Soup. Do you also think that sometimes the term names sound even better in English? But maybe I'm just too infected by Anglicisms to have a neutral opinion anymore. Having a neutral opinion is becoming increasingly difficult in our times anyway. When I take a look at the media, I mainly see fear, disaster and catastrophe. The more it wobbles on the outside, the more important is the inner stability. My tools for this are good food that provides me with valuable nutrients, yoga, meditation and controlled media consumption. I'm providing you with a new recipe today, a real soul-soother for cold days or stormy times. Check it out!
Creamy vegan roasted cauliflower soup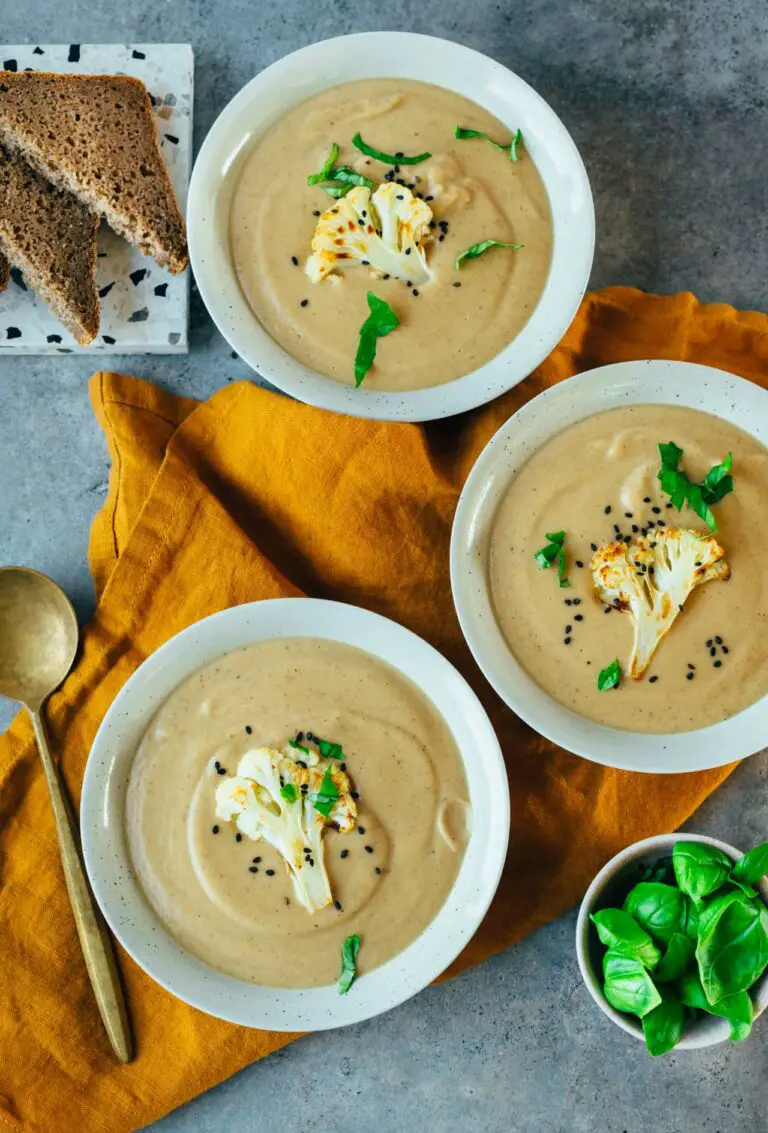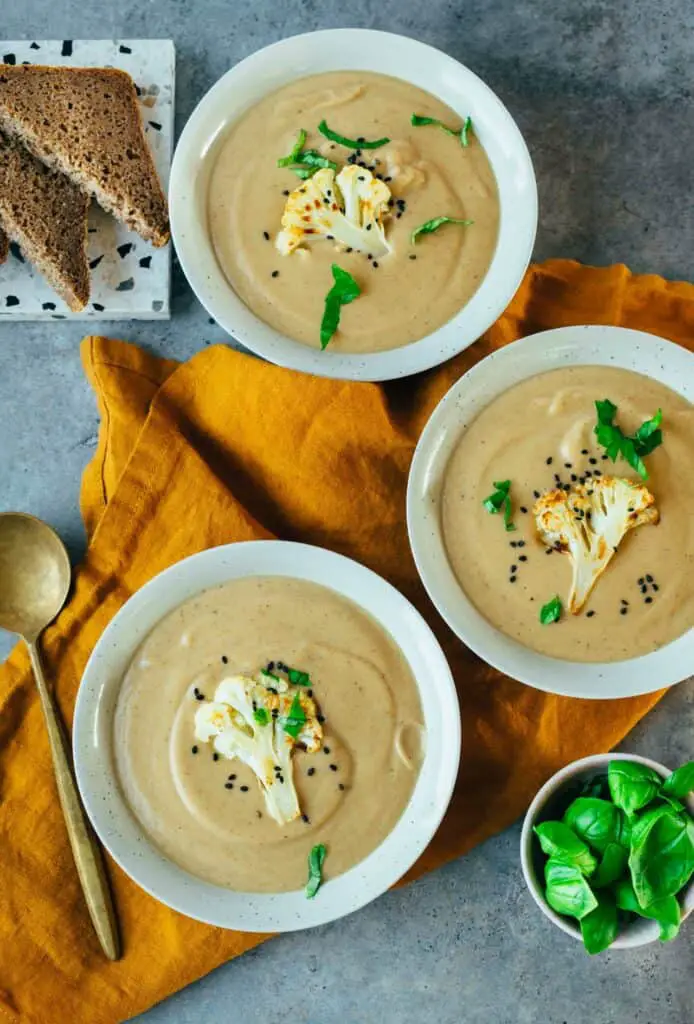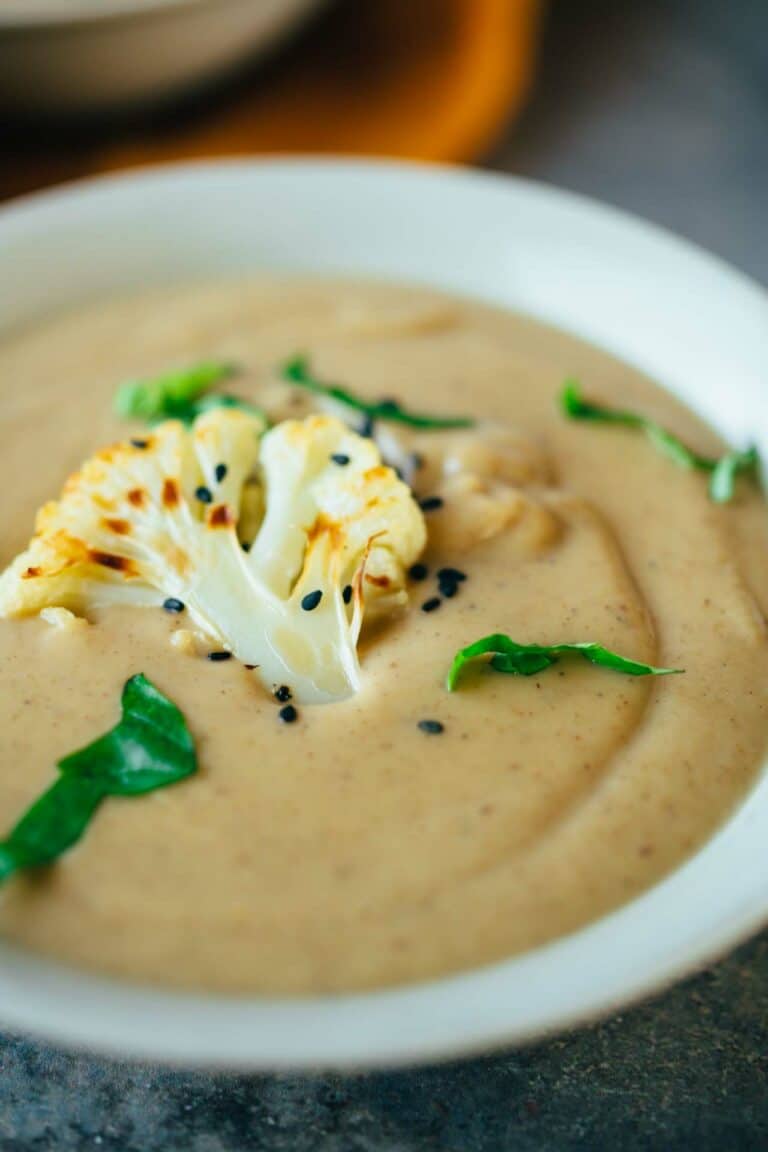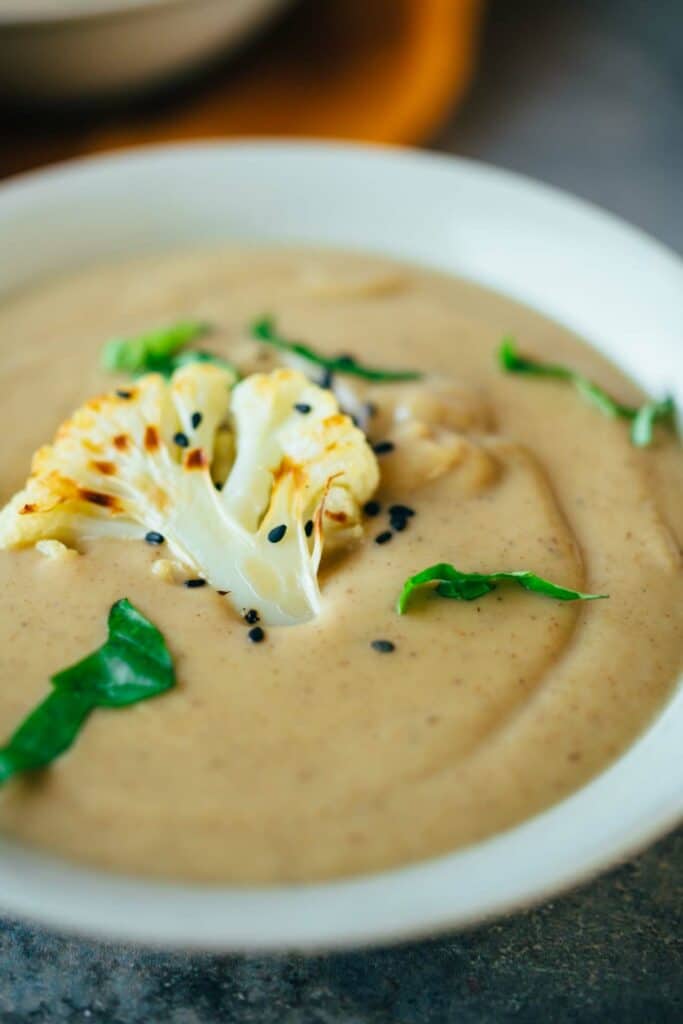 Fast, faster fastest, that is the motto of VEGANEVIBES. Is that correct? No, not really. My aspirations are quick, simple recipes that taste good and do you good. I don't stick to a specific time frame or a limited number of ingredients. The important thing is the result, and for that I'm happy to take a little detour. The detour today is our cauliflower and it first goes into the oven before it then goes into the soup. The highlight here are the roasted flavors, which are really quite special. My husband even asked me if there were mushrooms in it. No, just cauliflower. Astonish.
Cauliflower, olive oil, onion, garlic, vegetable broth, nutmeg and a little lemon juice. That's all there is to it. After the cauliflower florets are roasted in the oven, they go directly into the pot with the rest of the ingredients. I then like to puree everything in a high-powered blender to make it really nice and fine. If you want it even creamier, you can add a handful of cashews. But in this case, that's a tad too much for me. I refine them soup still with a dash of oat cream, that's all.
Tip: If is some older bread at home, I like to cut it into cubes and toast it in a little olive oil. Just add it on top of the soup and enjoy the homemade croutons.
Vegan soups recipes for winter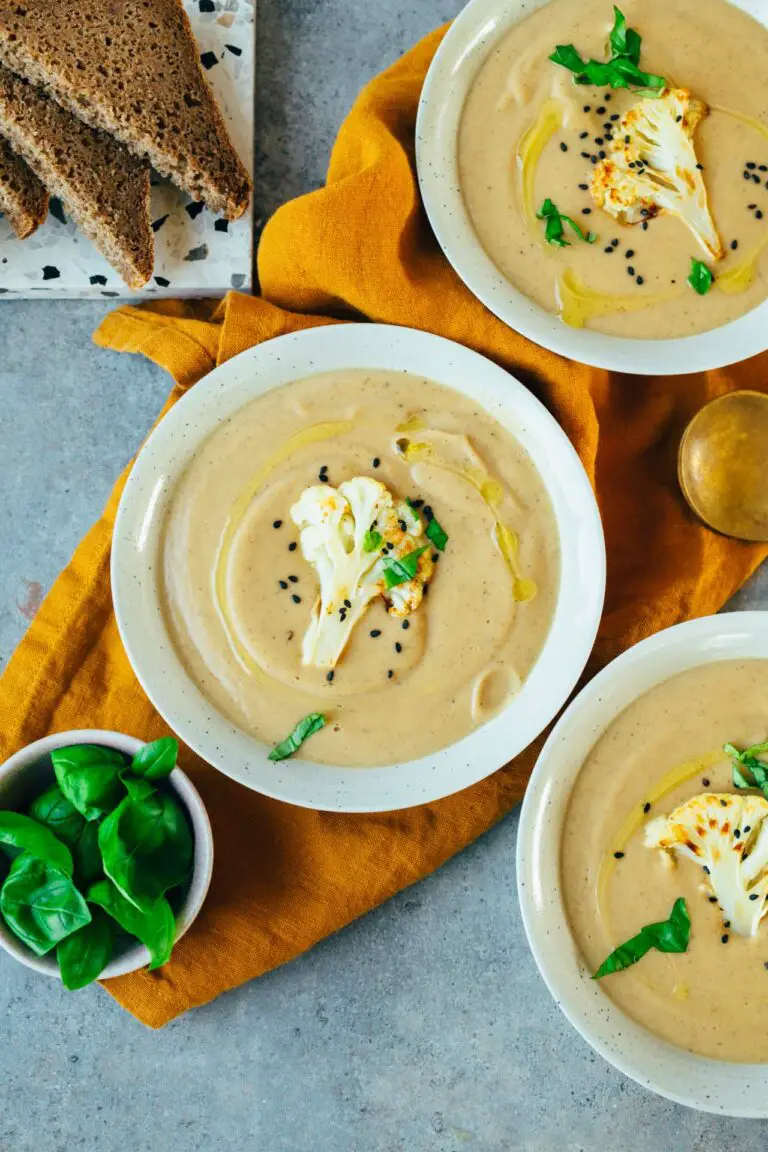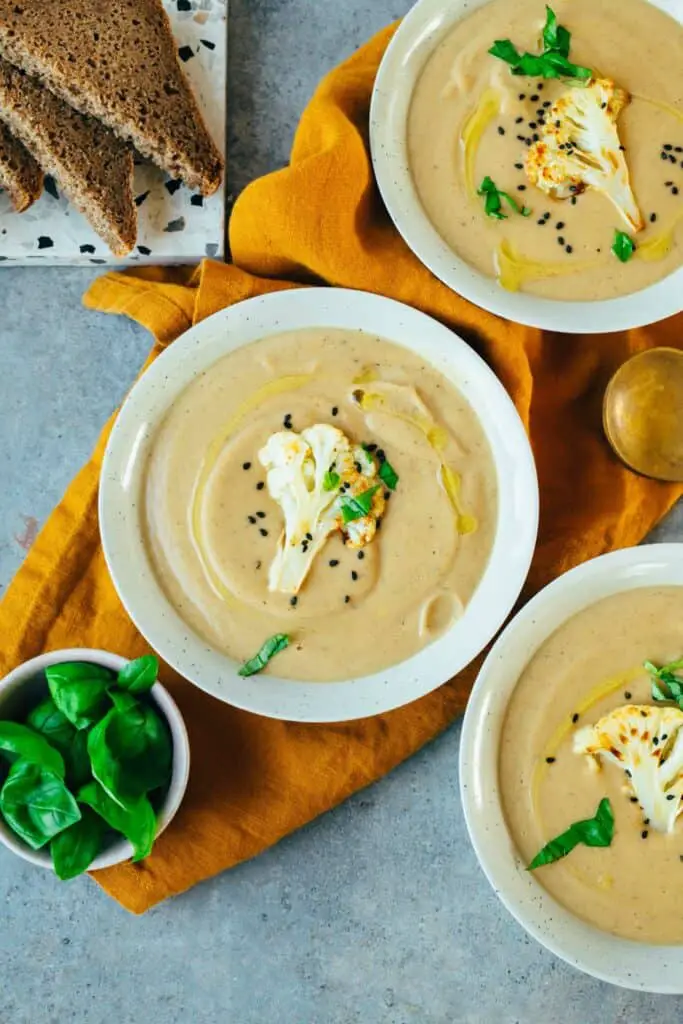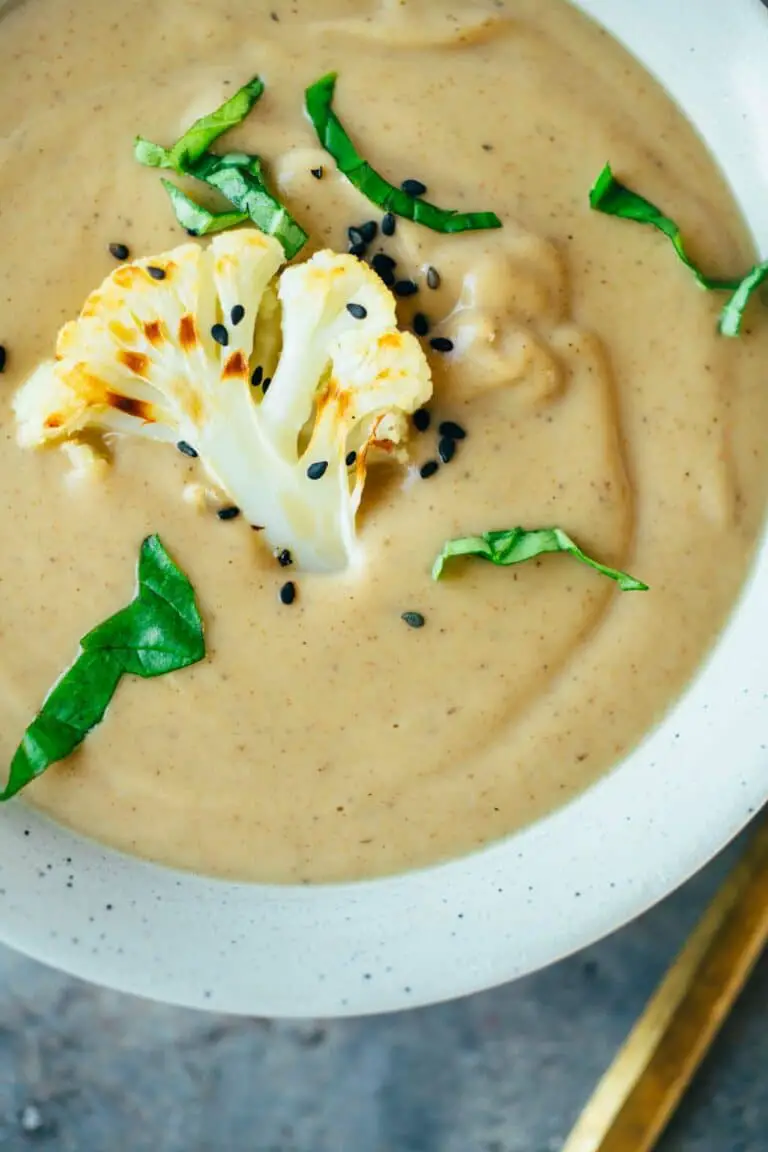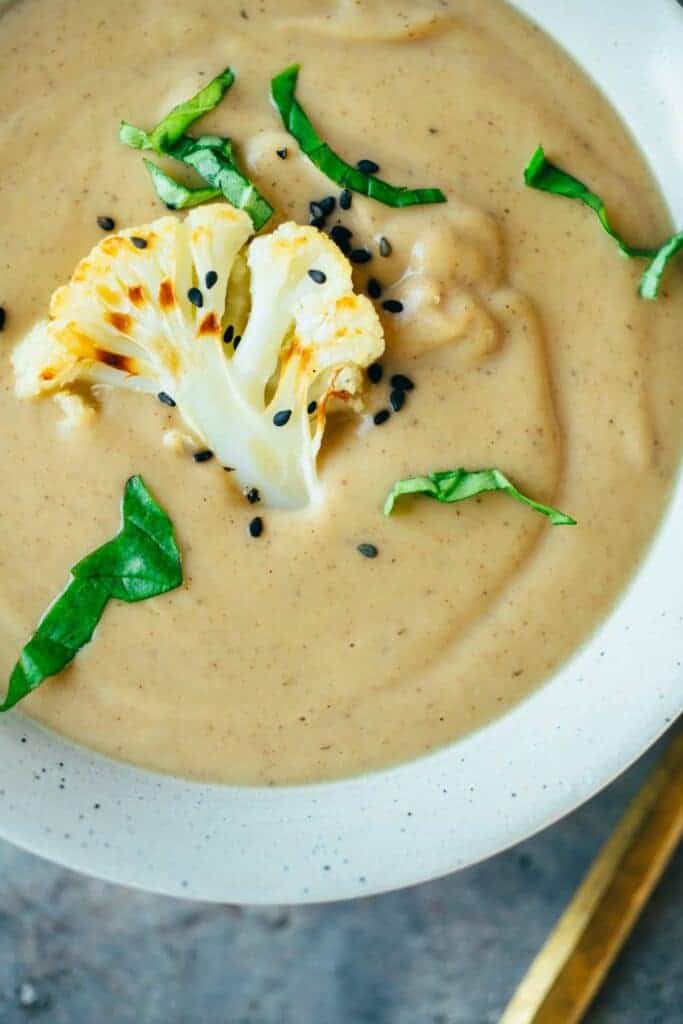 Hello winter and hello soup time. You definitely can't go wrong with this soup, except that the cauliflower will burn you in the oven. We definitely won't let it get that far.
What else is important in the preparation of the soup?
Optionally, the addition of 1-2 potatoes ensures that the soup becomes even creamier and creamier. I have passed on it, but it would be an option.
If the soup is too thick for you, thin it with vegetable broth to taste.
When pureeing, it also comes down to your personal preferences. I like this soup to be very finely pureed. You can also use a magic wand, but then the soup will not be as super fine as with a high-powered blender.
Be careful when bringing to a boil, if the soup is quite thick, it can easily spike. It is best to cook with a lid.
If it can't be Roasted Cauliflower Soup today, then I recommend my Potato Leek Soup, Mung Dal Soup, Carrot Soup or Parsnip S oup for every day.
The roasted cauliflower soup is:
Warming
creamy
full of roasted aromas
few ingredients
Quick and simple
Are you ready the delicious and tasty, vegan and warming soup with subtle roasted flavors? I wish you a lot of fun in recooking and of course a review at the bottom of this page. If you post a picture, use the hashtag #veganevibes.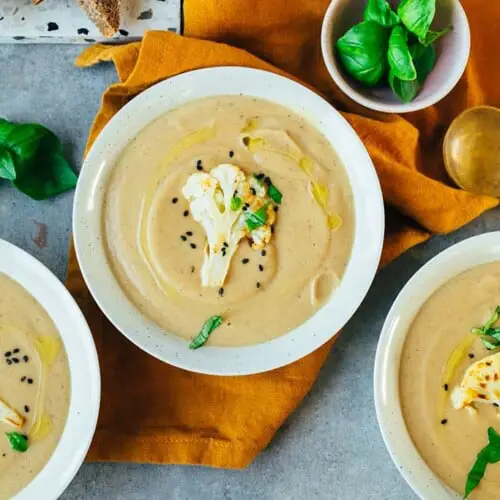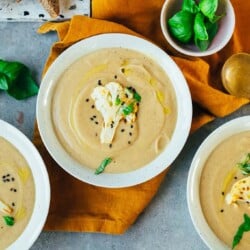 Roasted cauliflower soup (gf)
Quick, warming and vegan soup with oven-roasted cauliflower. A perfect dish for the whole family and with only a few ingredients and easy to make. Perfect also as an appetizer to the vegan Christmas menu.
AUTOR: VEGANEVIBES
Utensilien
Cutting board

Knife

wooden spoon
30

ml

Olive oil

or another high-heat oil

1000

g

Cauliflower

washed and cut into florets, equivalent to a medium-sized cauliflower

15

ml

Frying oil or other high heat oil

feel free to omit if oil-free

1

Piece

red onion

peeled and finely chopped

30

g

Soup powder

vegan and organic

1000

ml

Water

Cups

¼

tbspn

Nutmeg

15

ml

Lemon juice

½

tbspn

Salt

Pepper to taste
TO REFINE (optional):
Anleitung 
Preheat oven to 210 degrees and line baking sheet with baking paper or permanent baking mat.

Place cauliflower florets in a bowl, along with 2 tablespoons olive oil. Mix with your hands or a silicone spatula and spread evenly on the baking sheet.

30 ml Olive oil,

1000 g Cauliflower

Put in the oven and

roast for 30 minutes

.

Mix once towards the middle of the roasting time so that everything is roasted evenly.

Towards the end of the roasting time in the oven, heat large pot with frying oil.

15 ml Frying oil or other high heat oil

Add onion and garlic and sauté briefly while stirring.

Add roasted cauliflower from the oven, vegetable broth, nutmeg, salt and pepper and simmer once for

5-10 minutes

.

30 g Soup powder,

1000 ml Water,

¼ tbspn Nutmeg,

½ tbspn Salt,

Pepper to taste

Puree finely with a hand blender or high-powered blender. TIP: To refine the soup, add oat cream or other vegetable cream to taste.

If you like the soup finer and more liquid add as much vegetable broth until the desired state is reached.

More vegetable broth to dilute according to taste

Pour into plates, garnish as desired, serve and enjoy!

Spelt roll,

Spelt bread,

Sourdough bread

Keeps airtight in the refrigerator for up to 5 days. Frozen up to 1 month.
Nährwertangaben
Serving:
1
Portion
Calories:
122
kcal
Carbohydrates:
12
g
Protein:
4
g
Fat:
8
g
Saturated Fat:
3
g
Sodium:
484
mg
Potassium:
534
mg
Fiber:
4
g
Sugar:
3
g
Vitamin C:
81
mg
Calcium:
44
mg
Iron:
1
mg