A vegan soup with parsnips has been missing in my collection. I've always liked to hide the root vegetable in stews, though never made my own recipe with it. Today I put an end to that and present my super-creamy parsnip soup. The weather leaves much to be desired at the moment and I would love to wrap myself in a thick blanket all day. Cold, rainy and uncomfortable, where is the golden October please? That's why I'm really into warmth from within right now, and my favorite way to do that is with soups, stews, and casseroles. They are just perfect for the cold season and warm from the inside. Well, do you feel like it? Then let's get started!
Creamy vegan parsnip soup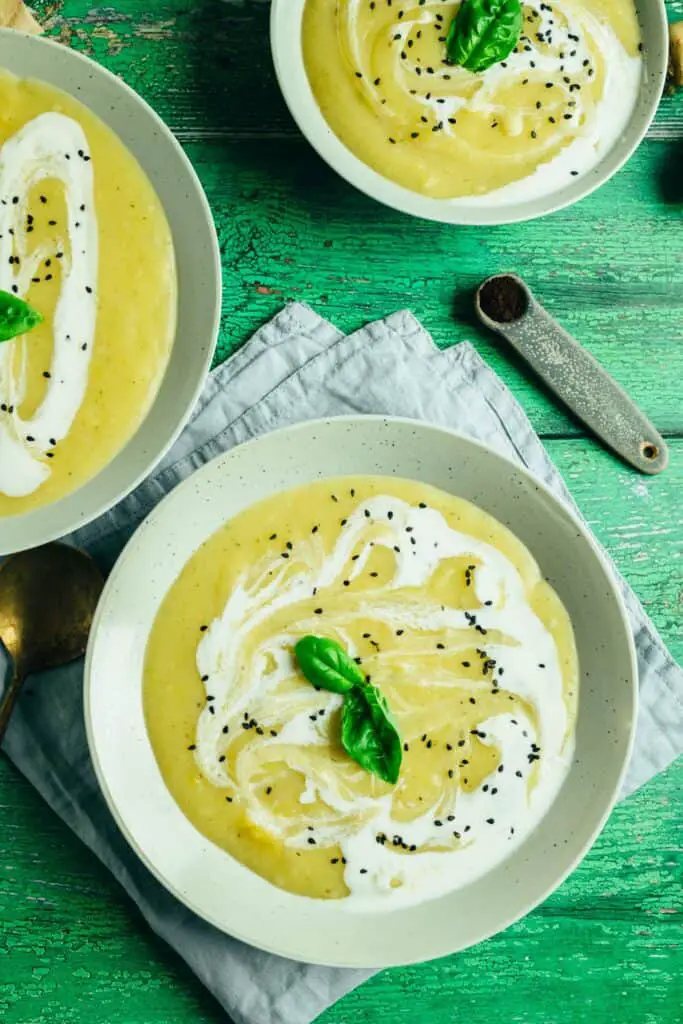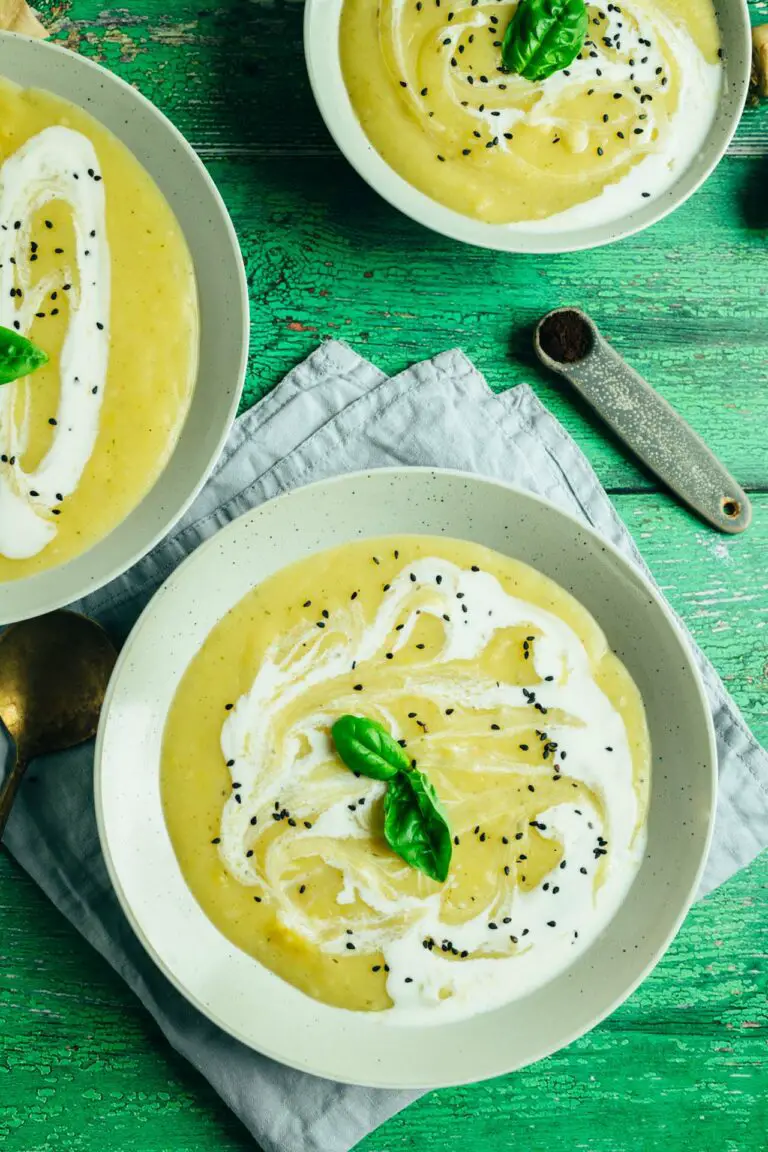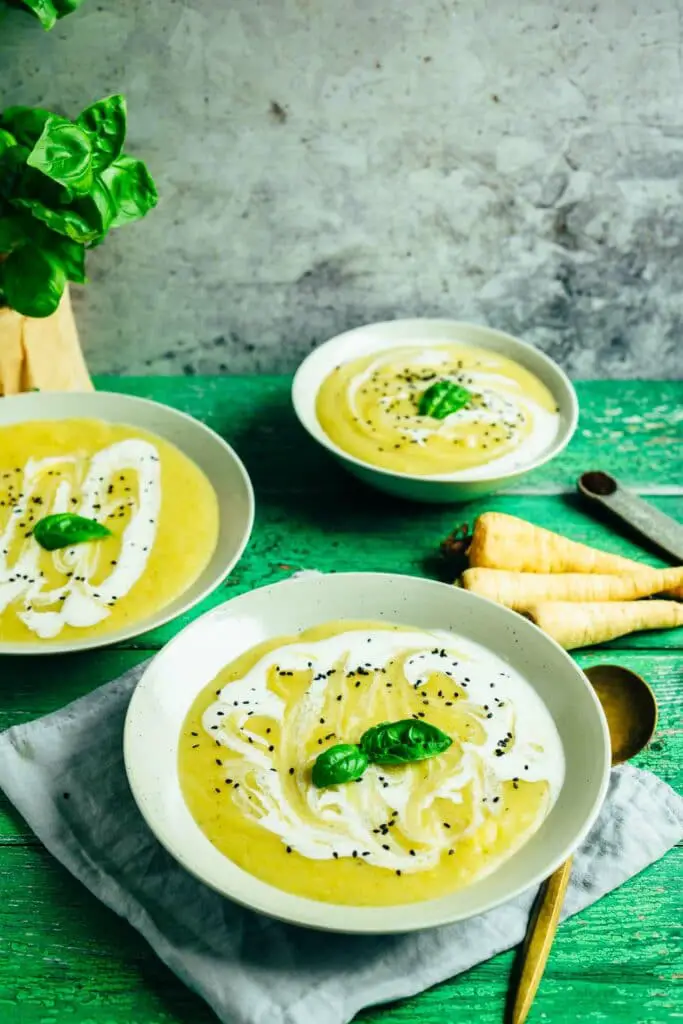 As always, our soup today is made quickly and is enhanced with a little something extra. I'm sure you're not necessarily guessing bourbon vanilla, but that's exactly our twist. Otherwise, our ingredient list is small and manageable with potatoes, onion, parsnips, vegetable broth, garlic granules, pepper, salt, thyme and vanilla. That's all. Simple, quick and delicious, just the way I like it.
If you like, you can add oat cream or coconut milk to your soup. This makes it even creamier and gives the final touch. If you like to work with cashews, skim ⅓ of the soup and put it in the blender with soaked cashews. Blend once until creamy, add back to the rest of the soup and the autumnal dish is ready.
Tip: If is some older bread at home, I like to cut it into cubes and toast it in a little olive oil. Just add it on top of the soup and enjoy the homemade croutons.
How healthy are parsnips actually?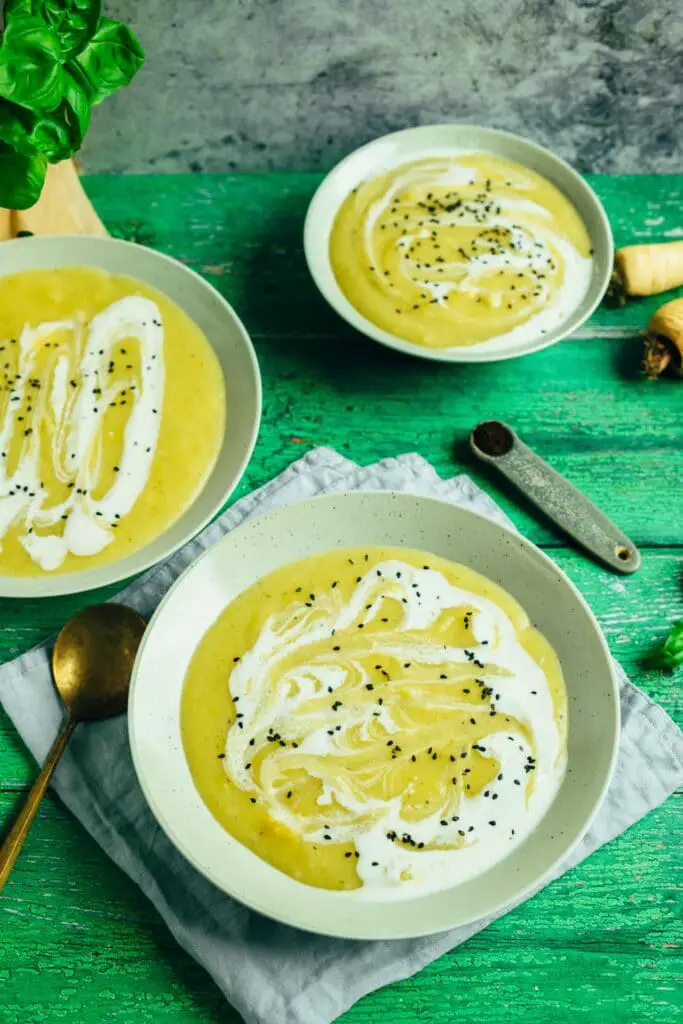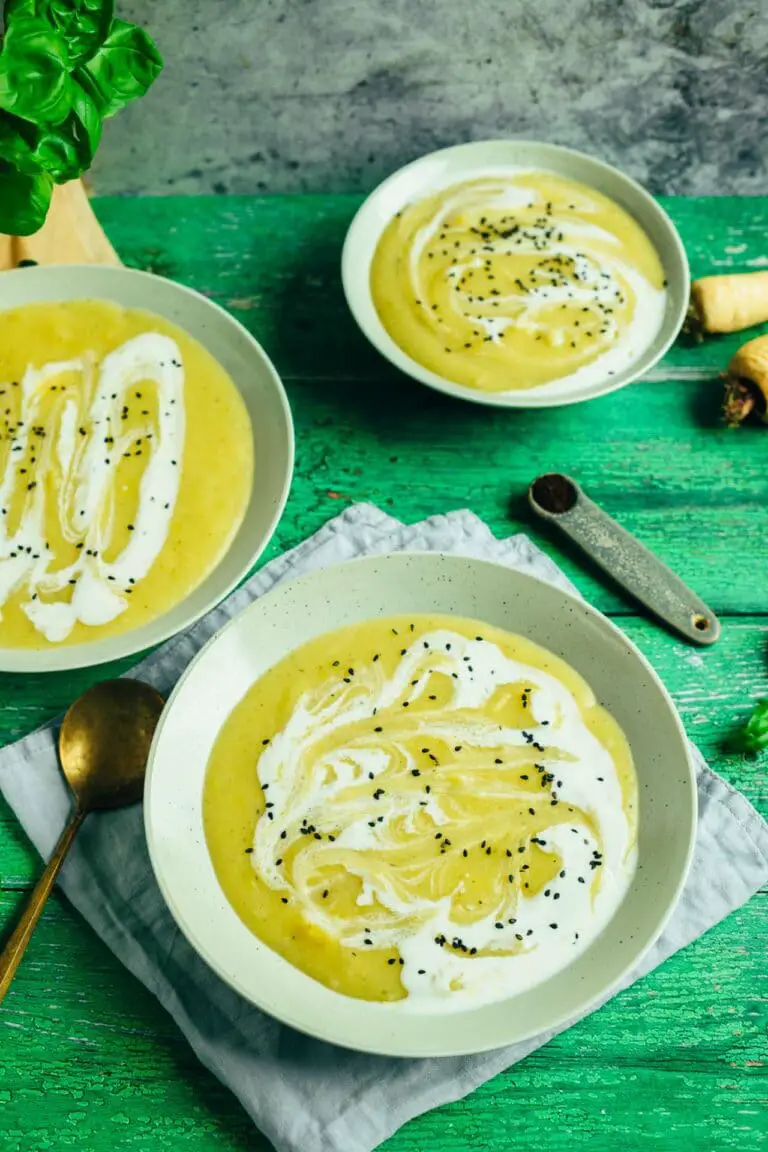 Parsnips belong to the so-called root vegetables and was displaced by the popular potato for a long time. If you take a closer look, then parsnip should definitely be included in the menu.
Low calorie with 59 kcal/100g
Rich in potassium, folic acid and vitamin C
Rich in fiber, especially in pectin (soluble fiber) = supports intestinal activity, serves as detoxifier and food for the good intestinal bacteria
The essentials contained provide the intense spicy flavor and have a mild antibacterial effect.
TIP: Sometimes it's a little hard to tell parsnip from parsley root, especially if it's not labeled in stores. Parsnips are quite a bit longer than parsley roots, which are about 20 cm long and rather narrow in shape.
The smaller, the finer! This is definitely true for the parsley root as well as for the parsnip. The smaller roots are characterized by more intense aroma and flavor. Hands off dull and wrinkled skin, because this is a sign of improper storage. In the refrigerator, the tubers will keep in the crisper for up to 10 days.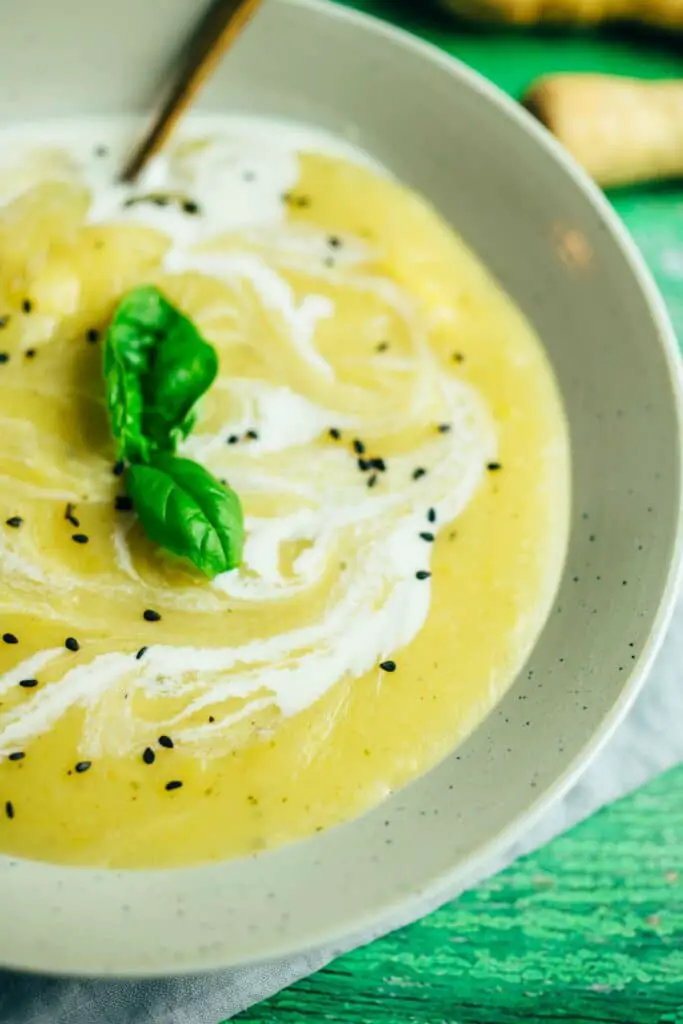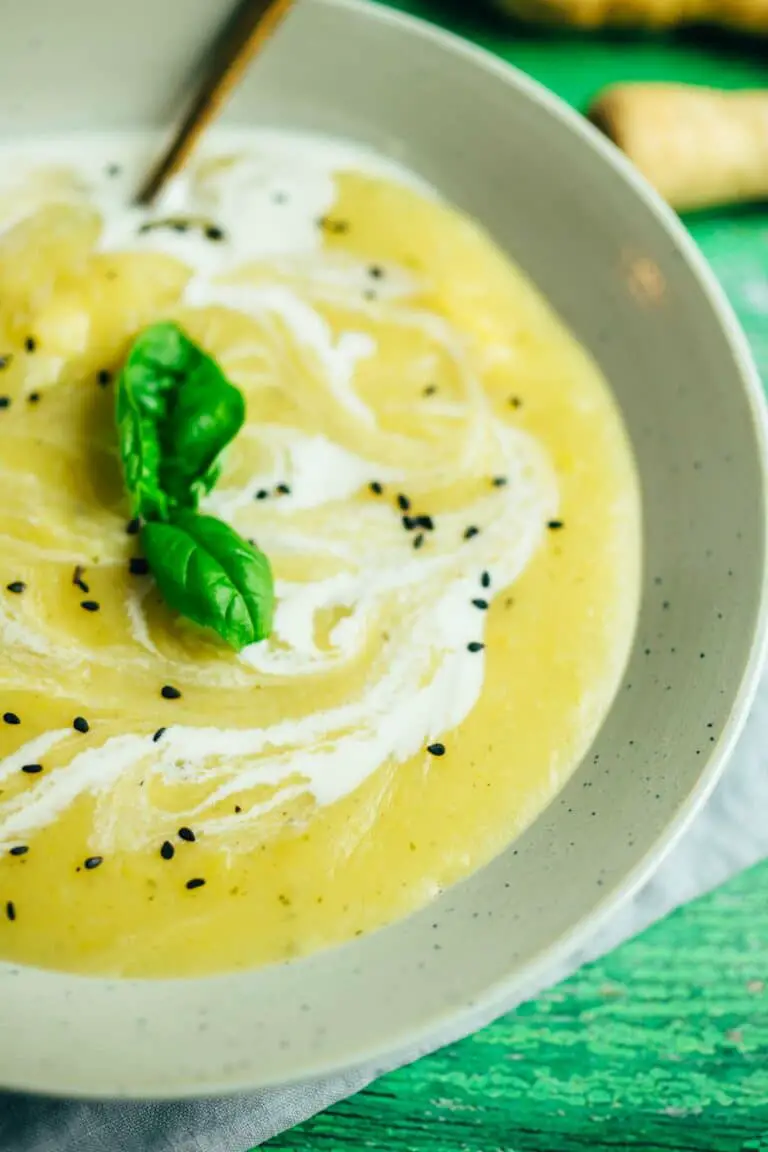 What else is important in the preparation of the soup?
If the soup is too creamy for you, thin it with vegetable broth to taste.
When pureeing, it also comes down to your personal preferences. I like to have a few more pieces in the soup. That's why I always puree only a portion (about 2/3 of the soup) in a high-powered blender. You can also use a magic wand, but then the soup will not be as super fine as with a high-powered blender.
If you like the parsnip soup very thick, then I recommend cooking and reheating with the lid closed. Due to the puree-like consistency, it can easily splatter during cooking.
Don't worry, the vanilla is not dominant, but provides a small but subtle extra flavor.
If it can't be parsnip soup today, then I recommend my potato leek soup, mung dal soup, gazpacho or carrot soup for every day.
The Creamy Parsnip Soup with Vanilla is:
Warming
aromatic
creamy
Full of healthy ingredients
Quick and simple
Are you ready the delicious and tasty, vegan and warming soup for cold days? I wish you a lot of fun in recooking and of course a review at the bottom of this page. If you post a picture, feel free to use the hashtag #veganevibes.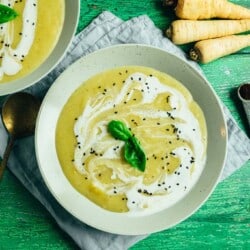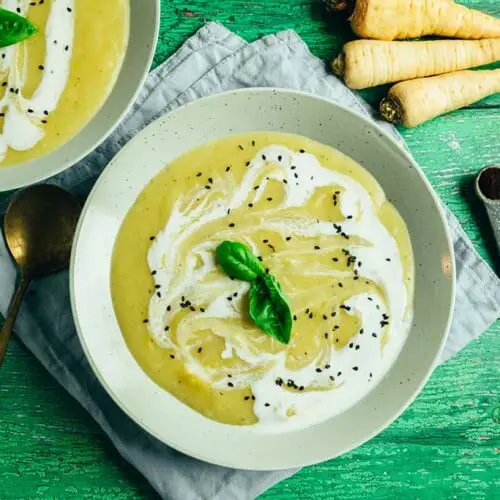 Creamy parsnip soup with vanilla
Quick, warming and vegan parsnip soup, refined with a fine bourbon vanilla. A perfect dish for the whole family and a wonderful change from the classic potato soup. Perfect also as an appetizer to the Christmas menu.
AUTOR: VEGANEVIBES
30

ml

Frying oil or other high heat oil

feel free to omit if oil-free

1

light onion or 2 shallots

peeled and finely chopped

700

g

Potatoes

peeled and cut into pieces, equals 2-3 medium potatoes, for early potatoes just weigh them out

300

g

Parsnips

peeled and cut into small cubes, equivalent to about 2 medium parsnips

30

g

Soup powder

vegan and organic

1000

ml

Water

1

TL

Garlic granules

or 1-2 fresh garlic cloves, pressed or finely diced

1

tbspn

Thyme

or 2-3 sprigs of fresh thyme

¼

tbspn

Bourbon vanilla

½ – 1

tbspn

Salt
TO REFINE (optional):
Cashews

mixed into the soup soaked

More vegetable broth to dilute according to taste
Anleitung 
Heat pot with frying oil.

30 ml Frying oil or other high heat oil

Add the onion and garlic (if you use fresh garlic, add it now) and sauté briefly while stirring.

1 light onion or 2 shallots,

1 TL Garlic granules

Add potatoes, parsnips, vegetable broth, garlic granules, thyme, bourbon vanilla, salt and pepper and bring to a boil once.

700 g Potatoes,

300 g Parsnips,

30 g Soup powder,

1000 ml Water,

1 TL Garlic granules,

1 tbspn Thyme,

¼ tbspn Bourbon vanilla,

½ – 1 tbspn Salt,

Pepper to taste,

More vegetable broth to dilute according to taste

Simmer for about 20-25 minutes until the potatoes and parsnips are tender.

Puree finely with a hand blender or high-powered blender.

TIP: To refine like oat cream or another vegetable cream at will in the soup.

Oat cream,

Cashews,

Nutritional yeast flakes

If you like the soup finer and more liquid add as much vegetable broth until the desired state is reached.

Pour into plates, garnish as desired, serve and enjoy!

Coconut milk,

Spelt roll,

Spelt bread,

Sourdough bread

Keeps airtight in the refrigerator for up to 5 days. Frozen up to 1 month.
Nährwertangaben
Serving:
1
Portion
Calories:
203
kcal
Carbohydrates:
38
g
Protein:
3
g
Fat:
5
g
Saturated Fat:
4
g
Sodium:
568
mg
Potassium:
643
mg
Fiber:
7
g
Sugar:
8
g
Vitamin A:
16552
IU
Vitamin C:
13
mg
Calcium:
64
mg
Iron:
1
mg