Cannelloni, how long have I wanted to make a recipe with this. Somehow something always came up and for a long time I just didn't have the right one in mind. It should definitely be super creamy and moist, without store-bought cheese, but really homemade. The temperatures are getting colder again and I'm craving warm dishes, whether it's soups, casseroles or stews. Are you more team summer or winter? I've become a fan of both. Since we've had our Huskies, I've honestly really fallen in love with winter. That's why I also hope that this season there will hopefully be more of the white splendor again. Then I can finally take my touring skis out again.
Vegan cannelloni, creamy, hearty, delicious!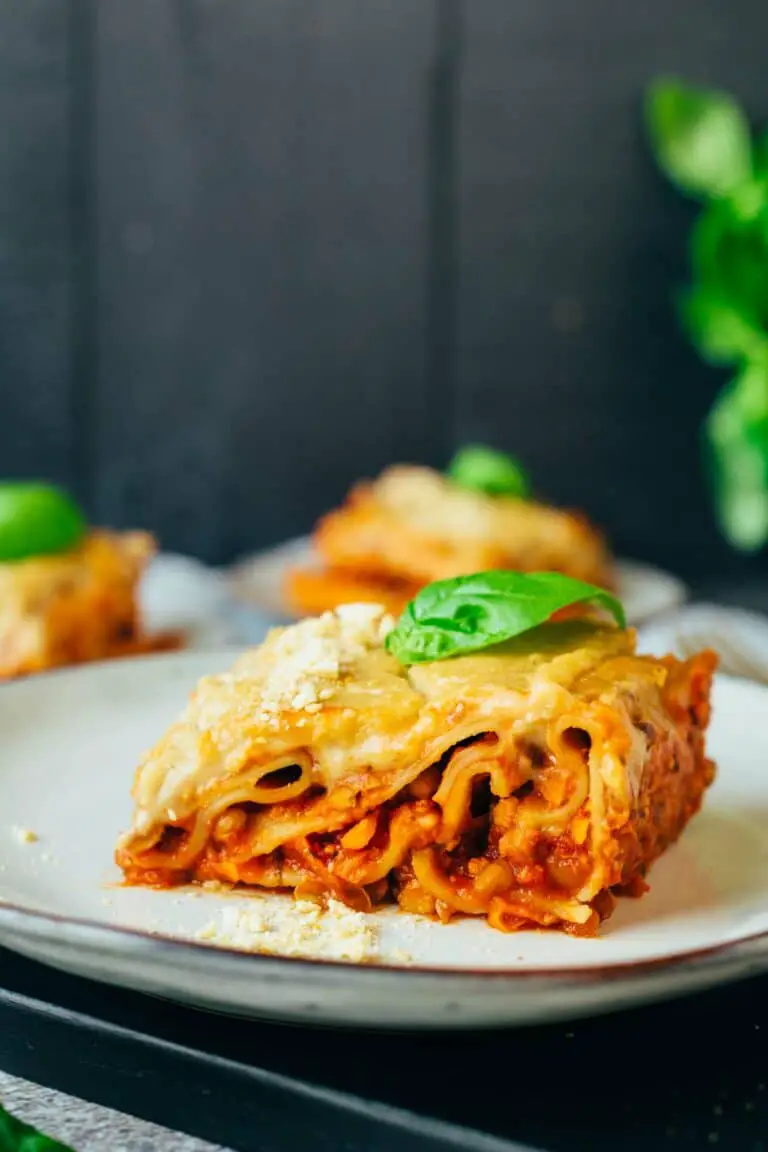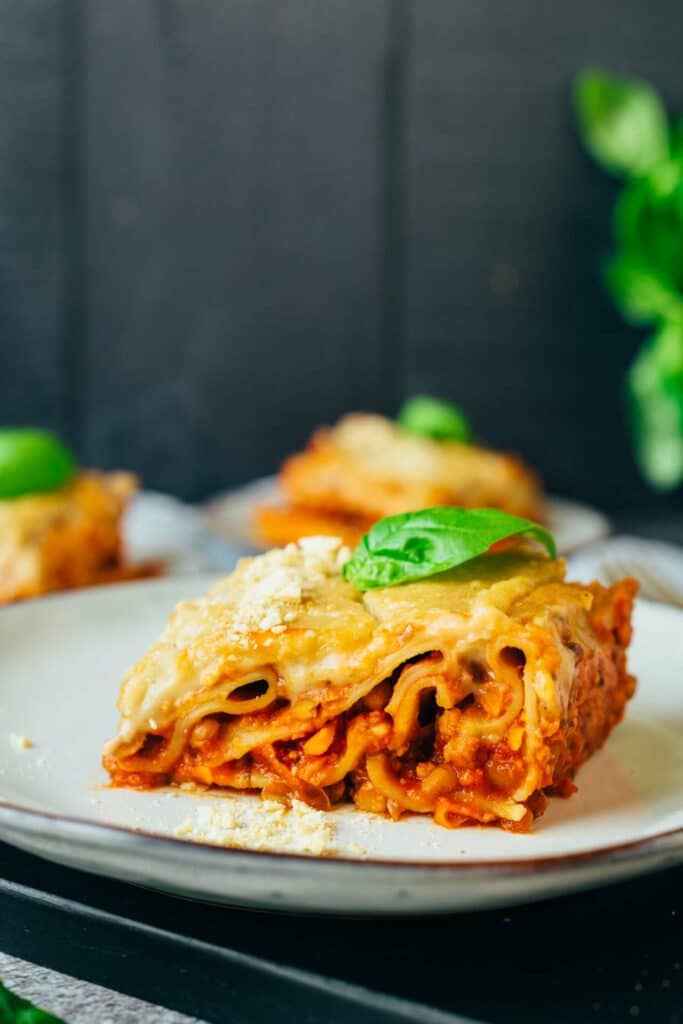 Admittedly, this recipe is not exactly quick to prepare, but it is definitely simple . There's one thing I'm going to prepare you for right now, and that's stirring. Yes, there is a lot of stirring involved in making the vegan béchamel and cheese sauce. This challenges the arm muscles a bit and is definitely a good thing. The result will blow you away, though, because it's an incredibly creamy sauce with a cheesy flavor thanks to nutritional yeast flakes.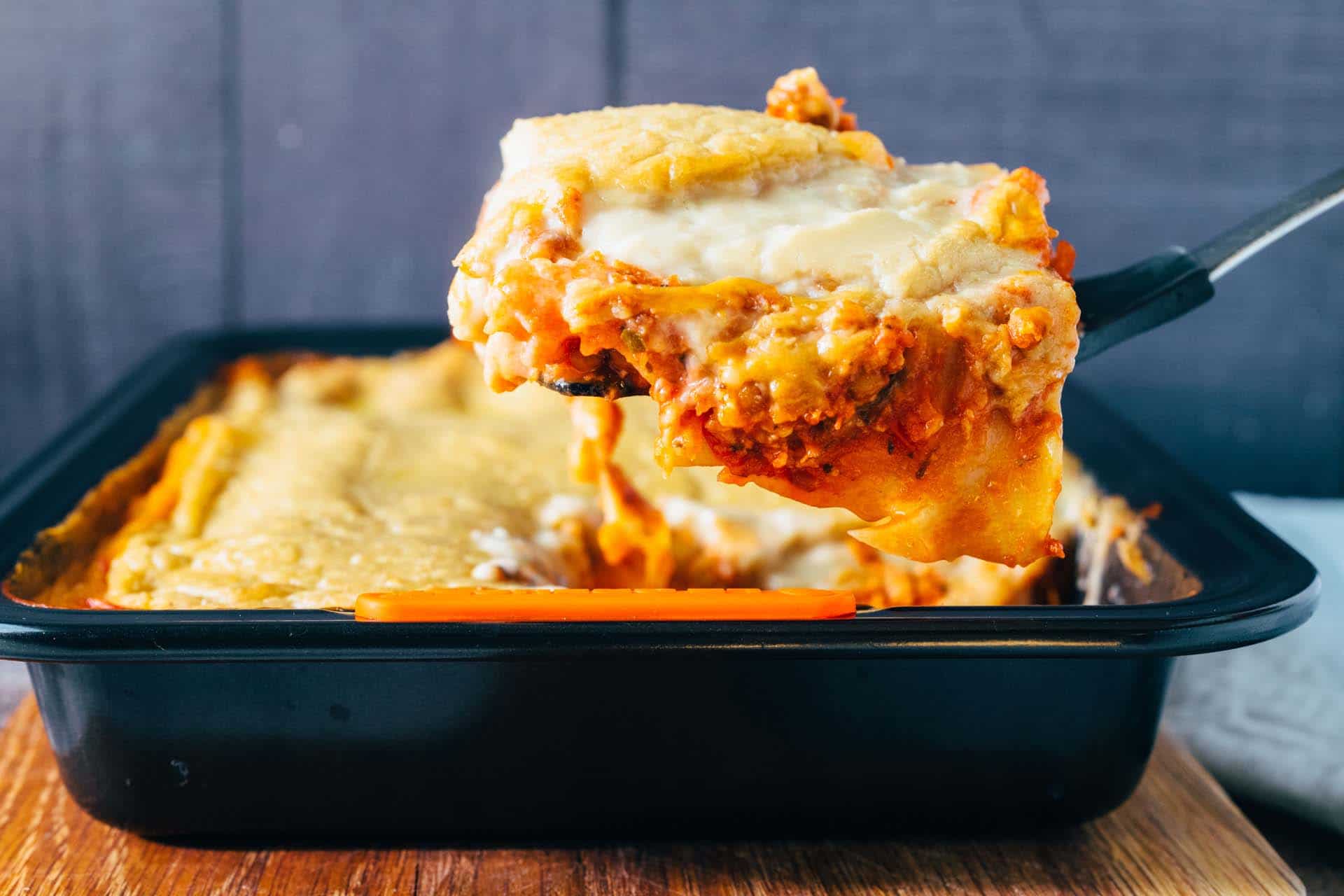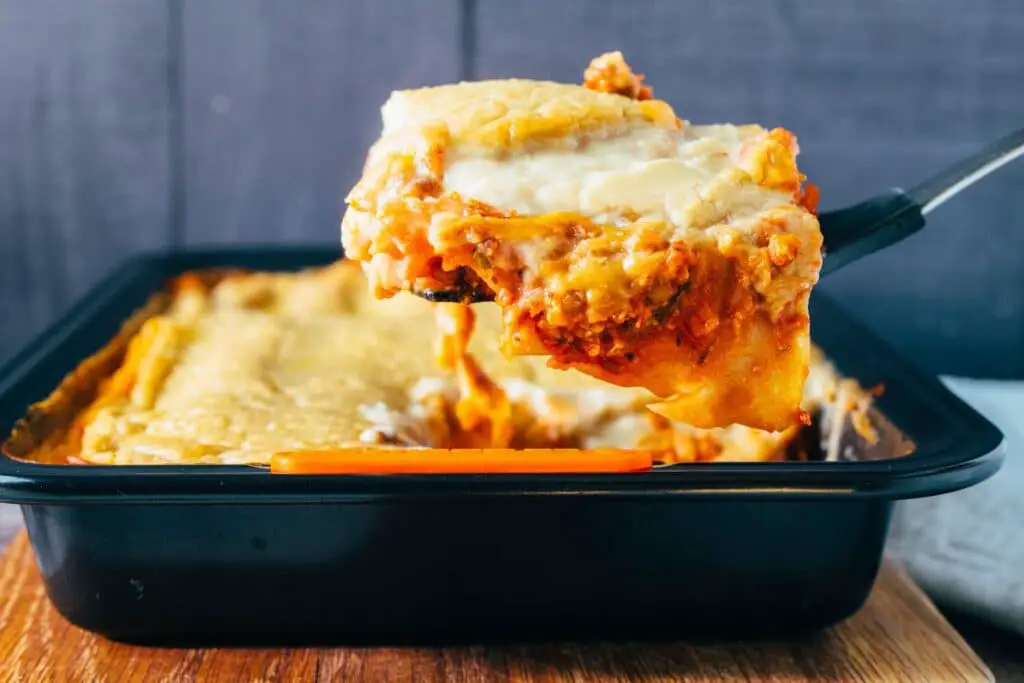 The scalloped cannelloni consists of three different components.
The Lentil Bolognese ,
the béchamel sauce and finally
the cheese sauce that is Basis of the Bechamel Sauce is prepared. For the cheese sauce I simply add tapioca starch, which I also use to make vegan mozzarella
Notice:
The only question that remains is what a cannelloni actually is? The word comes from canna, which means "tube" in Italian and describes the shape of the pasta. In fact, they look like little tubes that you can fill as you please. Traditionally they are filled with ricotta, spinach and minced meat and then baked with béchamel sauce or tomato sauce.
Italian classic simple and vegan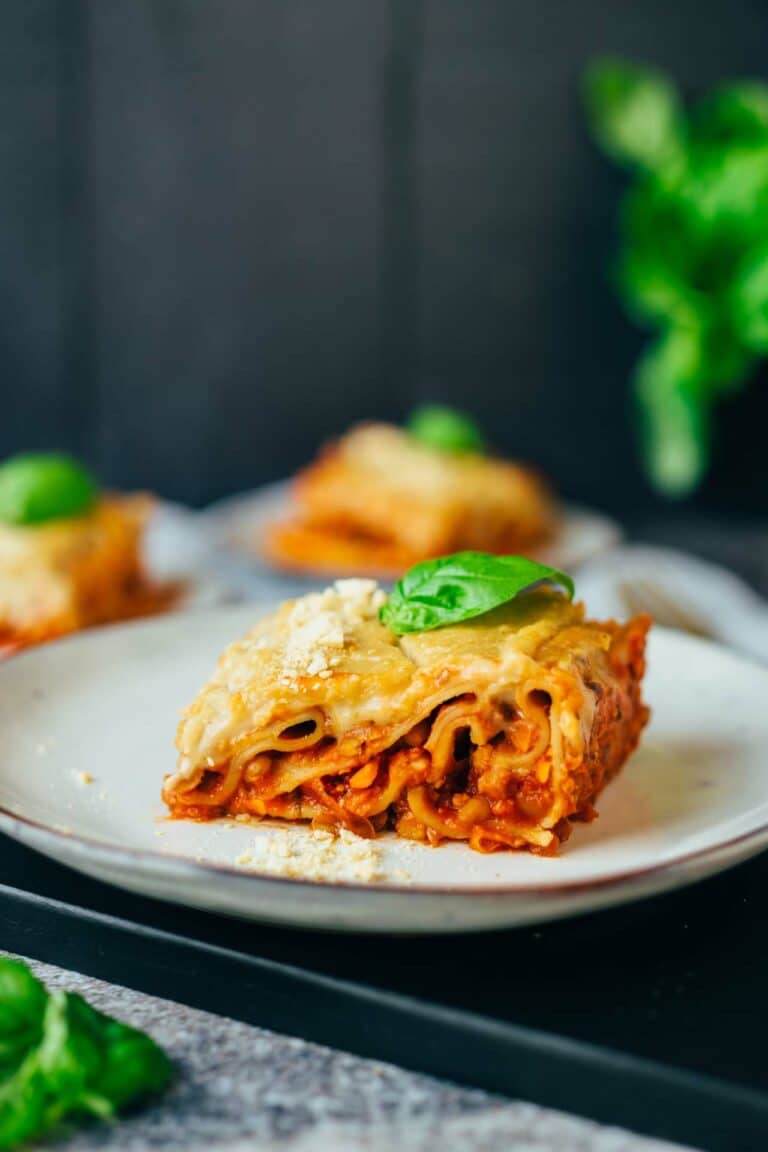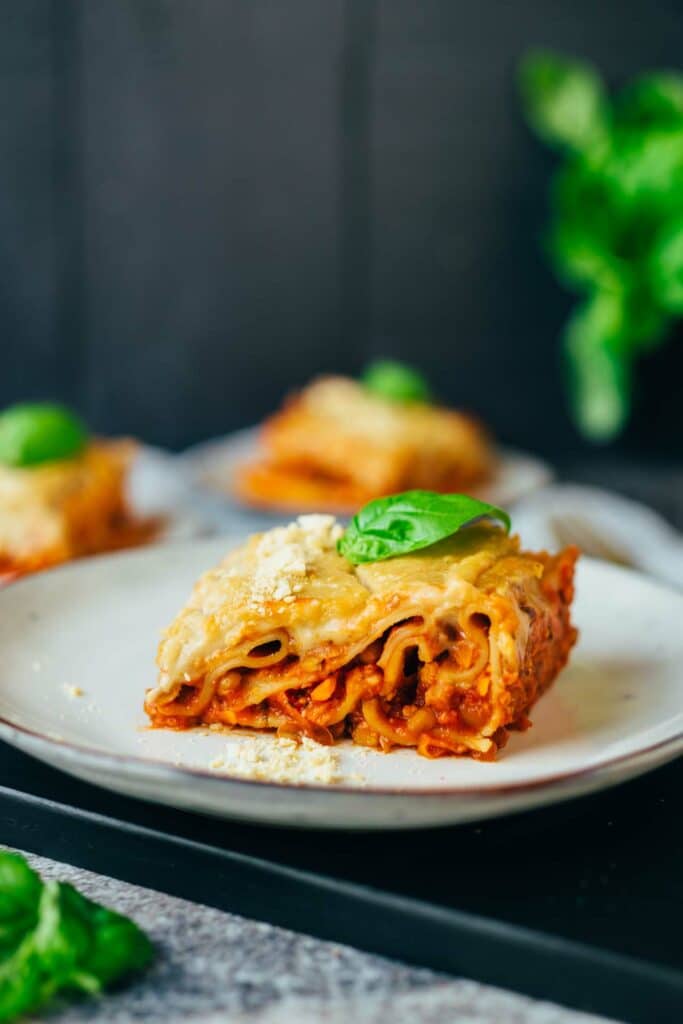 Now almost nothing can go wrong, right? I am of the opinion that it never hurts to make a little Troubleshooting to make, because after all, this fine dish should also turn out perfectly.
Here are my top tips for making cannelloni:
Time management is everything, as it takes about an hour to prepare the two sauces. I like to make the bolognese the day before and do batch cooking (cook a large amount and freeze some). This really saves a lot of time.
The béchamel also requires time and patience. The most common mistakes are a too hot hotplate (béchamel burns) or pouring the milk or cream too hastily (lumps form).
Too little liquid, it is important to remember that the pasta must also be cooked and need liquid for this. If the bolognese is too dry, then the pasta may not be cooked through.
The casserole dish is too small, or too large. I use a form with the measurement 33 x 23cm, you can orientate yourself approximately after that.
The good news for anyone who likes to cook gluten-free or has an intolerance: The béchamel sauce works wonderfully with my gluten-free flour blend.
Cannelloni pasta is also available gluten-free, at least I found it through an online store. It's good to know that there are alternatives here, too.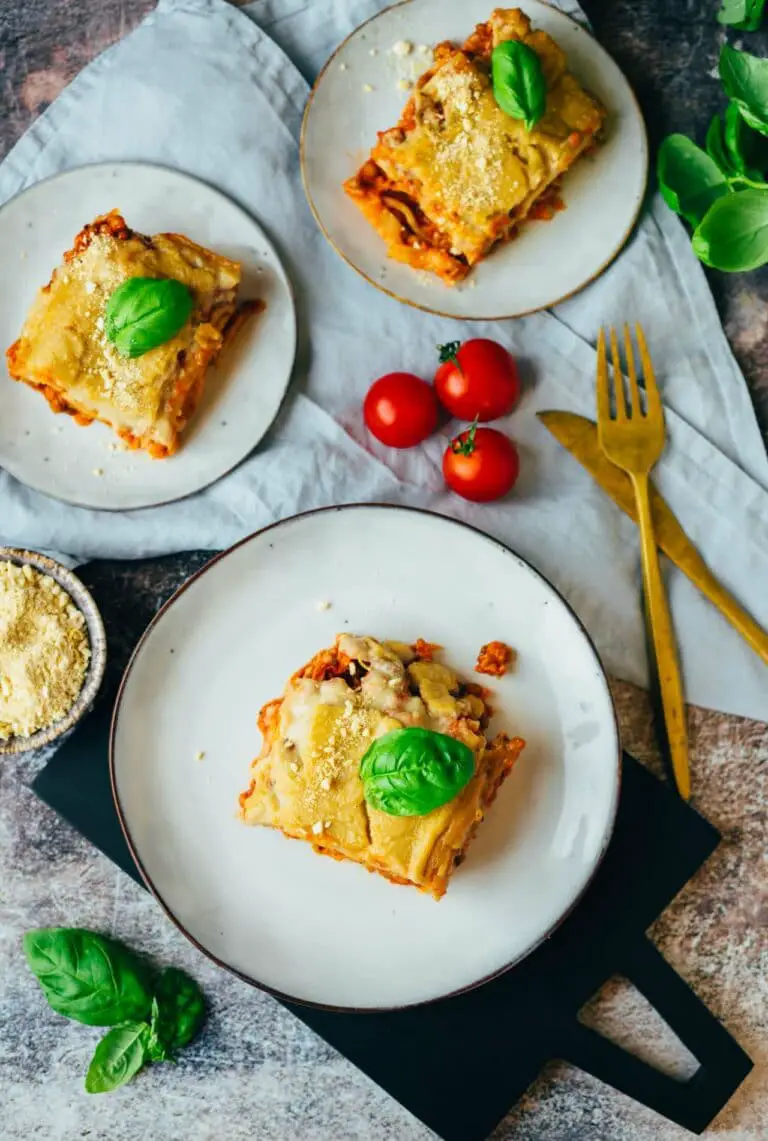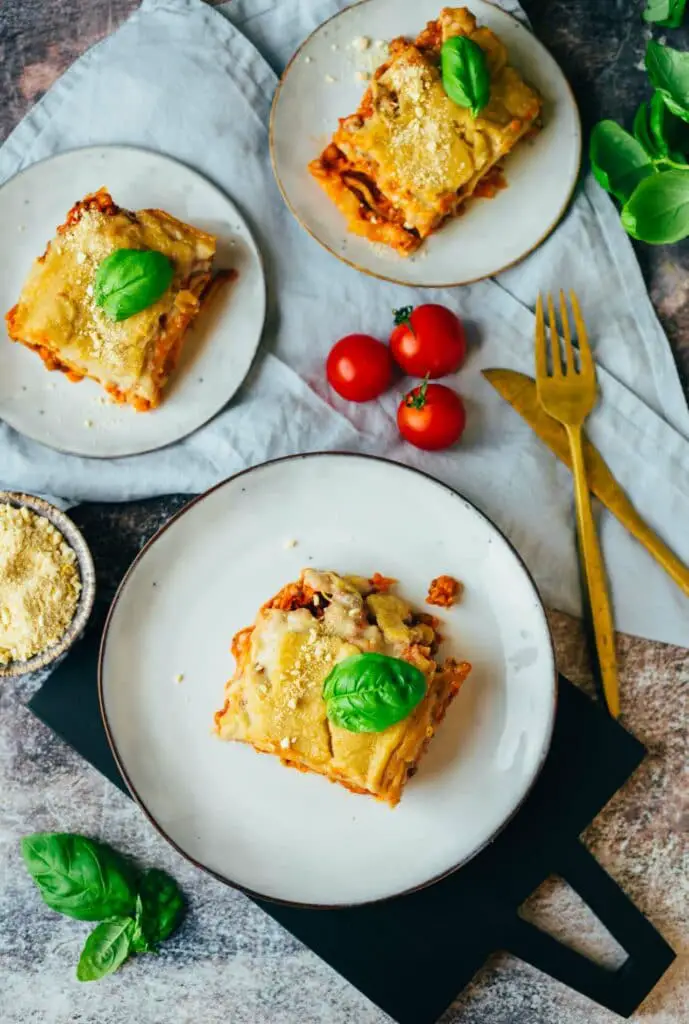 It goes very well with a side salad, or a freshly baked foccachia.
The vegan cannelloni are:
Tomato
Italian-spicy
Creamy and cheesy
filling
Easy to make
Are you ready for this Italian classic? I wish you a lot of fun in recooking and of course a review at the bottom of this page. If you post a picture, use the hashtag #veganevibes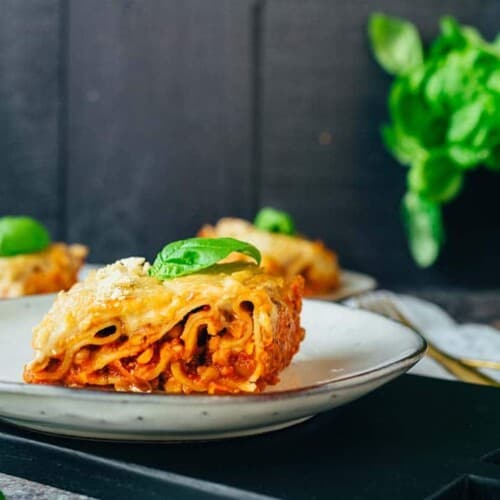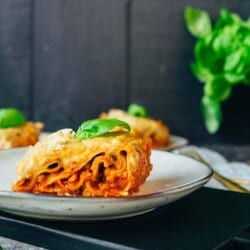 Vegan cannelloni
Fine vegan cannelloni filled with hearty lentil bolognese topped with creamy béchamel sauce and topped with a homemade cheese sauce. The perfect dish for a cozy evening together with family or friends.
AUTOR: VEGANEVIBES
Anleitung 
1 Portion Lentil Bolognese,

Optional: 2 cups spinach

FOR THE BECHAMEL SAUCE heat a saucepan over medium heat, melt olive oil or vegan margarine and pour in flour. Stir intensely with a whisk until everything is combined into a creamy paste. Pour in a little vegetable milk, stir, pour in oat milk again and continue stirring until everything is well combined. Be careful not to let it get too hot, sauce should not burn on the bottom. Bring to a boil while stirring, now the béchamel sauce should slowly thicken. Finish with cream and nutritional yeast flakes, salt, pepper and nutmeg.

50 g vegan olive oil or margarine,

60 g gluten free flour mix,

600 ml Oat milk or another plant milk,

1 Pinch of nutmeg,

3 tbspn Nutritional yeast flakes,

1 tbspn Sea salt,

Freshly grated pepper to taste,

1 tbspn Turmeric

If too thin, sift in a little more flour, if too thick sip more vegetable milk. Otherwise, it may clump and always stir vigorously. Remove from heat and set aside.

FOR THE CHEESE SAUCE skim ¼ of the béchamel sauce and pour into a smaller pot or bowl. Dissolve tapioca starch in the vegetable milk and add while stirring. Add onion and garlic powder and continue stirring until everything is well combined. If too lumpy, finely puree with hand blender. Set aside.

1/4 the béchamel sauce from above,

60ml Plant milk,

24 g Tapioca starch,

1 TL Onion powder,

1 TL Garlic granules

Note: If you are in a hurry or don't have tapioca starch at home, you can omit this step and just use ready chewed grated cheese.

Preheat oven to 180 degrees (convection) and prepare baking dish.

LAYERS: Spread a layer of lentil bolognese on the bottom, fill cannelloni pasta tubes with lentil bolognese. I use a teaspoon for this. Line up in a row along the long side until the mold is optimally filled (see video).

¾ Pack Pack of cannelloni from durum wheat semolina or gluten free

Pour the béchamel sauce over the top and spread.

Finally, pour cheese sauce over the top and spread.

Put in the oven and bake for

30 minutes

. The cannelloni are ready when the cheese sauce is lightly browned and the lentil bolognese is visible on the sides and bubbling vigorously.

Remove from oven and let cool and set for

10-15 minutes

. This step is important, otherwise everything can come apart. Cut into pieces and serve with a side salad, vegan parmesan, olive oil and basil.

Mixed salad,

Vegan parmesan,

Fresh basil

Keeps up to 3 days airtight in the refrigerator or 1 month in the freezer. Ideally, heat in a steamer.
Nährwertangaben
Serving:
1
Portion
Calories:
306
kcal
Carbohydrates:
43
g
Protein:
9
g
Fat:
11
g
Saturated Fat:
2
g
Sodium:
122
mg
Potassium:
232
mg
Fiber:
6
g
Sugar:
10
g
Vitamin A:
1235
IU
Vitamin C:
1
mg
Calcium:
166
mg
Iron:
3
mg