All sweet potato lovers, hands up! Today we have something fine, and that is a hummus with sweet potato. I promise you that this recipe will enchant you. Right now I can't get enough of anything yellow or orange. I've got myself a little anti-bad weather emergency kit. This includes my yellow sweater, a mixture of essential oils with orange and a recipe collection with lots of orange and sweet potato. According to the motto, give the fog and the bad mood no chance. If I can then mix an orange sweet potato together with fine chickpeas to make an irresistible spread, I'm all over it. Let's get started together.
Vegan sweet potato hummus – no waste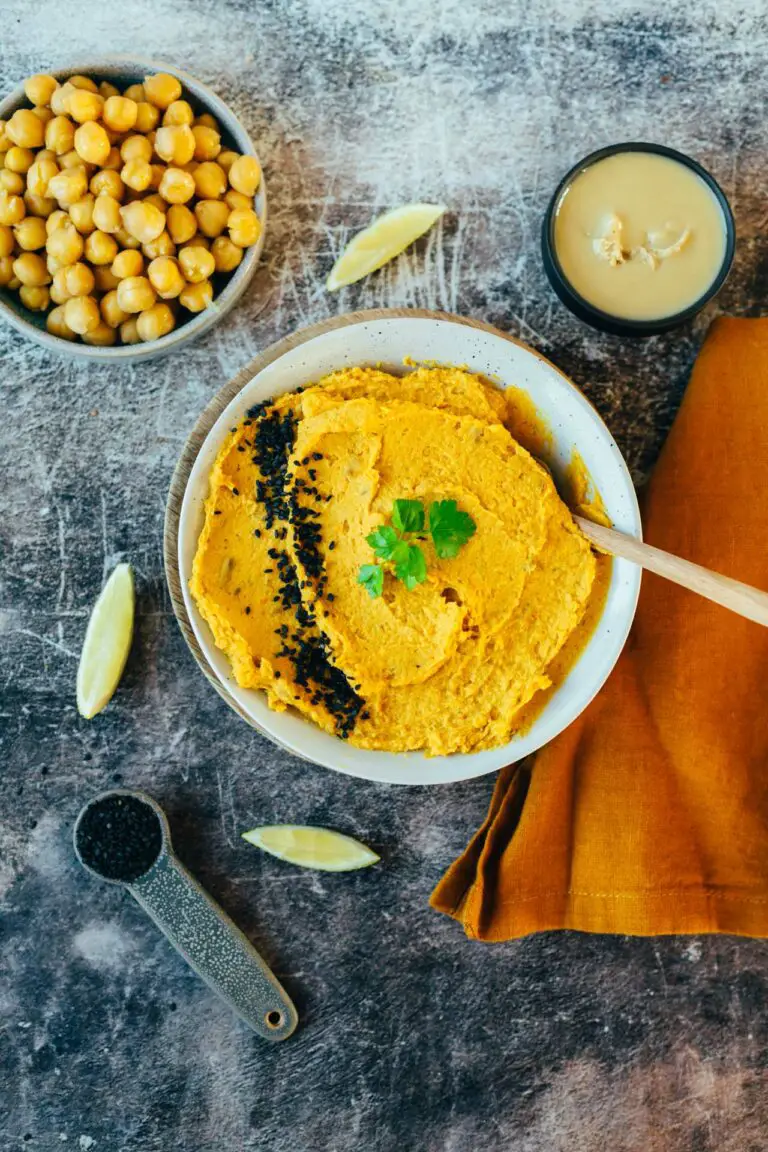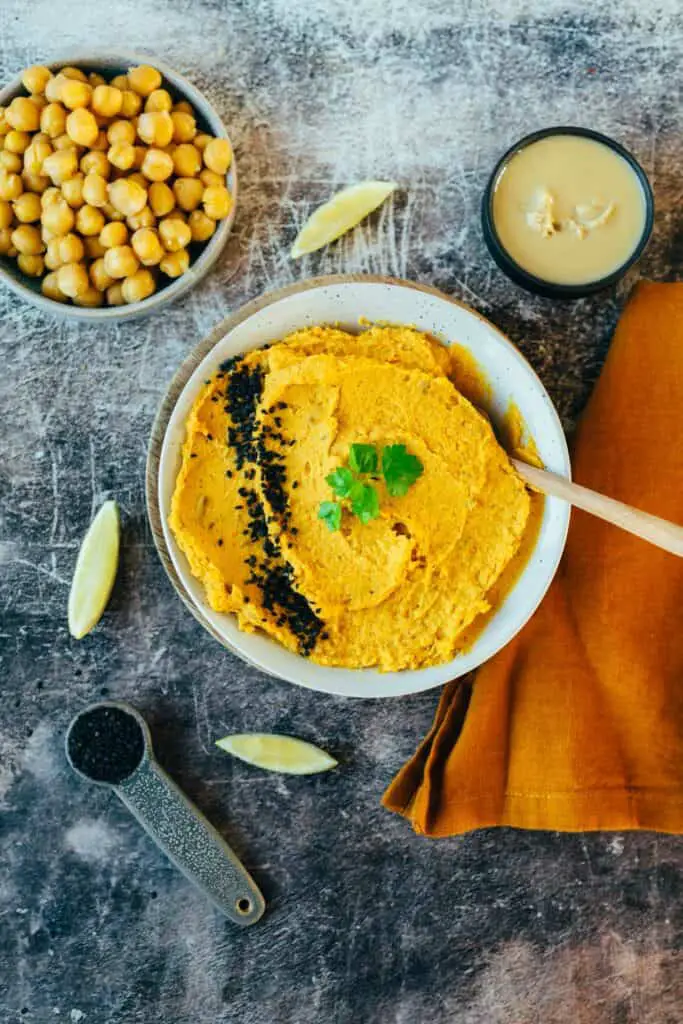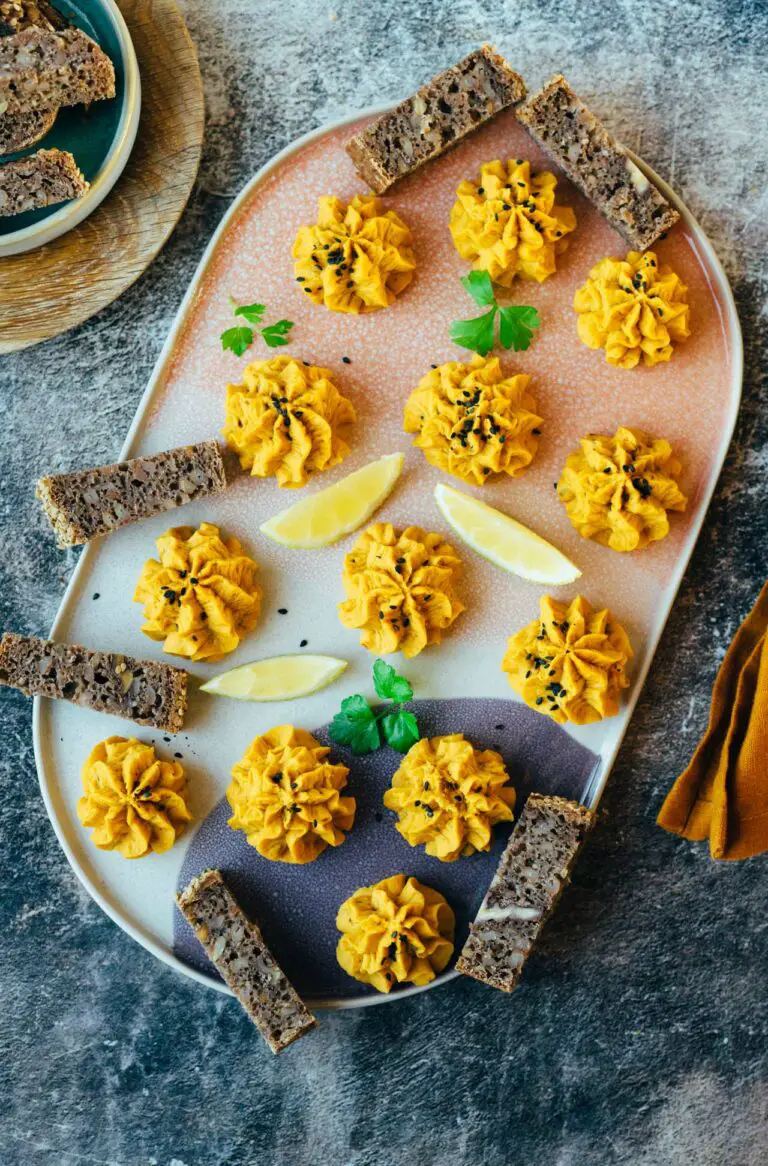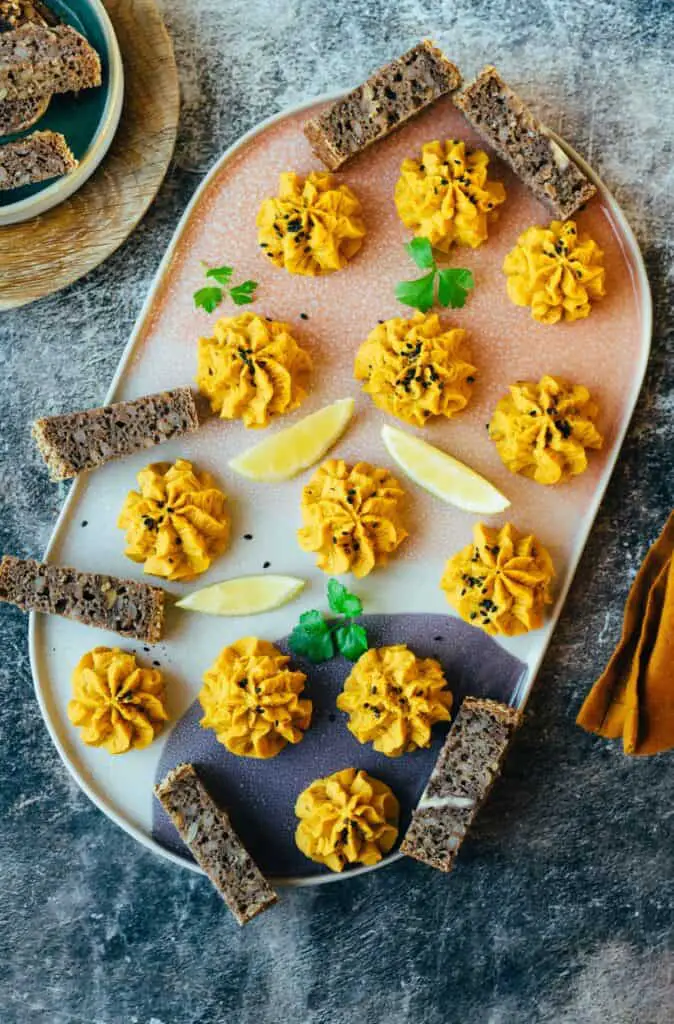 The preparation of the hummus is done in 2 steps. First, cut the sweet potato into small cubes and roast them in the oven without oil. This literally melts their natural sugars and creates excellent roasted flavors.
TIP: Oil is not necessarily needed for roasting in the oven. It can be used, but does not have to. It even makes sense to save some oil, since you'll find it in almost all processed products anyway, and strictly speaking, it's a very calorie-dense food. There is also a small amount of olive oil in our hummus today, which strictly speaking could be omitted. Calculated on the amount, I find it but not dramatic (unless you are quite strict no-fat).
Once the sweet potato cubes have cooled a bit, you're ready to go. Place cooked chickpeas, diced sweet potato, lemon juice, olive oil, garlic, salt, cumin, pepper, cayenne pepper, black pepper, tahini and freshly tasted lemon zest in a blender and blend to a fine paste. That's it, because there is nothing else to consider.
No Waste, no problem in the vegan kitchen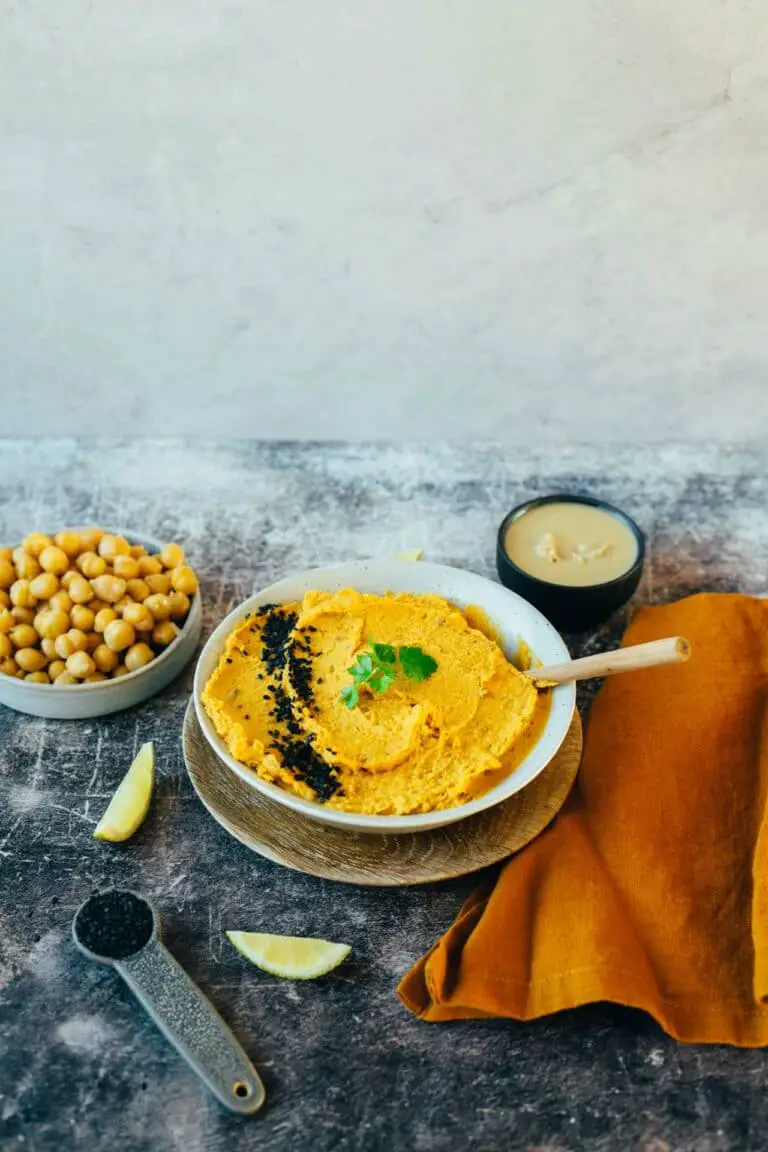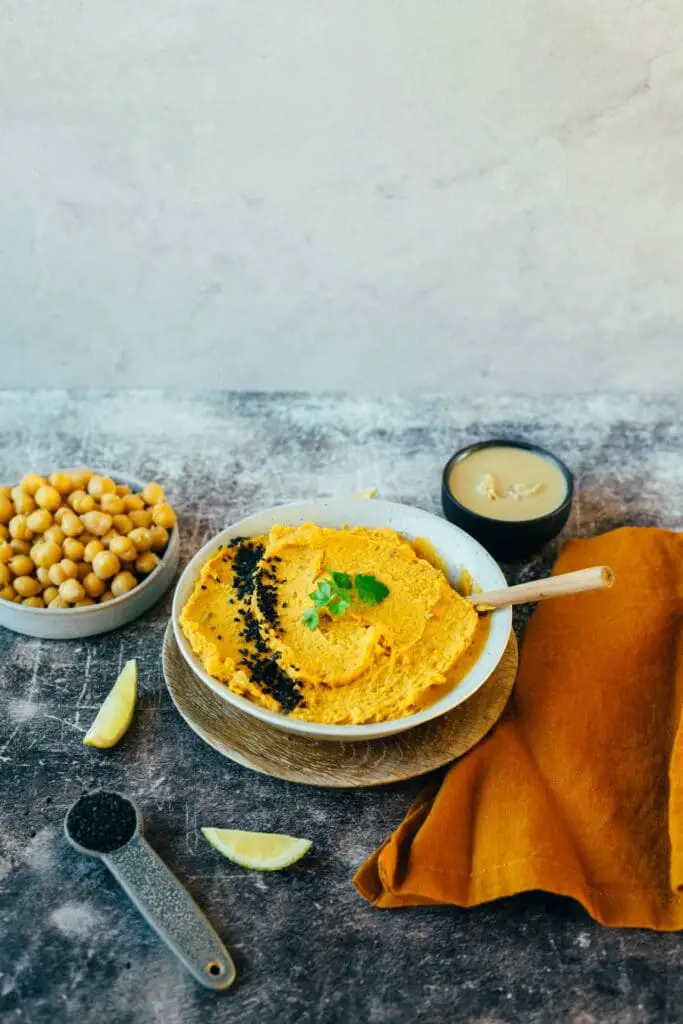 Today I would like to address a topic that is very important to me personally. No Waste, we hear more and more often, but the topic has not yet really taken root. The other day I discovered a vegan chef on Instagram who focused specifically on the topic. I found the idea exciting, because you often have virtually no idea what and how far you can process fruits and vegetables. Personally, I am often unsure and google to see if I can still use the stalk or not. That's why I've resolved to read up even more here and to keep giving you tips. Stay tuned.
TIP: For today's hummus, I applied the "no waste" principle right away, because the sweet potato is perfect for it. Maybe you already knew that the skin of the sweet potato contains a substance called Caiapo, which is very healthy and is even said to help with diabetes and high cholesterol. The skin does not contain solanine like the potato, which should be sure to peel.
What is the best way to roast sweet potatoes? Here's how:
Wash or brush (with a vegetable brush) batatas (or sweet potatoes) and remove any coarse dirt
Remove places that are not beautiful or dry ends with a small knife
Cut large beets in the middle again
Cut once lengthwise, quarter and cut into cubes
Spread evenly on a baking sheet lined with baking paper or a permanent baking mat
Roast at 215 degrees convection for 20 minutes
When ready, remove from oven and allow to cool
TIP: If you don't want to make hummus but a salad, the cubes are perfect as a crunchy topping. Together with a fine yogurt dressing an absolute treat for the palate. There will certainly be another recipe for it soon.
Do I need a blender to make it?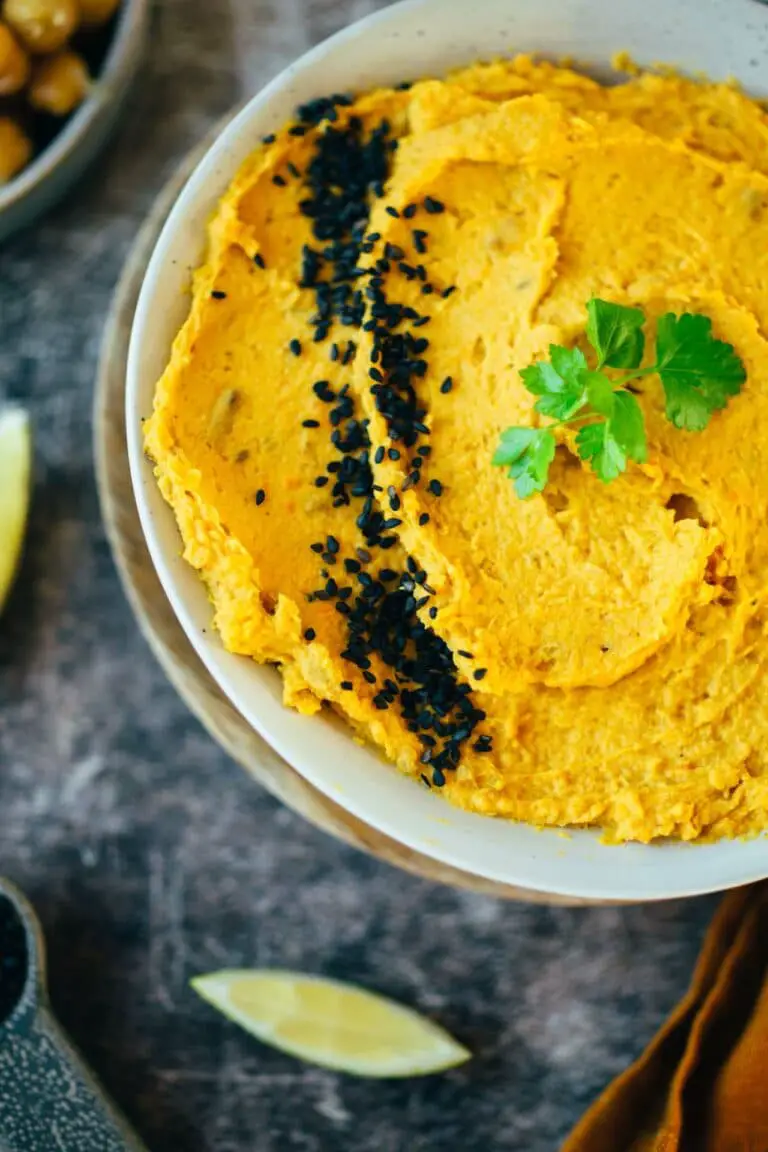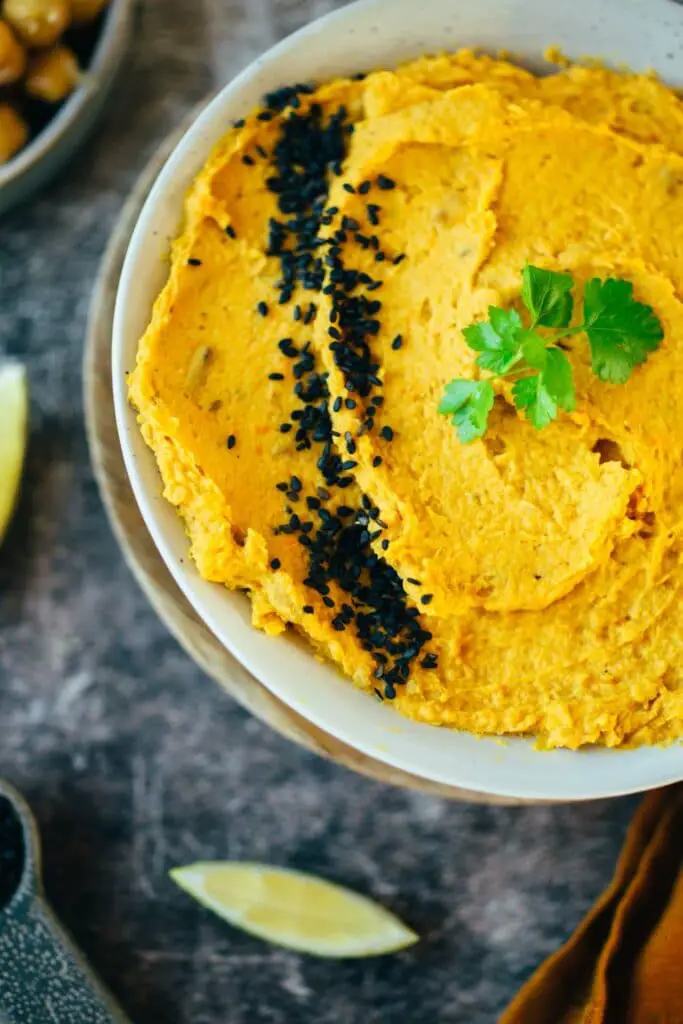 I use a Magi Mix here (unpaid brand name) because it can process really well without the addition of liquid. High-performance blenders (without pestles) usually only work really well when sufficient liquid is added.
If you don't feel like the sweet potato version today, I recommend my beetroot hummus, Spicey peanut butter spread or the white bean hummus.
Are you ready for this delicious, healthy hummus? Then I look forward to a review at the bottom of this page. If you post a picture, then like to use the hashtag #veganevibes.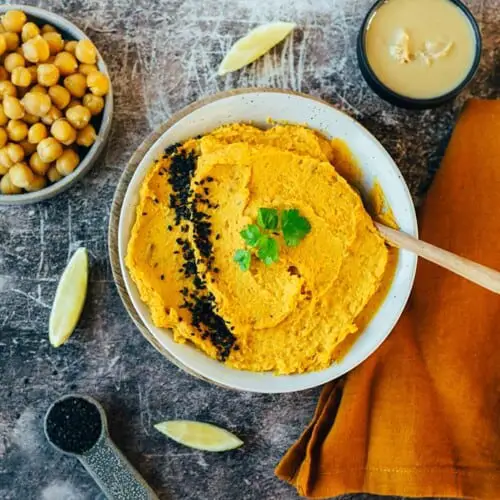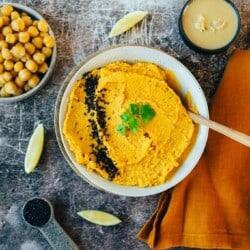 Make sweet potato hummus yourself (no waste!)
Irresistible sweet potato hummus made from fine chickpeas, roasted sweet potato and aromatic spices. Perfect as an appetizer, side dish to a bowl or just as a snack. No waste! In just 30 minutes.
AUTOR: VEGANEVIBES
1

Piece

medium sweet potato

brushed and cut into cubes with peel

425

g

Chickpeas cooked

Equivalent to a can or a jar, strained and rinsed well

60

ml

Lemon juice

¼ cup

2

Piece

Garlic cloves

Pressed

80

g

Tahini

1/3 cup

30

ml

Olive oil

2 TBSP.

1

tbspn

Salt

1

tbspn

Cumin

ground

½

tbspn

black pepper

1/8

tbspn

Cayenne pepper

zest of half a lemon

Optional: ½ freshly grated lemon zest or dried
Anleitung 
Preheat oven to 215 degrees convection (195 degrees top/bottom heat). Line baking sheet with a permanent baking mat or baking paper.

Spread sweet potato cubes on a baking sheet and place in oven. Roast for

20 minutes

.

1 Piece medium sweet potato

Remove from the oven and let cool briefly.

Provide blender. Place chickpeas, roasted sweet potato cubes, lemon juice, garlic cloves, tahini, olive oil, salt, cumin, black pepper, cayenne pepper, and lemon zest in blender and blend to a smooth paste.

425 g Chickpeas cooked,

60 ml Lemon juice,

2 Piece Garlic cloves,

80 g Tahini,

30 ml Olive oil,

1 tbspn Salt,

1 tbspn Cumin,

½ tbspn black pepper,

1/8 tbspn Cayenne pepper,

zest of half a lemon,

Optional: ½ freshly grated lemon zest or dried

Taste and season if necessary.

Pour into a bowl, smooth and finish with desired toppings.

Pour leftovers into an airtight container and store in the refrigerator. Lasts up to 5 days.
Nährwertangaben
Serving:
1
Portion
Calories:
182
kcal
Carbohydrates:
17
g
Protein:
7
g
Fat:
10
g
Saturated Fat:
1
g
Sodium:
56
mg
Potassium:
208
mg
Fiber:
5
g
Sugar:
3
g
Vitamin A:
45
IU
Vitamin C:
4
mg
Calcium:
40
mg
Iron:
2
mg