Fine orange chocolate cookies made with spelt flour, chocolate chips and pure orange flavor. Vegan cookies save my day at the moment, because the autumn shows in recent days not from its best side. That's exactly why I'm currently looking for things to cheer me up inside and out. These include, for example, my bright yellow sweater and my mustard-colored winter jacket. There are already enough people running around in winter in all-black gear. Dark jacket, shoes and cap. Hello? In addition to my yellow clothes, of course, other helpers come into play. Orange oil in the fragrance lamp and in today's cookies. Feel free to let me know if they were able to lift your spirits as well.
Vegan chocolate orange cookies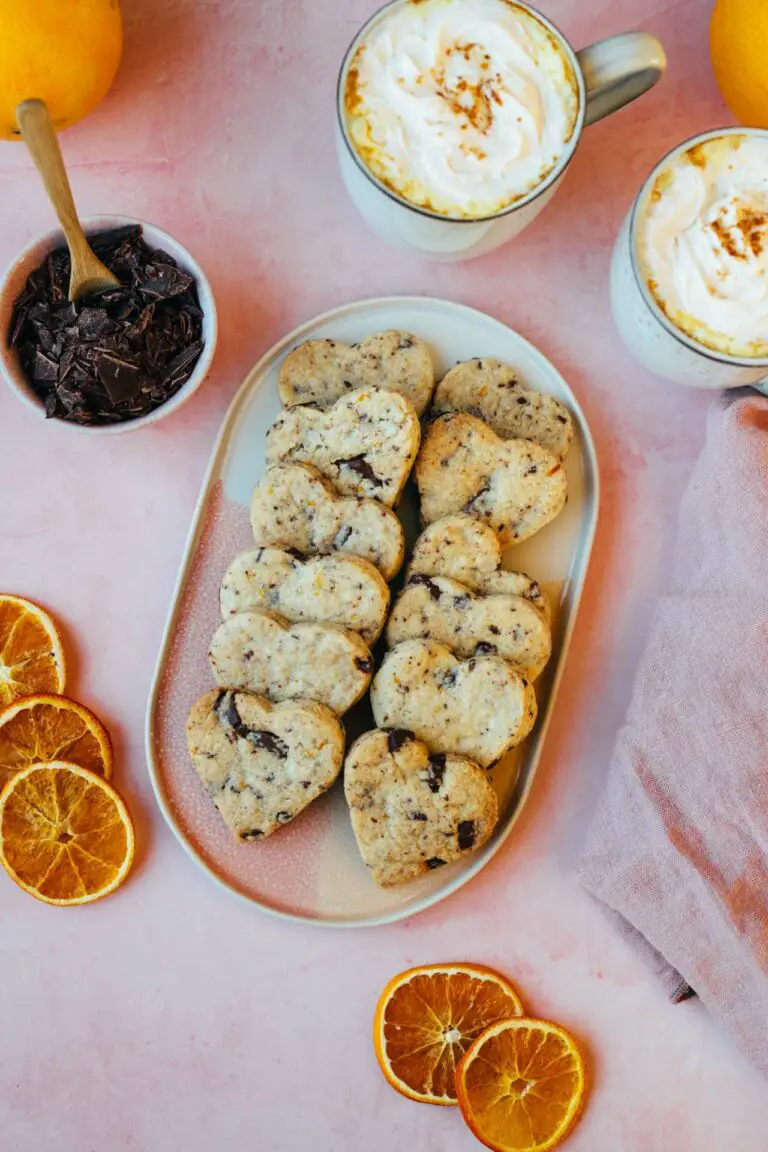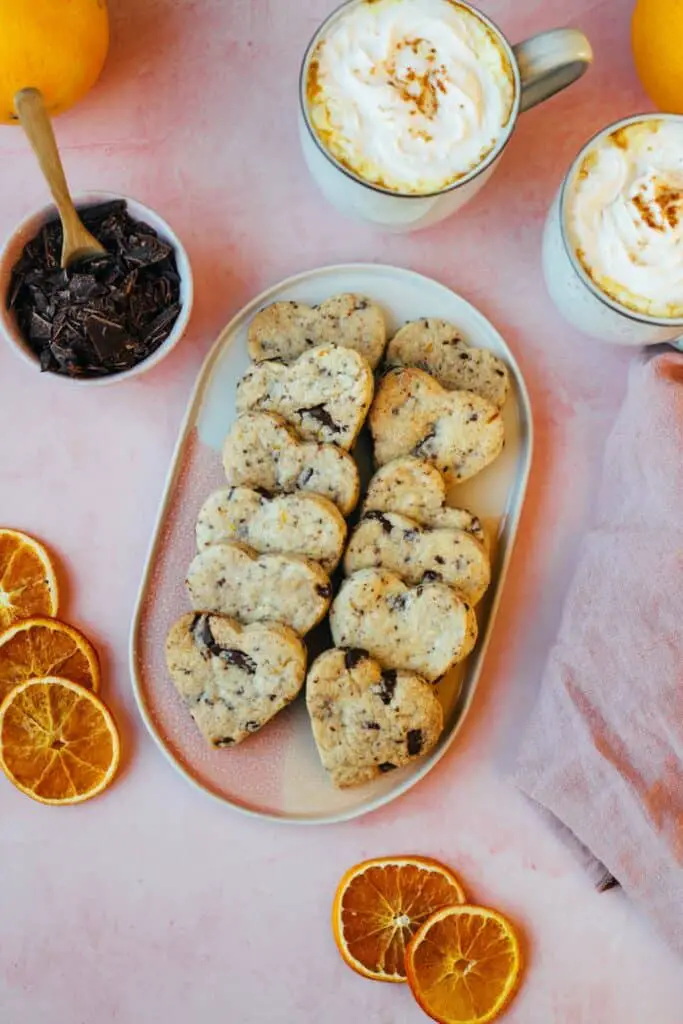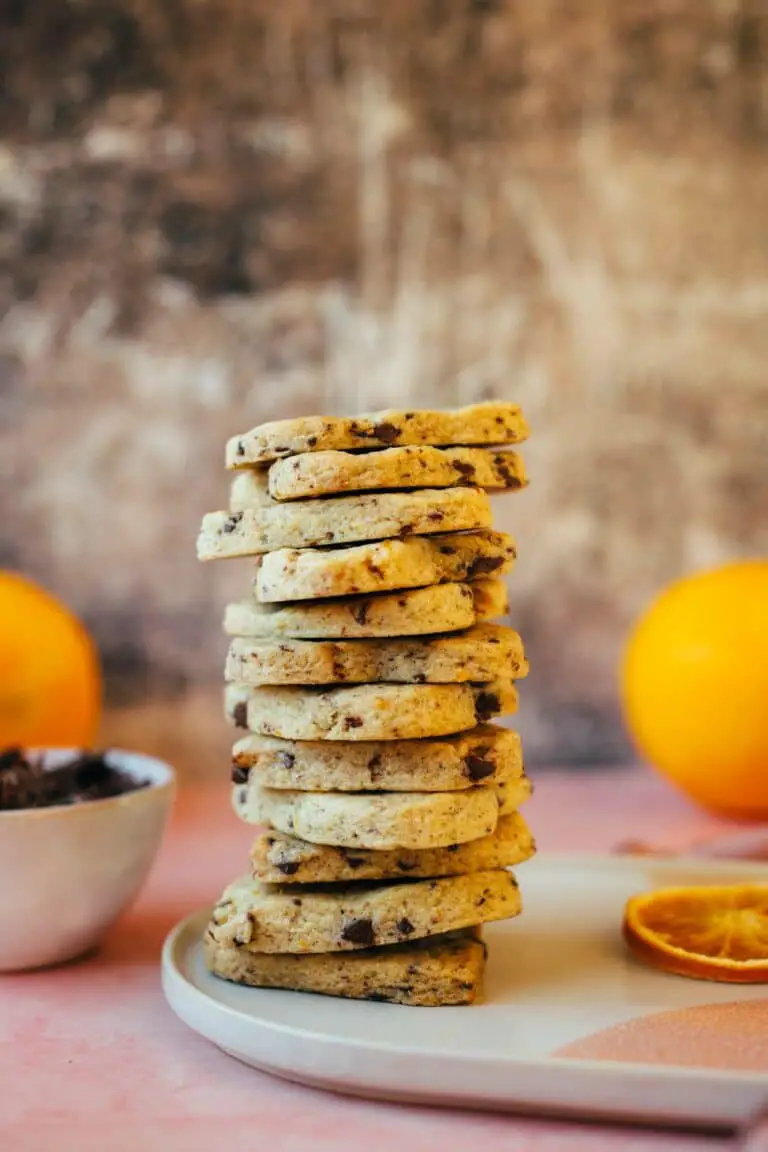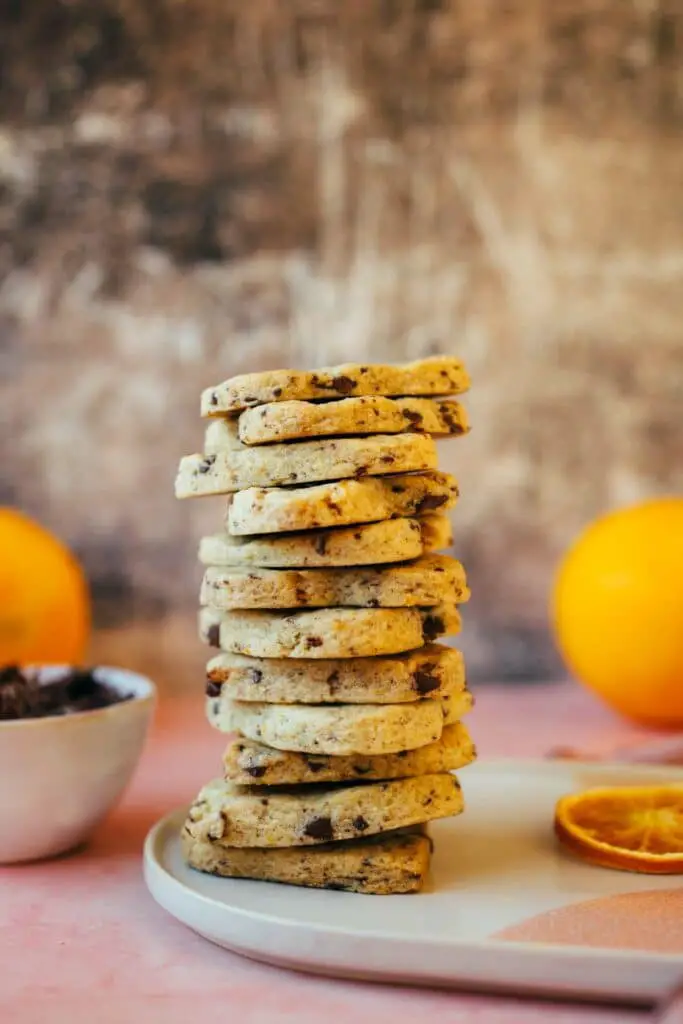 Christmas is getting closer and closer and it's the first time in my life that I'm so completely not in the Christmas spirit. Maybe I should just set up a Christmas market at home and stock up on mulled wine and cookies? The thought that perhaps not a single Christmas market will open its doors is already strange and a little sobering.
Reason enough to dedicate yourself even more intensively to your own baking skills this season. For example, with these fine cookies. They are sweet, crumbly, full of orange flavor and chocolatey bits. Simply a dream. The production takes place in simple steps, knead the dough, roll out, cut out, bake, ready!
Vegan Christmas pastry, made quickly and easily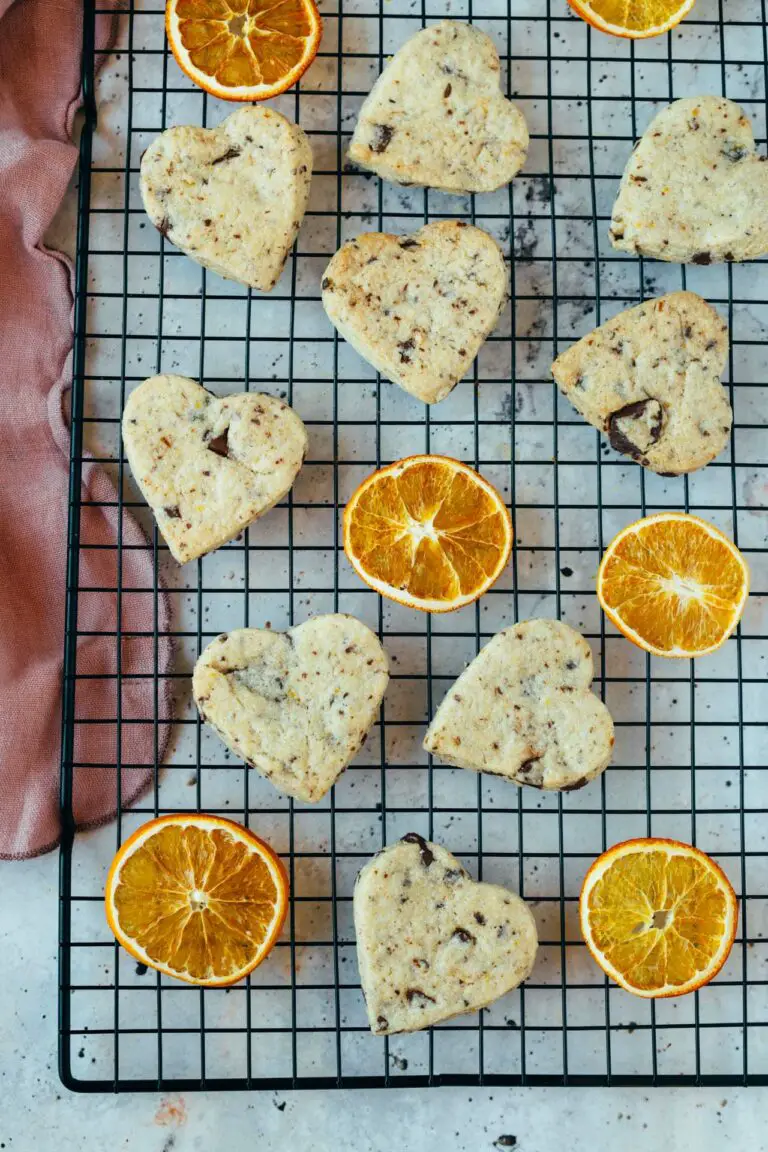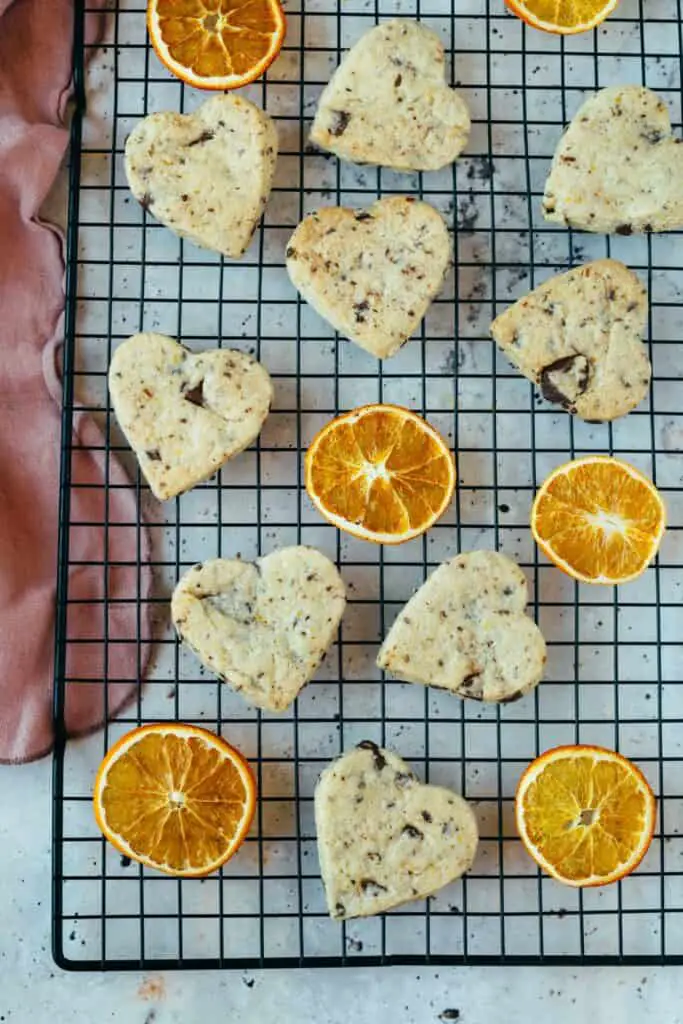 Spelt flour, corn starch, baking powder, raw cane sugar, bourbon vanilla, orange zest, flaxseed egg, margarine and dark vegan chocolate. Mix everything together to form a compact dough and roll out. I used a heart cookie cutter this time because I think we can all use a little love.
You can use any kind of cookie cutter you like. From star, to Santa Claus, to reindeer or freestyle shape.
TIP: Want to put together a delicious vegan cookie plate? Then take a look here.
Orange essential oil effect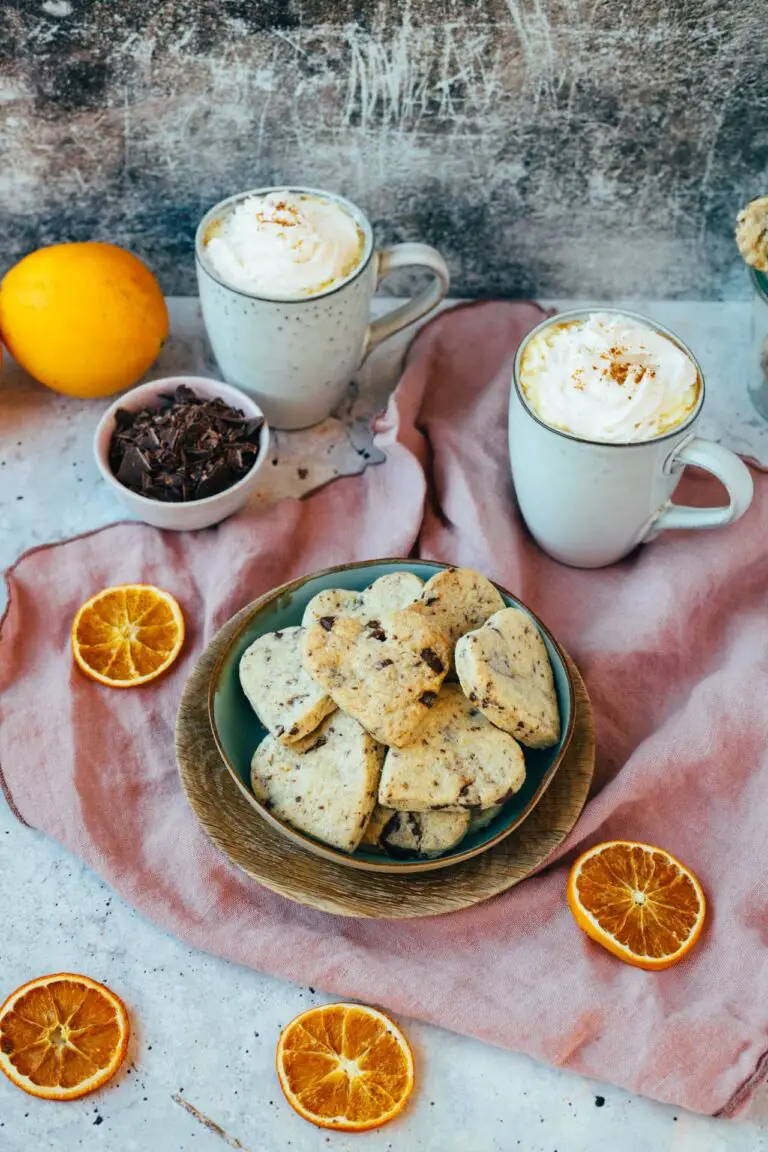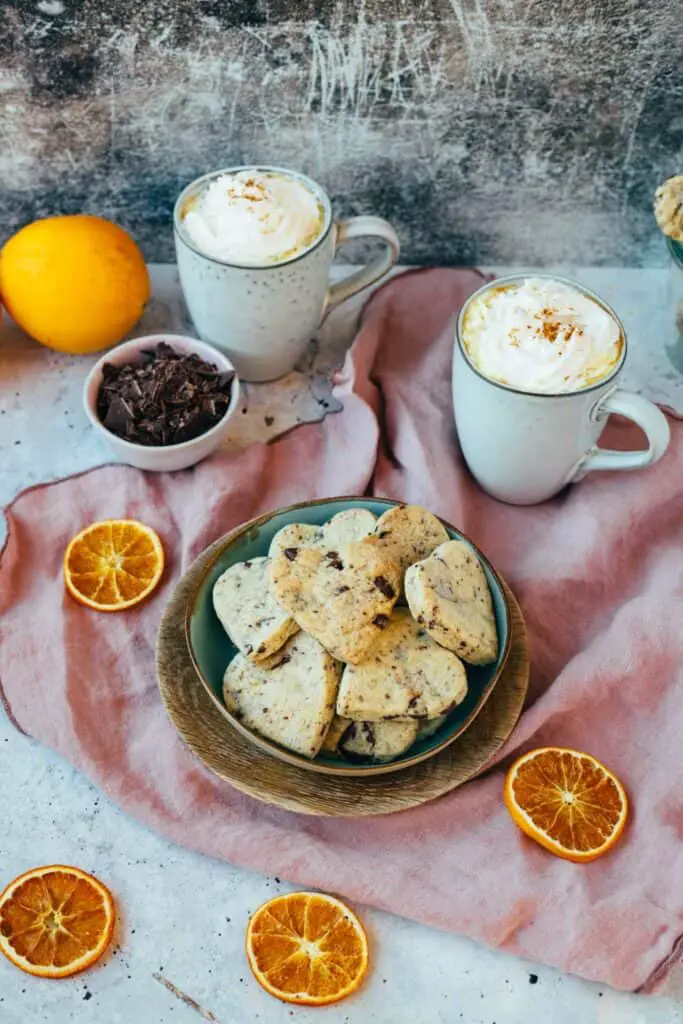 Orange essential oil is a versatile oil that can be used from Orange peel extracted. A distinction is made between orange oil (from the peel of the orange) and orange blossom oil (distillate from the flowers). For baking and cooking we use the oil from the peel, it works:
antidepressant
antibacterial
Appetite stimulating and digestive
Relaxing
Mood elevating & calming
Here are some more tips for using orange essential oil in cooking and baking:
Not all essential oils are suitable for cooking and baking, please pay attention to the package insert. I've linked you to a product in the ingredients that is food safe and can be used for baking.
Do not use undiluted, but always process in a carrier liquid or mass. In our case, we add it directly into the dough and it can spread during kneading. Your advantage is that the scent is distributed in the room right away and you benefit from it.
Less is more, please start with a few drops. Too high a dosage will result in the aroma becoming very penetrating and masking the rest of the ingredients. Some of the flavor is lost during baking, but the oils are still very intense.
These are just a few positive properties of natural orange essential oil. If you want to read more here, then I recommend you the book by Maria Kettenring . It is especially suitable for beginners and offers a wonderful guide to the world of essential oils. If you are interested in courses and seminars, I can recommend the Company Primavera recommend. I have already made there a few years ago a seminar in the field of "natural perfumes" and was very satisfied.
Vegan Christmas baking
Are you ready to make the super easy, irresistible Orange Chocolate Cookies? You are
Quickly made
sweet
fruity
simple
friable
Christmas
For a cozy coffee date, I recommend a delicious hot drink to go with it. Chai chocolate, creamy immune booster latte or the ultimate anti-cold tonic.
Here we go with these incredibly delicious vegan orange chocolate chip cookies, I hope you enjoy baking them and of course about a review at the bottom of this page. If you post a picture, feel free to use the hashtag #veganevibes.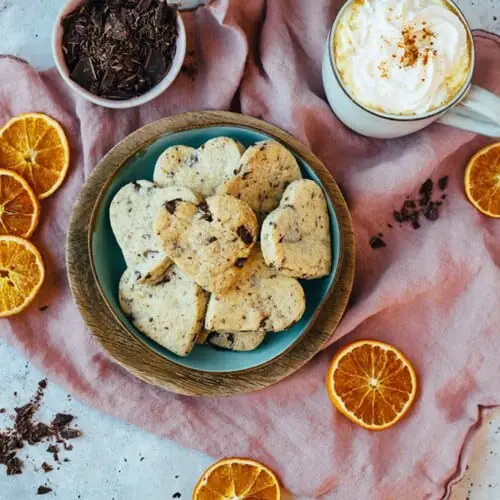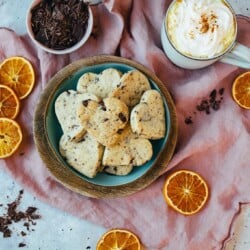 Orange chocolate cookies
Vegan orange chocolate cookies made with fine spelt flour, raw cane sugar and chocolate, refined with pure orange essential oil. A fruity-sweet temptation, perfect as a pre-Christmas pastry or for coffee in between.
AUTOR: VEGANEVIBES
1

Piece

Flax seed egg

1 tablespoon flaxseed meal + 3 tablespoons hot water, or other vegan egg alternative of choice.

200

g

Spelt flour

alternatively use another flour of your choice, for a gluten-free version use my gluten-free flour mix together with 1 tsp locust bean gum

60

g

Cornstarch

I use tapioca starch, a wonderful gluten-free alternative

1

tbspn

Baking powder

or sodium bicarbonate

80

g

Raw cane sugar

Orange zest from one organic orange

alternatively dried orange peel (but it is not as aromatic as fresh)

125

g

Margarine

100

g

dark vegan chocolate

coarsely chopped

¼

tbspn

Bourbon vanilla
Anleitung 
Heat oven to 175 degrees convection (195 degrees top/bottom heat) and line a baking sheet with baking paper or a permanent baking mat.

Freshly zest orange peel in a large baking bowl.

Add spelt flour, starch, raw cane sugar, margarine, bourbon vanilla, baking powder, flaxseed egg and 2-3 drops of pure orange oil.

1 Piece Flax seed egg,

200 g Spelt flour,

60 g Cornstarch,

1 tbspn Baking powder,

80 g Raw cane sugar,

Orange zest from one organic orange,

125 g Margarine,

¼ tbspn Bourbon vanilla

Work into an even, firm dough with your hands. This takes a little work, unless you use a food processor.

TIP: If the dough is too dry, simply add a splash of water. Please be careful and do not overdose, otherwise the dough will quickly become too mushy.

At the end, add chopped chocolate and incorporate.

100 g dark vegan chocolate

Either refrigerate the dough for a few hours or overnight, or process immediately. I did not refrigerate it and was able to process it beautifully.

Roll out on a floured surface and cut out cookies of your choice. Place on the prepared baking sheet and bake for

15 minutes

.

Baking time may vary depending on the size of the cookies and the mold used.

Once they are slightly browned on the sides, remove from the oven and let cool completely.

Enjoy together with a hot drink or just like that!

Keep in an airtight container for up to 2 weeks (if they last that long) or just let them sit in the air in a cookie tray as permanent cookies
Nährwertangaben
Serving:
1
Cookies
Calories:
75
kcal
Carbohydrates:
9
g
Protein:
1
g
Fat:
4
g
Saturated Fat:
1
g
Sodium:
43
mg
Potassium:
2
mg
Fiber:
1
g
Sugar:
3
g
Vitamin A:
149
IU
Calcium:
3
mg
Iron:
1
mg