Hot chai chocolate is the perfect winter drink. Dark vegan chocolate, cocoa and plant milk are the basis for this delicious soul candy. In addition, fine Christmas spices that will enchant you. How are you guys doing in this crazy time? When you're at home, you crave even more recipes that not only fill you up, but are also a treat for the soul. Chocolate is my first priority, whether in the form of a hot chocolate or as a sweet between meals. I agree, you shouldn't overdo it, but a little noshing to raise serotonin levels is certainly allowed.
Vegan hot chai chocolate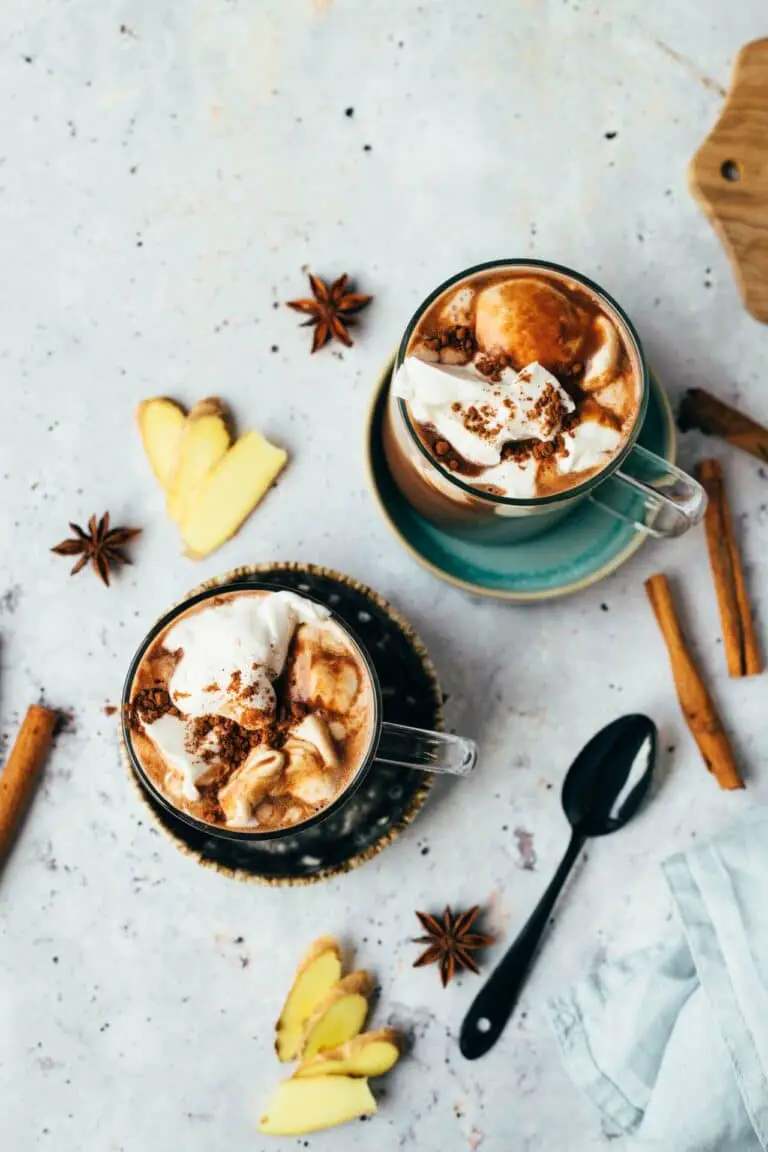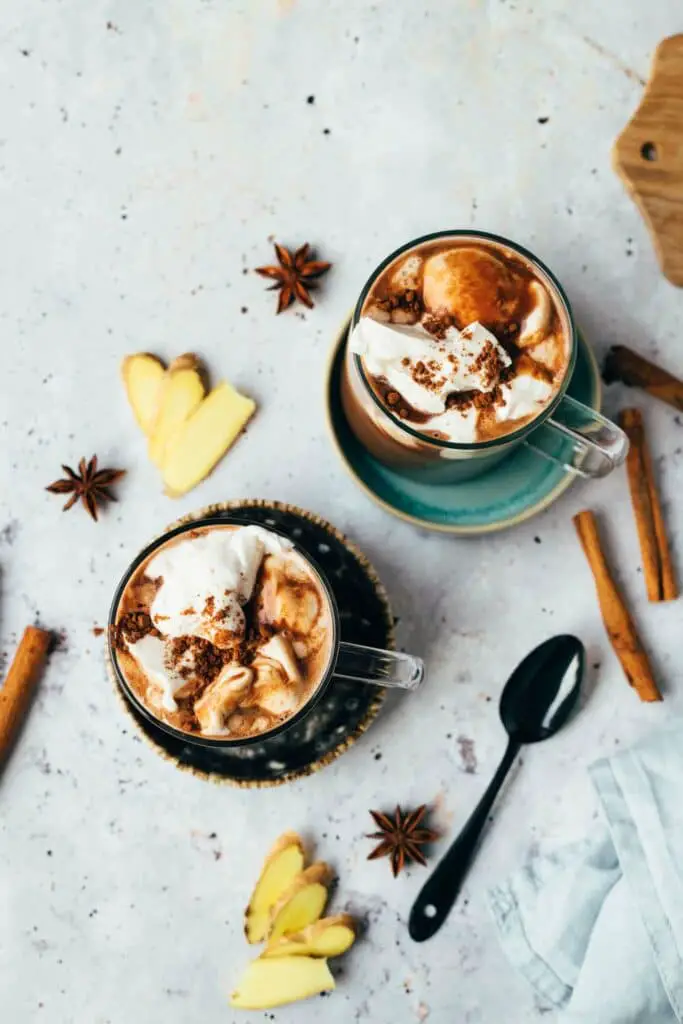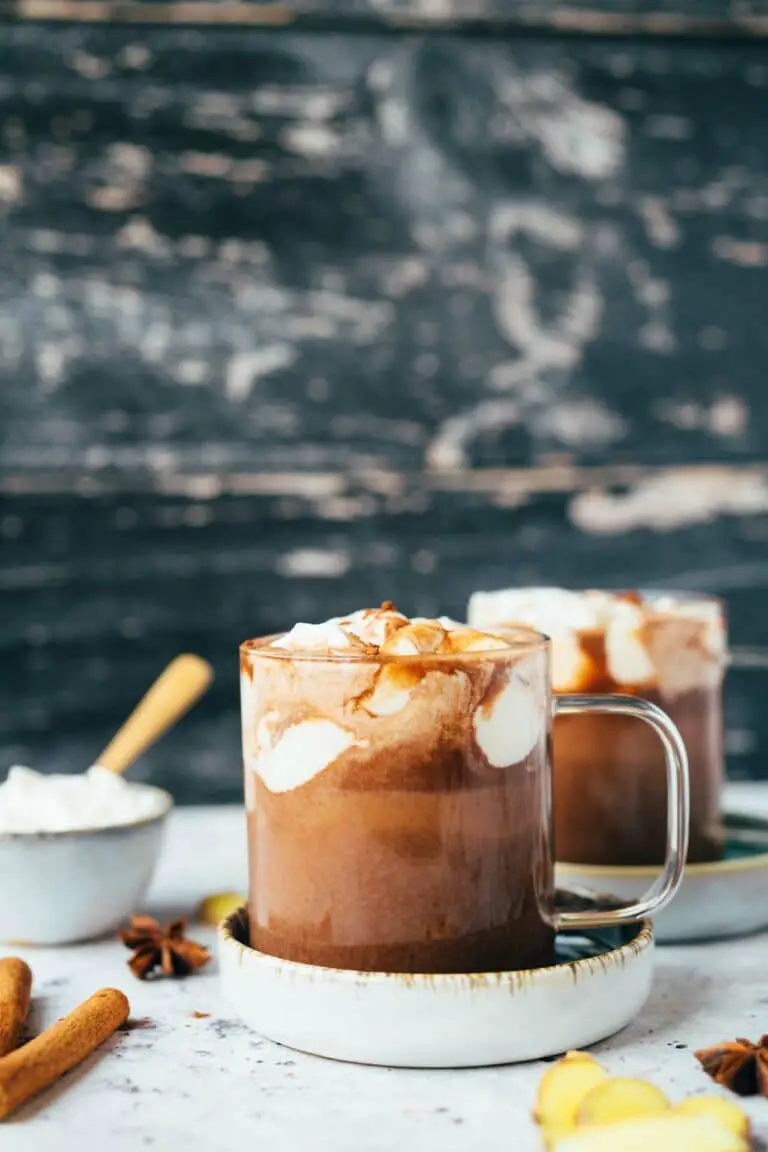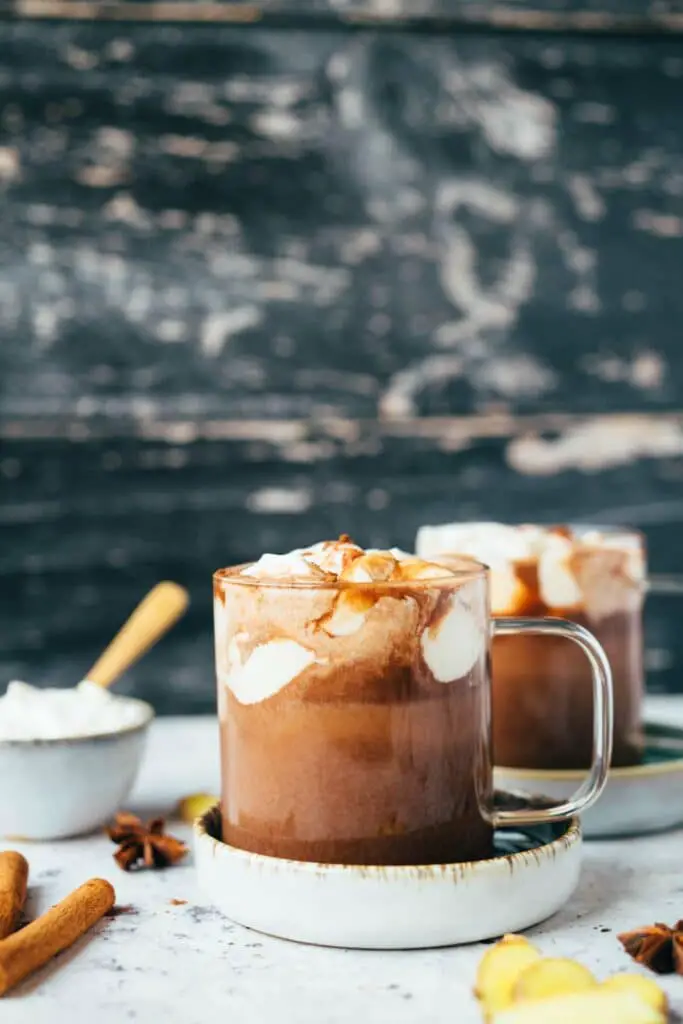 Again, a recipe that could not be simpler. Vegetable milk, cocoa, chocolate, and many Christmas spices. I use fresh ginger, cardamom, cloves and a touch of cayenne pepper. Maybe you are wondering now why exactly I put cayenne pepper in a hot chocolate? It should enhance the intensity of the chocolate even more. All right, the combination of chili and chocolate is not new. What I've found is that people either love it and hate it. In my drink comes in any case only a small pinch purely, one should not overdo it.
TIP: Cayenne pepper has a pungent substance called capsaicin. According to medical experts, it has analgesic, anti-inflammatory and antipruritic effects. This property is particularly interesting for patients with muscle pain, osteoarthritis and psoriasis.
Winter spices caress the soul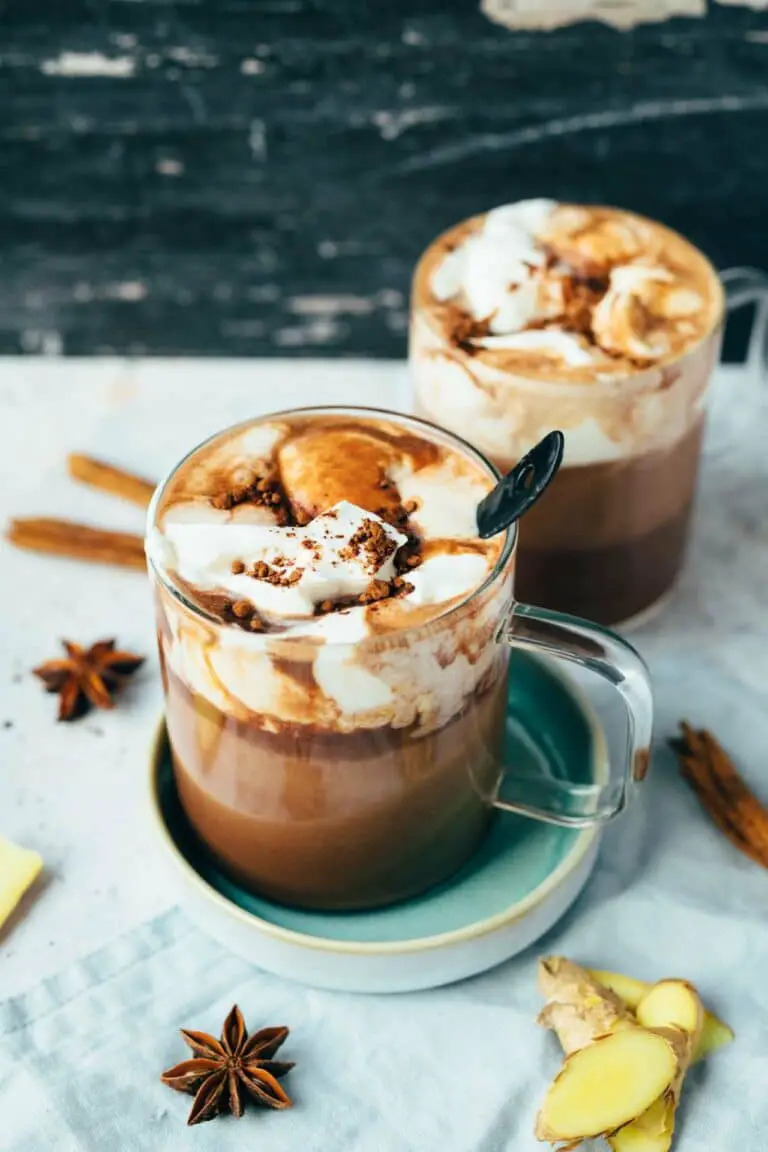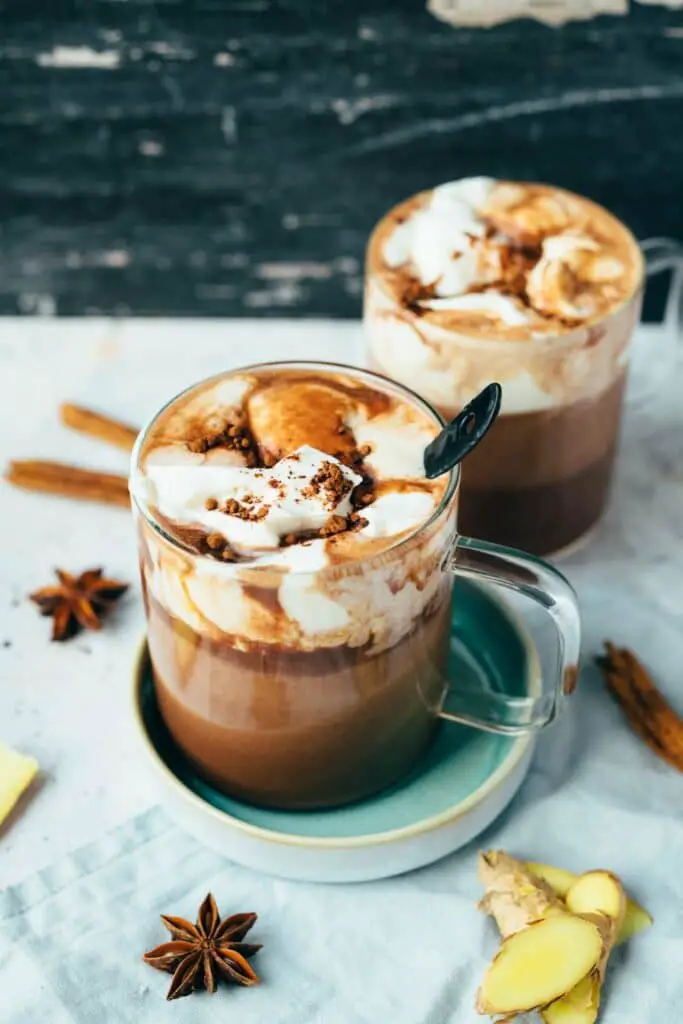 From my point of view, spices are often completely underestimated. They have a variety of beneficial properties, such as antioxidants and many other substances that can be supportive for our health. Maybe I should create a spice encyclopedia in the near future? Such a small guide with the benefits of the most important spices to have in the house.
For today, however, I'll limit myself to those that can also be found in the hot chai latte:
Ginger = is rich in healthy essential oils, gingerol, resin and resin acids. In addition, the tuber is rich in vitamin C, magnesium, iron and calcium and has an antibacterial effect. This is especially beneficial during cold season.
Cinnamon = promotes appetite and stimulates intestinal activity, can be beneficial for bloating and flatulence. In addition, the spice has a regulating effect on blood sugar levels and can help alleviate cold symptoms.
Cardamom capsules = are attributed digestive, expectorant, antispasmodic and antibacterial properties.
Cloves = contains eugenol, which has antibacterial, anti-inflammatory and analgesic properties.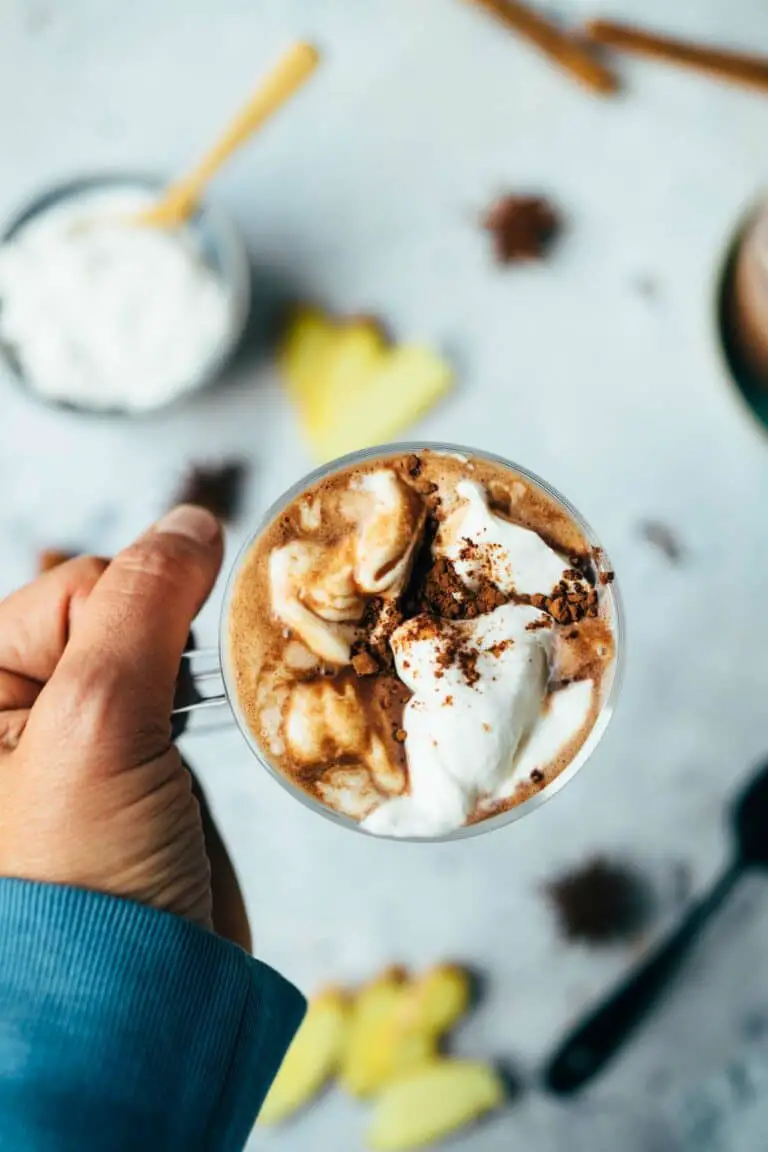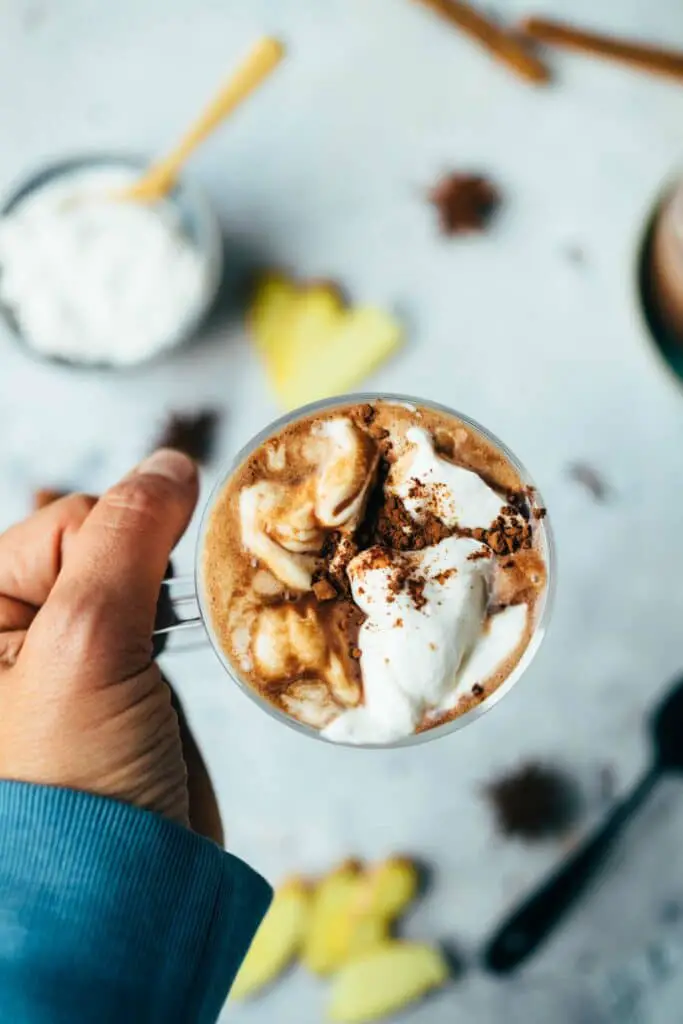 Sounds good, doesn't it? All that's missing are a few more practical tips and tricks and you're ready to go:
Plant milk: I find soy milk or my homemade oat barista milk best. NOTE: Please heat the homemade version carefully and not too much, otherwise it thickens!
Sweetener: I use raw cane sugar, for a more caramel flavor coconut blossom sugar or even maple syrup is very suitable.
Spices: Less is more! Use rather less at the beginning and then re-season. Especially when using too many cloves, it quickly becomes too bitter.
What else goes with our delicious, chocolatey and warming hot drink? A great piece of cake, preferably a gingerbread slice, pumpkin pie or coffee cake.
I'd say go for it with this hot, healthy, immune system-boosting chocolate:
Warming
aromatic
Naturally sweetened
chocolaty
Soul-flattering
It's Chocolate Chai time! If you lovethe recipe, I appreciate a review at the very bottom of this page. If you post a picture, then like to use the hashtag #veganevibes.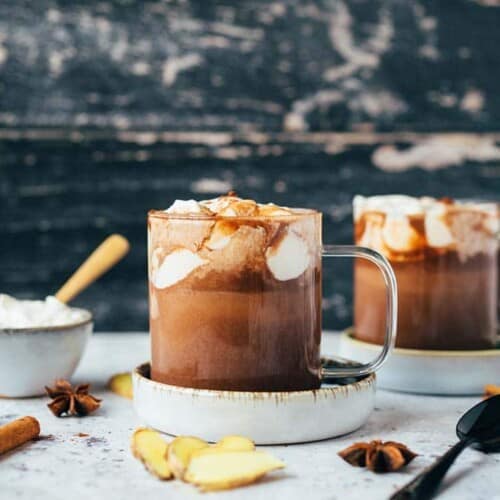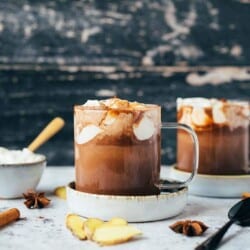 Hot chai chocolate
A deliciously warming hot chocolate with healthy chai spices. The perfect hot drink for cold winter days. Ideal for those who are looking for a healthy soul-pleaser that supports the immune forces from the inside.
AUTOR: VEGANEVIBES
500

ml

Oats Barista Milk

alternatively any other vegetable milk at will

50

g

dark vegan chocolate

finely chopped

15

g

Cocoa powder

alternatively carob powder

15

g

Raw cane sugar

alternatively coconut blossom sugar or maple syrup

1

Piece

Ginger

about 2-3 cm long, cut into slices, TIP: organic ginger does not need to be peeled.

1

Piece

Cinnamon stick

or 1 tsp cinnamon, ground

½

tbspn

Cardamom ground

or 4 cardamom capsules, slightly cut with a knife so that they are open

3

Piece

Cloves whole

or ¼ tsp cloves ground
TOPPING:
Vegan cream to taste

Chocolate grated
Anleitung 
Place two cups of milk, chocolate, cocoa, raw cane sugar, ginger slices, cinnamon stick, cardamom and cloves in a small saucepan, stir briefly and heat gently. CAUTION DO NOT COOK! Otherwise, especially thicken homemade oat milk.

500 ml Oats Barista Milk,

50 g dark vegan chocolate,

15 g Cocoa powder,

15 g Raw cane sugar,

1 Piece Ginger,

1 Piece Cinnamon stick,

½ tbspn Cardamom ground,

3 Piece Cloves whole

Let spices steep in the hot (not boiling) milk for about

5 minutes

and then drain through a hair strainer.

Pour into 2 cups and optionally top with vegetable cream, chocolate shavings and cinnamon. enjoy!

Vegan cream to taste,

Chocolate grated,

A little cinnamon powder

Best fresh, but can be super heated (without toppings).
Notizen
Sources:
smarticular. net, ecodemy.de
Nährwertangaben
Serving:
1
Cup
Calories:
84
kcal
Carbohydrates:
13
g
Protein:
3
g
Fat:
4
g
Saturated Fat:
1
g
Sodium:
327
mg
Potassium:
114
mg
Fiber:
4
g
Sugar:
8
g
Calcium:
310
mg
Iron:
1
mg