Vegan gingerbread slices with speculaas crumble. I think the name says it all. In the positive, as in the negative. Negative? Yeah, kind of, because I would love to eat a lot more of it, but then I'm sure I won't fit into my favorite jeans soon. Positive in any case, because this recipe is an absolute godsend. It's simple to make and incredibly delicious. The base is soft and fluffy, topped with the crunchy chocolate cover, refined with crispy crumble of speculaas. Need I say more? This pastry will definitely see me through all the bad days this fall and winter . Goodbye bad mood. Coffee machine on and enjoy!
Vegan gingerbread slices with speculaas crumble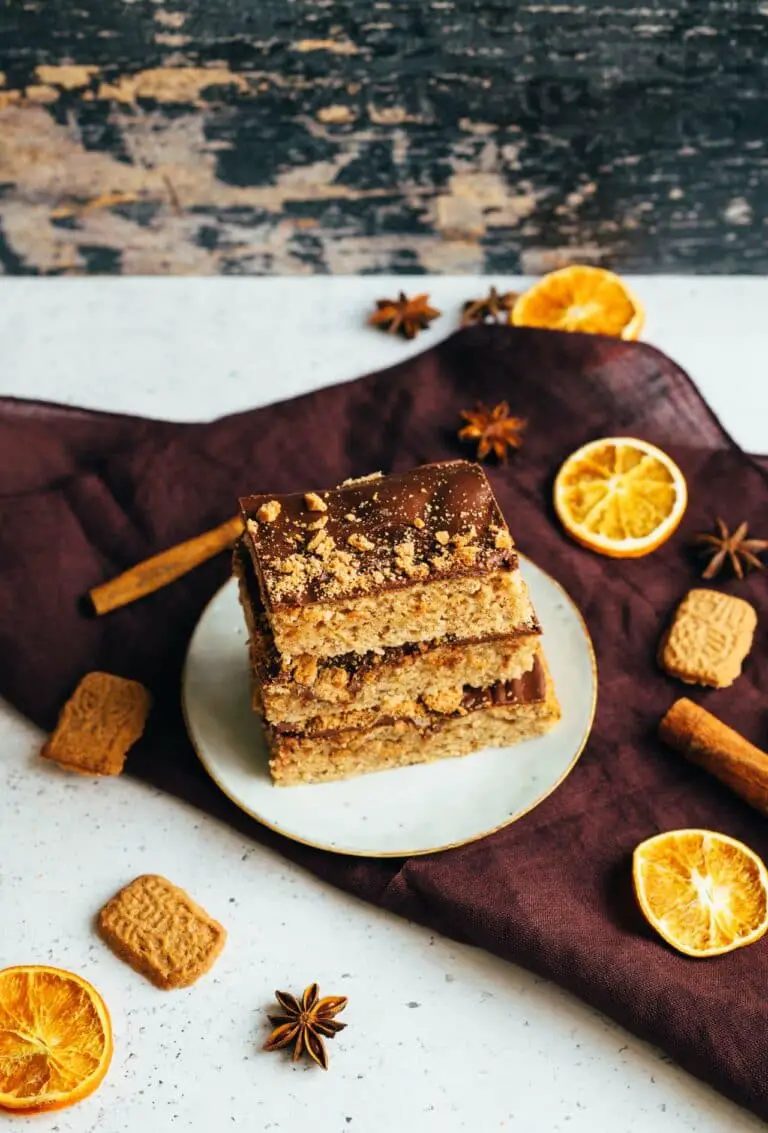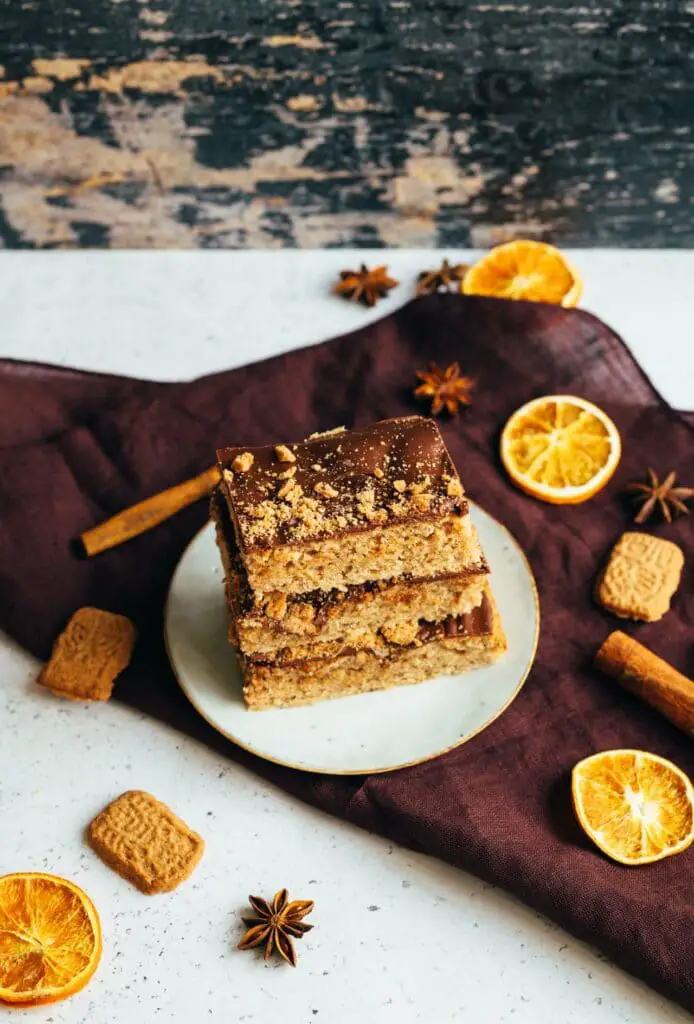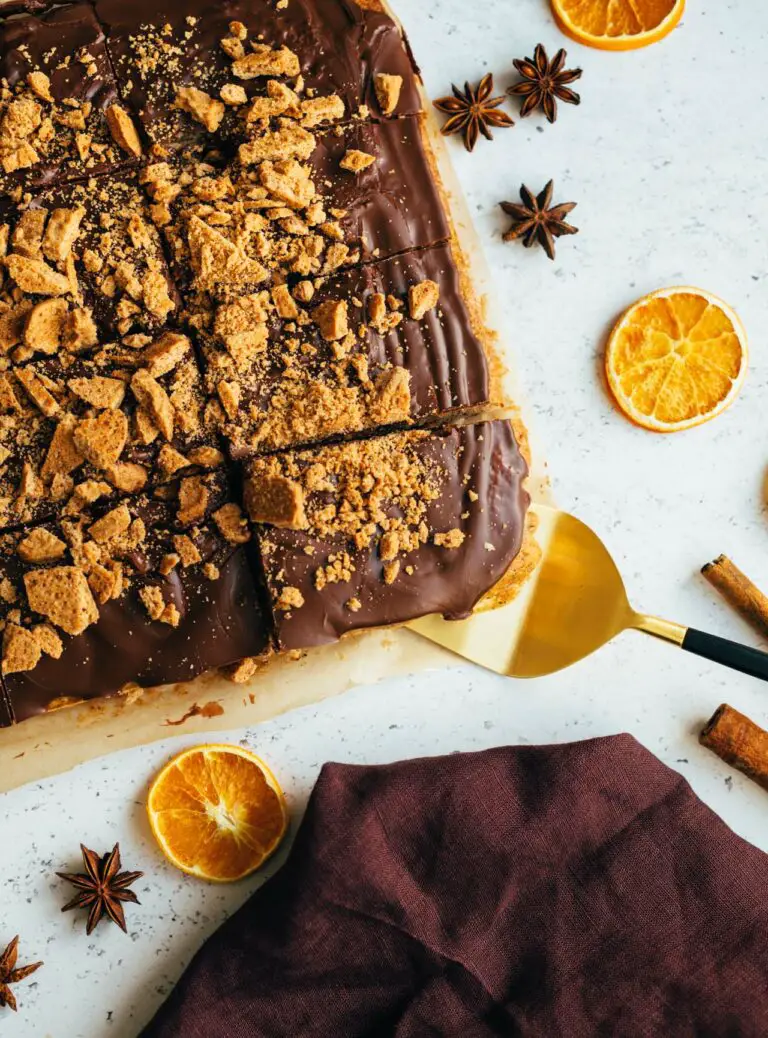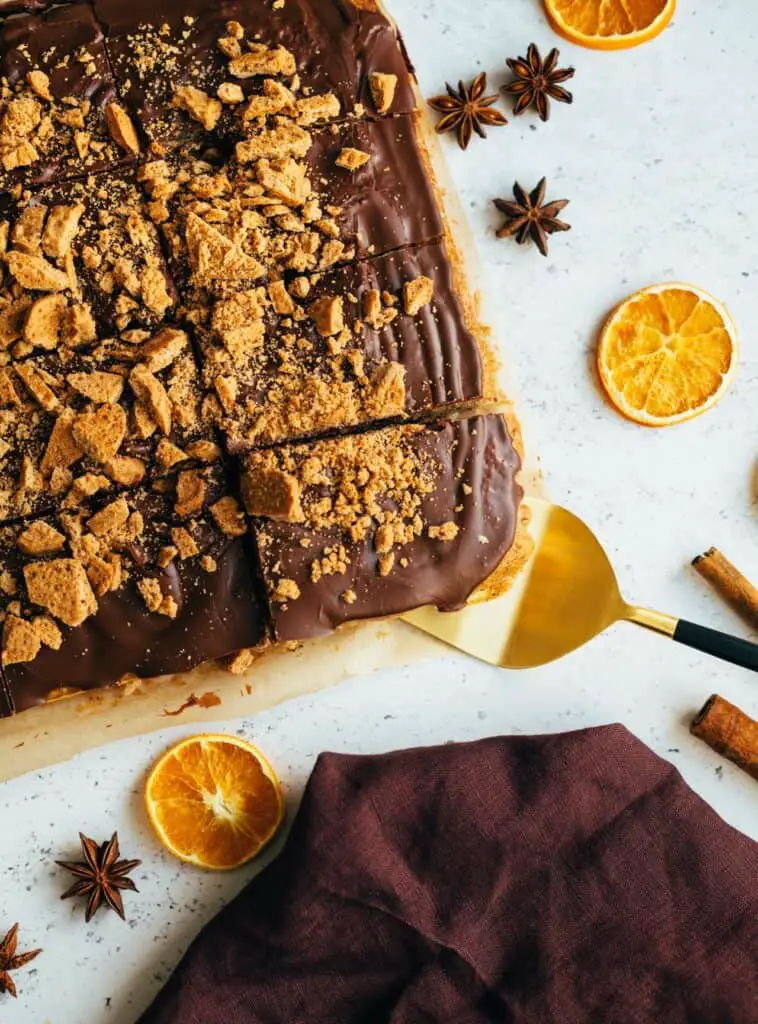 Actually, I wanted to bring another gingerbread recipe, however, none really appealed to me. Then at some point I came up with the idea of simply making a Christmas dough and voilà the idea was born. Of course, the certain extra should not be missing and there fell with the Spekulatius cookies. They are, after all, quite crispy by nature and what's wrong with just crumbling them over the slices.
The production is really simple and fast. Here are the three steps for the recipe:
Step 1: Make dough for the base and bake in a baking tray
Step 2: Melt chocolate and mix together with 2 tablespoons of oil (this makes the chocolate a tad softer).
Step 3: crumble ready-made speculoos or a homemade variety and sprinkle on the still soft dough. Ready!
For the base we need spelt flour, raw cane sugar, almond flour, gingerbread spice, baking powder, bourbon vanilla, margarine, flaxseed egg, maple syrup and vegetable milk. I bake the dough on a baking tray with a size of 39,8×26,4x3cm. The model is from Kitchen Aid and I got it as a gift from my brother-in-law some time ago. For this purpose it is ideal, however, you can use any other sheet.
TIP: Depending on whether you use a larger, or smaller baking sheet, your cake will be taller or flatter. The baking time can also change. It is always best to do the chopstick test and check that a wooden chopstick comes out clean. If yes, the cake is ready. If not, increase the baking time and check again.
Gingerbread and Christmas – an inseparable combination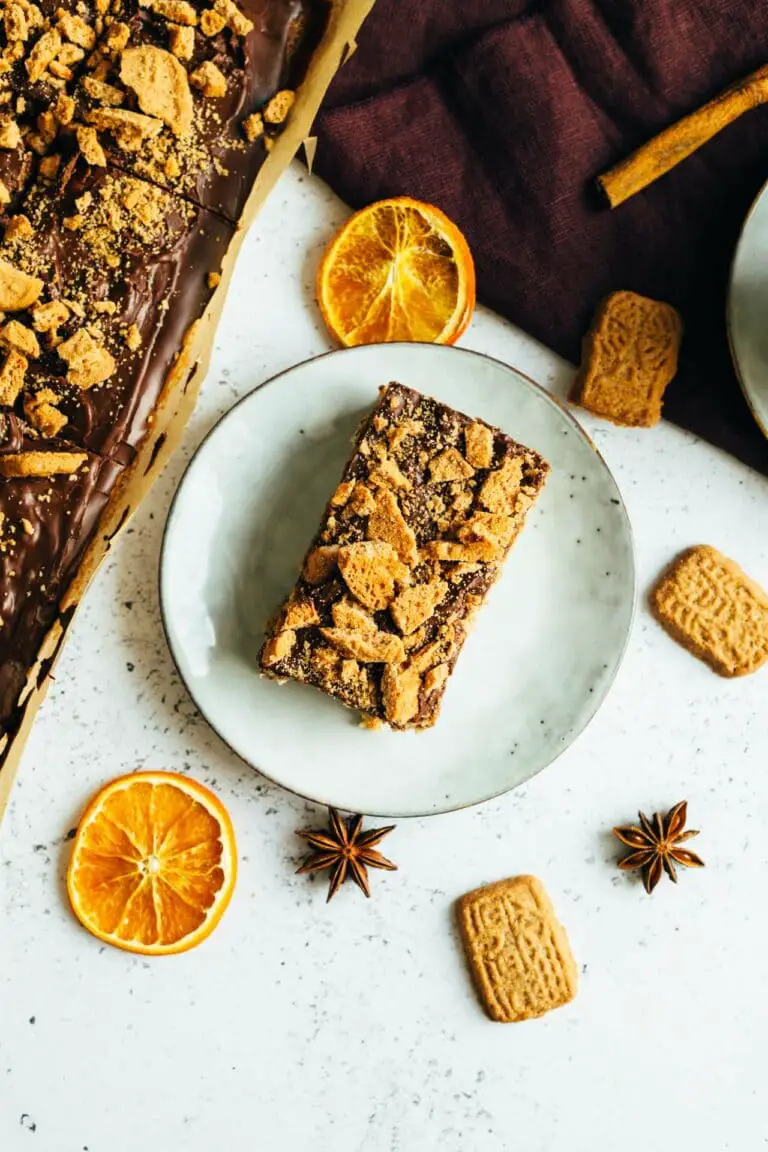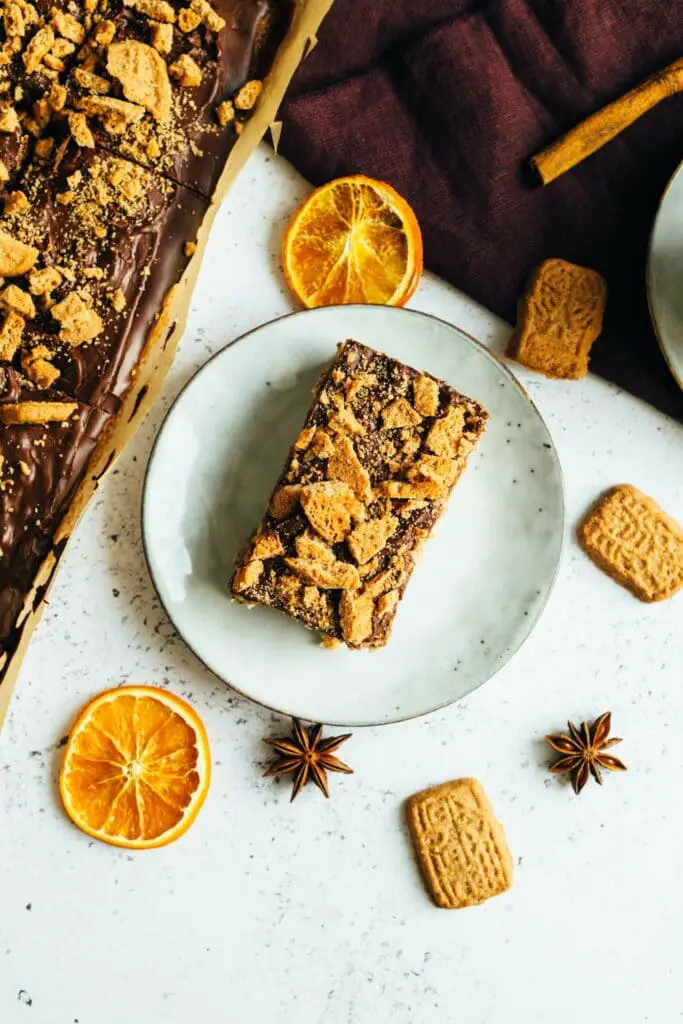 What can go wrong and what is there to consider?
Here are my tips and tricks for a successful baking experience:
Always line baking pan with parchment paper or grease really well. There is nothing worse than having to scrape the cake out of the pan. This not only damages the sheet metal, but also the mood.
Gluten-free option: this is more of a tip than a pitfall. For the gluten-free version, replace the spelt flour with my gluten-free flour blend and add 1 tsp carob bean gum or 2 tbsp tapioca starch. This way you get a great airiness to the dough without it crumbling too much.
Feel free to replace margarine with a frying or baking oil, or any other neutral-tasting oil.
The chocolate or couverture should be of good quality, otherwise it can quickly become bitter. I've linked you my favorite chocolate glaze below. Always melt chocolate carefully in a water bath and do not let it get too hot, otherwise it can cause unsightly stains when it cools.
Speculoos are optional, if you don't have any on hand, just leave them out.
That's it with my top tips and tricks, which are quite manageable this time. I can promise you that this recipe will blow away all lovers of cakes and especially gingerbread. If stricter Corona rules come up again, then it's worth having a pick-up version to give to your loved ones this holiday season.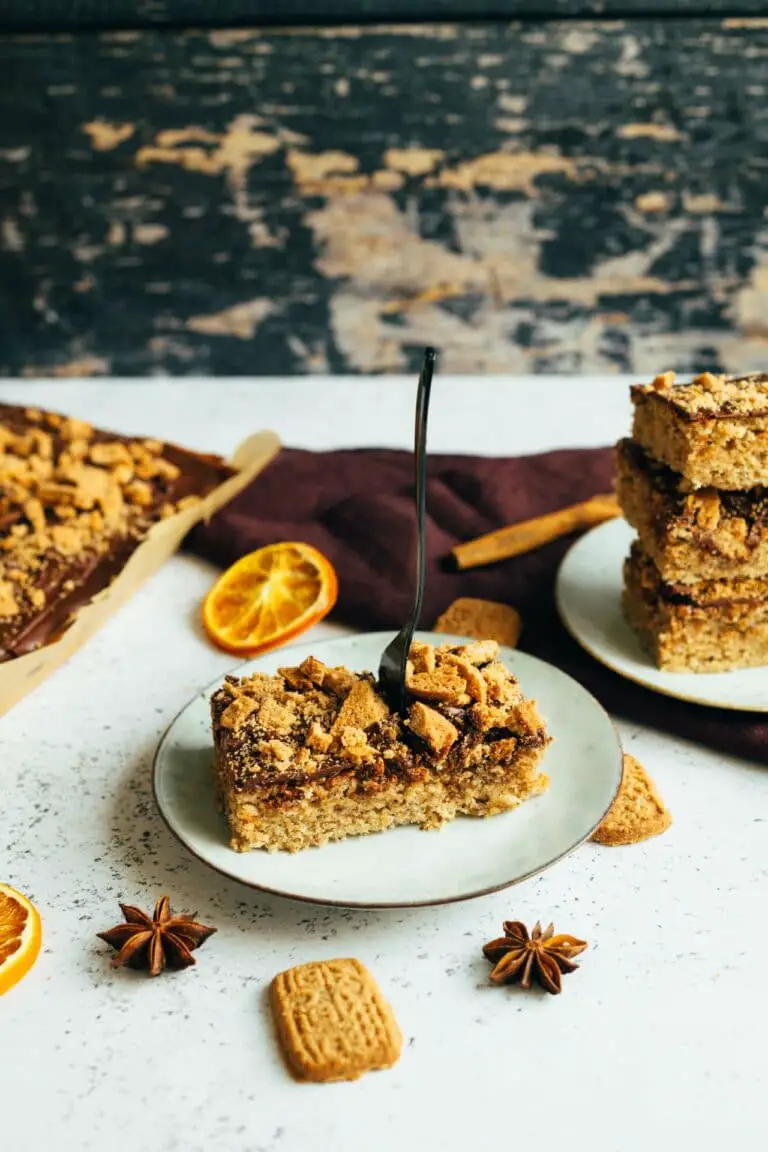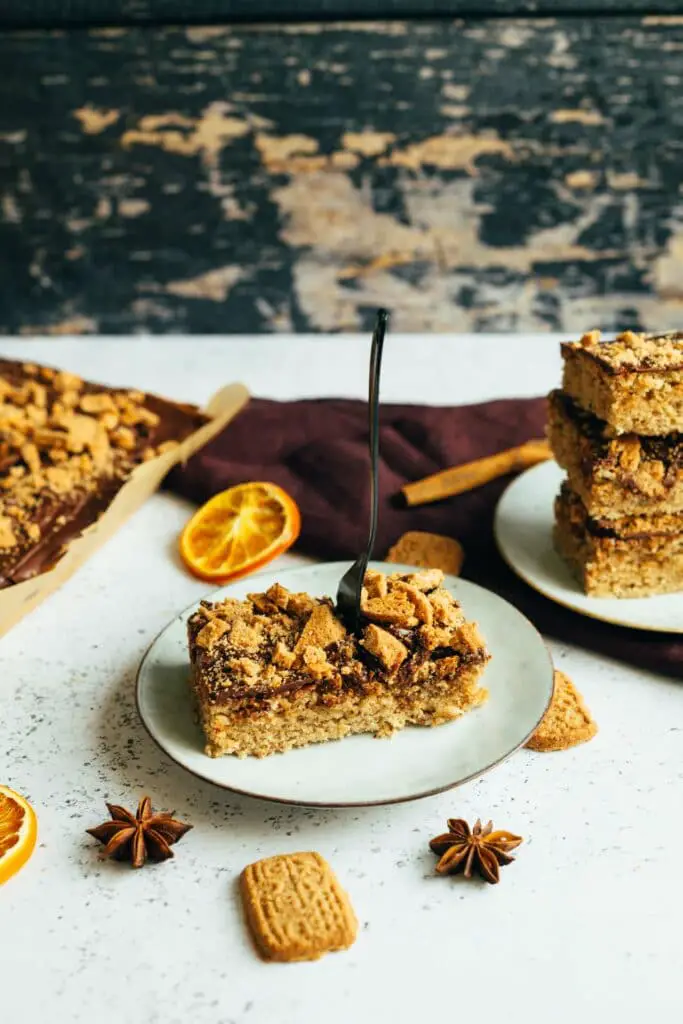 Are you ready to try the super delicious, irresistible gingerbread slices with speculaas crumble? You are
Irresistible
sweet
chocolatey
simple
nutty
Christmas
Perfectly match my other 21 recipes for cookies and more. Of course, a hot drink can not be missing, my Pumpkin Spice Latte, creamy Immune Booster Latte or the ultimate anti-cold tonic. You have the choice.
Let's go with these delicious, Christmas and vegan gingerbread slices, I hope you enjoy baking them and of course about a review at the bottom of this page. If you post a picture, use the hashtag #veganevibes.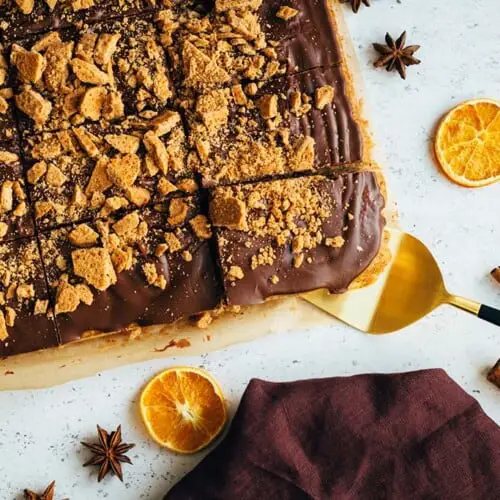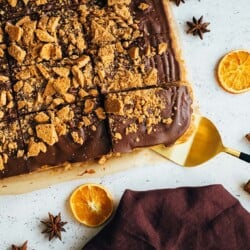 Vegan gingerbread slices with speculaas crumble
Vegan gingerbread slices with speculaas crumble made from a fluffy dough with ground hazelnuts and gingerbread spice. Topped with fine chocolate and a crispy crumble of speculaas. Perfect with a delicious hot drink on a wintry afternoon.
AUTOR: VEGANEVIBES
FOR THE GINGERBREAD DOUGH:
FOR THE CHOCOLATE SPECULOOS TOPPING:
200

g

dark

vegan chocolate

100

g

Speculoos

if not at hand simply omit
Anleitung 
Prepare flaxseed eggs, set aside and steep (3 tablespoons ground flaxseeds and 9 tablespoons or 135ml hot water).

Heat the oven to 175 degrees (convection) or 195 degrees (top/bottom heat) and use a rectangular baking tray measuring 40x26x3cm or similar. The thickness of the cuts may vary slightly with the size of the sheet used.

FOR THE LEAVING CAKE Dough Place spelt flour, raw cane sugar, ground hazelnuts, gingerbread spice, baking powder and bourbon vanilla in a large baking bowl and whisk until all dry ingredients are well combined and clumps are dissolved. Add melted margarine, flaxseed eggs, maple syrup and vegetable milk.

300 g Spelt flour,

200 g Raw cane sugar,

100 g Hazelnuts,

3 tbspn Baking powder,

2 tbspn Gingerbread spice,

¼ tbspn Bourbon vanilla,

150 g Margarine,

45 ml maple syrup,

250 ml Plant milk,

3 Piece Flaxseed eggs

Blend with a whisk or silicone spatula until smooth. Check consistency, the dough should be soft but not too liquid (see video). If too dry, add more vegetable milk; if too runny, add more flour.

Pour batter into the pan and spread with a silicone spatula until the bottom is evenly covered.

Place in oven and bake for

30 minutes

, until a wooden pick comes out clean. Otherwise, extend baking time.

Remove from the oven and let cool.

In the meantime, carefully melt chocolate over a water bath. Set aside.

Pour over the sheet cake and spread. Crumble speculoos in hand and spread over chocolate. Allow to set at room temperature.

Cut the cake into rectangles as desired and enjoy.

Enjoy together with a hot drink or just like that!

Store in an airtight container at room temperature for up to 5 days or in the refrigerator for up to one week.
Nährwertangaben
Serving:
1
Piece
Calories:
179
kcal
Carbohydrates:
15
g
Protein:
2
g
Fat:
12
g
Saturated Fat:
2
g
Sodium:
59
mg
Potassium:
39
mg
Fiber:
2
g
Sugar:
7
g
Vitamin A:
198
IU
Vitamin C:
1
mg
Calcium:
24
mg
Iron:
1
mg