Baked oatmeal is what has been missing in my Breakfast collection was still missing. Warm oatmeal sweetened with banana and maple syrup is my dream come true. Still is here in Bavaria output restriction announced and I hope really very much that the whole thing will soon be superfluous. Of course, I don't want anyone to fall ill, but I do wish it for the many store owners and people who may lose their jobs due to the crisis. We should always keep in mind that we can do a lot for our immune system ourselves. Immune system can do. These small and effective measures are now very well documented. Starting with meditation to deal with stress or a plant-based diet with many secondary plant substances, to a good and restful sleep. Oatmeal is just as much of a boon to our bodies, so I'd suggest we get right to it with this sweet breakfast dream.
Baked Oatmeal Chocolate Banana Style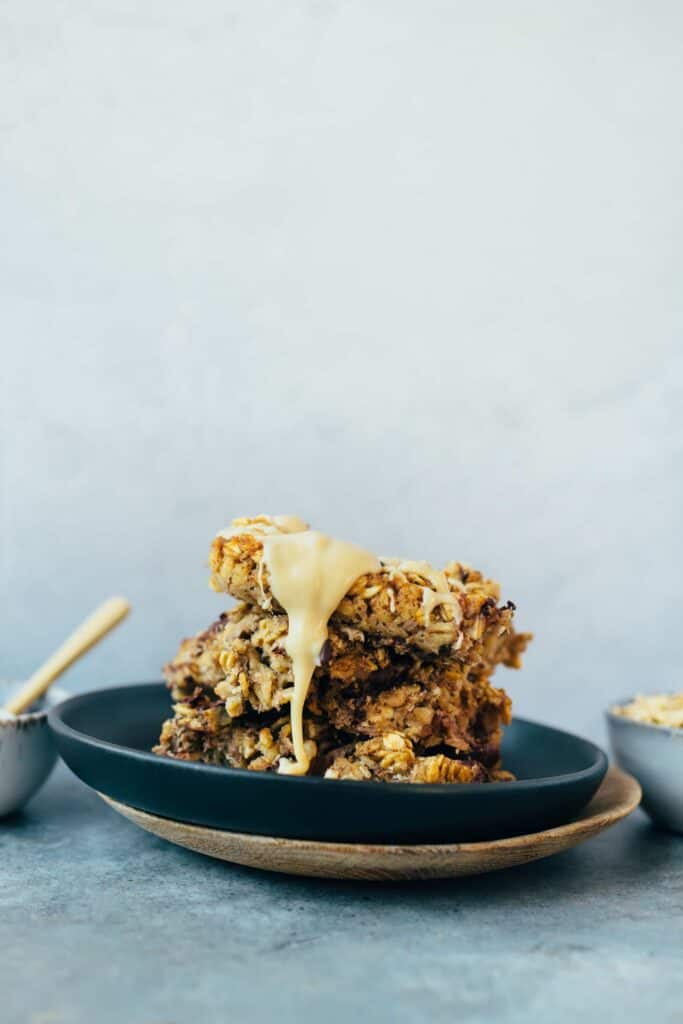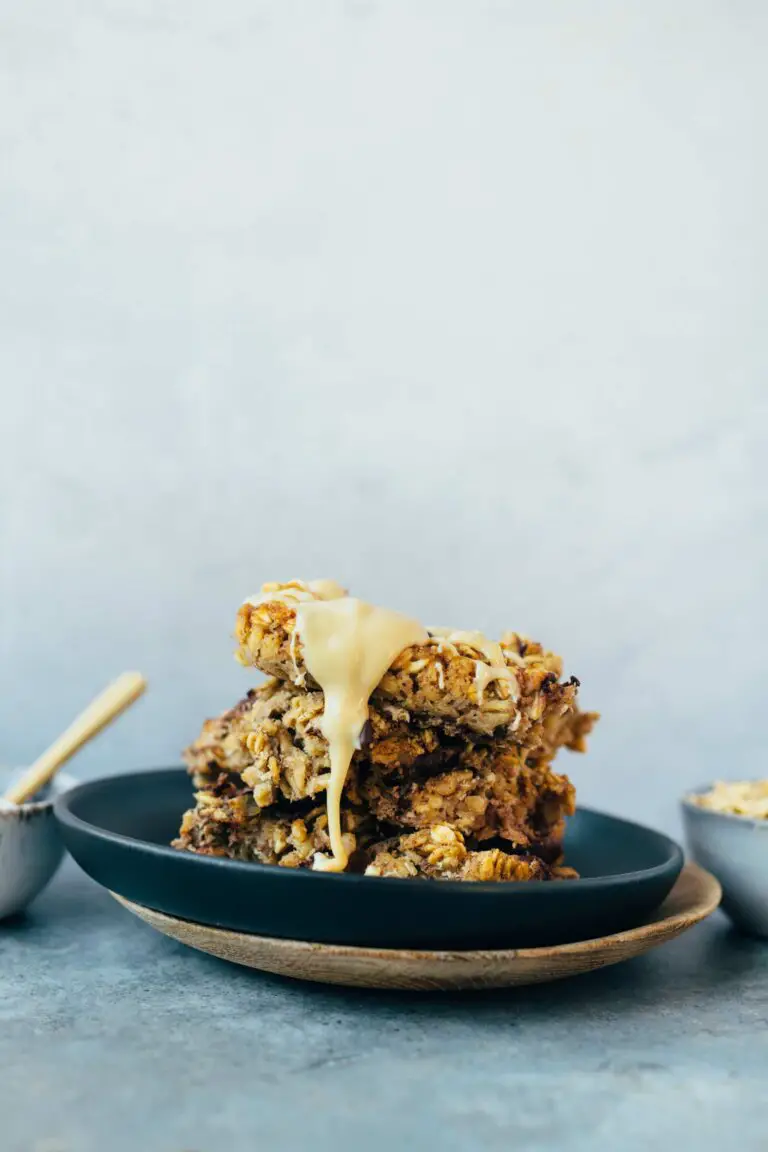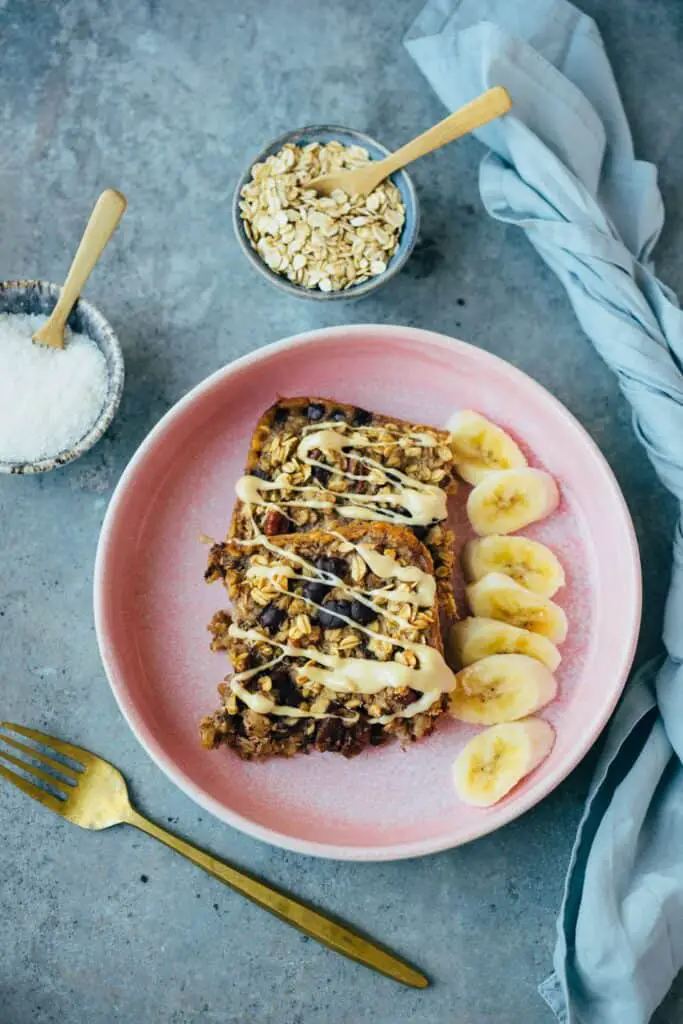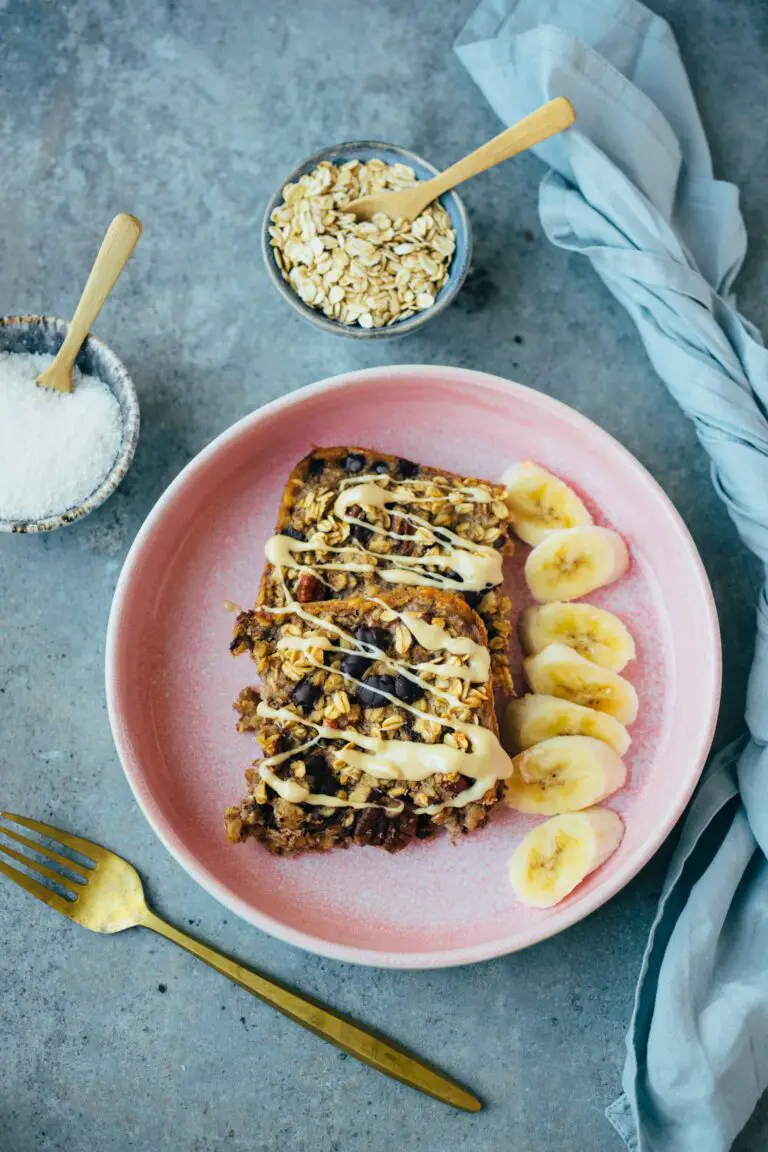 Especially now, when many are at home in the home office, it is worth a few new Recipes to try out. For most people, it's always the muesli or the slice of bread, and I don't exclude myself at all. If you are at home anyway, then you can Breakfast a little better divide and already preheat the oven. Meanwhile, check email, stir ingredients together and put in oven. A short telco via Teamviewer then fits into the program and 30 minutes later everything is ready on the table.
The variation I'm making today is based on my Chunky Monkey Granola so with lots of banana, chocolate drops and coconut flakes. However, many, many more variations are conceivable. Here are a few ideas that spontaneously come to mind:
Peanut Butter & Jelly : Just mix in 2 tablespoons of jam and a 2 tablespoons of nut butter (I wouldn't mix totally fine, but rather place in clusters).
Fresh berries : Mix in 3-4 tablespoons and top with yogurt only when serving.
Double Chocolate For the very chocolaty among us with 3 tablespoons chocolate drops and 2 tablespoons extra cocoa
Chocolate nut : With 2 tablespoons cocoa powder and 3 tablespoons nuts
And so much more …
The preparation is really easy as pie, mix everything together, pour into a brownie pan and bake. Remove from the oven, let cool briefly and enjoy. For the basic recipe, you'll need ripe bananas, maple syrup, rolled oats (gluten-free if you like), baking powder, a pinch of salt, and plant milk. In addition, there are the add-ons as described above. I use pecans, chocolate drops and coconut flakes for this version. Get creative and make your very own "Signature Oatmeal".
Chunkey Monkey Baked Oatmeal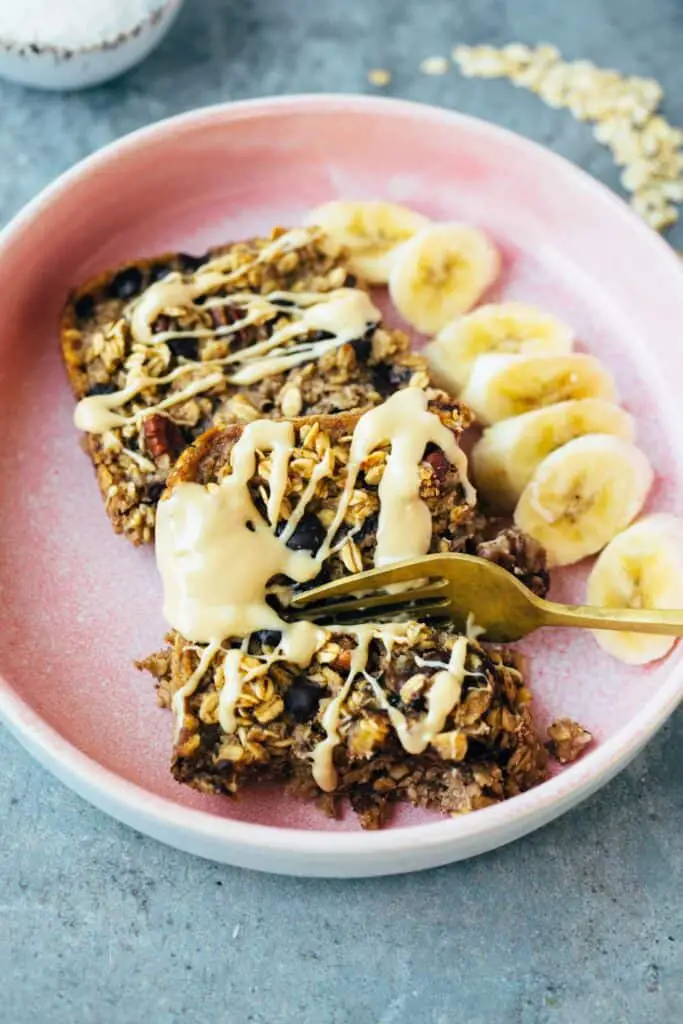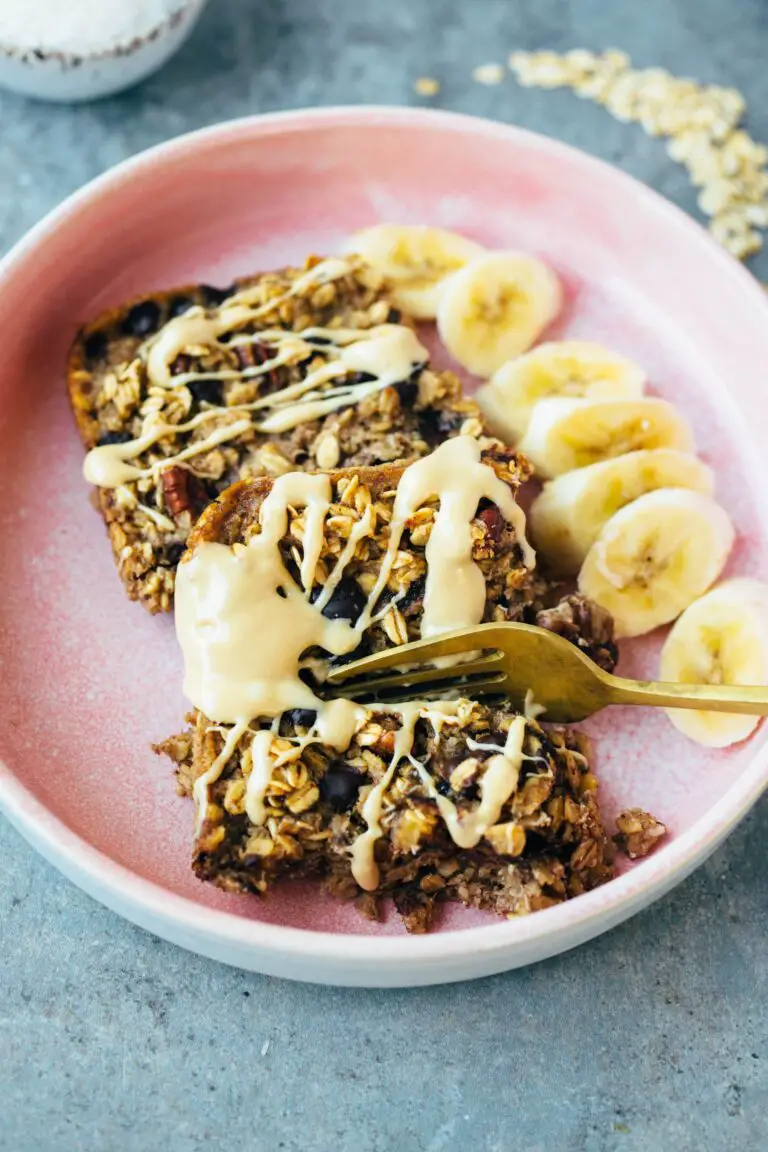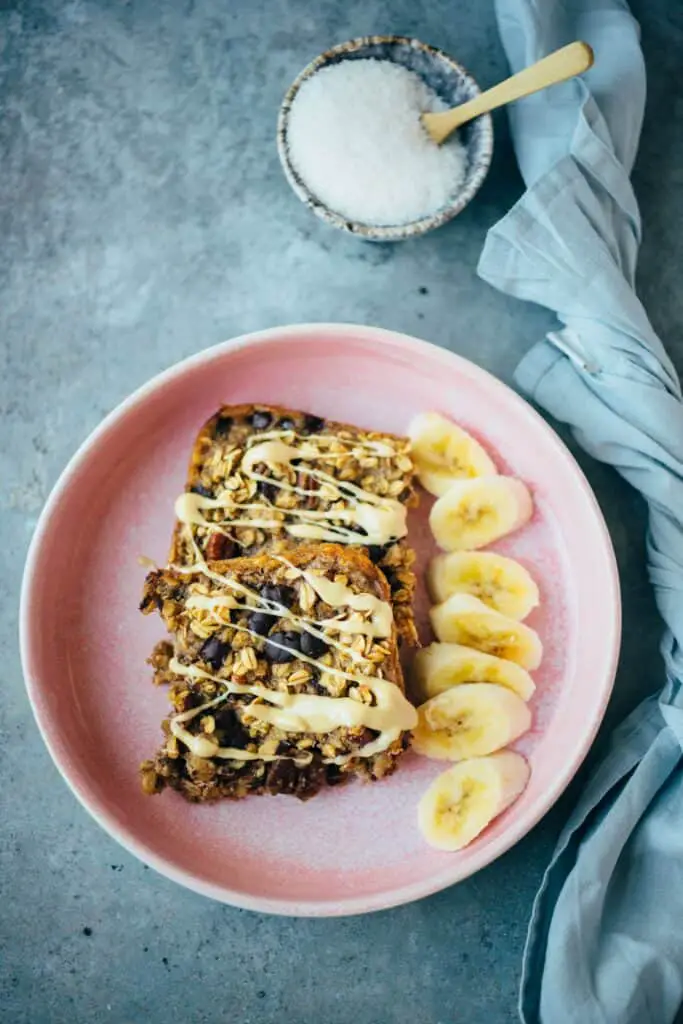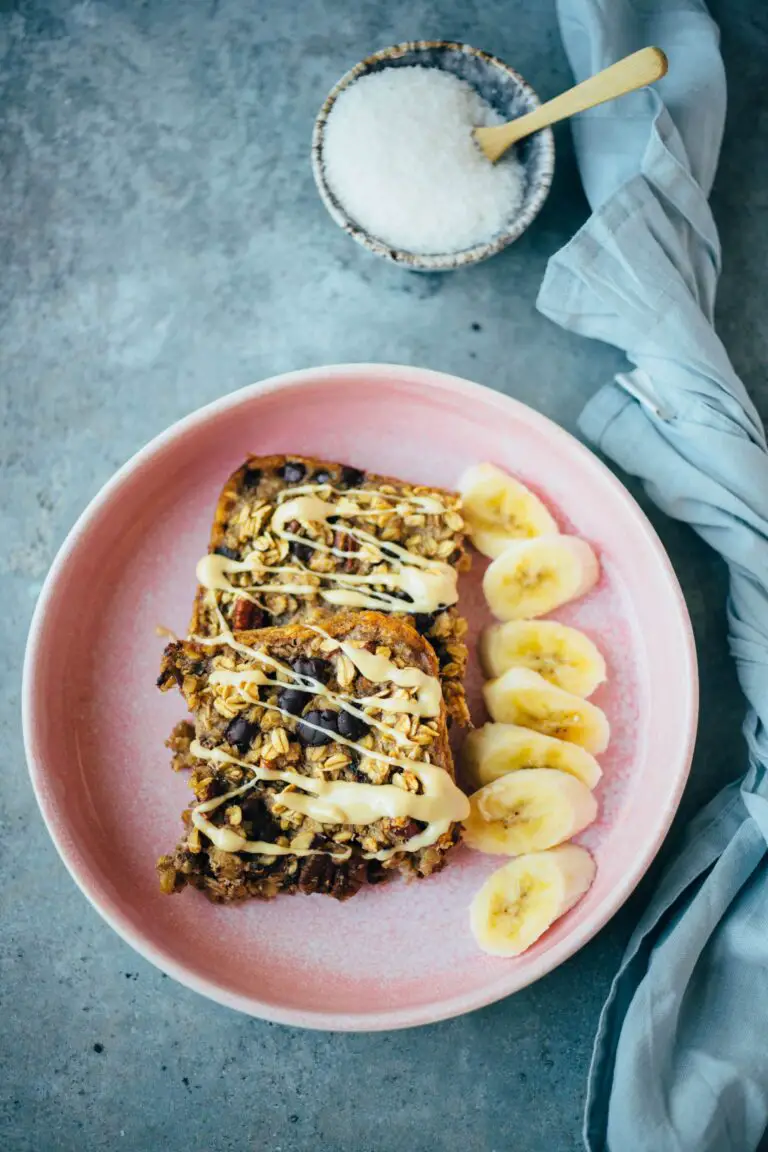 I have already from time to time one or the other word to the Topic oatmeal in a very positive sense. Since I think that it can not be emphasized often enough how healthy and important they are, here again a small overview, about the health value of the crunchy flakes:
Long-chain carbohydrates provide slow breakdown and long-lasting satiety
Contained Beta-glucans Avoid a sharp rise in blood glucose levels and a more even insulin release, and can help keep cholesterol and blood glucose levels stable and lowered
many valuable dietary fiber for a healthy digestion
Oatmeal contains 332kcal per 100g
TIP: A glass of orange juice or the addition of fruits promotes the absorption of the contained iron through the contained vitamin C
If you're not in the mood for a baked oatmeal today, I recommend my Cookie Dough Overnight Oats , Chunky Monkey Granola or Peanut Butter Chocolate Overnight Oats.
Are you ready for this warm, filling breakfast? It is:
Quickly made
Naturally sweetened
filling
Full
versatile
gluten-free
Let's get started with these great baked Oatmeal n. I wish you a lot of fun with the Nachbacken and of course about a rating at the bottom of this page. If you post a picture, use the hashtag #veganevibes.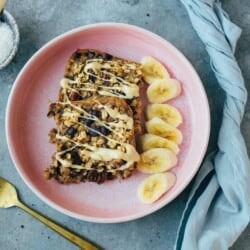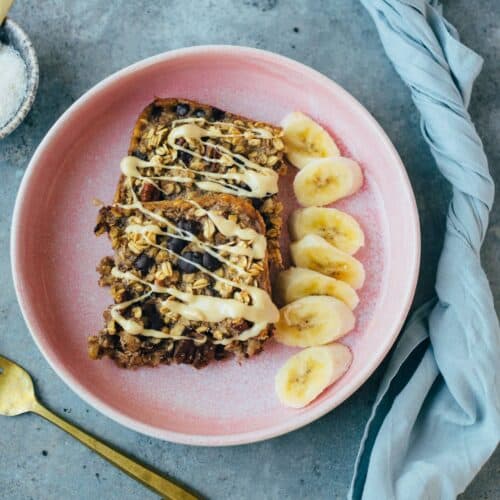 Baked oatmeal "Chocolate banana
Vegan breakfast for the whole family, made from baked oatmeal, naturally sweetened with bananas and maple syrup. Refined with dark chocolate drops and coconut flakes. Chunkey Monkey Fun!
AUTOR: VEGANEVIBES
Anleitung 
Preheat oven to 180 degrees, line a king cake pan with baking paper.

Place bananas in a bowl and mash with a fork until a pulp forms.

Add maple syrup, rolled oats, shredded coconut, pecans, dark chocolate drops, plant milk, baking powder, cinnamon, nutmeg, and salt to a bowl and mix with a spoon until evenly combined.

45 ml maple syrup,

145 g Oatmeal,

2 tbspn Coconut rasps,

3 tbspn Pecans or other nuts of choice,

3 tbspn dark chocolate drops,

250 ml Plant milk,

1 tbspn Baking powder,

½ tbspn Cinnamon,

¼ tbspn Nutmeg,

¼ tbspn Salt

Pour into brownie pan, smooth out and place in oven.

Bake for

30 minutes

until lightly golden brown around the edges.

Remove from the oven and let cool briefly. Cut into pieces and serve with desired toppings.

Keeps up to 3 days airtight, happy to reheat in steamer or oven.
Nährwertangaben
Serving:
1
Portion
Calories:
219
kcal
Carbohydrates:
25
g
Protein:
3
g
Fat:
12
g
Saturated Fat:
4
g
Cholesterol:
1
mg
Sodium:
75
mg
Potassium:
208
mg
Fiber:
3
g
Sugar:
19
g
Vitamin A:
205
IU
Calcium:
179
mg
Iron:
2
mg