It's getting Autumn and I long for substantial Overnight Oats , preferably with lots of creamy Peanut Butter . This is a Breakfast , that really fills you up and I need that too, after we already did our big round with the huskies in the morning. I need anyway every now and then ne change at the Breakfast . There are said to be people who eat the same thing every single day for years. Definitely not for me! That's why I'm even more excited to explore Berlin this weekend. With so many great restaurants, I wonder if one weekend will be enough for me. Hmmmm… If you have another hot tip, feel free to comment at the bottom of the page or send me an email.
Overnight Oats in the House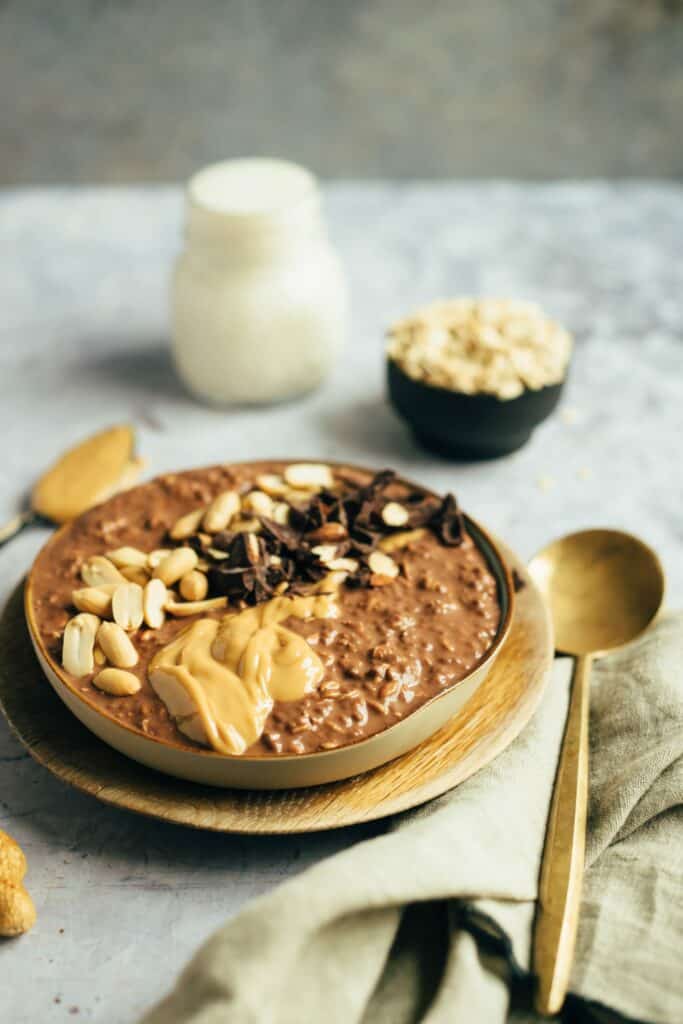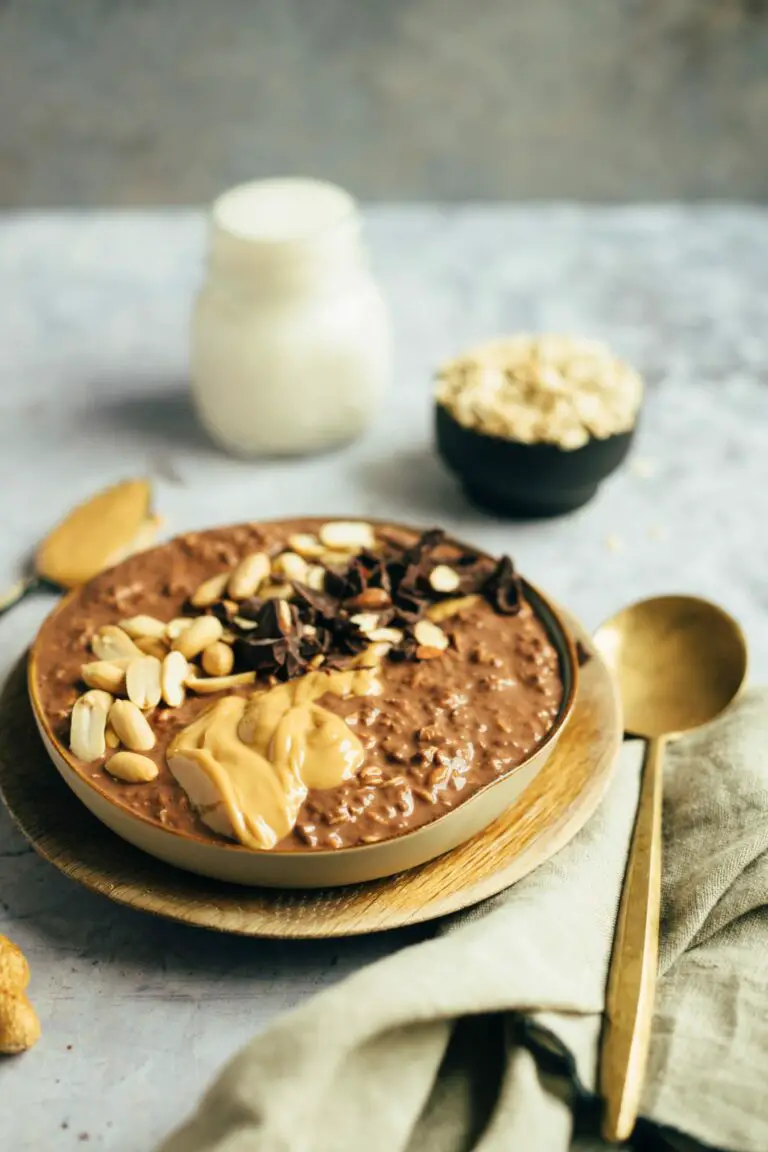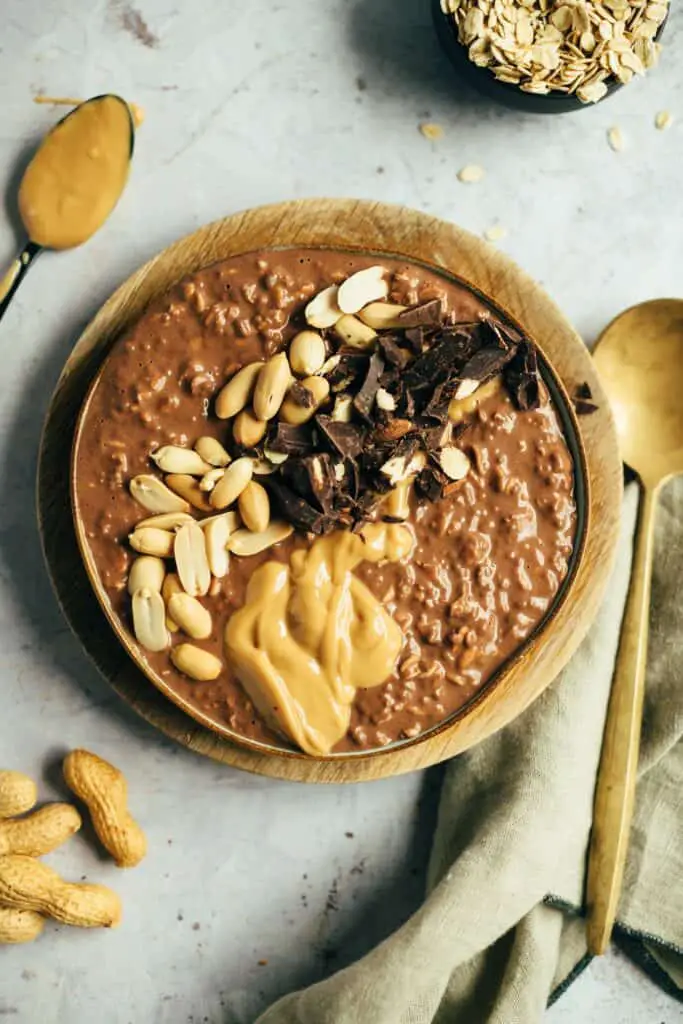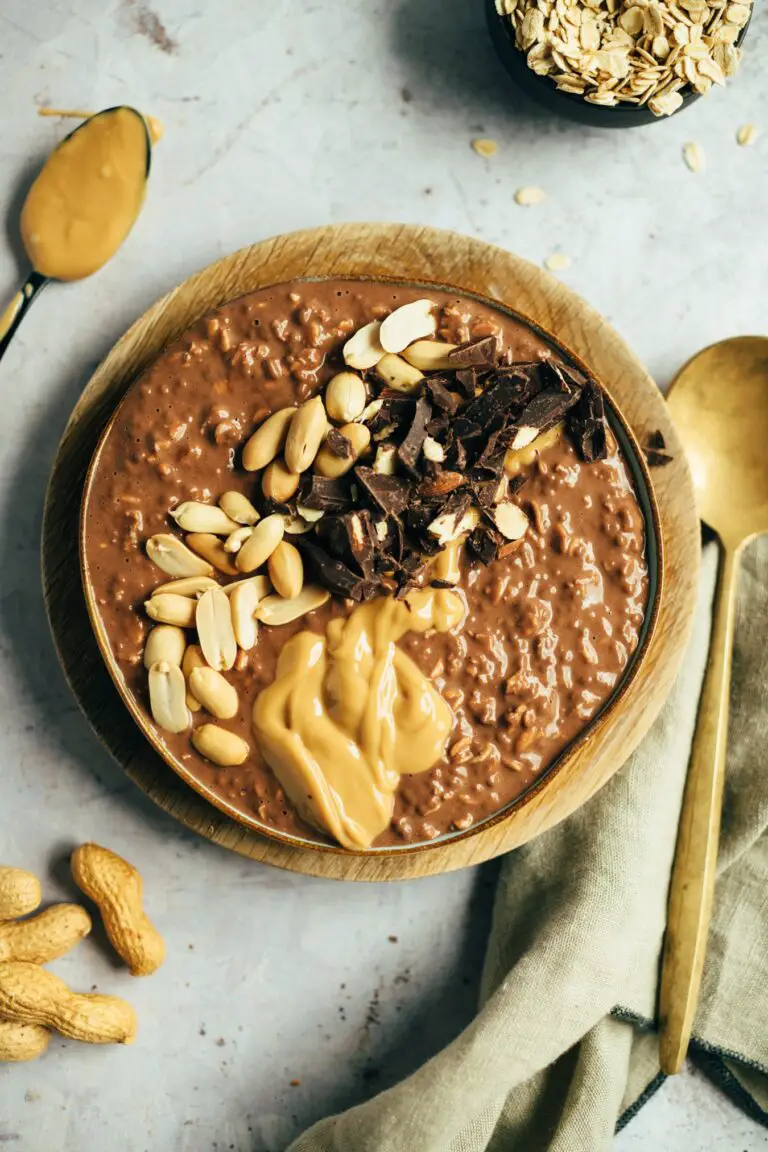 This Recipe is especially good for those who want to make a real impression in the office. Prepare the night before, put in the fridge and just take with you the next day. With a resealable jar this goes particularly well and is also absolutely zero waste. What more does man or woman want? Definitely better than buying a windy croissant at the chain bakery every day.
Let's get to the ingredients: Rolled oats, coconut yogurt, Oat milk , chia seeds, peanut butter, maple syrup, cocoa powder, bourbon vanilla and salt.
Is oatmeal really that nutrient dense?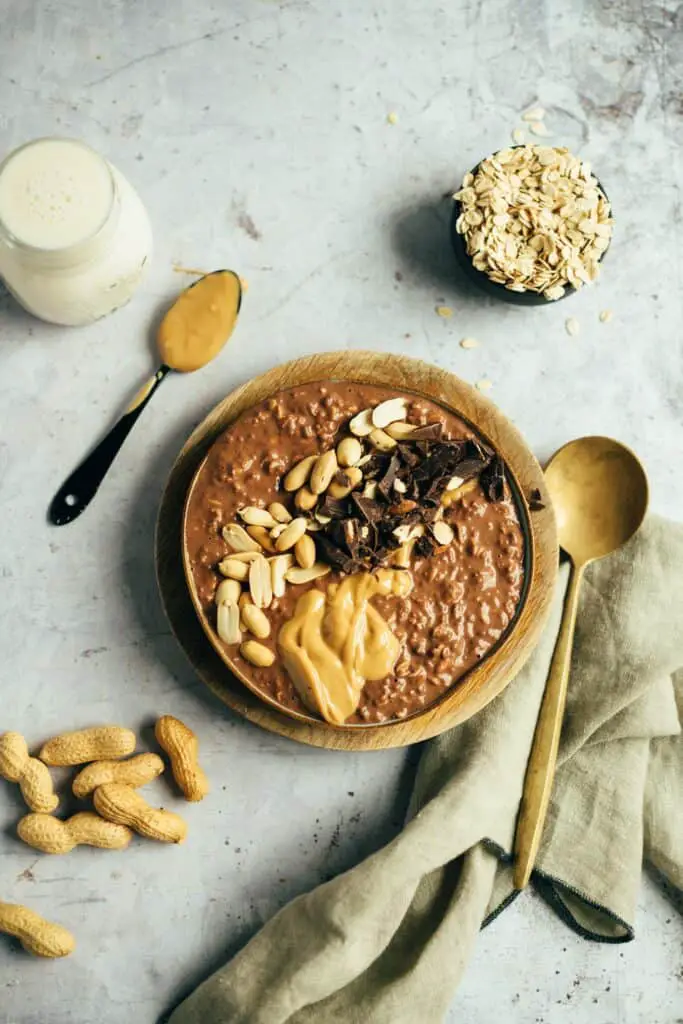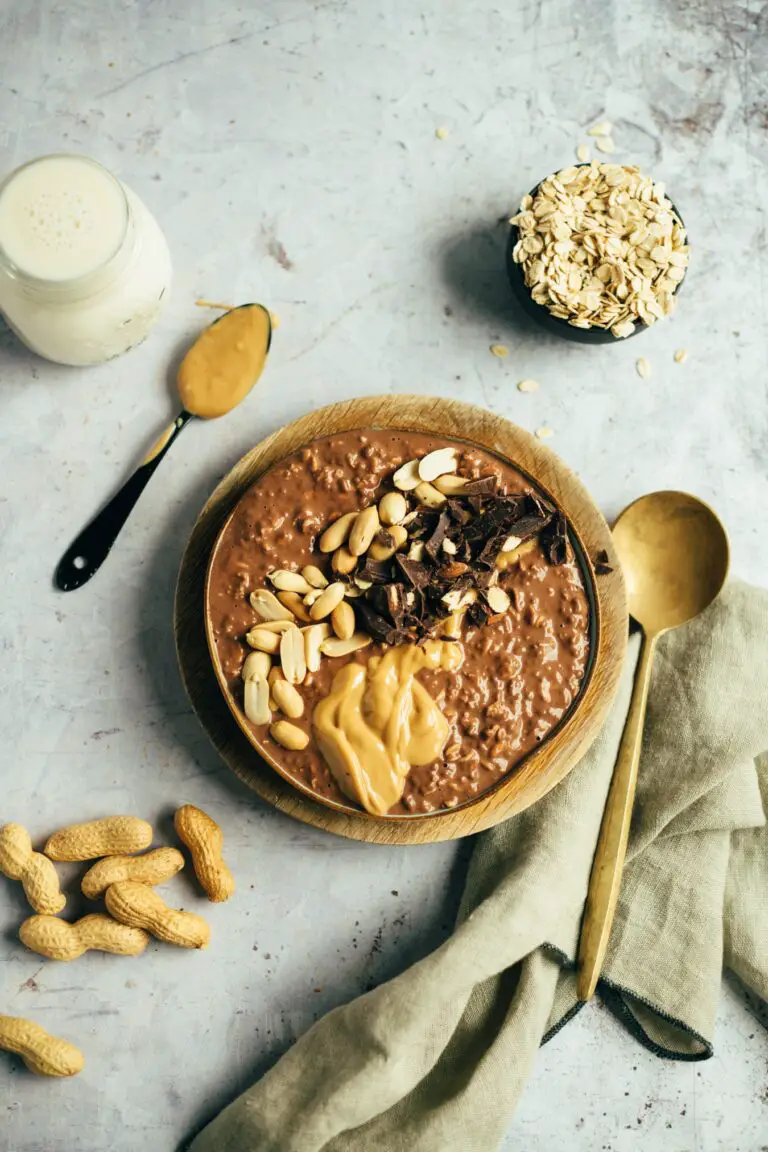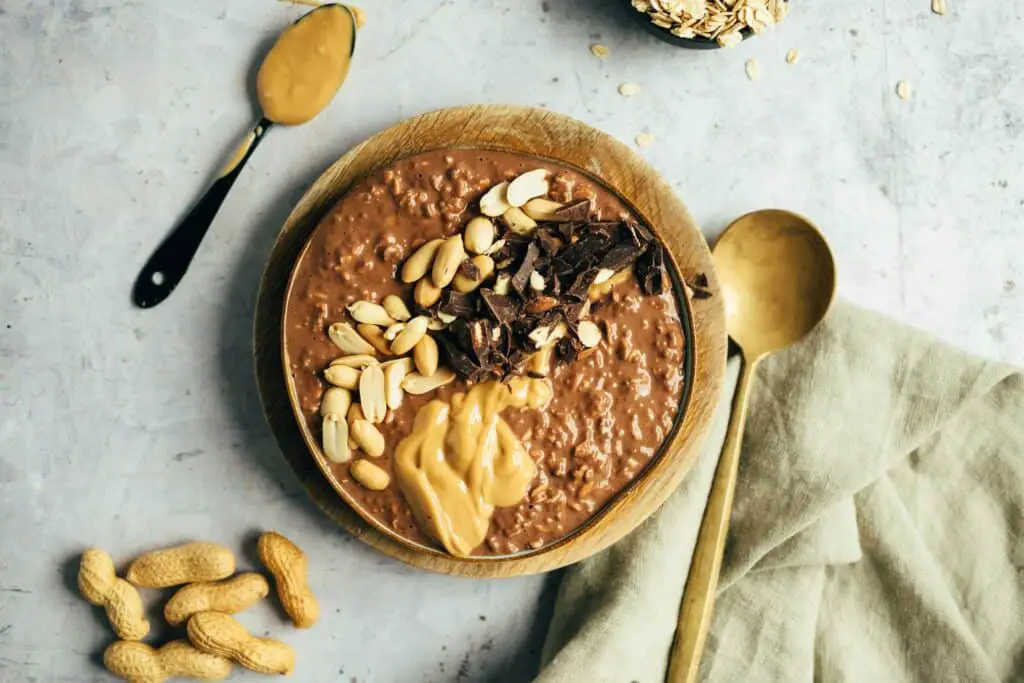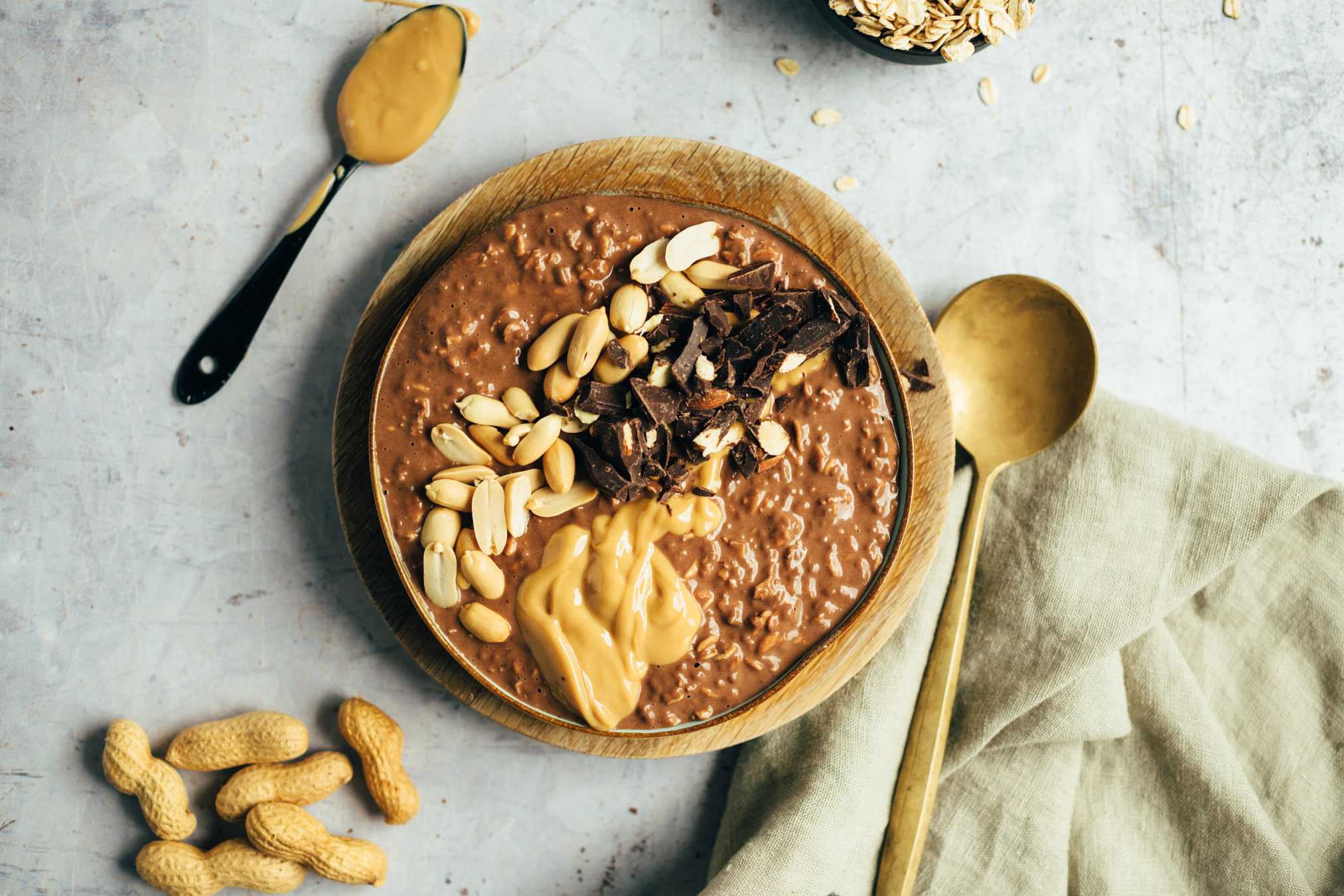 Let's face it, whose mouth really waters at the sight of pure oatmeal. It's okay, isn't it? I always need a bit of pep to really get an appetite for it. Of course, the question is also how healthy the crunchy flakes actually are? Oatmeal…
can help lower cholesterol levels
contain beta-glucans (blood sugar lowering properties)
contain complex carbohydrates, which are broken down more slowly than simple carbohydrates (stable blood sugar level)
332kcal per 100g
the addition of vitamin C (fresh fruits) promotes the absorption of the contained iron
Sounds perfect? Is perfect. Well then, what are we waiting for?
The Peanut Butter Chocolate Overnights Oats are:
Pleasantly sweet
chocolatey
filling
creamy
Full with healthy complex carbohydrates
Let's go with this creamy chocolatey Dream that will sweeten your day already in the morning. I wish you a lot of fun with the imitation and of course about a rating at the bottom of this page. If you post a picture, use the hashtag #veganevibes.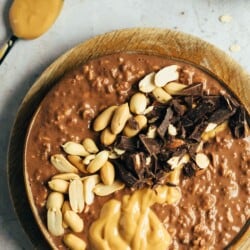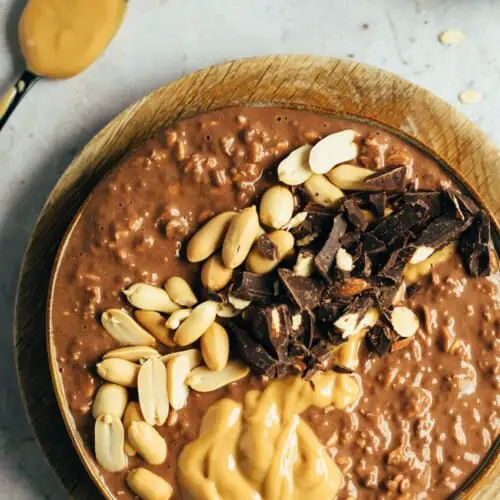 Peanut Butter Chocolate Overnights Oats
Satisfying, delicious and creamy chocolatey Overnight Oats. Perfect, healthy and vegan breakfast that is easy to prepare.
AUTOR: VEGANEVIBES
Anleitung 
Combine all ingredients for OVERNIGHT OATS in a bowl, mix with a spoon until well combined, seal and refrigerate overnight (at least 6 hours).

90 g Oatmeal,

75 g Coconut yogurt,

160 ml Oat milk or another plant milk,

15 g Chia seeds,

32 g Peanut butter,

22 ml maple syrup,

15 g Cocoa powder,

0,5 g Bourbon vanilla,

Salt

TIP: For a TO GO version, pour into a resealable jar. Cocoa like to sieve in, otherwise mix well so that small lumps dissolve.

Remove from refrigerator just before serving and optionally garnish with peanut butter, peanuts and chocolate chips.

If the oats are too firm, simply add another sip of milk.

Keeps 2-3 days in an airtight container in the refrigerator.
Nährwertangaben
Serving:
1
Portion
Calories:
610
kcal
Carbohydrates:
69
g
Protein:
23
g
Fat:
28
g
Saturated Fat:
7
g
Cholesterol:
4
mg
Sodium:
390
mg
Potassium:
461
mg
Fiber:
11
g
Sugar:
42
g
Vitamin A:
333
IU
Calcium:
468
mg
Iron:
4
mg