Are you looking for a Breakfast that fills you up really well and is easy to prepare? Then these Overnight Oats are just the thing for you. Breakfast is healthy and really fills you up. Perfect for days when you really need power because you have strenuous things ahead of you. Exams, sweaty sports sessions or a long walk with your dog. Overnights Oats give you the strength and power you need for the day. Of course, this great recipe comes with a twist again (otherwise it would be boring). The secret is called Cookie Dough and is mixed into the oats! What you are already full and can not take more? Then just roll the remaining dough into a ball and you have another snack-to-go!
Pimp my oats!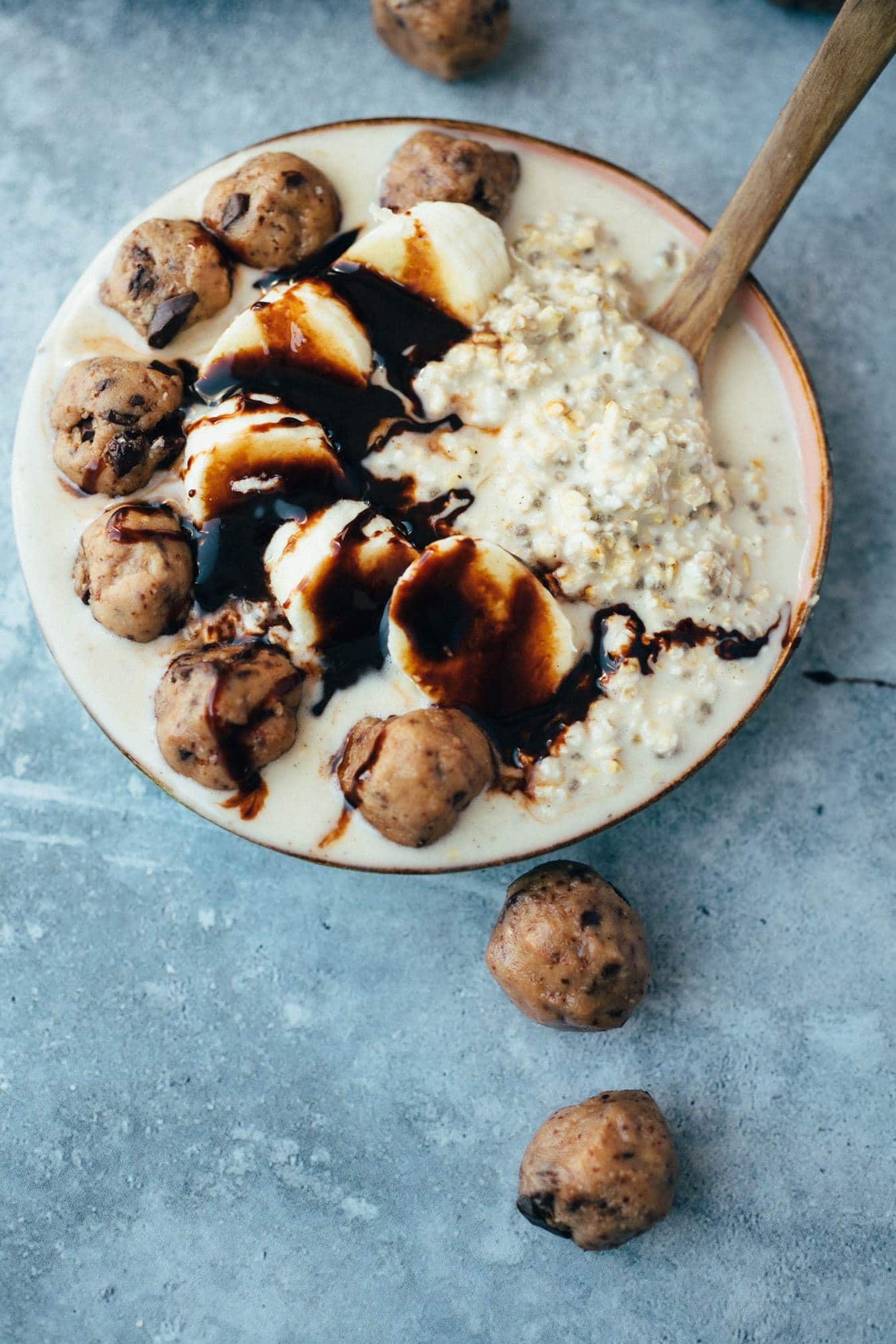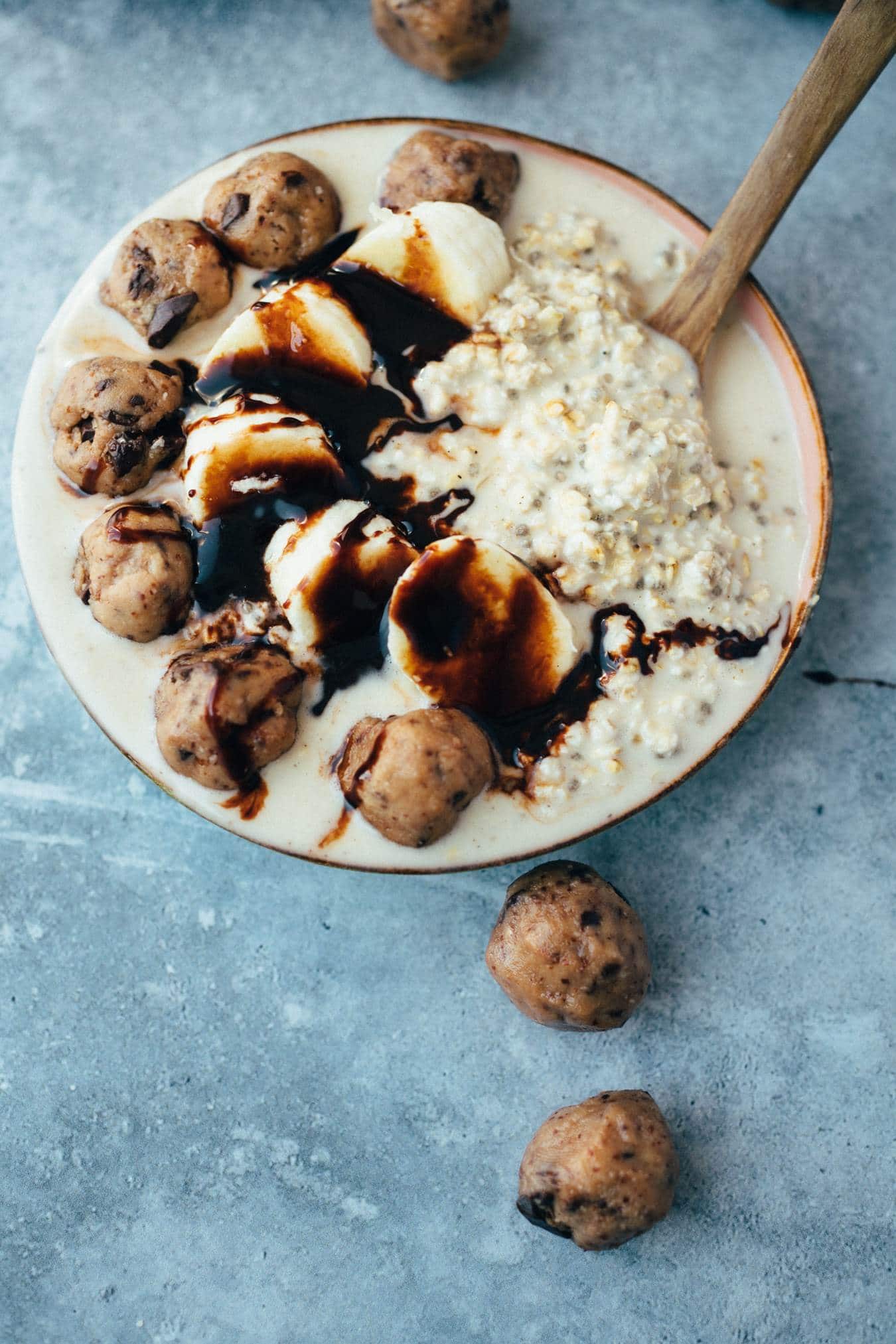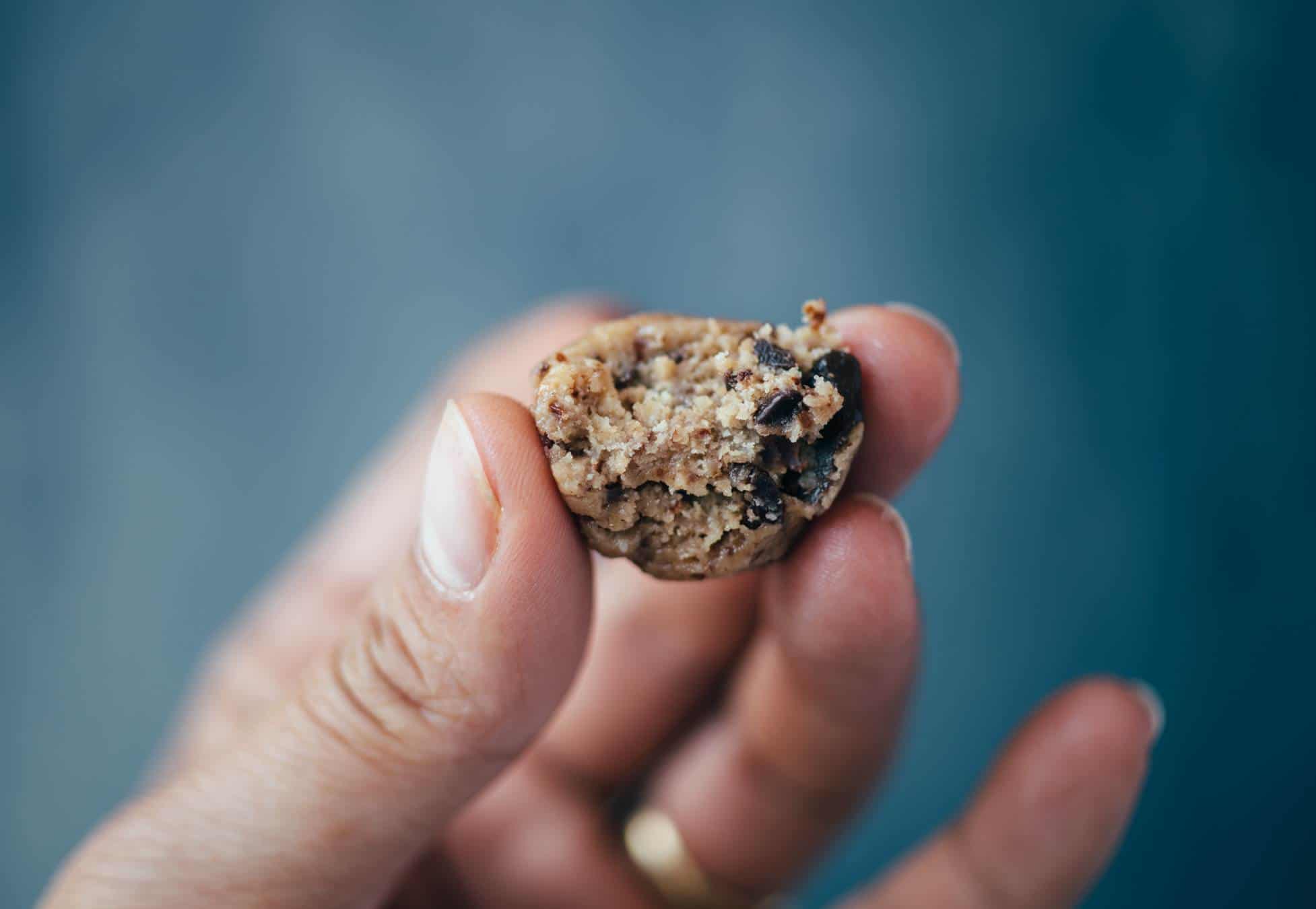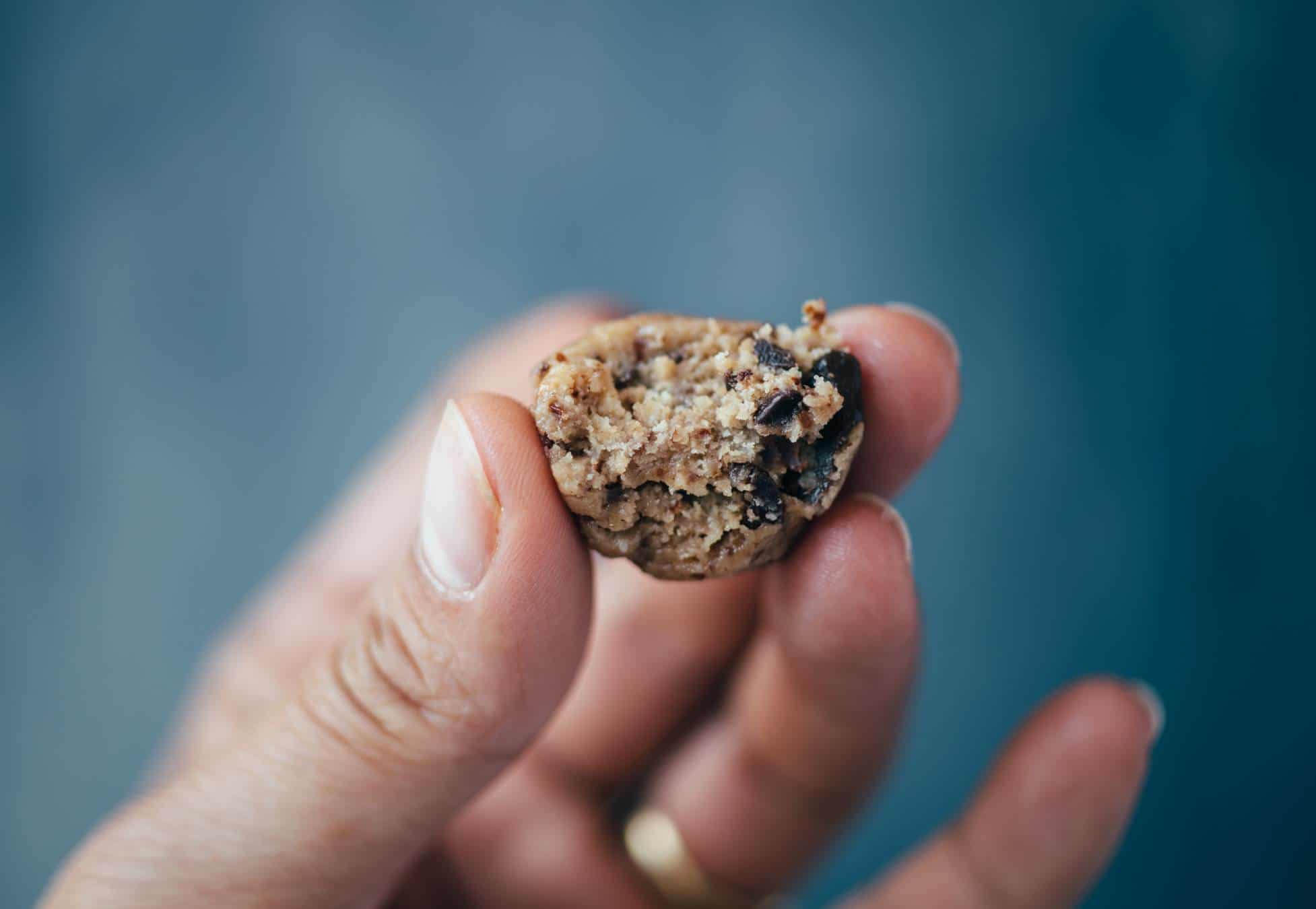 Today it is not called "Pimp my ride"(if you are as old as me then you probably still remember the series with Xzibit). Today, however, we are not concerned with cars, but with oats and how we can prepare them delicious and healthy. Depending on your preference, it can be classic oatmeal or a gluten-free version. Add to this Almond milk maple syrup, chia seeds and bourbon vanilla ground. Easy!
Raw Cookie Dough in my oatmeal? Give it to me!
Let's move on to our raw Cookie Dough. This consists of ground almonds, almond paste (or almond butter), maple syrup, coconut paste (or Coconut butter ), a pinch of salt and chopped dark chocolate. Also simple? I would say simply brilliant!
The beauty of this Recipe is that you can't really do anything wrong. I pack the Oats in canning jars and put them in the fridge overnight. The next day, when I need to make it fast, I grab a spoon and go. As of today, there are no more excuses for healthy eating. The Cookie Dough I roll into small balls (Raw Bites), pack them extra and take them as snacks.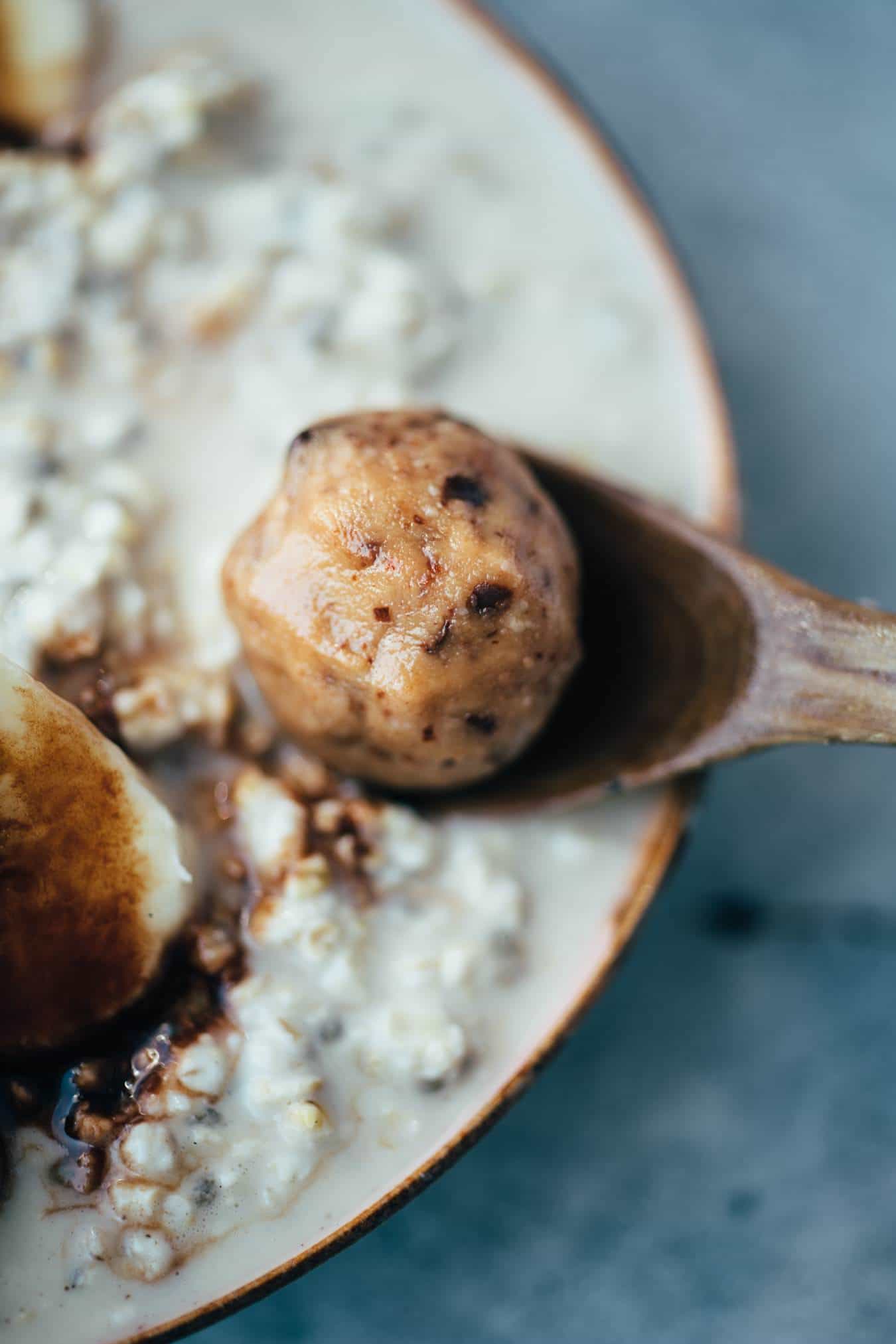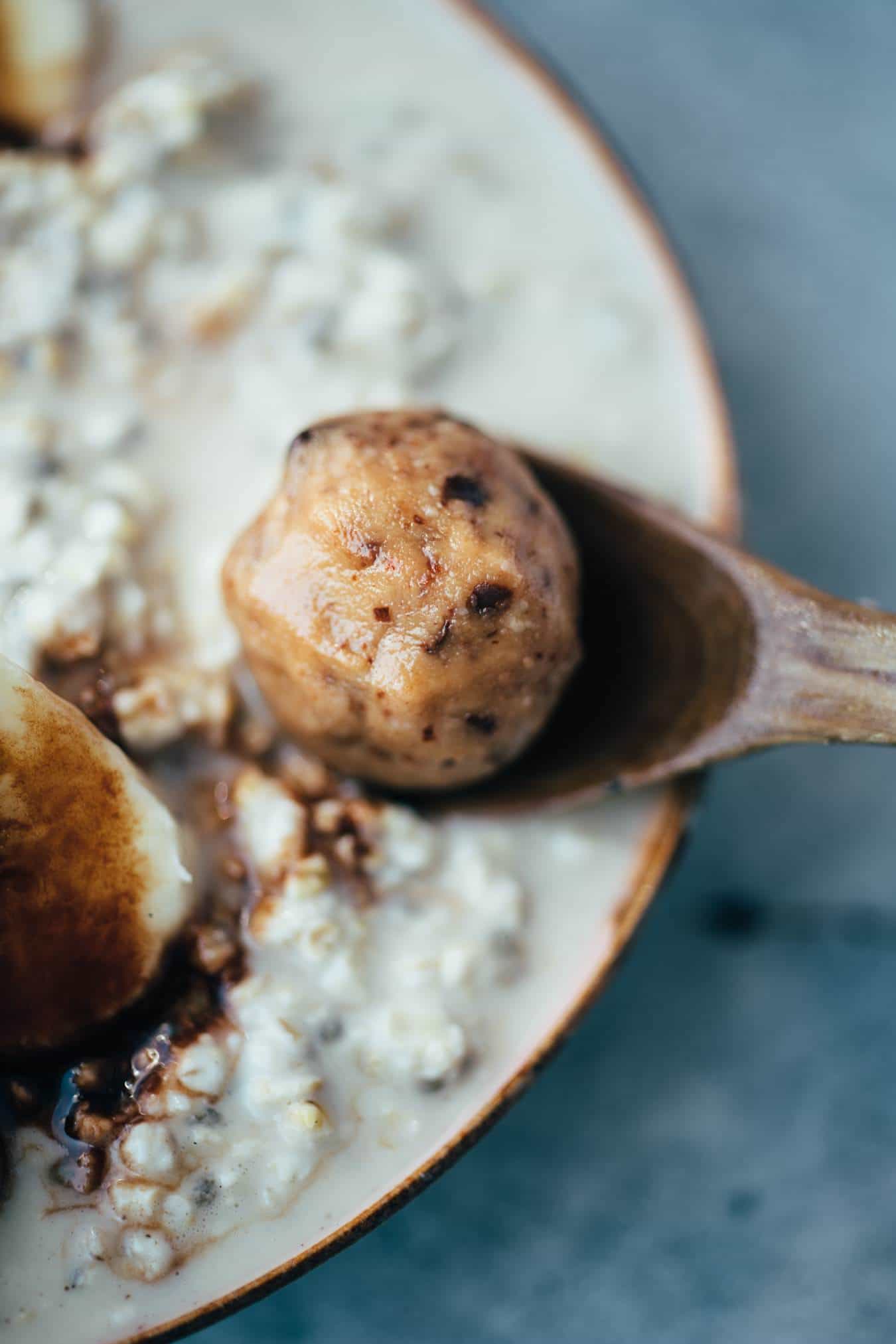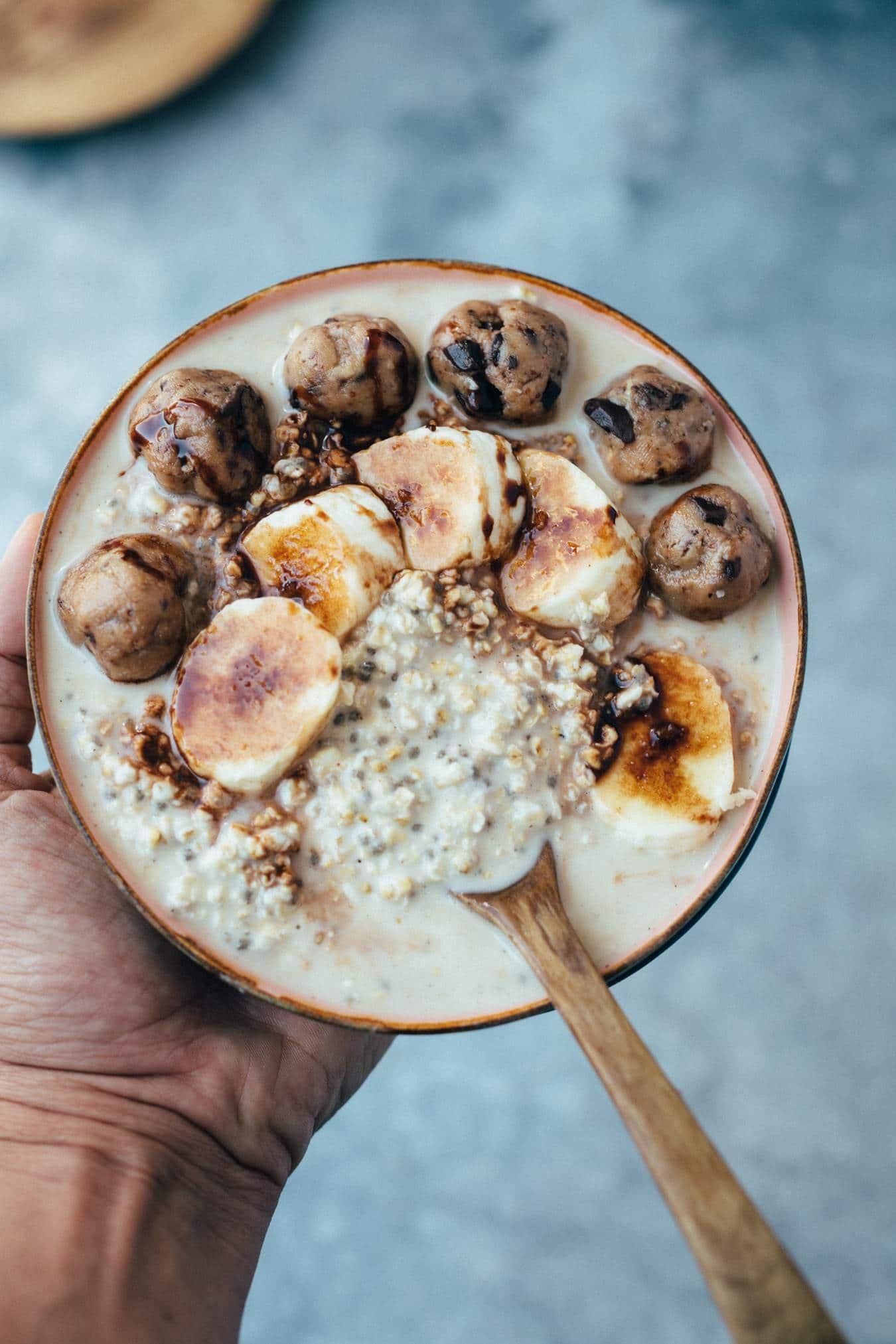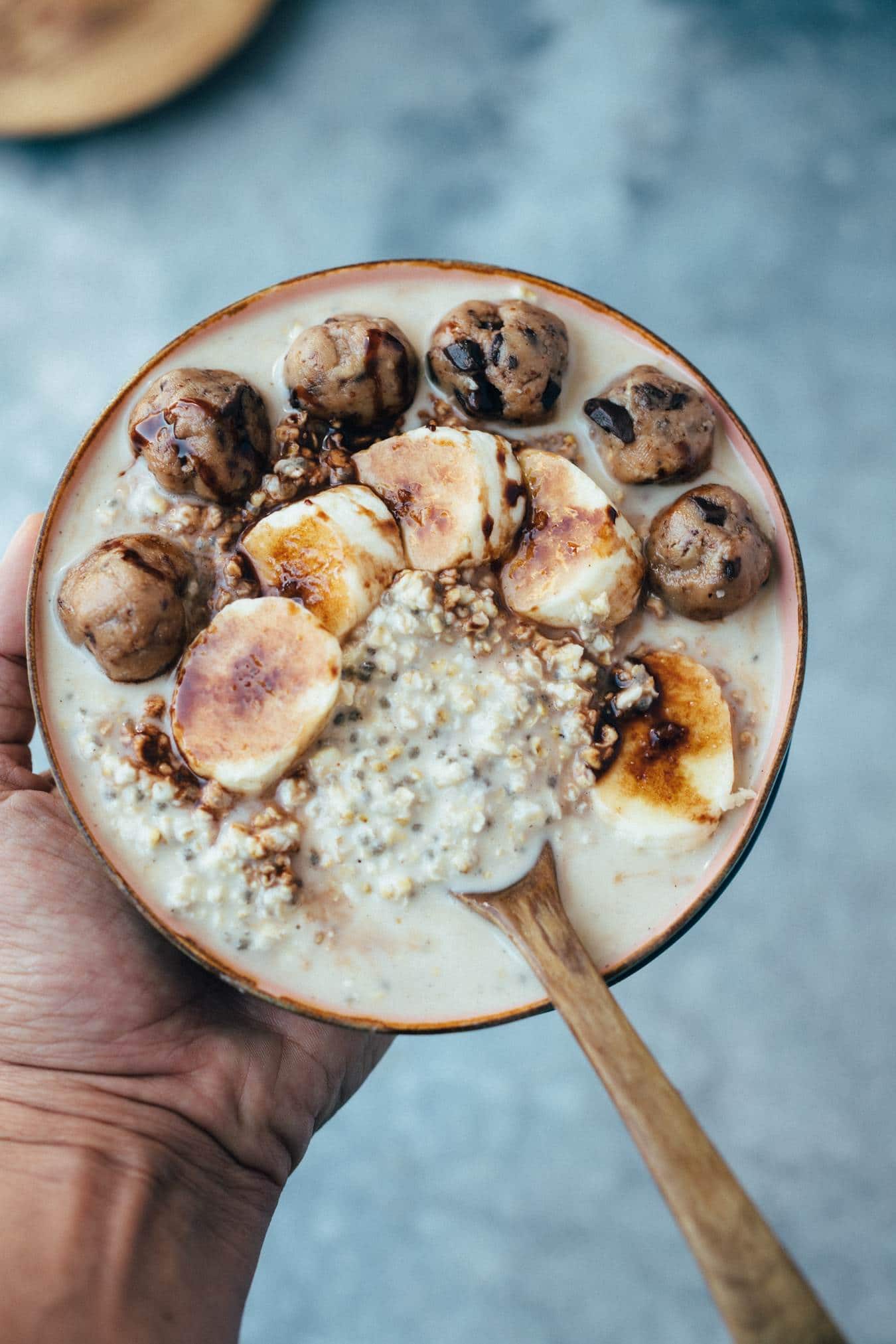 Is oatmeal really that healthy?
Many of us know oatmeal only as a necessary evil, so according to the motto "eat oatmeal my child, so that you grow big and strong. "We breathe real life into the dusty flakes. At the same time, they are also really healthy and you could almost call it a "superfood".
Here are the facts:
Oatmeal can help lower cholesterol and blood sugar levels
contain beta-glucans, which prevent a sharp rise in blood glucose levels
Carbohydrates consist of long chains that are broken down more slowly than simple sugars
332kcal per 100g
the addition of fruits (vitamin C) promotes the absorption of the contained iron
Sounds perfect? Is the perfect Breakfast . Gives oatmeal a chance!
The vegan Cookie Dough Overnight Oats are:
Pleasantly sweet
Very saturated
Full of healthy fats
suitable for to-go
Naturally sweet
Easy to manufacture
Let's go with this crunchy dream that will sweeten your day already in the morning. I wish you a lot of fun with the Nachbacken and of course about a rating at the bottom of this page. If you post a picture, use the hashtag #veganevibes.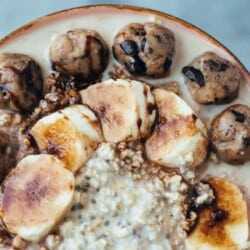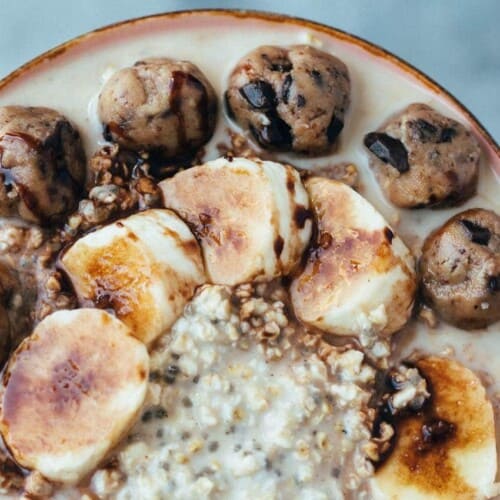 Cookie Dough Overnight Oats
Filling, delicious and perky Overnight Oats. With delicious almond milk, oatmeal and maple syrup, combined with delicious Raw Bites. Perfect for a healthy breakfast, combined with great snacks between meals
AUTOR: VEGANEVIBES
FOR THE COOKIE DOUGH BITES:
OPTIONAL:
1

Banana

(sliced)

Chocolate sauce (vegan)

(at will)
Anleitung 
Place all ingredients for OVERNIGHT OATS in two sealable jars or bowls, mix with a spoon until well combined, seal and refrigerate overnight.

90 g Oatmeal,

375 ml Almond milk or another vegetable milk,

2 tbspn maple syrup,

1 tbspn Chia seeds,

1 tbspn Bourbon vanilla,

30 g ground almonds,

2 tbspn Almond paste,

1 tbspn Rice syrup,

1 tbspn Coconut puree,

¼ tbspn Sea salt,

2 tbspn dark vegan chocolate,

1 Banana

FOR THE

COOKIE DOUGH BITES

put all the ingredients in a bowl and knead with your hands until a dough is formed. Separate and shape into small balls. Set aside.

Remove OATS from refrigerator just before serving and stir in a few Cookie Dough Bites.

Optionally garnish with more

almond milk

, coconut yogurt and fruit and enjoy!

Keeps 2-3 days in an airtight container in the refrigerator.
Notizen
NOTES /HELPFUL ACCESSORIES:
Nährwertangaben
Serving:
1
Portion
Calories:
358
kcal
Carbohydrates:
50
g
Protein:
11
g
Fat:
14
g
Saturated Fat:
2
g
Polyunsaturated Fat:
2
g
Monounsaturated Fat:
3
g
Sodium:
296
mg
Potassium:
387
mg
Fiber:
9
g
Sugar:
10
g
Vitamin A:
38
IU
Vitamin C:
5
mg
Calcium:
291
mg
Iron:
3
mg